Genevieve and Georgia turn three in less than two months! (And are already acting like three-nagers eek!) I am brainstorming ideas for their updated shared "big girl" room and one of my first decor items I'm looking at is a new rug. Rugs are a great way to add change to a space with minimal effort but with major impact! I'm sharing my favorite affordable rugs for kids bedrooms, playrooms, and nurseries all under $250!
Check out some of my favorite rugs in my home in my A Beautiful Tropical Romantic Master Bedroom Makeover post and Modern Coastal Glam Kitchen Makeover post!
Favorite neutral rugs for kid rooms and nurseries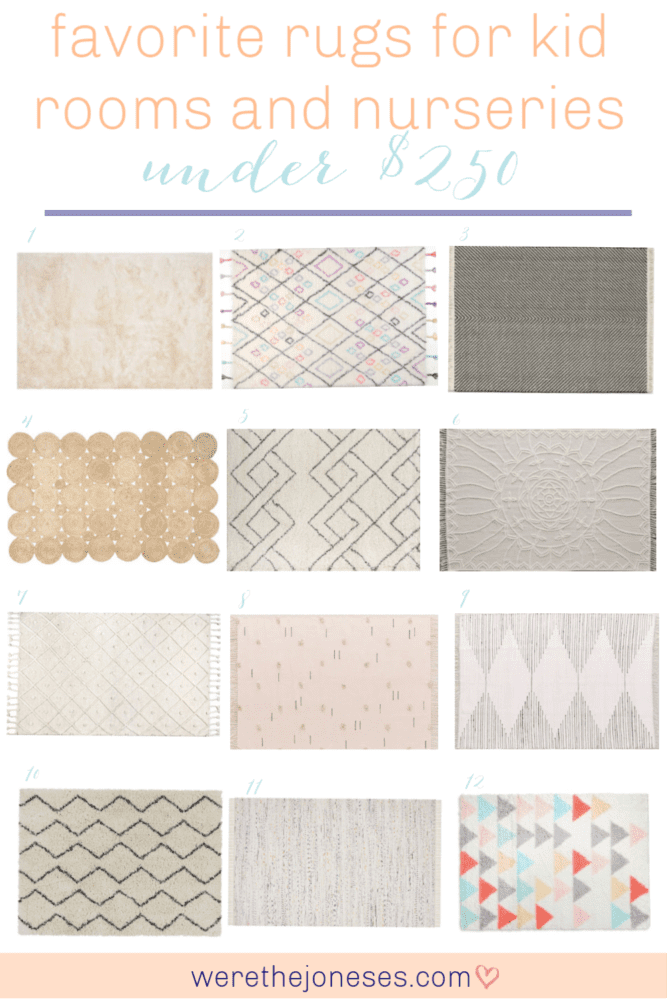 1.Ivory Shag Rug 2. Multi Color Shag with Fringe 3. Black and White Chevron Woven Rug
4. Jute Hand Woven Rug 5. Black and White Zig Zag Shag Rug 6. Ivory Medallion Rug with Fringe
7. Diamond Trellis Tassel Ivory Rug 8. Tufted Pom and Fringe Rug 9. Connected Stripe Rag Rug
10. Modern Tribal Shag Rug 11. Hand-woven Ivory Rag Rug 12. Multi Triangles Shag Rug




Rugs are one of my favorite affordable ways to add change and refresh a room! And I can't wait to start updating Genevieve and Georgia's room from nursery to big girl room. They have already decided that they can't stay in their cribs any longer (they climb out almost every night – and we usually find both of them in the same crib giggling and singing together!)
Their walls are a lavender purple color and I will likely leave them the same color. I'm eyeing several of the ivory + black rug options (#5, #7, and #11) to add to their big girl room for some visual interest and depth. Adding touches of black to a room always helps ground the space, especially if all the other colors used are light and airy!
Favorite purple rugs for girls rooms and girl nurseries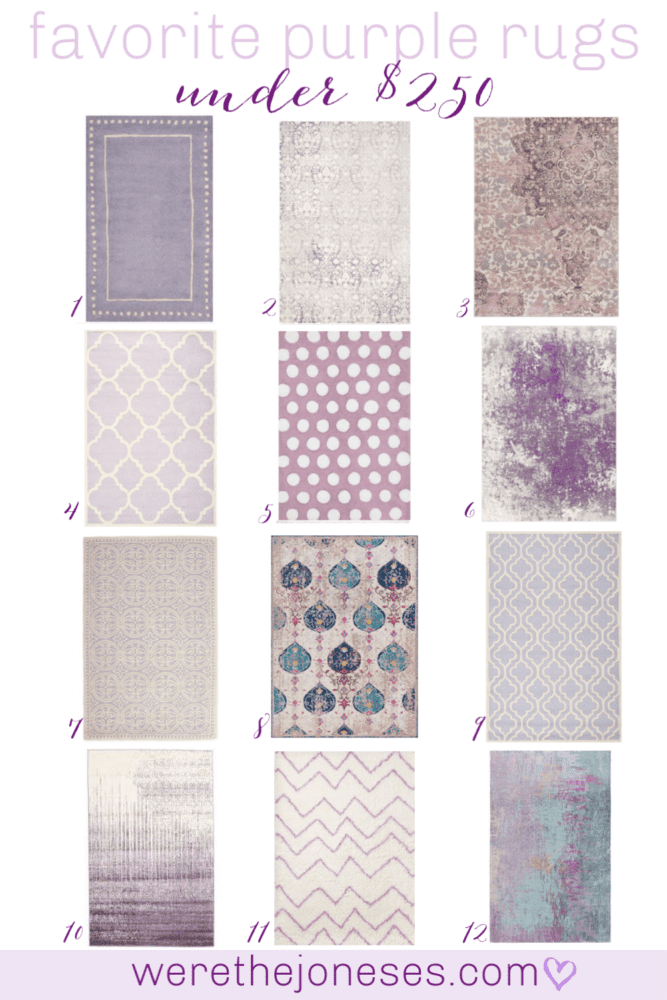 1.Wool Lavender Ivory Rug 2. Vintage Medallion Lavender Rug 3. Lavender Modern Vintage Rug
4.Geometric Lavender Wool Rug 5.Lilac Polka Dots Shag Rug 6. Abstract Purple Area Rug
7.Moroccan Lavender Wool Rug 8.Ikat Distressed Multi Rug 9.Moroccan Cambridge Lavender Rug
10. Dorfman Purple Rug 11. Chevron Purple Shag Rug 12.Dewalt Blue/Purple Rug

I love touches of purple and lavender in little girls rooms, especially in shades of soft lilac and lavender. With the girls' room painted lavender, I will probably shy away from adding a purple rug to the space. Although, the #11 modern chevron purple rug could work with the minimal amount of purple!
Favorite pink rugs for girls rooms and girl nurseries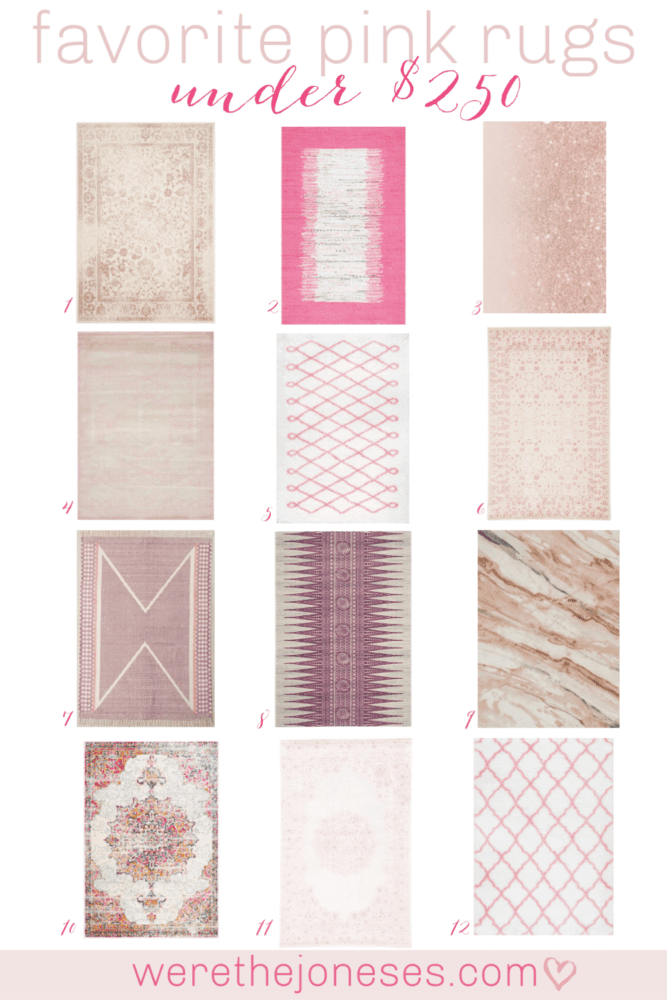 1.Adirondack Vintage Distressed Rose Rug 2.Pink Contemporary Boho Rug 3.Rose gold Pink Ombre Rug
4.Vintage Medallion Border Pink Rug 5. Pink Diamond Shag Rug 6. Damask Ivory/ Pink Rug
7.Calisa Block Printed Rug 8. Vintage Boho Chic Fuchsia Rug 9. Rose Marble Tufted Rug
10.Medallion Leola Pink Rug 11. Ivory/Baby Pink Area Rug 12.Pink Shag Trellis Rug

It was hard to narrow it down to just 12 favorite pink rugs, as I'm a big pink decor lover! The great thing about designing with pinks is there are so many variations from blush to peachy pink to dark fushia pink. All of these options are great for little girls rooms and nurseries to add a fun and fresh splash of feminine color. I actually have #10 in my dining room and it's one of my favorite rugs in my home!
Do yall have any rooms or spaces in your home you're transitioning right now? Any advice on moving toddlers from cribs to twin beds? Leave me your rooms in progress or toddler room advice in the comments!
Also, follow me on Pinterest for TONS more kids rooms decor inspirations!
Happy rug shopping and room decorating!