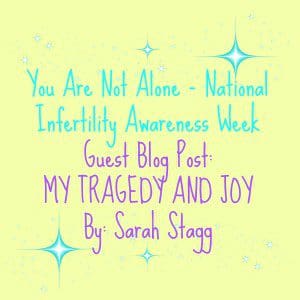 Sarah is the next guest blog post for my infertility series, You Are Not Alone – National Infertility Awareness Week.
Thank you Sarah for sharing your story!!
Sarah was one of the first women I knew who went through a miscarriage. When I heard about her terrible news, I wasn't sure what to do or say. It's hard when a close friend is going through something that you can't relate to and how to act around them. I remember having a strong feeling to try and reach out to Sarah about what she was going through. I wanted to tell her about how my first pregnancy was very rocky in the first trimester and I had thought at one point that I would miscarry too. But I wasn't sure how to bring up such deep and sensitive conversation because the topic of miscarriage is not normally talked about, even with our already close friendship. 
Fast forward a year later…and I find out that I too am struggling with conceiving. Over these last few months Sarah has become my most cherished ttc sister and has built me up when I was at my most low. Sarah, you always make me feel stronger and braver than I feel I am, and always remind me that it is all in God's plan. Thank you so much for your friendship – it means more than you'll ever know!
---
MY TRAGEDY AND JOY
By: Sarah Stagg
Note:  This article was originally written in November 2013
Everyone probably knows of someone who has had a miscarriage.  It seems to be a common occurrence that many people don't talk about openly.  In fact, my doctor told me that approximately one in five pregnancies result in miscarriage.  Once I told people I had miscarried our baby, I kept hearing the same responses. "This is more common than you think." "These things happen."  "It just means your baby wasn't properly formed." "Someone I know had a miscarriage and now they have three beautiful children." "Don't give up—it will happen for you."  Even though I truly appreciated my friends and family's encouragement, it doesn't come close to alleviating the pain or agony you feel during this tragic experience.  It's hard for anyone to know what to say or how to relate to someone who is going through a miscarriage.  Many women feel so alone and don't know how to react to the heartbreaking news. My hope and prayer is that what I'm about to write will help women know they are never alone.
THE BEGINNING
No one told me becoming pregnant was such an emotional rollercoaster.  We had been trying to get pregnant for a few months and were elated when we saw the positive pregnancy test (or I should say tests because I think we took about six)!  My husband and I were so excited to tell our family of the incredibly happy news!  Being the cautiously optimistic person I am, I didn't want to tell anyone about our pregnancy until after the first doctor's visit at eight weeks.  However, we decided to tell our parents, and they couldn't contain their excitement for a new grandchild!  We were all so incredibly happy and full of joy. Everything was aligning perfectly in my plan.
SEPTEMBER 23, 2013
My husband and I were enjoying a nice weekend at home together.  I had a couple fun things planned with some girlfriends as well as quality time with my man. Everything was perfect because I was pregnant!  In the blink of an eye, our excitement turned into distress and uncertainty. On Friday evening, I began presenting signs of a miscarriage. I didn't know what to think. My mind was racing.  I was so scared and terrified of what was happening.  I was praying to God that our baby was okay.  I called my doctor and she said that forty percent of her patients experienced spotting in the first trimester.  If the spotting progressed, I was to call her back and receive further instructions.  I immediately started researching all of my signs and symptoms on the internet.  To my surprise, many women had experienced the same symptoms I was having and went on to have perfectly healthy babies. Thank you internet!  There was hope. I just knew everything was going to be okay, because this baby fit perfectly in my plan.
However, my plan and God's plan were not the same. On Monday morning, September 23rd, 2013, my worst nightmare became a reality.  I miscarried our sweet, innocent baby at eight weeks pregnant. The physical pain cannot even remotely compare to the emotional agony of this experience.  The word miscarriage has an entirely new meaning to me now.  Everything happened so fast.  I was going to be a mom to a precious baby boy or girl and then suddenly, I wasn't anymore.  How could this happen? How could I just become another statistic?  My dreams of becoming a mother had been taken away. This was only the beginning.
TRAGEDY
As my husband drove me home from the doctor's office, we called our family to tell them the news. I put on my bravest face.  I was in shock.  I had literally just given birth to a baby I would never know in this life.  My family was incredibly supportive and so heartbroken. Everyone was truly sad for us and wanted to help.  How could my family help me when I didn't know how to help myself?
I've never been one to cry much. My husband had probably seen me really cry a couple of times since we got married almost four years ago.  I have always felt a sense of pride that I was strong and didn't cry at the drop of a hat.  It's amazing how things change.  The few weeks following the miscarriage were very dark.  I was an emotional wreck and cried incessantly.  Any event could trigger an emotional outburst—seeing a baby on my Facebook newsfeed or TV, watching a new mom push her baby's stroller or hearing the news of someone you know who is pregnant.  My poor husband didn't know what was going on with me or how to help me and neither did I.
I felt hurt, sad, angry, depressed, scared, lonely, ashamed and inadequate.  Most of all, I felt lost.  What happened to my life?  What is next?  Why don't I get the opportunity to be a mom? How can I pretend everything is okay when it's not?  My life had been turned upside down. There were and still are so many emotions and questions.
After many heartfelt talks with my mom, she gave me advice I will never forget. She said, "Sarah, you have to give yourself permission to grieve."  Once I gave myself permission, I stopped looking for answers and started looking for the comfort and peace only God can provide. I could feel God's presence all around me.  I recognized Him in my husband, who never gave up trying to put a smile on my face. I also recognized God's faithfulness in family members and friends who always listened and encouraged me.
 ONE MONTH DOWN:  JOY
I can't believe it's already been over a month since the loss of our baby.  I feel an overwhelming peace knowing our child is in heaven with our God.  However, there's still a part of me that fears the unknown of our future.  I keep asking the same questions in my head.  Will I be able to get pregnant?  Am I going to have another miscarriage?  How can I go through this emotional rollercoaster again?  There are so many questions and not so many answers. I do know one thing is for certain, I put my trust and faith in the One who does have all of the answers.
Every day I think about our unborn child.  I can't imagine a day that I won't think about him or her. I know my God is in control and this is His perfect plan for our lives.  We may never understand why this tragic event occurred or what our future holds, but I am beyond thankful for what God has shown me through this journey so far.  The greatest lesson I have learned is that my joy does come from this earth, it comes from Him. "The joy of the Lord is my strength." (Nehemiah 8:10)
UPDATE:  THE JOURNEY CONTINUES
Note:  This portion of the article was written on April 19, 2015
As I write this with tears streaming down my face, I haven't read the words above in over a year. I can't believe it's been a year and a half since the loss of our baby.  Most of what I wrote still holds true.  Will I be able to get pregnant?  Am I going to have another miscarriage?  How can I go through this emotional rollercoaster again? I still ask myself these same questions every day. I wish I could say we had our first baby and are over the moon in love with him or her, but I can't. We are still waiting on our little miracle.
It's amazing how much things can change in a year and a half. There have been so many wonderful events that have occurred since our tragic loss. My husband graduated Internal Medicine Residency and was accepted in to a Gastroenterology Fellowship.  We moved last summer to a community of loving and supportive people, and we purchased our first home!  We are so grateful!
Honestly, I have no idea what the future holds for my husband and me on this crazy infertility journey. On a recent visit to a fertility clinic, we discovered that my right fallopian tube is blocked.  More than likely, I will have to undergo fertility treatments.  At this point, we are trying to decide what steps to take next. My emotions vary from day to day but most of the time I am sad and angry that we have to make these difficult decisions that lie ahead of us. It's a daily struggle that I never imagined myself facing.
We are so looking forward to the day when we become parents! We don't know the details of how or when, but one thing is for certain, I know my God is still in control and His plan is bigger than anything I can imagine. Thank you for taking the time to read my story.  If you are struggling with infertility or miscarriage, please know you are not alone. I hope you can find some comfort in knowing that there is a community of women going through similar trials who love you and who are praying for you. I know every day can be a struggle, but at the end of the day, we have a choice to make. I choose joy.
Love always,
Sarah Stagg
---
For more information about infertility click here.
To learn more about National Infertility Awareness Week click here.
One of the reasons I decided to write about my own infertility experiences and share my friends' stories as well, is because I've found a lot of comfort from reading other online posts from women going through the same struggles. If you ever want to chat with me on a more personal level, I'd love to connect over on Facebook or Instagram! Follow me on Facebook at We're the Joneses and @werethejoneses on Instagram