How to make a DIY skull floral arrangement in three easy steps! A Halloween skull centerpiece is a fun floral arrangement to add to your spooky kitchen decor, halloween tablescape, or frightful front porch decorations.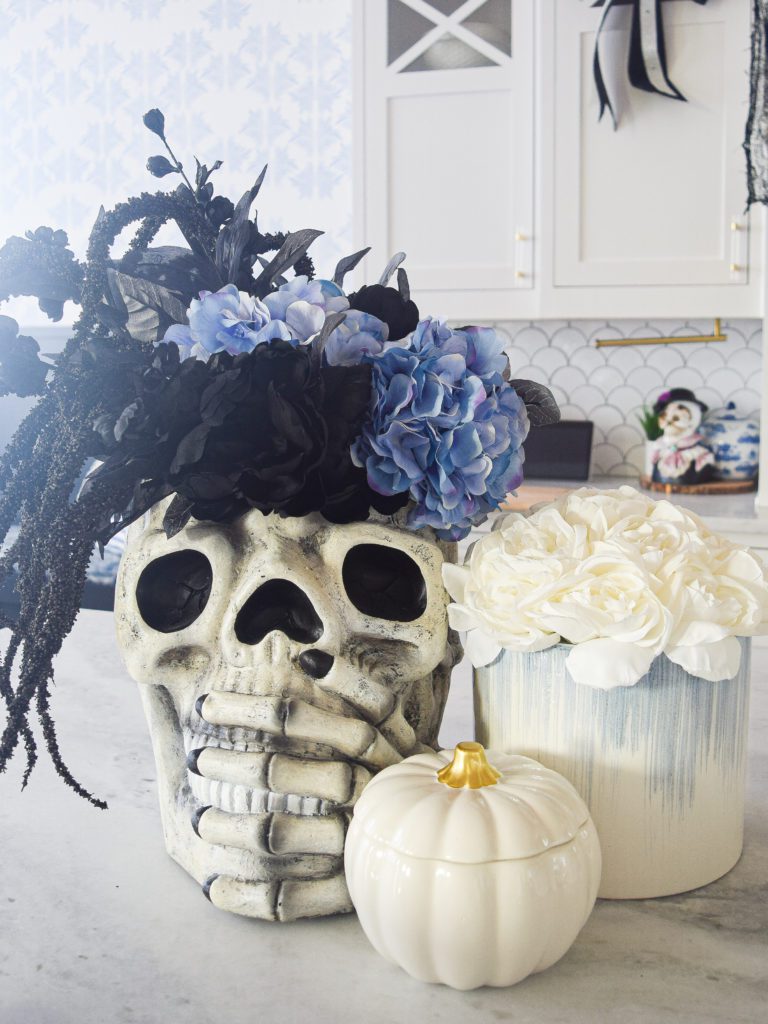 DIY Skull Floral Arrangement
This post is sponsored by Home Centric.

Making a skull halloween floral arrangement is super easy! Gather these supplies to start your DIY floral skull centerpiece:
Dry floral foam bricks
Green floral moss
Halloween floral stems – I am using stems I have on hand from past Halloween decorating, and also added soft blue hydrangeas to match my kitchen decor.
How to make a Halloween Flower Arrangement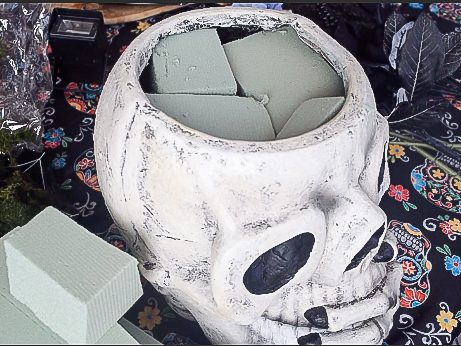 First Step:
Add the dry floral foam bricks inside the skull planter. Floral Tip: I stuff old grocery bags in the bottom so it will raise up the floral foam. Cut the floral foam to size so it will fit the skull opening.
Second Step:
Place green moss on top of the floral foam. Make sure you cover all the areas so the floral foam can't be seen. Floral Tip: Use floral pins to secure the moss to the floral foam so it stays in place.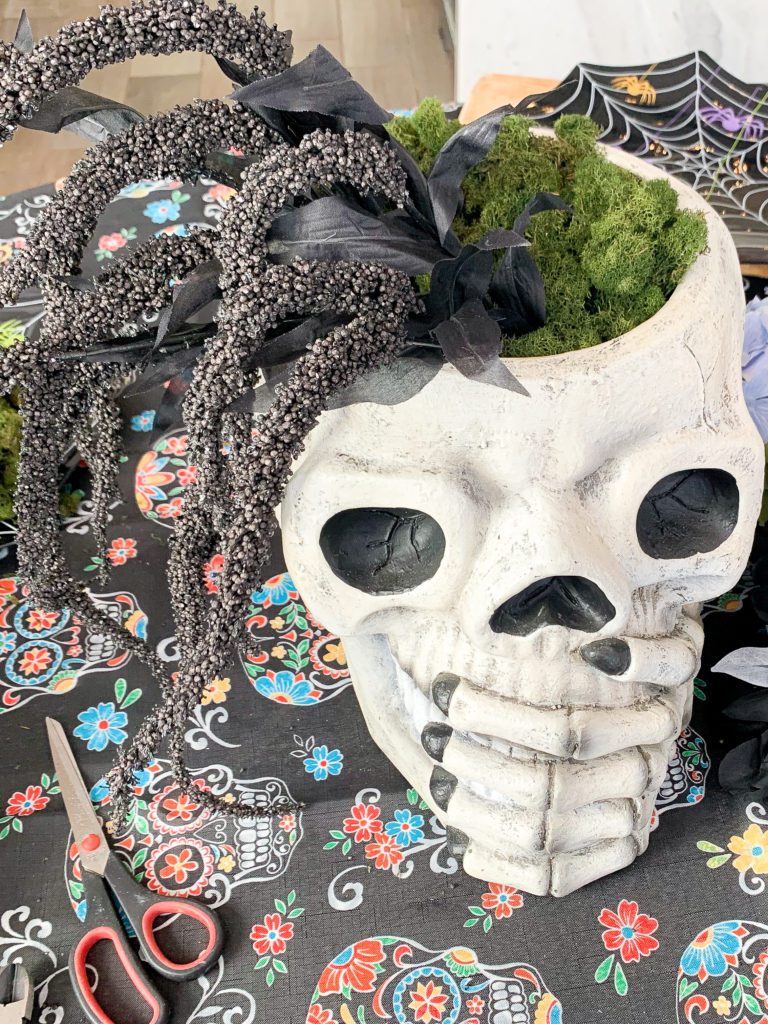 Third step:
Add in your Halloween themed floral stems. Cut the individual stems at varying heights to add depth and dimension to the floral arrangement. Floral tip: I like to use a "sweeping flower stems" and "focal flower stems" for my floral arrangements.
The sweeping flower stems are long skinny stems, that can cascade down the side of the vase. The focal flower stems are large blooms that create the main focal point of the floral arrangement.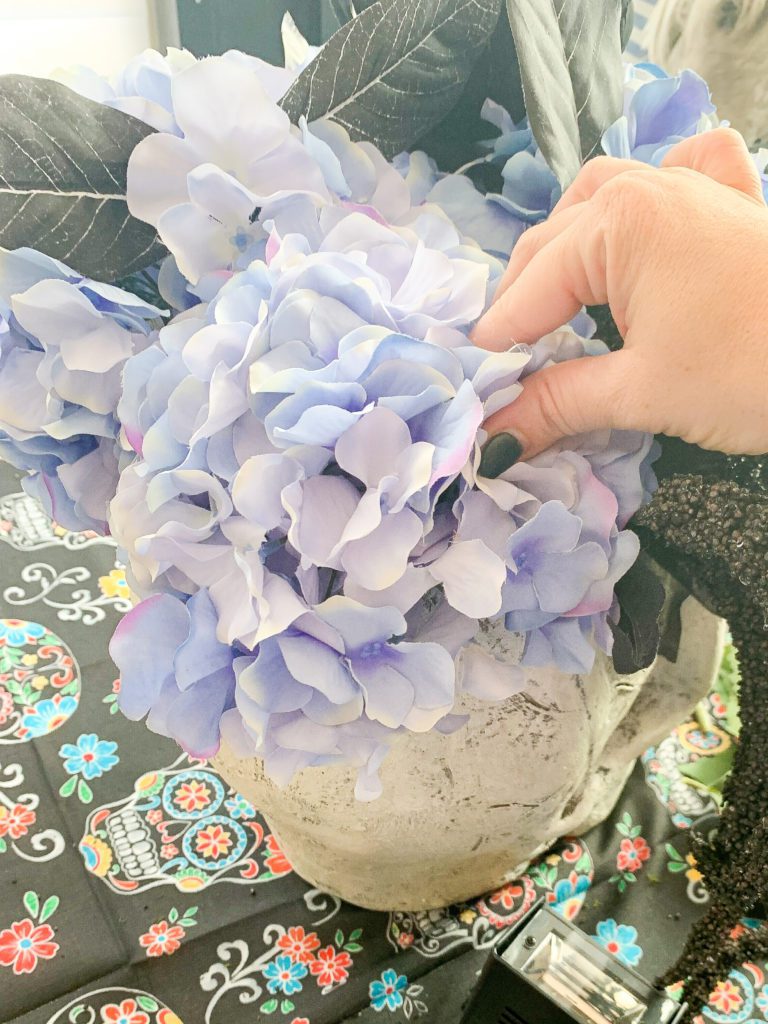 Floral tip: When you are creating a floral arrangement that will be seen from all sides, make sure to turn the planter or vase as you are adding in the stems so that each side of the arrangement is fully covered by flowers.
Ta-da! A Halloween floral headpiece for my speak no evil skull statue – how cute is she?!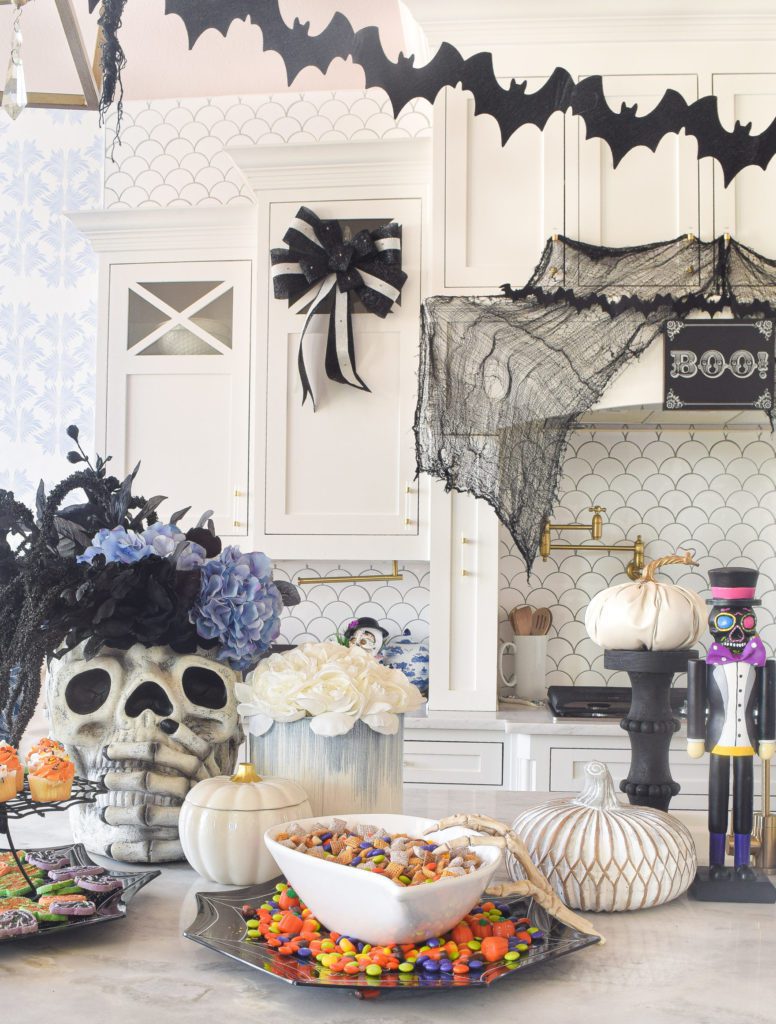 Halloween decorating doesn't have to be gory or gruesome – create classy skull decor for your modern Halloween home.
Add in yummy Halloween treats to top of your spooky kitchen decorating.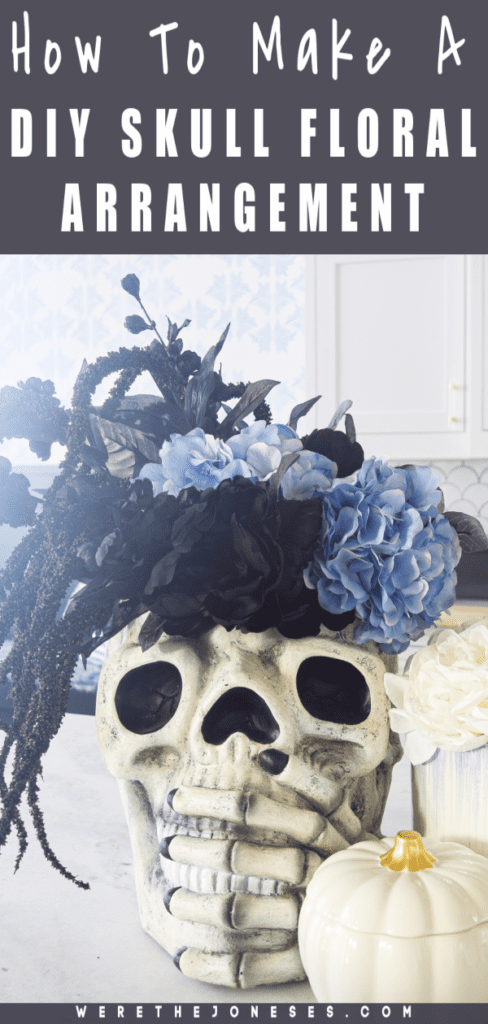 Do you like to decorate for Halloween with more gore or more classy decorations? I think both are fun, but I lean more towards classy Halloween decor!