Frightful Front Porch: Modern Chic Halloween Decorating Ideas
Halloween decor that is elegant and chic! I've decorated my Halloween front porch with modern black and white stripes and touches of rich purple for a stylish Halloween porch. I love the combination of purple, black and white for a classy and elegant touch on Halloween. The black and white stripes throughout the porch give it a fresh modern feel, and the pre-lit striped bow is my favorite! I also have an easy DIY on adding removable flower and bow embellishments to Halloween pillows, sure to add whimsy and elegance to your modern Halloween decor!
This post is sponsored by JOANN. All opinions are my own.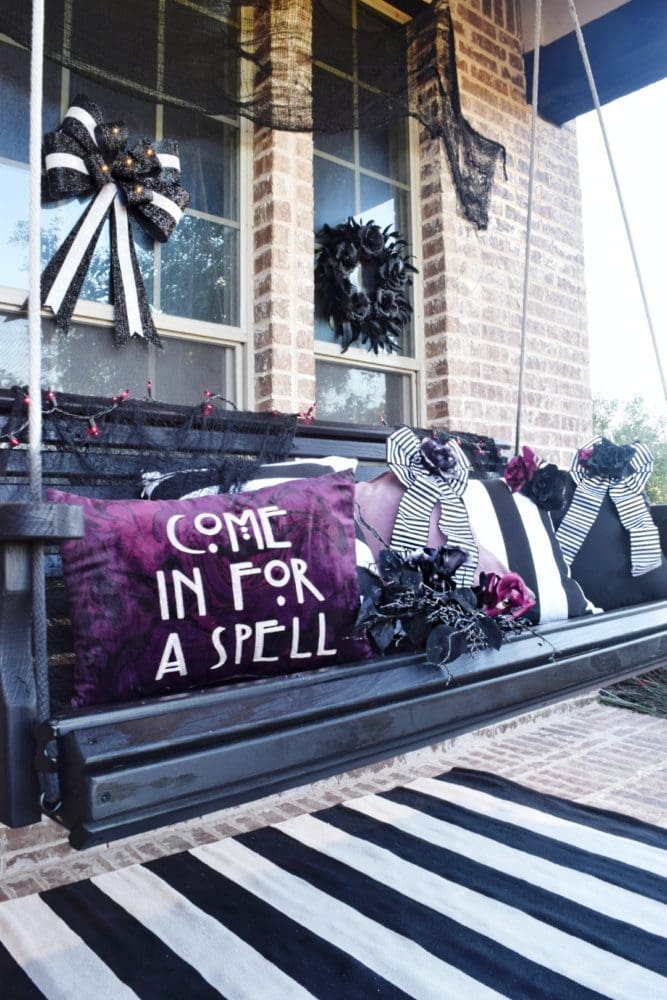 Welcome to our frightful front porch!
I had so much fun shopping at JOANN for Halloween decor to give my porch a modern chic design this year! My 6 year old son Cade is super into Halloween and loved being my Halloween decorating assistant. He told me, "But mom…where are all the skeletons and ghosts and zombie hands??" Ha! I said, We can be spooky but with style! And it's true! You can decorate with fun frightful Halloween decor but with a classy and elegant spin. In today's post I talk about my tips for stylish and spooky Halloween decorating!
Frightful Forest Front door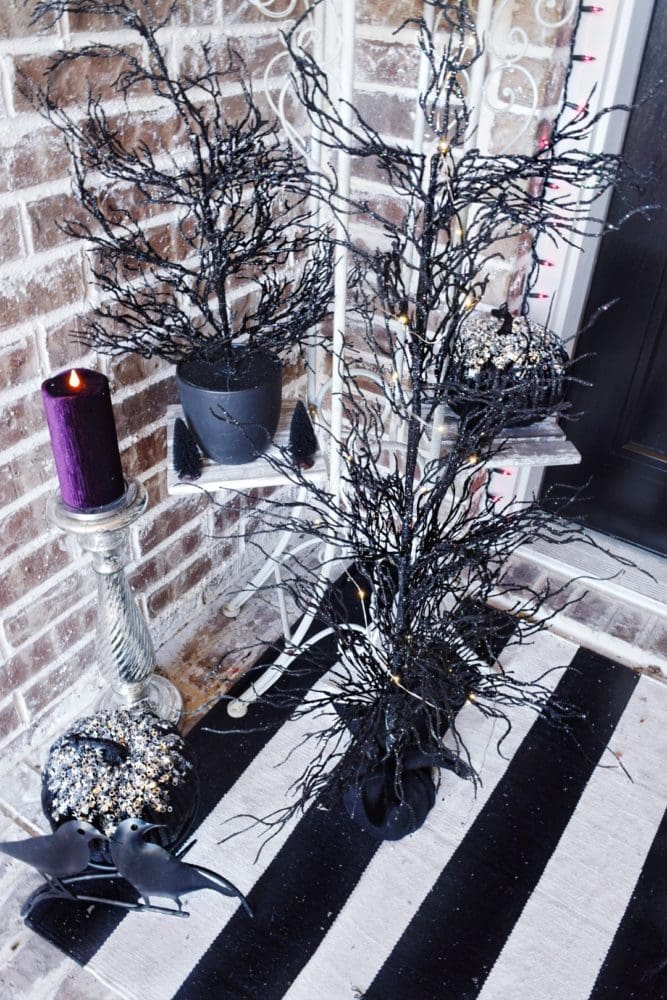 4′ Halloween Spooky Tree with LED | Crow Pumpkin Holder | Black Silver Pumpkin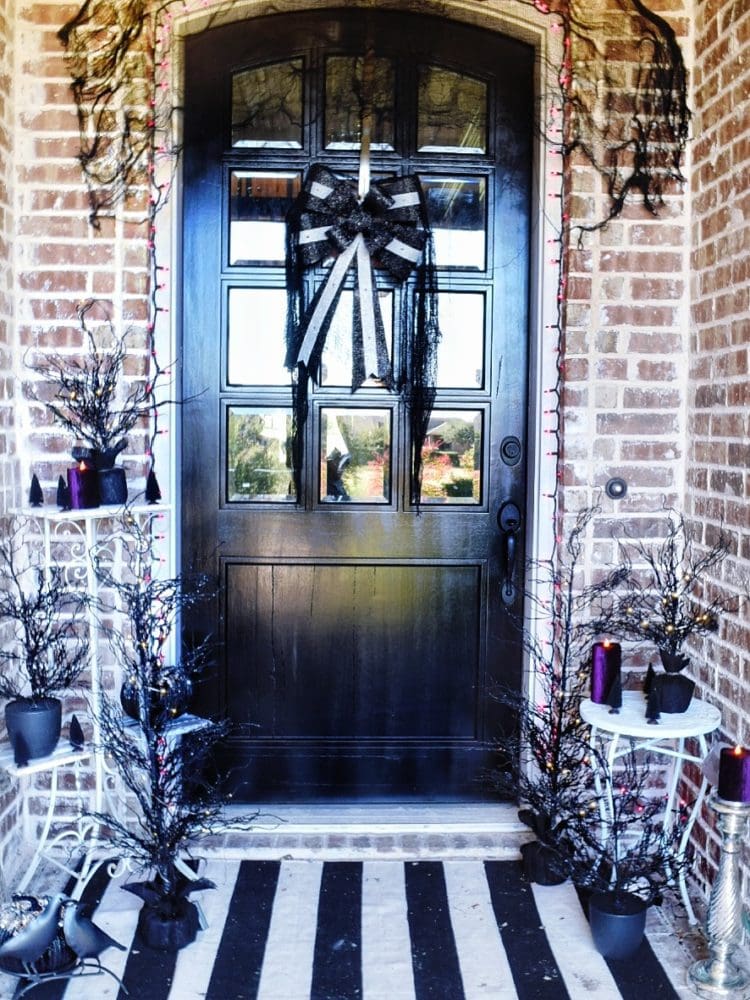 Purple String Lights |3"x4" LED Purple Velvet Candle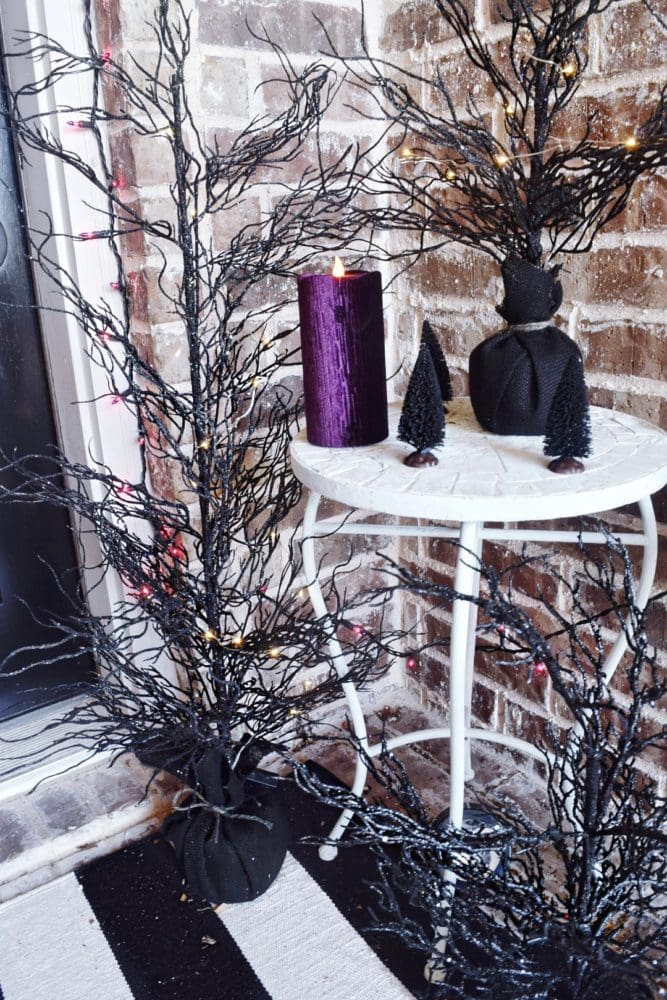 Black Mini Trees | 3"x6" LED Purple Velvet Candle | 2′ Halloween Spooky Tree with LED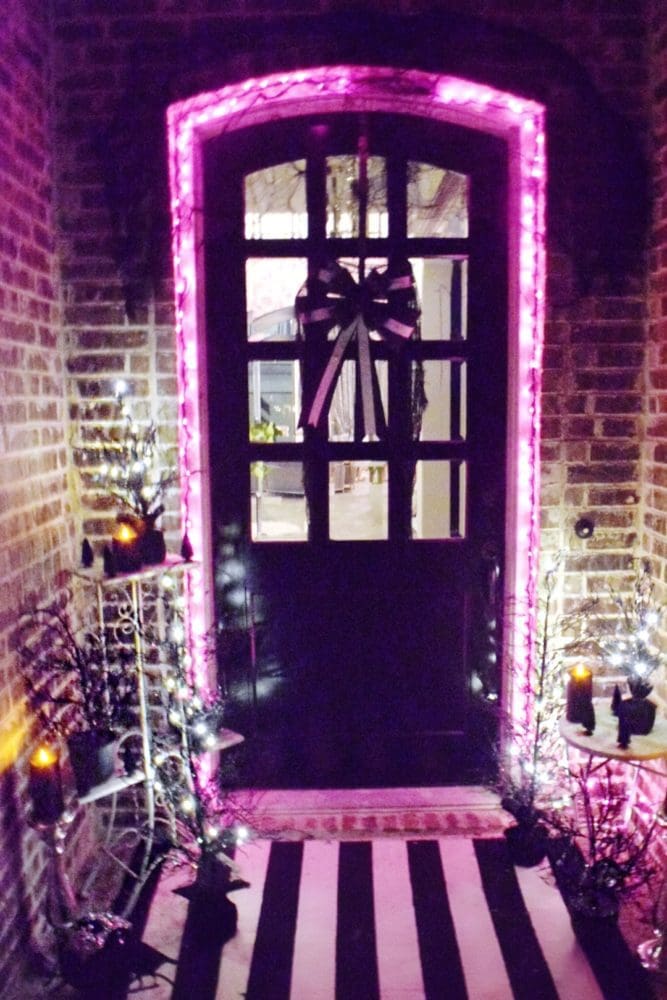 The two areas on my porch I wanted to decorate for Halloween are the front door and around the porch swing. For the front door area, I found these pretty LED Halloween trees in multiple sizes, which gave me the idea of creating a "frightful forest" around the front door! It gives the front door area a haunted feel but with pretty ambiance of sparkle lights.
I layered in mini black trees to add to the creepy forest theme. To add more haunted lighting, I hung purple string lights around the door, and placed velvet purple LED pillar candles around the trees. For even more sparkle, I found silver embellished black pumpkins with one sitting on the black crow pumpkin holder. To pull the Halloween porch together, I hung creepy black fabric around the door and with that, a haunted frightful forest was made! I love how the sparkle glow it creates at night and the feminine modern look the purple colors add!
Chic Halloween Porch Swing
Black and white striped bow | black creepy fabric | Burgundy & Black Floral Stems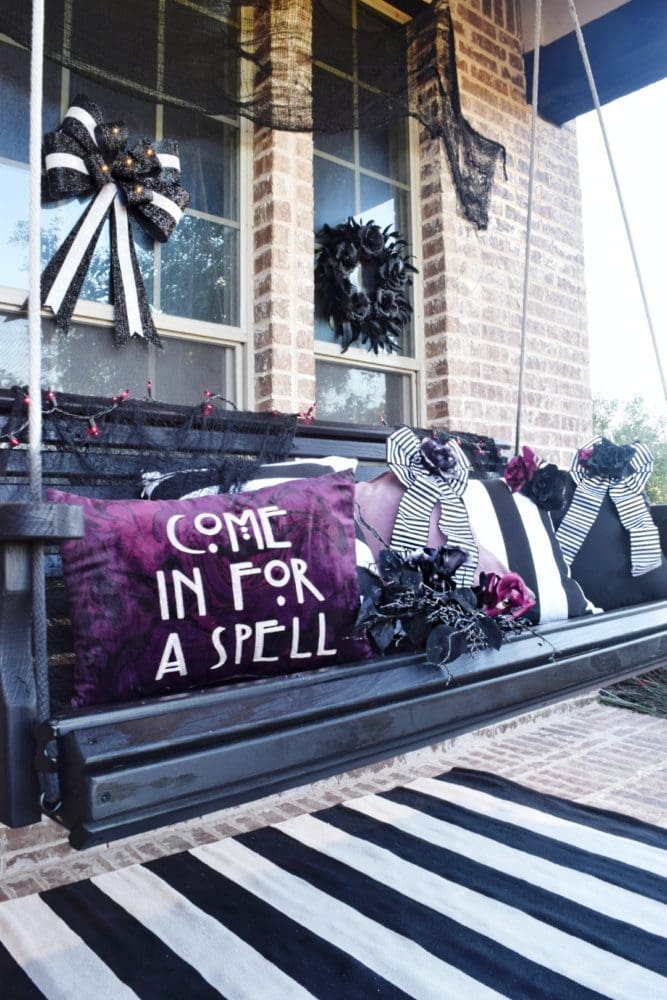 Come in for a Spell Pillow |Black and White Bow with LED | Feather Black Wreath with Roses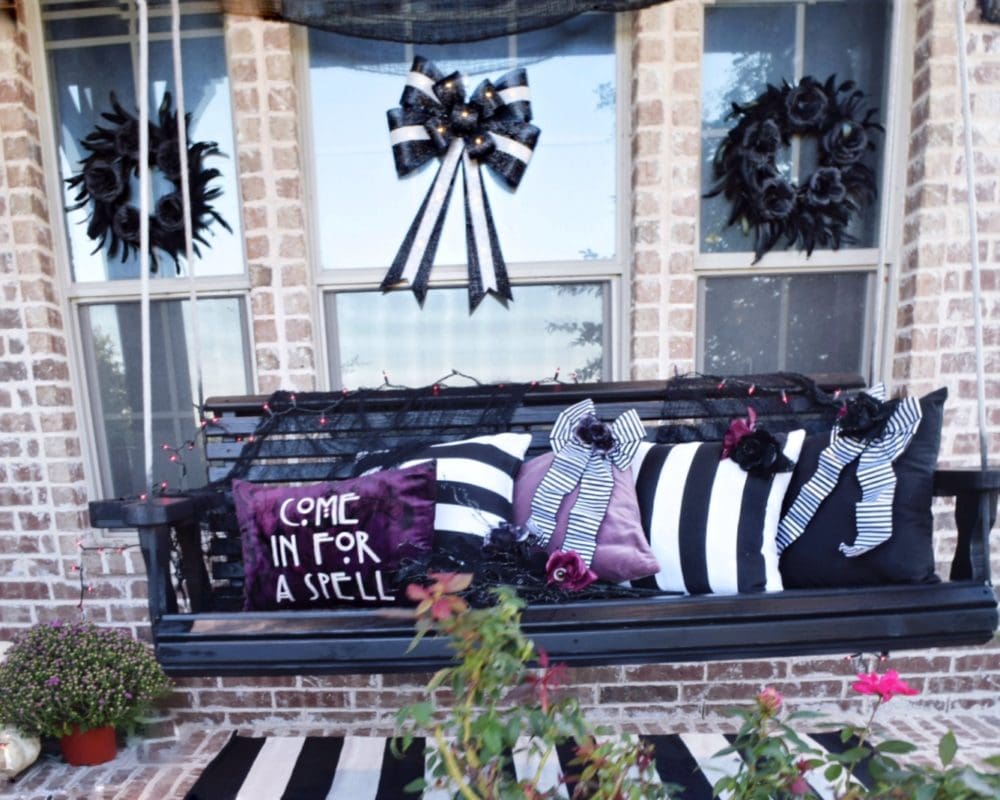 For the porch swing area, I focused on decorating the swing and the windows behind it. Decorative throw pillows are a fun and easy way to add to your seasonal decor, and I love this purple Come in For a Spell pillow! I draped purple string lights and creepy black fabric around the swing and windows to match the front door area and to add a haunted glow.
For the windows, I hung two black feather and rose wreaths which add a feminine glam touch to the Halloween decorations. I placed another black and white striped LED bow on the middle window to match the bow on the front door and the striped bows on the pillows. Can you tell I love the black and white stripes? It gives the Halloween decor a sophisticated modern touch and creates a theme throughout the front porch.
DIY Flower and Bow Embellishments For Pillows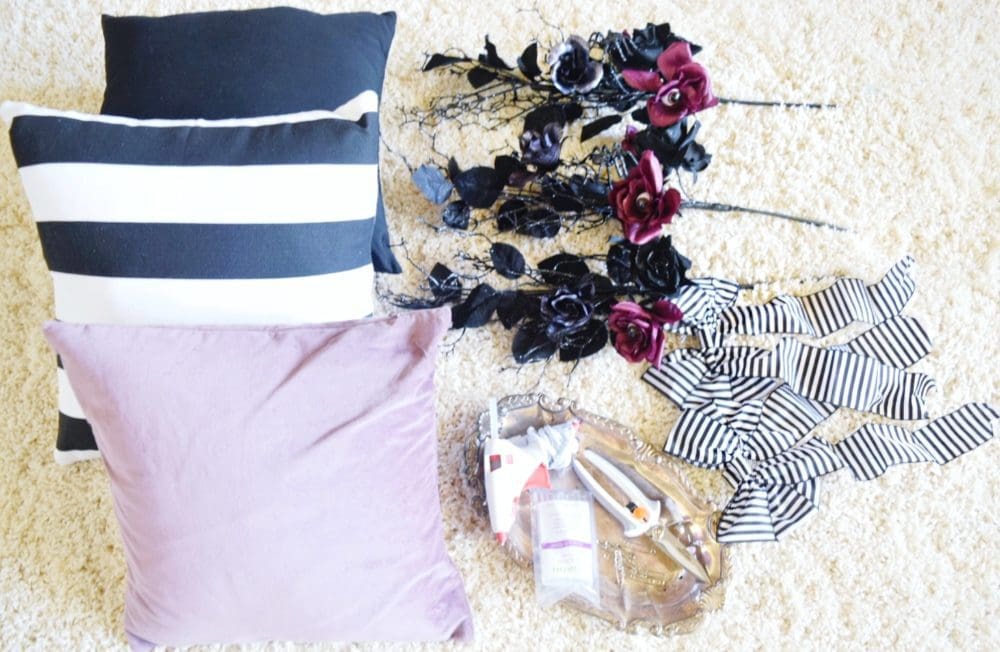 Hi-Temp Glue Gun | Fiskars DIY 8" PowerCut Snips | Burgundy and Black Floral Stems
| Black and White Striped Bows
When I saw the burgundy and black floral stems at JOANN I knew exactly what I wanted to make with them! I created removable flower and bow embellishments to dress up my neutral Halloween pillows. The embellishments create a custom feel to the pillows, and tie in the feminine chic look to the Halloween decor. They are simple to make and are removable, so you can use the pillows with or without the embellishments. Find my DIY Removable Flower and Bow Embellishments here on the JOANN app!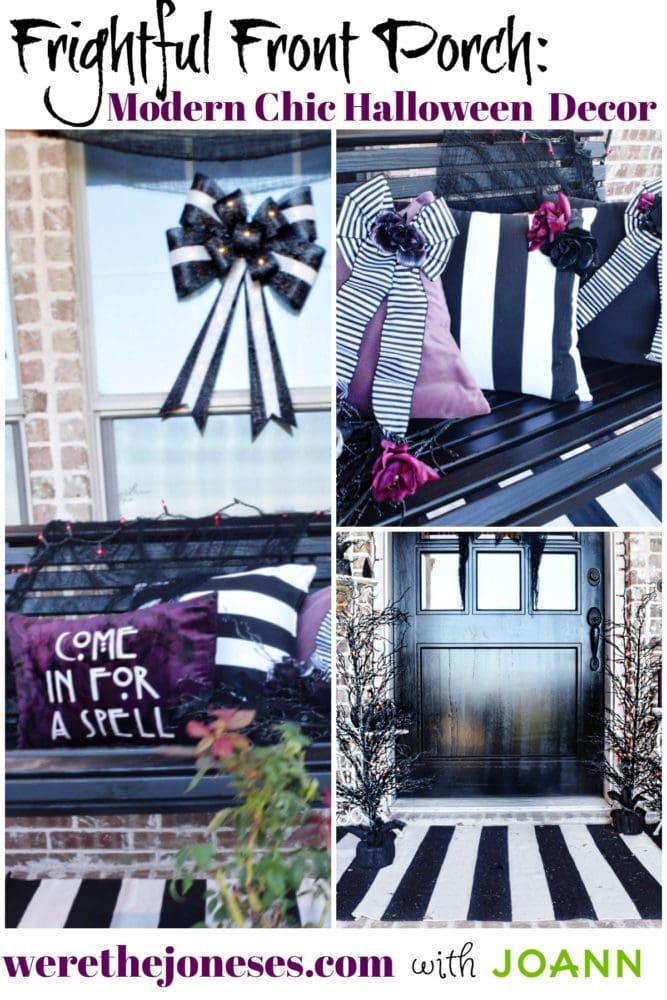 I can't wait for Halloween night and all the trick or treaters to come up to our frightful front porch! My son loves to trick or treat, but his favorite part of Halloween night is passing out candy to other kids and seeing everyone's fun costumes!
I hope I've inspired you with our modern and chic Halloween decor for our front porch. I love that you can decorate with spooky Halloween decor but still give it a classy and elegant feel!
Happy (modern and chic) Halloween decorating!