Valentine's Day Date Night Flashback: I'm throwing it way back to Valentine's Day 2003. Bryan and I are 15 years old and about to go on our first Valentine's Day date! Spoiler Alert: It has a happy ending! 🙂 Do you remember your first Valentine's Day with your loved one? Need help with Valentine's Date Night ideas? Keep on reading for my Valentine's Day Date Surprise Date Night tips!
This shop has been compensated by Collective Bias, Inc. and its advertiser. All opinions are mine alone. #SendingYourLove #CollectiveBias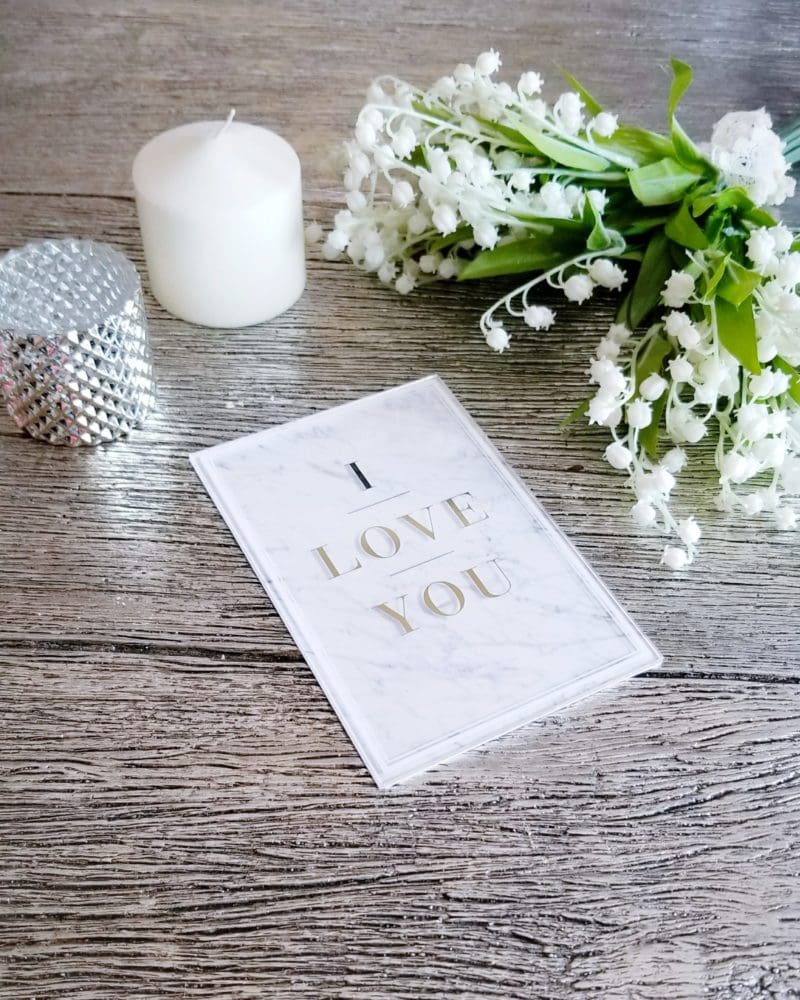 Ding ding
I'm sitting on the edge of my couch as my phone vibrates in my hands. I've been checking the window every 30 seconds to see if his car has pulled up, pacing back and forth between the living room and dining room. I turn my phone over, and read the text that just came through.
Pulling up your drive
I smile and grab my purse, check my reflection in the mirror for the umpteenth time, catching myself not to throw open the front door and run to his car.
Be cool Merichelle, be cool.
I hear the car door shut, and his footsteps walking around our long winding porch. He knocks on the front door, and I slowly count to five making sure I don't open it too fast.
I swing open my front door as casually as I can and catch my breath.
Why does he always look so effortlessly handsome??
He's wearing his signature faded jeans, boots, and letterman jacket and I suddenly feel way over dressed.
"Where are we going??"
"It's a surprise"
The butterflies in my stomach start to come again as I feel his hand reach and grab mine.
Off we went as two crazy-nervously-in love 15 year olds on our very first Valentine's Day date. Bryan surprised me with a picnic by the lake, six red roses (one for each month we had been dating) and a poem he read to me about those first special six months.
At the end of our date as he walked me up to the door and around my home's wrap-around porch, he leaned in and whispered "I love you" for the very first time.
I was so smitten, I thought I could never be more in love as I was at that very moment.
Fast forward 15 years later: one wedding, four moves, three houses, two dogs, and three kids later, here we are. I realize as I'm writing this that we've been together as many years as we've been apart. Half of our lives! How did we get so old??
After spending 15 Valentine's Days together, I don't think any of them could ever live up to the very first with our picnic at the lake. The first few years of dating, Bryan was always really good at planning surprise date nights for special occasions. But as we've gotten older and have more responsibilities in life, and throw in a house, work and kids, it's gotten harder to take time to plan date nights and a lot of times I end up being the one who puts them together!
Now that we're older I actually like to be the one planning our special trips and dates nights. And who says Valentine's Day must always be planned by the man in the relationship? Yes, it was nice when we were dating and he would plan these creative dates and surprise me with thoughtful elaborate gifts.
But now after fifteen years of being together, nine years of marriage and three kids later, life is crazy busy and it's hard to make time for date nights unless I'm the one who does the planning.
Let's get real here. The truth is I'm the one who finds a babysitter, I'll be the one needing to plan my special outfit, and I'm also the head of the family calendar and family schedule. It really makes the most sense for me to plan events and fun dates for us, and I love pulling off surprise dates too! Any other mamas feel me on this and like to be the date-planner??
If you want to plan a special surprise Valentine's date night for your loved one this year, I've got you covered! Here are 5 Tips on How to Surprise your Loved One with a Special Valentine's Date.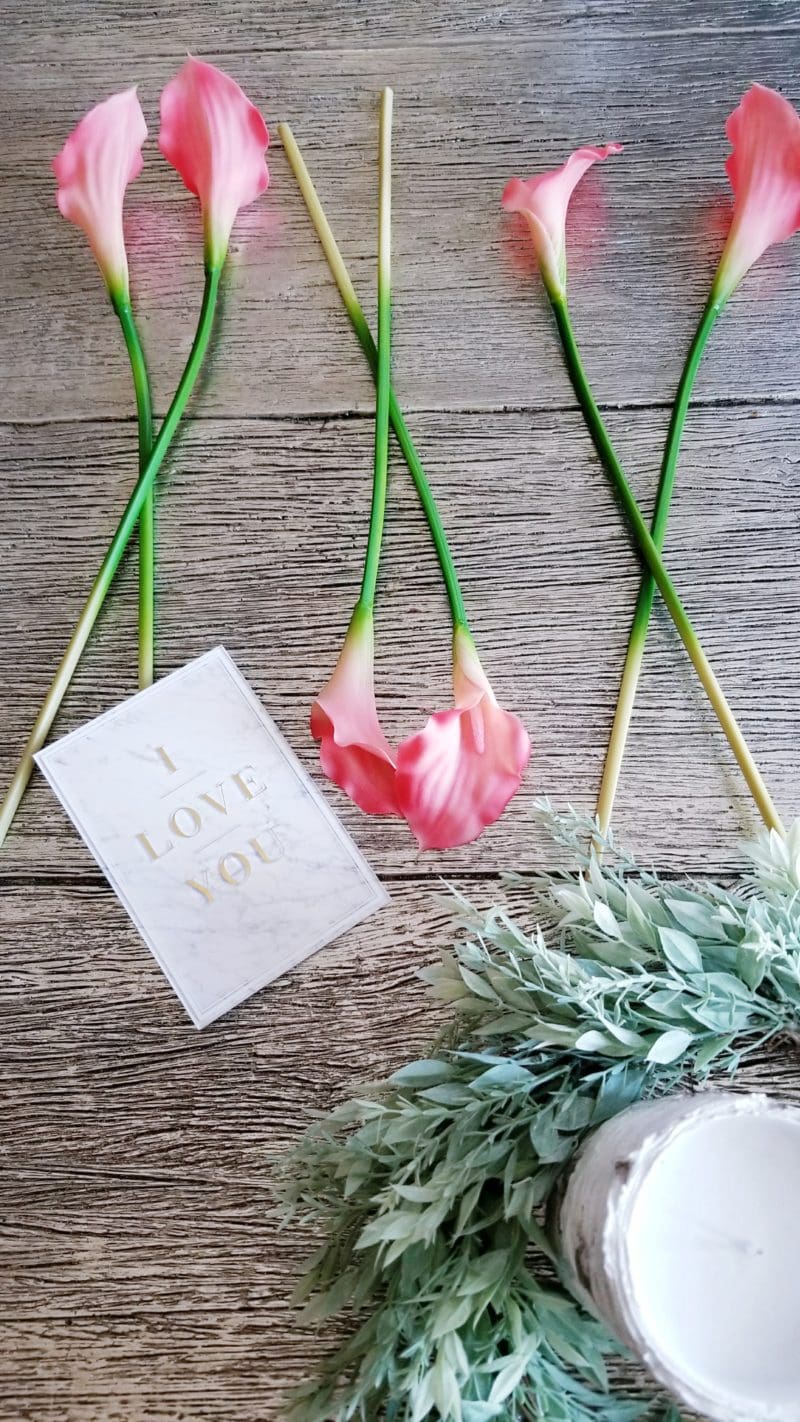 1. Hire a babysitter and book the date night in advance.
This might seem obvious, but it's sometimes the hardest and most complex step! Good babysitters can be hard to come by, and now with three kids it's even harder to find someone to trust and who is willing to take on all three kids at once! Over the years, I've been the one who does the research on who to hire, I talk to other moms and find out which babysitter to use and which to stay away from, and I've developed close relationships with our most used babysitters over the years. Plus, Bryan and I might not be the best at planning ahead, but I feel like I'm slightly more in tune with the hype and news surrounding Valentine's Day, and I know that if you don't plan early everything gets booked up fast! So plan ahead and give your babysitter plenty advanced noticed, and you've got the hardest step out of the way!

2. If you plan on going somewhere fancy, plan out your outfits (both yours and his!) and have them ready to go.
Another bonus of being a woman planning a date night: picking out the PERFECT outfit to wear for the occasion, and even having my husband's outfit ready to go and picked out too. Nothing is worse than trying to get Bryan to go out to a fancy dinner and him say all of his suits are at the cleaners. (Or in a big pile of laundry I've yet to get to that week!) If you need special clothes (suit jacket, golf pants, etc) make sure they are ready to go and clean, and you'll be all set for both your outfits and won't have to worry about getting outfits ready the day of.
3. Throw him off by mentioning other life events that would interfere with a special date night (couldn't find a sitter, the kids' have practice that night, etc.)
Being the one in charge of the family calendar in our household, I know when school events are taking place and what days the girls have dance lessons and when we're supposed to bring snacks for soccer. I'd like to think it's because I'm an OCD organized person who has it all together in a neatly made calendar, but the real truth is, I'm a hot mess when it comes to organization, but I'm just the one that's at home more so I get to keep up with the day-to-day schedule! Because of this, I can easily throw my husband off with a pretend excuse of why we can't do a special date night this year.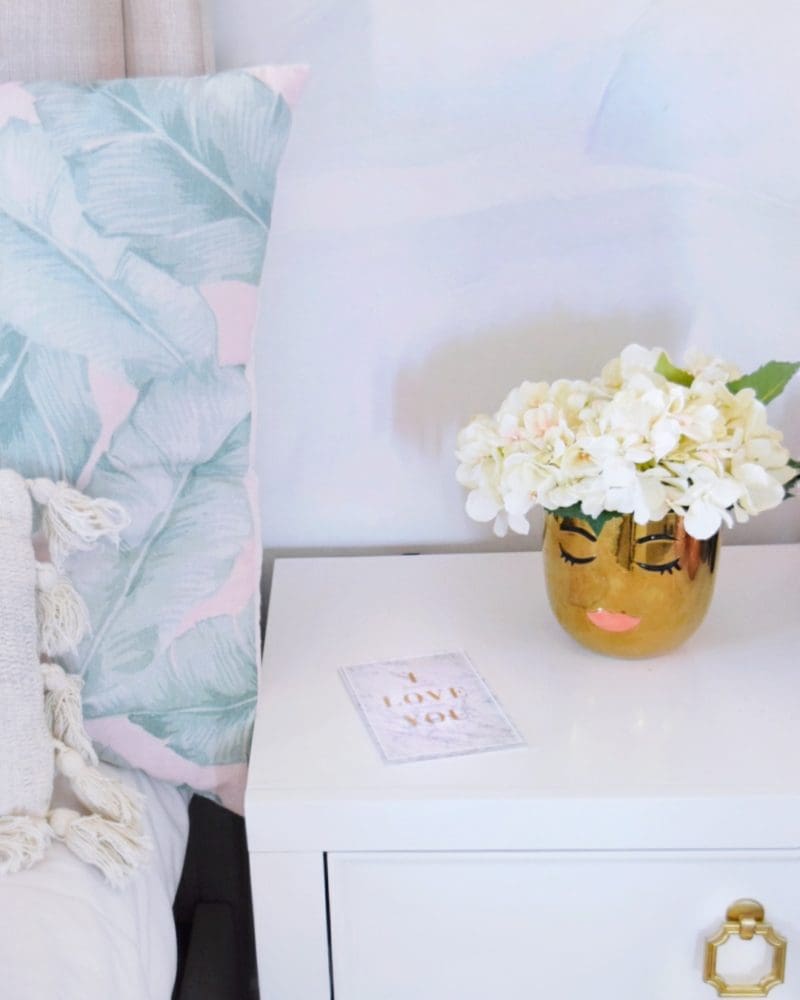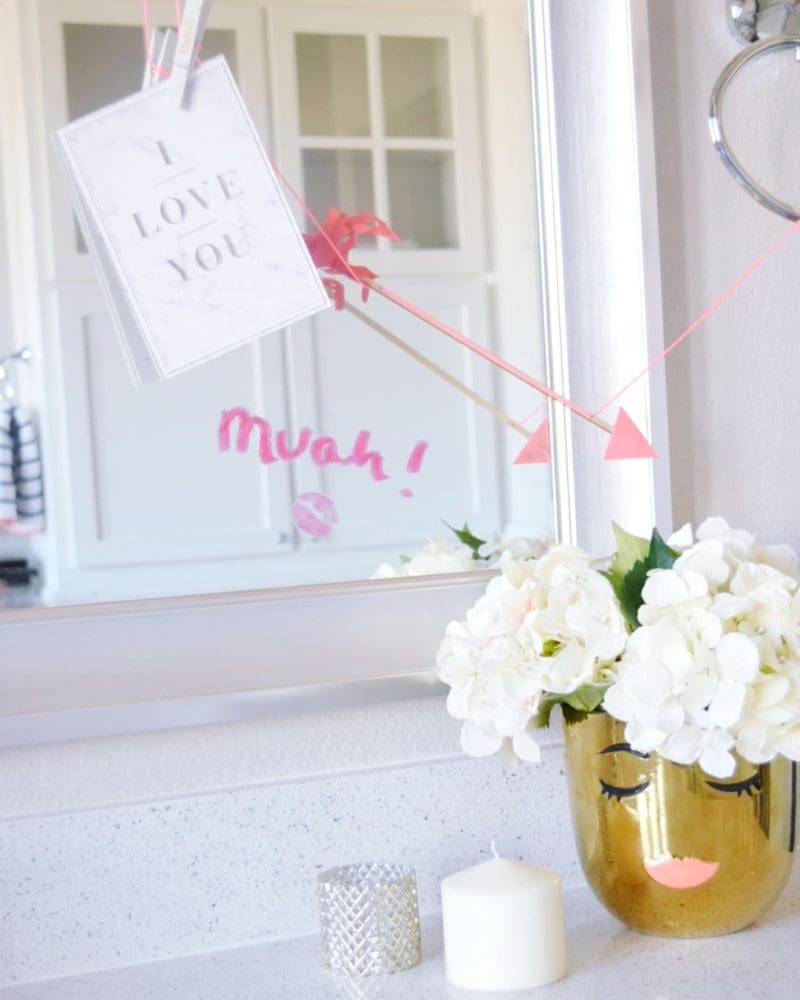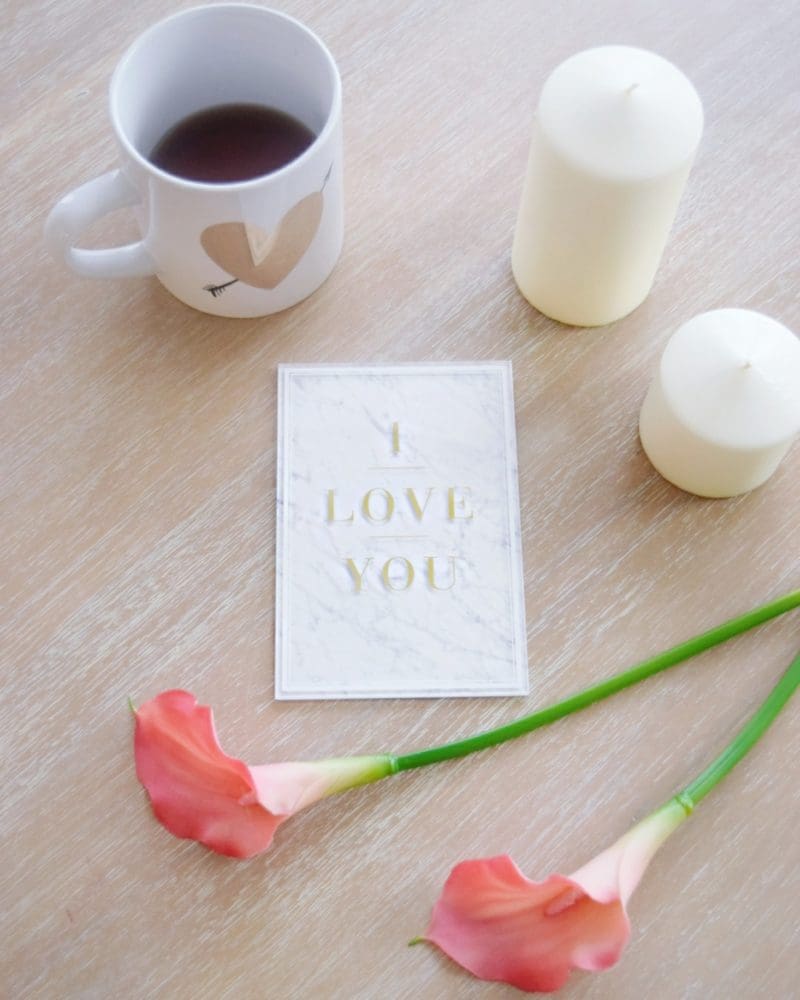 4. The fun part: Leave special hints the morning of Valentine's Day in places you know he'll see in his morning routine.
If you're planning a surprise date night, my best advice is to give a few clues the morning of so he can know the plan for the day/night. I like to get a special card and give a few details on what I've planned for our date night, and leave it in places that Bryan would see when he gets up in the morning. Some ideas would be on his nightstand, have the card laying next to his phone or keys so he can see it right when he wakes up or when he's leaving.
Another idea is to have a special card displayed in the bathroom so he can see it when he's getting ready. You can hang it on the wall and even write a sweet message on the mirror too!
If Valentine's Day falls on a weekend and we actually sit down to eat breakfast, another fun place to decorate would be the breakfast table and put the card at his place setting next to his favorite morning coffee.
I love finding a beautiful Valentine's Day card to write my little date night clues in, or even just to say a simple I love you. The card I found this year is so sweet and simple, but beautiful at the same time with a marble print and clear acrylic top. What makes it so unique is that it's three dimensional and could be used as cute Valentine's decor too! You can check your local Walmart for the perfect Hallmark Signature Card to help celebrate the day and make your Valentine's Day extra special. Walmart has all your Valentine's Day needs to plan the perfect date night for your loved one. You can find the Valentine's Day card aisle near the party supplies section, with the Hallmark Signature Cards highlighted in grey.
Be sure to check out this Ibotta offer at Walmart to earn $1 on any Hallmark Valentine's Day cards prices $2.97 and above, valid through 2/14 or while supplies last! Also, look in your local Walmart for a coupon to save $2 on any 3 Hallmark Valentine's Day Cards. Make sure to check out the Hallmark Valentine's Day hub for more inspiration and to find a store near you!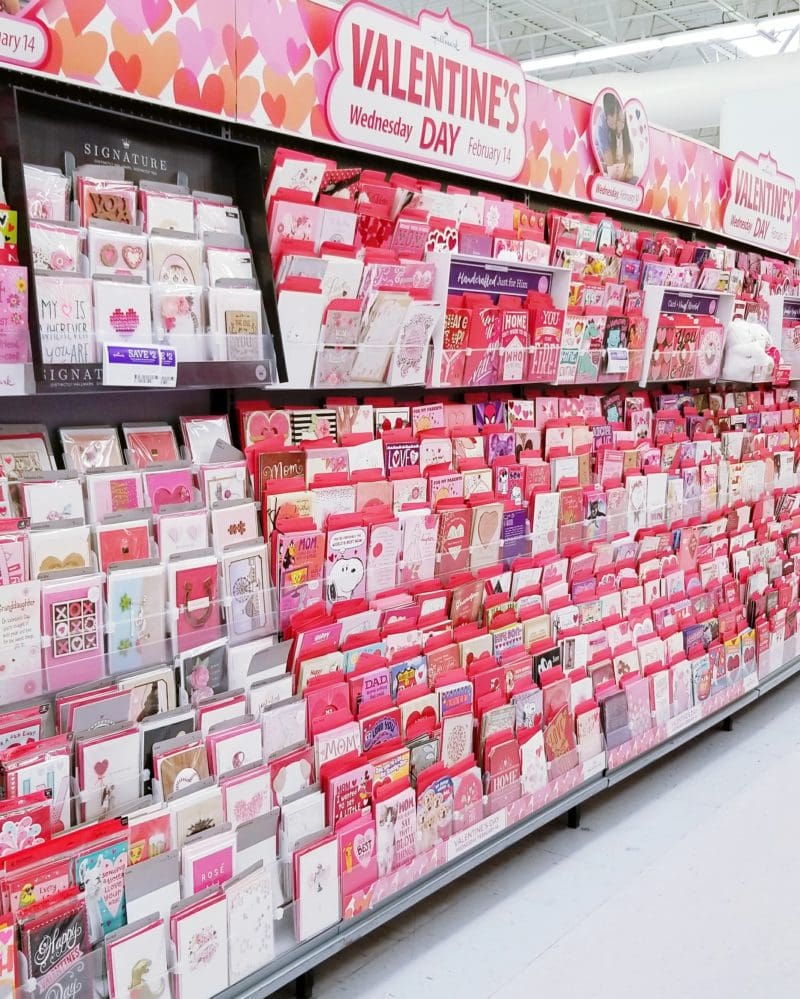 5. Fun Date Night Ideas to Surprise your Loved One with A Dinner Date Night:
To be honest, most of the time a perfect date night in our minds is going to a nice Restaurant where we can get dressed up and eat great food, without having to worry about hurrying through a meal before our kids start acting up, or finding two high chairs that the buckle isn't broken, or having to order to-go everywhere we eat because we're too scared to even bring three kids inside the restaurant! Sometimes simple is best, and usually my go-to when planning a date night for a special occasion. But if you want something special, you might want to consider booking private dining rooms, you may visit sites like https://piermarket.com/news-events/private-dining-room-with-a-stunning-views/ to learn more.
A Sporty Date Night:
Bryan and I are both into sports and it's always fun to go to a sporting event for a relaxed date night. Even if going to an actual game is a little too much or doesn't fall on the right date, you can still plan a "sporty" type date night. In our hometown, there's fun stadium tours where you can take VIP tours throughout the stadium, or you could even go play a relaxed game of golf.
A Unique Date Night:
If you are wanting something a little more unique, you can search your town to see what fun and different date night options you have available! Where we live, a fun and trendy date idea I've heard about lately are the escape and puzzle rooms. You basically are in a real-life Clue game and have to work together to find clues and solve the puzzle to escape the room!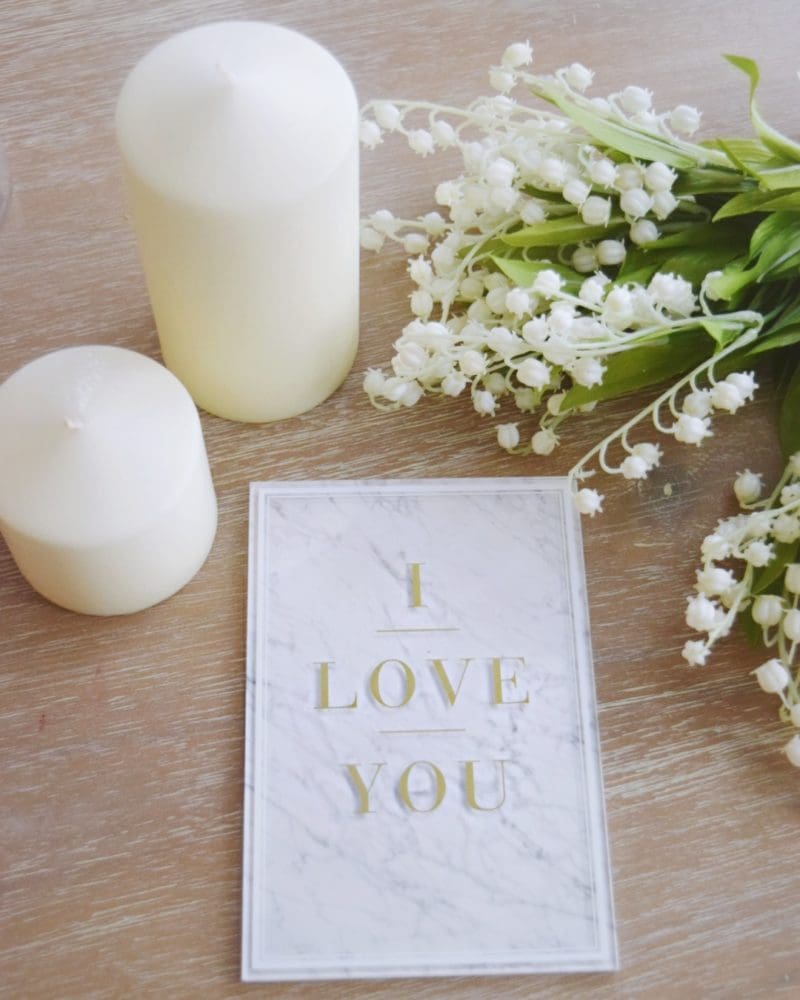 I hope I've helped you plan a perfect surprise date for your loved one this Valentine's Day!
Do you have unique ways to surprise your loved one with date nights or does your significant other do all the planning? What are your favorite ways to show that special someone they are loved?
Happy Date Night Planning!