Adding more magical Christmas whimsy to our dining room! Our angelic glam Christmas tree is embellished with feather angel wings and feather florals, whimsical unicorn and dove ornaments, and frosted pink poinsettias and iced berry floral stems. The lush blush pink feathers and florals create a feminine glam look with dreamy angelic feels. Don't forget to scroll to the bottom to see my simple no-sew faux fur tree skirt DIY tutorial!
THIS POST IS SPONSORED BY JOANN. ALL OPINIONS ARE MY OWN.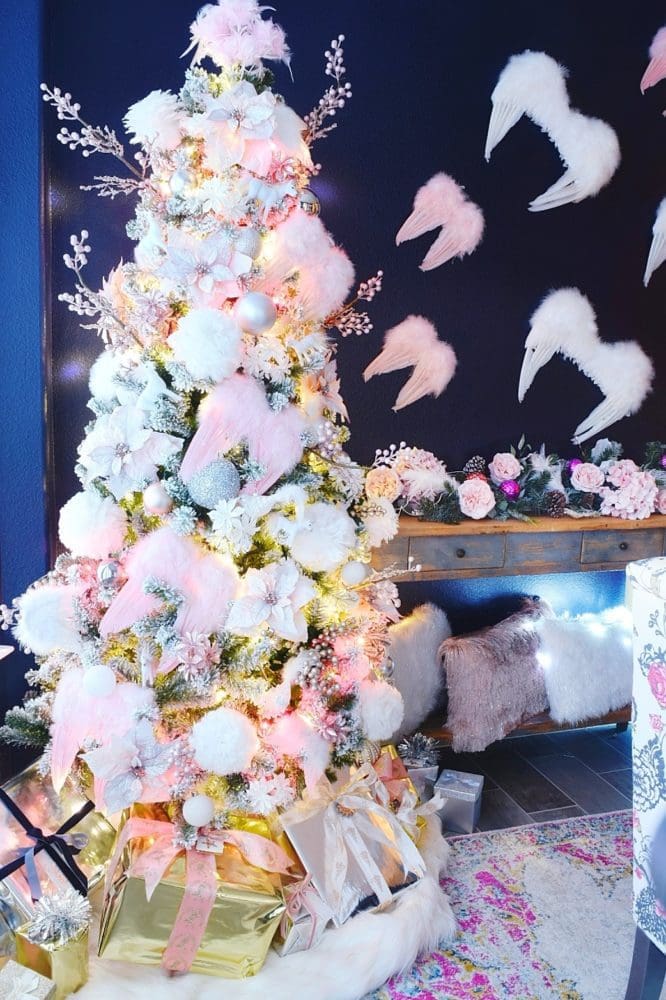 It all started with angel wings on the wall.
Whether it's designing an entire room or decorating for Christmas, I like to take inspiration from one or two items and build off those items to create a specific style and theme for the space. This item was the pink feather angel wings from the JOANN Halloween costume aisle. Even though these are technically made for a Halloween costume, doesn't mean they can't be used for something else! Stroll the aisles of your favorite store to spark your imagination. Browse the shelves to help you think up decor ideas that are outside the box. And buy the items that make you feel something special! These are the things that help you design a space and home that is uniquely yours.
After I found the feather angel wings, I had an idea to create a flying pattern on the wall with the wings (did you catch my floating leaves Fall mantle? I must be on a floating-items-on-the-wall kick!) I also thought it would look neat if the wings started at the base of the tree and floated in an upward movement up the tree and then follow that pattern up the wall. Then my angelic glam Christmas tree started to evolve from there!
ANGELIC + GLAM CHRISTMAS TREE ORNAMENTS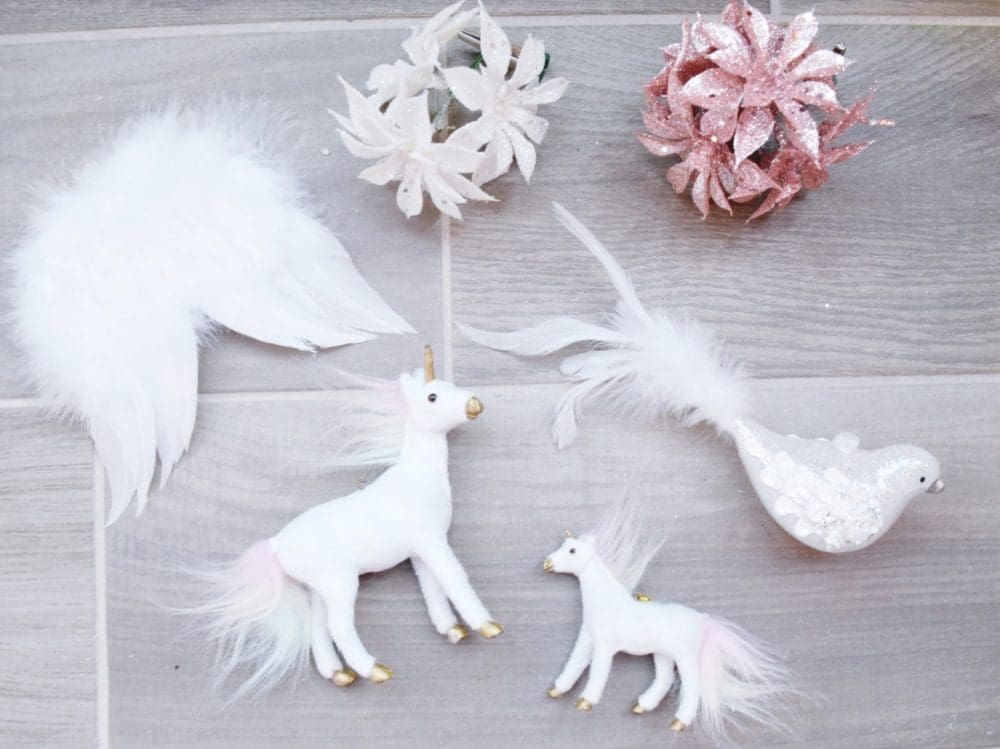 feather angel wing | glass bird ornament | unicorn ornament | baby unicorn ornament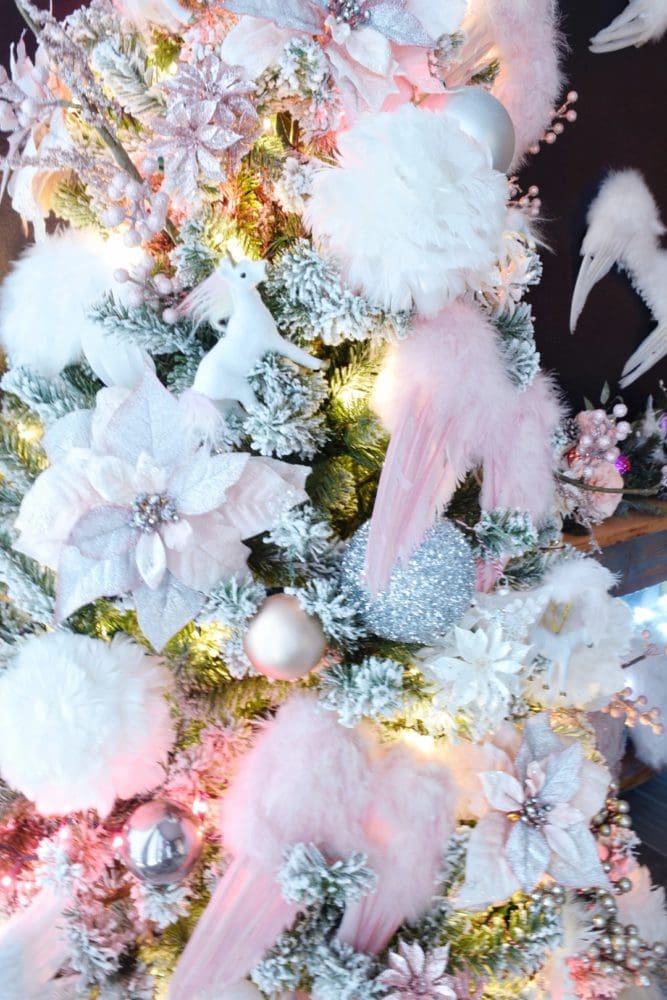 pink feather wings | pink poinsettia stem | pink glitter berry spray |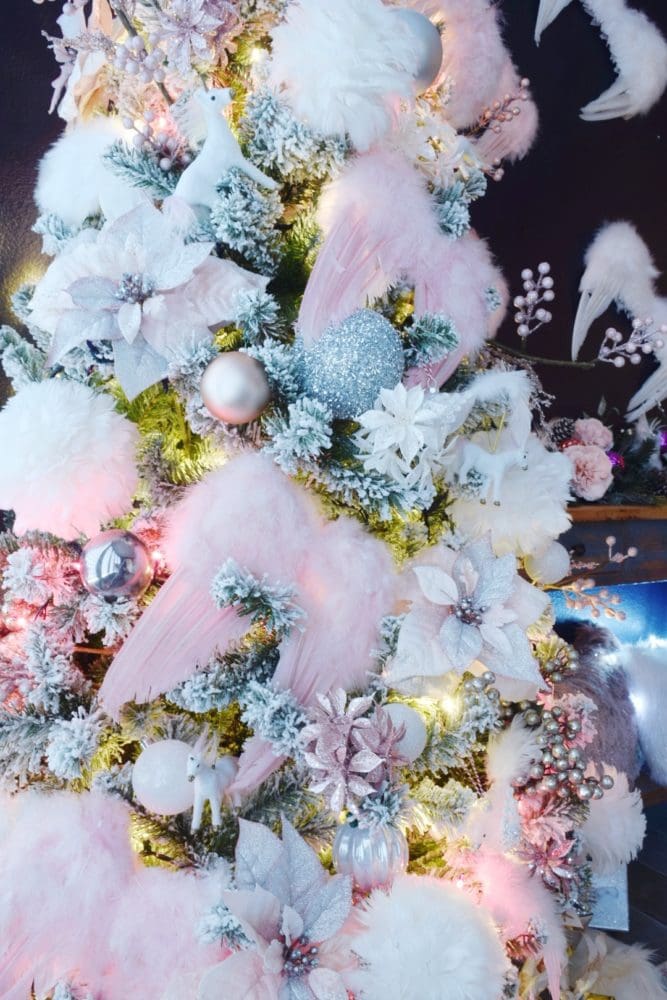 rose gold ornaments | silver ornaments | white feather floral pick | feather floral stem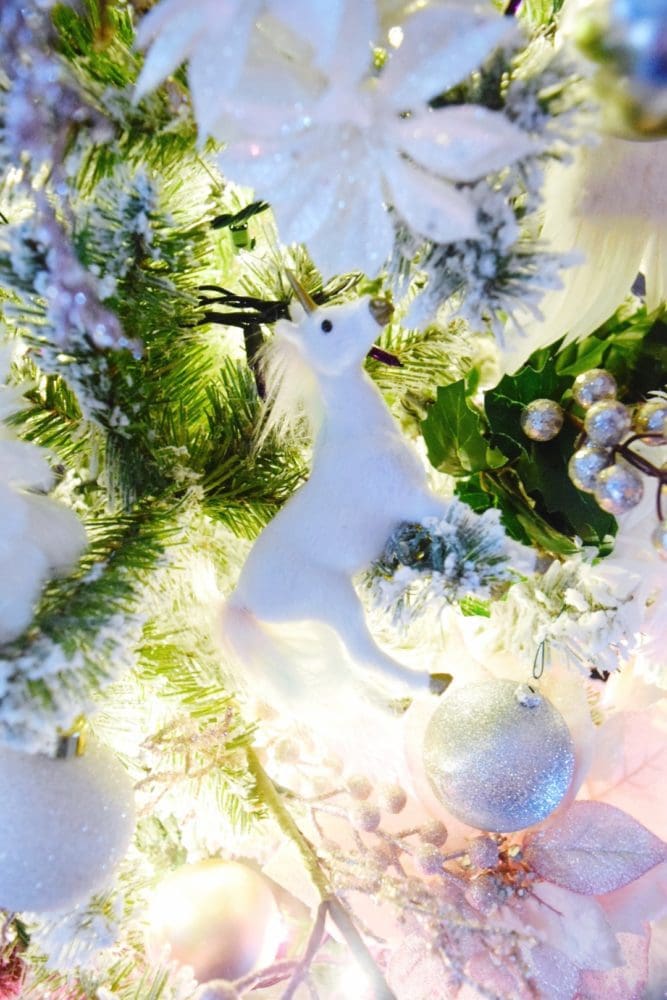 I found these white feather angel wings to add a more angelic wings to the tree. I also love the glass bird ornament with the white feather tail to incorporate a few more dainty feathers. The unicorn ornaments were another great find to bring in the whimsical element to match our whimsy Christmas decor throughout the dining room.
I added the same frosted pink floral stems that I used to create my cascading garland on my dining table. Adding the glitter pink poinsettia stems and glitter pink berry stems to the tree help create soft dimension and texture to fill out the tree. I also found rose gold ball ornaments and silver ball ornaments to fill in around the feathers, feather wings, and floral stems.
DIY NO-SEW FAUX FUR TREE SKIRT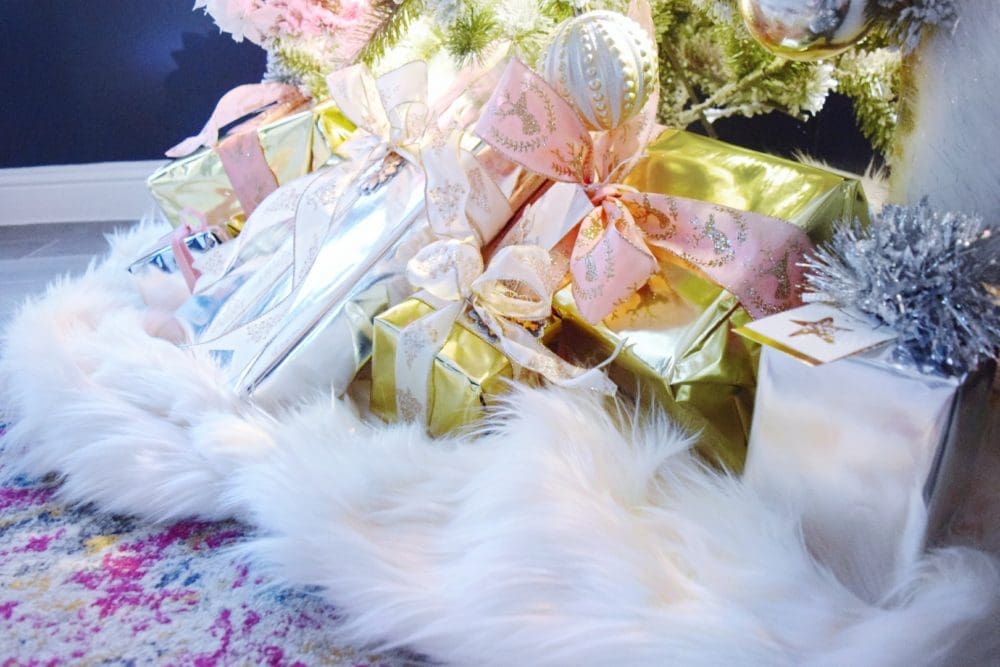 faux fur blush fabric | cream flannel fabric |coral deer ribbon | glitter trees ribbon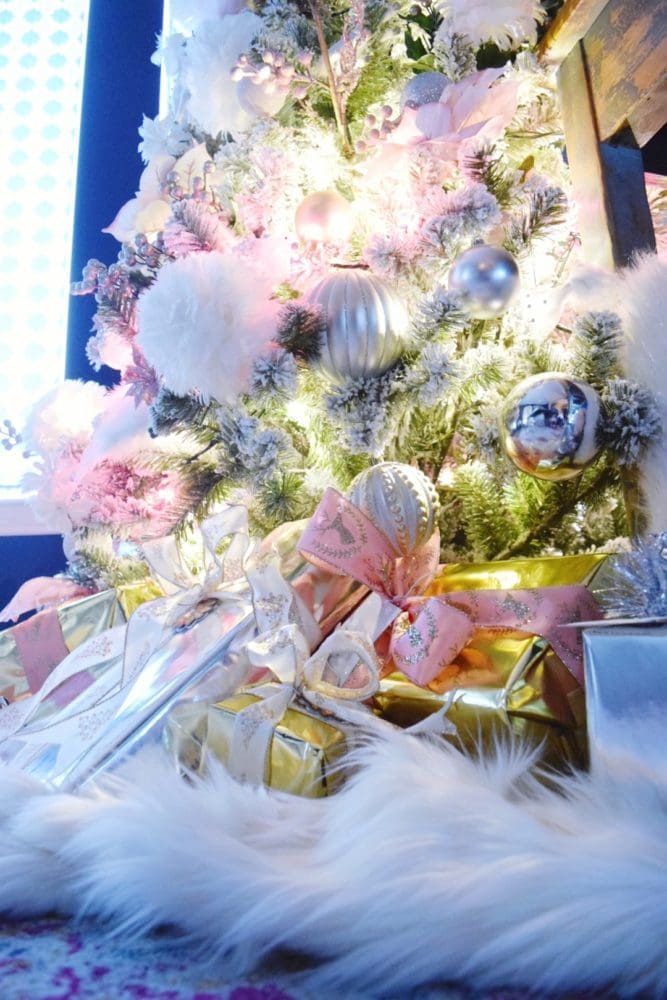 velvet rose ribbon | rose gold foil gift tags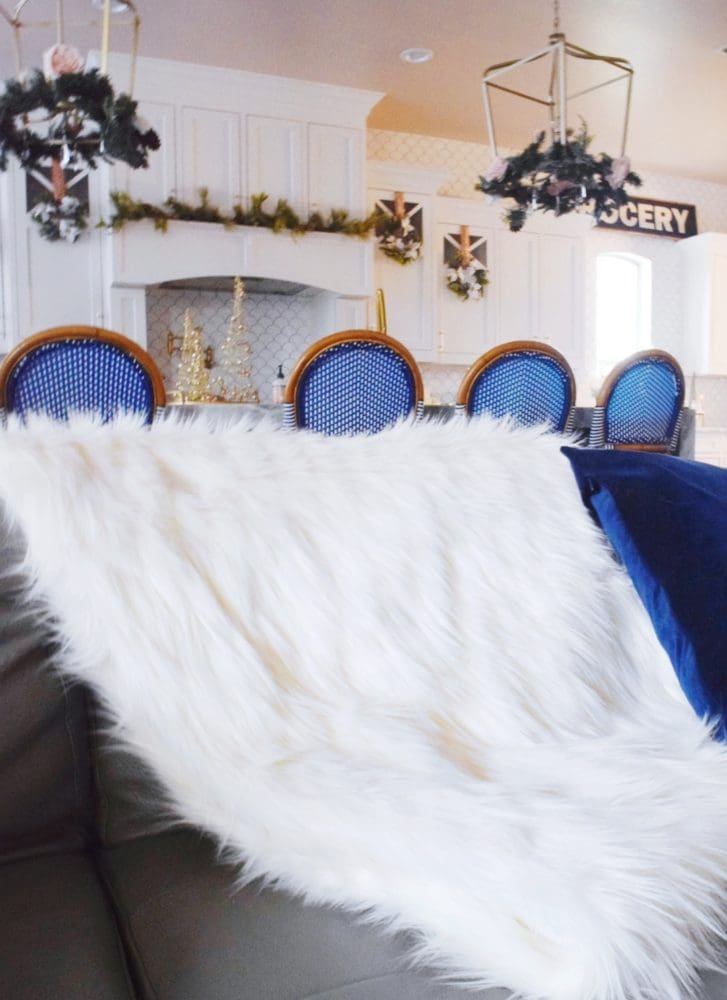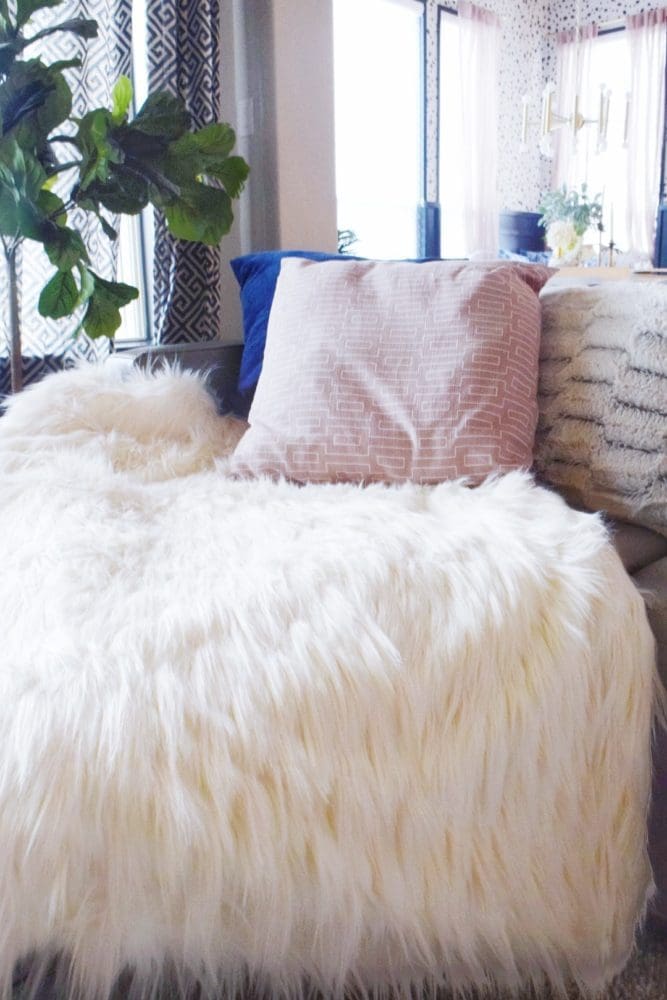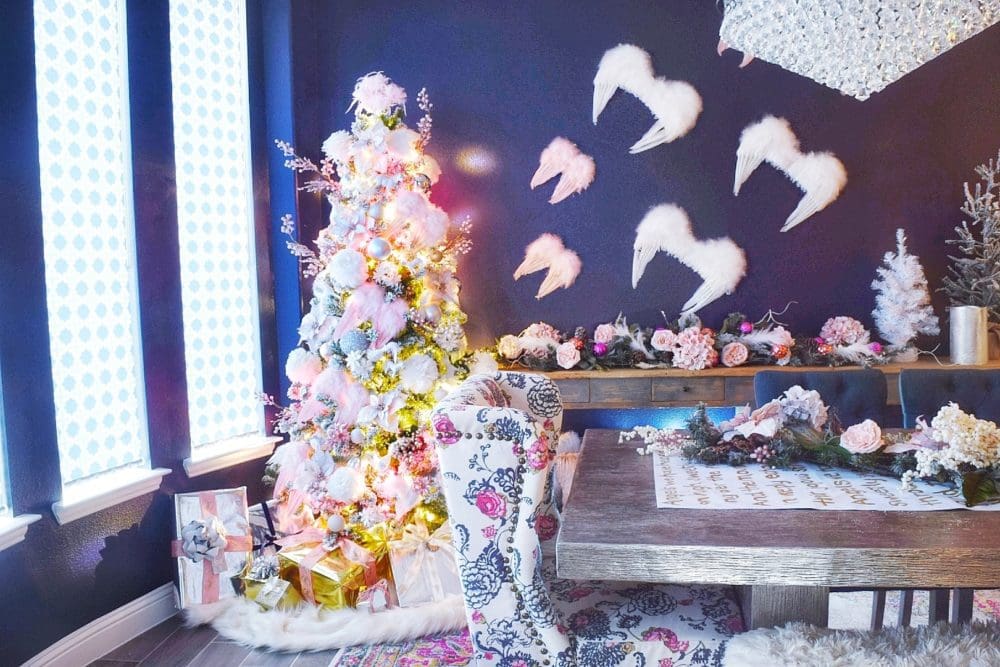 Another way to add lush fluffy glam textures to my tree? The faux fur tree skirt!
I saw this blush and cream husky faux fur in the JOANN fabric department and immediately fell in love with the soft blush pink color. I thought it would be fun to create a custom draped tree skirt for my angelic glam Christmas tree using this gorgeous faux fur fabric.
I like to drape my Christmas trees with lush blankets instead of using a traditional tree skirt. Something about blankets wrapped around a tree gives it a cozy glam feel. For my dining room tree, I thought I would make my own tree skirt that could also be used as a throw blanket. To make it simple, I used a no-sew technique that was incredible easy to do! I bought the blush husky faux fur fabric for one side, and the cozy flannel fabric in a cream color for the other side. You can see my super easy DIY tutorial of making this tree skirt/throw blanket on the JOANN app!
I also wanted to add some stylish-glam ribbon for my presents under the tree. I found a few peachy-pink + gold ribbons when I was at JOANN. This coral glitter deer ribbon is one of my favorite Christmas finds this year! I love finding unique ribbons in non-traditional Christmas colors. Another one I found was the glitter gold tree ribbon and rose-colored velvet ribbon. All these ribbons matched the soft pink and metallic glam tree decor perfectly!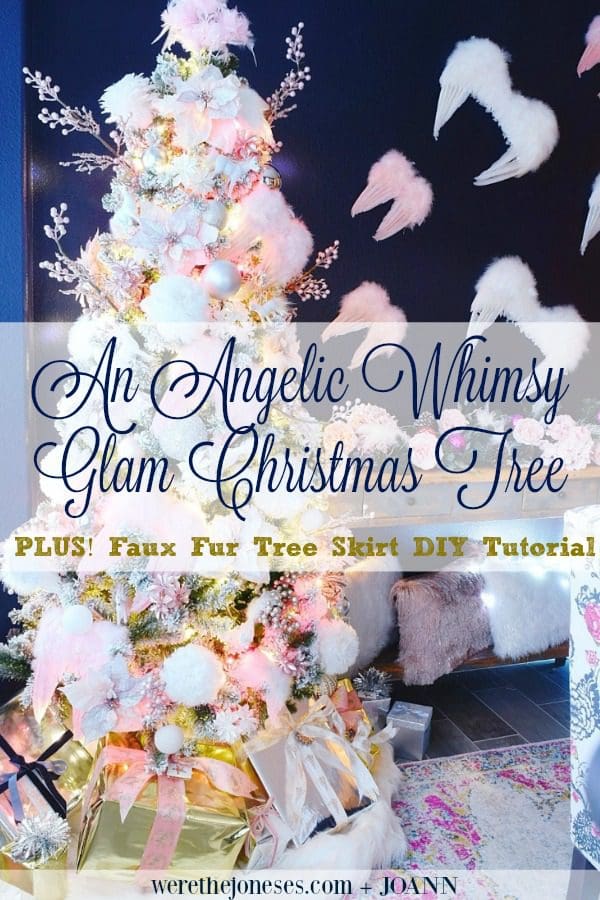 Creating this glam whimsical dining room with feminine angelic touches to the tree and wall was so fun to dream up and create! That's what I love about Christmas decor – there's so many options of styles – whimsical, traditional, modern, farmhouse, boho – but they all have creative ways to demonstrate your unique Christmas style!
Happy Christmas tree decorating!