Best. Mimosas. Ever. 3 Recipes for Mother's Day Brunch
It's that season again, the season of celebrations!
End of school parties, weddings, baby showers, bridal showers, bachelorette parties, graduation parties seem to fill our calendar around this time of year, but the most important celebration of all? Mother's Day!
And what goes together better than Mother's Day + Brunch + Mimosas?
Nothing at all, if you ask me. Pretty much a match made in Mother's Day Heaven.
Mom is so special and so loved, we want to show her how much she means to us this year.
We can't serve the regular plain jane mimosa we do every year…no we gotta take it up a notch and give mom the Best. Mimosas. Ever.
Lucky for us I've gathered up the three best mimosas ever (taste tested and voted on by me) for you to serve for your awesome Mother's Day Brunch!
So pick your favorite or serve them all, I guarantee they will not disappoint! All of your friends, family, neighbors, and co-workers will be begging you for the recipe!
Also! There's TONS more delicious Mother's Day brunch recipes at the end of the post. I've gotten together with a few of my blogger friends to help give you all the recipes you need for the perfect Mother's Day Brunch!
Sparkling Raspberry Lemonade Mimosa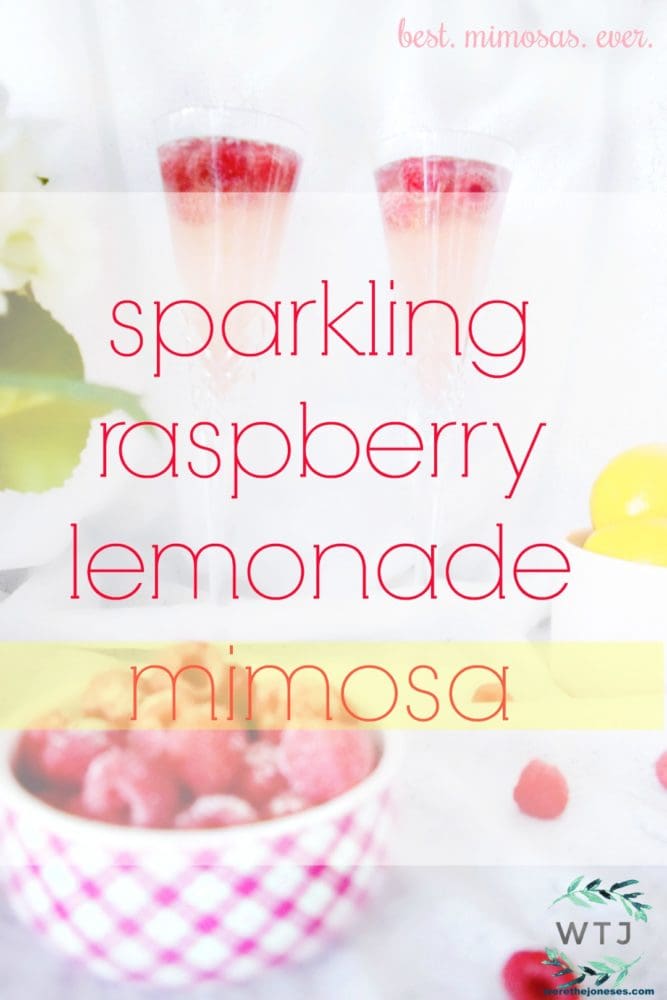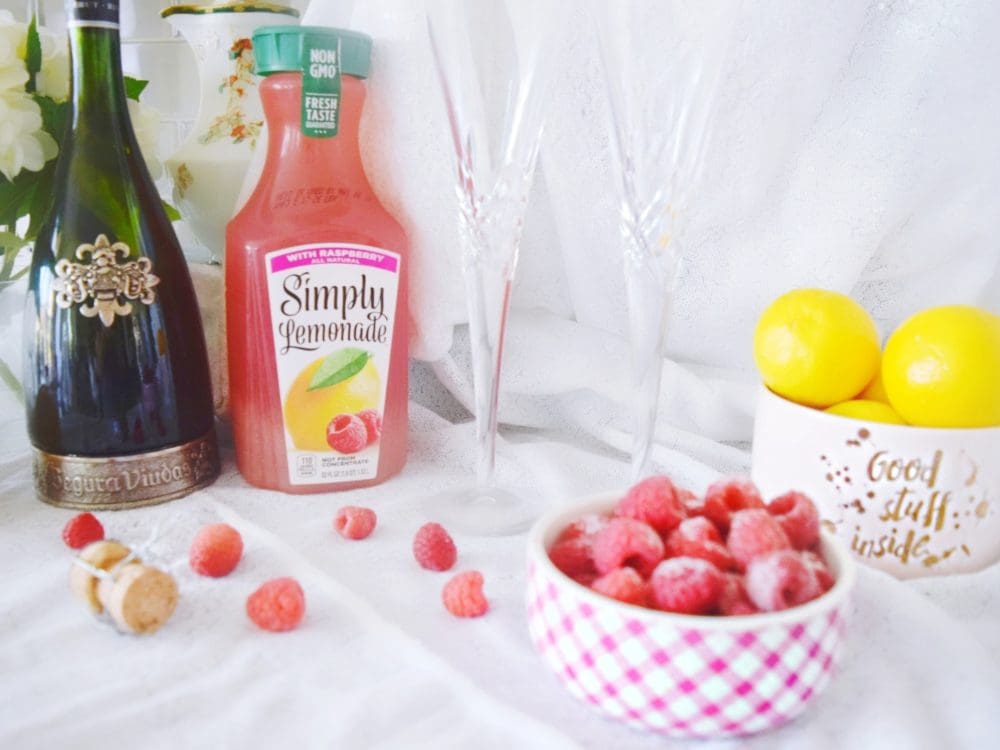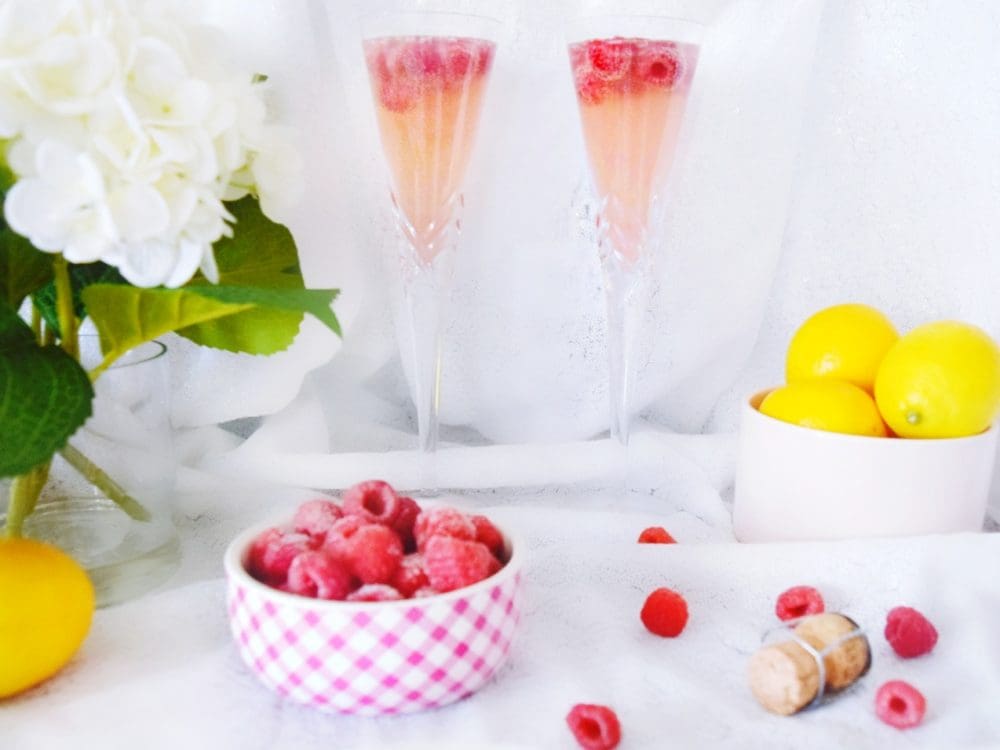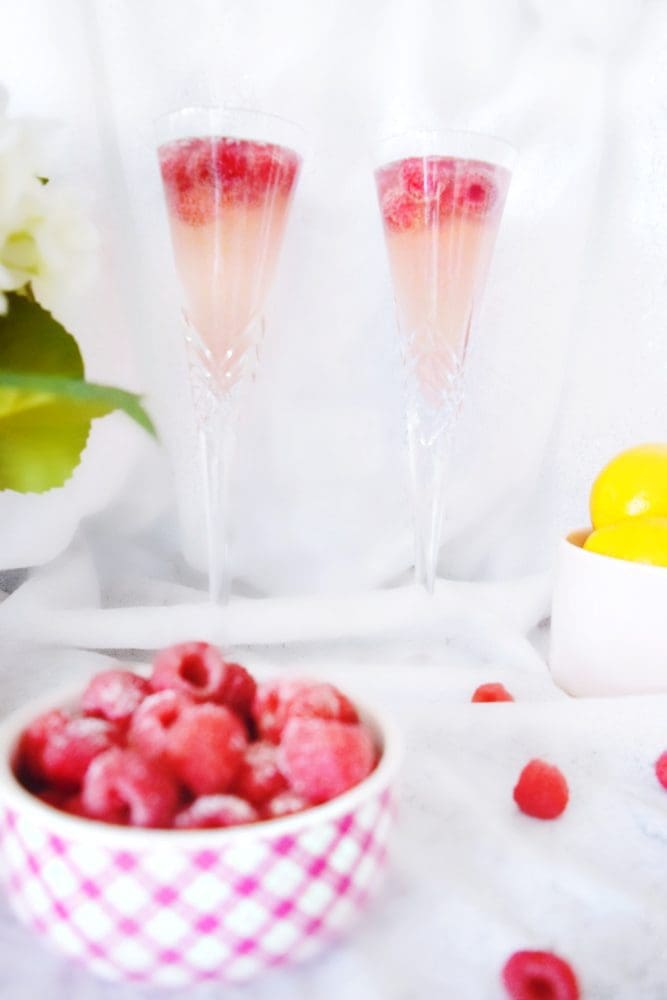 Ever heard of a lemonade mimosa?
I hadn't until recently, but it's pretty simple. You switch out the OJ with it's sweeter, smoother tasting cousin raspberry lemonade and walah! You've got a Raspberry Lemonade Mimosa.
Some might not call this cocktail a mimosa at all, but anything with sparkling wine in a champagne flute can be called a mimosa, right?
The mix of the sugared raspberries with the raspberry lemonade are the perfect sweet twist to the regular mimosa. Also, it doesn't hurt that it's a pretty pastel pink!
Sparkling Raspberry Lemonade Mimosa
This sparkling raspberry lemon mimosa is a perfectly sweet addition to your Mother's Day Brunch, Galentine's Party, or Bridal Shower!
Ingredients
4

ounces

chilled Prosecco, sparkling wine, or Brut Champagne

2

ounces

Raspberry Lemonade

6-8

fresh raspberries sprinkled with sugar
Instructions
Pour about 4 ounces of sparkling wine into a champagne flute, about 2/3 full. Pour about 2 ounces of raspberry lemonade in the glass, almost to the top of the glass but leave enough room for raspberries. Top the glass with about 6-8 fresh sugared raspberries, and enjoy! Cheers!
2. Pineapple Orange Sherbet Mimosa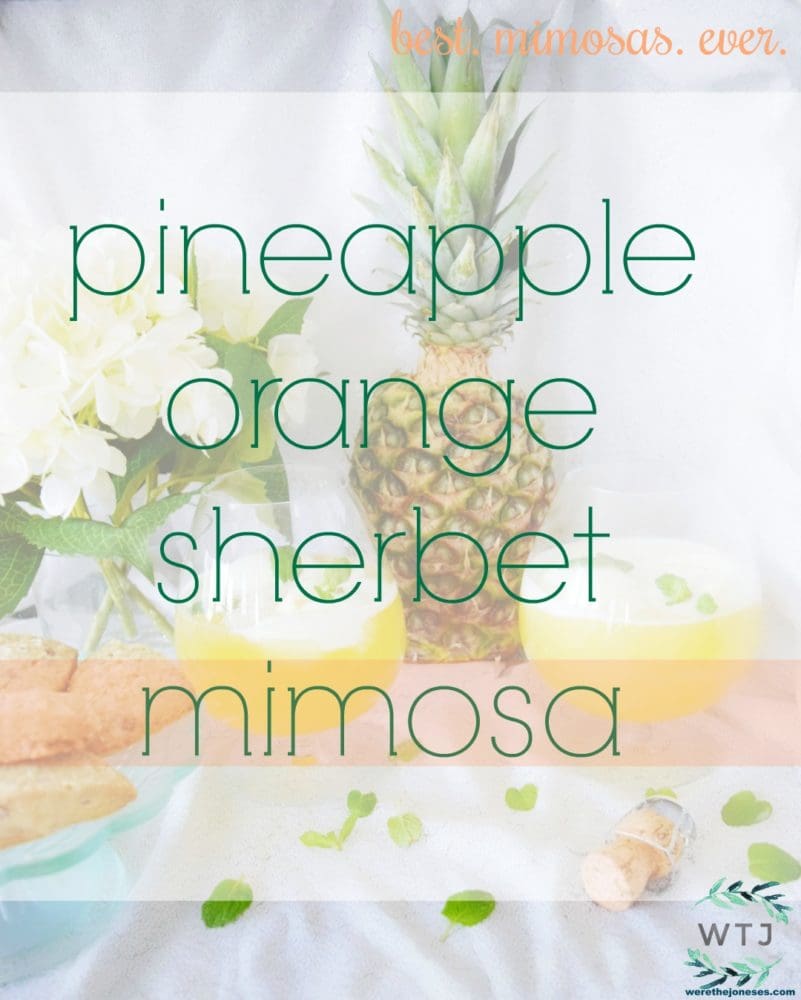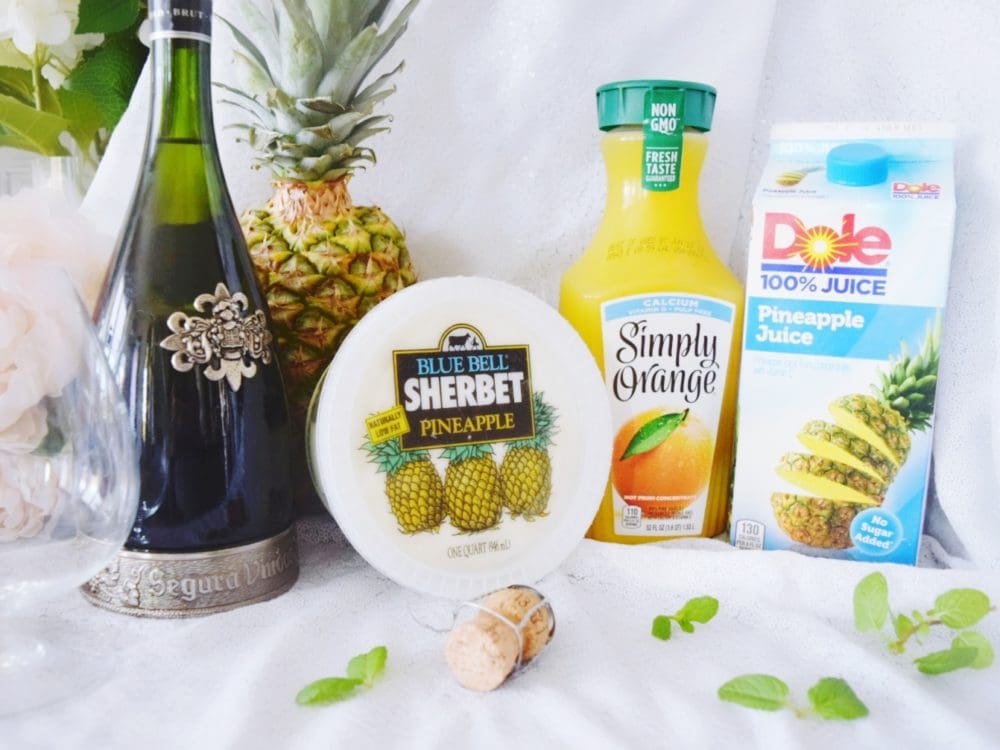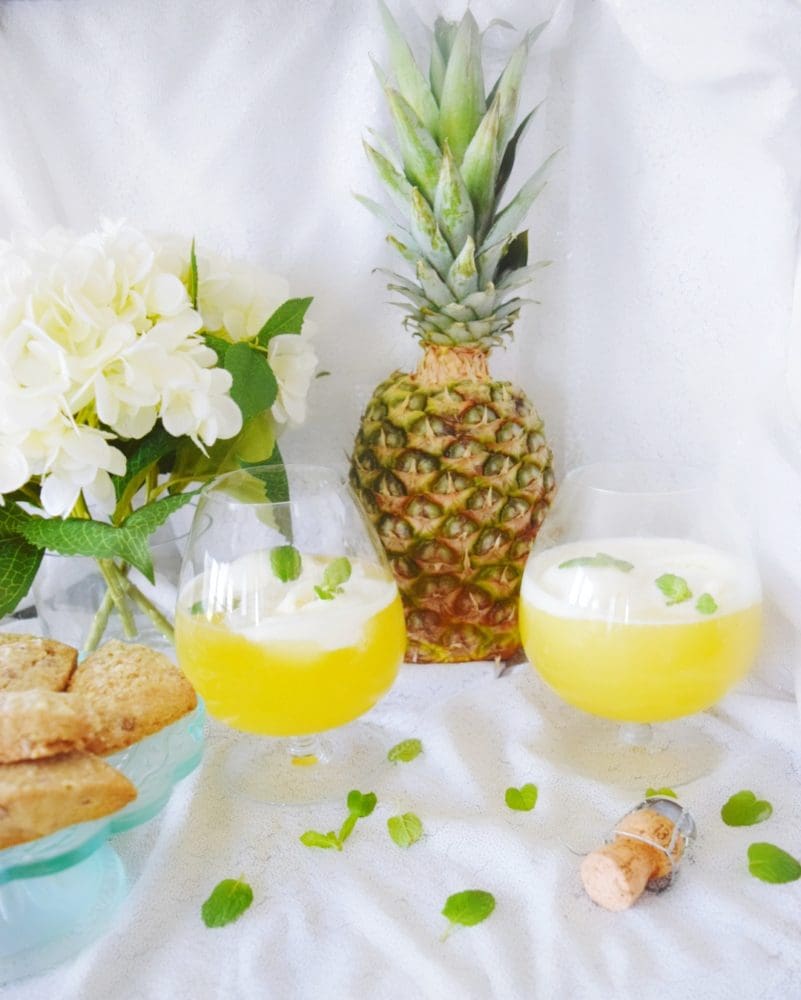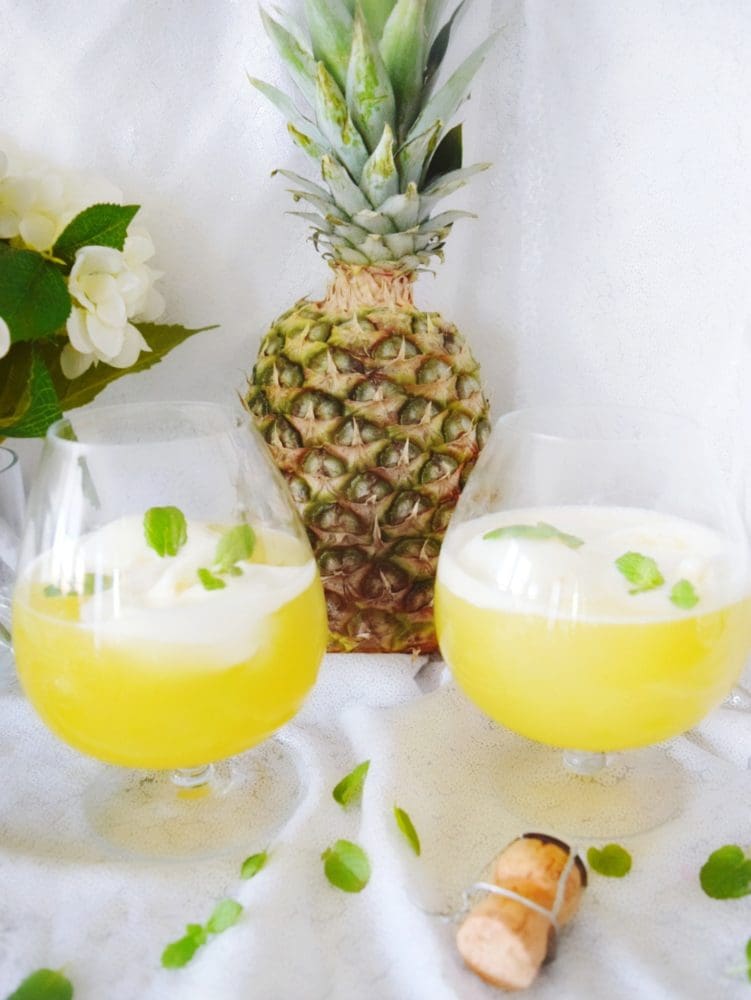 This one was hands down, my favorite because well.. #sherbet.
Is it a dessert? Is it a cocktail? I don't want choose….I wanna have my cake and drink it too.
The combination of creamy pineapple sherbet with the zest of sparkling wine is just perfection! Add a couple splashes of orange and pineapple juice and it's the most delectable drink you've ever tasted. I promise!
Don't forget to add a few sprigs of mint, I cut mine straight from my sweet mint herb plant from my floating plant wall.
Pineapple Orange Sherbet Mimosa
Is it a dessert or is it a cocktail? Why do we have to choose, let's say both! This delectable pineapple-orange sherbet mimosa is a perfectly sophisticated choice to cure any sweet tooth! It's beautiful presentation will be sure to impress your guests at your next Mom's-Night-In party, Baby Shower, or Mother's Day Brunch!
Ingredients
1-2

scoops

pineapple sherbert

4-6

ounces

chilled Prosecco, sparkling wine, or Brut Champagne

splash

of orange juice (add more to taste)

splash

of pineapple juice (add more to taste)

1-2

sprigs

mint for garnish
Instructions
Add 1-2 scoops of pineapple sherbet. Fill glass 2/3 full with champagne. Add a splash of orange juice and a splash of pineapple juice, add more to taste. Garnish with fresh mint. Enjoy!
3. Mango Mama Mimosa (AKA The Momosa!)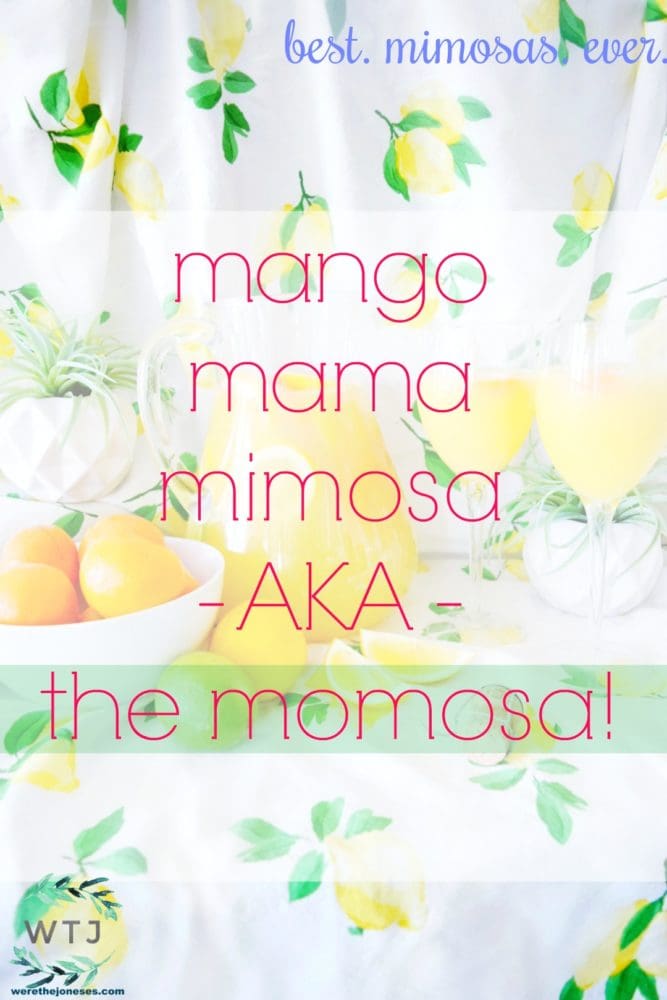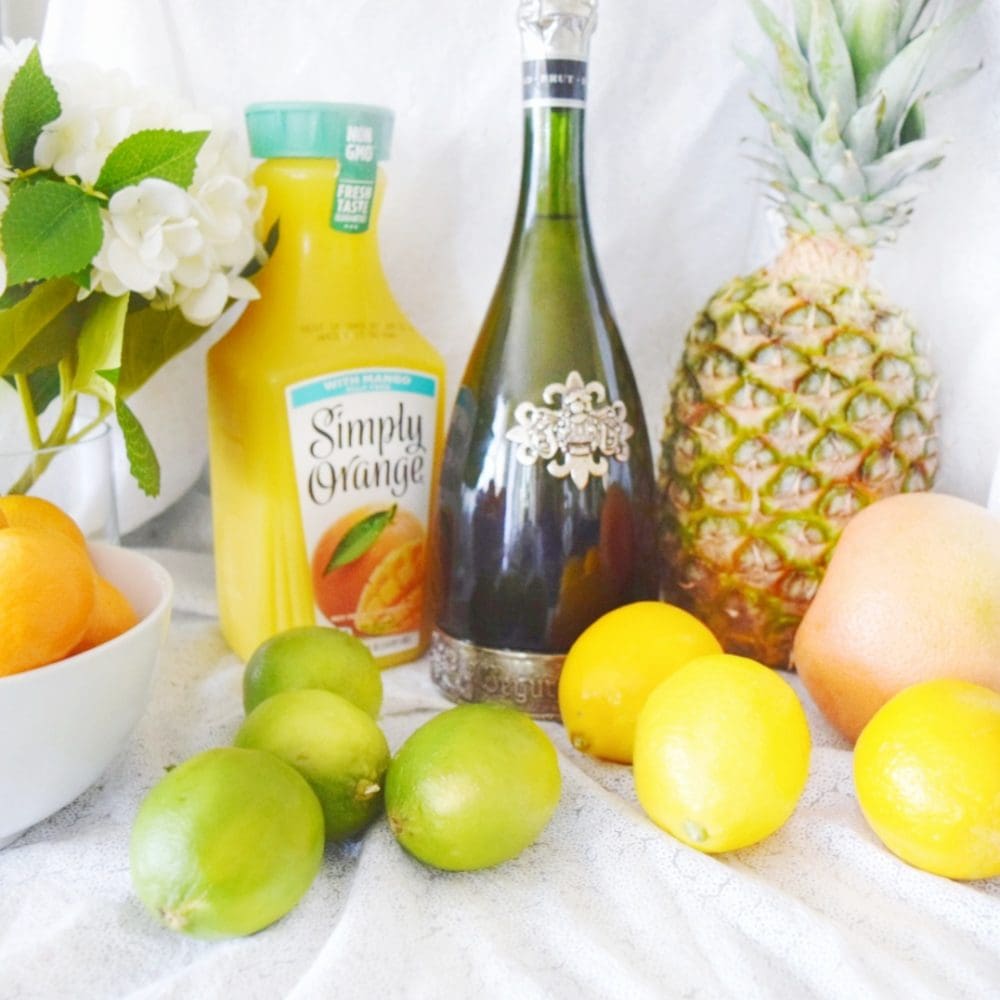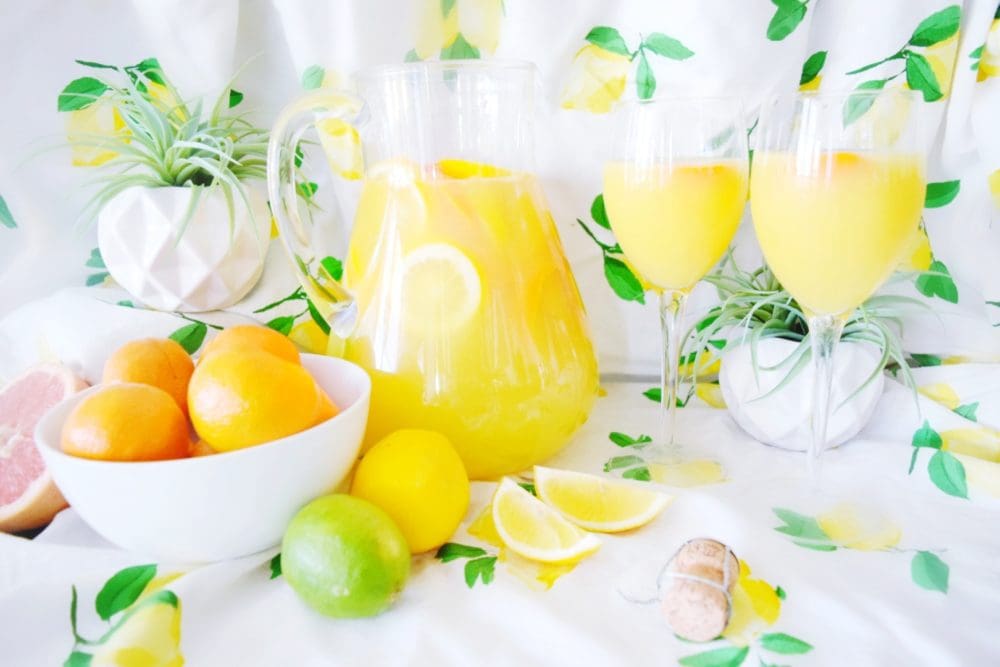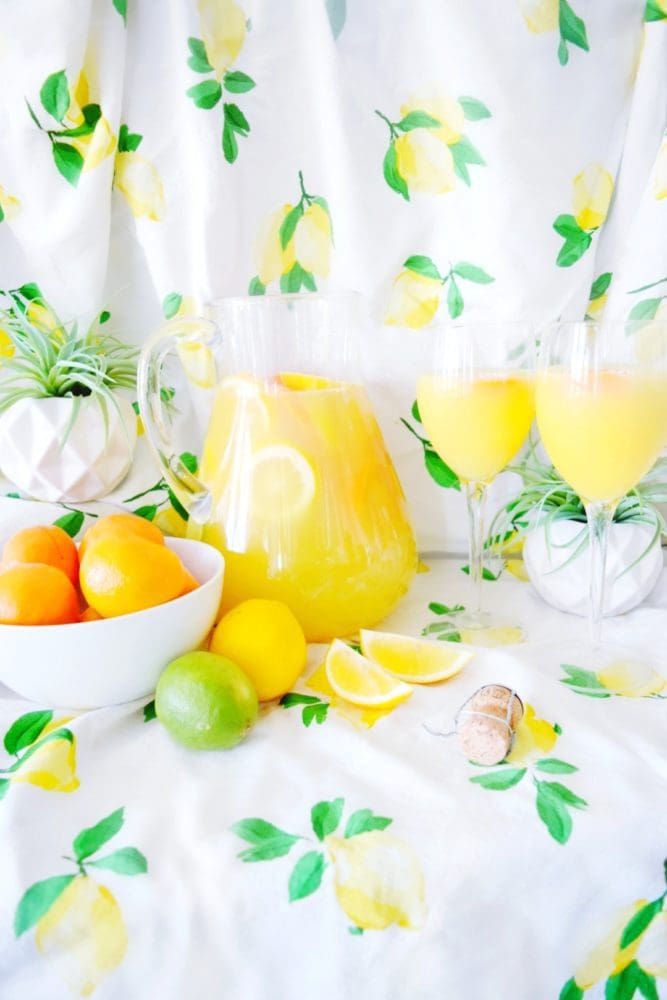 I've saved the mother of all mimosas for last!
She may look like a typical pitcher of mimosa to the naked eye, but there's one small difference that makes a big impact.
Mango.
I started drinking mango juice with champagne at a resort in Mexico, and it literally changed my view on the classic orange juice mimosa.
Something about the mango makes it so. much. better.
Fresh mango juice might be hard to come by so I found the next best thing – Orange Juice with Mango!
Mix this juice with your sparkling wine, add a bunch of fresh slices of citrus fruits and chill in the frig for the flavors to perfectly mix together.
A couple hours later you have the Mango Mama Mimosa, or what I like to call The Momosa!
Mango Mama Mimosa (AKA The Momosa!)
This tasty Mango Mama Mimosa AKA Mom-osa, AKA Mom-juice is always a WINNER! Your co-workers, family, neighbors and mama friends will all be begging you for this irresistable recipe! Served in a punch bowl or big glass pitcher, Mango Mama is always a show stopper and guaranteed to be emptied by the end of your event!
Ingredients
1

bottle

chilled Prosecco, sparkling wine, or Brut Champagne

4-5

cups

mango orange juice

slices of

oranges, grapefruit, lemons, and limes

or any fruit you have on hand to add a touch of pretty and fruity flavor!
Instructions
In a glass punch bowl or pitcher, pour in bottle of sparkling wine. Add 4-5 cups of mango flavored orange juice, add more to taste. Drop in slices of fruit. Chill in the refrigerator about 2 hours before serving to help mix all the fresh fruit flavors. Enjoy!
Follow Along Our Mother's Day Brunch Blog Hop for More Delicious Brunch Recipes!
Let me know if you make any or all three and which is you and your guests' favorites!
Happy Brunching,