Breakfast Nook Makeover Design Board Inspiration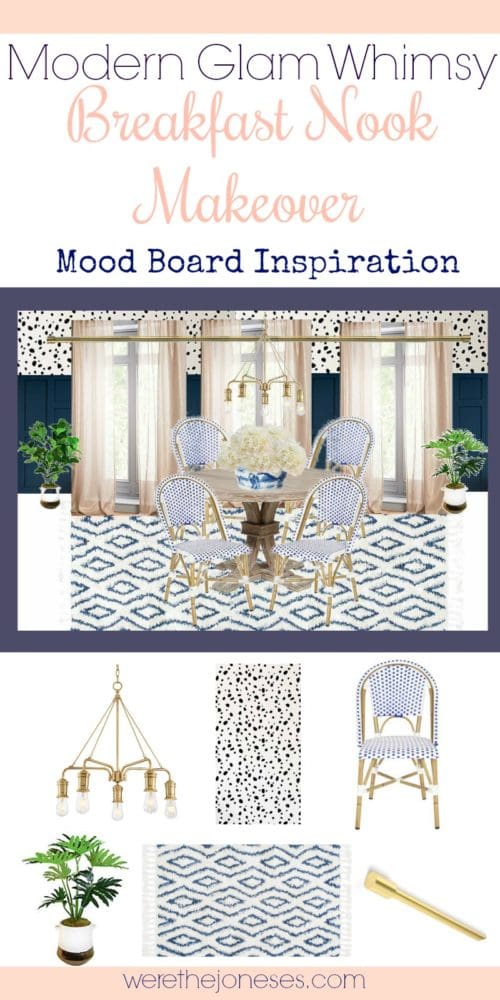 It's time for a new project at the Jones' House!
We're conquering our breakfast nook area in our kitchen and I'm so pumped to add some modern-glam-coastal-whimsy to this area.
That's what I've currently dubbed my home style…modern-glam-coastal-whimsy.
I've had lots of people ask what "decor style" I think I am, and I never know how to answer! I honestly have no idea.
I have furniture pieces and decor elements that I gravitate towards and I just go from there. Not really sure if I can categorize my entire home as one style anyway, because each room is pretty different!
But, the breakfast nook area I've decided to call modern glam coastal whimsy. I think that pretty much covers all my basis, ha.
One thing I like to do when I'm designing a new area of my home, or someone elses, is create a design mood board. I'm a big time visual person and this helps me so much when picking out the pieces I want to buy and use.
A lot of decorating items I buy online, and since you can't see it in person, a mood board can be super helpful to pull all of the pieces together that you already have or plan on buying for your new space.
This breakfast nook area all started with the Cutting Edge Stencils – Dalmation Spots Allover pattern. I will be doing a tutorial on using these stencils on our kitchen walls in a few weeks so stay tuned! I love this pattern because it can be so versatile and used as a neutral, but also adds some fun whimsy at the same time.
I've picked out new curtains, curtain rod, and rug, but I'm still pretty torn on the chairs! I've created three design boards to try and help me decide which looks the best with the overall design, and hopefully y'all can help me decide too!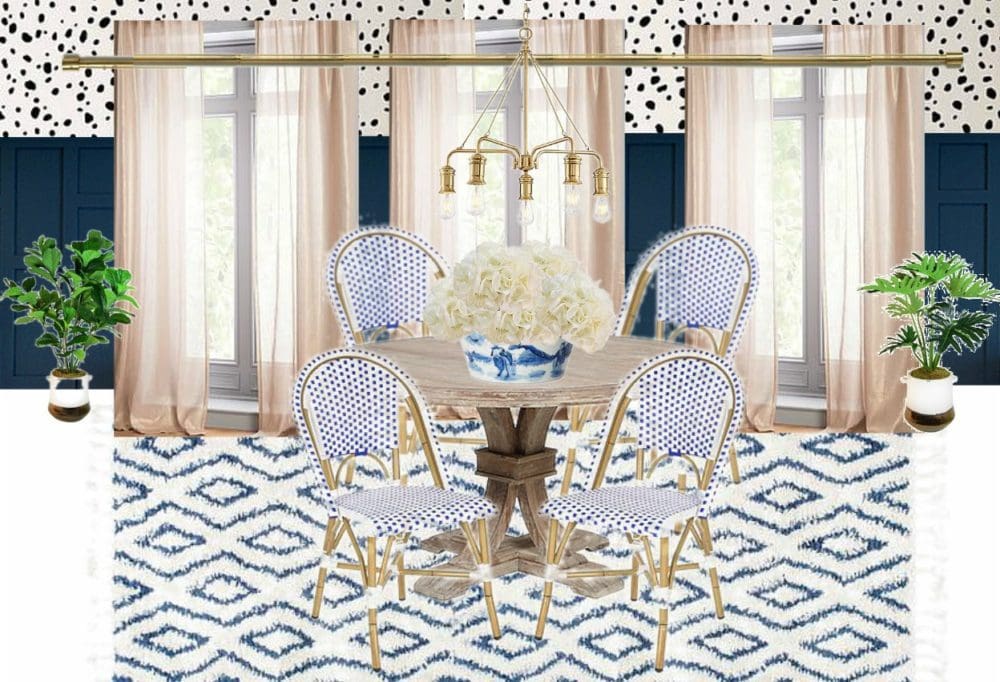 To say I have a love affair with these blue woven bistro chairs might be an understatement. If you follow me on Instagram and watch my Stories, you know I'm pretty obsessed! I'm not sure if they go with all of the other textures and patterns I'm using, it might be too much blue and too much going on. But I love them all the same! Maybe for a patio makeover in the future??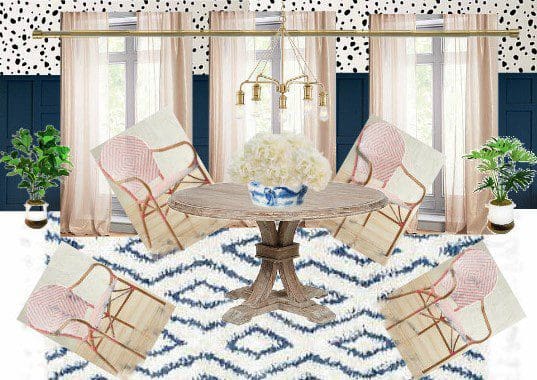 I've been crushing hard on the blue bistro chairs, that I was surprised to find that they also come in a light pink pattern too! I have lots of shades of pinks in my home, and I thought maybe the light shade would be a good contrast up against all the dark blues. Bryan is not into pinks at all, so I know when I show him these he'll veto pretty fast, lol. But that hasn't stopped me before!
What do y'all think?? Do we like the pink??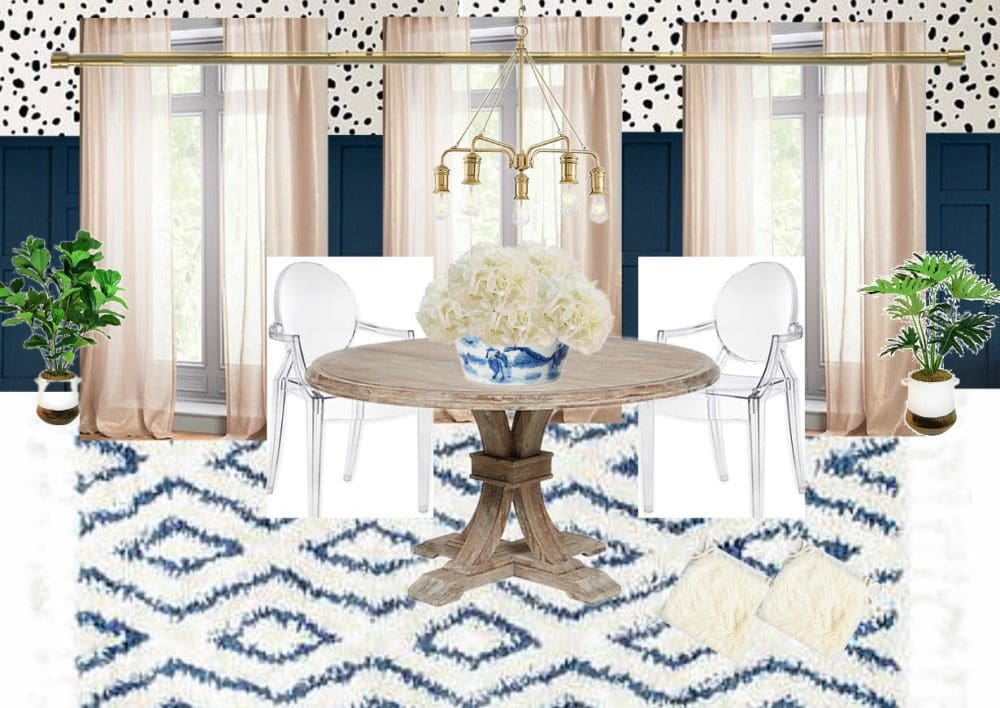 The first chairs I started researching were these pretty ghost chairs. I think they'd be perfect for several reasons: They are clear, so they can fit in anywhere which helps with my constant re-decorating. They are made of heavy plastic, so when one of my kids spills on them (which will happen daily!) it will wipe right up. They also add a fun touch of modern glam that I love.
The only hesitation I have is if they are cheap looking or cheaply made? I've reached out to a few of my Instagram decor friends who have them, and they all love them! And the all the reviews online I've read (and there's a LOT! They are sold on pretty much every site out there!) seem to be really really good!
What are y'all's thoughts?? Looks cheap or modern glam?
Do y'all have a favorite?
I think I'm leaning towards the ghost chairs but I keep bouncing back and forth!
Have you created a mood board to help you with designing a space in your home?? Let me know what projects your working on and how you make your tough decor decisions in the comments!
Happy decorating!