One of the rooms that gets the most use in our home was also the room that was most neglected: the laundry room! This room was taken over by kids' art projects, swim toys, coats and shoes. Not to mention piles and piles of laundry and disorganized shelving. In this post I share our budget friendly laundry room update, including our before and after photos. I give my simple tips for laundry room decor ideas and laundry room organizing how to's that are both chic and affordable!
Want more budget friendly decorating ideas for your home? Read our post Beautiful Master Bathroom Refresh (On a Budget!)
This post is sponsored by Home Centric. All opinions are my own.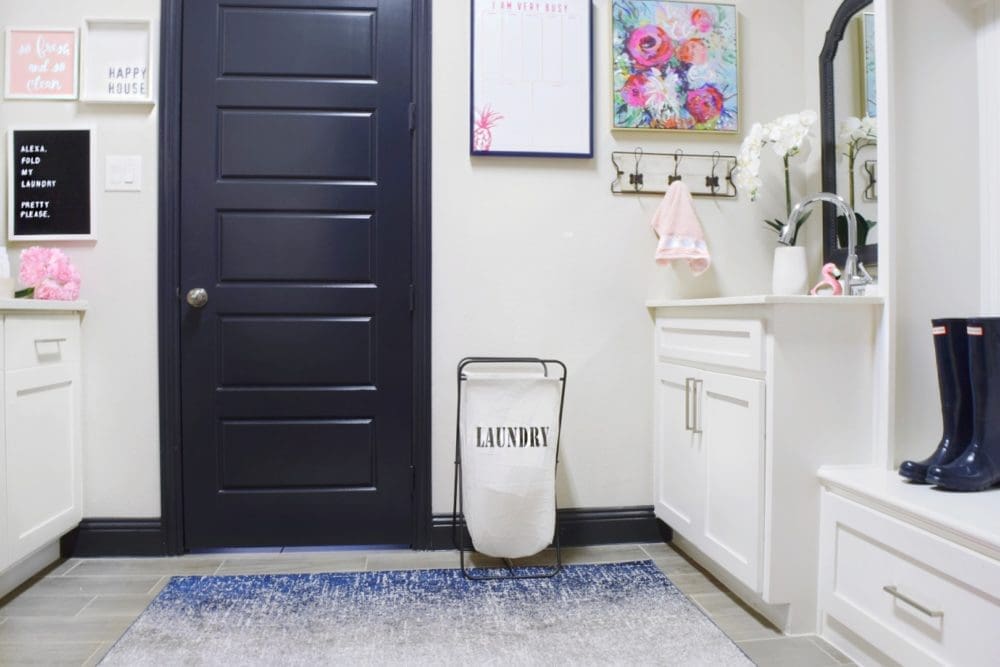 We've lived in our home for almost four years, and had yet to decorate or organize our laundry room. I wanted to liven up this space with fun + functional decor, plus work on laundry room organizing ideas too. I partnered with Home Centric to give our laundry room a must needed refresh – you'll see what I mean when you scroll to the bottom and see our laundry room before photos! In this post I share my tips and ideas on how to organize your laundry room and how to decorate your laundry room (on a budget!)
How do I organize my laundry room?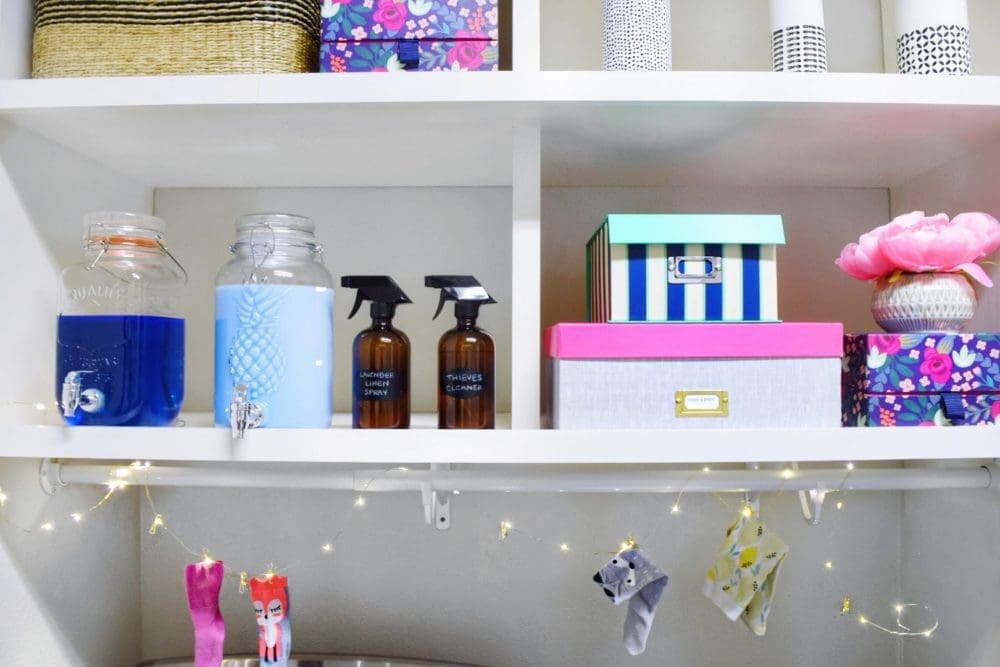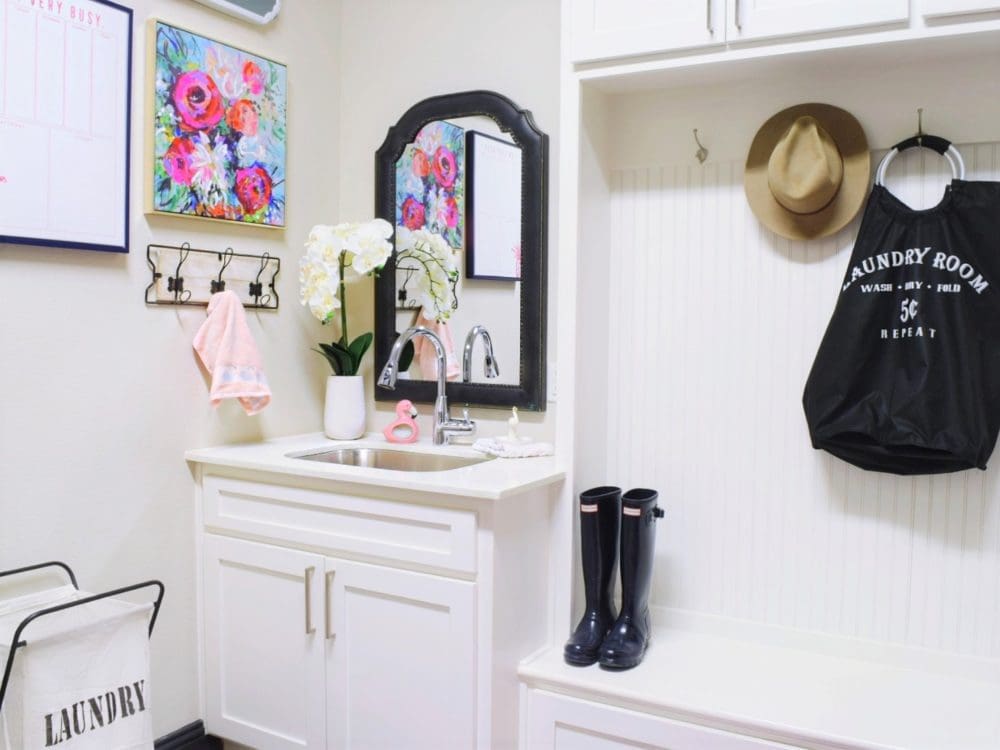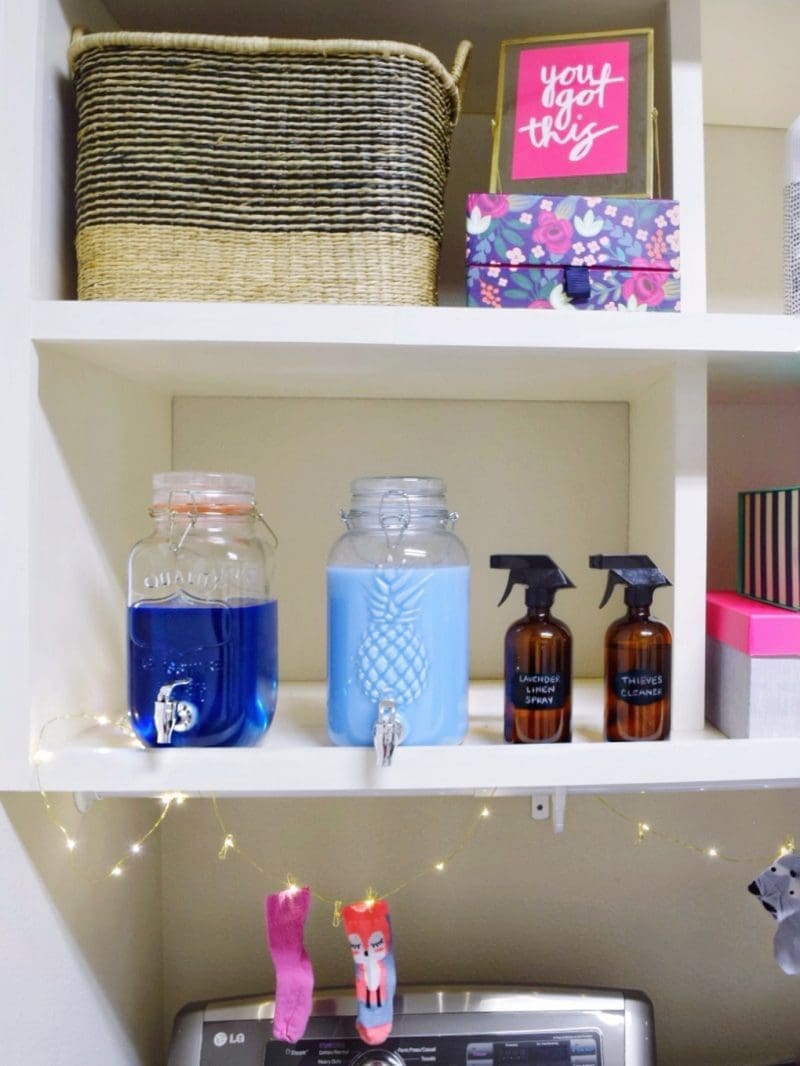 1. Maximize use of cabinets and storage space
The first thing to do is make every item in your laundry room have a place. There is a place for shoes, a place for cleaning supplies, a place for coats, etc. Now that everything has a place, you have to train everyone in the house to put these items in their place! (the hardest part, ha!)
2. Removing unnecessary items that are not in season
Something that I don't do very well is switch up items with the changing seasons. I will leave out swim shoes or winter boots all year-long, and then wonder why the drawers and shelves are cluttered. I've now created dedicated spots in a our hall closet and master closet to store items that are out of season. This helps remove unnecessary clutter from our laundry room.
3. Storing all extras out of sight until needed
Another way to help organize and declutter the laundry room is to store away extra laundry items until they are needed. We order laundry detergent, stain remover, and bleach in bulk but we don't need all these extra containers out on display! The extra laundry detergents and laundry supplies can be kept hidden away in cabinets and drawers until it's time to use them.
How do I decorate my laundry room?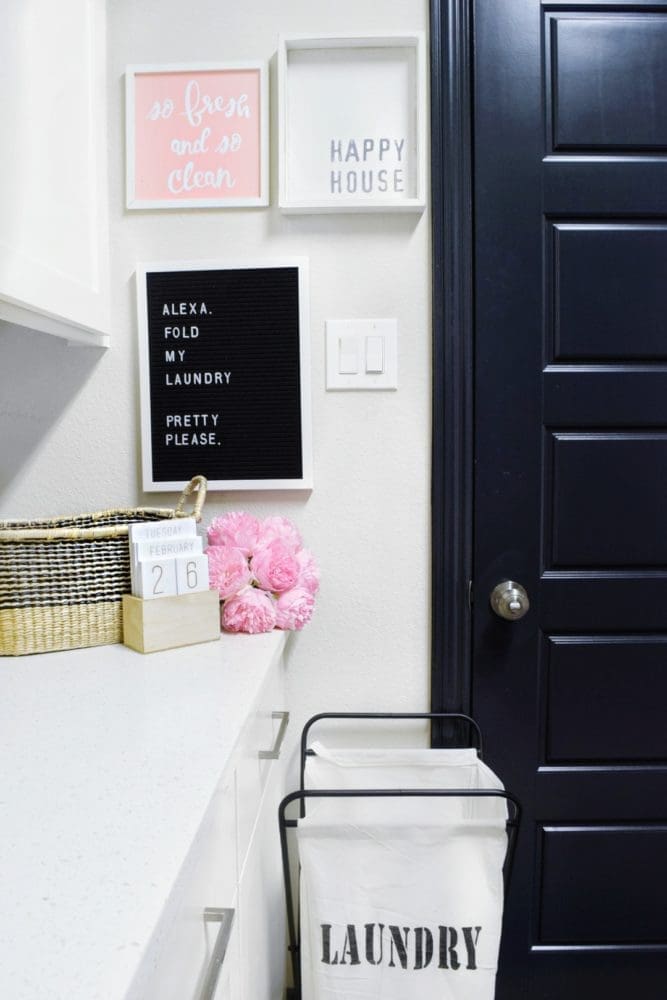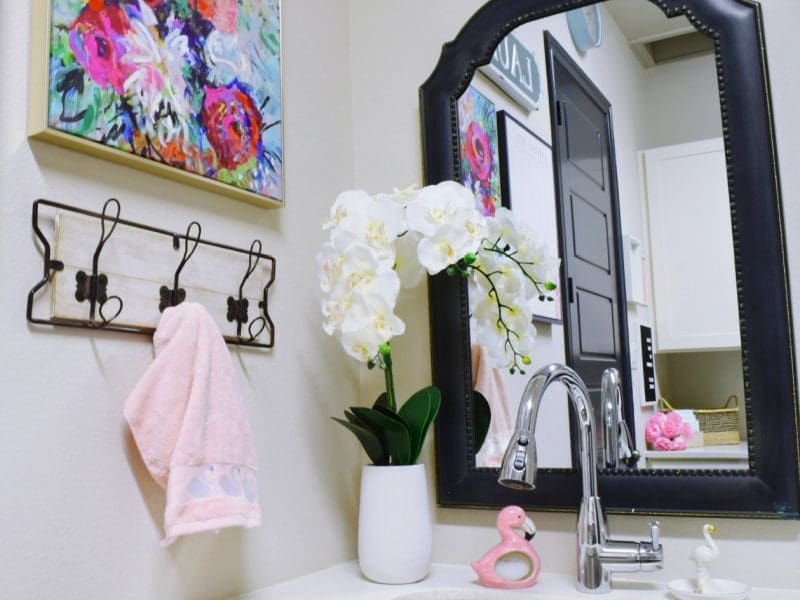 1. Modern Chic Decor Accents and Wall Decor
One way to decorate the laundry room is by adding modern chic decor accents to your shelves and countertops, and cute modern wall decor and artwork to your walls. I found so many budget friendly decor items at Home Centric to liven up our blank walls and counters. My favorite is the black letterboard to create fun and witty sayings! I also found a pretty wall calendar, stylish wall towel rack and a colorful floral canvas print.
2. Bright Cheerful Floral Arrangements
The best way to freshen up a space is with bright and cheerful floral arrangements and plants. I found a beautiful faux white orchid plant and a few pink peony floral arrangements to decorate the laundry room shelves and counters. Floral arrangements in colorful hues and stylish vases help brighten up a room and make it feel fresh and modern.
3. Stylish Laundry Baskets, Bins and Containers
My favorite items to decorate the laundry room with are stylish baskets, bins and containers. These storage items help keep the laundry room decluttered and organized in a chic and stylish fashion. I bought several storage boxes with fun colorful prints to store laundry essentials including dryer balls, stain removers, lint rollers, and other excellent bulk janitorial supplies. Another creative laundry decorating idea is one I found on Pinterest! You take glass drink dispensers and transfer your liquid laundry detergent and fabric softener to them. How genius is that? Now there's no plastic laundry container eye-sores on the shelves!
Before and After: Easy Budget Friendly Laundry Room Updates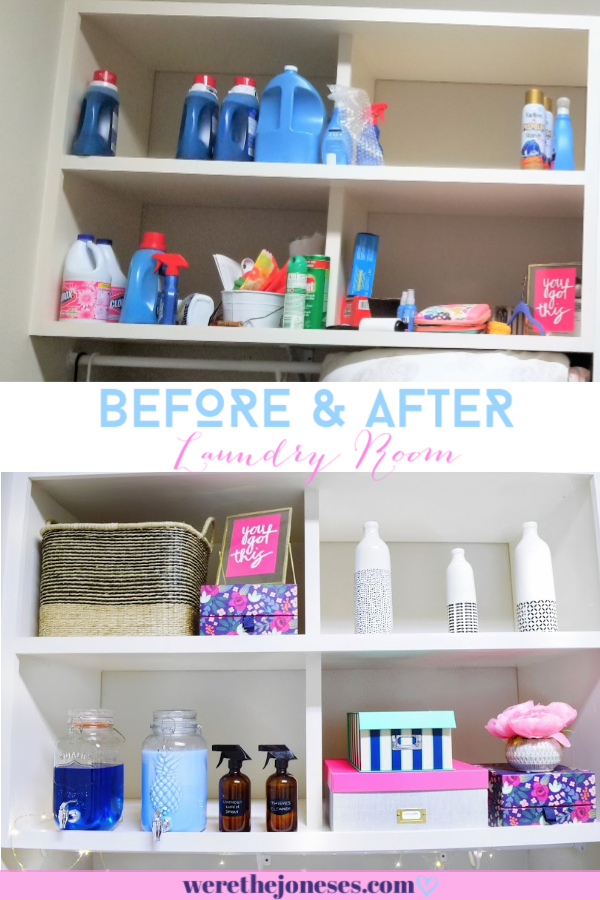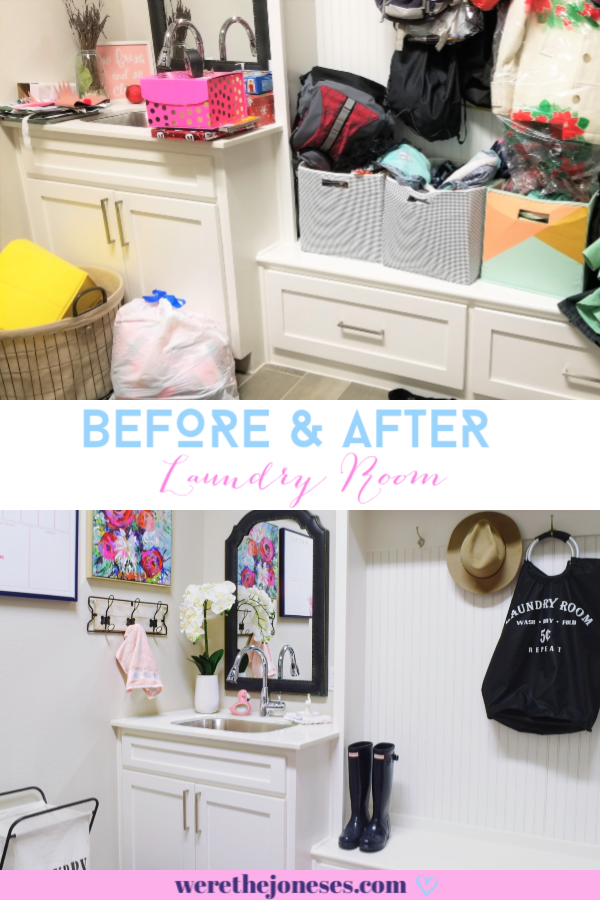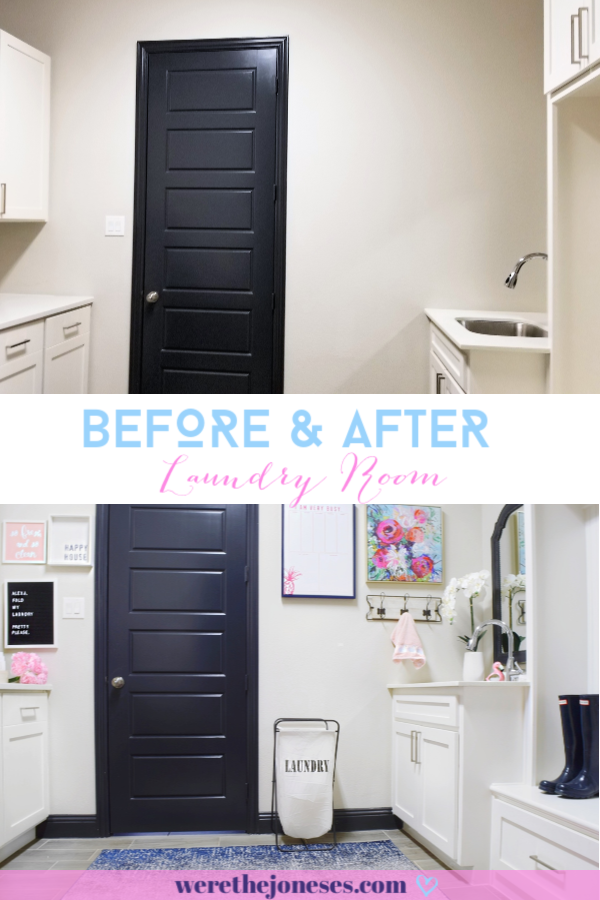 And now for the Before and After photos…eek! The first two photos are from a few months ago when our laundry room clutter was at its worst. I wish I could say that I staged this area for dramatic effect, but unfortunately that is how it looked in real life! The last photo is a blank slate after cleaning and decluttering the shelves and cabinets. I love how adding the decor items on the wall really help bring this space to life!
Decorating your laundry room doesn't have to cost a fortune and can be done with any budget! At Home Centric you can find items that will help you declutter and organize, and that are also stylish and chic.
If you're interested in seeing more behind the scenes of my laundry room refresh, you can come along on my Home Centric shopping trip and also see my laundry room reveal videos on my Instagram stories! These videos are also saved on my Instagram Highlights titled "Laundry Room".
Happy laundry room decorating!

PIN FOR LATER