How to Throw a Haunted Halloween Dinner Party
My dining room  is ready for a haunted Halloween dinner party! Spooky skull string lights, flickering candleabra and cascading black willow trees light up the room with a haunting ambiance. Mixed with black and white place settings, personalized pumpkins and decorative Halloween pillows give the room a classy Halloween look. Here are my easy tips on how to throw a haunted and stylish Halloween dinner party at your home!
This post is sponsored by Bed Bath & Beyond. All opinions are my own.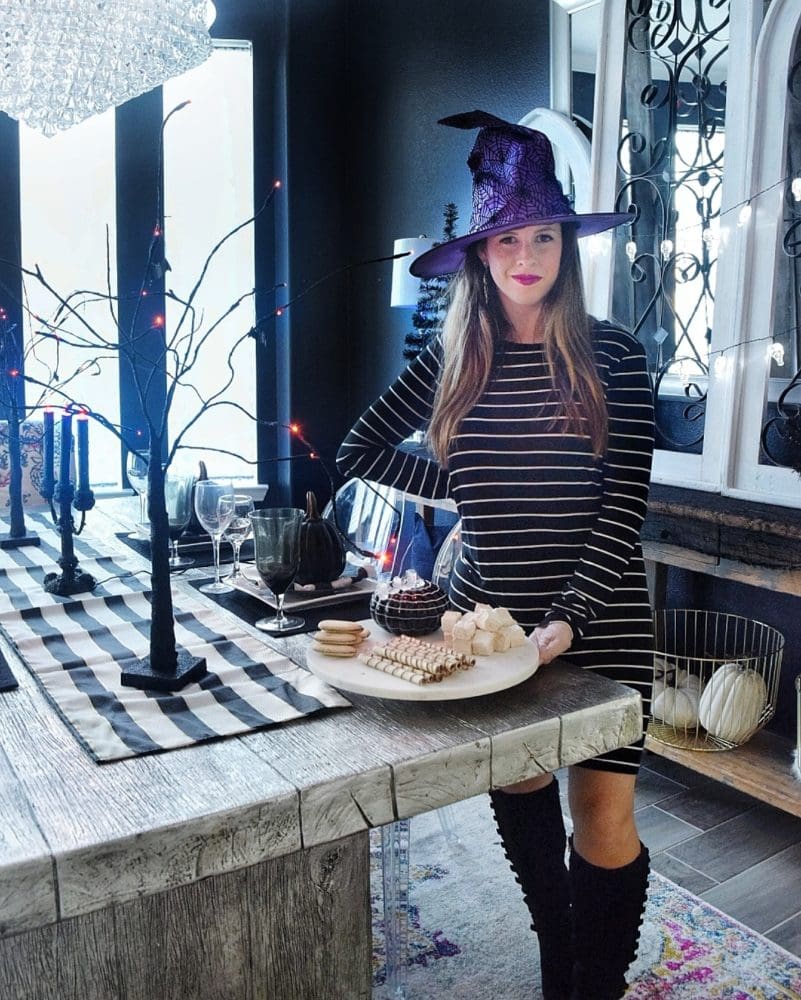 Happy Halloween and welcome to my Haunted Halloween Dinner Party! 😉
Halloween is quickly becoming one of my favorite holidays to decorate, and my favorite room to transform to spooky and haunted is the dining room. It's one of the first rooms you see when you walk into my home, and I love creating a fun Halloween table setting for my family and guests.
This year, I thought it would be fun to throw a haunted Halloween dinner party for the moms in my neighborhood. We're going to all get dressed up, have dinner and drinks and fun conversation around our dining room table. For the party I wanted to decorate the room with spooky Halloween decor, but with a classy stylish flair. I went to Bed Bath and Beyond to search for Halloween place settings and decor and found everything I needed to decorate my space. From serveware and drinkware, to haunted Halloween decorations, they have it all to create the perfect Halloween dinner party. Here are a few tips  for throwing a haunted and stylish Halloween diner party!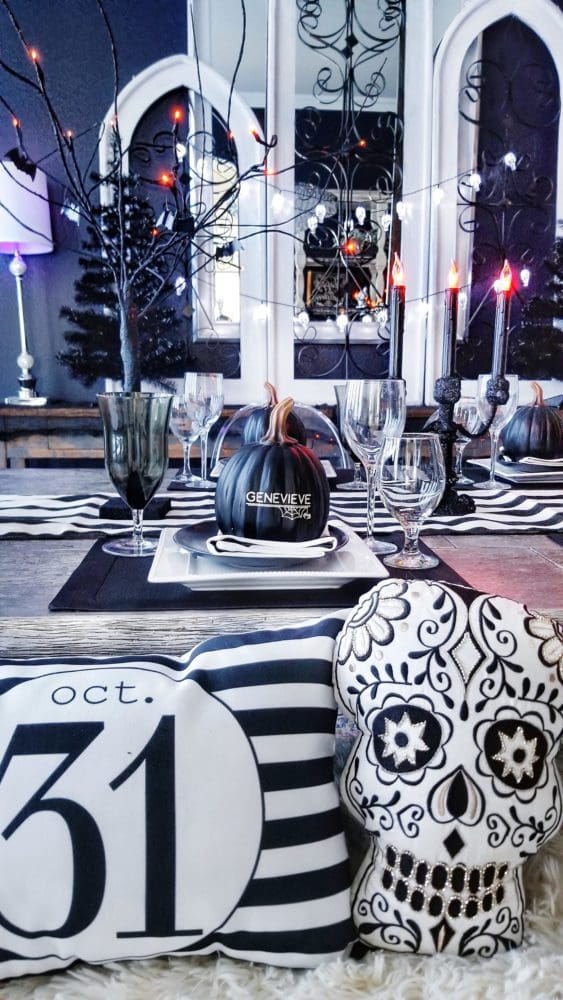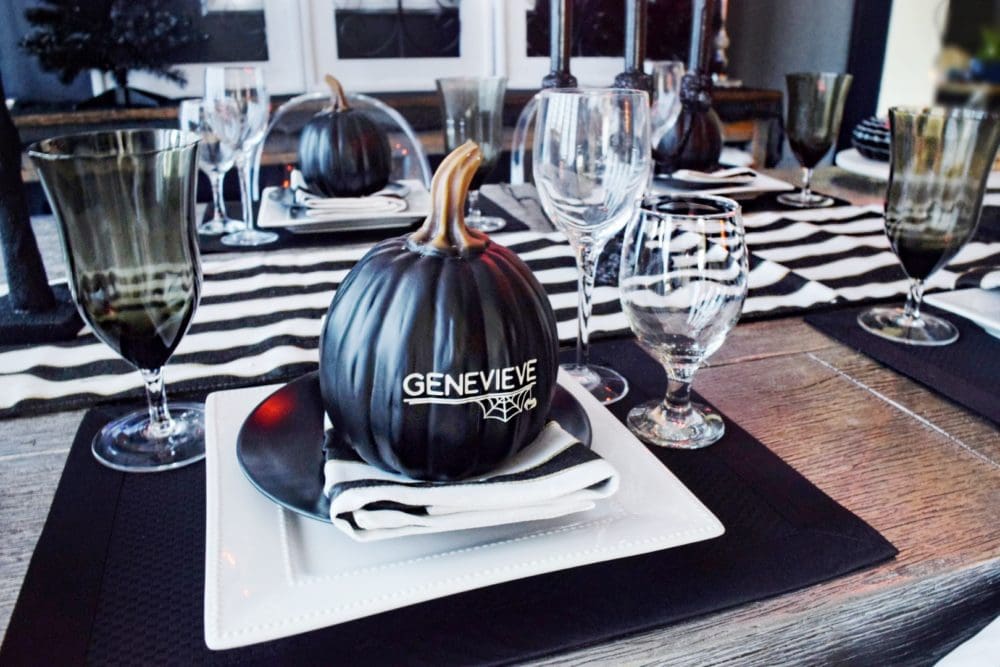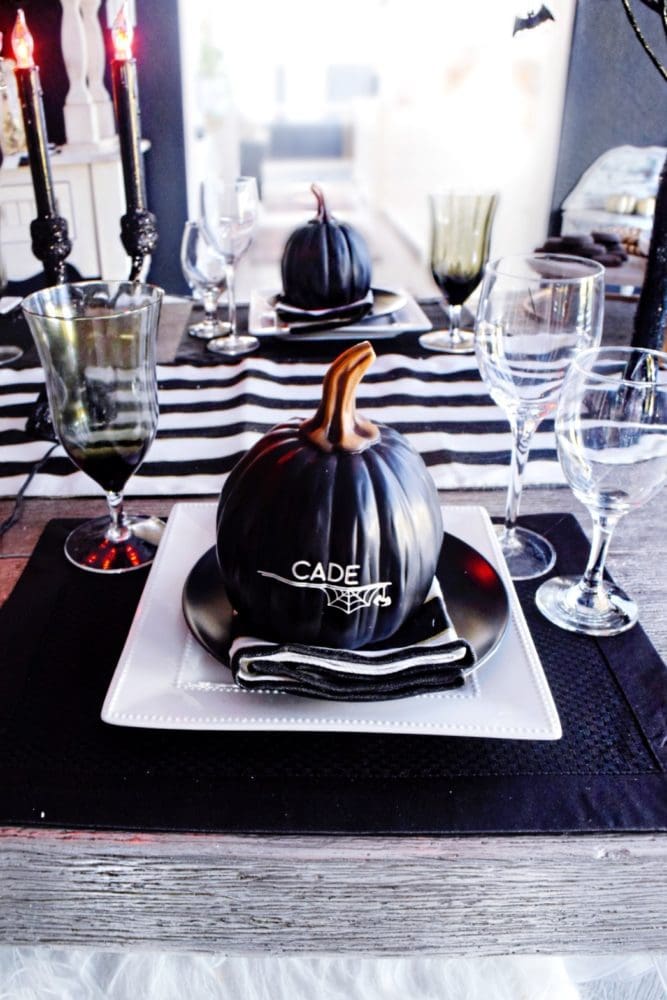 Haunted Halloween Dinner Party Table Settings
For the Halloween themed place settings, I wanted to find items that could coordinate with Halloween decor, but also be used for other events and everyday uses too. When choosing your tablescape and table setting color scheme, my advice is to start with a base and go from there. For me, the base was the Kate Spade black and white striped table runner and matching black and white striped napkins. They are so gorgeous and were just what I was looking for! They give off a Halloween look, but are also classic in design with their black and  white stripes with a touch of gold.
Now that I had my base table linens picked out, I can look at color and pattern options for place settings. Because I already have a dominate striped pattern on the table, I choose these inexpensive solid black placemats and black plates  to coordinate with the black and white striped napkins and table runner. I also found these smoke colored goblets that go perfect with the black color scheme. For serveware, I spotted this gorgeous marble lazy susan to serve our spooky appetizers on. The heavy white marble is  stylish and sofisticated, and also matches the haunted Halloween table settings.
All of these Bed Bath & Beyond table setting items are pieces that are not solely for Halloween and can be used for other occasions and everday drinkware and serveware. I love to find options for holidays that are not specifically limited to one event or season and can be evergreen throughout the year.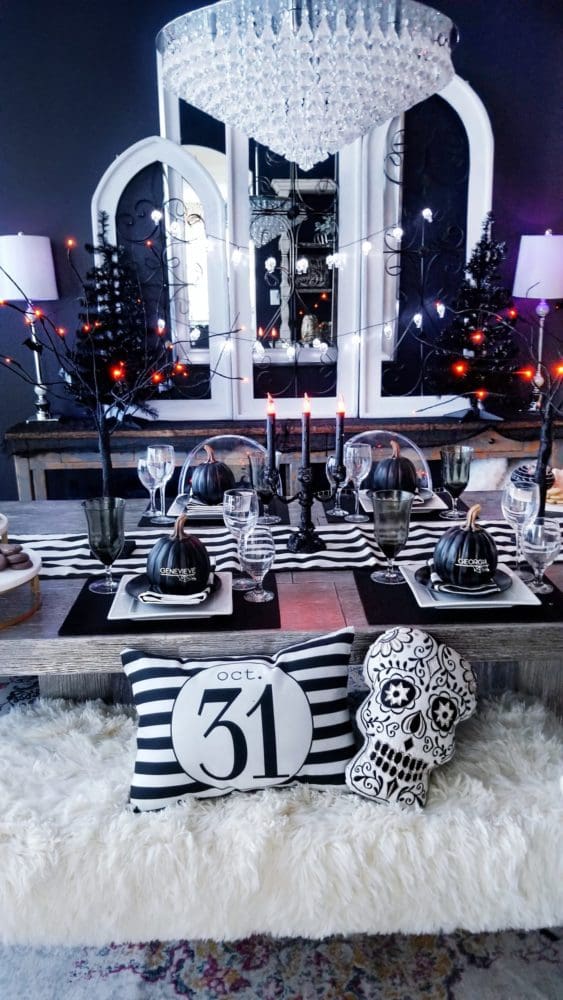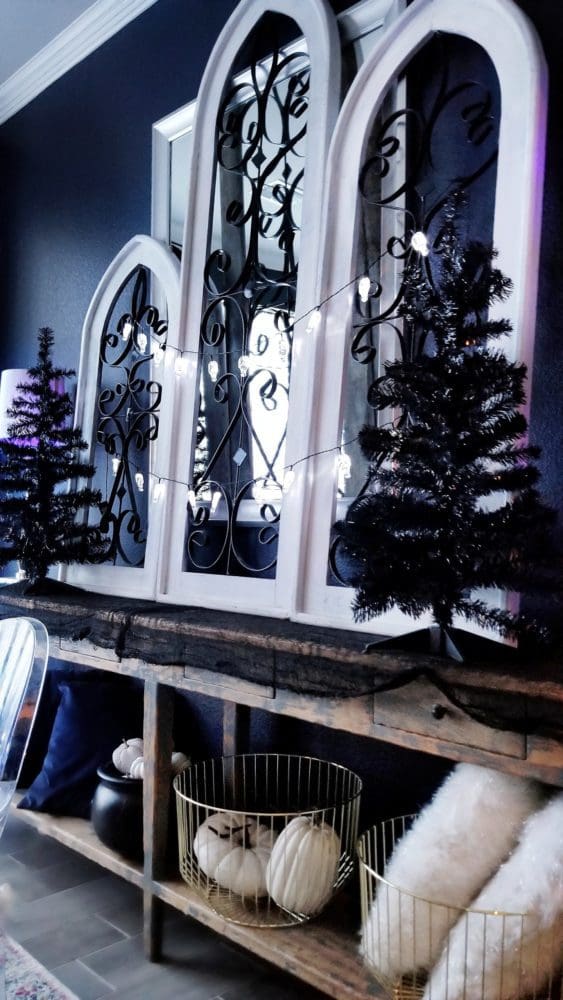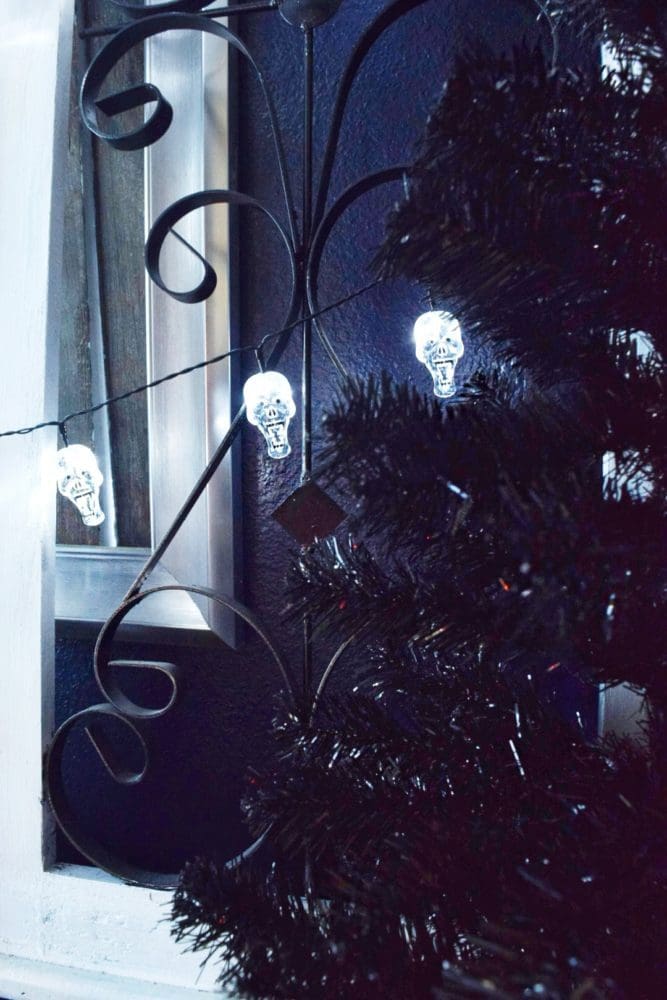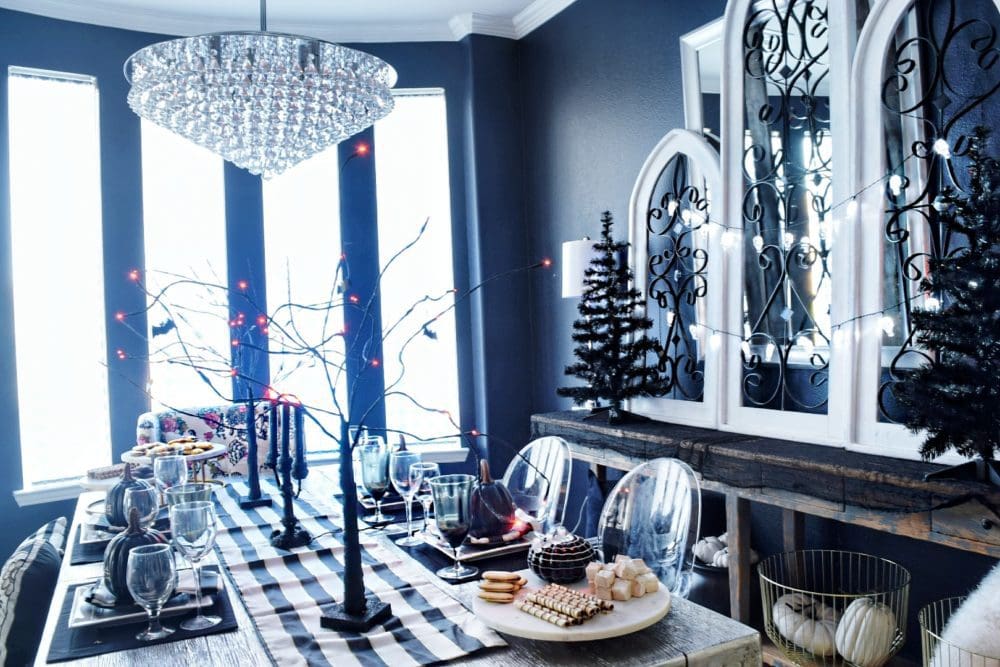 Haunted Halloween Dinner Party Decorations
I had so much fun picking out spooky and stylish Halloween decor for the dining room! I wanted to find a few pieces that had a big presence,  and that could also create a haunting ambiance with their Halloween themed lighting. The first items I found were these Halloween willow trees with orange lights on the tips of their branches. For table centerpieces if you find items that have some height, make sure they are airy and not too full. You'll want to be able to see across the table to your guests and not be blocked by your centerpieces. The next item I found was the flickering candleabra, which paired perfectly with the Halloween willow trees. Both items light up with orange lights and add a stylish yet haunting look for the table.
For the back table, I hung two strands of the skull string lights to add more fun lighting to the room. I found these inexpensive black Christmas trees and placed one on each end of the buffet table for some added height and color.
One of my favorite items for the table are the personalized pumpkins. I love having personalized pieces when having a party or event, and these personalized pumpkins are the perfect touch to your dinner party! You can also get them personalized for your family with each family member's name, and they can be used to decorate year after year.
I wanted to find a few more decorative items to add to the table, and I fell in love with this gorgeous black and white glass pumpkin. It's classy and chic and matched perfectly with the black and white striped theme on the table. I also loved these decorative skull pillow and October 31 pillow. They have a modern chic Halloween feel and pull the stylish Halloween themed table together perfectly!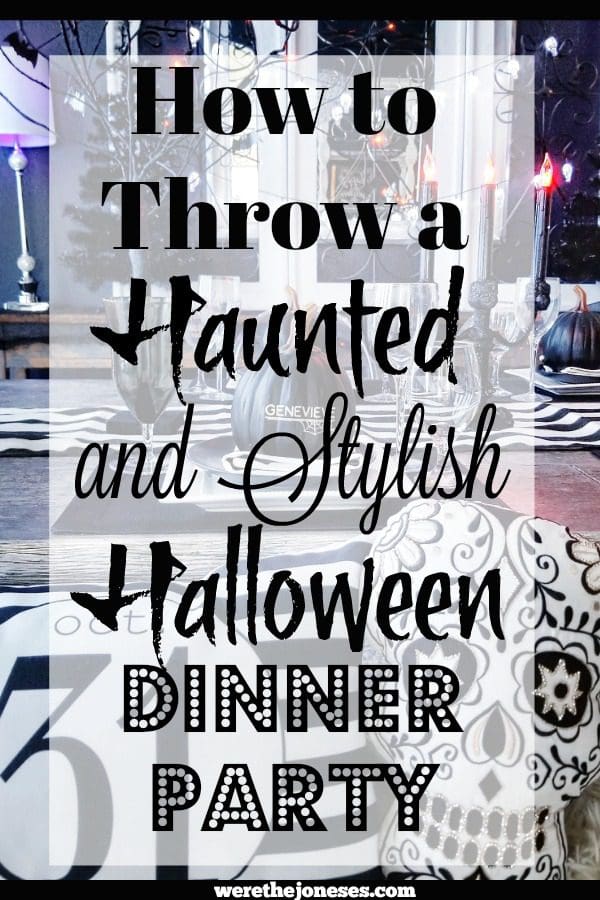 I love being able to add stylish design to my Halloween decor and still have the haunted spooky feel! Halloween decor can be fun for kids and also have a modern and chic look that matches well with other decor in your home. I hope you found some helpful tips for decorating your dining room in a haunted and stylish Halloween design, and easy ways to decorate for a haunted Halloween dinner party!
Happy Halloween decorating!