Modern Fall Mantle: How to Get the Luxe Glam Look in Your Home
This year for my Fall mantle I wanted to combine rich textures with modern pieces to achieve a luxe glam Fall look. I used jewel toned colors of rose gold, copper, shades of pinks and navy, and mixed in leather and velvet fabrics for a modern glam Fall design! Scroll to the bottom to see my easy DIY of floating wall Fall leaves!
This post is sponsored by JOANN. All opinions are my own.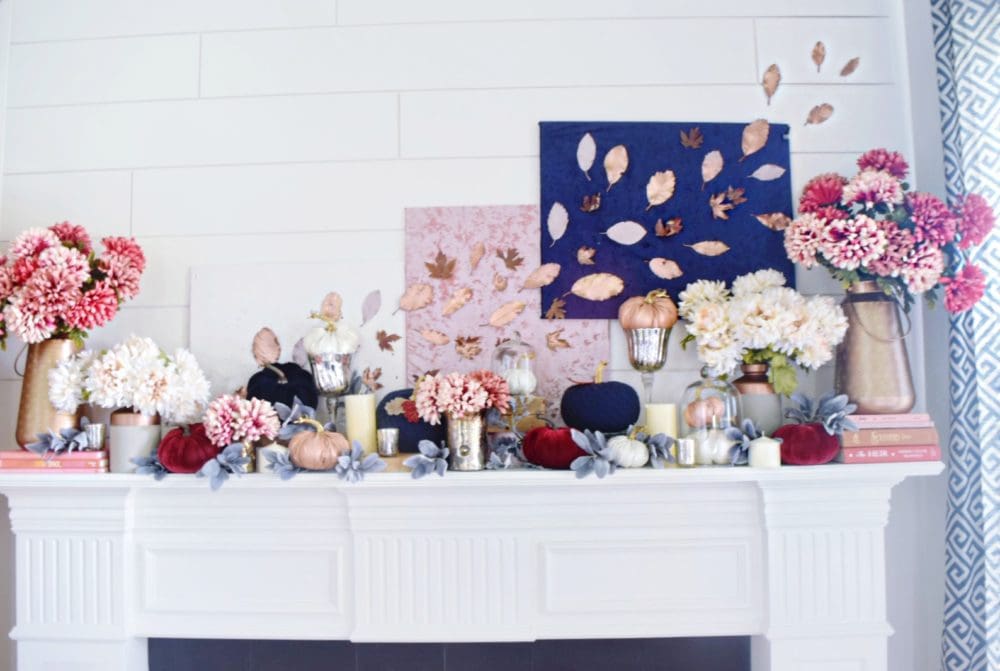 Happy Fall yall! I have been loving decorating for Fall this year with my non-traditional color palettes, and my mantle is no different! I know I wanted something luxe and glam, but I wasn't sure exactly where to start. When I spotted these rose gold leather pumpkins at JOANN, I knew I had my inspiration for my modern glam mantle! Mix in lush jewel tones and rich textures of velvet and I was set for the luxe glam look I was going for! Whether it's luxe glam, farmhouse, or traditional Fall decor, JOANN has everything you need to achieve any Fall style you are wanting this year!
Not sure where to start to get the luxe glam look for your home? Below I've listed out easy tips on how to shop for luxe glam decor pieces for Fall.
Luxe Glam Colors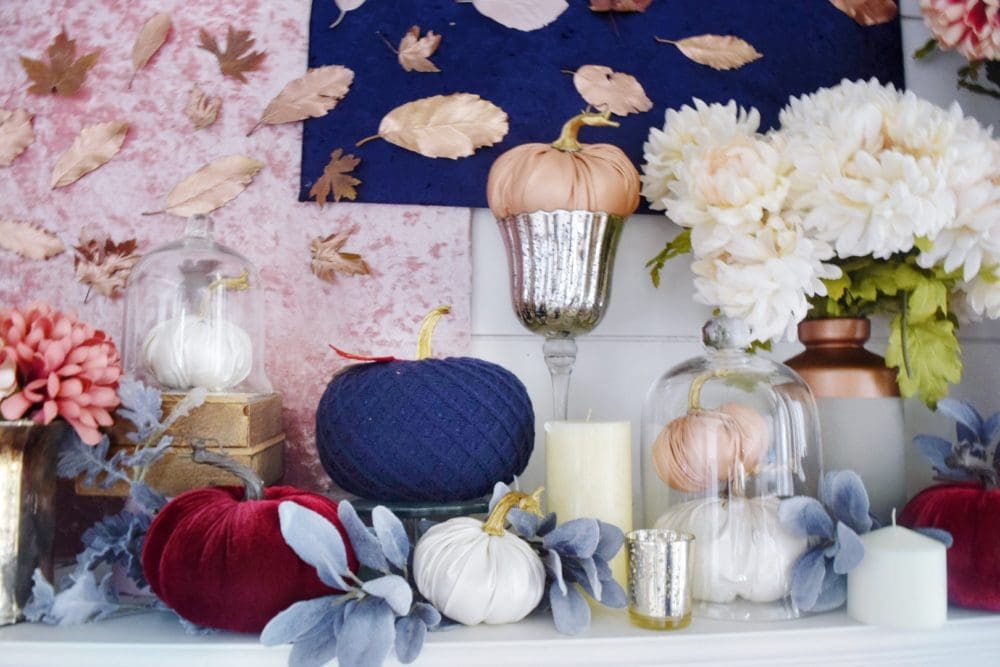 rose gold leather pumpkin | white leather pumpkin | burgundy velvet pumpkin | navy sweater pumpkin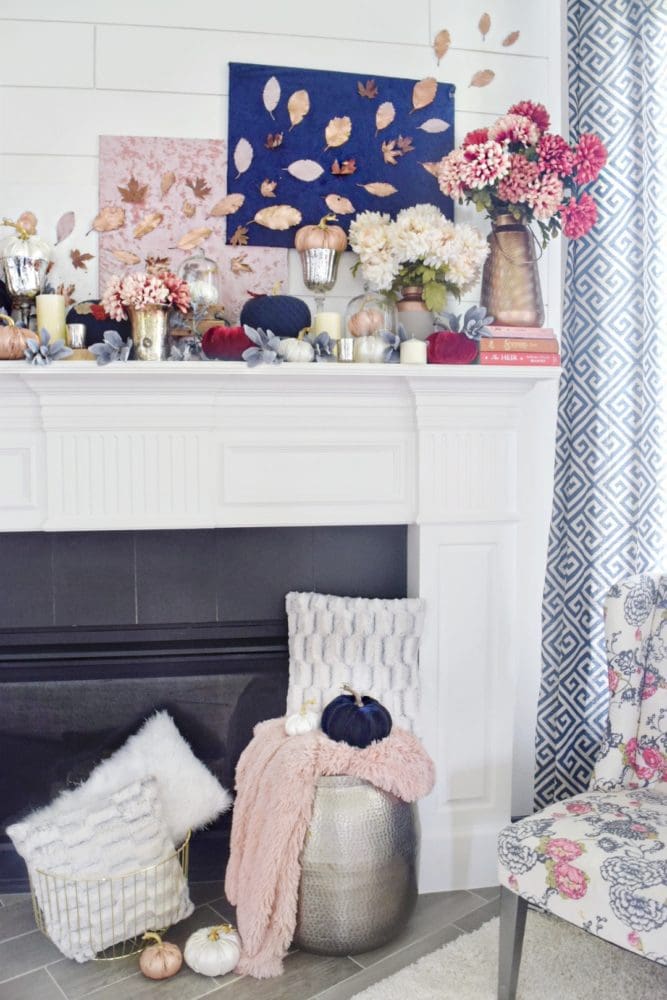 medium navy velvet pumpkin | small white leather pumpkin | color block vase
The easiest way to find luxe glam decor items is to start by looking for certain colors in decor. My favorite way to add a little glam is to buy vases and votives in metallic finishes. For my luxe glam Fall mantle, I wanted to add decor pieces that would highlight the rose gold and white leather pumpkins. I found these copper colored metal lanterns and these copper two toned vases that matched perfectly with the modern color scheme. You can also add in various shades of metallics to give the space more visual dimension, so I added in these silver mercury glass votive holders to glam it up even more!
I wanted to have a rich Fall color palette for the mantle, and if you didn't know by now my favorite color combination in my home are shades of pinks and navy ???? But what caught me by surprise was how I loved the addition of the maroon velvet pumpkins on the mantle too! I've always liked the way maroon and blush pinks look together, and mixed with dark navy the jewel tones with the metallics are the perfect glam color choices!
Luxe Glam Textures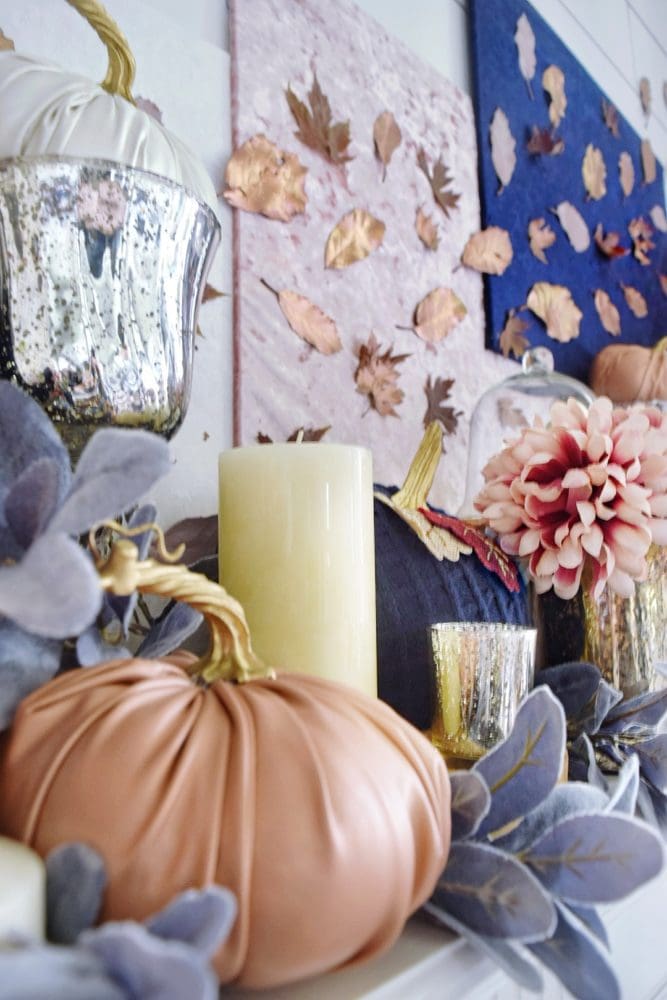 small rose gold leather pumpkin | blue lambs ear stems |mercury glass votive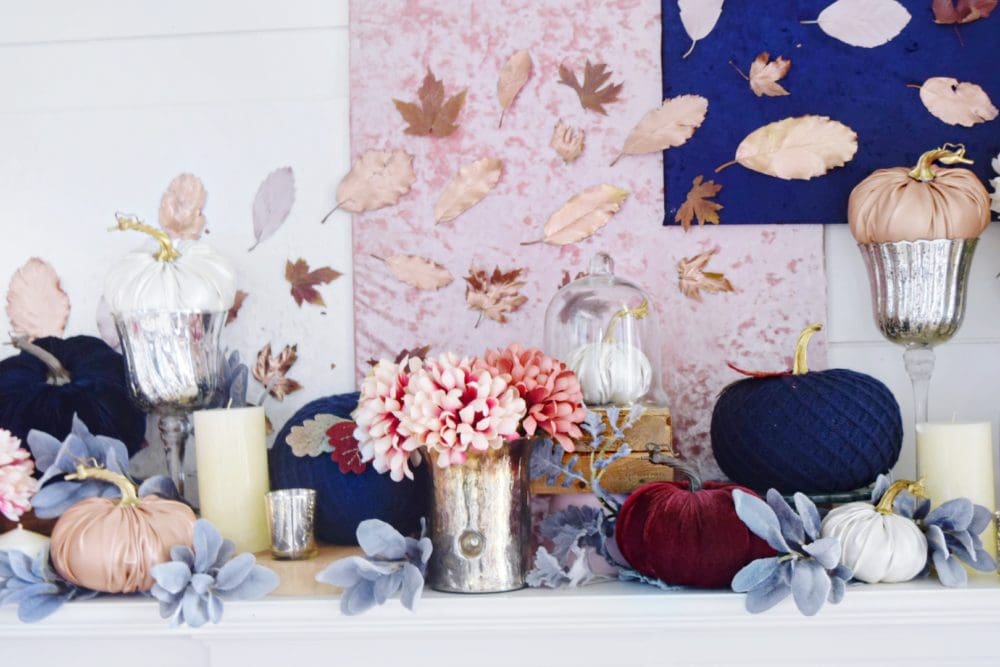 white velvet fabric | pink velvet fabric | navy velvet fabric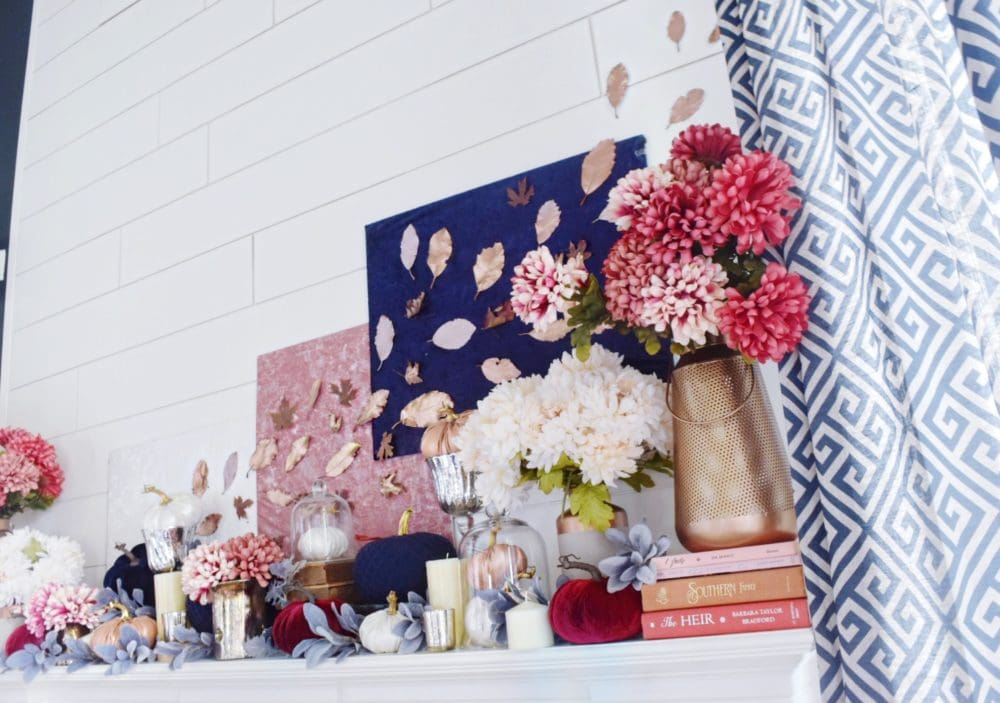 leaves | cream mums | pink mums | copper metal lantern
Another way to add in luxe glam decor in your home is with rich textures. Bringing in lush and heavier textures are a great way to transition your home into the colder seasons. I love the leather and velvet fabrics on the JOANN pumpkins and how they bring a luxe glam feel to my Fall mantle. I wanted to take it a step further by adding in crushed velvet fabric for my color blocking wall decor piece I made. This gives the mantle a bold 3-dimensional look, and is a simple DIY with a high visual impact!
My favorite department at JOANN is hands down the floral department! I chose full lush florals to complete the look for my luxe glam mantle. When I saw the mauve pink mums bush I think I did a silent little dance I was so in love!! The colors are the perfect mix of mauve and blush, and also bring in touches of dark reds that coordinated perfectly with the maroon velvet pumpkins. The muted blue lambs ear softens the empty spaces on the mantle, and brings in lighter shades of blue to match the navy pumpkins and fabric.
Floating Leaves DIY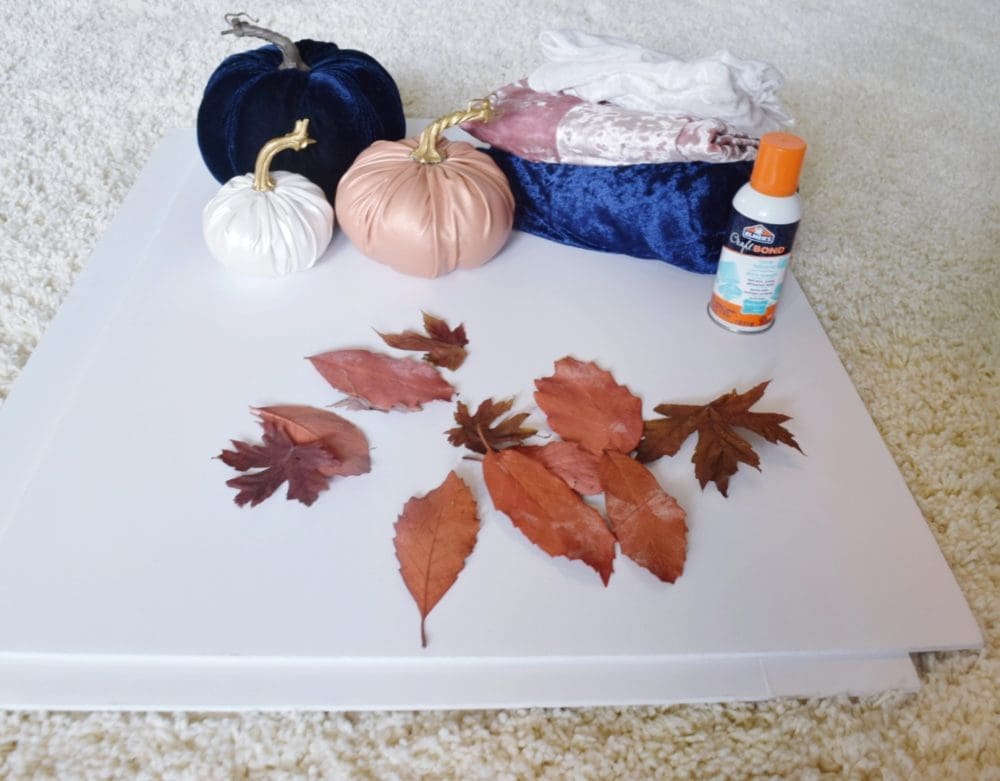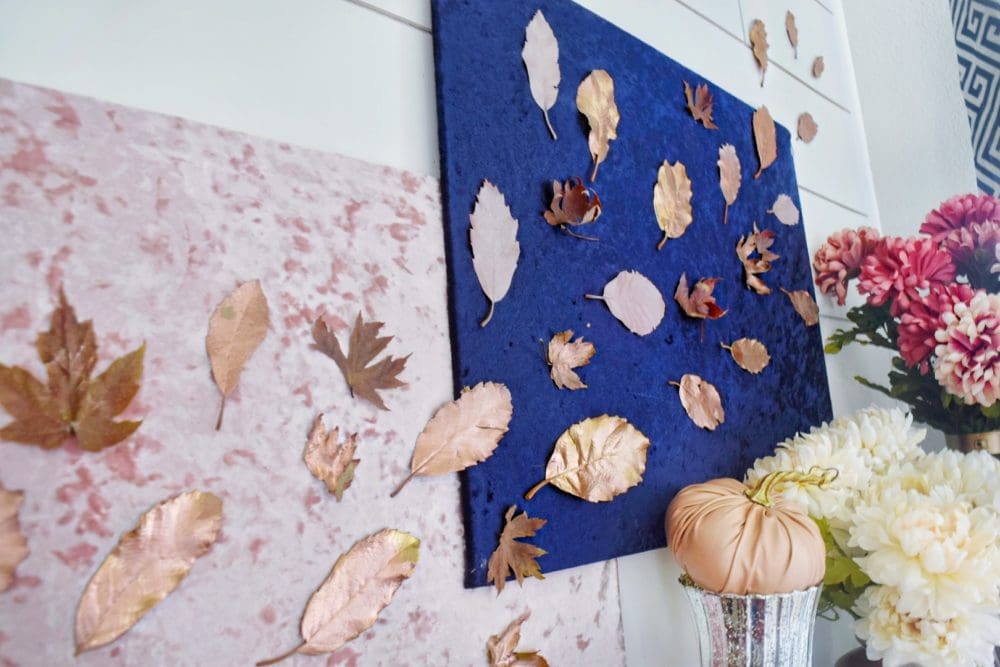 To add in some height and dimension, I created this abstract floating leaves DIY for my mantle. It was SUPER simple to make, and creates a fun flowy movement look to the space! You can read my full DIY tutorial on "How to Create a Fall Color Blocking Floating Leaves Wall Decor" by clicking here or by opening the JOANN app and searching "floating leaves wall decor" in the How To section!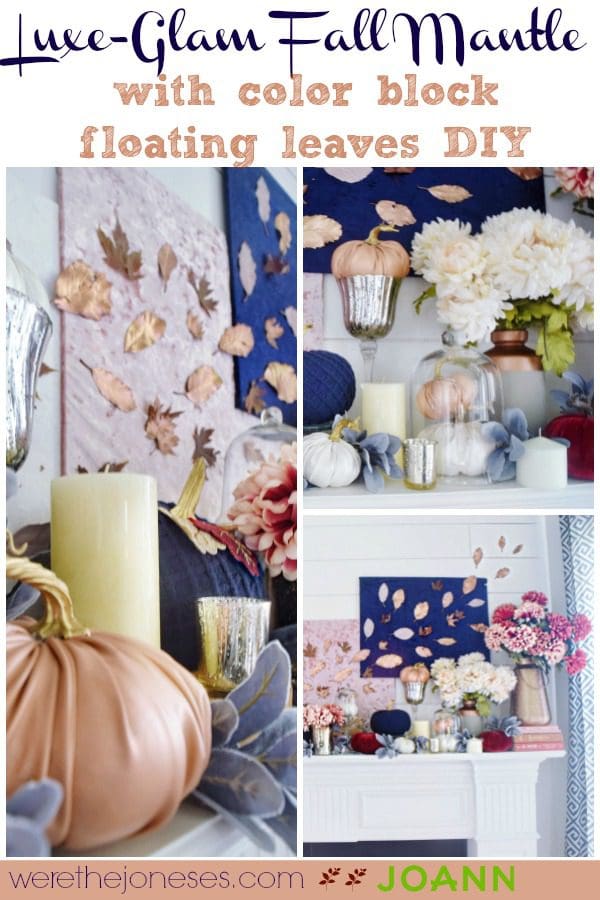 I love adding in these rich colors and textures for Fall and the luxe glam feel they give my mantle! I hope I've helped you search for decor pieces that will help you get the modern glam look for your home too!
Happy (luxe glam) Fall decorating!

PIN for later!