I've collected inspiring fall centerpiece ideas you will love – that are easy and affordable! From warm and cozy, classic and elegant, to bold and colorful there's a Fall decor style everyone will enjoy. I love seeing how others decorate for the season and getting inspired from their Fall decor styles too. I've joined a few friends to share a variety of Fall tablescape decor – I know you will love all of these beautiful inspiring Fall centerpiece ideas!
Inspiring Fall Centerpiece Ideas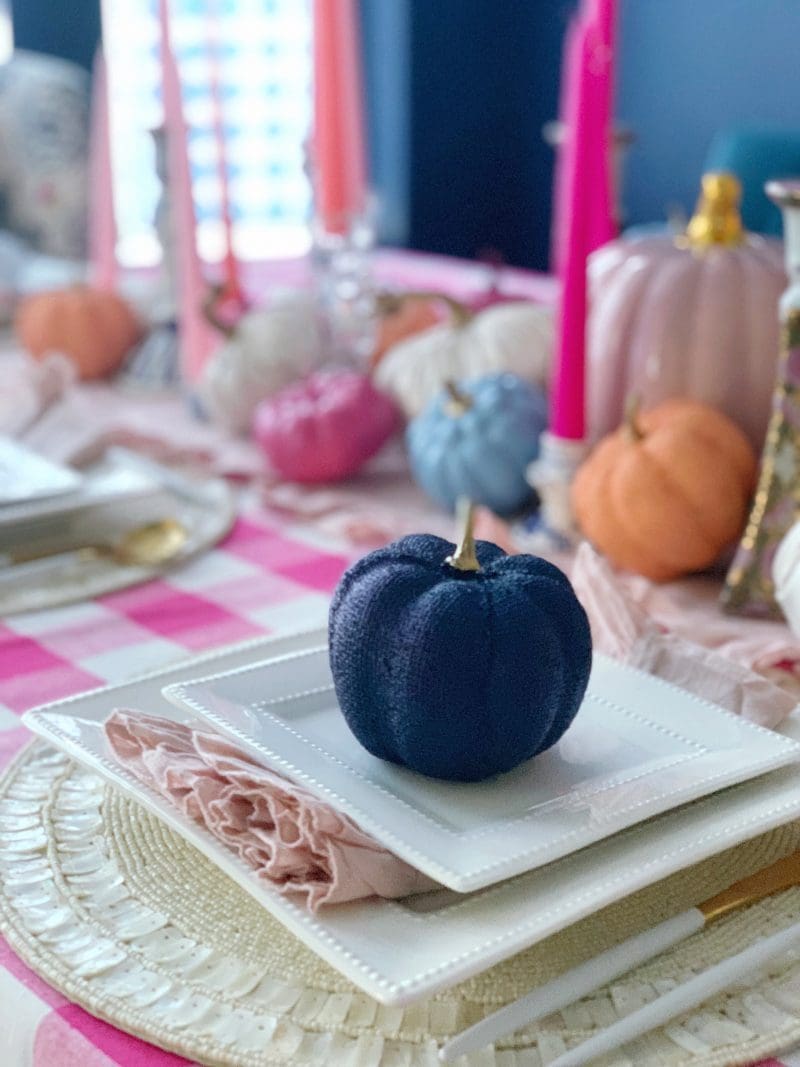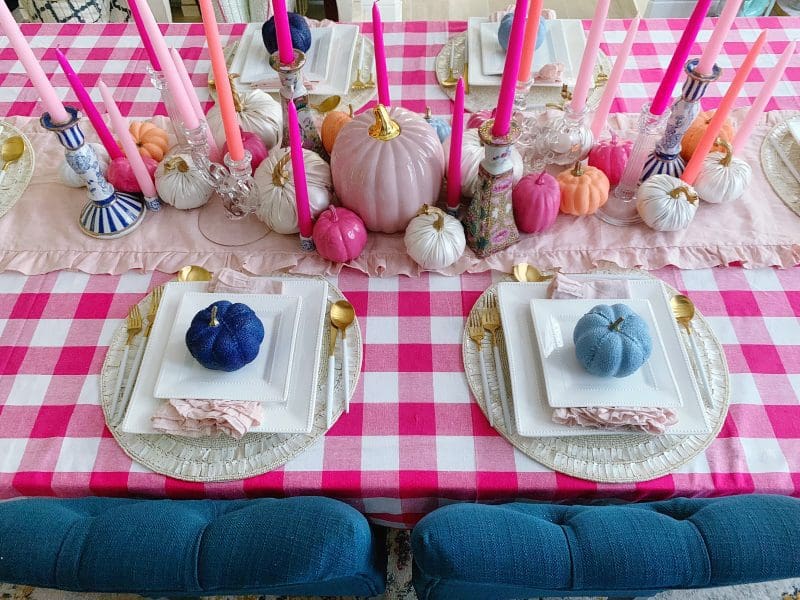 We're the Joneses Colorful Fall Tablescape
This year I wanted to create a colorful + modern tablescape and use shades of pinks and blues for my Fall decor. I had lots of fun using non traditional colors and making my Fall decor colorful and bright! I created a modern Fall tablescape with a pink gingham tablecloth, painted pink and blue pumpkins, vintage chinoiserie candle holders and lots of pink taper candles.
I like to go through my seasonal decor and search what I already have FIRST and then add on a few pieces each year. If my color choices change year over year – I paint! I have a painted pumpkins tutorial where I painted all my beige and brown pumpkins from Dollar Tree. Most of the pumpkins I used in this tablescape – some even got painted for a third time! That's the great thing about paint, it can keep evolving and changing as your decor tastes change, and is a super easy DIY fix.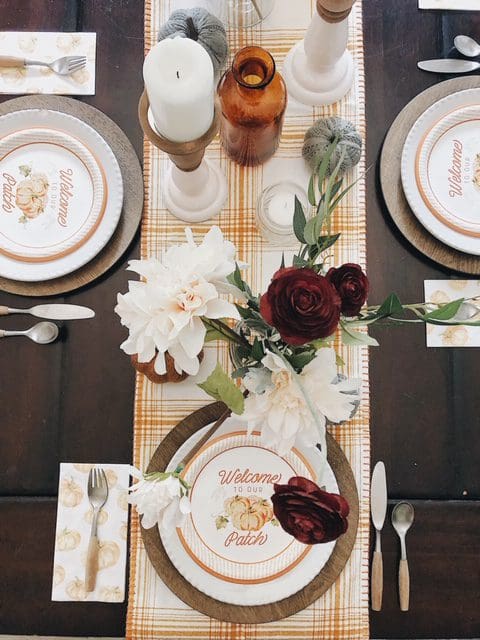 She Gave It A Go | Fall Table Decor With Warm Rich Tones
Brendt with She Gave It A Go added warm tones to her Fall table to give it a cozy Autumn feel. Her wood farmhouse accents and burnt orange table decor embellish all the feelings of Fall! I love the contrast mix of rust orange in her table runner and plates with the burgundy reds of the centerpiece flowers. The beautiful amber glass vases that hold the centerpiece floral arrangements also add to the warm farmhouse style.
She gives step by step instructions on how to create an easy Fall tablescape which is so helpful! Also, if you also want to recreate her Fall table at home, she includes a convenient product list with all the items she used to create her Fall centerpiece. I love all her tips for beautiful Fall decor that is easy and affordable!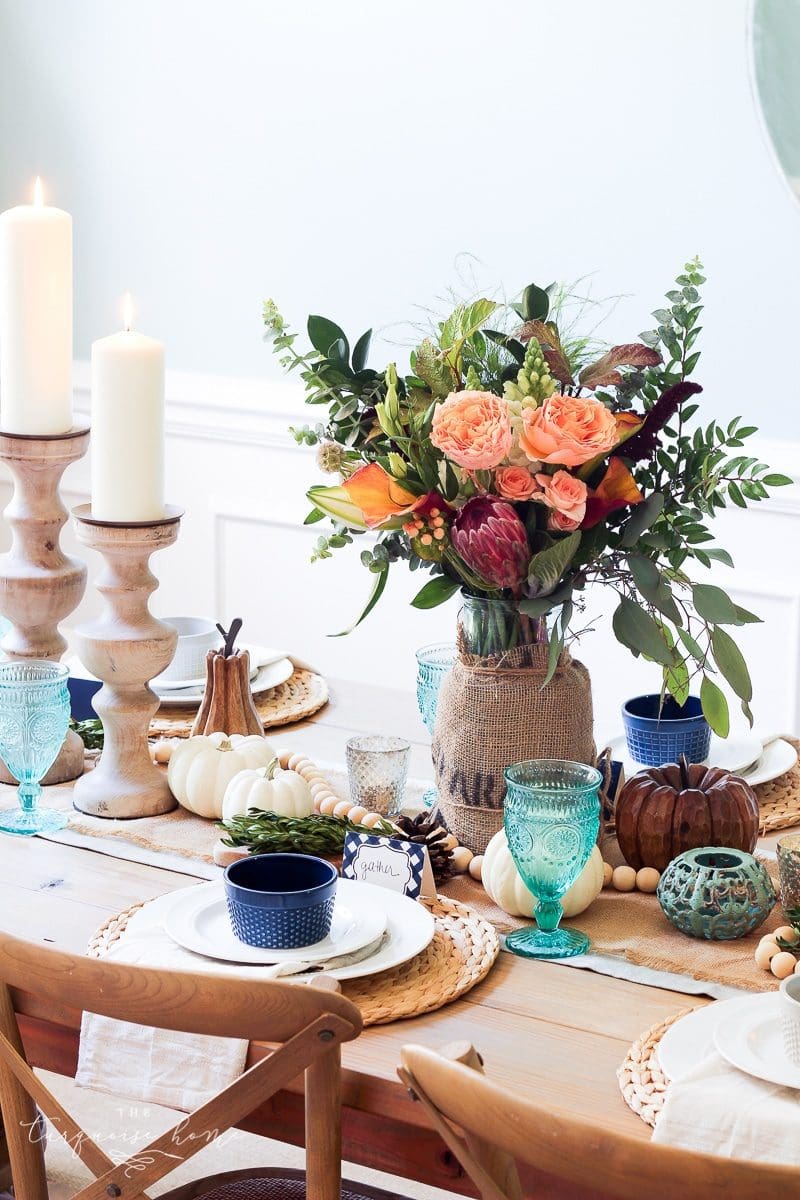 The Turquoise Home | Farmgirl Flowers Fall Centerpiece
Laura with The Turquoise Home was inspired to create her Fall tablescape from a flower delivery from Farmgirl Flowers. I love how she talks about getting inspired by the unexpected. You never know when creativity will suddenly strike! She created her Fall centerpiece around her beautiful Farmgirl Flowers delivery. Aren't the flowers gorgeous? They are a perfect Fall mix of reds, oranges and greenery.
I also love how Laura mixed the warm Fall tones of the flowers with cooler hues of blues. Her eyecatching goblets add a fresh pop of color and match the whimsical feel of the farm style floral arrangment.
The Tattered Pew | Classy Blue & White Fall Tablescape
Kelly from The Tattered Pew used natural elements mixed with classy decor accents to create her Fall tablescape. I love how she incorporated pinecones, wheat and dried artichokes for her natural and neutral Fall centerpiece. She mixes it up with classy touches of gold flatware, elegant blue and white printed plates, and vintage embroidered napkins. This unexpected mixture of classy + natural is perfectly done!
I also love how Kelly discusses using items you already have in a way you haven't thought of before. You can create a whole new look by mixing decor pieces in a brand new way!


I hope you are feeling inspired by these beautiful Fall centerpiece ideas! There's so many ways to add Fall decor to your tablescape and home, whether it be with pumpkins, candles, florals, natural Fall elements or all of the above! Thanks for stopping by and letting us share our Fall decorating styles with you!
Happy Fall decorating!