Hosting your family and friends this fall season? My three fall hosting tips will help you in creating a cozy home for your guests. Create an inviting and comfy feel by adding simple + easy cozy fall touches throughout your home!
The fall season is a time for gathering and getting together with family and friends. It's a wonderful time to add a few cozy touches around your home for your guests to feel welcome and at home too.
How do I make my house feel cozy for fall?
I have 3 simple and easy tips for creating a cozy home during the fall season. Adding ambiance, personalization, and cozy fall touches throughout your home are my favorite three ways to bring a cozy and inviting feel to your home. I go into more detail below on how to easily add in these three cozy elements.
Three Fall Hosting Tips for Creating a Cozy Home
1. Creating a Cozy Ambiance
My first fall hosting tip is to add a cozy fall ambiance to your home. There are several ways to add a welcoming ambiance. You can light a fire in the fireplace, which gives your home a cozy fall vibe. Another way is to add your favorite fall scented candles throughout your home. You can place these fall candles in the guest bathroom and guest bedroom for your guests, or if your are hosting a party have them spread out throughout your kitchen and living room.
If you are hosting a gathering outside, you can add some cozy ambiance with string lights. We love spending time outside with friends during the fall season, and having these color changing cafe lights brings a fun and welcoming touch to our backyard. I shared in this post all of our fun ways we spend time outside during the fall.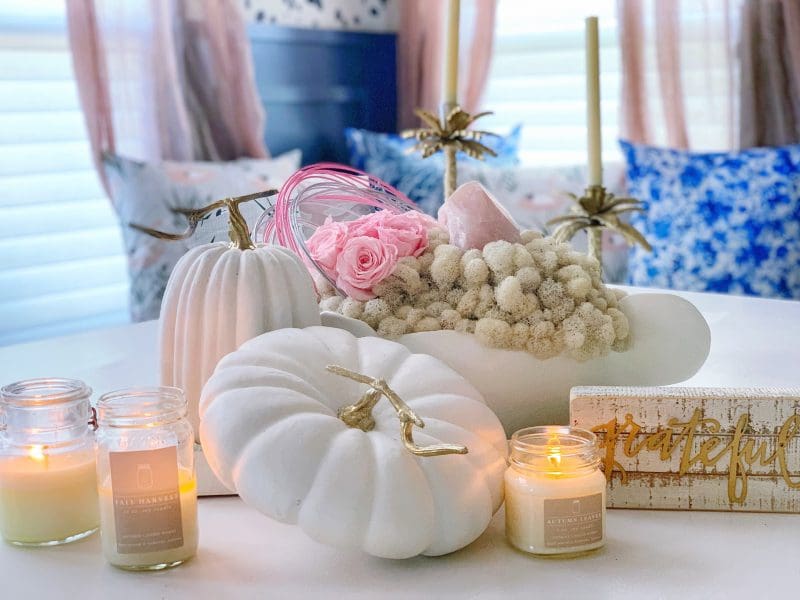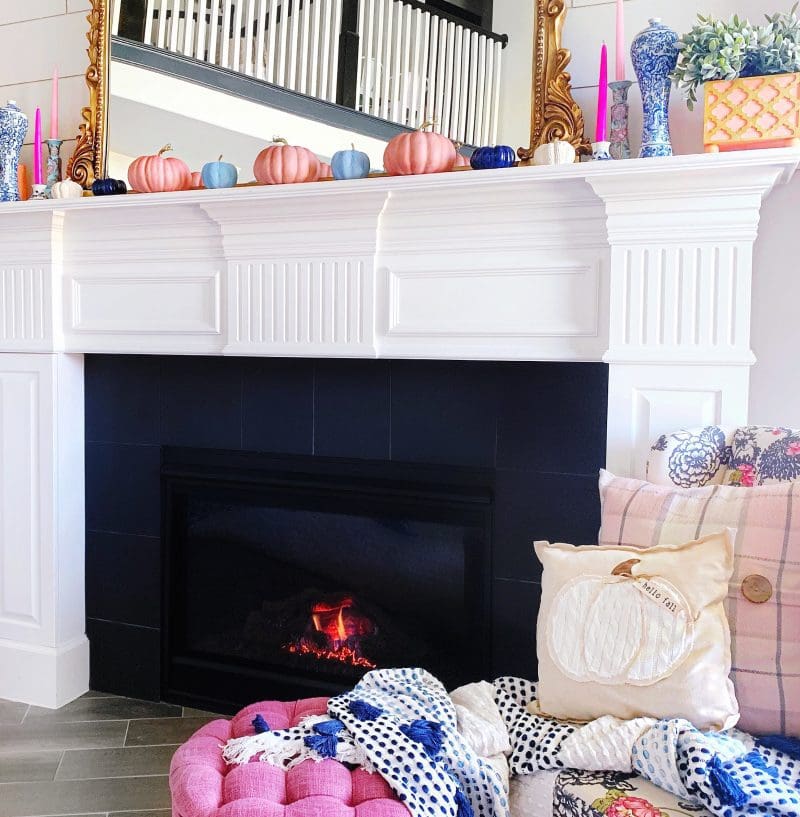 2. Personalized items for your Guests
When I'm hosting my family and friends I also like to add personal touches for them during their stay. Having personalized items for your guests is a great way to have them feel welcome and relaxed in your home, and show them that you care about making their stay memorable and comfortable. A few ideas for adding personal touches are having their favorite wine or flavored coffee for them to drink. Another idea is to buy their favorite magazines and toiletry items waiting for them for when they arrive.
If you are hosting a get together or event, you can also add in personal touches to your fall table place settings. Add their name to a pumpkin or fall leaf and place on their plate (see these cute personalized Halloween pumpkins from my Halloween Dinner Party!)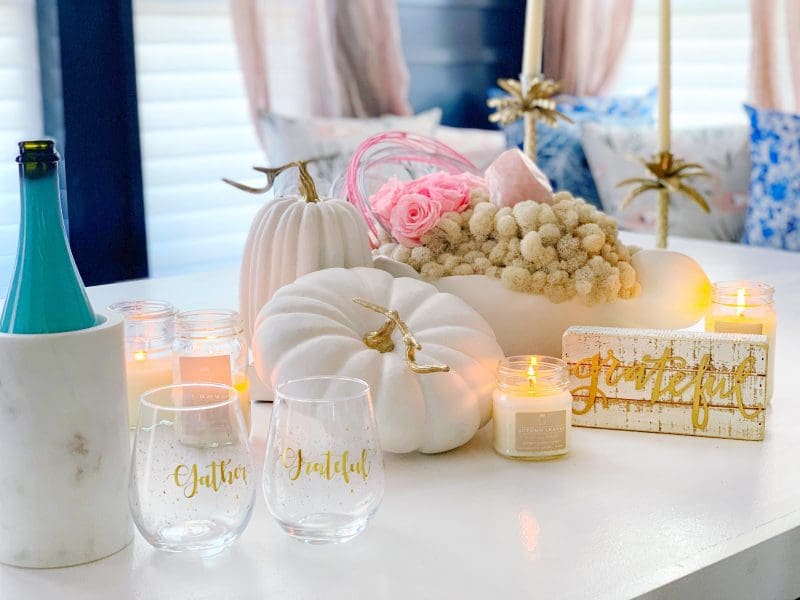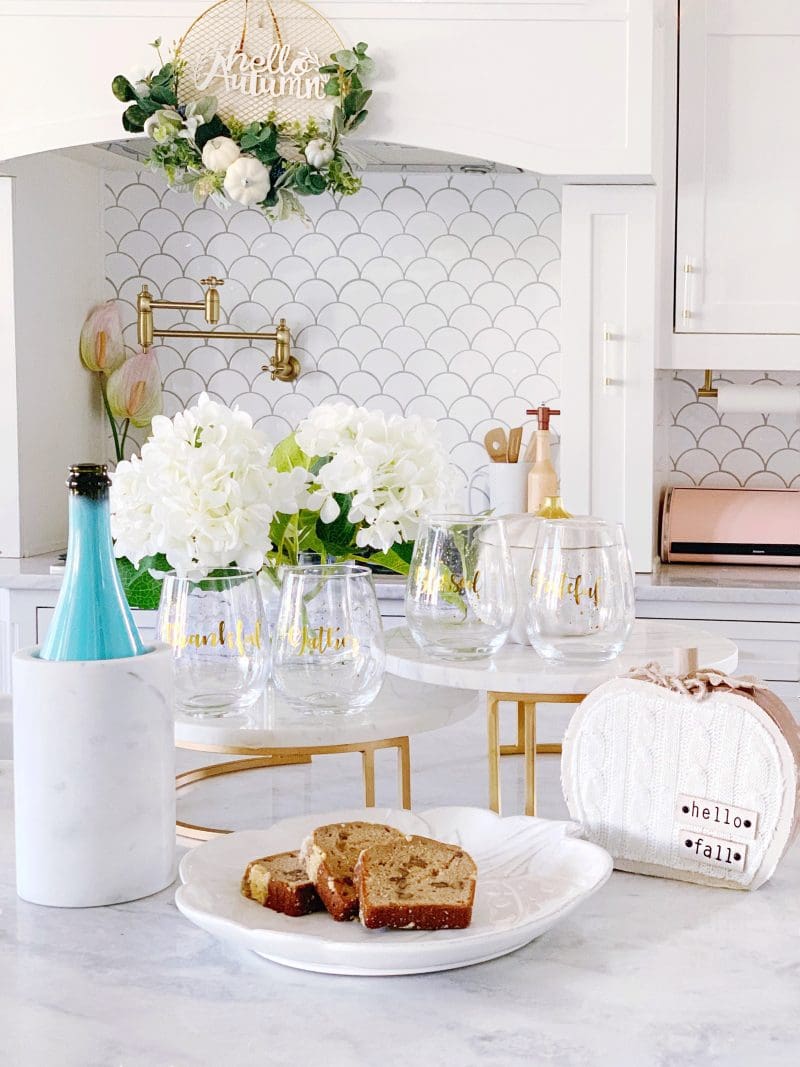 3. Adding Cozy Fall Touches
The third fall hosting tip is to add in cozy fall touches throughout your home. The easiest way to do this is to add in lots of comfy textures and layers. You can bring in chunky throw blankets and plush pillows to your couches, beds and seating areas throughout your home.
These added soft layers give a cozy fall vibe that is simple and easy to create. You can also add in fall magazines and warm pumpkin bread and coffee and you've created a cozy reading nook for your guests to curl up by the fire.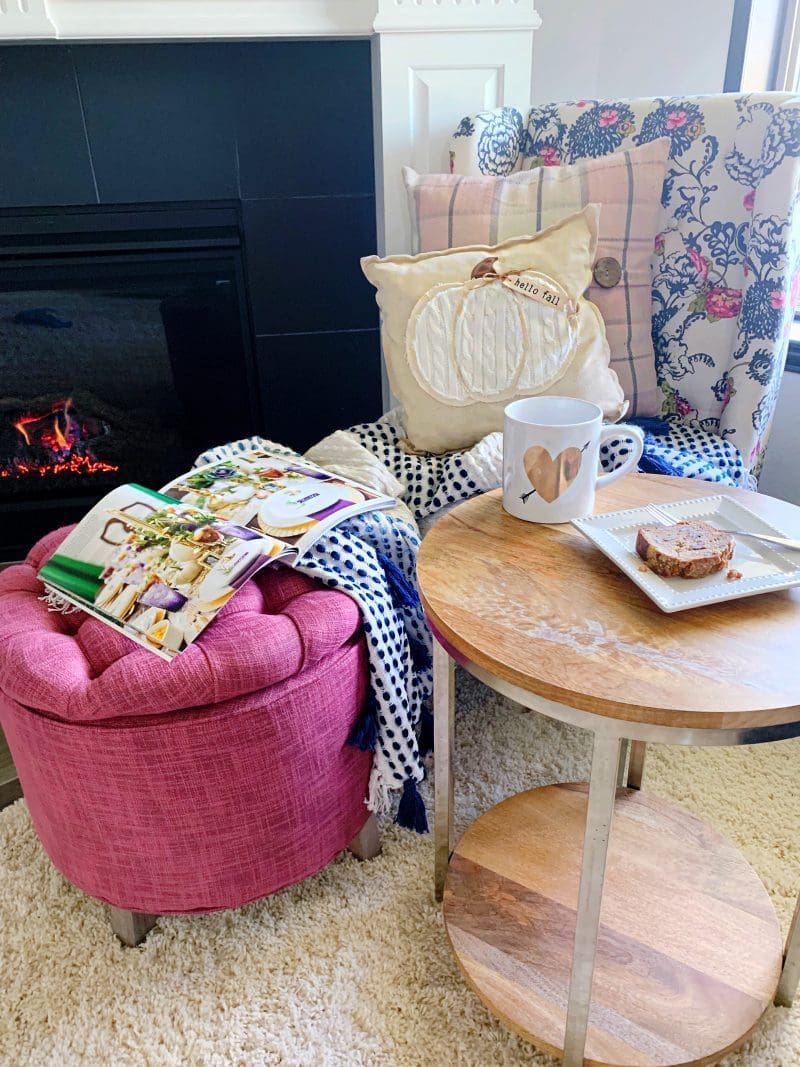 Modern Colorful Fall Home Tour – Click
HERE
Cozy Fall Bedroom Decor Ideas – Click
HERE
I hope these fall hosting tips were helpful to make your home feel cozy and inviting during the fall season. Are you having family and friends over for special gatherings this fall? What ways do you like to make your home feel comfy and cozy? Let me know in the comments!