My 5 Favorites: Kirkland's Rae Dunn Collection
This week on my 5 Favorites – The new Kirkland's Rae Dunn Collection! The launch of the exclusive Rae Dunn line at Kirkland's is finally here! I browsed my local Kirkland's store and the Kirkland's website to find my favorite new and affordable Rae Dunn items. I love the vintage inspired enamelware mixed with the iconic and quirky Rae Dunn fonts. Check out my 5 Favorites below!
This post is sponsored by Kirkland's. All opinions are my own. See disclosure policy here.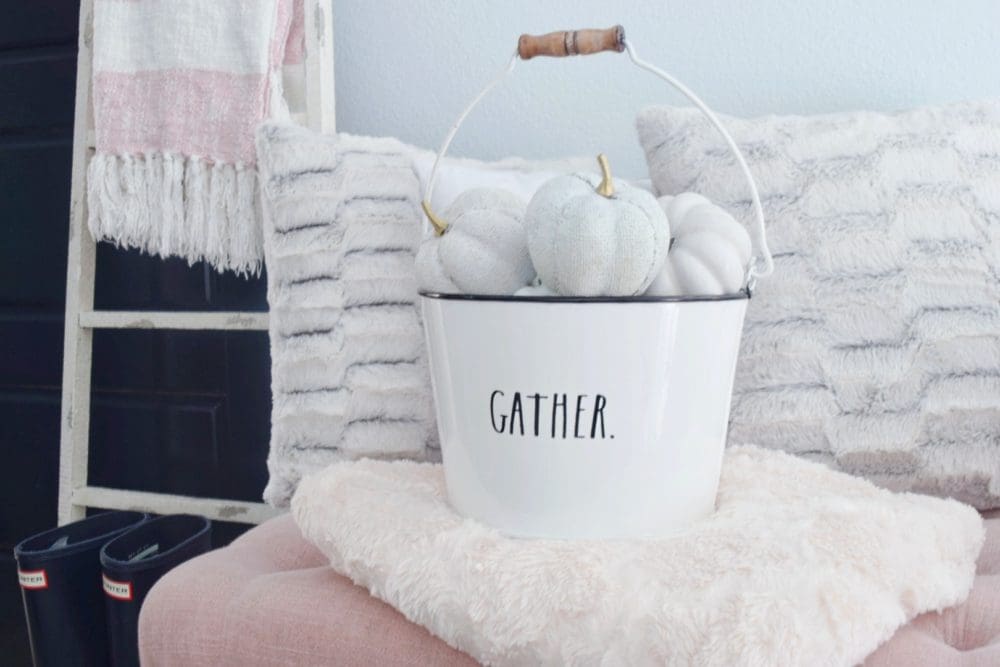 The launch of the Kirkland's Rae Dunn collection is finally here!
I've GATHERED (ha..see what I did there?) my 5 favorite Rae Dunn items in this new collection to share with you! I'm really drawn to the enamel look, and a lot of my favorite items are the enamel pieces in this collection. I like that it feels vintage (without the added rust!) and in true Rae Dunn form, most of the items are shades of neutrals and black + white. Although, I added the one color item I found, because yall know I love me some color!
Some of these items are available only in store (like my Gather Enamel Bucket) and some are available in both online and in store. My advice is if you have a Kirkland's storefront near you, go check it out! My local store had lots of variety of the Rae Dunn items and a few items that weren't listed on the website.
Check out My 5 Favorites from the Kirkland's Rae Dunn Collection below!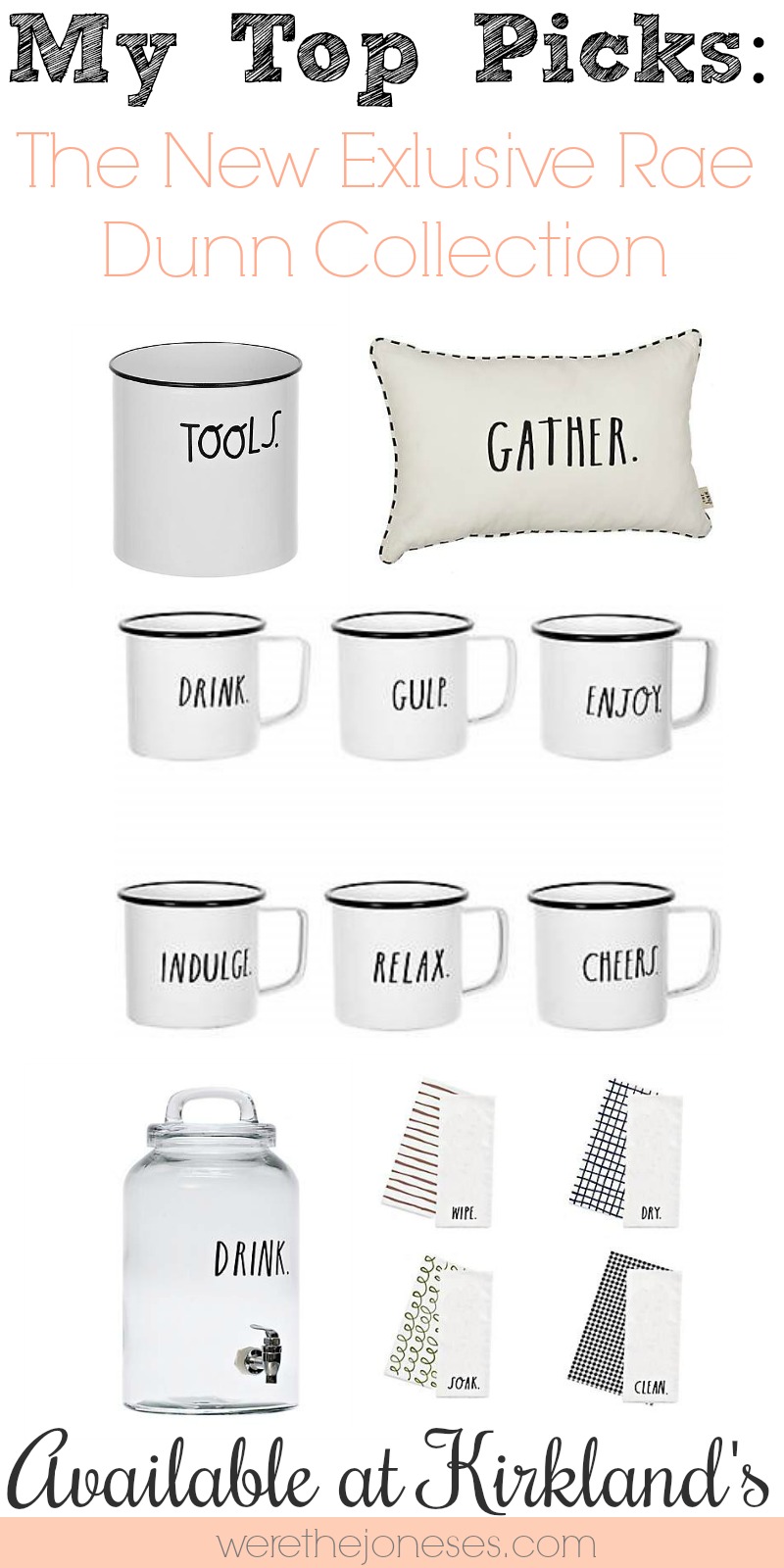 My 5 Favorites: Kirkland's Rae Dunn Collection
#1. Rae Dunn Drink Glass Beverage Dispenser
With kid parties, football games, and holidays just around the corner, there's always a need for a drink dispenser in our house! And this Rae Dunn beverage dispenser is so pretty! I like how it's simple and sleek but also adds a little fun with the "DRINK" text.
#2. Rae Dunn Kitchen Tea Towels
How cute are these Rae Dunn tea towels? I love how they have the script with the various kitchen tasks descriptions. And yay for some subtle color too! They come in sets of two, so you can mix and match or if you have a favorite get multiple of the same.
#3. Rae Dunn Tools Enamel Utensil Crock
This Rae Dunn Tools Enamel Utensil Crock would look perfect sitting on the kitchen counter holding all your kitchen tools! If you have a craft area or office, it would also look cute sitting on a desk or cabinet with office or craft supplies!
Another enamel favorite! I love the sleek black rim and cute shape of the handle. These Kirkland's Rae Dunn mugs are a fun vintage and modern spin on the traditional Rae Dunn coffee mug!
#5. Rae Dunn Gather Accent Pillow
One of my favorite Rae Dunn items at Kirkland's is my GATHER enamel bucket, but I also love the GATHER pillow too! I love the added ticking pattern on the sides, and it's a perfect pillow to bring in for the Fall season!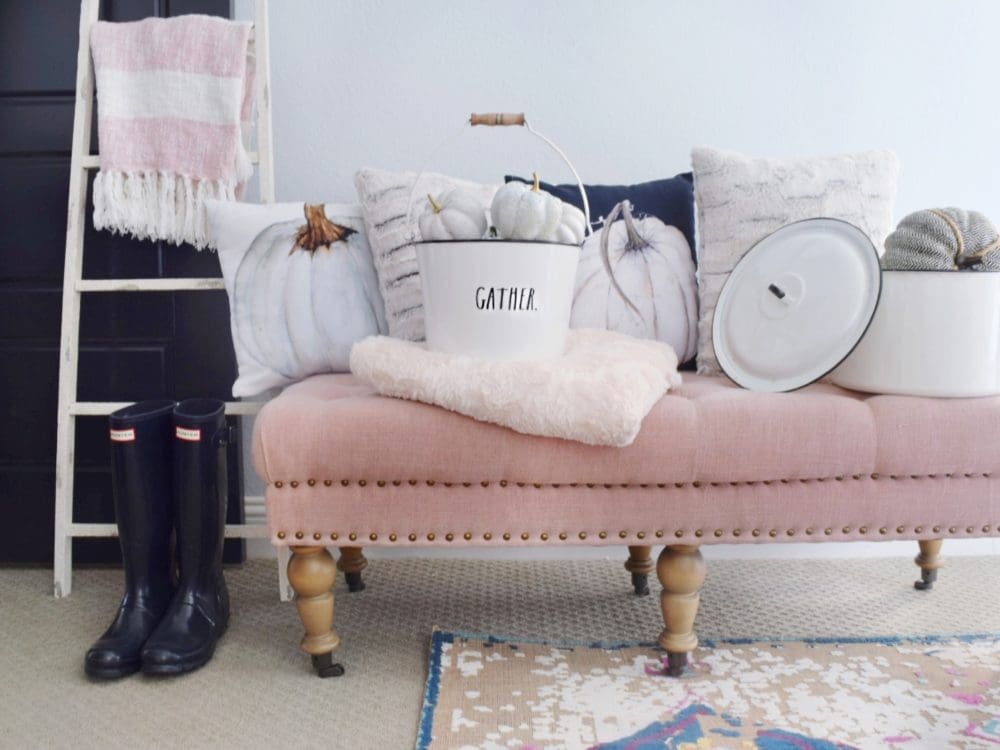 What's your favorite Rae Dunn item at Kirkland's? Check out the Kirkland's website to see more of the kitchen and home accents items from the Rae Dunn Collection!
Happy Rae Dunn Shopping!