Modern Coastal Glam Kitchen Makeover is finally complete! We updated our kitchen with white marble countertops and white backsplash and added modern brass light fixtures and brass cabinet hardware for a bright clean look. The dark blue bistro counter stools and colorful tropical kitchen accessories give it a modern coastal flair. Top it off with the high gloss blush painted ceiling and you've got our coastal glam kitchen – Jones style! 🙂 Don't forget to scroll to the bottom to see the before and afters!
Want to read more about our kitchen makeover? You might be interested in A Moody Modern Coastal Breakfast Nook Makeover Reveal and Breakfast Nook Makeover Design Board Inspiration blog posts.
Never miss DIY home decor, design inspiration, party ideas, and seasonal decorating tips – sign up for the WTJ newsletter here!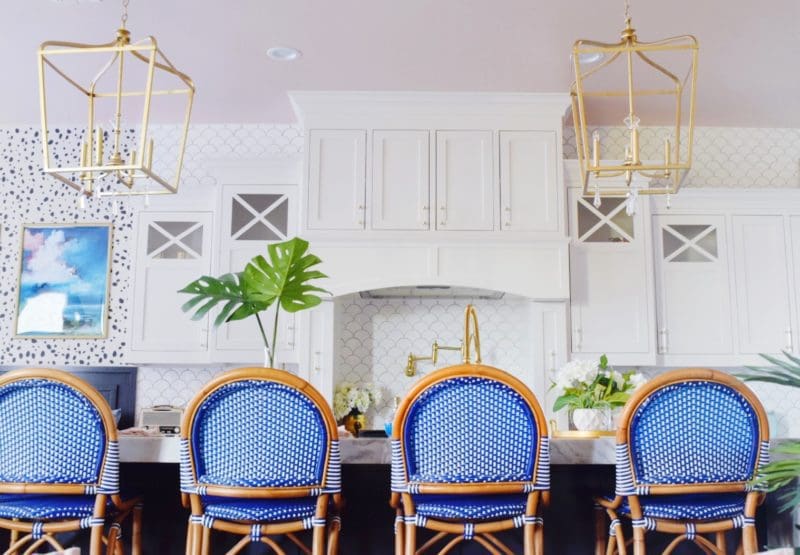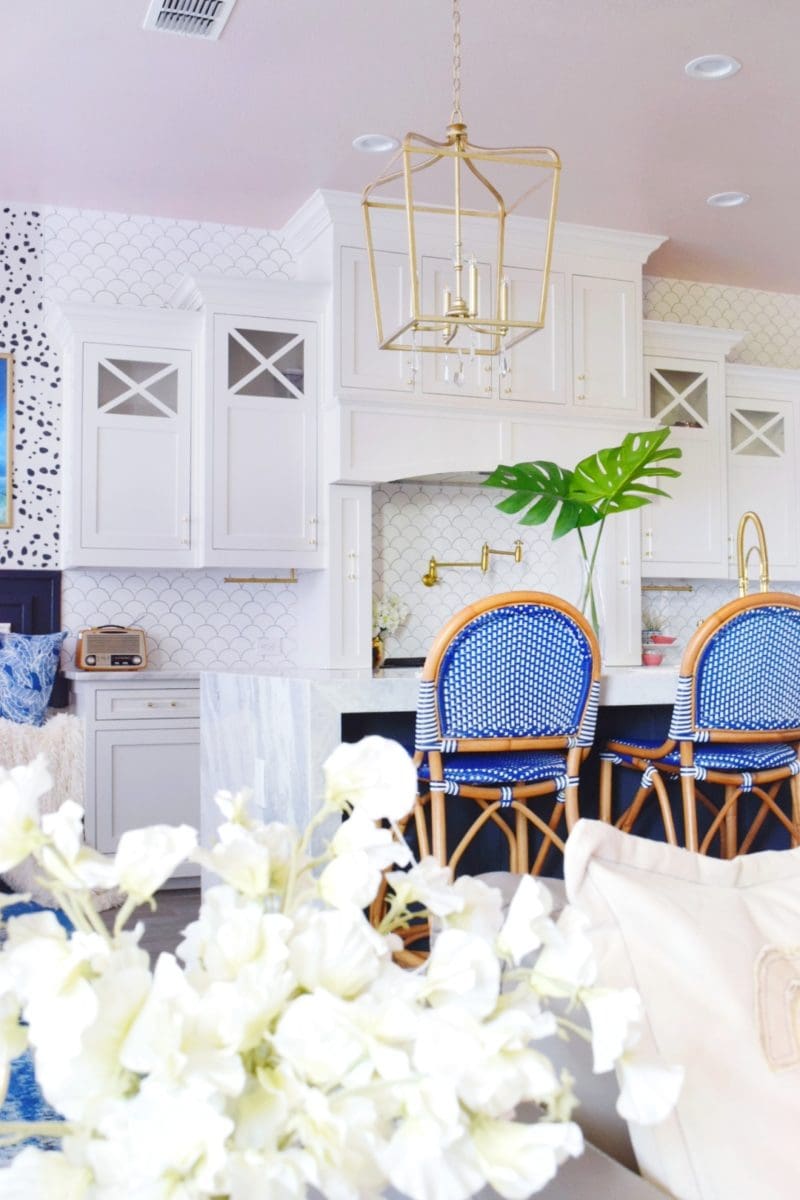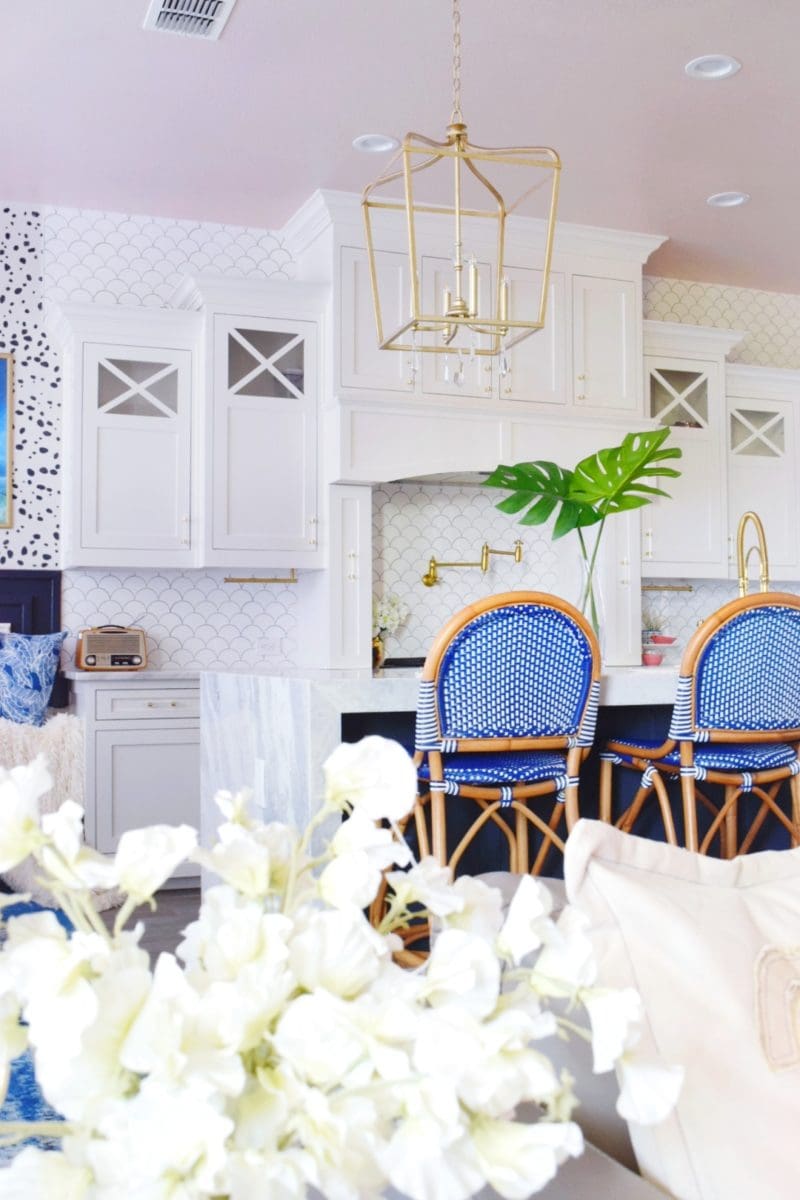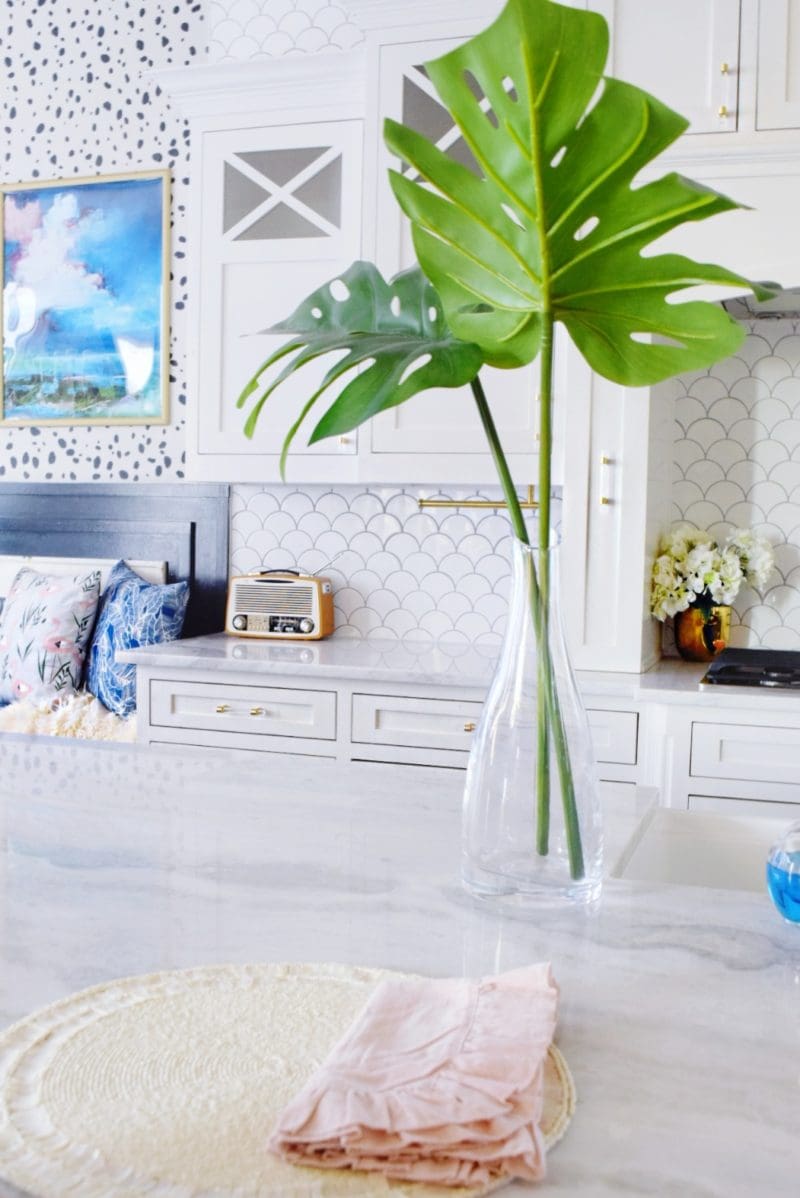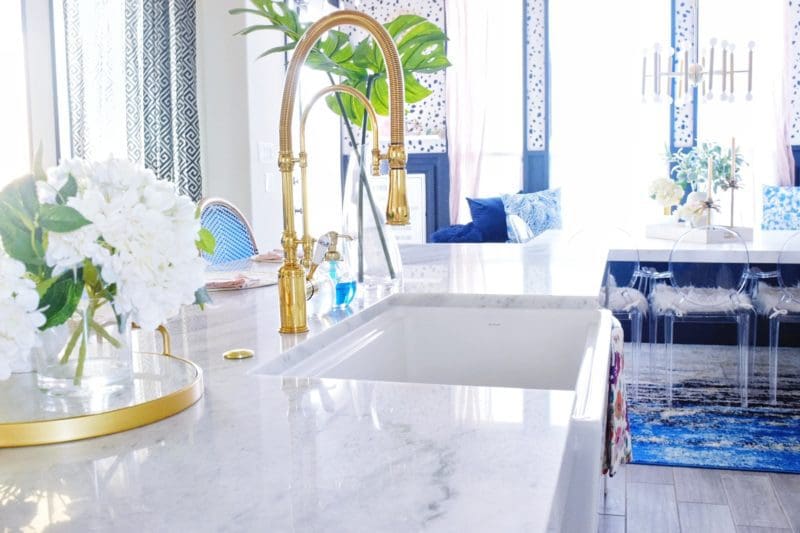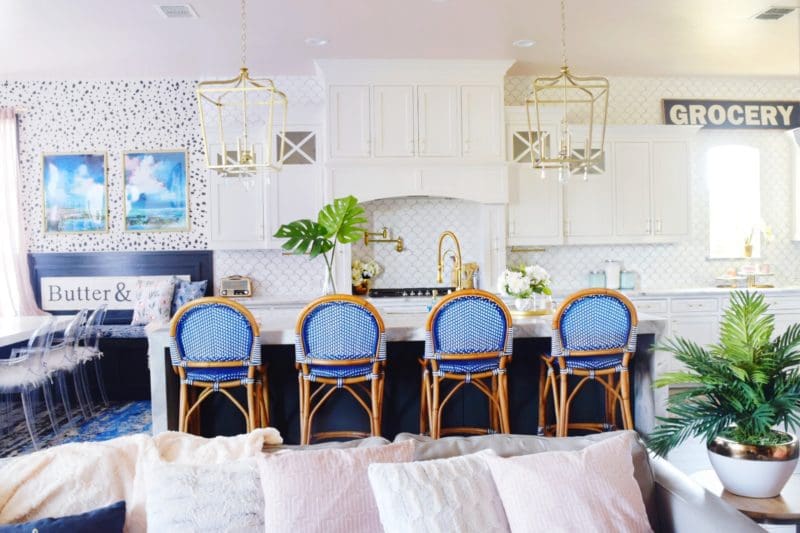 Hey friends! I'm SO excited to show you our kitchen makeover! Giving my kitchen a modern coastal makeover has been on my mind pretty much since we moved in, but I never thought Bryan would go for some of my colorful "crazy" ideas.
Here's a little back story on our kitchen design: When we were building our house we choose design options that came with our house design package, trying not to spend extra costs at the design center (which is so tough to do!) We told ourselves we would pick design choices that were neutral that we could live with until we saved up to change it over time to how we really wanted it.
Well, if you haven't noticed, neutral really isn't my thing 😉
But trying to talk Bryan into the design style that I love has been a bit of a challenge over the years. I try to ease him into the colorful decor ideas I have slowly, not to scare him too much, ha! Over the last year, he has been a lot more willing to splash our walls with bold colors and colorful design choices (see our black trim and colorful wallpaper posts)
I wish I would've been brave enough to go all-out with my design choices when we were building our home, but I think our design journey has happened the way it was meant to be – I think if I would've told Bryan all the ideas I had back when we were building, he would've thought I was crazy! Adding in bold designs room by room, one area at a time has worked well for us and our home. It's been so fun seeing it all come together from where we started! (Scroll to the bottom to see our before pictures!)
After months and months of drawing, planning, designing, and building this kitchen makeover, it is finally complete! I'm so happy with how our modern coastal kitchen makeover turned out and I hope you love it too!
In true We're the Joneses fashion, I created a design mood board to help me with design choices for the kitchen. I highly recommend creating a design mood board anytime you are decorating a space in your home! It really helps me see my vision altogether, especially when purchasing lots of decor items online.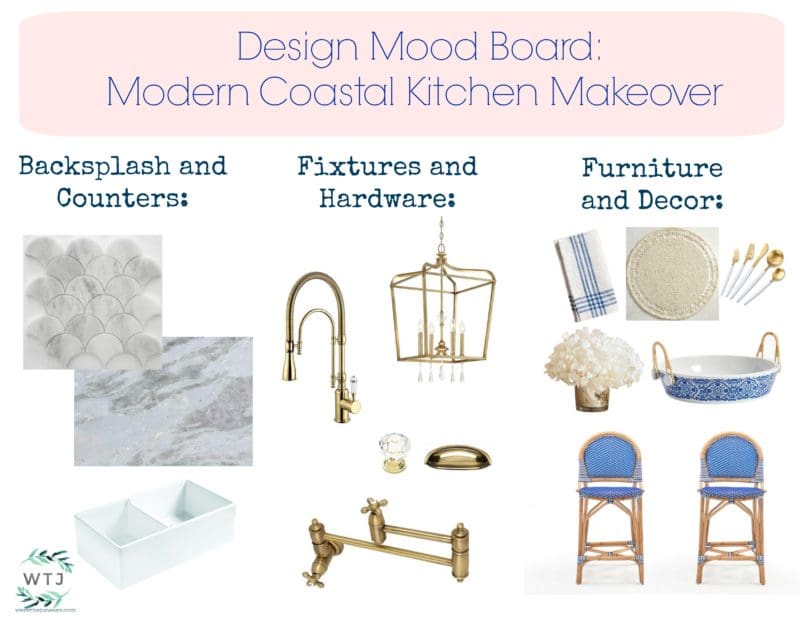 A lot of times I use mood boards to simply give me an idea of the syle and look I'm going for, but I actually ended up using the majority of these design choices in the kitchen!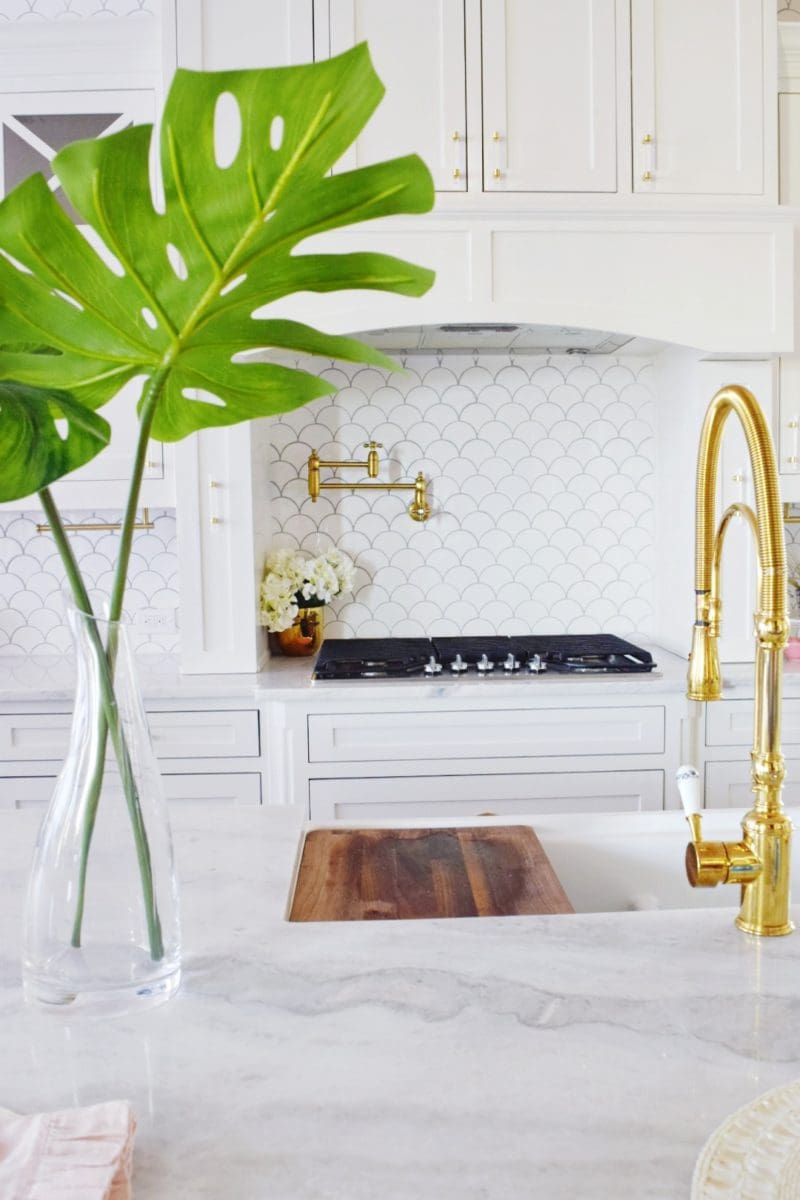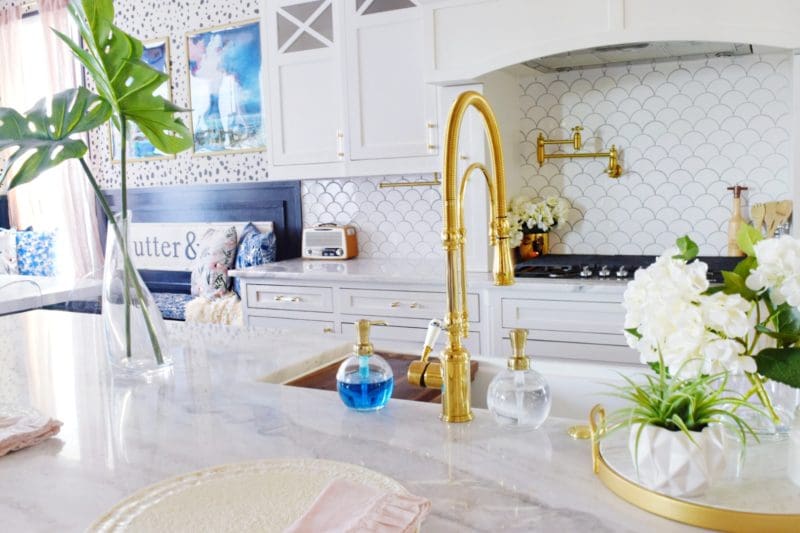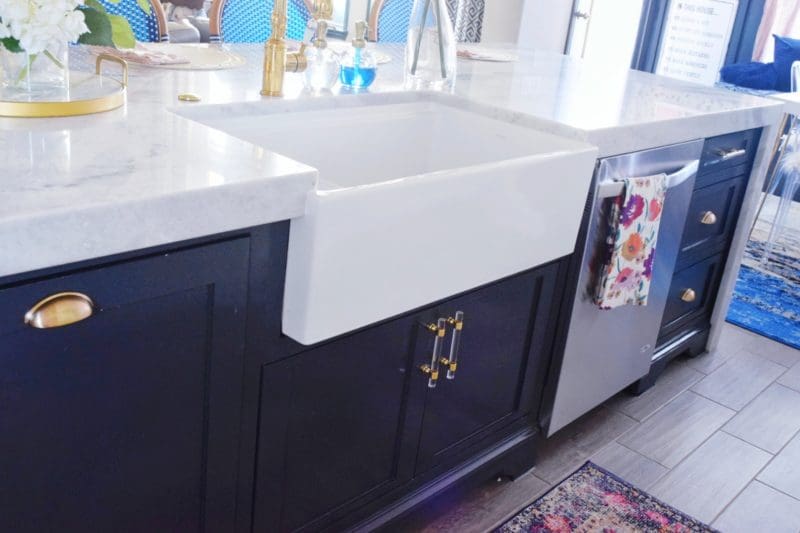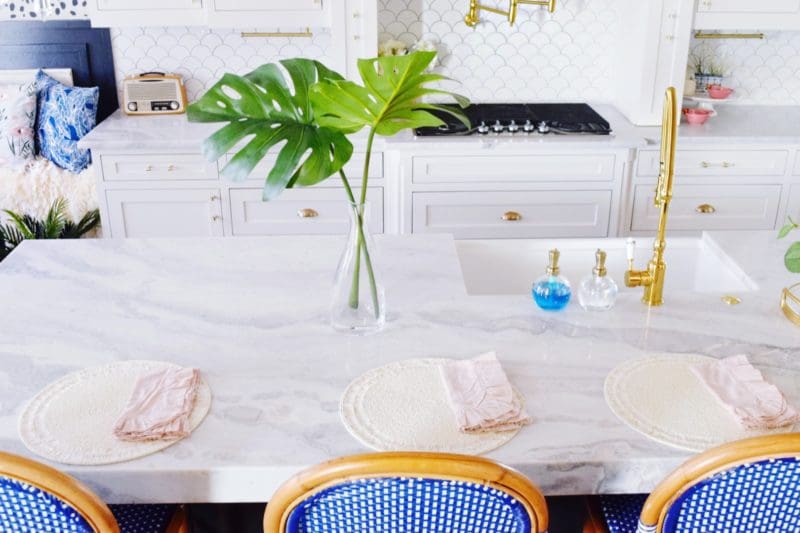 sink | countertops | faucet | pot filler | backsplash tile | soap dispenser
The first and most important design decision we made were the marble countertops for the kitchen island and back counter. We felt that our old kitchen island was smaller than we liked and we wanted to extend it to give us more counter space. It also had a weird curve inside on both ends, which made it feel even smaller and wasn't very usable to eat at. This is why we decided to look around on websites like the one at granitetransformations.com/location/granite-transformations-of-sacramento/.
When drawing up the plans for the island, we wanted to make a big statement with thick modern straight edges and a waterfall edge on both sides. When looking for the best marble countertops for kitchen use, we found the Namib Fantasy marble at Best Cheer Stone – and fell in love! It was so fun going to their warehouse and being able to pick the exact slabs we wanted.
Another kitchen design element I was excited to get was a white farmhouse sink. I chose the Elkay Farmhouse Sink with Aqua Divide and it is amazing! I love the statement it makes on the island with the white marble countertops and the gorgeous contrast against the navy island cabinets.
When we were first designing the kitchen, I knew I wanted to switch to brass fixtures and hardware but wasn't sure if it would look weird with all our other fixtures in the house being satin nickel/chrome. In the end we took the plunge and switched everything to brass in the kitchen and I'm so glad we did! Brass really pops against the white cabinets and backsplash and gives the kitchen the glam look I was wanting.
I found our brass pot filler at Kingston Brass, and one of my favorite things about it are the vintage-styled knobs! The knobs are really unique give the pot filler an antique/collected look I love.
Another favorite brass fixture is the brass kitchen faucet. Again, I'm a little obsessed with the knob! It's a white ceramic knob with a delicate black detail – it's so pretty!
The backsplash tile was a hard decision for us. We had half a dozen samples towards the end of the design process that we were looking at, trying to decide what we liked. From the beginning, I knew I really liked the fan/wave/scallop shaped tile design. I think it gives a subtle coastal look, almost like a mermaid fin scallop or an ocean wave. I was so excited when we found this backsplash tile design – it was the perfect shape, size and color. We actually love it so much we decided last minute to take it all the way to the ceiling. I'm so glad we did, it makes such a big statement on the back wall!
The brass hardware was the last design decision we made for the kitchen. I was so excited when I found these acrylic and gold pull handles! I love how the acrylic breaks up the gold and gives it a softer feminine look. At first we were just going to use these on the drawers but at the last minute we decided to use them on the doors too.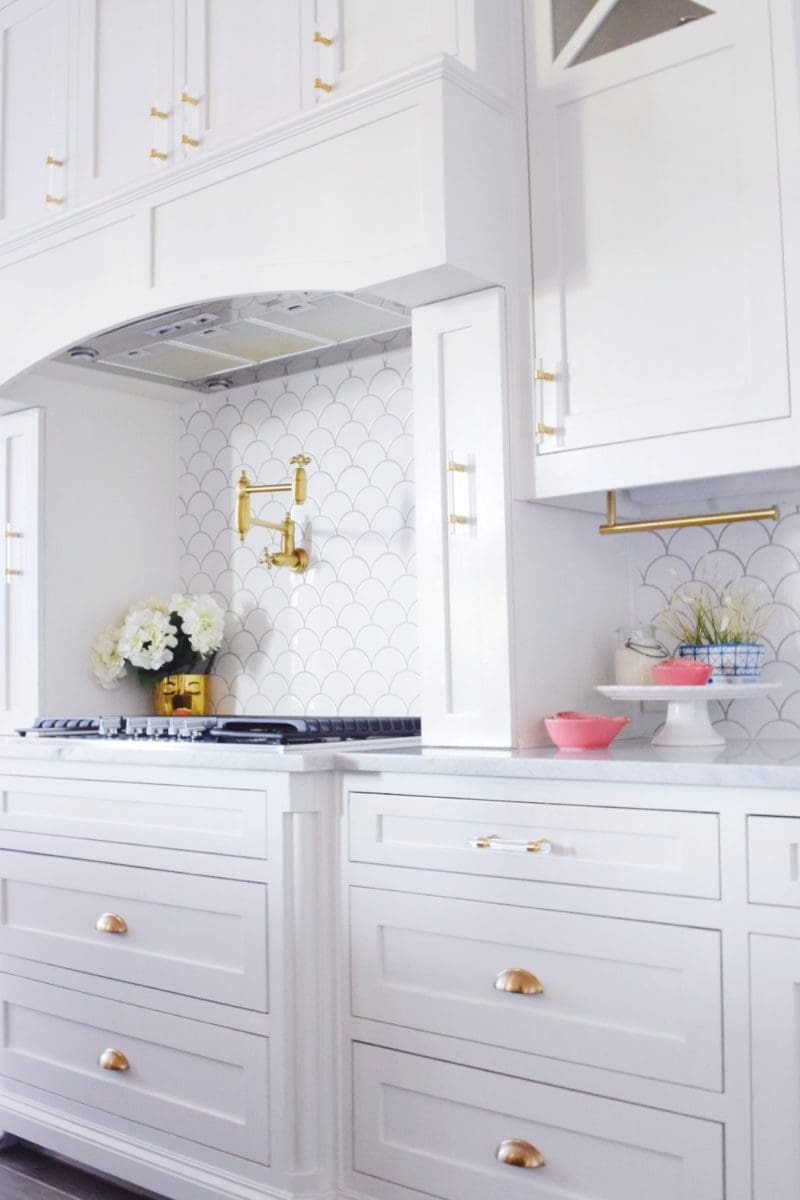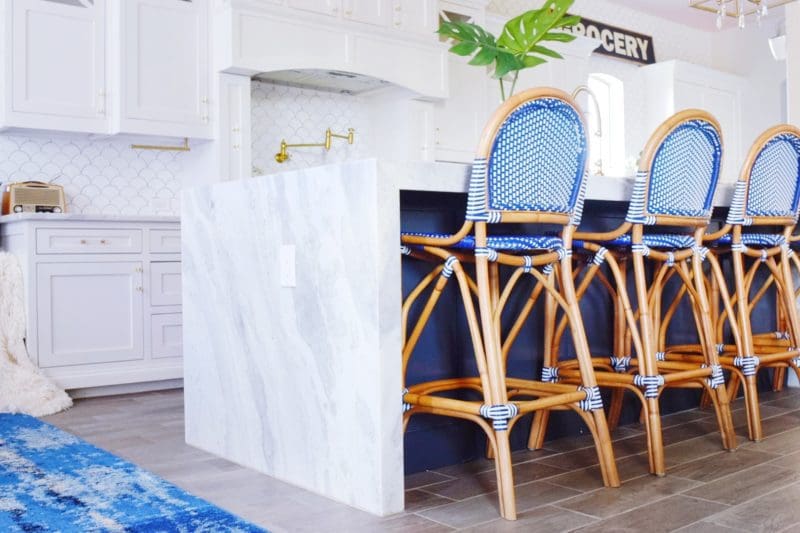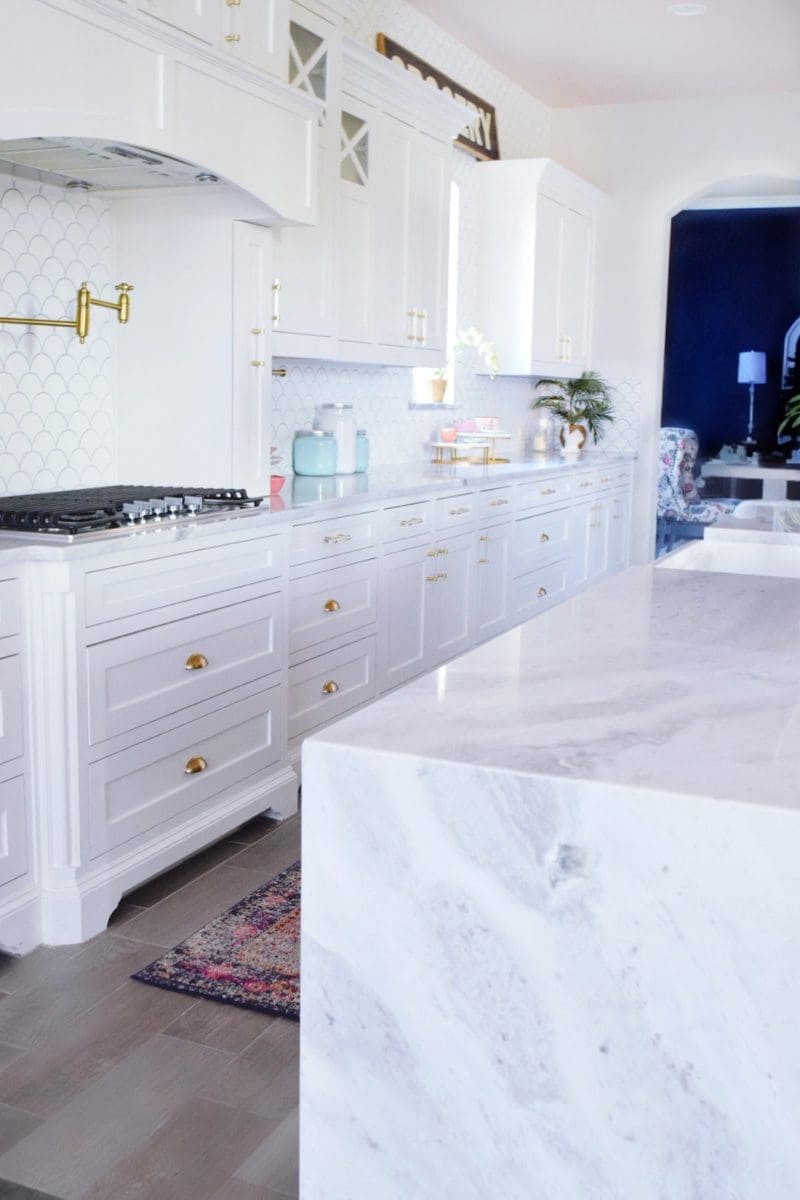 brass hardware | blush ceiling paint | navy island paint | flamingo measuring cups
SHOP THE POST
As I continue learning the ins and outs of interior design – some of my favorite changes are the paint colors changes we made in the kitchen even though they are pretty subtle. We changed the island cabinets to a dark navy, the same color of our breakfast nook bench and the trim throughout our home.
We also decided to paint the ceiling color – we needed to fill in the holes we made when moving light fixtures and touch up the paint on the ceiling. Bryan wanted to paint the same color, but I thought it would be fun to give a little bit of a contrast with a soft blush color. I chose a high gloss finish to make the ceiling really shine! I was nervous on how it would turn out, and was hoping it wouldn't look too baby pink. I chose "Life's a Peach" and it turned out to be the perfect peachy-blush color. It's a discontinued color from Behr, but you can still ask them to make it for you!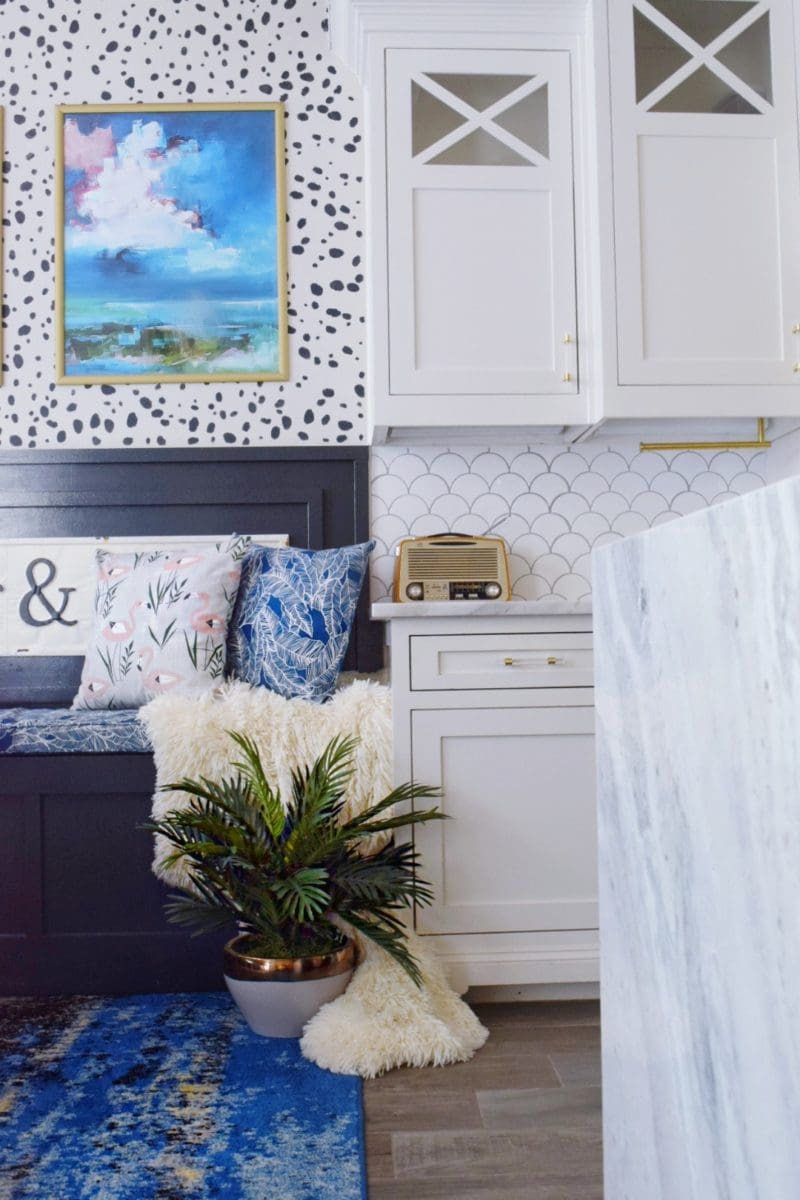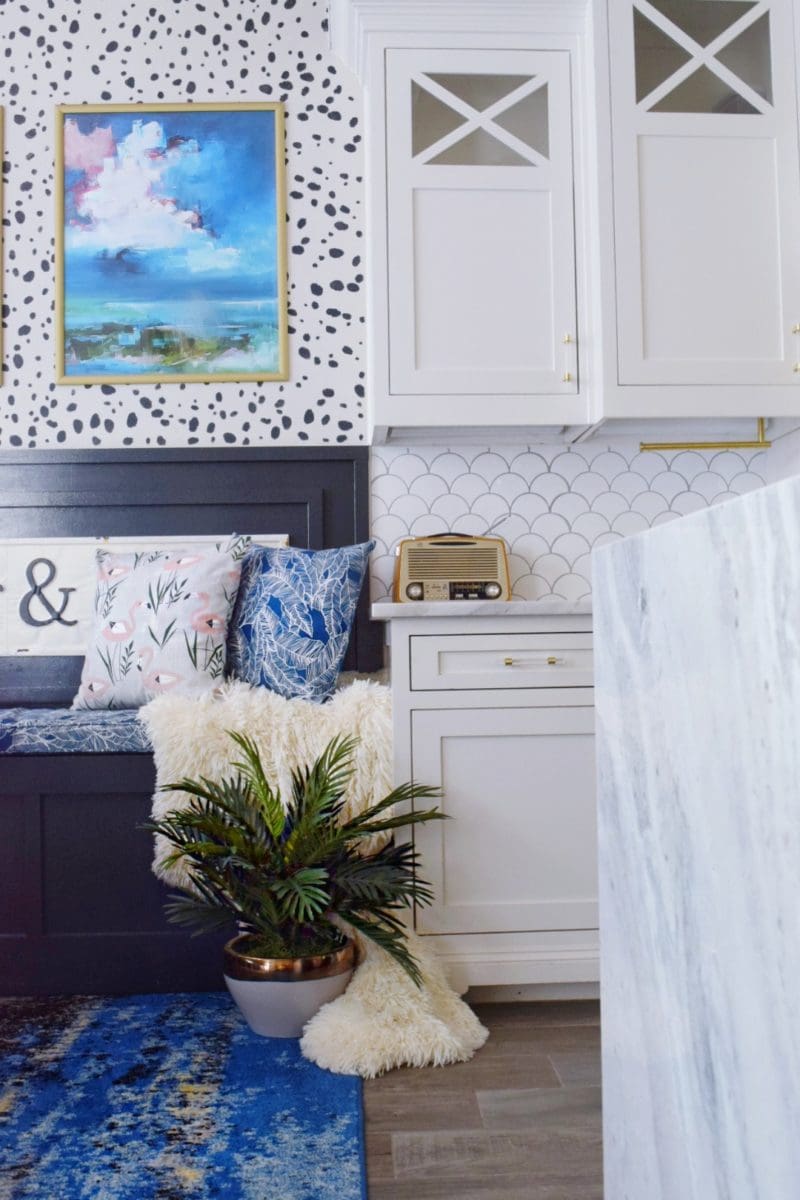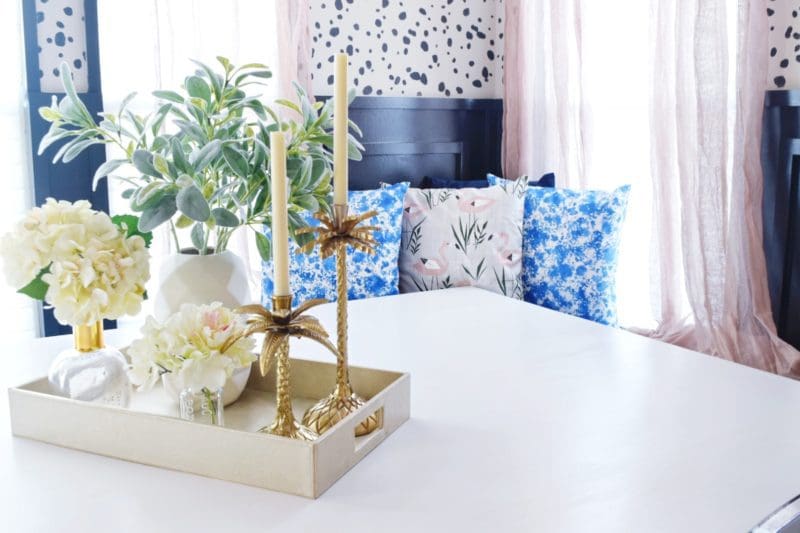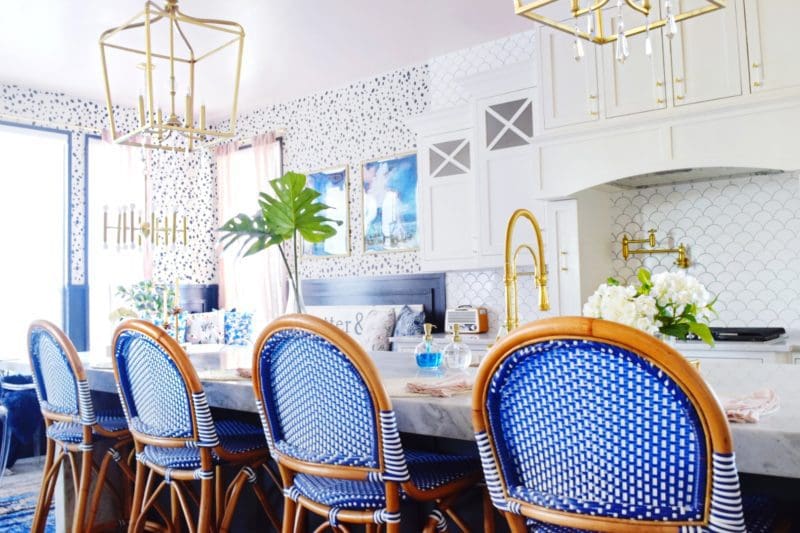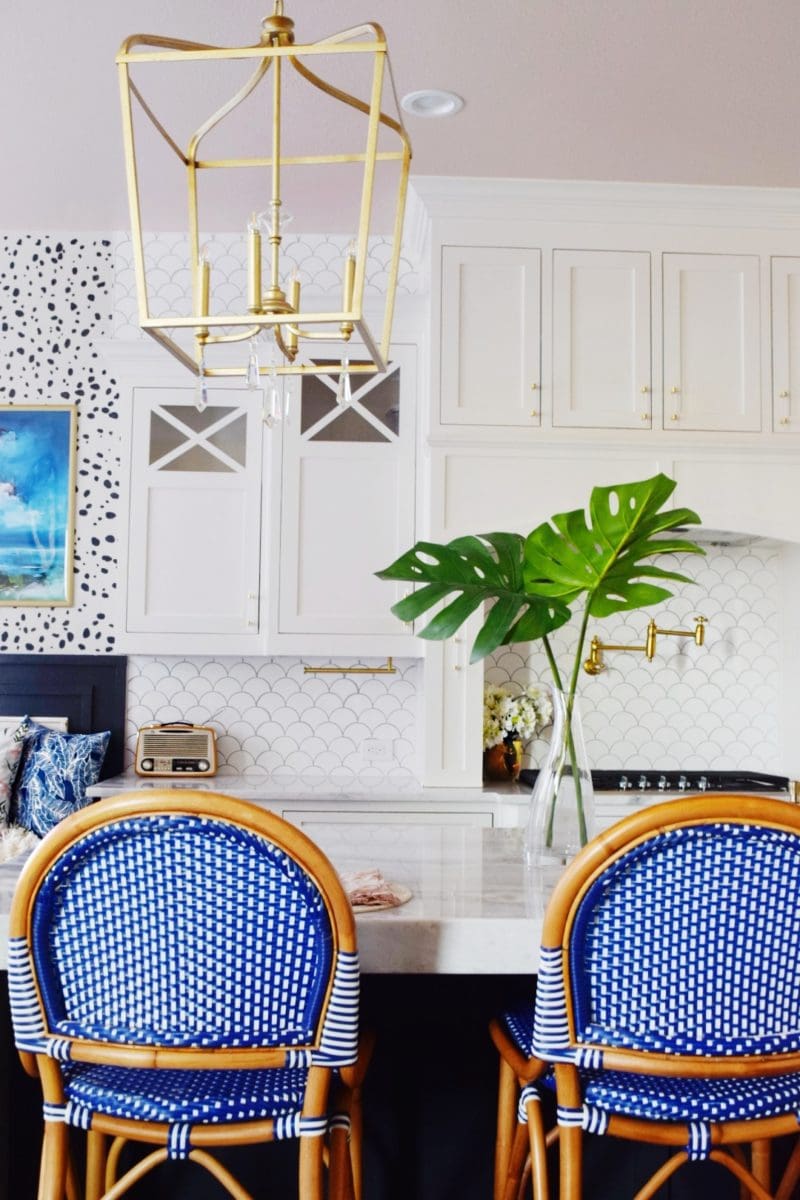 island pendant lights | wall stenciling | curtains | rug | bench cushions and pillows | bar stools
I wanted to find a coastal-style bar stool that was comfortable and also easy to clean! I mistakenly bought linen upholstered bar stools previously because I loved the way they looked, but they stained so easily! These dark blue woven bistro bar stools were just what I was looking for. The color is the perfect blue that matches the rug and artwork in the breakfast nook and I love their modern coastal style. Plus they are super easy to clean!
Another big design choice we made were the lantern pendants over the island. We wanted to find brass light fixtures that would fill up the newly extended island but not overtake the space. These lantern pendants are the perfect look we were going for as they have an airy and modern glam design.
Check out our Breakfast Nook Makeover post for all the decor details in our kitchen nook!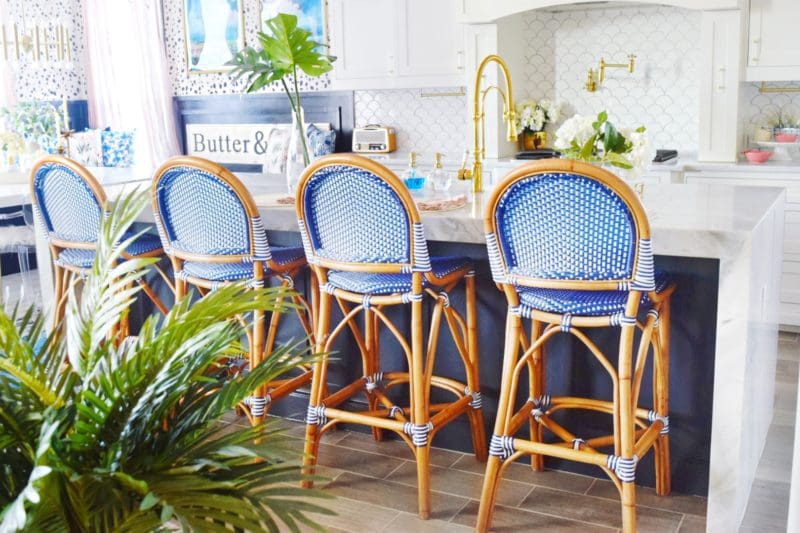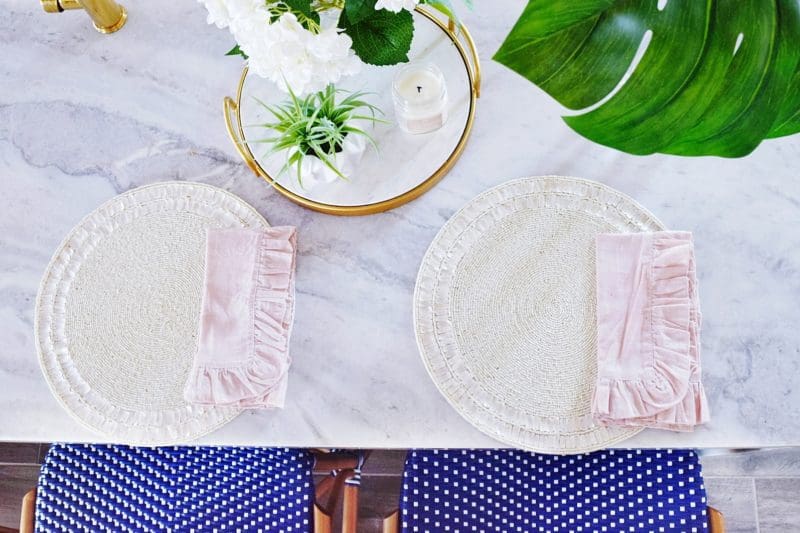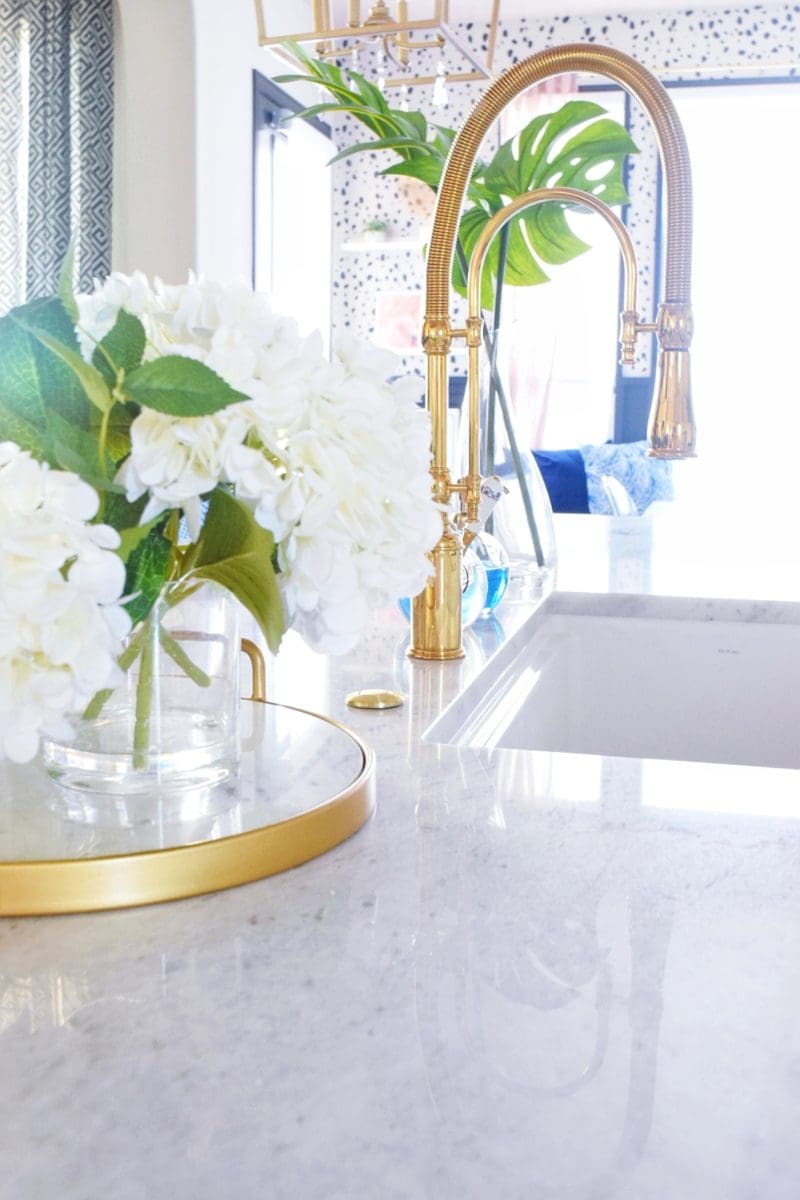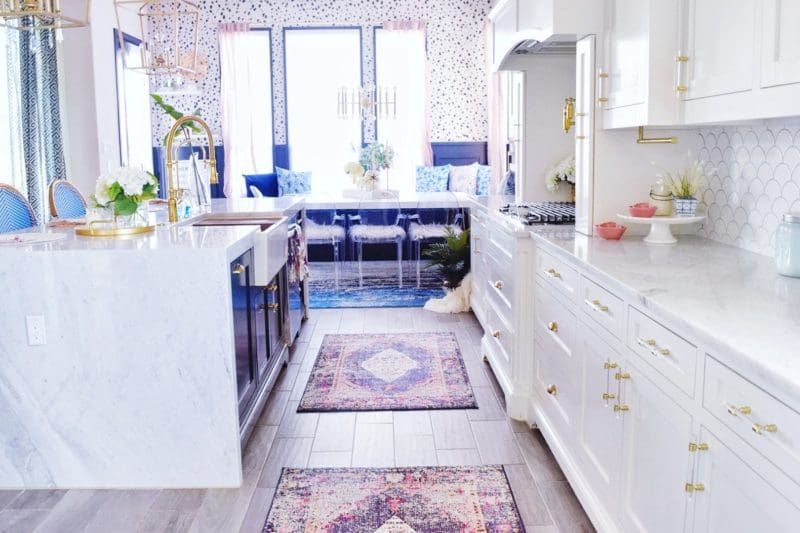 placemats | table napkins | marble tray | hydrangea vase | tropical stems | candle
SHOP THE POST
For the kitchen accessories I wanted to pick items that had a coastal tropical look, but still modern in design . I love these mother-of-pearl trimmed placemats, blush ruffled table napkins and tropical stems for the kitchen island. I also added marble trays and stands to hold fun coastal accesories and decor accents. One of those being these adorable flamingo measuring cups!! Aren't they so cute??
BEFORE AND AFTERS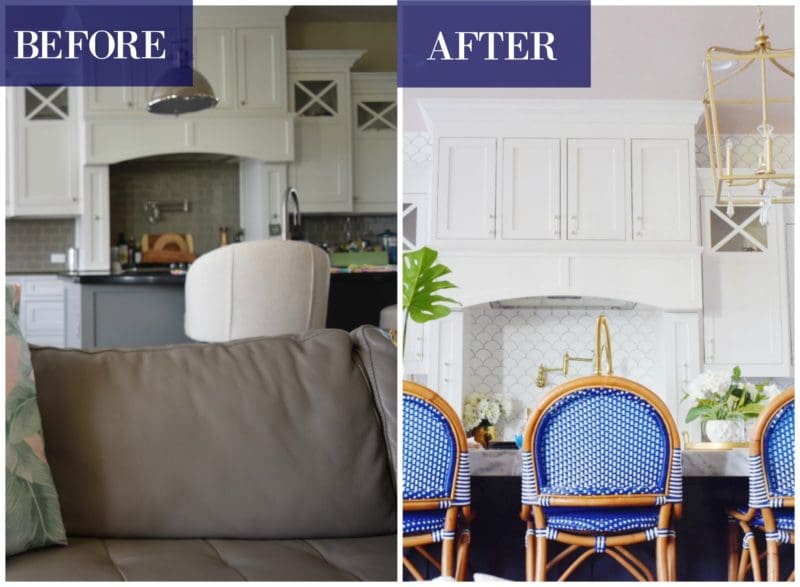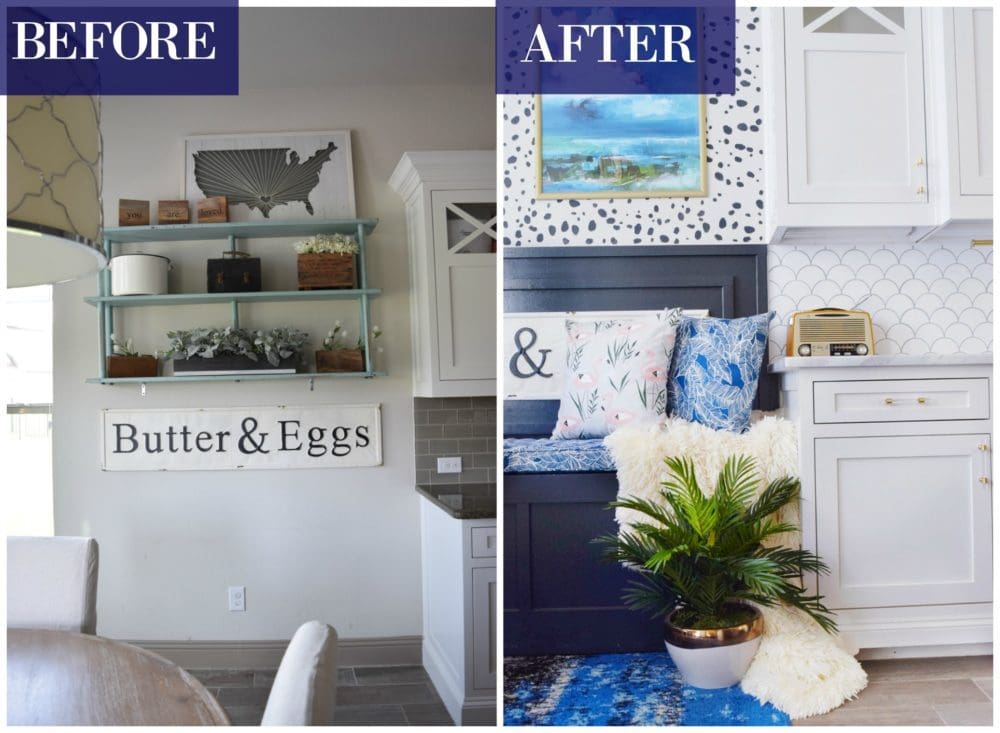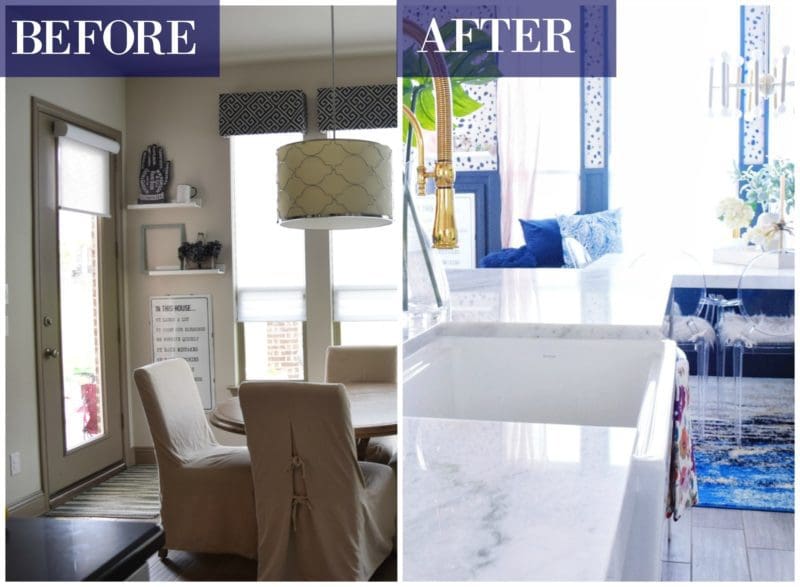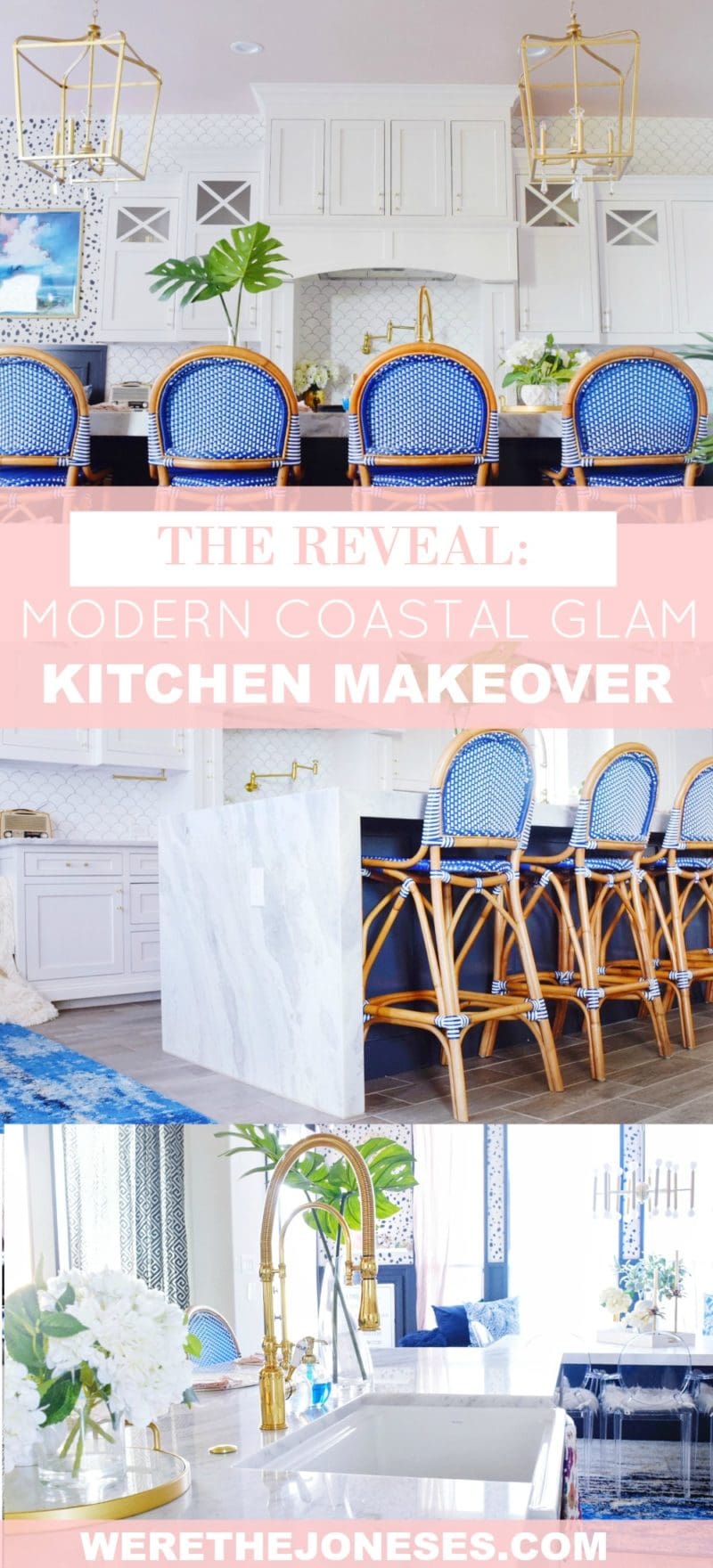 I am so thrilled for how the modern coastal glam kitchen turned out – it was everything I imagined and more!! I hope I inspired you to add some bold coastal colors and glam design to your own kitchen – even if it's only the tropical flamingo meauring cups 🙂
I'd love to hear from yall on what you think of our kitchen makeover – leave a comment below and let me know your thoughts! Also if you have any questions on design selections or anything about the kitchen leave a comment and let me know – I'd be happy to answer!
Happy bold coastal glam decorating!