Light up your backyard this Fall and Holiday season with Enbrighten Color Changing Landscape Lights and Café Lights. Perfect for crisp outdoor evenings making smores with the family, or fun gatherings with friends watching your favorite sports team! You can also decorate for the upcoming holidays in your favorite holiday colors. Here are a few fun ways we're lighting up our backyard for the upcoming season!
This post is sponsored by Jasco. All opinions are my own.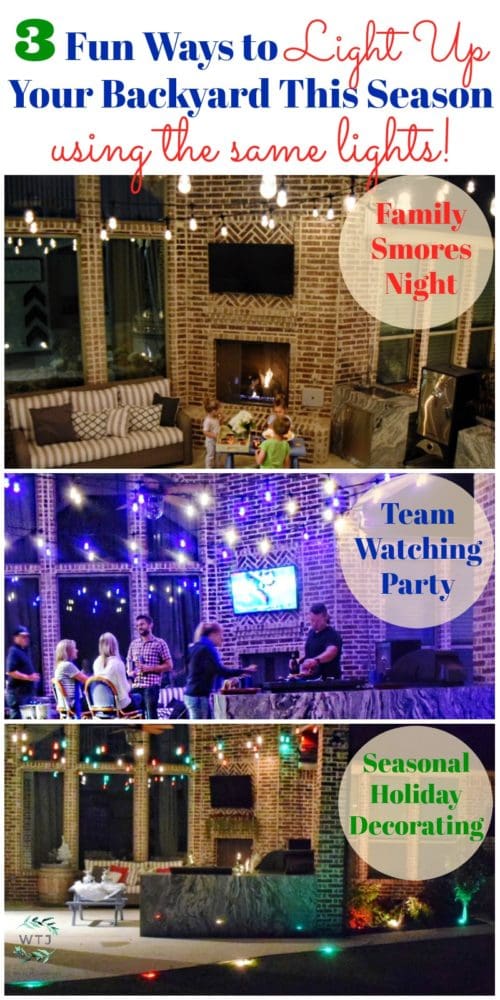 Enbrighten Color Changing Landscape Lights and Café Lights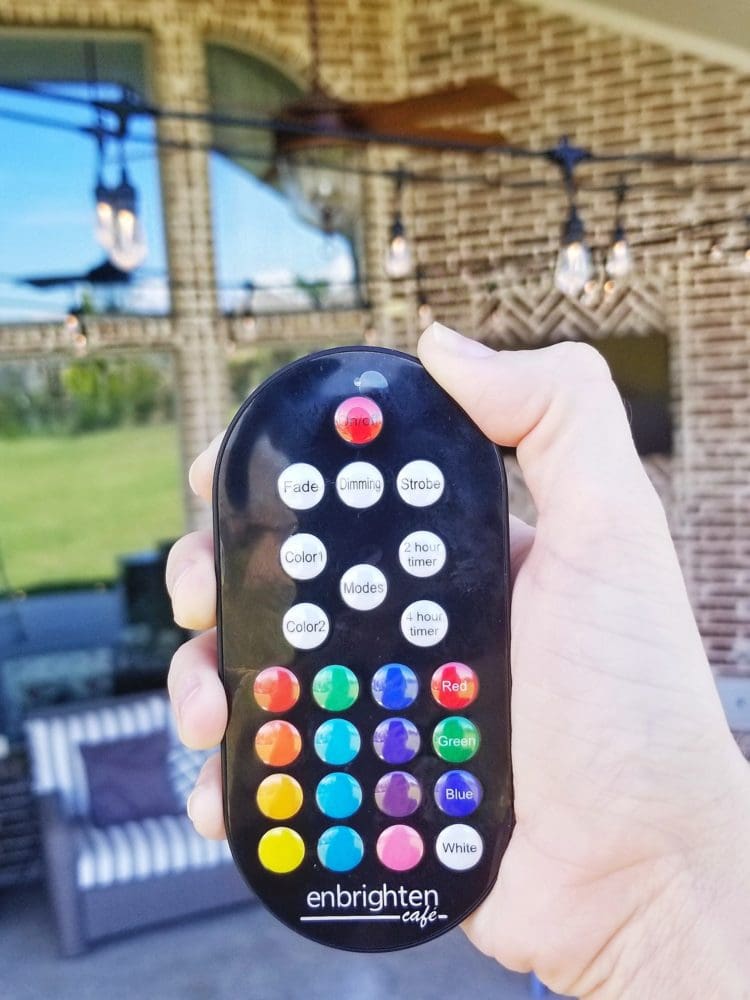 Café lights and landscape lights are great options to brighten up your outdoor space, and the Enbrighten Color Changing Landscape Lights and Café Lights take it up a notch by adding fun color changing options and lighting features. With the Enbrighten Café and Landscape Lights, you are able to customize your lighting with the changing seasons, for fun parties and events, or for a casual outdoor outing with your family. All of the Enbrighten Café and Landscape Lights are programmed by a remote with 120 color options, and can be synced together with one remote to control all of your outdoor lighting.
We love to spend quality time outdoors in our backyard with family and friends, and enjoy the cool crisp weather at night. Here are three fun ways light up your backyard this season with the Enbrighten Café and Landscape Lights.
Family Smores Night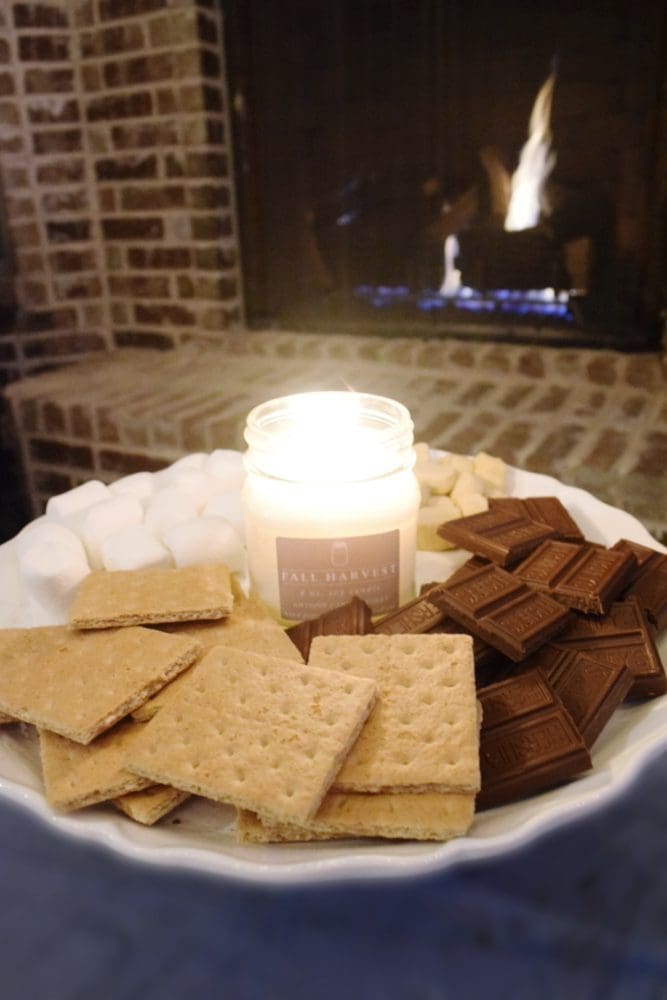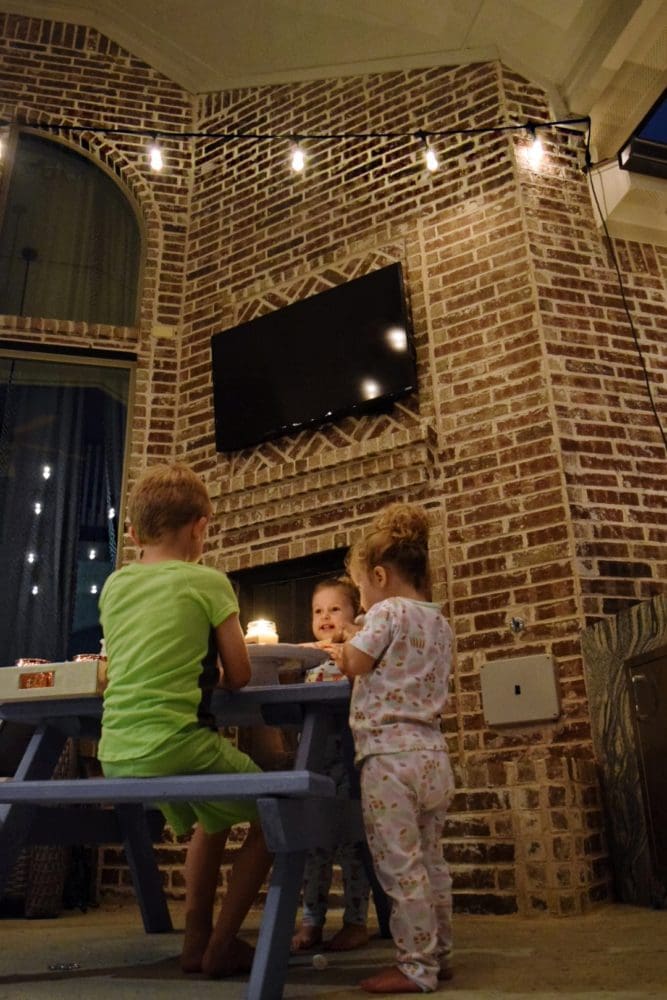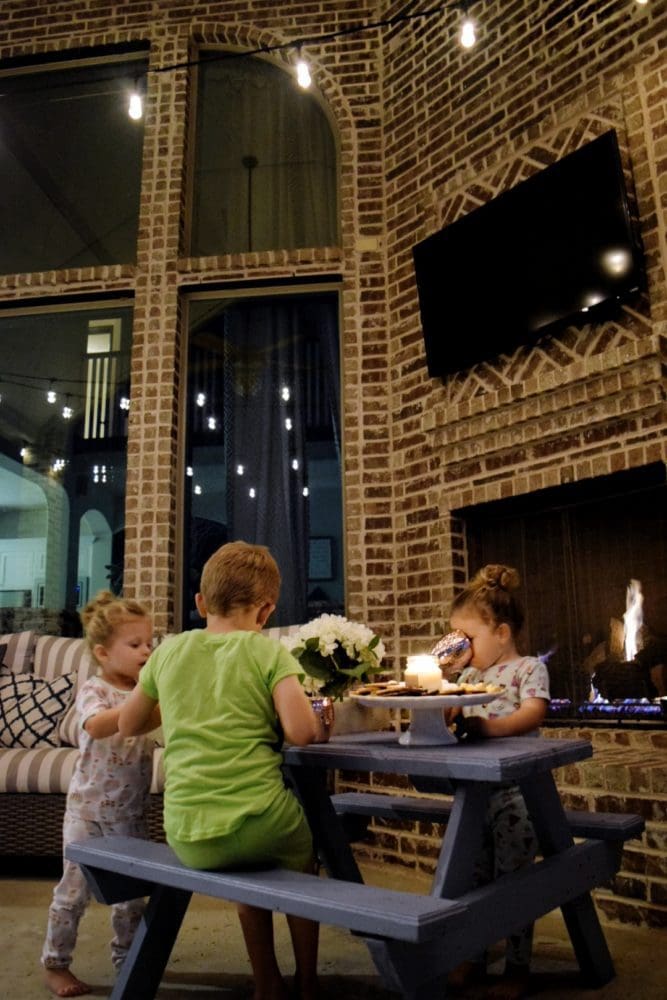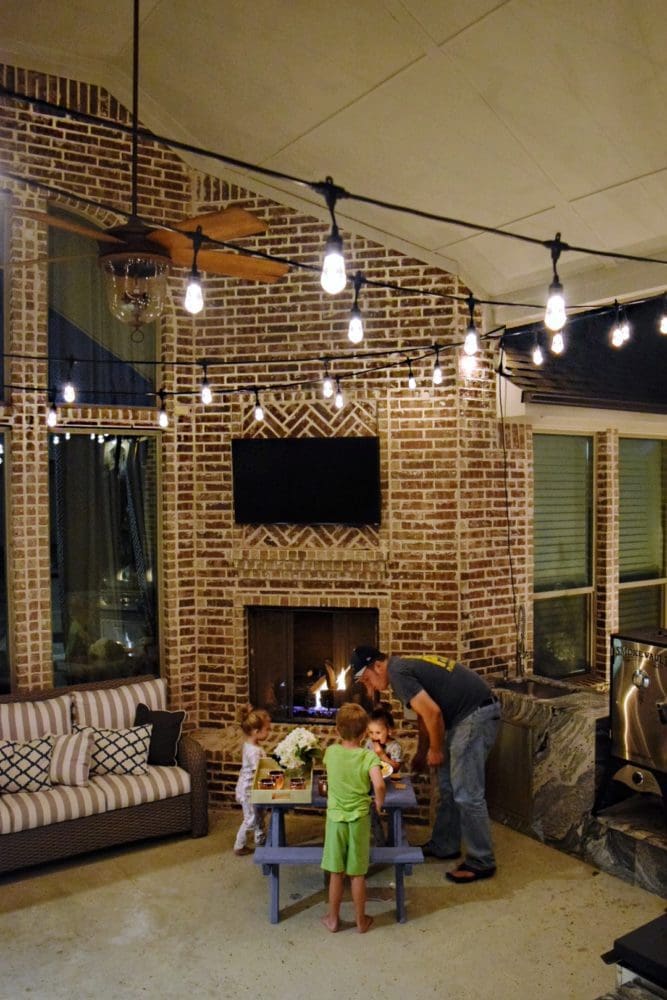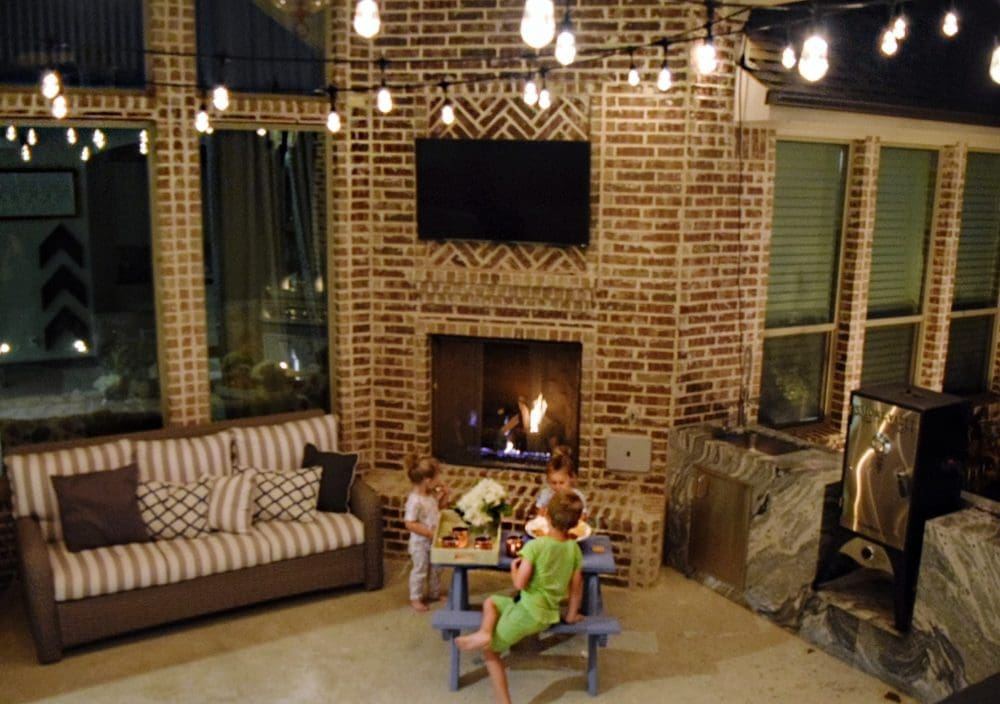 We're loving the cooler weather in Texas and what's better than cool fall nights paired with hot chocolate and smores? The perfect combination in my family's book!
We got the kids all ready for bed, put on their pajamas, and then surprised them by going outside to enjoy some yummy hot chocolate and smores!
To give our hot chocolate and smores family night a fun ambiance, we turned on our Enbrighten Café Lights to brighten up our special outdoor evening. Paired with the warm fire it was the perfect way to spend quality family time on a cool Autumn night.
More ambiance lights ideas: Need a unique date night idea? Skip the dinner and a movie and celebrate in your own backyard with a candle light dinner under the warm ambiance of café lights. You can even dim the lights for a more romantic feel!
Team Watching Party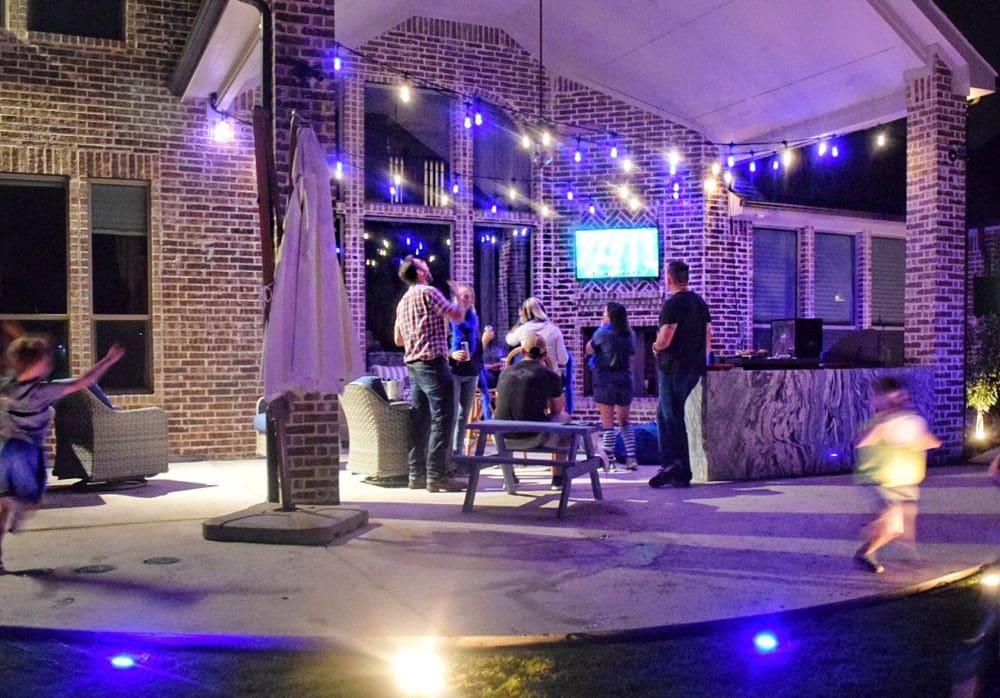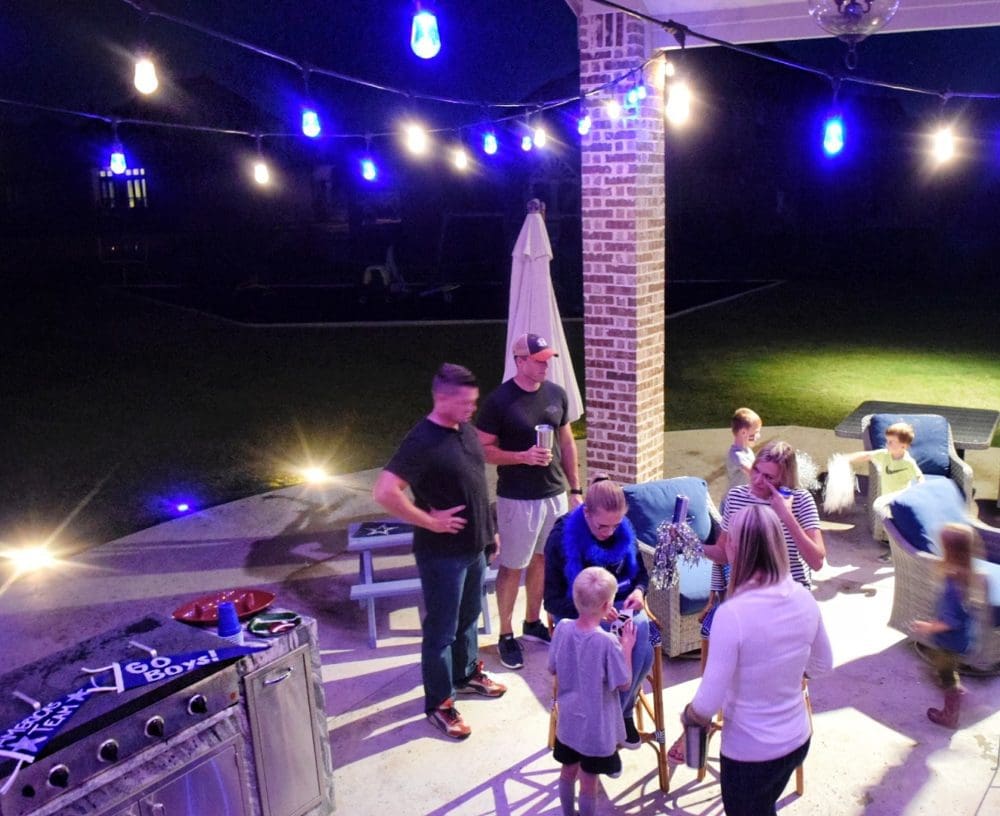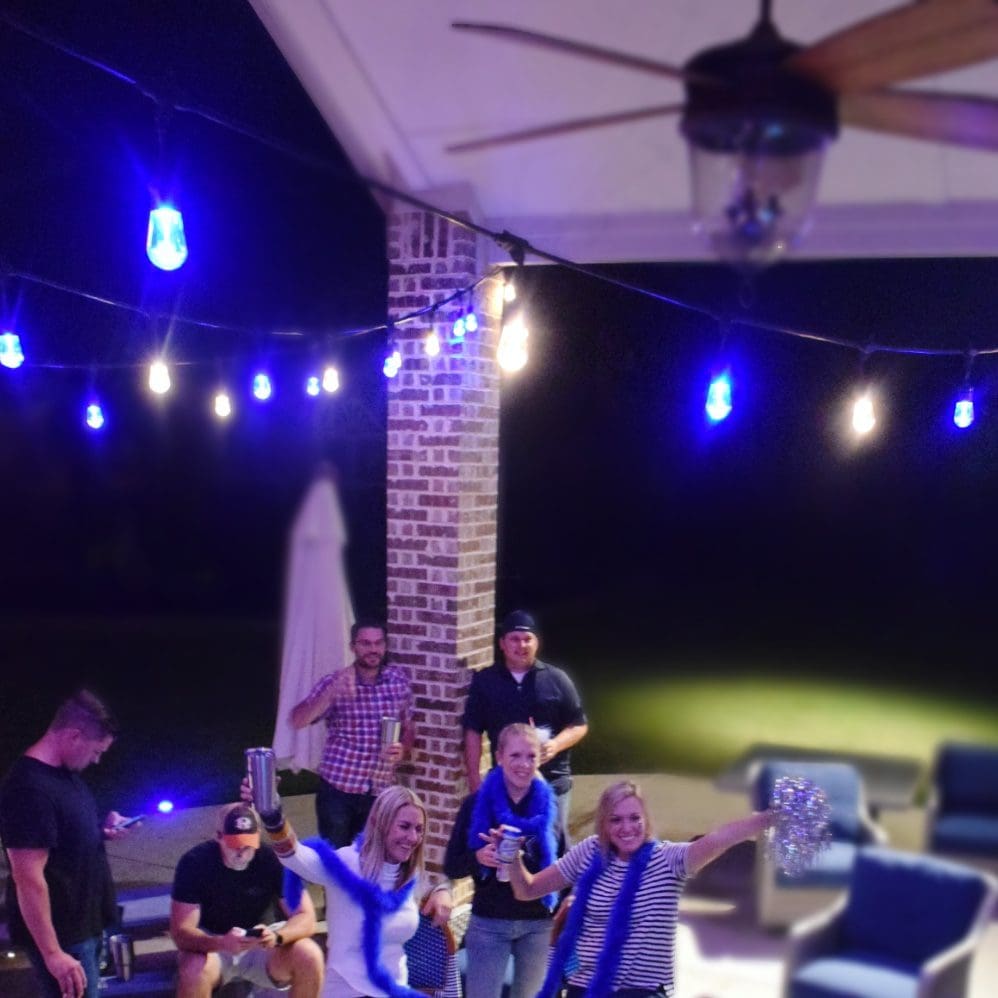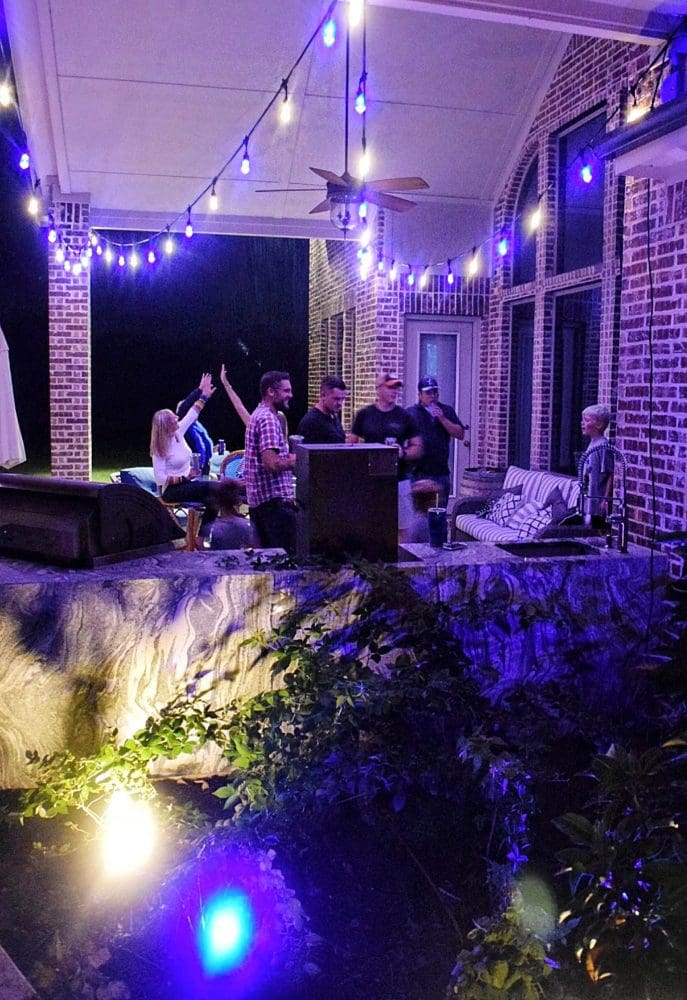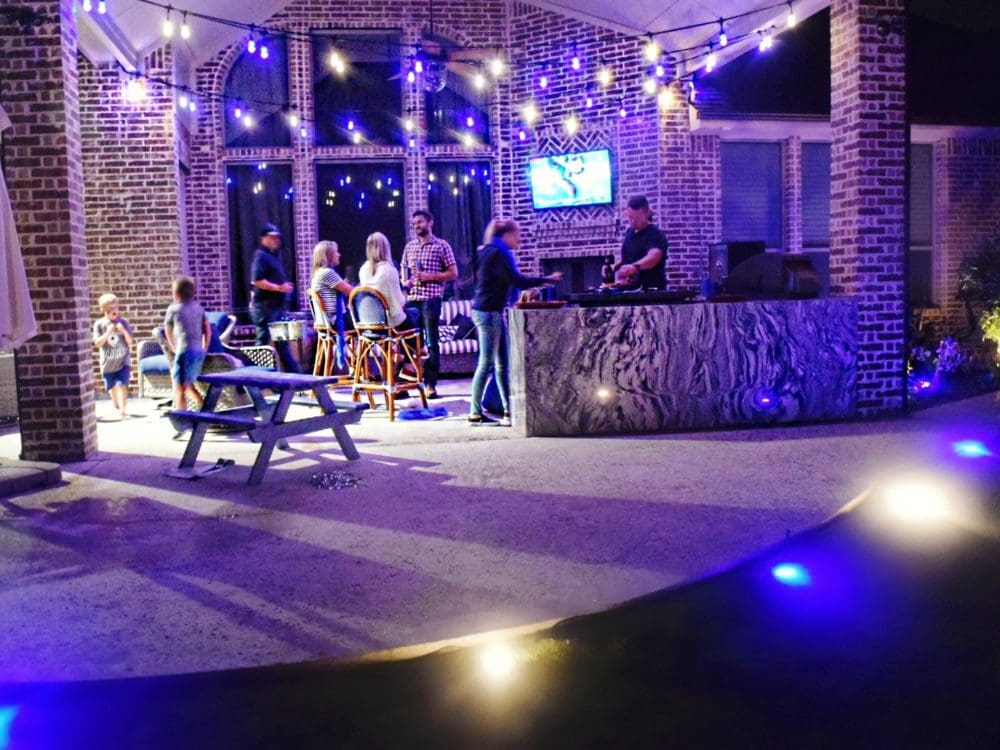 We're big sports fans in this family and football is our favorite! We love having family, neighbors, and friends over on the weekends to cook out, watch football games and cheer on our favorite sports teams.
And what better way to show the ultimate team spirit than by lighting up your backyard in your favorite sports teams' colors? We turned on our Enbrighten Café Lights and Landscape Lights in blue and white colors (Go Dallas Cowboys!) for a Sunday night football watching party.
It was fun seeing everyone's faces light up when we turned on the blue and white lights before the game, and really amped up the excitement to cheer on our team!
More team lights ideas: Are your kids in little league or school sports? For their end of the year sports party, have everyone over and turn on the lights in the team's colors!
Seasonal Holiday Decorating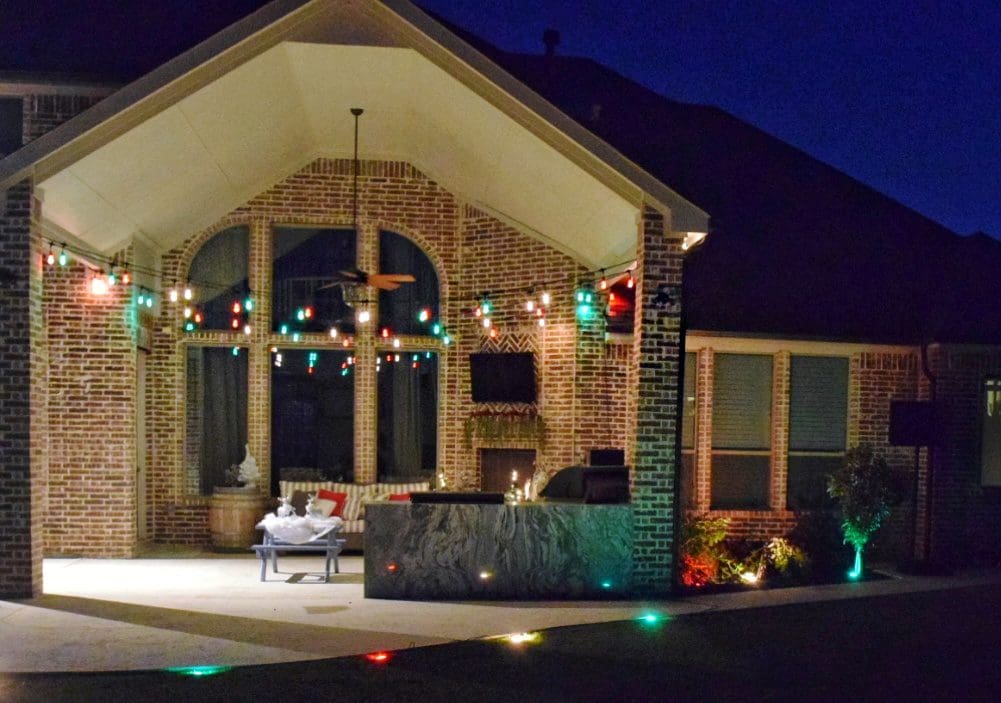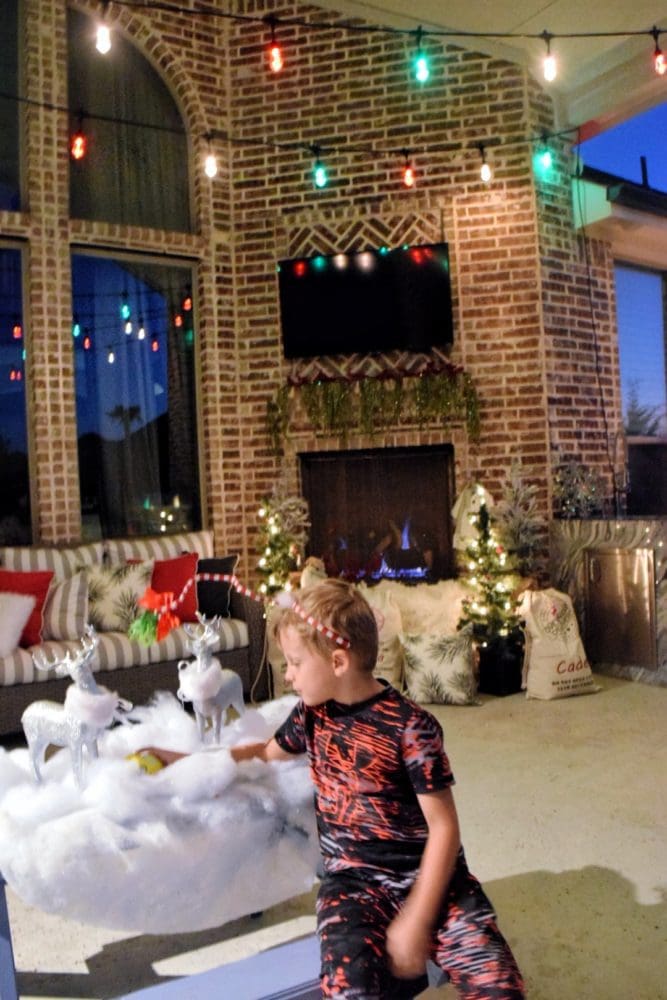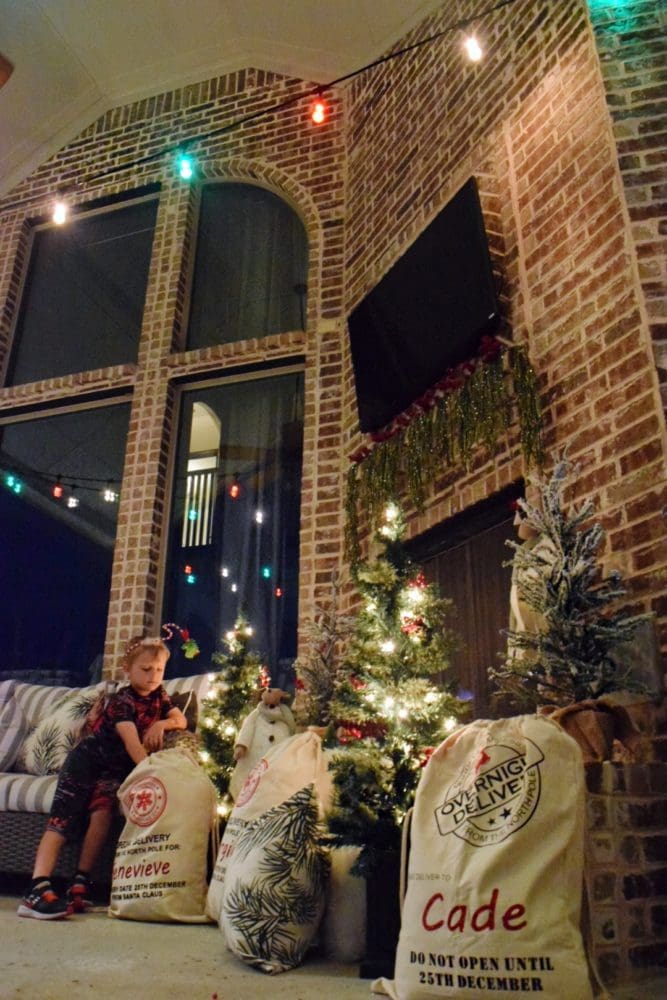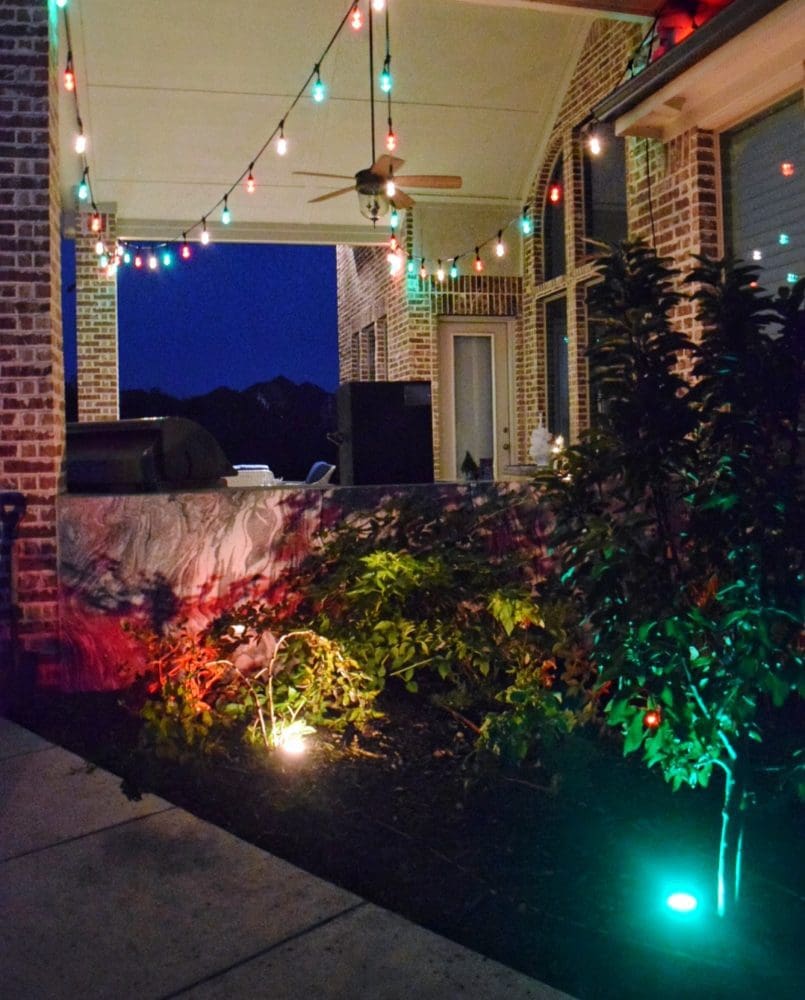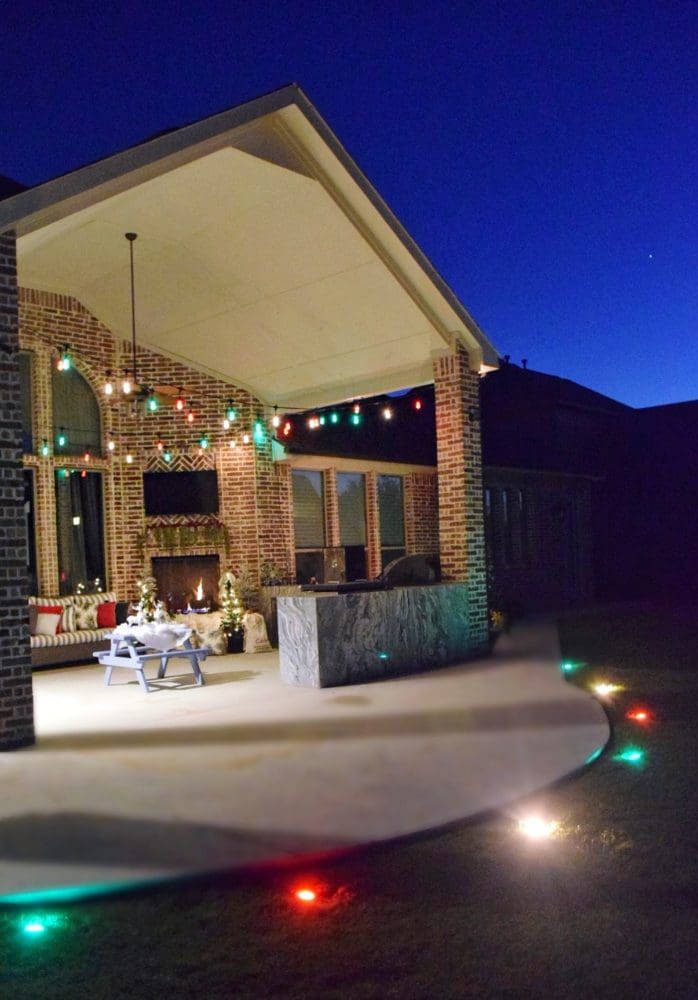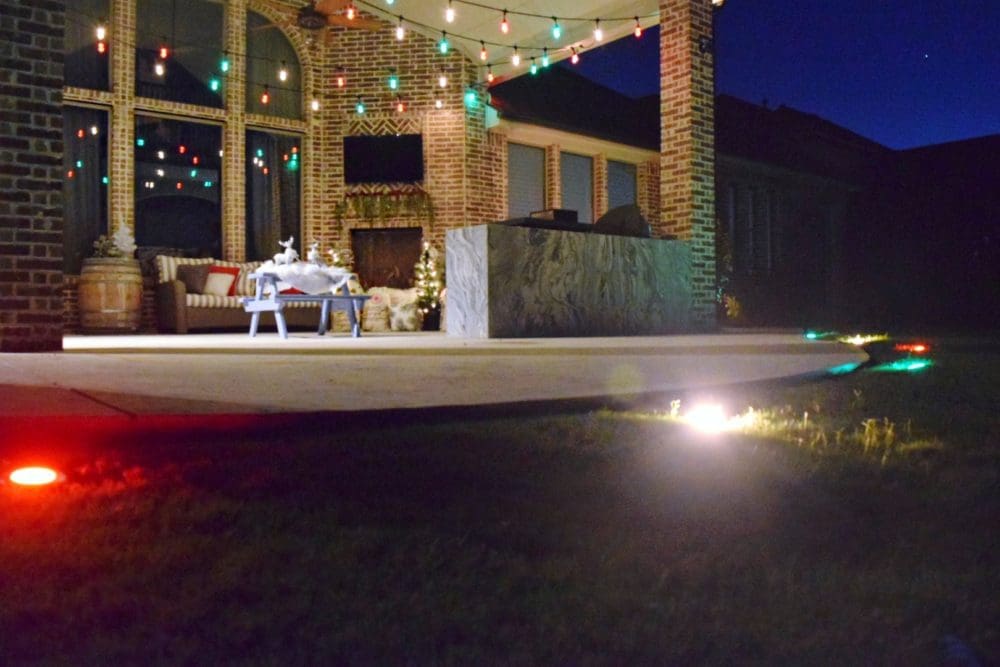 Christmas is my favorite holiday to decorate, and I love adding holiday touches to the outside of our house. We normally hang Christmas lights on the front on our house, and I love the idea of now having Christmas colored lights on our back patio and backyard. It brightens up our back patio and yard with holiday spirit and now matches the festive Christmas decor we have in the front of the house.
The Enbrighten Café and Landscape Lights have a pre-programmed mode with the red, white, and green color option for the Christmas season. You can also use red and white or green and white as other holiday options.
More holiday lights ideas: You can also use these lights for other holidays too! Light up your outdoor space for Halloween, Thanksgiving, Valentine's Day and Fourth of July!
The possibilities are endless for moments to celebrate with The Enbrighten Café and Landscape Lights. Whether in the holiday season or everyday moments year-round, these lights are sure to brighten up your outdoor living spaces. I hope these fun examples gave you ideas for your own outdoor events to celebrate this season!