Do you have little girls that love to match their mama? I've gathered affordable mother daughter matching gift ideas that moms and daughters will love! Great for for mommy & me gifting and family photo holiday matching!
This post is sponsored by Walmart.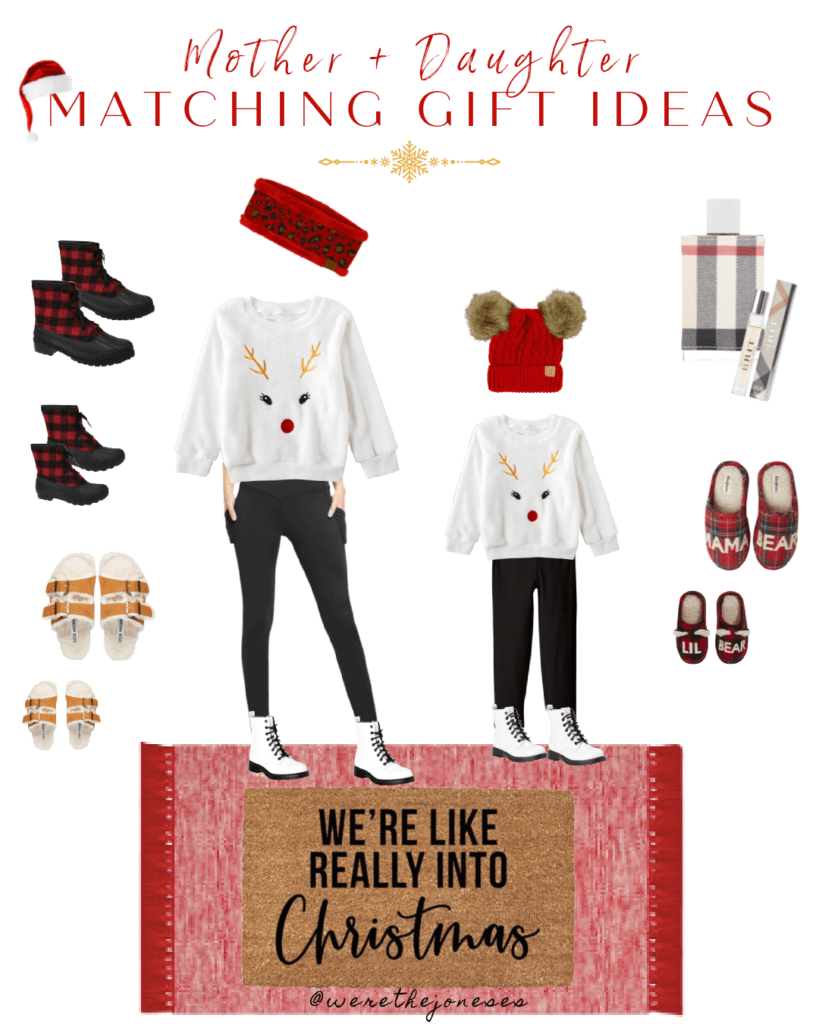 Mother Daughter Matching Gift Ideas
All my little girlies want for Christmas is to match with mama! Do your little ones steal your shoes and wear your clothes? I find my wardrobe draped all over the house because my girls are playing dress up with everything from my closet.
I thought some fun gift ideas for my little women would be to find cute items to match with me. Walmart has lots of matching mommy and me clothing and shoes to choose from including red buffalo check duck boots and reindeer holiday sweaters.
How festive are these winter white lace up boots and plaid slippers? I also found affordable holiday themed beanies, headbands, leggings and even perfume for us to match!
1. Matching Buffalo Plaid Red and Black Duck Boots
These buffalo check duck boots will be a cold weather staple for moms and daughters in our home. They are SUPER soft inside and keep our feet toasty warm!
2. Mommy & Me Christmas Deer Antlers Fleece Pullovers and Black Leggings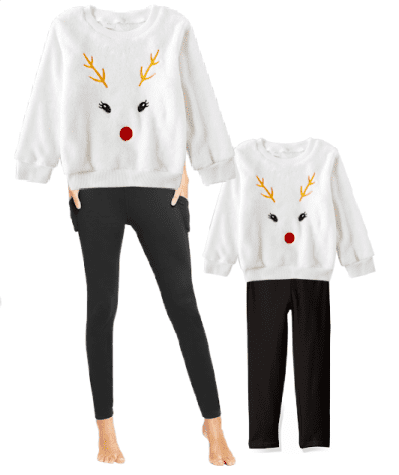 How sweet are these reindeer Christmas pullover sweaters? There's one for everyone in the family to match for pictures with Santa, or running holiday errands! These fleece lined leggings are buttery soft for those chilly outings this winter.
3. Winter Matching Leopard Headband and Cable Knit Pom Pom Beanie
I love a warm sherpa headband and cable knit beanie for the crisp mornings. And how cute is this double pom pom beanie? I also love the leopard print headband, both beanie and headbands come in multiple colors and styles too.
4. Burberry London Eau de Parfum, Perfume and Burberry Rollerball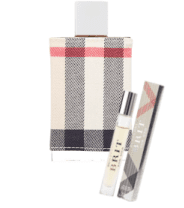 My girls love to add a spritz of perfume for special occasions or when they are playing dress up. I thought it would be fun to let them "match" mommy's Burberry perfume with the Burberry roller ball. They can feel grown up with their own perfume without the over-spritzing 🙂
5. Mama Bear and Lil Bear Plaid Slippers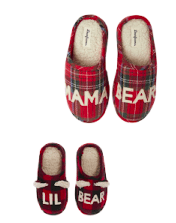 Another item my kids try to steal of mine – my house shoes! Aren't these mama bear and lil bear plaid slippers adorable? Now they can have their own slippers to keep their feet warm around the house.
6. Steve Madden Faux Fur Slides Girls and Womens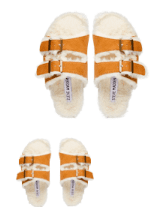 It might be cold temperatures around here now, but these Steve Madden slides keep your feet cozy with lined faux fur. And now that socks with slides are the "cool thing" (my nine year tells me) you can rock festive holiday socks with them too.
7. Winter White Patent Lace-up Moto Boot Mom and Daughter Boots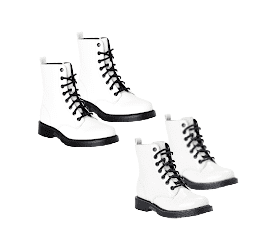 I think these might be my favorite matching mother daughter shoes! I'm loving lace up boots right now, and these winter white moto boots are on trend and festive for the holidays. The girl's boots have a snowy shimmer and the women's boots are a matte white – both are versatile to go with your whole winter wardrobe.
one | two | three | four | five | six | seven | eight | nine
ten | eleven | twelve | thirteen | fourteen |fifteen | sixteen | seventeen | eighteen
Do you have family matching outfits planned for the holiday season? I'm hanging on to these days where they wanna be just like mama, because I know they are numbered.
Happy mother daughter holiday matching!