How to style a bar cart like a pro – it's super simple and fun for entertaining or everyday use! I've gathered my favorite Summer bar cart essentials and today I'm sharing my easy Summer decorating ideas and tips for simple outdoor Summer decorating!
Find the recipe for this yummy Summer cocktail here – Chi Chi Cocktail Recipe (The BEST Tropical Frozen Beach Drink!)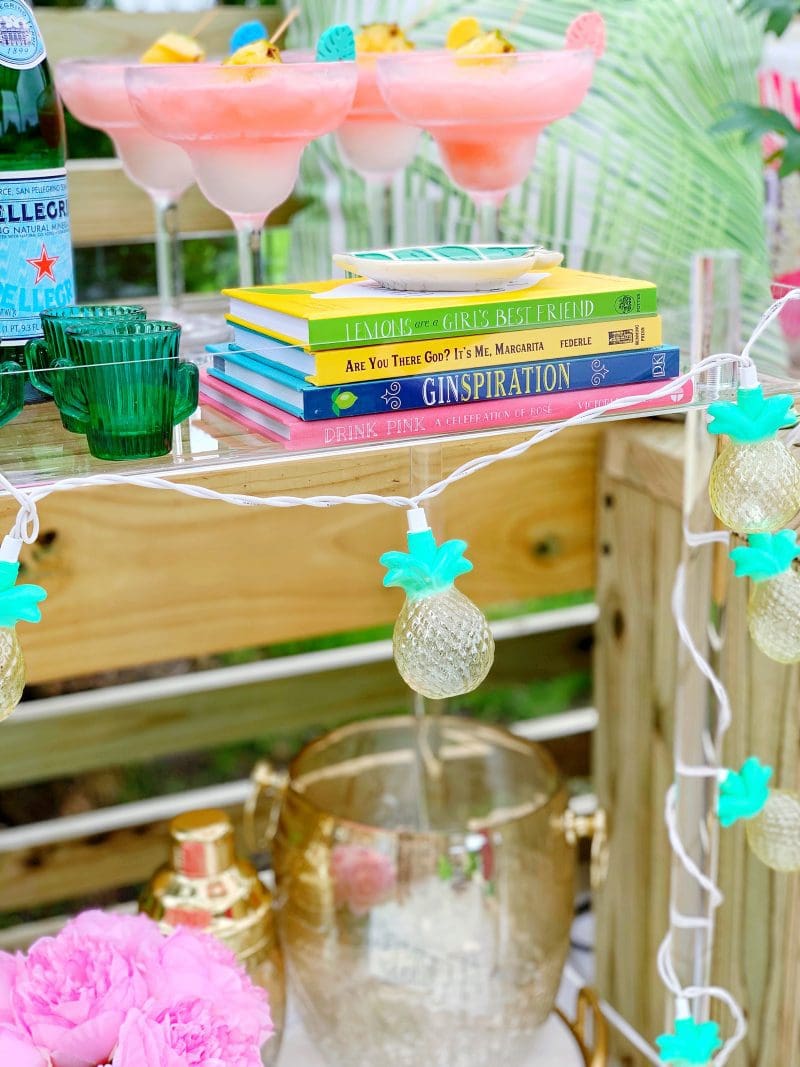 Hey friends and happy Summer! Those who are joining us from Sarah at Grace in My Space, welcome!! Isn't her Summer kitchen so pretty?
Thanks so much to Kelly from The Tattered Pew for organizing this Easy Summer Styling Home Tour! I hope you are getting lots of inspiration and fun ideas for easy Summer decorating!
In the Summertime, I like to take it easy with my seasonal decorating. Because my home is already decorated in a coastal/tropical style year round, I feel like I don't have to add much to make it feel Summery! Also, Summer is a lot slower around here and there's already the added Summer "decor" with all the beach towels, wet bathing suits, water balloons, and pool floaties that my kiddos leave around, ha.
One way I like to decorate for Summertime is by bringing some decor outdoors! I'll set our outdoor table with a cute lemon tablecloth, and add our tropical dishes and drinkware. And now that we have a bar cart, I thought it would be fun to style it for Summer too!!
Here are a few easy ways to decorate your home for Summer with my favorite Summer bar cart essentials!
Summer Outdoor Bar Cart Ideas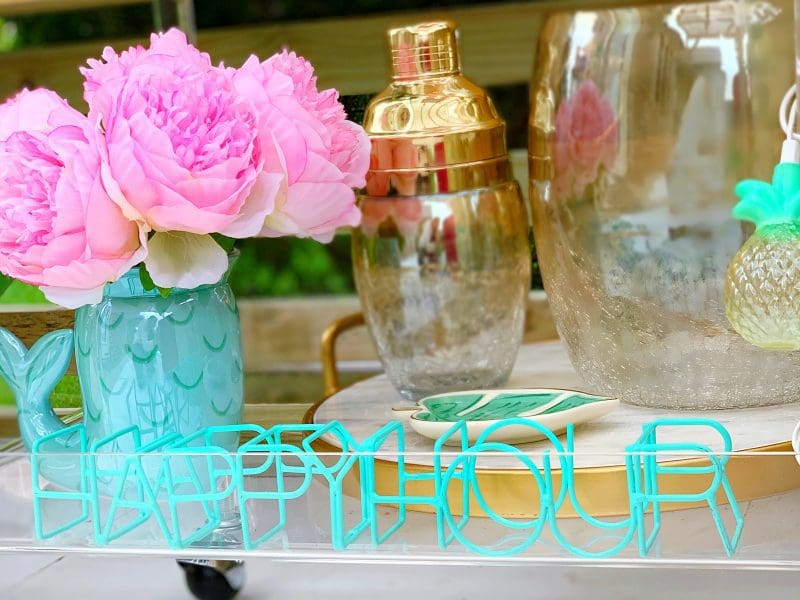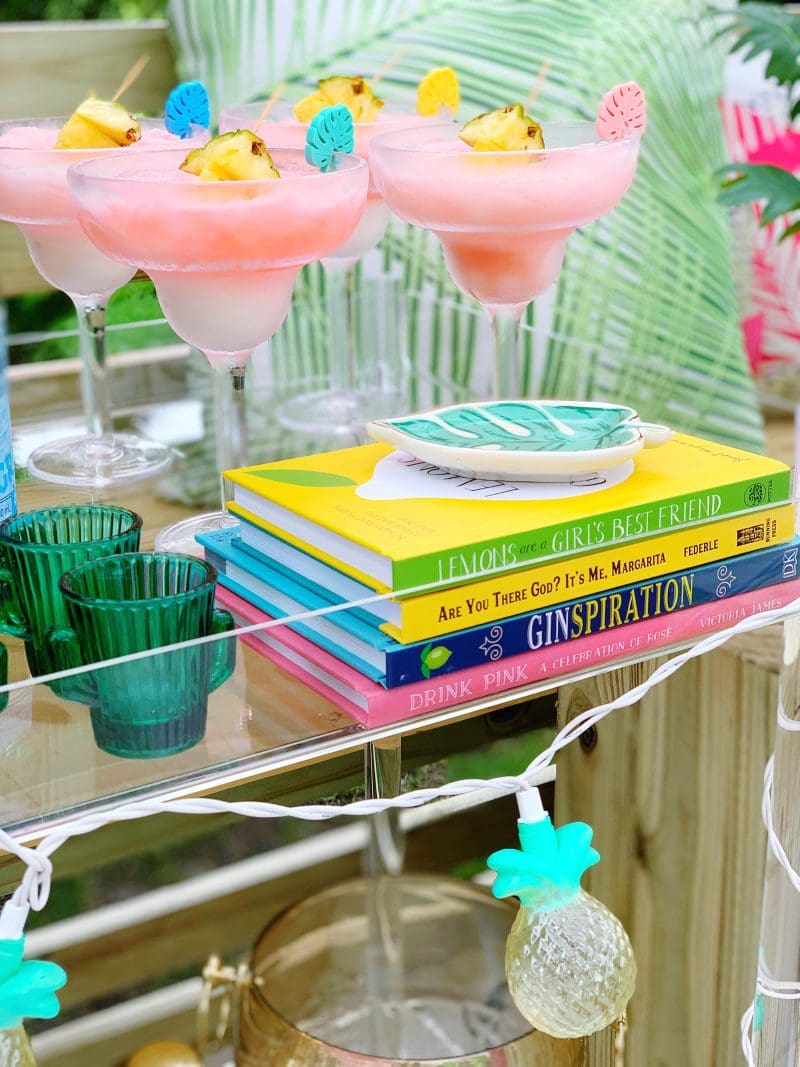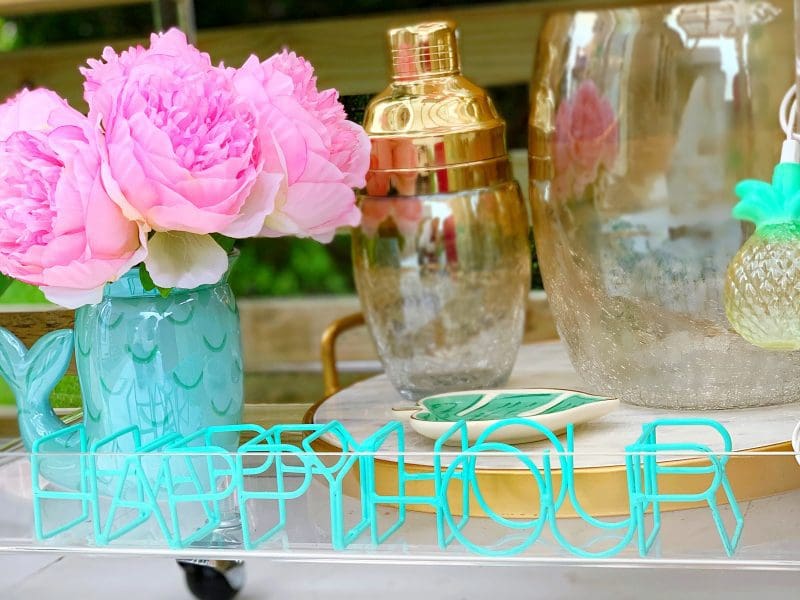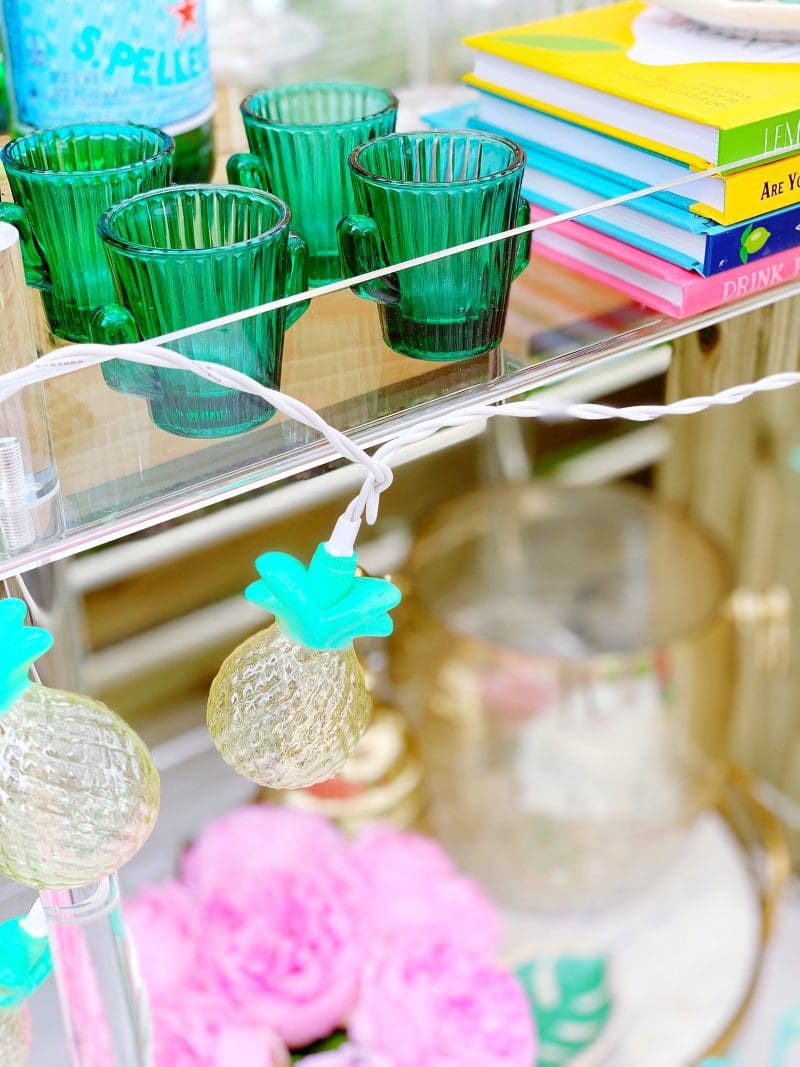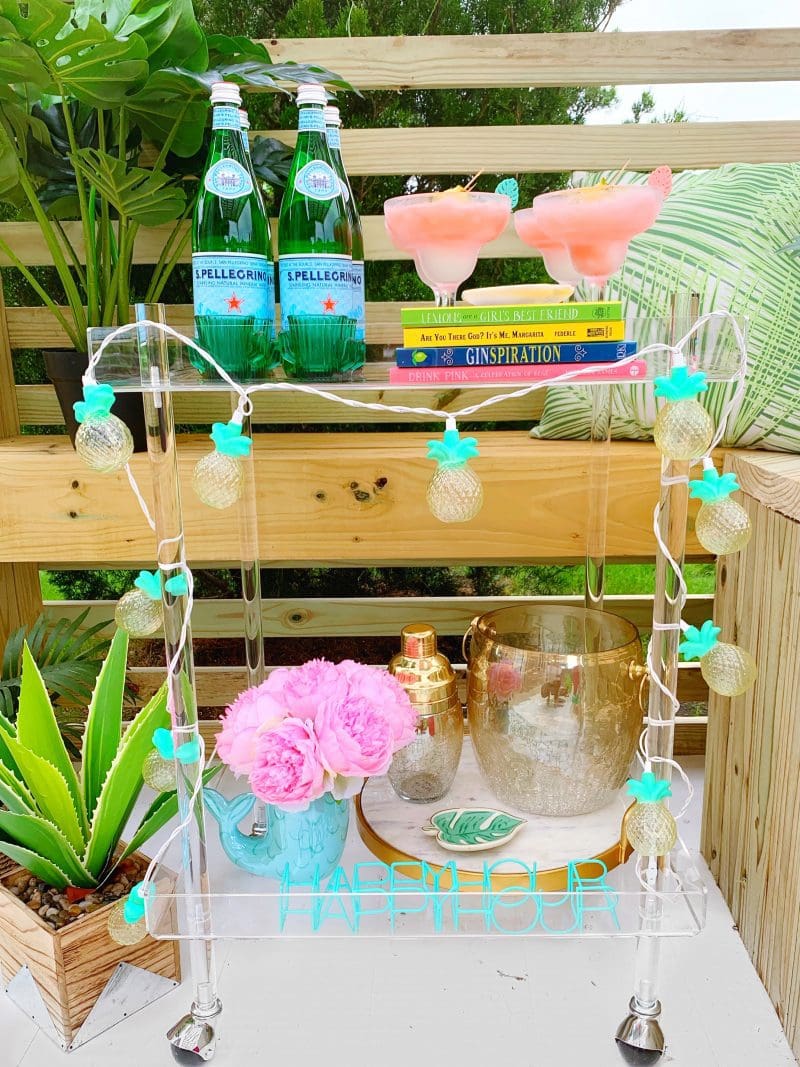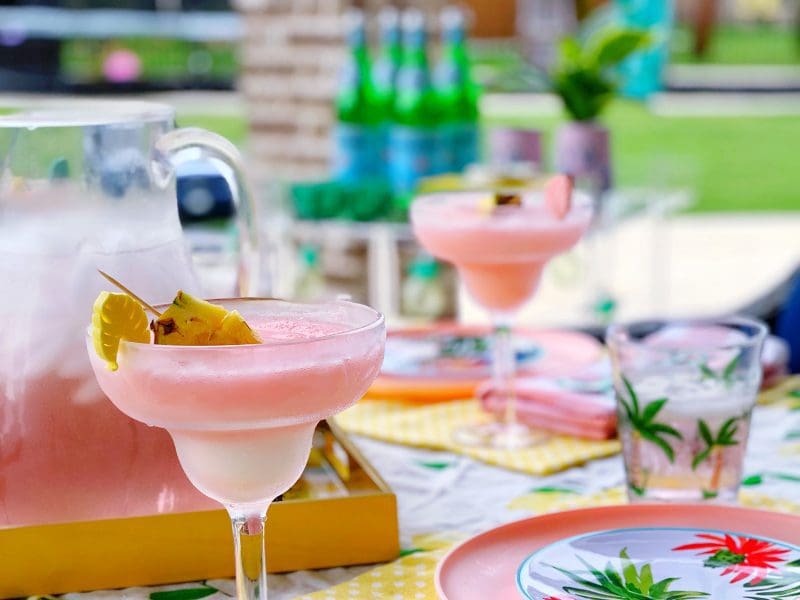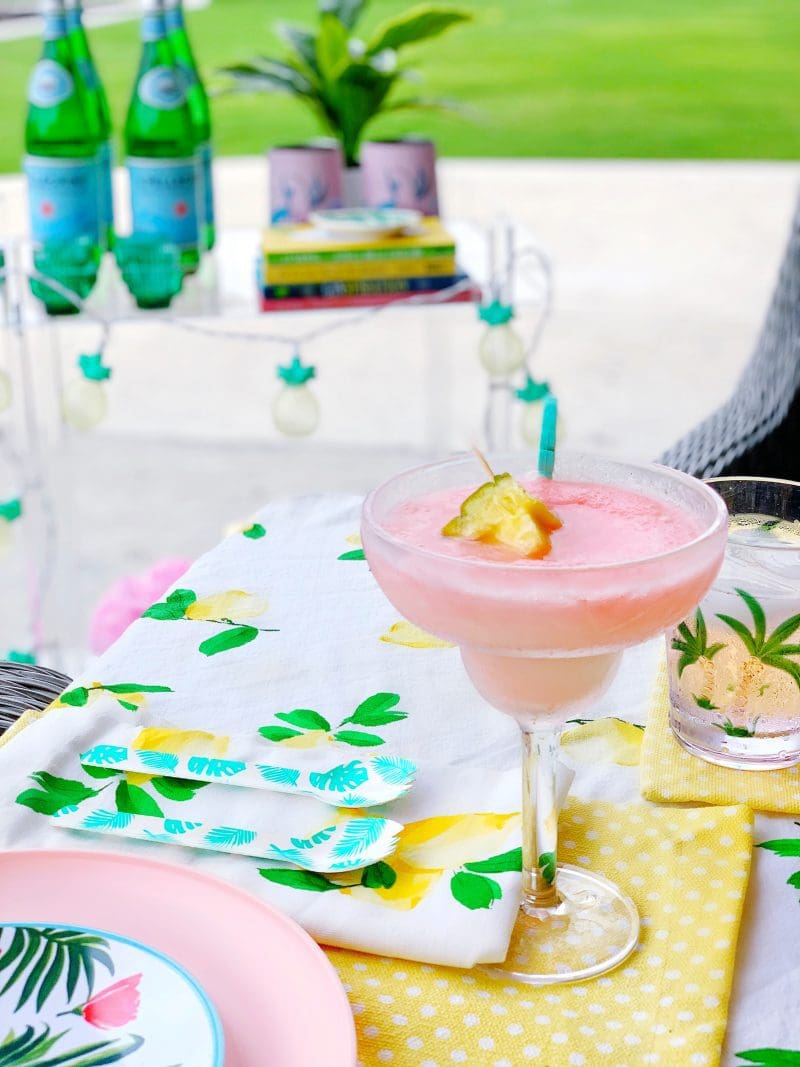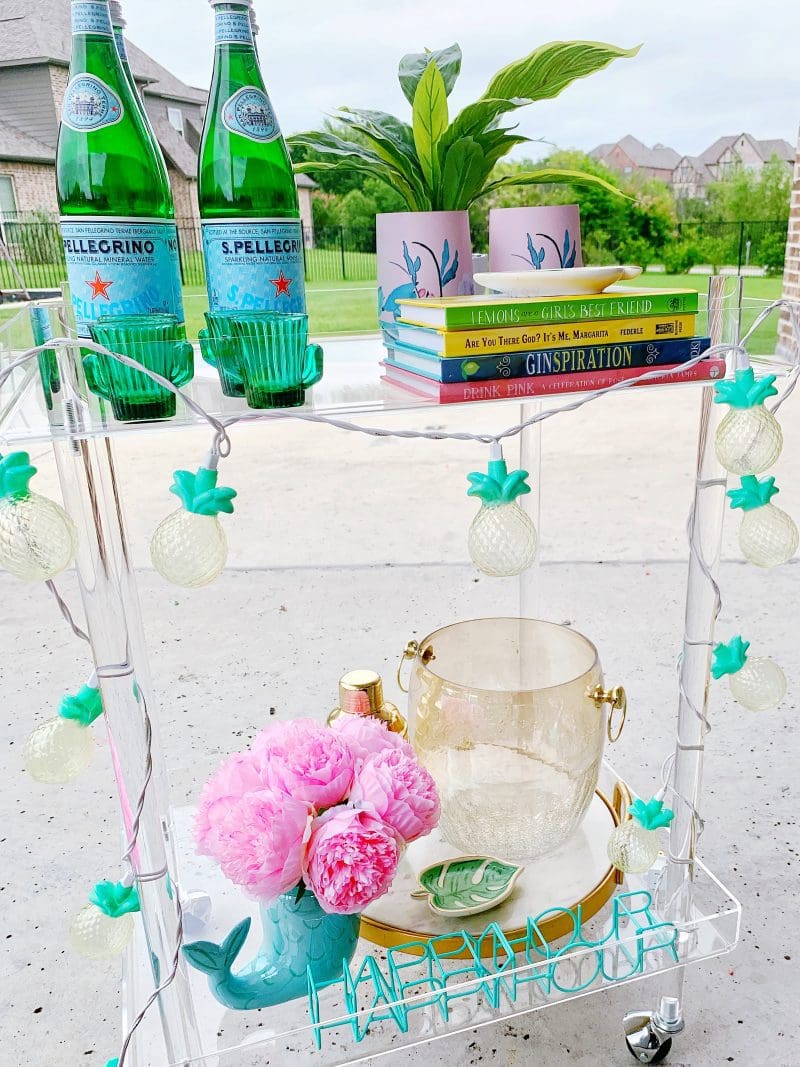 For my Summer bar cart styling, I searched around my home and favorite stores for a few simple-summery items:
–Shaker and Ice Bucket
–Summer vase and decor accents
I was searching for the perfect bar cart for awhile, and finally added this acrylic beauty to my wishlist – which Bryan bought me for Mother's Day! I feel like the clear acrylic is so versatile and is easy to decorate for any occasion. After I started decorating it, I also loved that because it's clear, you can see through the "lip" around the front and it doesn't hide any of the decor!
You can have a few drinks pre-made or have a drink pitcher ready to pour. It's also a good idea to have bottles of water or sparkling water on hand too! I wanted to make my favorite frozen drink recipe we order in Mexico – (the Chi Chi – recipe is here!) so I brought out my favorite margarita glasses to pour them in. I also picked up these adorable palm leaf wine glass charms to add a Summer touch to the glasses.
I found this mermaid vase at Target and thought is was super cute! They also had other fun summer vases including this adorable flamingo vase and cactus vase. For a little added whimsy and ambiance, I wrapped the front of the bar cart with these fun pineapple string lights. I also like the idea of having drink recipe books on the bar cart for some cocktail recipe inspiration! There's so many cute cocktail cookbooks out there, most of these are from TJ Maxx and Amazon!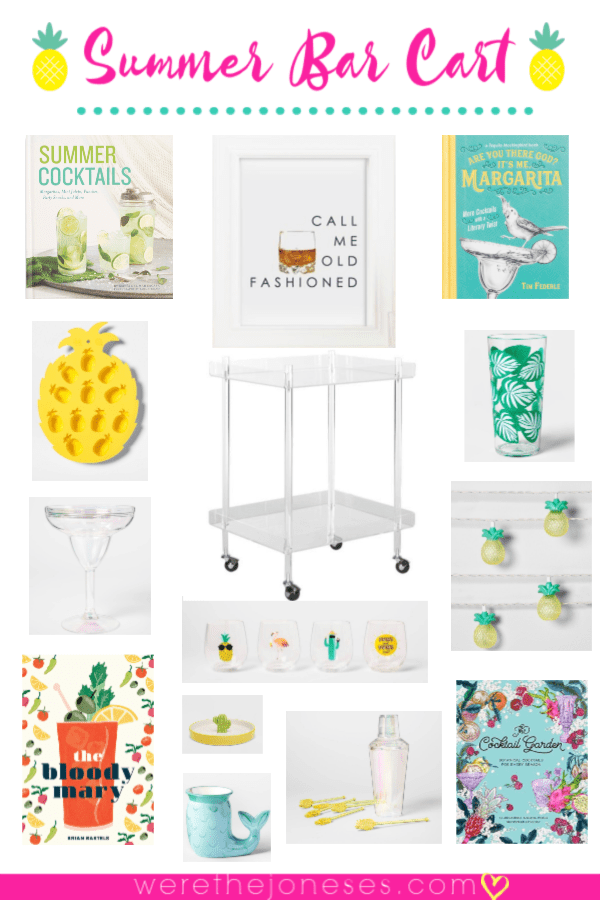 Bar Cart Styling In Dining Room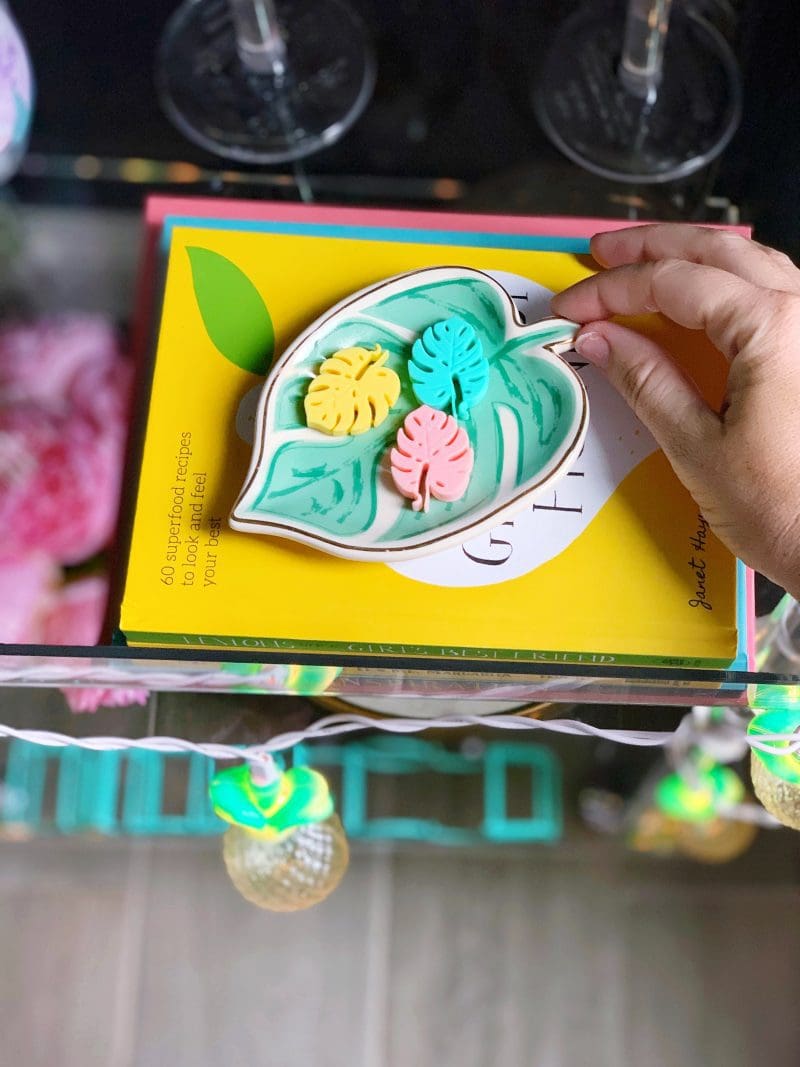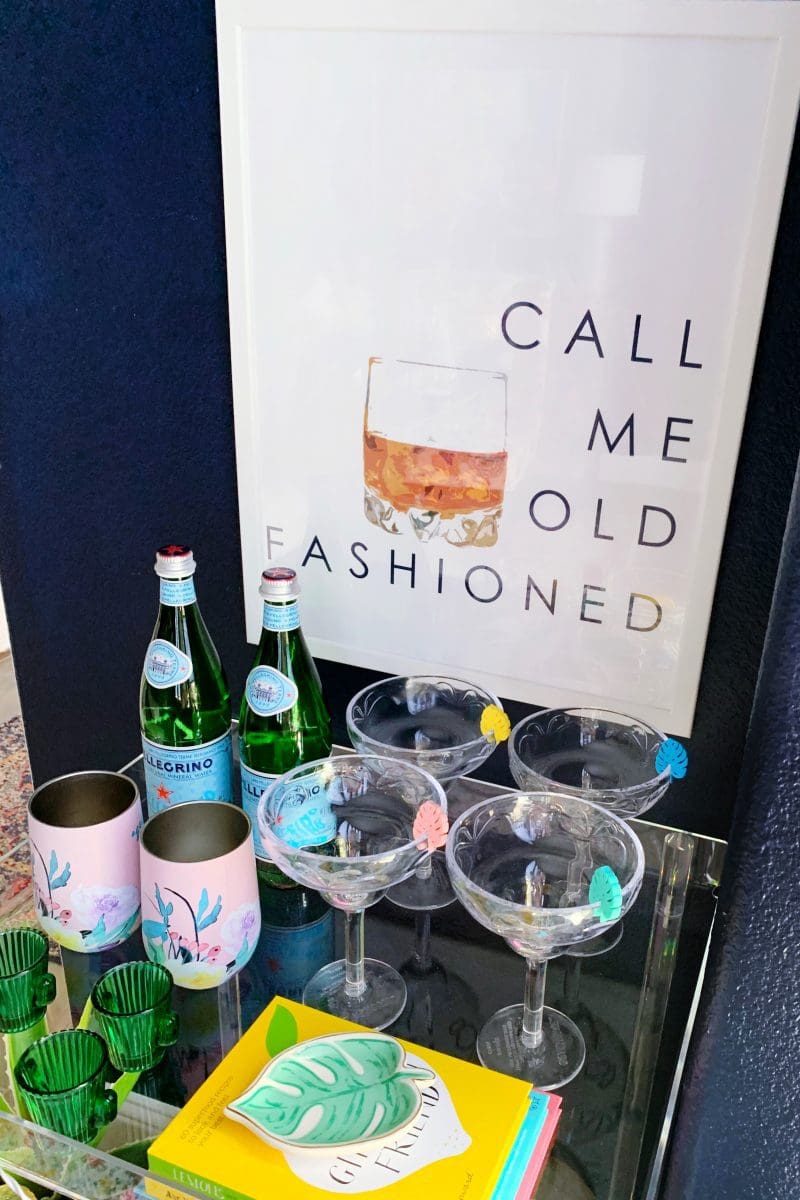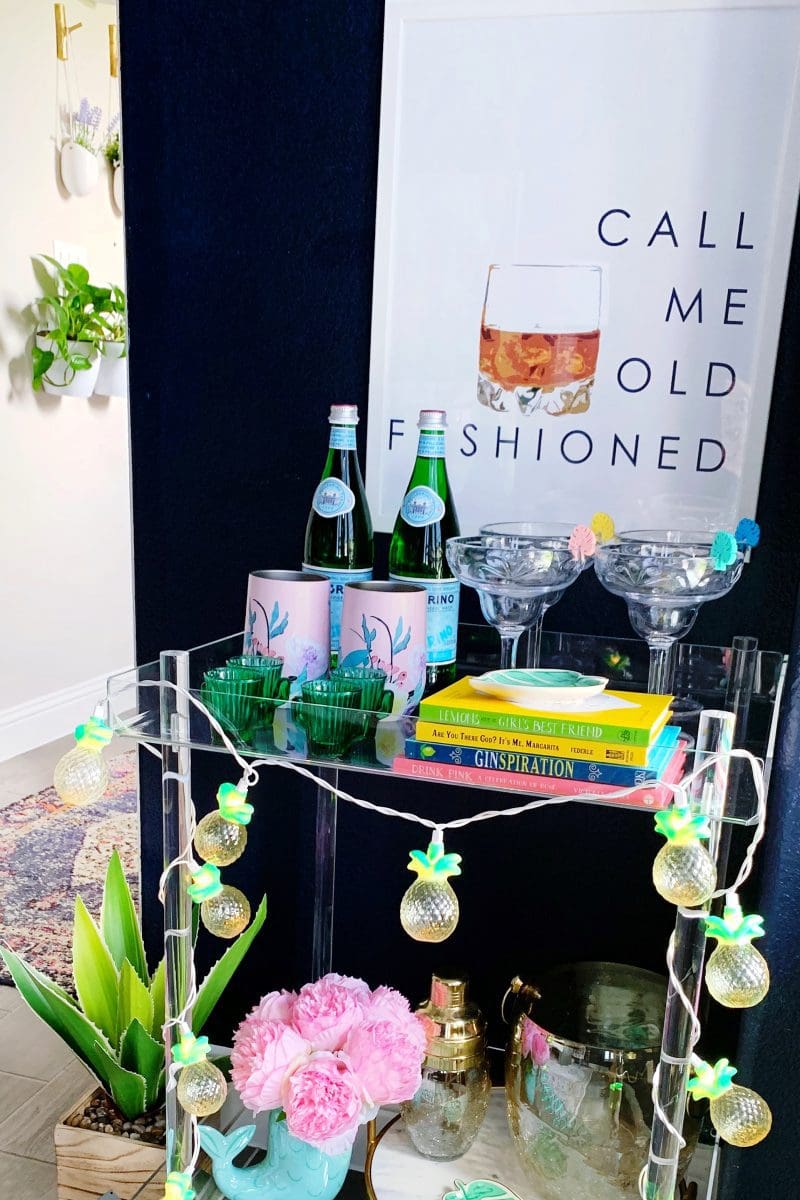 When the weather isn't cooperating (it's been so rainy here in Texas lately!) I have my Summer bar cart tucked in this corner of my dining room. It's the perfect spot right off the kitchen and ready to go when we're in a Summer cocktail-making mood!
I've been on an old fashioned drink kick the last couple of years, and when I saw this Call Me Old Fashioned wall art I knew I HAD to have it! It looks absolutely perfect hanging in our dining room above the bar cart. I can't wait to make some old fashion cocktails at home, I'm still perfecting my recipe – any old fashioned drinkers out there? Share your favorite recipe with me!
Thanks so much for visiting and I hope you found some easy Summer bar cart decorating ideas! Next up on the Summer home tour is Lindsay from Aratari at Home. Her home is so gorgeous and charming for Summer! Below are all the homes in the Easy Summer Styling Blog Hop – take a look around each of these talented ladies and their beautiful Summer styling!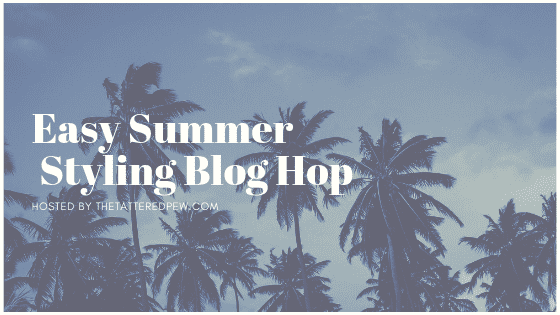 Come enjoy 13 talented bloggers sharing some easy summer styling this week! Sharing with me today are…
Wednesday


And sharing tomorrow…
Thursday

Happy Summer decorating!

LIKE THIS POST? PIN FOR LATER!