I'm so excited to show yall the whimsical chic little girls room I've been working on for Genevieve & Georgia! Their shared bedroom was so fun to create, I love how the floral wallpaper, buffalo check bookshelves, and chic cowhide headboard come together to make their new bedroom makeover eclectic and unique. Below I've shared all of the little girls bedroom ideas and shared bedroom decor inspiration!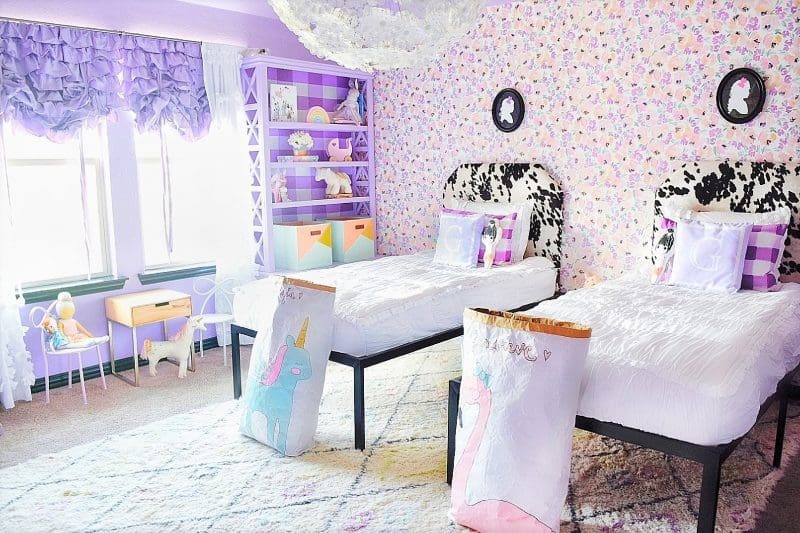 Little Girls Bedroom Ideas
I've been dreaming up this room for the past year and it's so exciting to have the vision complete and come to life!! Little kid spaces have always been a favorite of mine to create. Maybe it's the whimsy and the playful colors and patterns. Yall know I don't have an issue with bringing some whimsy through all the rooms in my home, but it feels like in my kids' spaces, they sky is the limit! (and Bryan can't get mad about it, ha!)
I wanted to create a room that was girly and whimsical, but that had some unexpected and unique patterns too. Below I break down all the details of the girls' bedroom makeover including their bedding details, decor accents, and one of my favorite DIYs: creating the painted buffalo check bookshelves!
Little Girls Bedding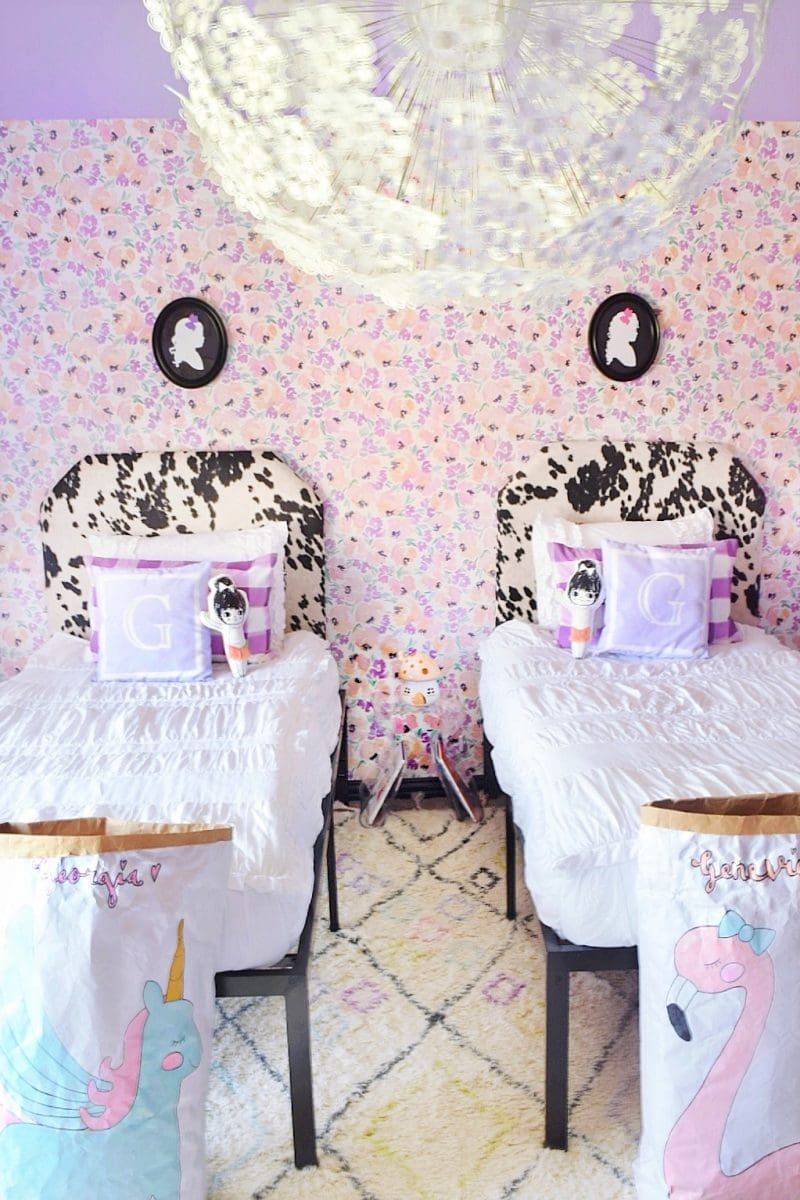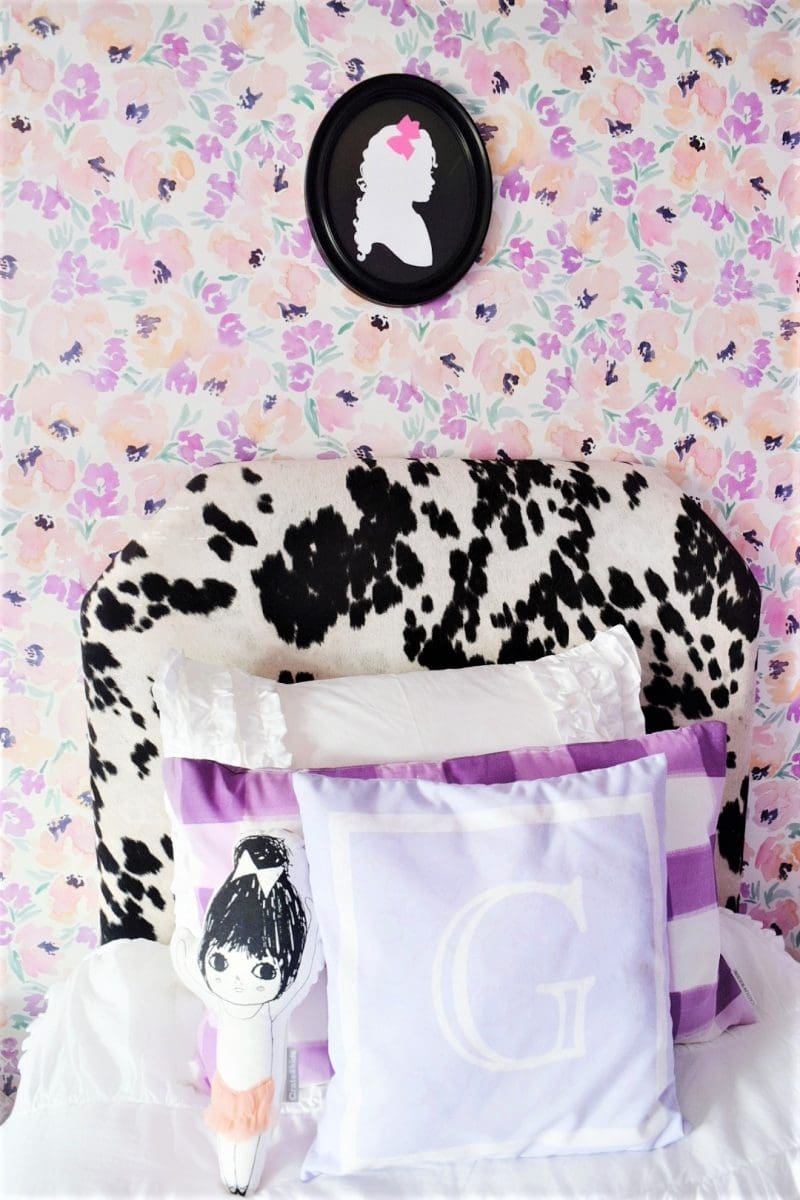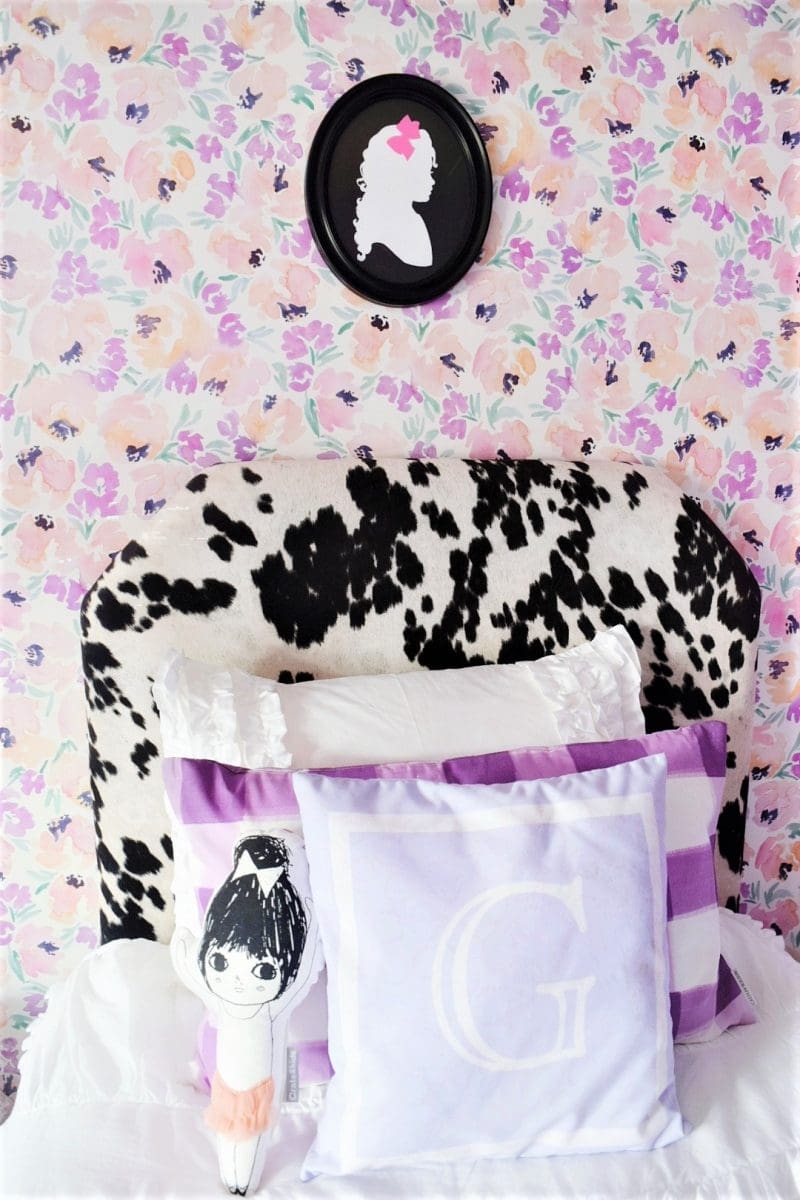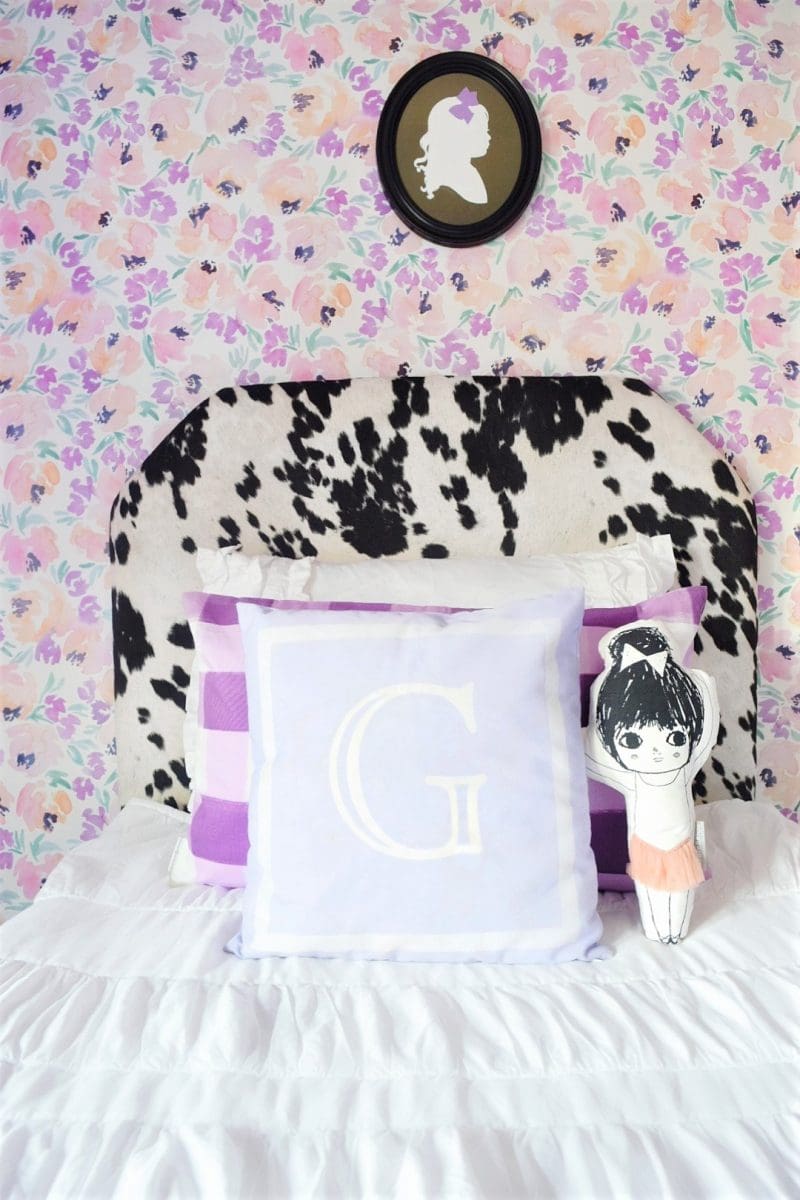 The bedding for this room was so fun to mix and match. I knew I wanted a unique headboard that would create some pattern play up against the floral wallpaper. I found this headboard while browsing on Etsy one day and fell in love! The wild cow hide print is a huge contrast from the feminine floral wallpaper, but I love the patterns mixed together. I love to bring black into most of the rooms of my home (see our black trim and doors post here) Using a little bit of black really grounds the space and helps define all the other colors in the room! I loved adding touches of black in their room makeover through the black trim, black cowhide headboard, and the black silhouette portrait frames.
I wanted something simple for the bedding since the headboard and walls had lots of patterns. I heard so many great things about Beddy's bedding, and thought these would be a great option for Genevieve and Georgia for their first big girl bed. I got the chic white Beddy's bedding, which looks great against the colorful backdrop of the headboard and wallpaper. I love the added rouching which gives the simple white bedding some demension and added texture. The zipper closer is perfect for kids to learn to make their beds themselves without the added hassle of tucking in sheets! Beddy's is offering my readers a 20% off coupon for any purchases you make, use my coupon code JONESES20!
The monogram G pillow was a pillow I bought when designing their nursery. This is my favorite place to buy custom monogram pillows, they have every design and color option you can imagine! I've been loving gingham and buffalo check patterns lately, so when I saw this buffalo check pillow, (and here's one similar as a less expensive option) I knew I wanted to add it to their bed! It also was the inspiration for painting the back of the bookshelves the purple buffalo check pattern. This ballerina doll is also super cute and adds a little touch of black to the space too.
Because the room has so much pattern and textures I wanted any furniture I bought to be minimal and modern with simple clean lines. I found these black twin beds and love the simple look of them! They were easy to put together and very sturdy for how lightweight they are.
Shared Bedroom Ideas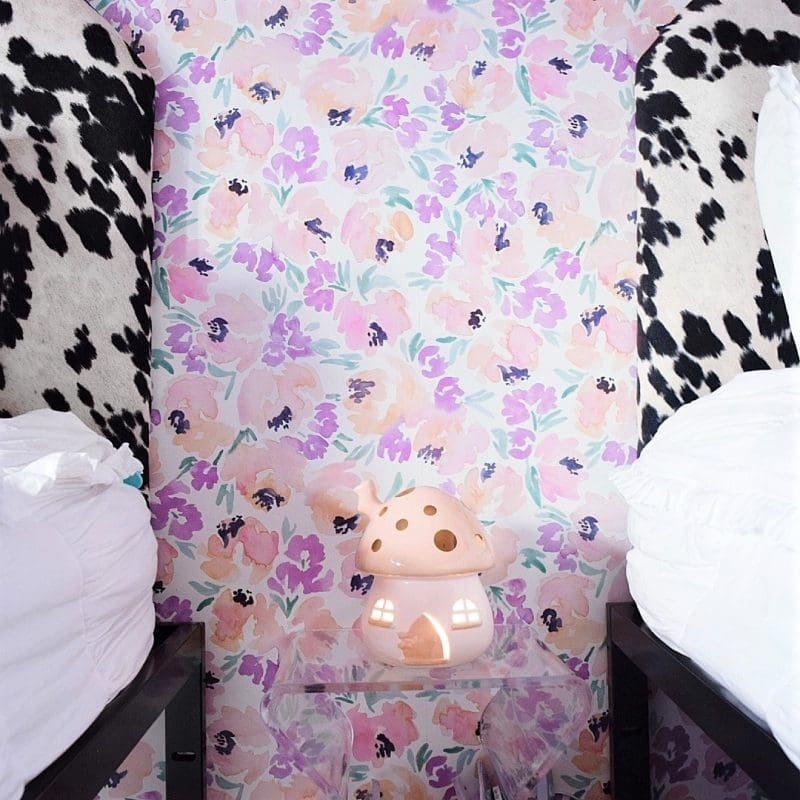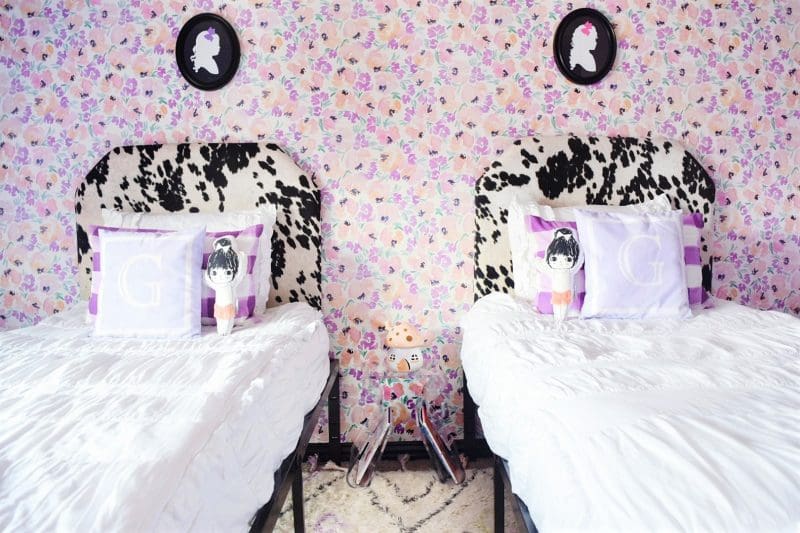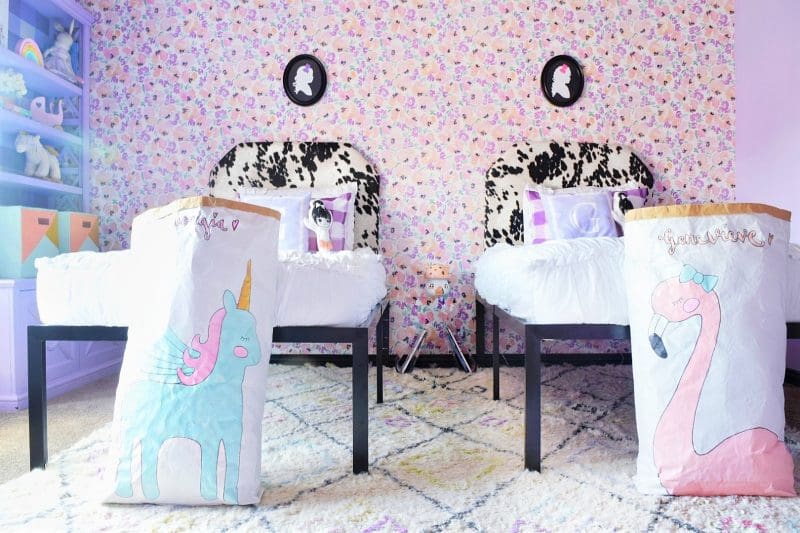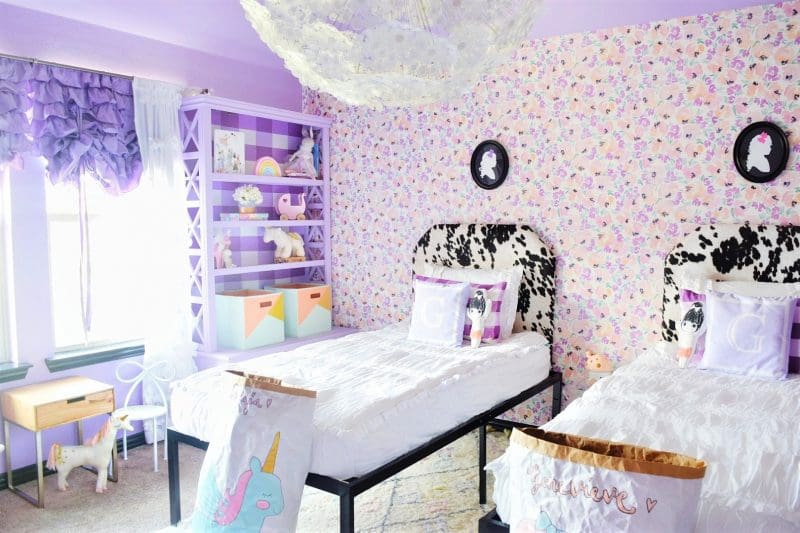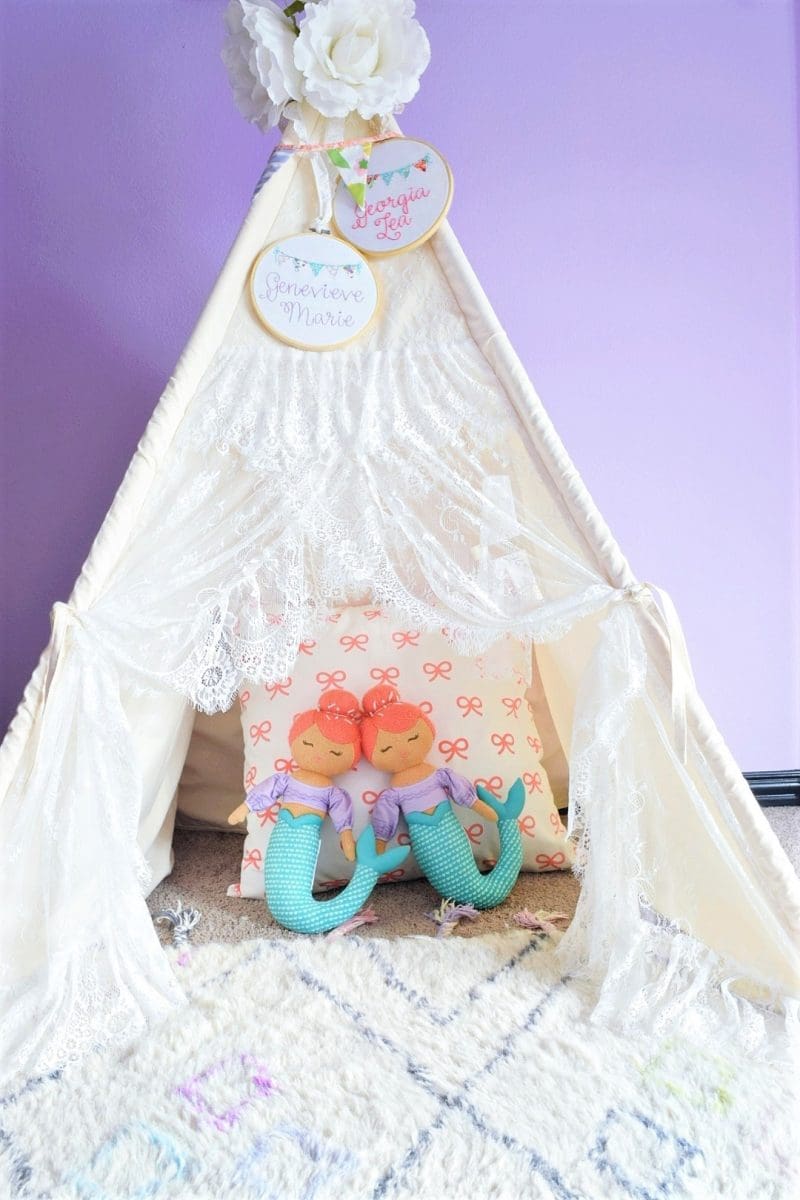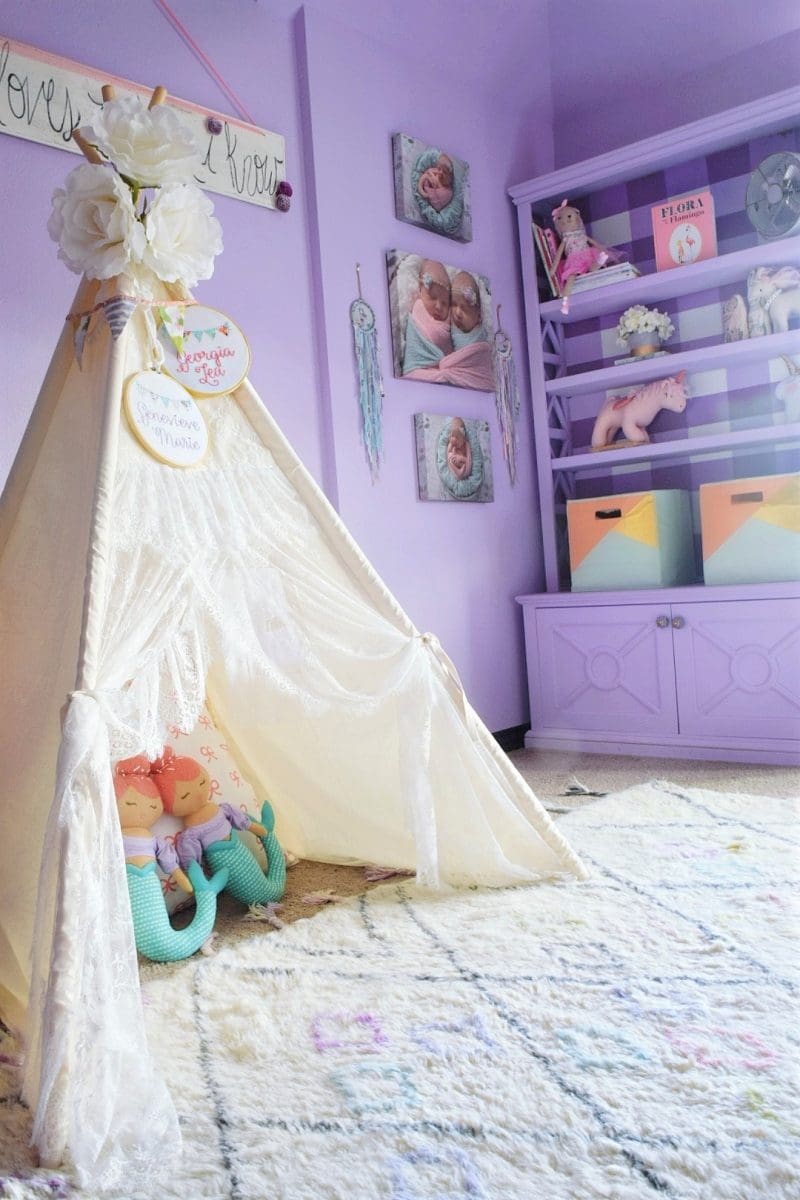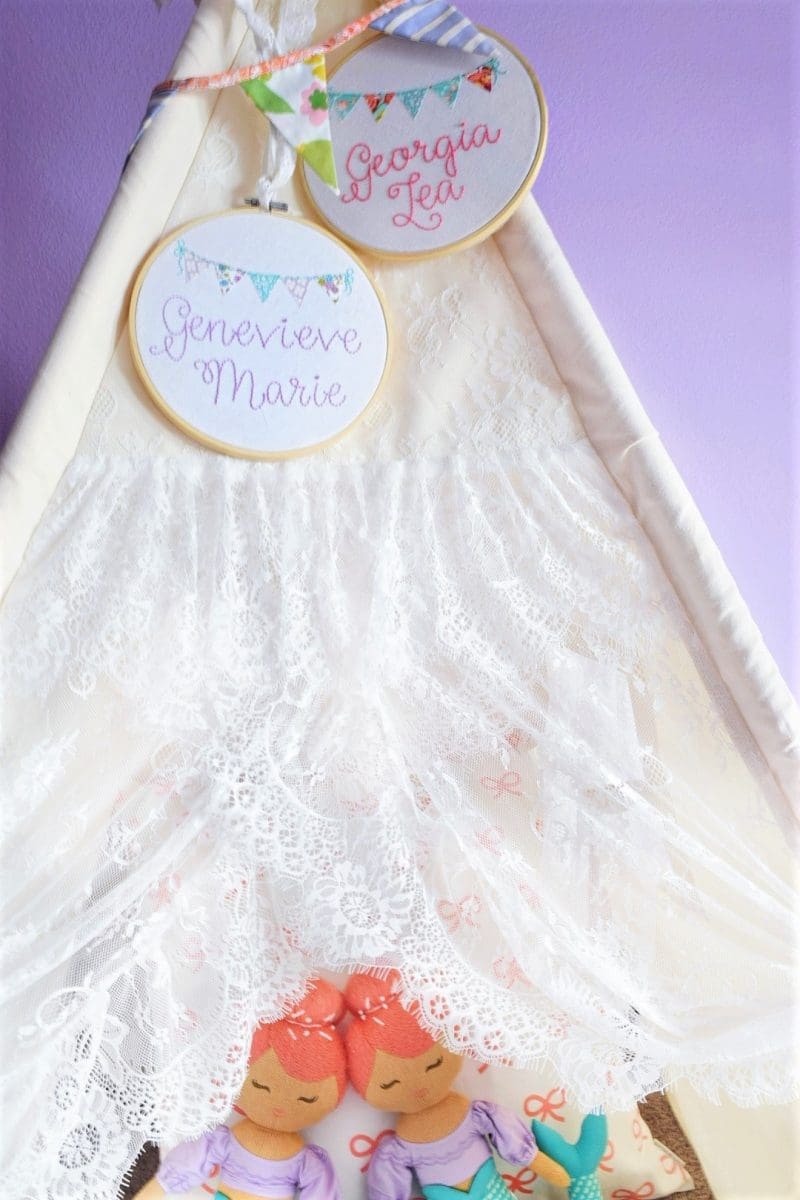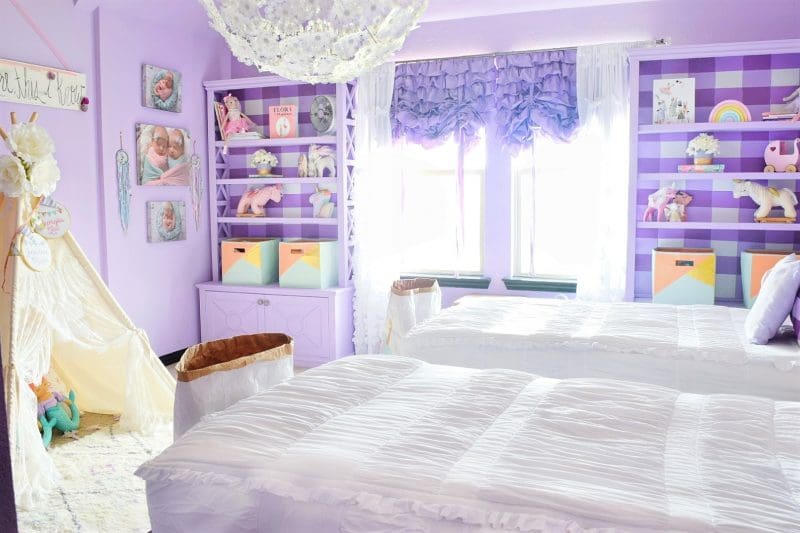 One of the first design items I picked for the room was the floral wallpaper. I fell in love with all the pretty pastel colors in the design, and the light purple matched the lavender walls and bookshelves already painted from their nursery. Plus it even has touches of dark navy on the flowers which matches the trim painted perfectly!
These silhouette portrait frames hanging above their beds were another great Etsy find. These portraits are hand cut the old fashioned way and turned out amazing! They both capture my girls' features to a T. Genevieve is obsessed with the color pink and Georgia is obsessed with purple, so I gave each of their portraits a bow in their favorite color. The little belle nightlight is another cute item I found for their room. The sweet mushroom shaped house is an adorable design and a perfect little nightlight for their room. I have it sitting on top of this acrylic end table between their beds, which serves as their night stand and also their stepping stone to climb between each other's beds! I am in love with the design and shape of this table! It has a curved magazine rack on each side, which is where we keep the girls' favorite bedtime books we read at night.
If you watched my Instagram Stories, you might have seen me open the box for this Ikea chandelier. I was so excited to find a big statement light fixture for the room, but after opening the box I was regretting my purchase! It had so many parts to put together and looked like it was going to take FOREVER. To my surprise, it actually went way faster than expected. Bryan helped me put in all the rods which was the hardest part. After he hung the light fixture and put in the rods, I attached the 160 end pieces that make it look like a dandelion flower. It looks so pretty in person and was worth the extra effort for the dramatic effect it has on the room!
In our kids' bedrooms I like to have clothes in closet if possible so there's more room for play items. I moved their dresser from their nursery design out of the room and moved some shelving into the closet so I could make room for their new teepee. I love the lace detail on the curtain closure, and also there's a little window cutout with lace curtains too! I added a few flowers to the top and these adorable embroidered hoops I had made when they were born that were hanging on their cribs.
DIY Buffalo Check Painted Bookshelves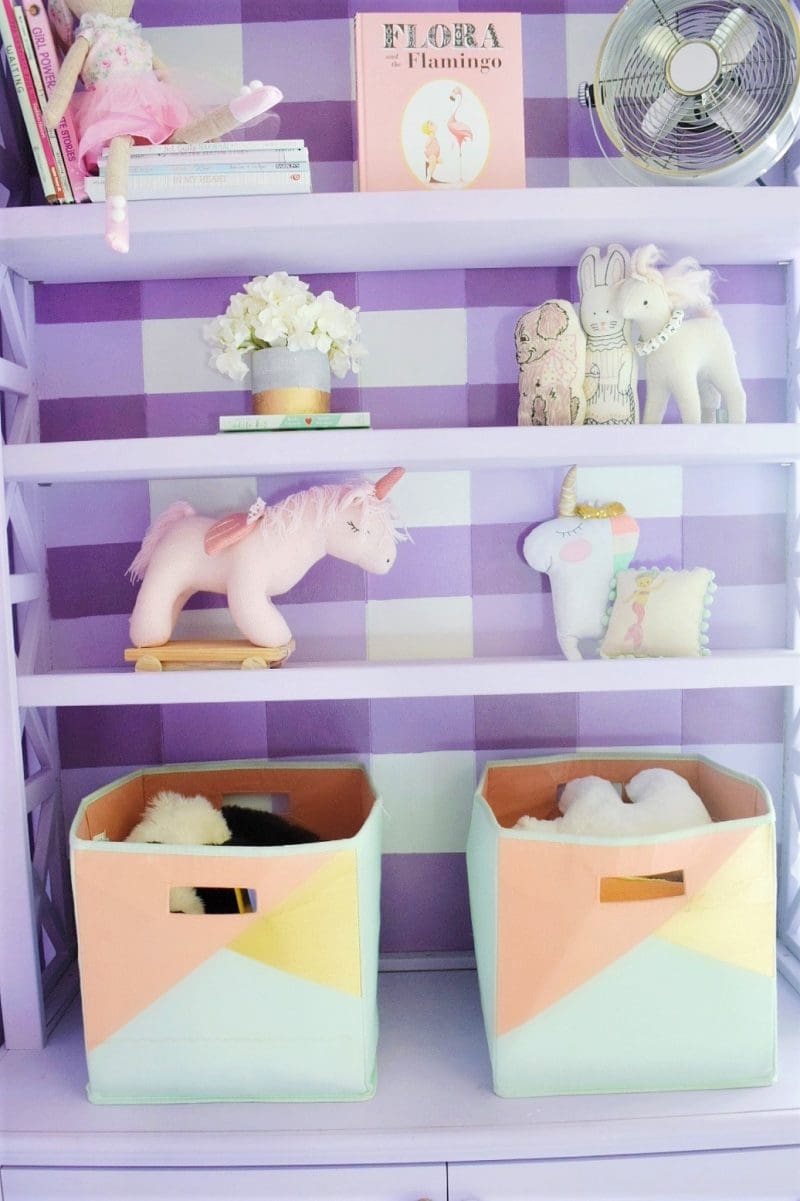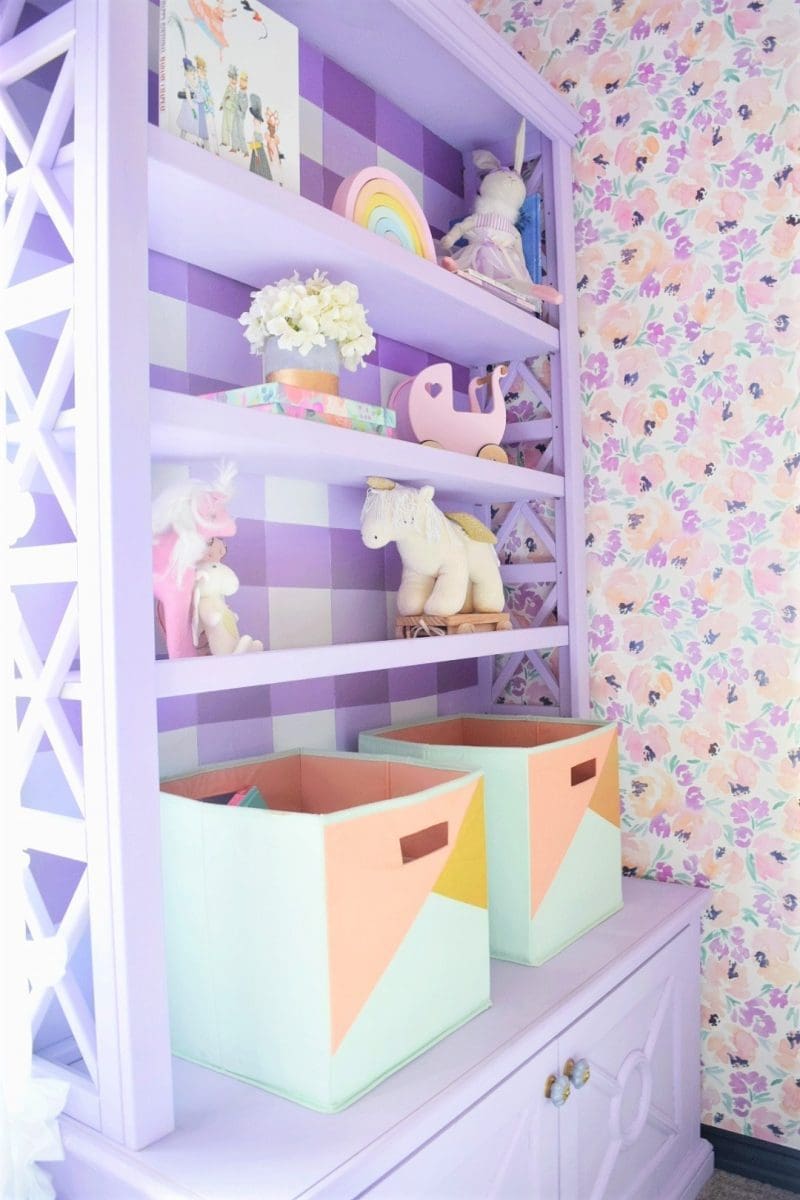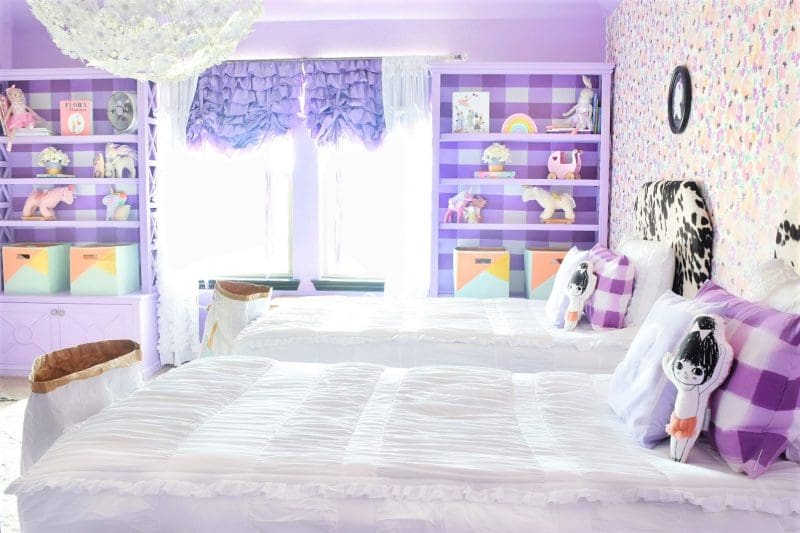 There's so many things I love about their new room, but the DIY painted buffalo check bookshelves are my favorite – probably because I pushed myself to make them on my own! This project was super out of my comfort zone, and I almost didn't go through with it because I was so intimidated by doing it myself. Painting isn't really my strong suit (especially painting straight lines!) but I'm so glad I pushed myself to do it! Even though the lines aren't exactly perfect and my painting skills have a few flaws, I still love how it turned out. I'm currently working on a DIY tutorial post on how to paint buffalo check with more detailed step by step instructions. I also have a timelapse video I'll upload as well so you can see the process from start to finish!
PIN FOR LATER
This little girls bedroom makeover for Genevieve and Georgia was such a labor of love these past few months, and I get giddy every time I walk in this space. I hope yall love it too! It was so fun creating a special space for my girls to grow up in for the years to come. If you have any questions about the room leave me a comment below!
Happy decorating!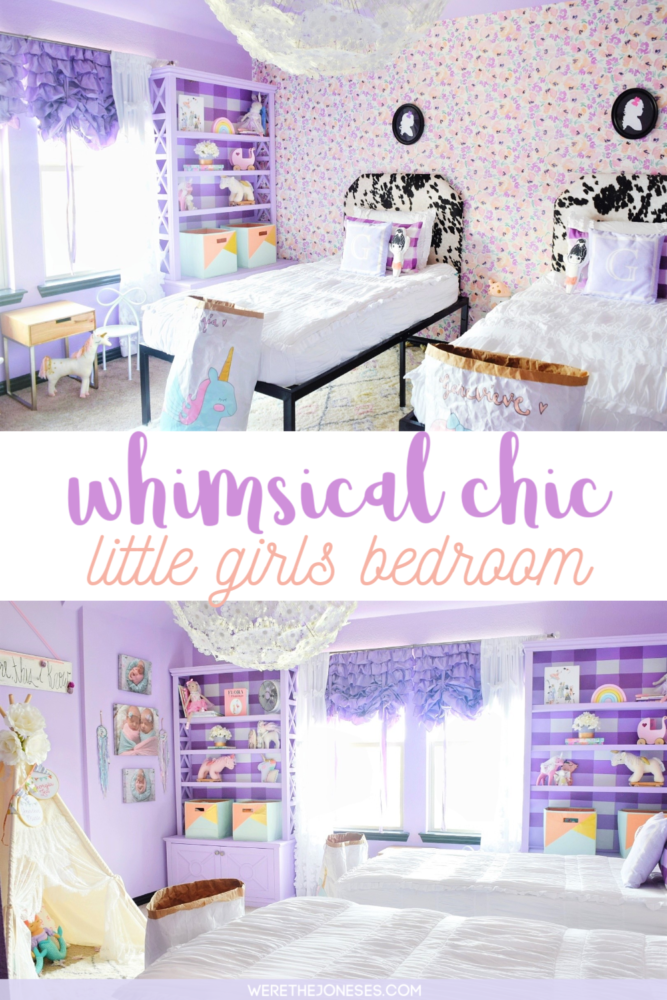 Check out a few of our most recent room makeovers! Here is our Tropical Romantic Master Bedroom Makeover, Modern Coastal Kitchen Makeover, and Colorful & Bright Front Porch Makeover. Also Cade's birthday is next month, and I am planning on giving his room a little refresh for his birthday – stay tuned! 😉