I'm so excited to show you a tour of our whimsical Christmas dining room with shades of blush pinks metallic silvers and golds. I created a lush cascading Christmas garland for our dining room tablescape with frosted pink poinsettias, soft blue hydrangeas and white feather angel wings for a touch of angelic whimsy. I also have an easy DIY tutorial on creating a Christmas song lyric table runner to add a little creative charm to your Christmas table!
THIS POST IS SPONSORED BY JOANN. ALL OPINIONS ARE MY OWN.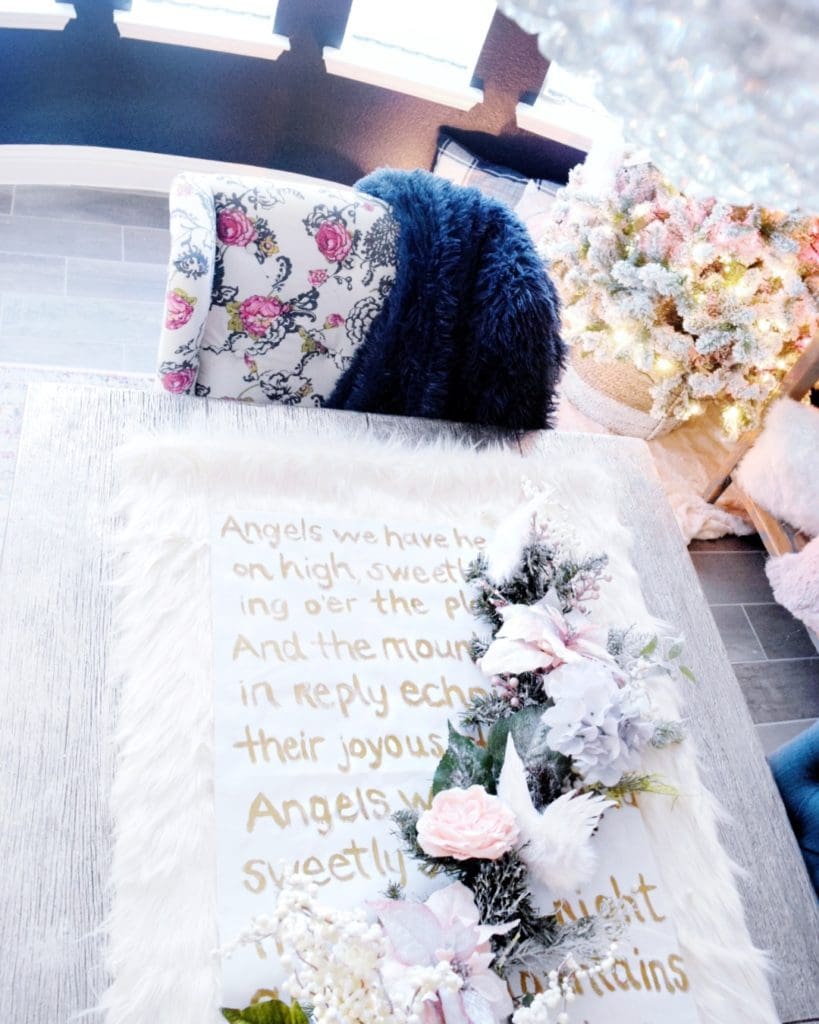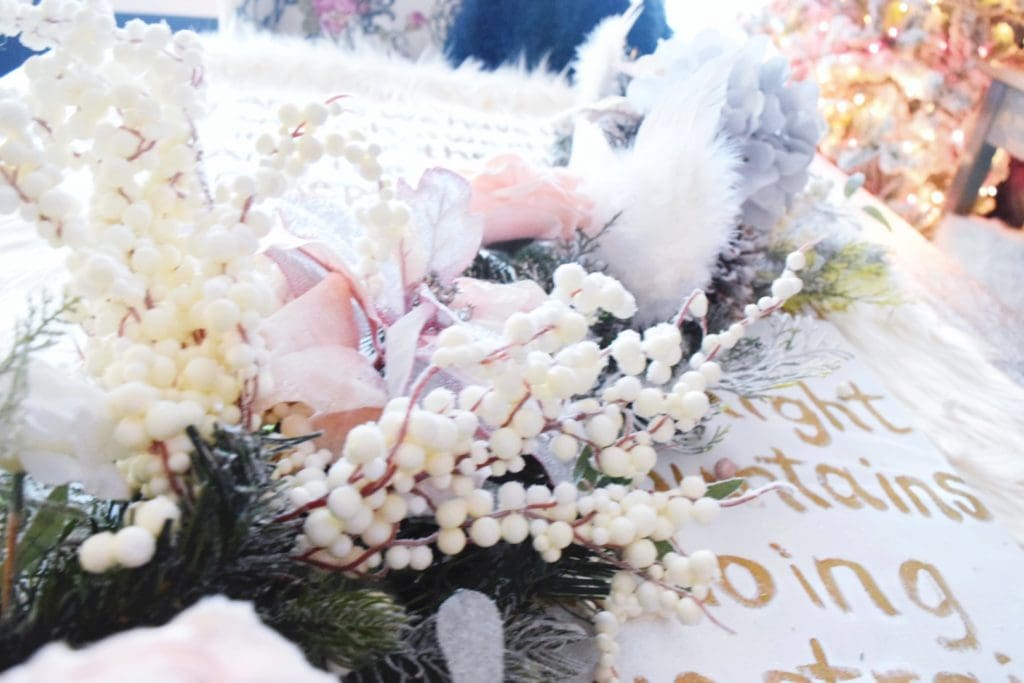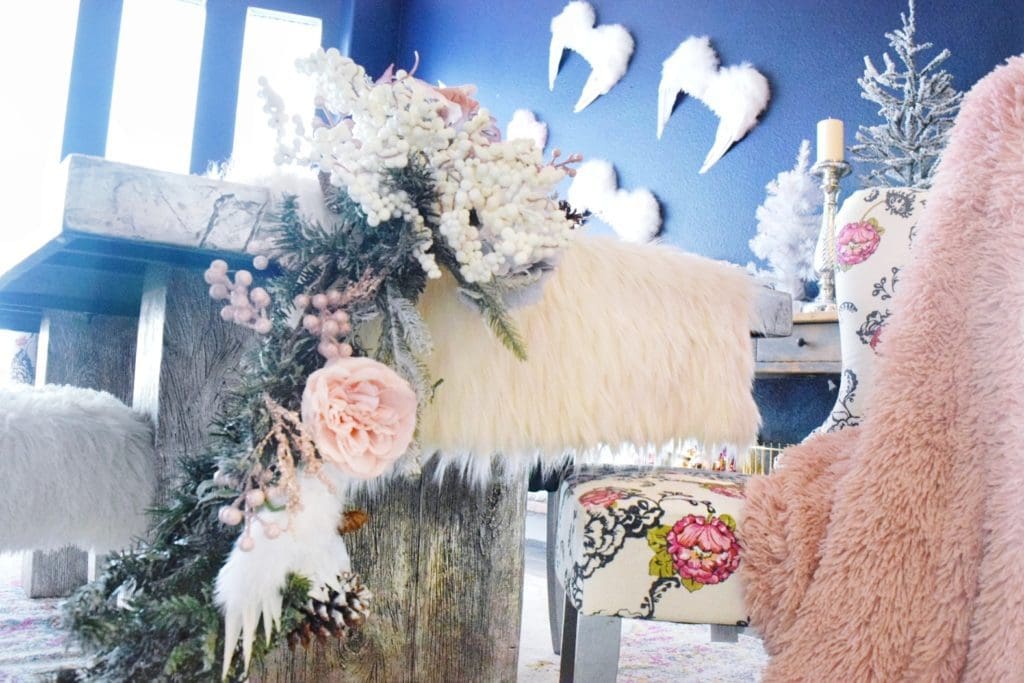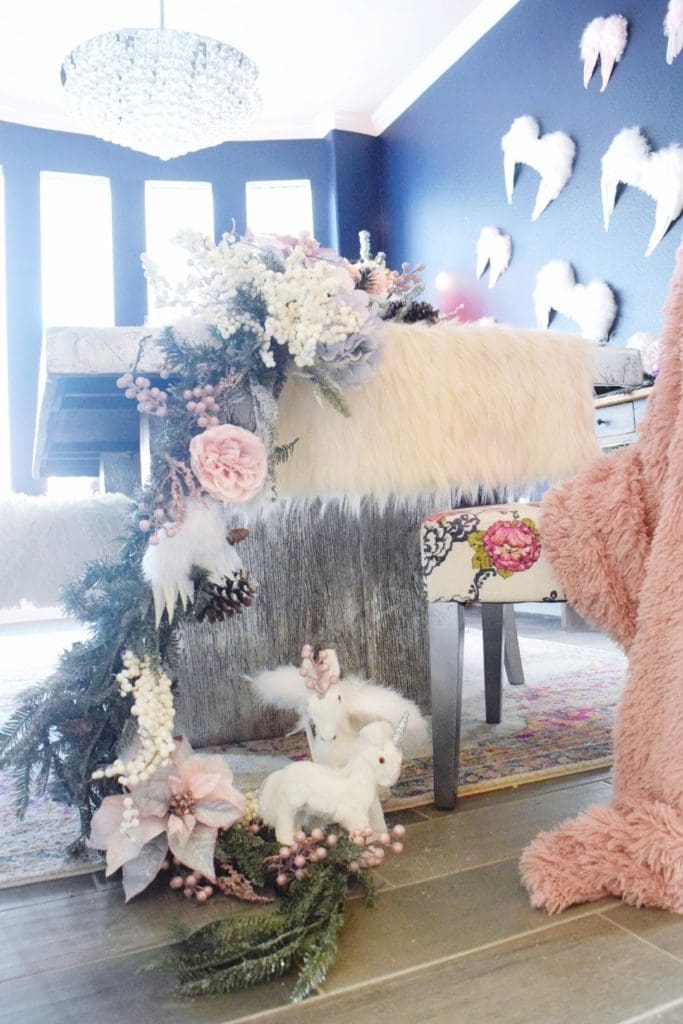 small unicorn | larger unicorn | glitter blush poinsettia | white angel wings
When deciding how to decorate for Christmas this year, I knew I wanted to bring a magical whimsy element to my Christmas decor. I was browsing the JOANN website and came across the white Christmas unicorns and I knew I had to have them for my whimsical theme! I also fell in love with the dainty white feather angel wings for an angelic touch. I thought I could also tie in lyrics from the Christmas song "Angels We Have Heard On High" to add even more to the angel whimsy theme.
I also wanted to bring in lots of soft florals and greenery for our Christmas dining table this year. I was inspired by a Pinterest image I saw recently of flowing lush Christmas garlands cascading down the dining table. I wanted to try it out with my own whimsical soft Christmas hues.
Below I show more in-depth details on how to create a whimsical Christmas dining table with helpful tips on creating a cascading Christmas garland. I also have a DIY tutorial on making your own Christmas song lyric table runner!
DINING TABLE CASCADING GARLAND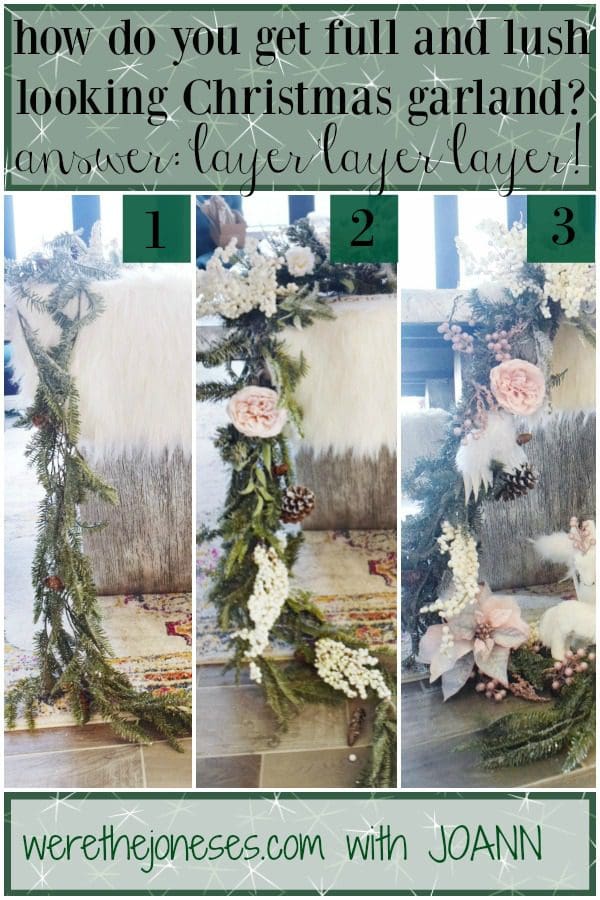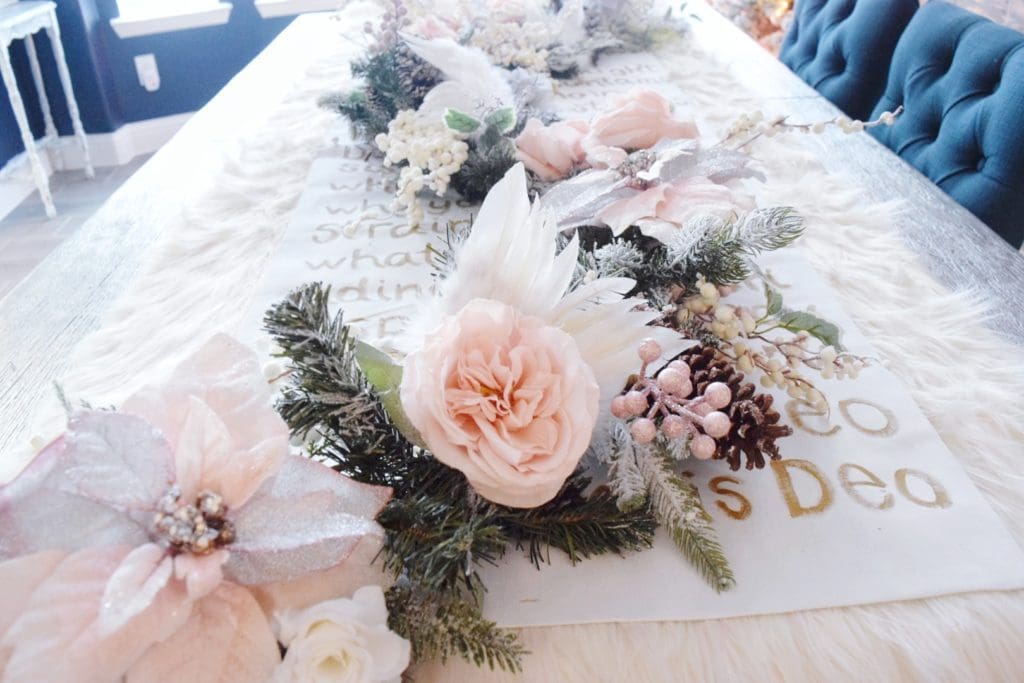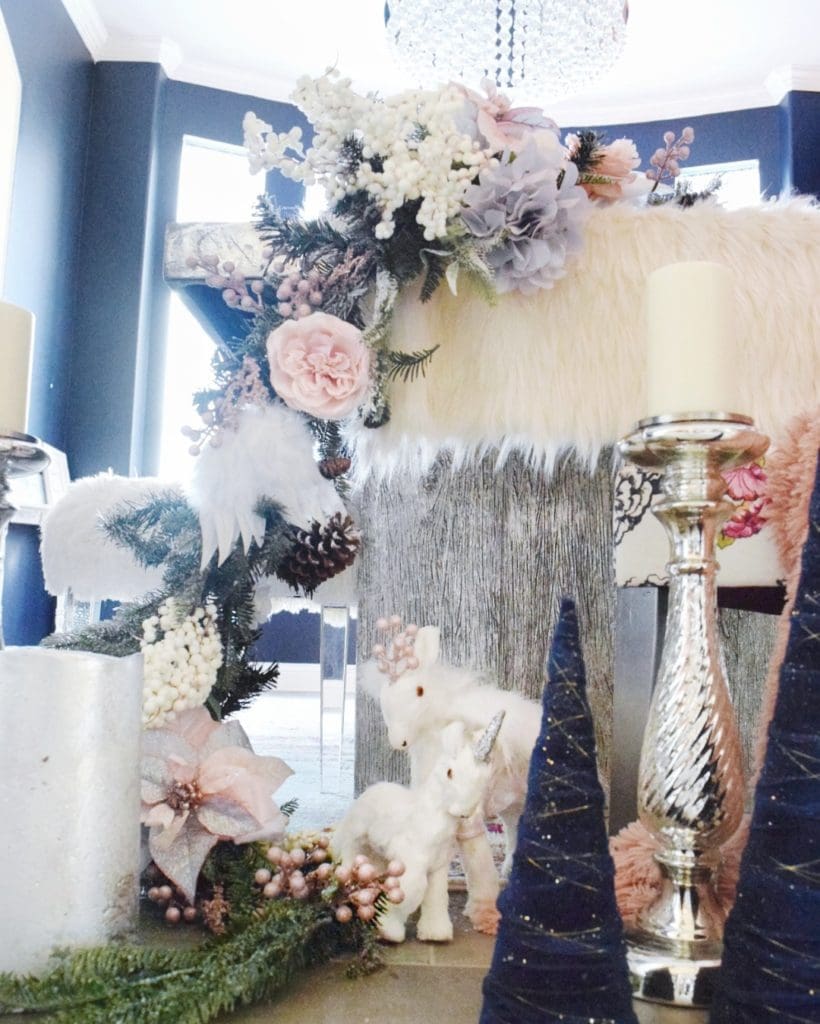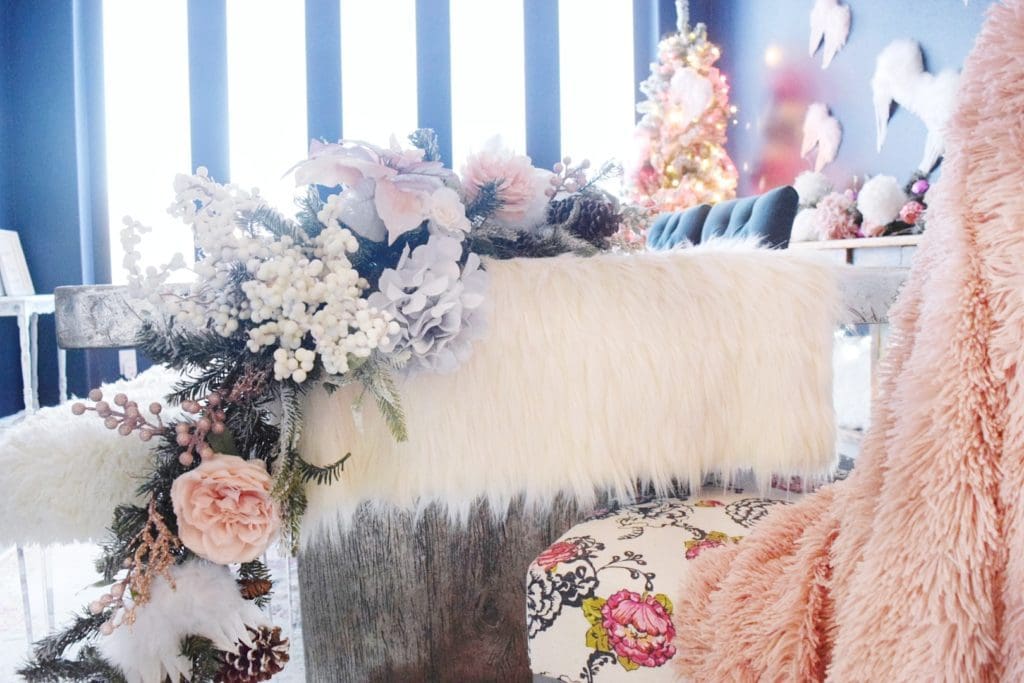 pine garland | frosted holly garland | frosted garden rose garland | pink berry stem |
white berry stem | soft blue hydrangea stem
If you want to create a full and lush Christmas garland the key is adding layers! Whether creating garlands for the mantle, stair railings, or on a table, it helps to add a few base layers before adding in your extras (floral stems, ribbons, angel wings, etc)
I started with one layer of pine garland, then added in a frosted holly garland, and my last layer was the frosted garden rose garland. As you can see from the side by side collage, adding in each layer gave my garland more depth and dimension. When you are layering your garlands, you wanted to intertwine the pieces as much as possible, so it eventually looks like one piece of garland. I do this simply by wrapping branches around each other and fluffing the stems to cover any open spacing.
After you create your layers, you can add in the fun extras! I love these glitter pink poinsettia stems, pink berry stems, soft blue hydrangea stems, and feather angel wings for my pastel whimsical theme.
DIY CHRISTMAS SONG LYRIC TABLE RUNNER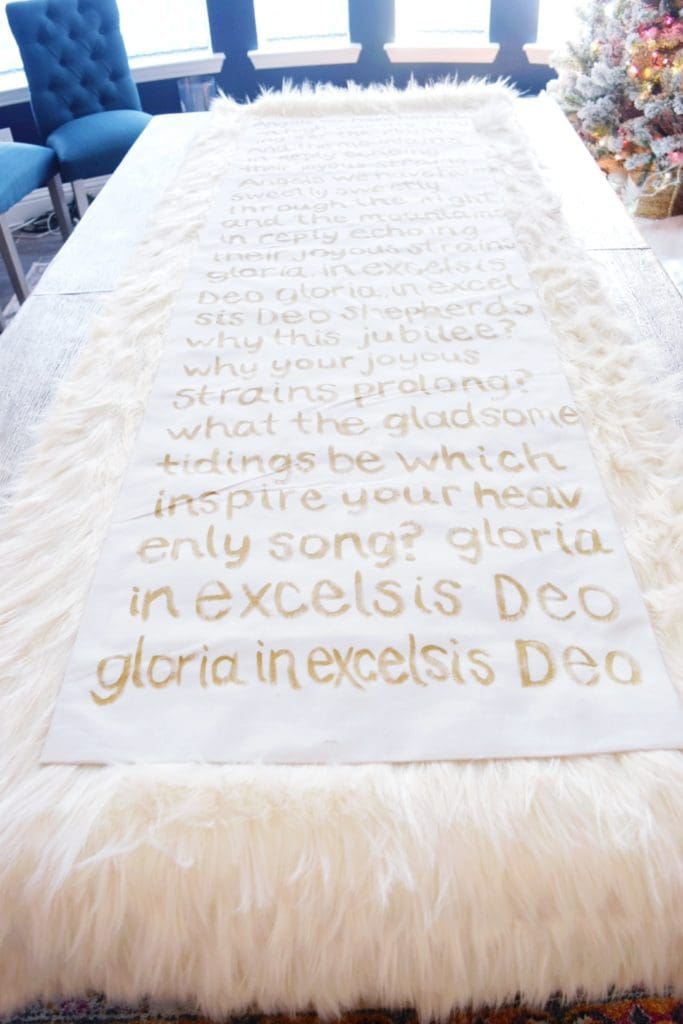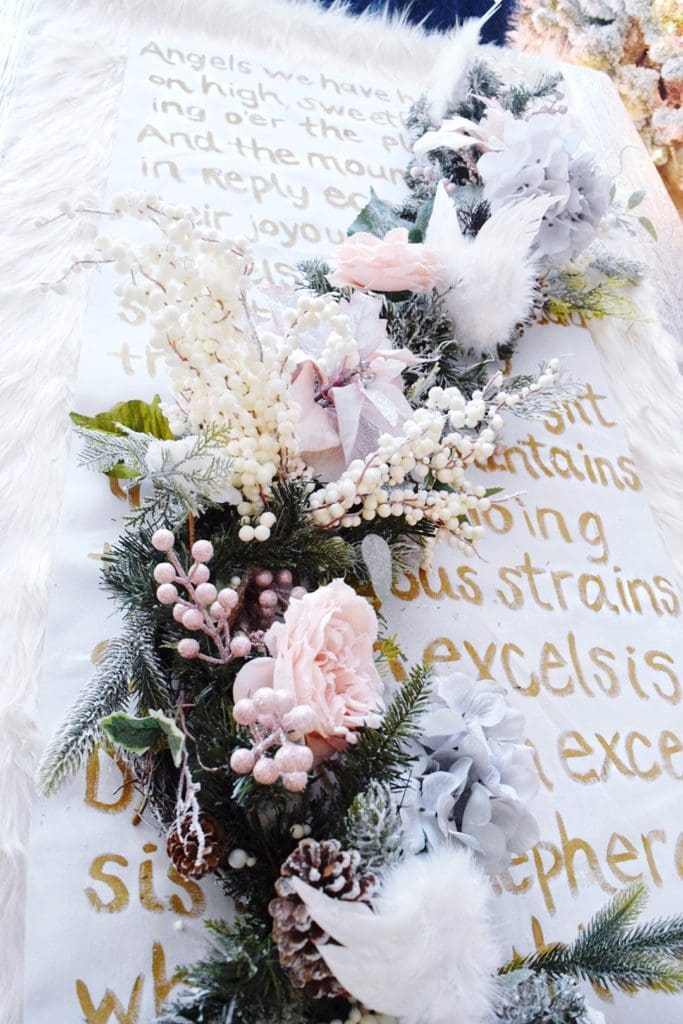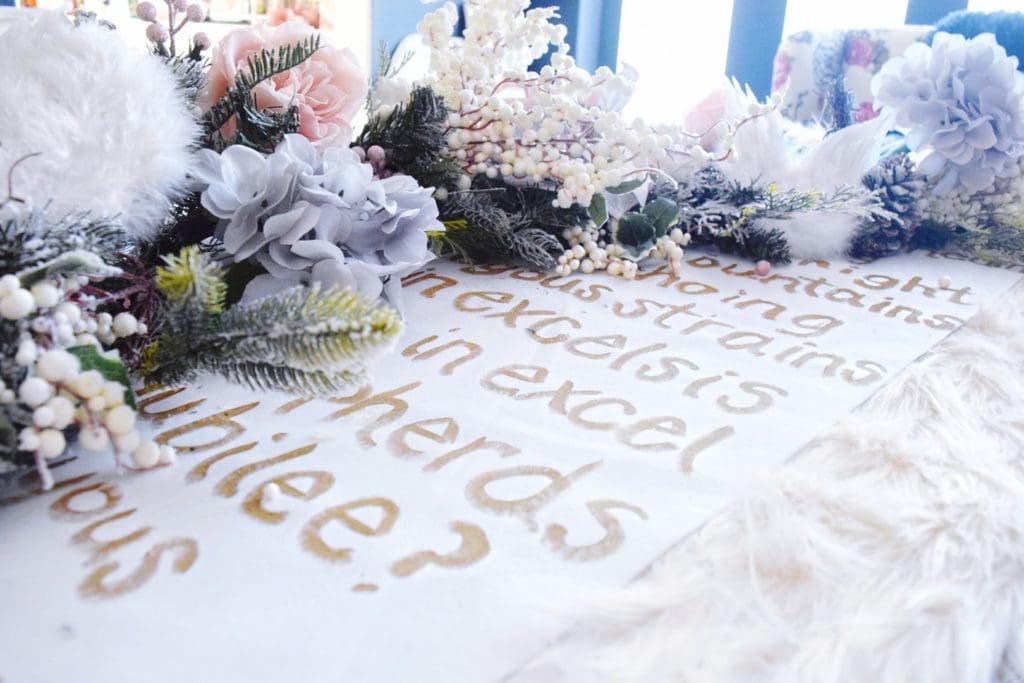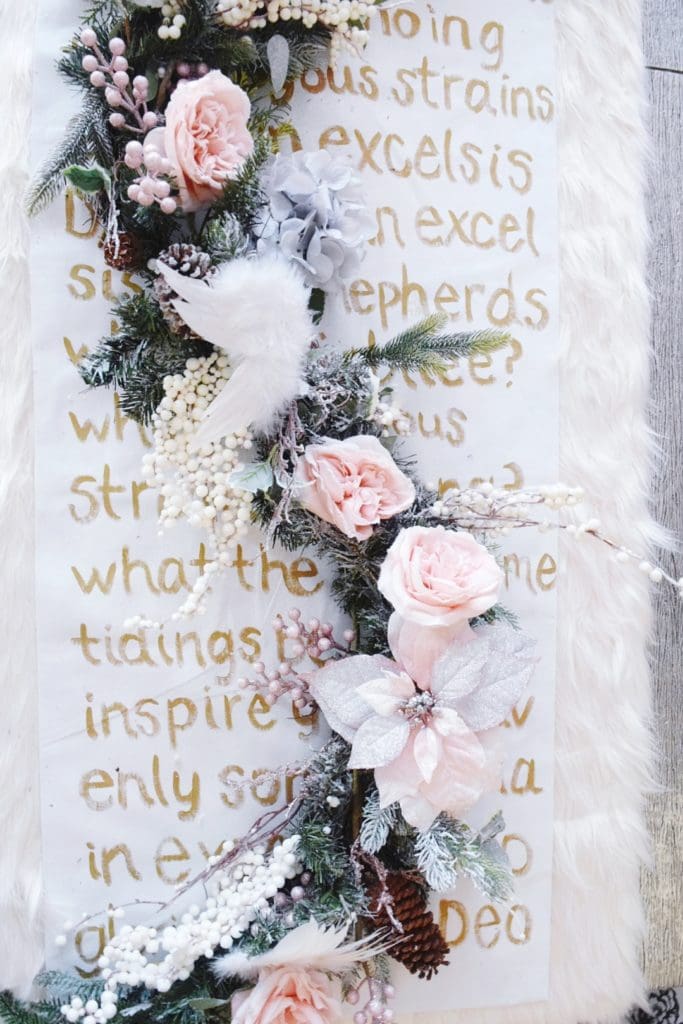 white duck canvas fabric | gold acrylic paint | faux fur fabric
Because of the angelic theme I was going for, I thought it would be fun to add in a Christmas song about angels, and my favorite is "Angels We Have Heard On High". Adding in this layer on the Christmas tablescape creates a charming touch to the table and adds another creative texture.
At first, I was just going to have the duck canvas fabric as the only layer on the table. I purchased this faux fur fabric for another DIY project I'm working on, and it seemed so fitting to add in as another layer to the table. I'm still deciding if I'm going to keep in on the table or use it for the intended project, but for now I love the way it looks here and the soft plush look it brings!
I have my full DIY tutorial on how to create this easy no-sew Christmas song lyric table runner on the JOANN app. It has the step by step instructions with pictures to follow along to create your own table runner. It's super simple to make and I love the character it brings to our dining table. I'm not the best at free-hand writing and besides the words getting progressively bigger and the accidental repeated line of lyrics, I think I did pretty good for a beginner! Hand-written decor brings an added touch of charm, don't you think?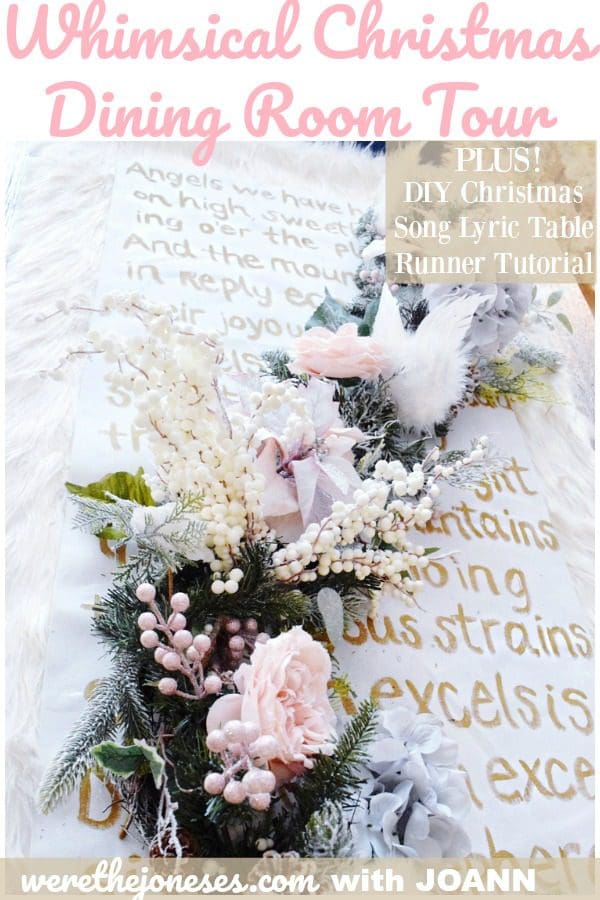 I was so happy with how my whimsical Christmas dining room tablescape turned out! I stepped a little out of my crafting comfort zone to create the table runner, and I'm so glad I did. I also love the lush whimsical garland cascading to the floor meeting the magical wintry unicorns. (Did yall catch the mama unicorn's horn? That was my 2 year old daughter's creation, I think it looks pretty cute!)
I hope I've inspired you to add a touch of whimsy to your Christmas decor this year! Let me know if you have any questions about making lush garlands or the DIY table runner tutorial, I'd love to help you out!
Happy whimsy Christmas decorating!