With all of our other major home design projects we've had lately, our master bathroom has been a little neglected in the decorating department. I decided to go shopping for some fresh and modern master bathroom decor to bring some coastal style to the space, without breaking the bank. Here are a few of my simple and afforable decorating tips on our Master Bathroom Refresh (On a Budget!)
Our master bedroom also received a makeover last winter, you might also be interested in our A Beautiful Tropical Romantic Master Bedroom Makeover post! And did you catch our lastest home renovation project? Our Modern Coastal Glam Kitchen Makeover is finally complete!
This post is sponsored by Home Centric. All opinons are my own.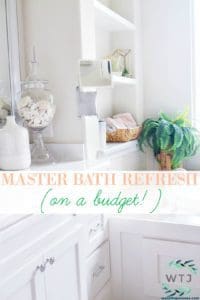 The master bathroom gets a much needed refresh! And boy, did this room need it… (scroll to bottom to see the before pictures, hopefully you don't think any less of me, ha!)
Our master bath has been a catch-all room for most of the time we've lived in our house. When our twin girls were babies, our master bedroom and bathroom housed all their baby items including bedding, swings, clothes, blankets, bath soaps, baby bath tubs, baby towels and the list goes on.
When we moved the girls upstairs to their own room and finally got all the baby items out of our bedroom, it felt so freeing to have our room back to normal and have more grown-up decor in this space. But even after our bedroom got a much needed makeover, baby and kid items lingered around in our bathroom and it never felt like we truly took control over this space.
I didn't want to make a huge dramatic change in the bathroom, as we have had a lot of major makeovers in other areas of our home lately. But I wanted to add a few budget-friendly decor items to freshen up the space and give it some modern style.
I decided to make a budget of $250 to spend on decorating our master bathroom. Here are a few tips and ideas to freshen up your master bath (on a budget!)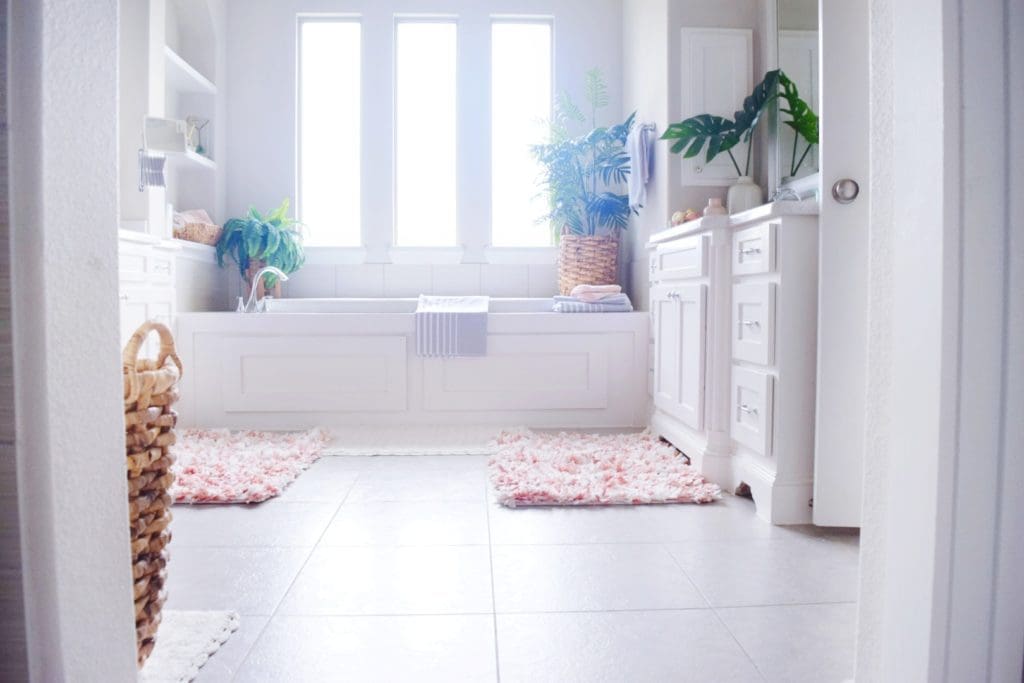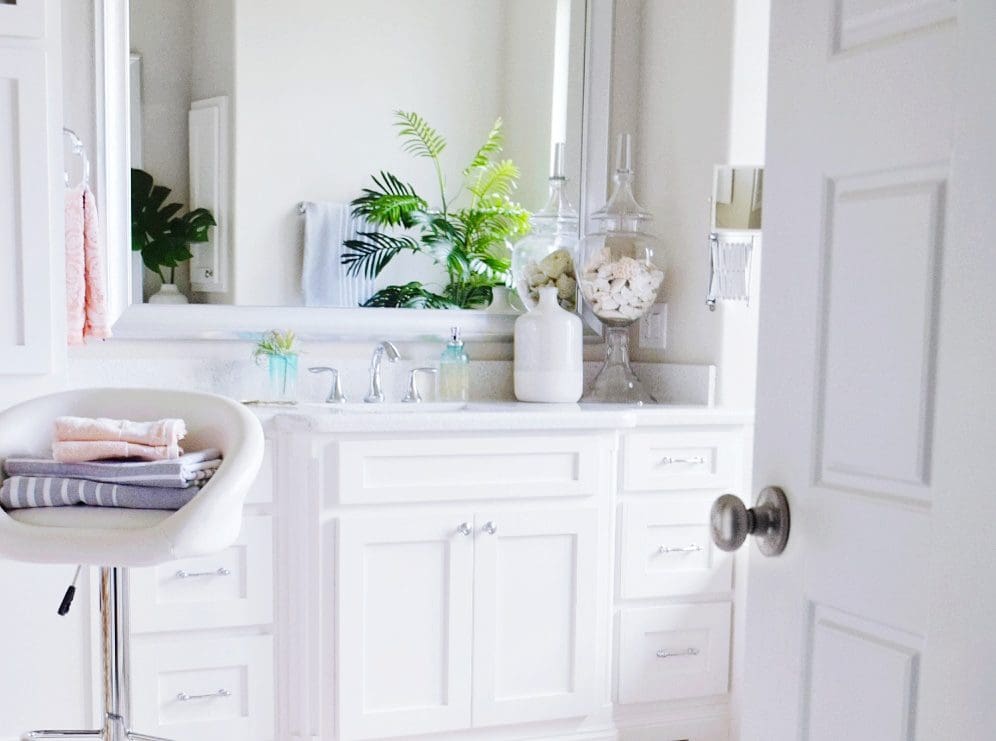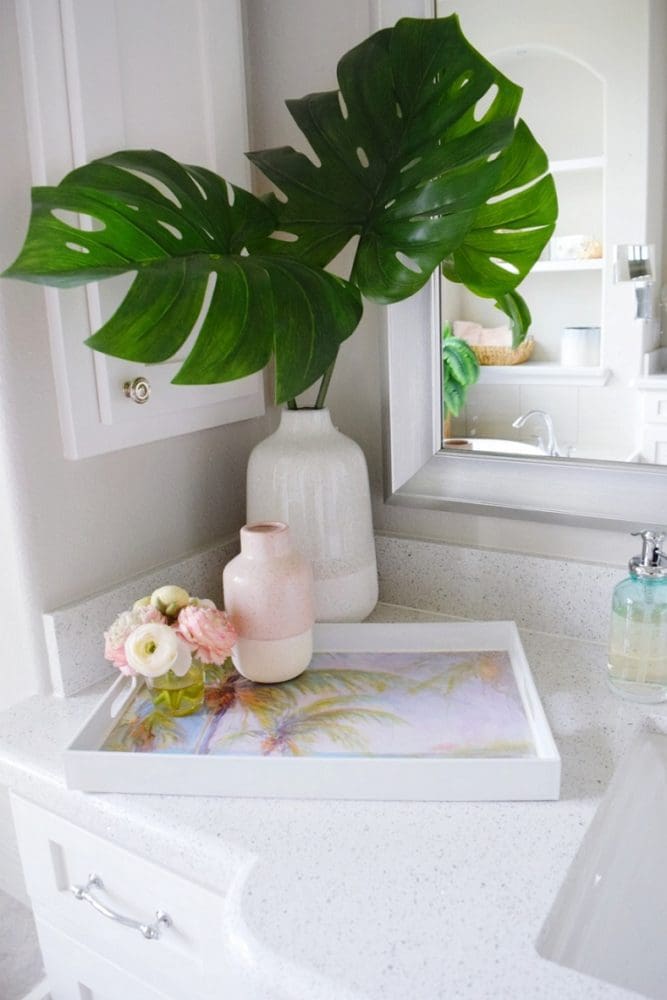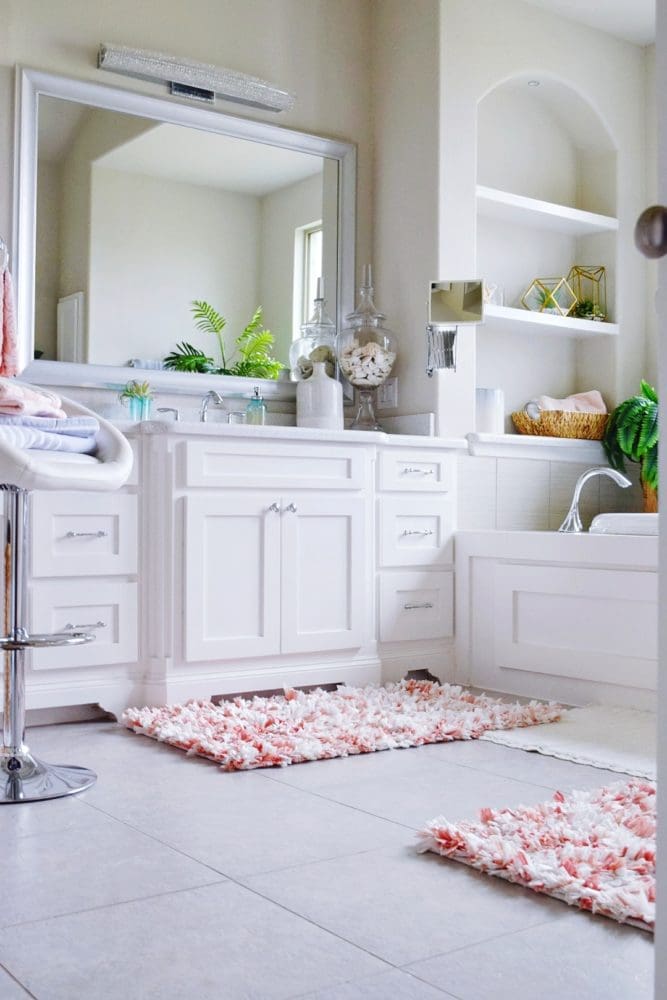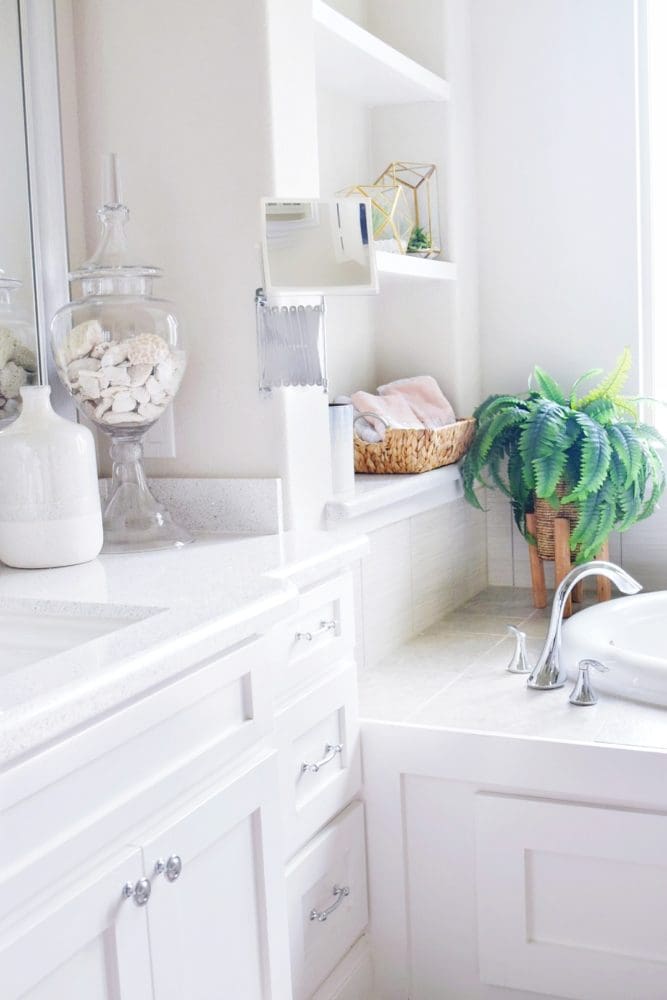 Simple Steps for Planning Out Master Bathroom Refresh:
Clearing off counters and organizing drawers
The first thing I knew I had to do before decorating was organize. I got in the habit of keeping all of my bathroom necessities on top of my counters, and it was a cluttered mess! I cleared out our drawers and cabinets first to make room for all of my toiletries. I made each of my countertop items have their own designated spot underneath the cabinets and in the bathroom drawers so they wouldn't clutter the counters anymore. I also took all the unnessessary kid items and put them in the upstairs bathroom. Once these items were removed, I could better evaluate the space to see what decor items to bring in.
Listing out ideas for afforable decor
Next, I listed out my top items to add fresh style to the bathroom. One decor item I knew would freshen up the space is plants! I love adding touches of greenery to all the areas of my home, especially in bathrooms it makes the room feel modern and bright.
I also wanted to add some soft shades of color and modern textures. The easiest and most affordable way to do this in a bathroom is with new towels and bath rugs.
Trays are another way to add stylish organization to a space. I wanted to bring in a few decorative trays to hold hand towels and decorative accents on the counters.
Lastly, I wanted to have a spot in the bathroom to hold our laundry and towels. Our kids take baths in our bathtub a lot (for some reason our bath tub is way more fun to take a bath in than their own!) Because of that, we end up with a LOT of laundry in this bathroom. I wanted to find stylish baskets to hold laundry that were modern and fresh and would go with the rest of the bathroom decor. If you're planning to do a bathroom remodeling, you can check out these tips!
Shopping for decor and staying within budget
Now that I had made a list of my decor wants and needs, I decided to take a shopping trip to my local Burkes Outlet, which has an affordable home decor section called Home Centric. The home decor items at Home Centric super affordable and are a fraction of the cost of department stores. I was pleasantly surprised at all of the modern decor items they had at inexpensive prices! You can catch my in-store shopping videos on my Instagram page, saved in my Highlights section.
I found these coastal chic laundry baskets and a smaller matching basket to hold a new plant. I added stylish soft-toned rugs and towels to give the bathroom a soothing spa feel. I found inexpensive modern vases and decorative trays for the countertops and few more plants to soften the space. I found all of the items on my list to add fresh style to our master bath, and was able to stay in my budget.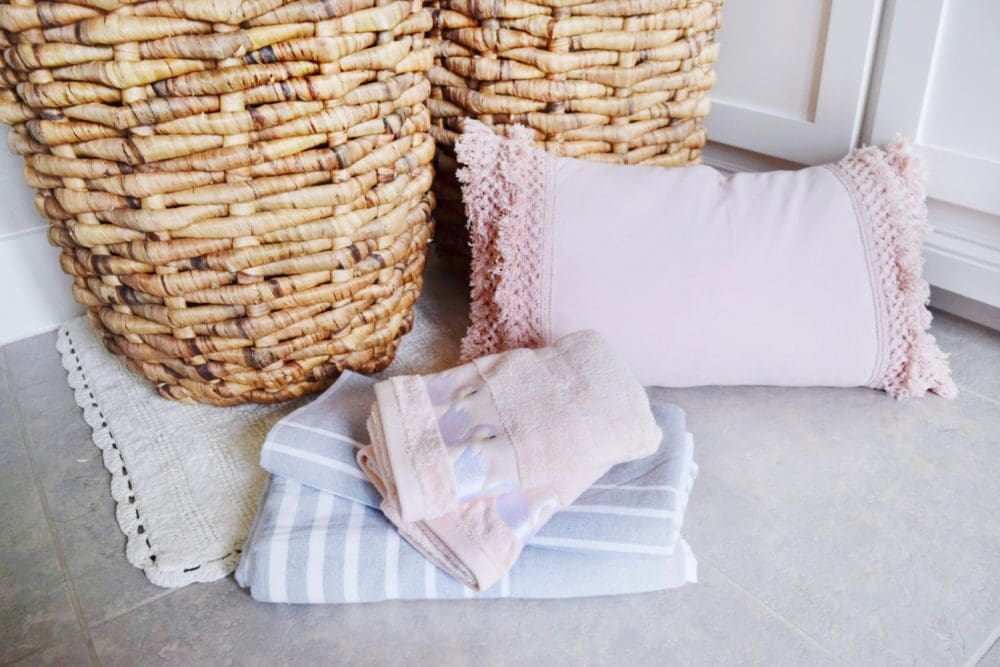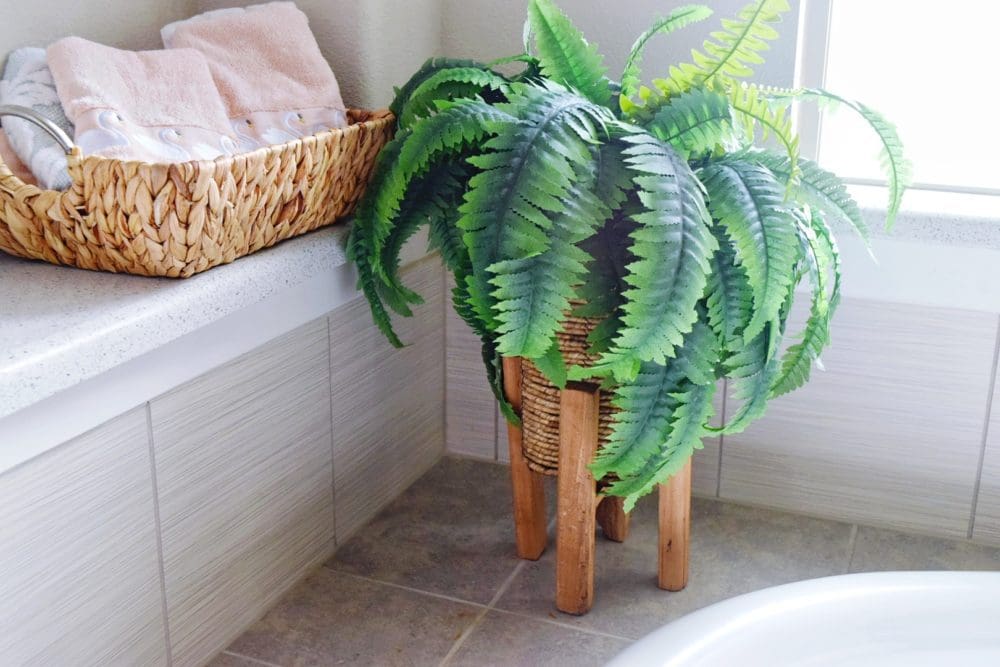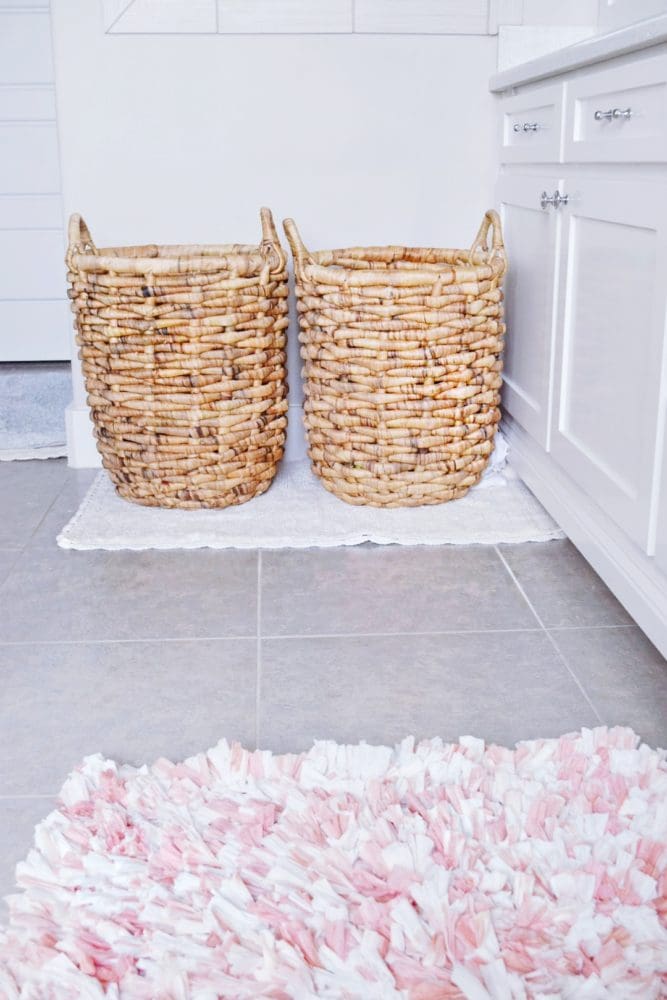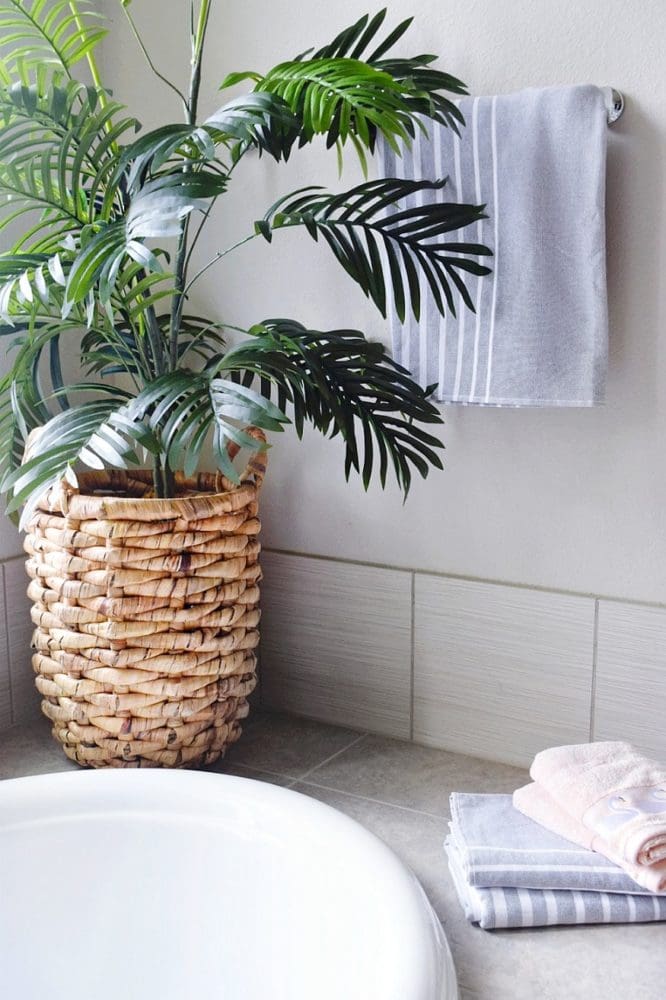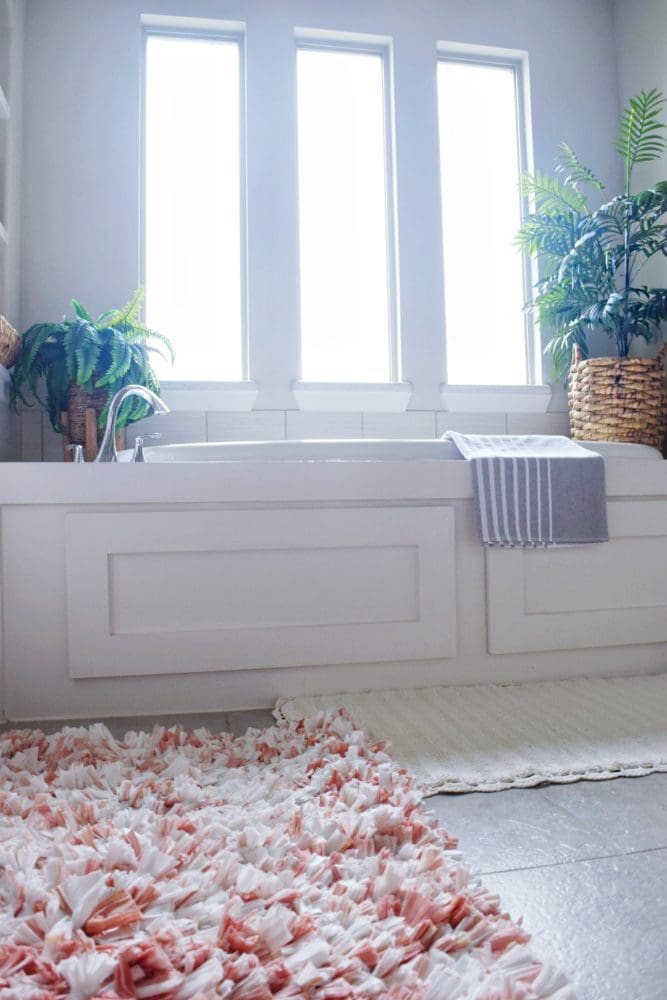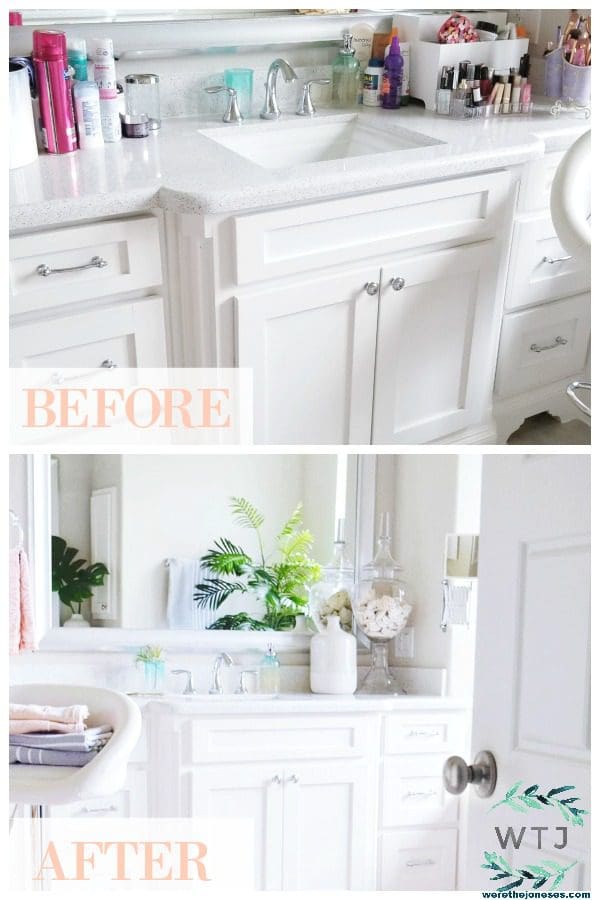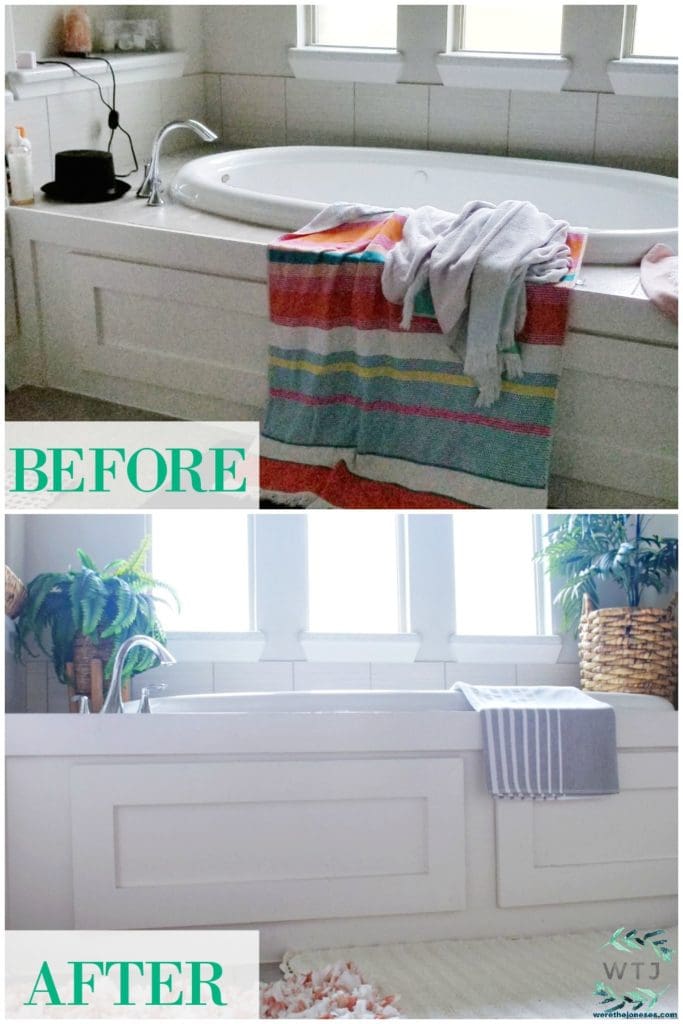 Are there any forgotten spaces in your home you want to refresh?
I hope I've inspired you with our master bath refresh to see that a few stylish and affordable decor changes can make a huge difference!
Happy refresh decorating (on a budget!)