I'm sharing 10 Instant Pot Thanksgiving Recipes That Your Family Will Love! Learn how to use your instant pot for Thanksgiving, cooking your favorite holiday recipes. From moist and delicious Thanksgiving turkey, easy Thanksgiving side dishes, and delectable Thanksgiving desserts, I've collected time saving recipes to make this holiday season.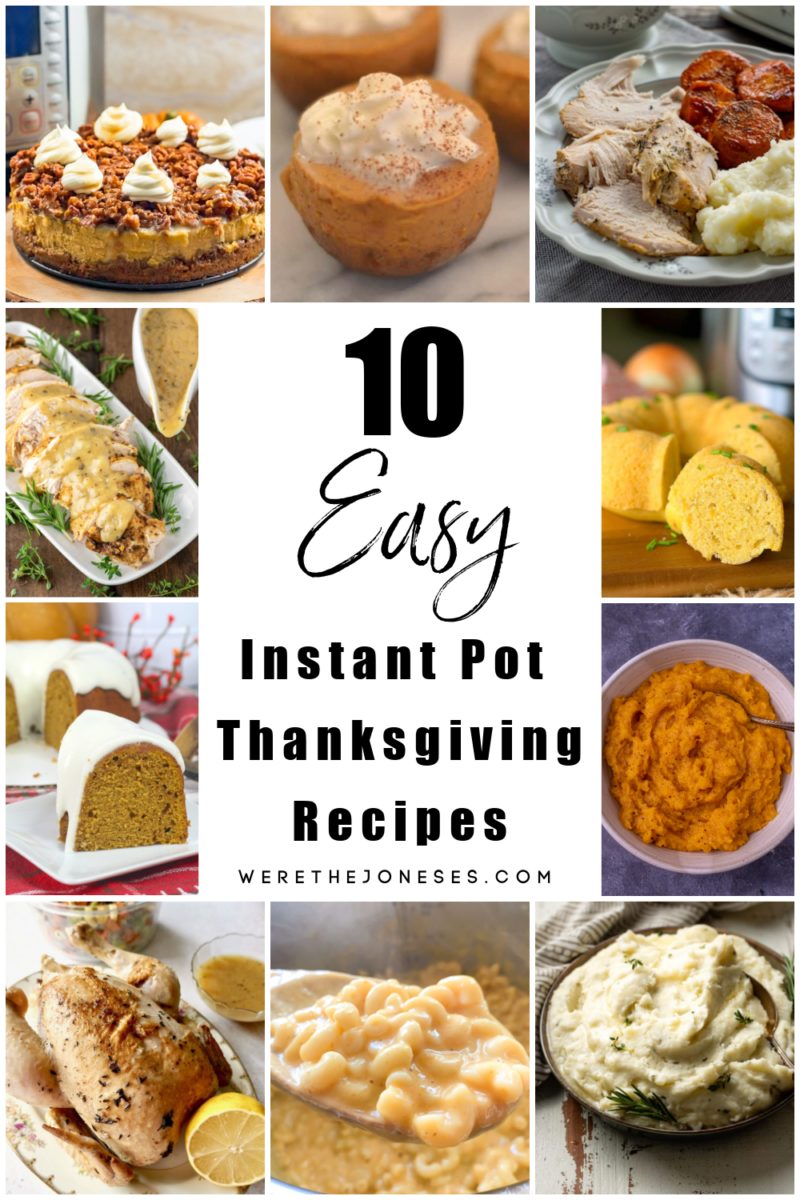 10 Instant Pot Thanksgiving Recipe Favorites
10 Thanksgiving Recipes to Make in Your Instant Pot
Instant Pot Thanksgiving Recipes That Your Family Will Love! From moist and delicious Thanksgiving turkey, easy Thanksgiving side dishes, and delectable Thanksgiving desserts, here are 10 time-saving recipes to make this holiday season.
Photo Credit: www.chiselandfork.com
If you want a juicy turkey that's loaded with flavors in under an hour, this Instant Pot turkey breast will make people think you spent hours cooking it.
Photo Credit: www.sonshinekitchen.com
Make holiday meals easier this year with Instant Pot Turkey. It's quick, simple, and doesn't take up needed space in the oven.
Instant Pot Pumpkin Mac and Cheese is an easy one pot recipe ready in 10 minutes or less! Creamy and delicious, this pumpkin pasta is an easy Thanksgiving side dish or add cubed ham or ground beef for a quick and simple weeknight meal.
Photo Credit: www.nourish-and-fete.com
The fluffiest, creamiest, and most buttery mashed potatoes are yours, with no need to babysit a pot of boiling water, and an easy way to keep them warm until you're ready to serve. Instant Pot mashed potatoes change the game and make this classic side dish so easy to make from scratch!
Photo Credit: www.tastingpage.com
Fire up your pressure cooker for this easy Instant Pot whole chicken and gravy recipe. It's a gluten free, dairy free, paleo recipe and the gravy skips the tomatoes for an AIP friendly meal.
Photo Credit: smackofflavor.com
Pressure Cooker Mashed Butternut Squash is an easy make ahead vegetarian side dish using seasonal fall and winter produce. This simple side dish goes great with pork tenderloin, turkey or any other rich protein.
Photo Credit: temeculablogs.com
This pressure cooker cornbread is the perfect side dish for any holiday and perfect served with chili! An easy homemade cornbread recipe cooked right in your Instant Pot and comes out so moist and pretty using this bundt pan. Add some chiles and even jalapenos and enjoy your favorite bread in no time at all.
Photo Credit: instantpoteats.com
When it comes to seasonal fall and winter recipes, you can't go past a good pumpkin or pecan dessert, and with this Instant Pot pumpkin cheesecake with pecan crust and topping, we're combining both! With creamy, decadent pumpkin filling with caramelised butter pecan topping, this cheesecake is absolutely to die for and would be perfect for Thanksgiving, Christmas, Halloween or any other festive occasion.
Photo Credit: sweetaddictbakery.com
Pressure cooker favorite! Simple recipe that only takes a few minutes to whip up, place in the the cooker and viola! Dessert is ready in no time! Enjoy!
Photo Credit: www.sparklestosprinkles.com
Serve up these Instant Pot pumpkin pie bites this holiday season! These bite-size pumpkin pies are an absolute delight. Graham cracker crust with tender pumpkin pie flavor that melts in your mouth. Grab your Instant Pot and egg bite molds and let's get to cooking.
Photo Credit: www.sparklestosprinkles.com
BONUS RECIPE! Looking for that perfect drink to serve up this holiday season? Or maybe a gift for that person who has everything? This Instant Pot apple pie moonshine will warm you up from the inside out, with a nice smooth flavor of apple pie. This sweet and boozed up apple pie moonshine will be the talk of any party or holiday gathering you take part in this fall.
Easy Instant Pot Thanksgiving Recipes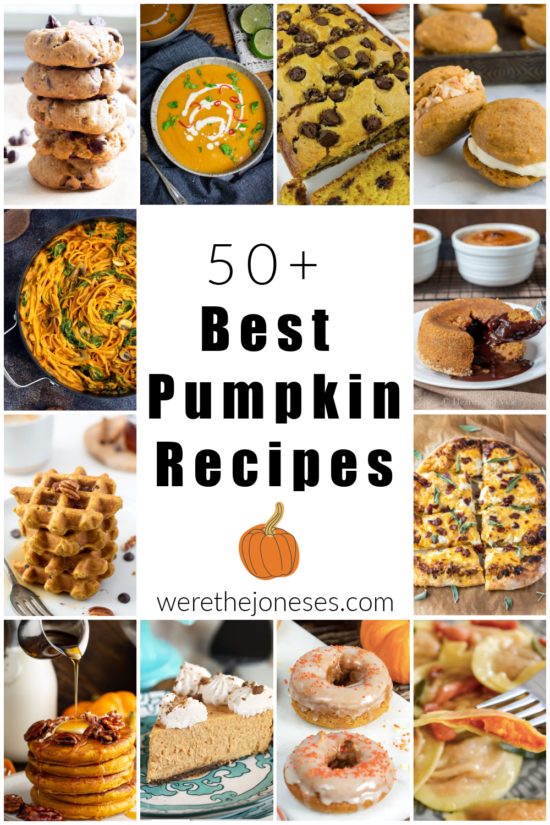 Frequently Asked Questions about Instant Pot and Thanksgiving Recipes:
Are Most Instant Pot Recipes for 6 Quart?
From the Instant Pot website: There are only two things you need to remember to use any recipe you want in any Instant Pot. Most recipes you'll find for the Instant Pot are designed for a 6 Quart cooker. The amount of liquid suggested in the recipe is the right amount to bring a 6 Quart up to pressure and properly cook the dish.
What Kind of Things Can You Make in an Instant Pot?
I am still amazed at all the recipes you can make in the Instant Pot! Pies, cakes, soups, meats, side dishes, drinks, and so much more! I like to create a Pinterest folder and save all my favorite Instant Pot recipes. Also, here is an Instant Pot cookbook that has tons of easy recipes to make in your pressure cooker.
What Can I Make in Advance for Thanksgiving?
My go-to make ahead dishes for Thanksgiving are side dishes and desserts. Measure out all ingredients and put in containers in the refrigerator. Or you can mix everything ready to go in the casserole dish, and it's ready to put in the oven or Instant Pot on Thanksgiving Day.
What do you plan on making in your Instant Pot for Thanksgiving? I'll be making my Pumpkin Macaroni and Cheese!
I hope you found a few recipes to make in your pressure cooker for your Thanksgiving or holiday meal this season. Cooking in the Instant Pot is a great way to open up space in your oven, or to cook a quick and delicious Thanksgiving dinner!


Holiday Recipes You Will Love:
Winter Wassail Christmas Cocktail Recipe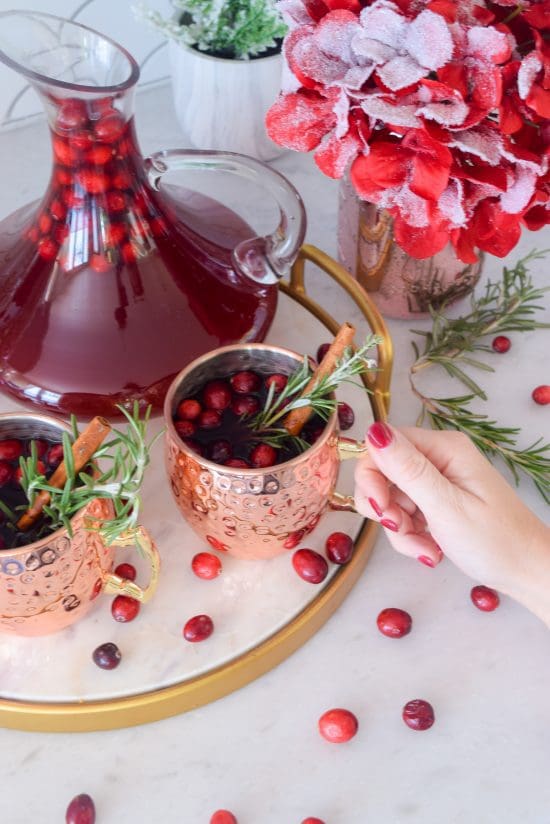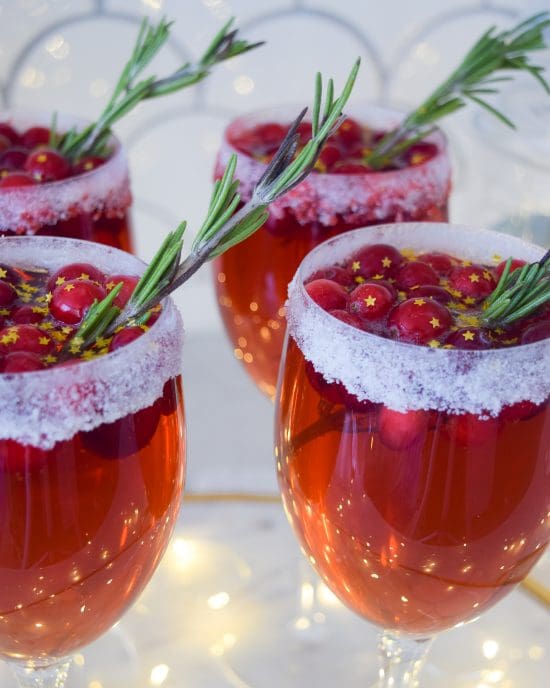 Fresh Cranberry Salsa | 5 Minute Holiday Appetizer Recipe