Fall table decor ideas in blue white and orange color palette. Inspiring Thanksgiving table and fall tablescapes ideas using blue white and copper orange pumpkins, blue and white chinoiserie vases and taper candlesticks, and rust orange gingham tablecloth. Decorate your own fall dining room in this classic autumn color combination.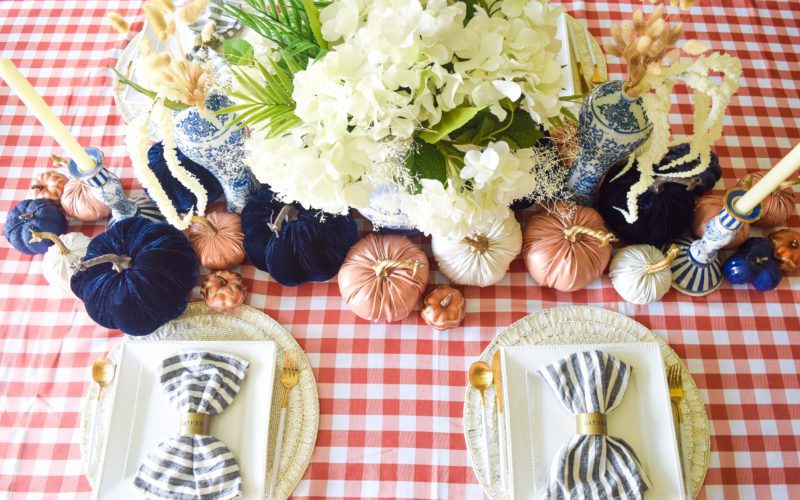 Fall Table Decor in Blue White and Orange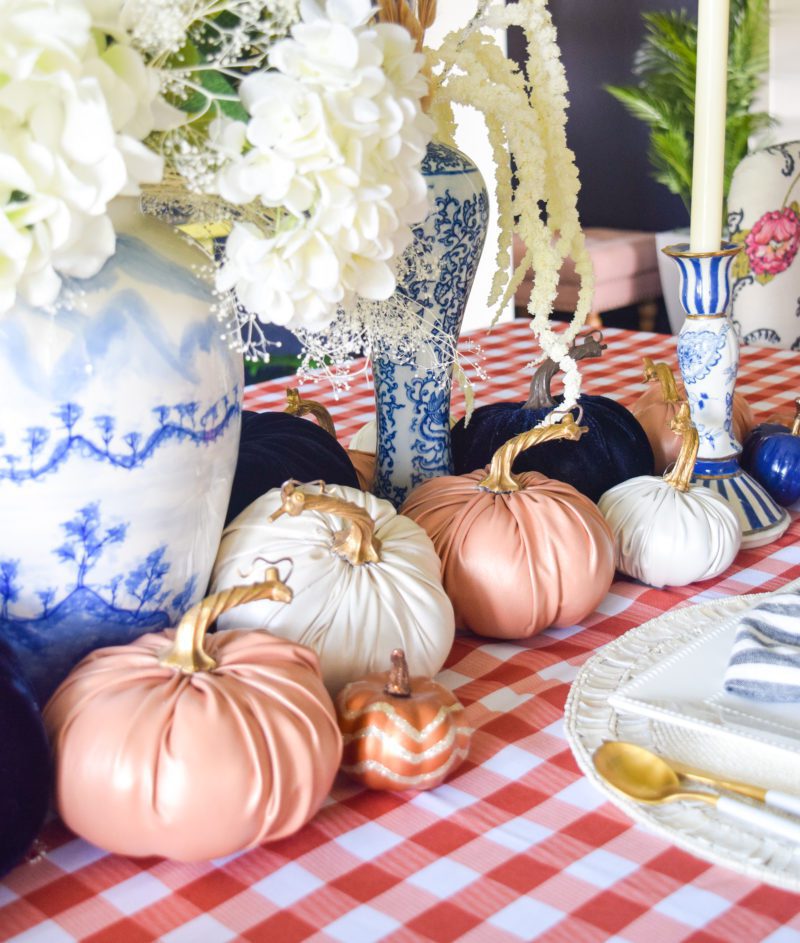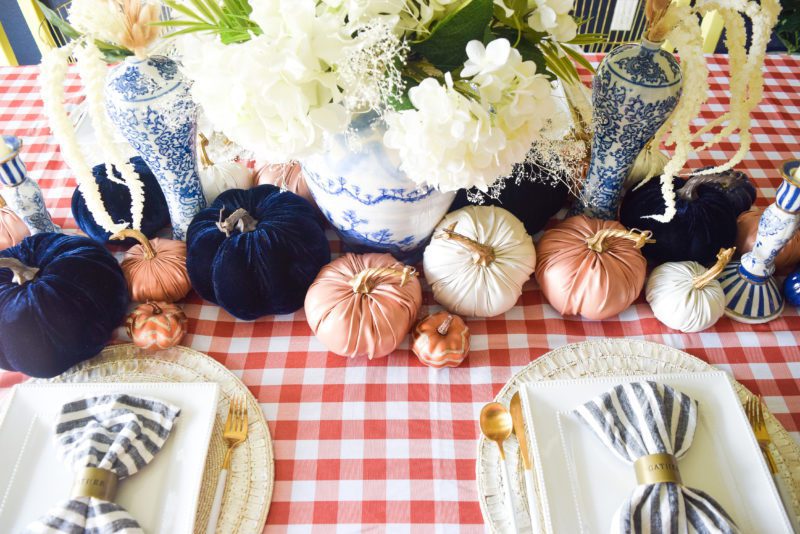 Two different fall dining room tablescapes in one year – What?!
I was having conflicting feelings over which way to decorate my fall table this year, so I decided to try both! Here is my blue and white fall table I shared last month.
I normally don't use much orange in my fall decorating, but I saw this rust orange gingham tablecloth and was instantly drawn to this color for fall. I accented my fall tablescapes with chinoiserie blue and white vases and candle holders for both fall table designs.
Which do you prefer?
I like to mix it up each year and try different colors combinations, depending on how I'm feeling. My design mood changes quite frequently, and unfortunately to my husband Bryan who has to put up with our overflowing attic of decor!
I love the warmth from the burnt orange and copper, mixed with the blues and navy color palette. It gives me all the cozy fall feelings!
Pumpkin centerpiece ideas for your holiday table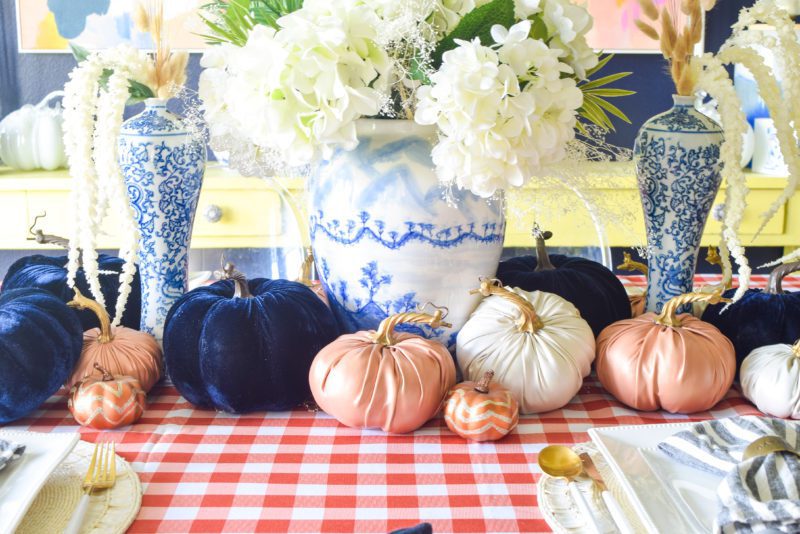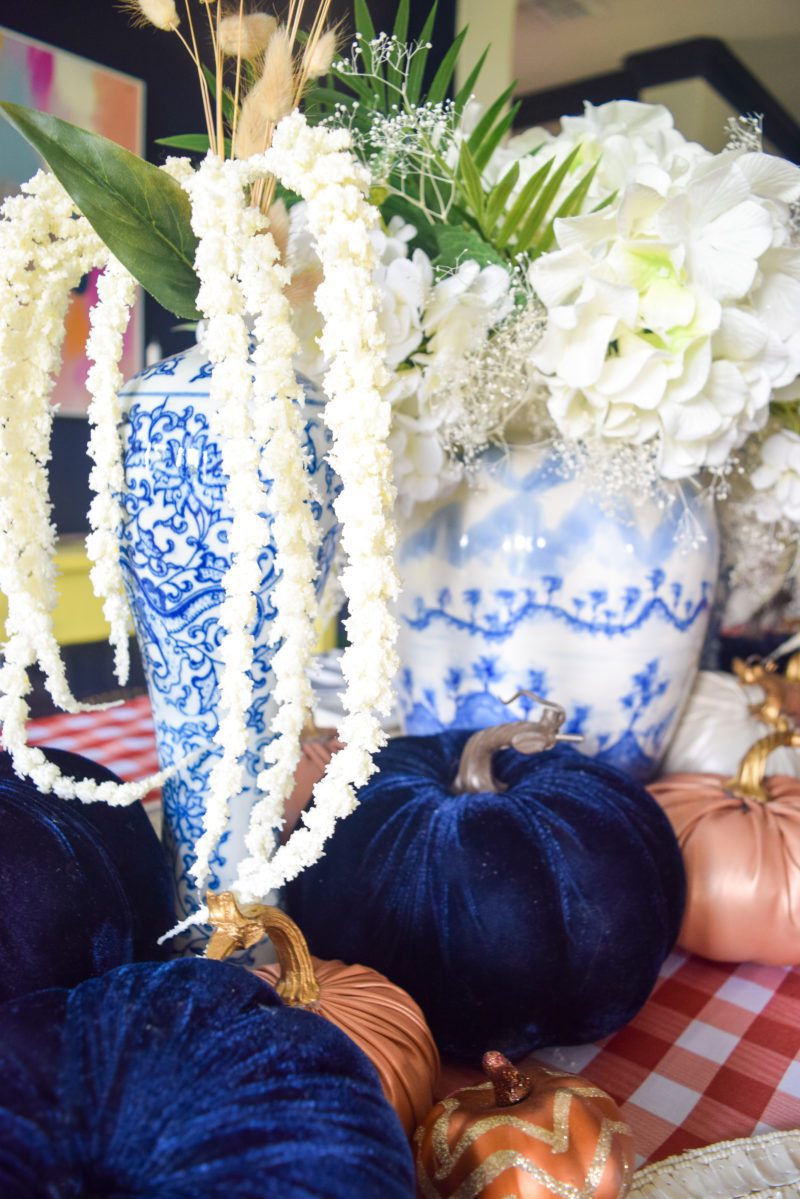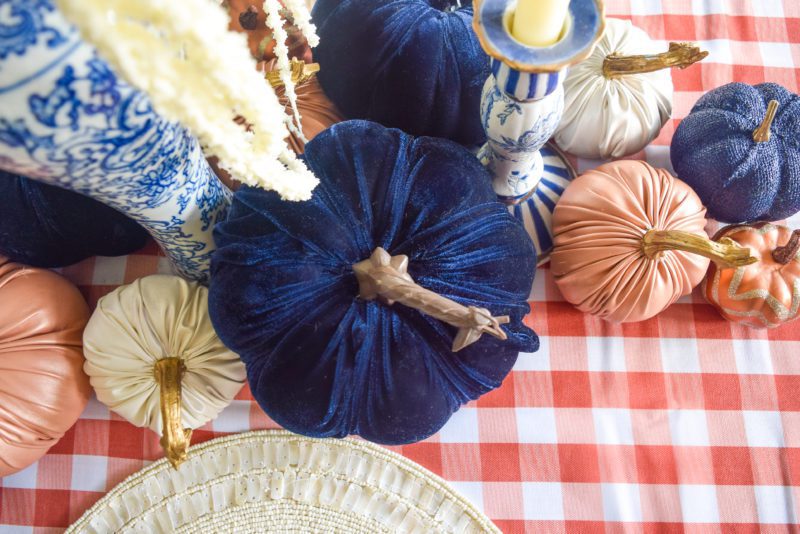 Thanksgiving table setting ideas
Here is my simple, tried-and-true 3 step method for decorating a SUPER easy Thanksgiving fall tablescape:
Fall themed tablecloth or table runner
Neutral place settings (placemats, flatware, dishes, napkins, napkin holders)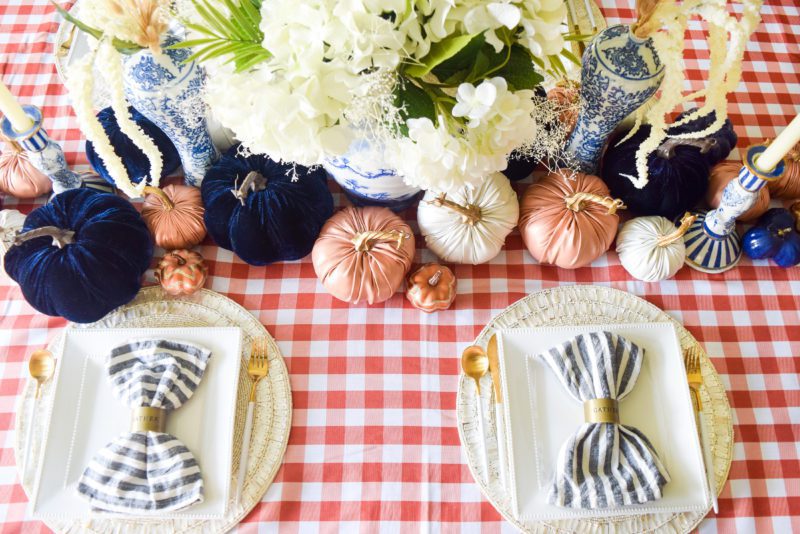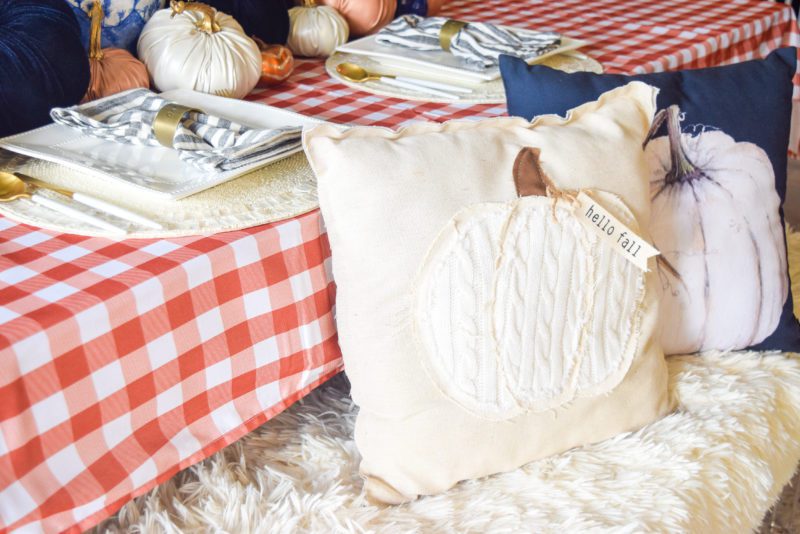 orange and white gingham tablecloth || orange and white gingham table runner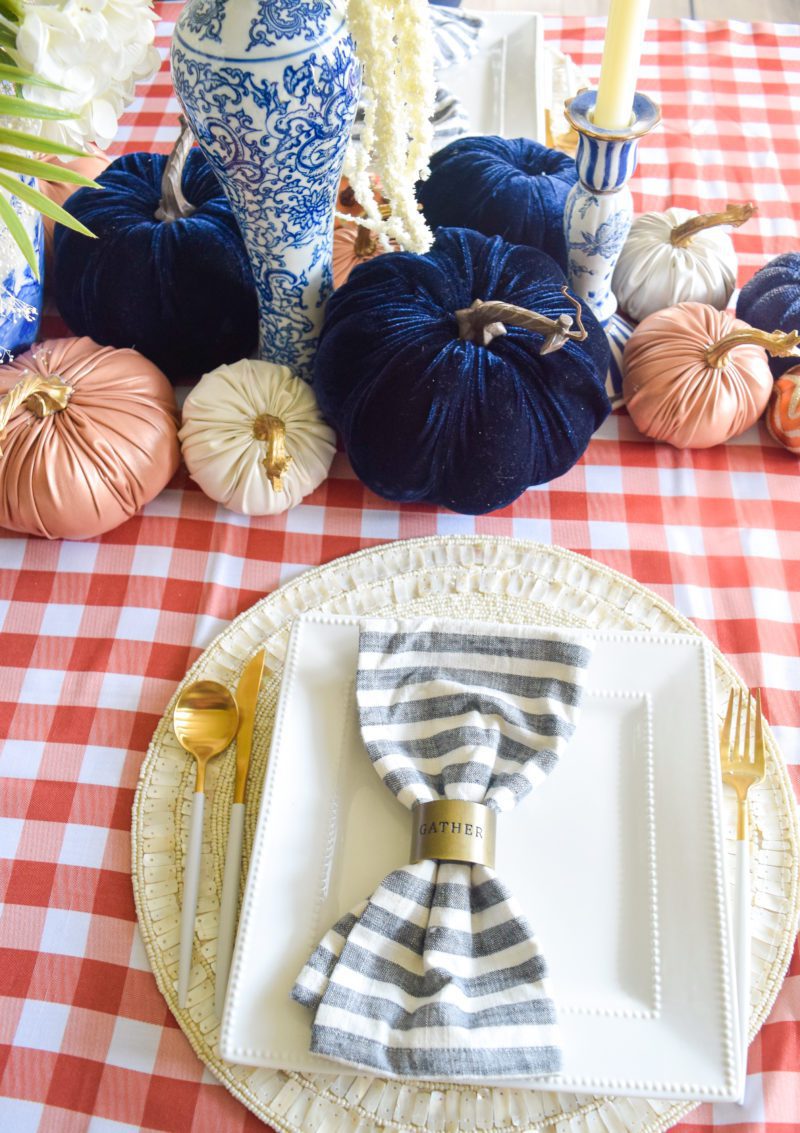 White square beaded plates || Gold and white dipped flatware || Ivory pearl beaded placemats || Linen stripe dinner napkins (similar) || Fall gather napkin rings (similar)
Chinoiserie vase (similar) || Chinoiserie candle holder || Fall floral stems || Velvet pumpkins (similar) || Copper orange pumpkins (similar)
Blue and Orange Fall Decor

What do yall think? Do you like the orange and blue fall color combination? Or prefer a more elegant blue and white tablescape?
It's fun to mix it up and bring out colors that I typically don't decorate with. Are there certain colors that you never chose for your home decor?
I dare you to branch out and buy something in a new color palette this holiday season! You never know until you try it 🙂
Happy fall decorating!!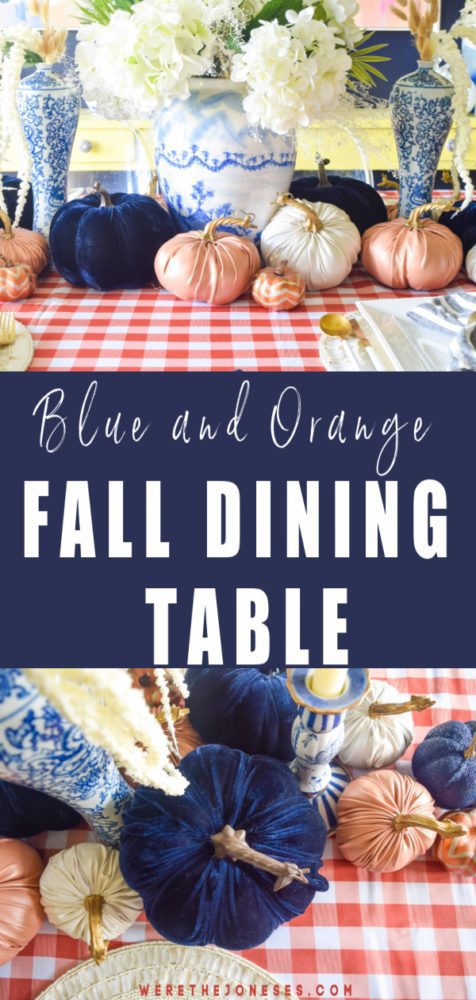 More Fall Decor Favorite from We're the Joneses:
Palm Beach Chic Fall Tablescape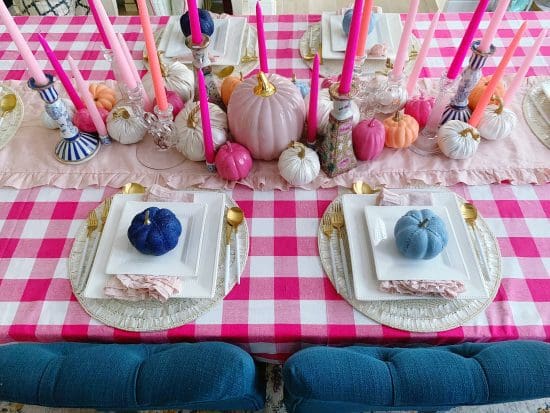 Blue and White Fall Dining Room Ideas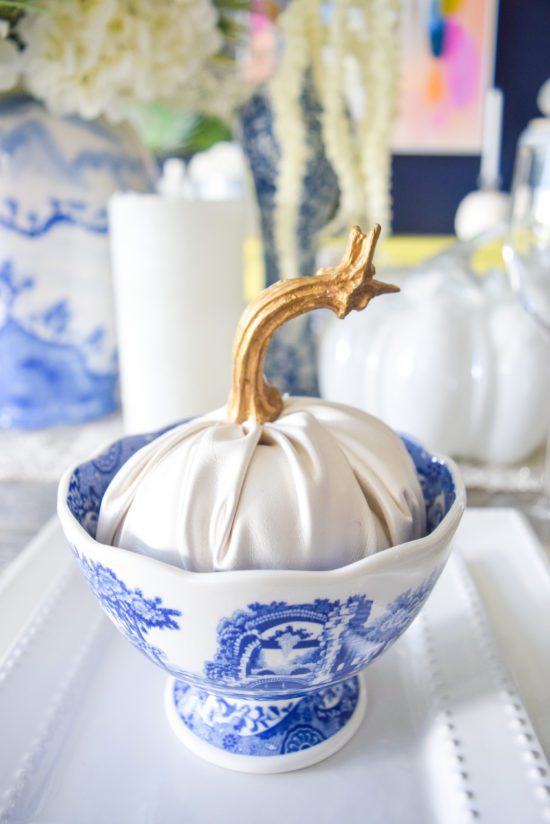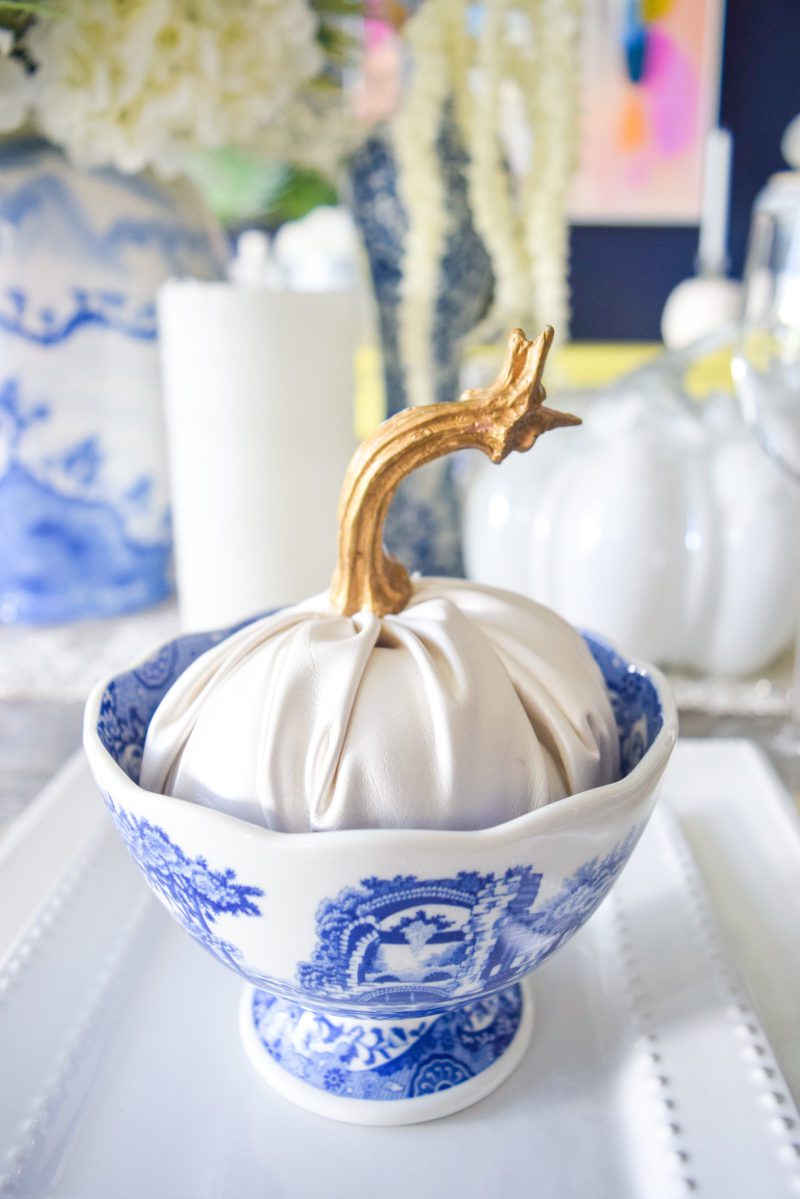 Ombre Painted Pumpkins DIY Tutorial