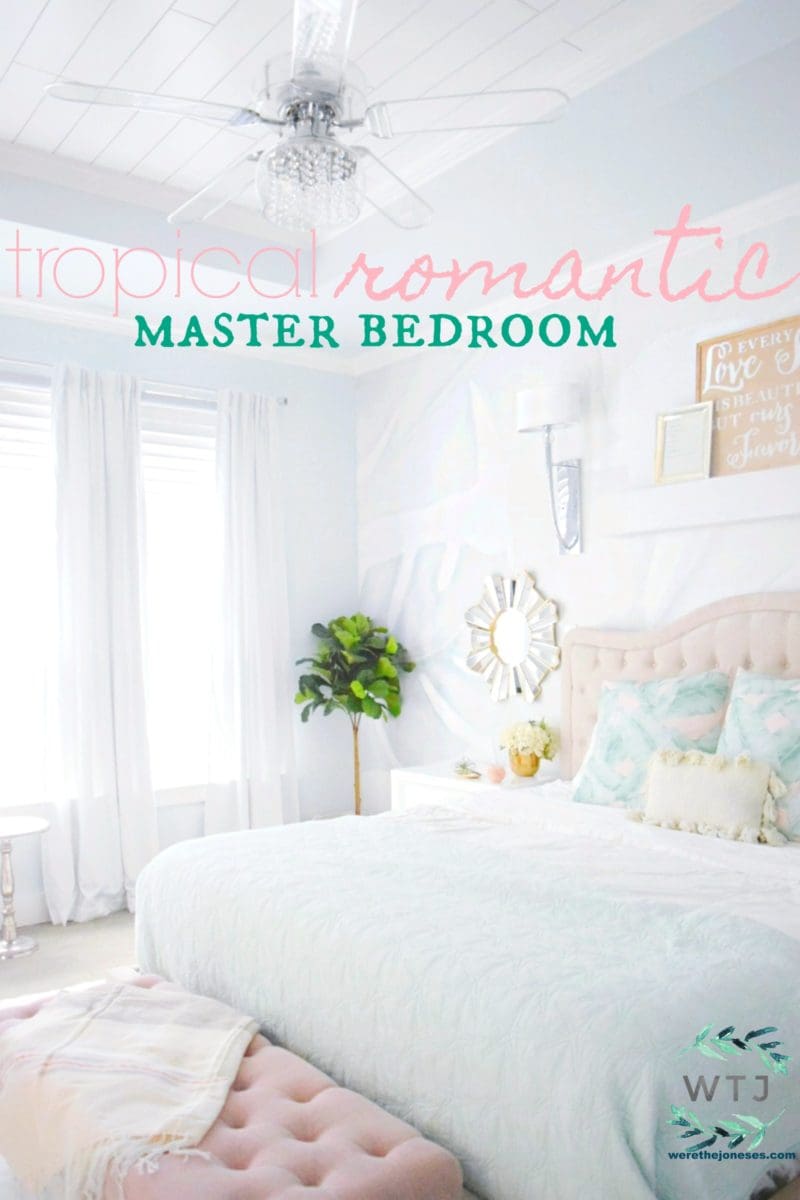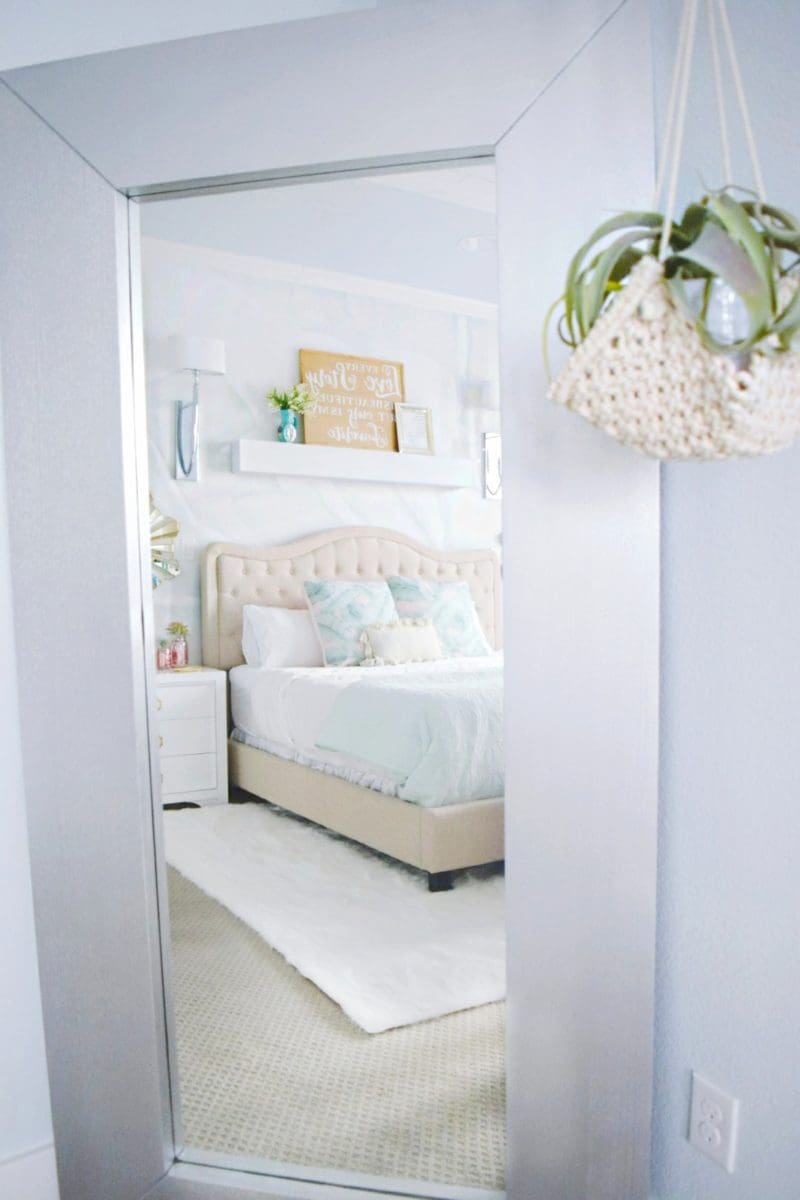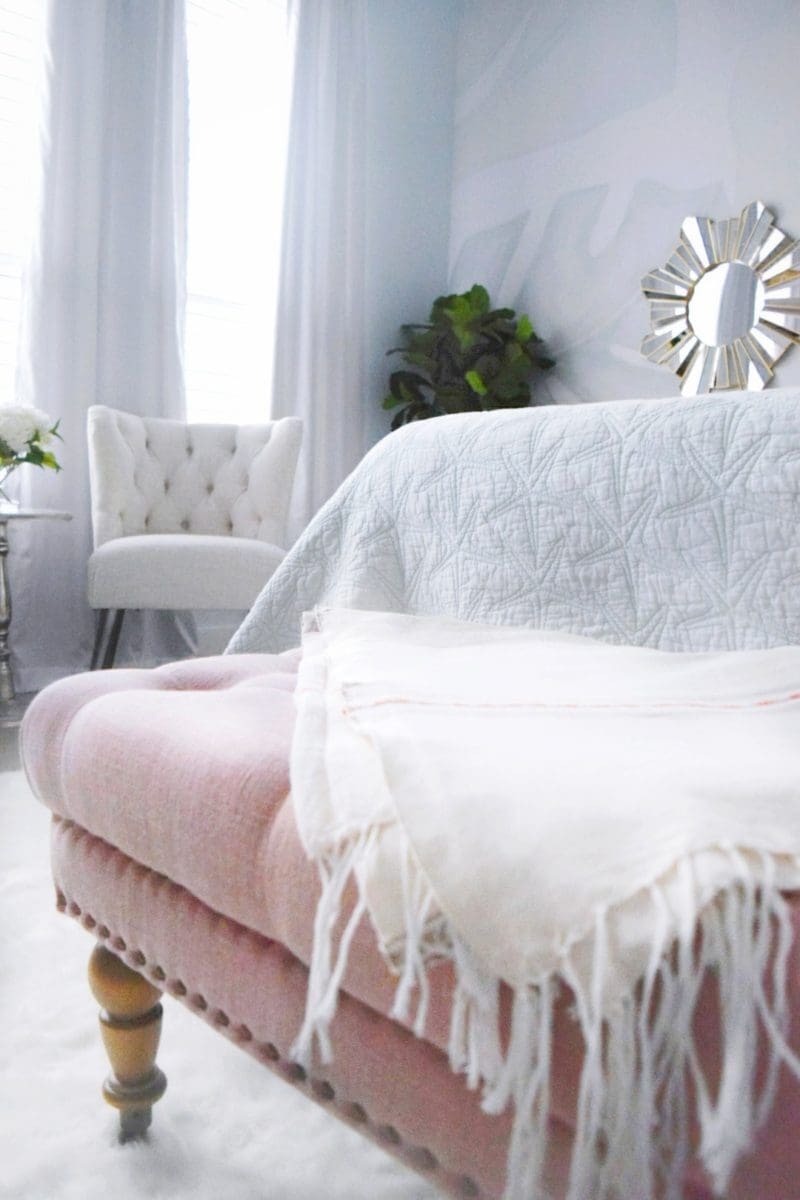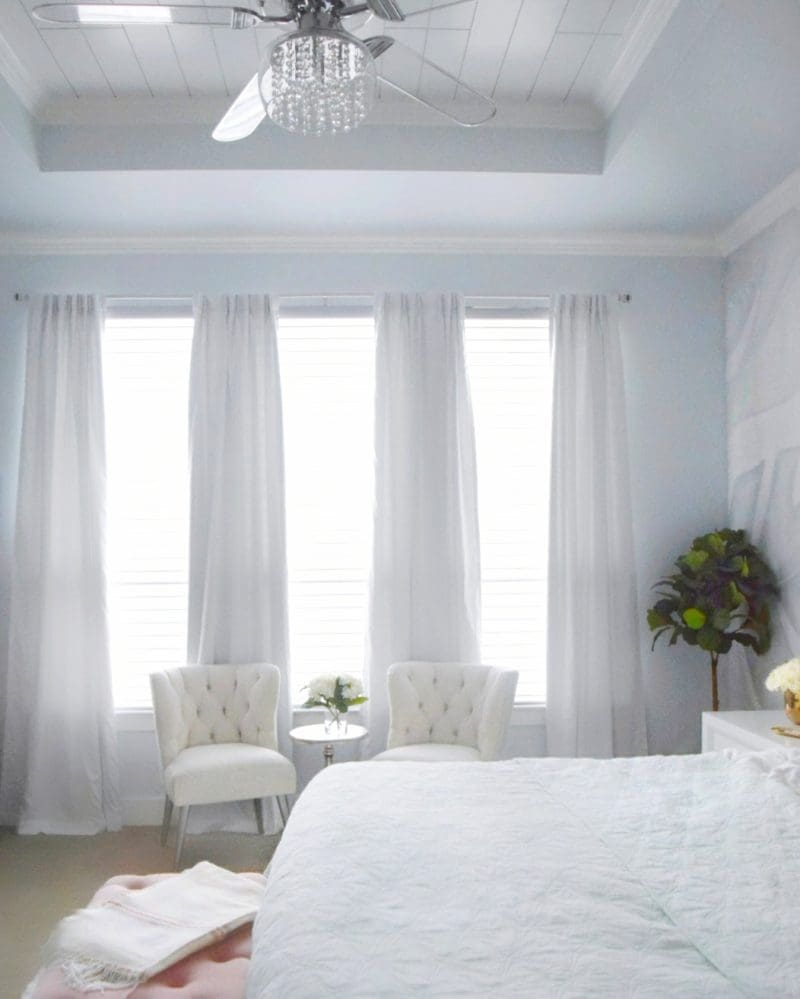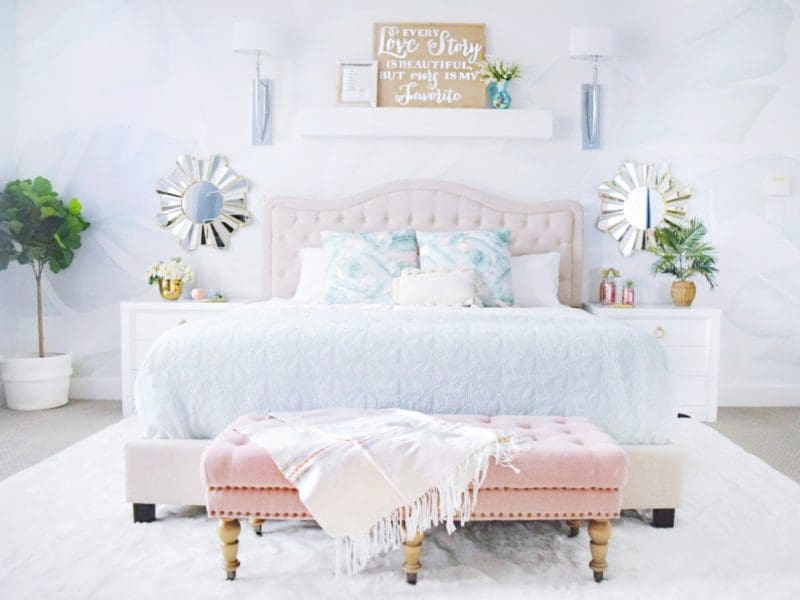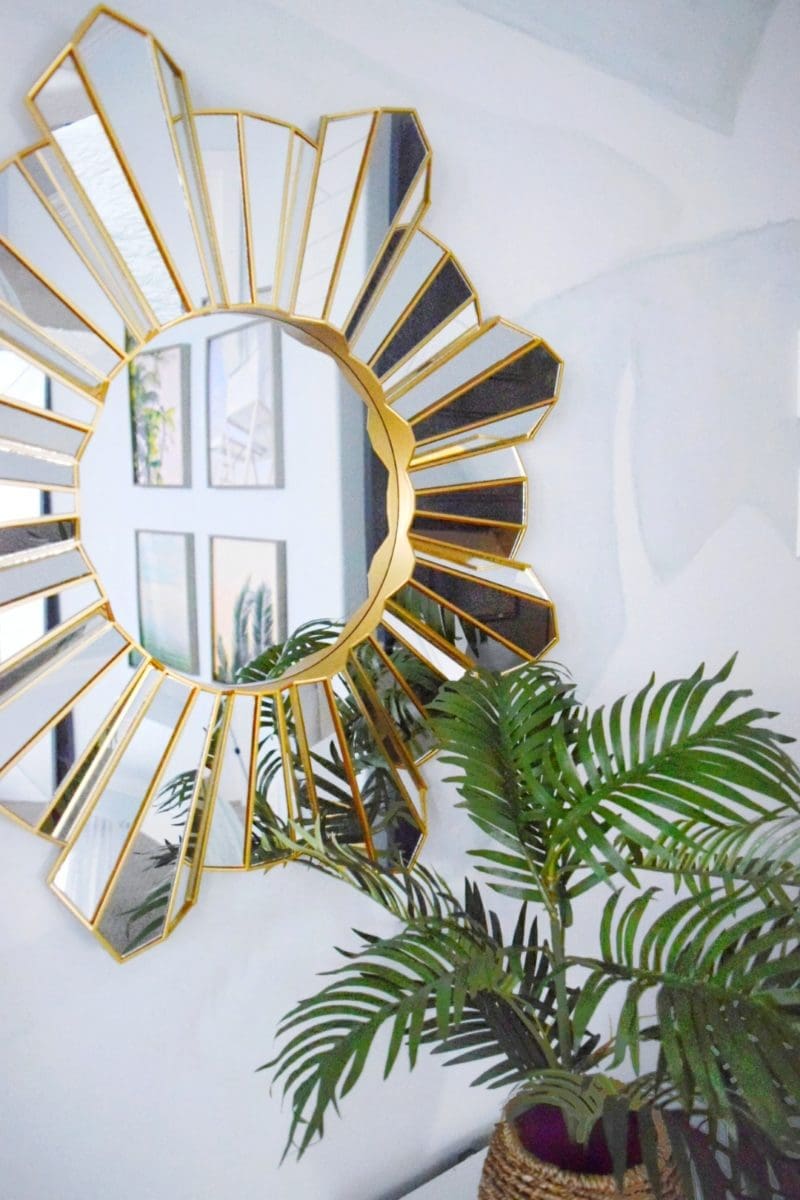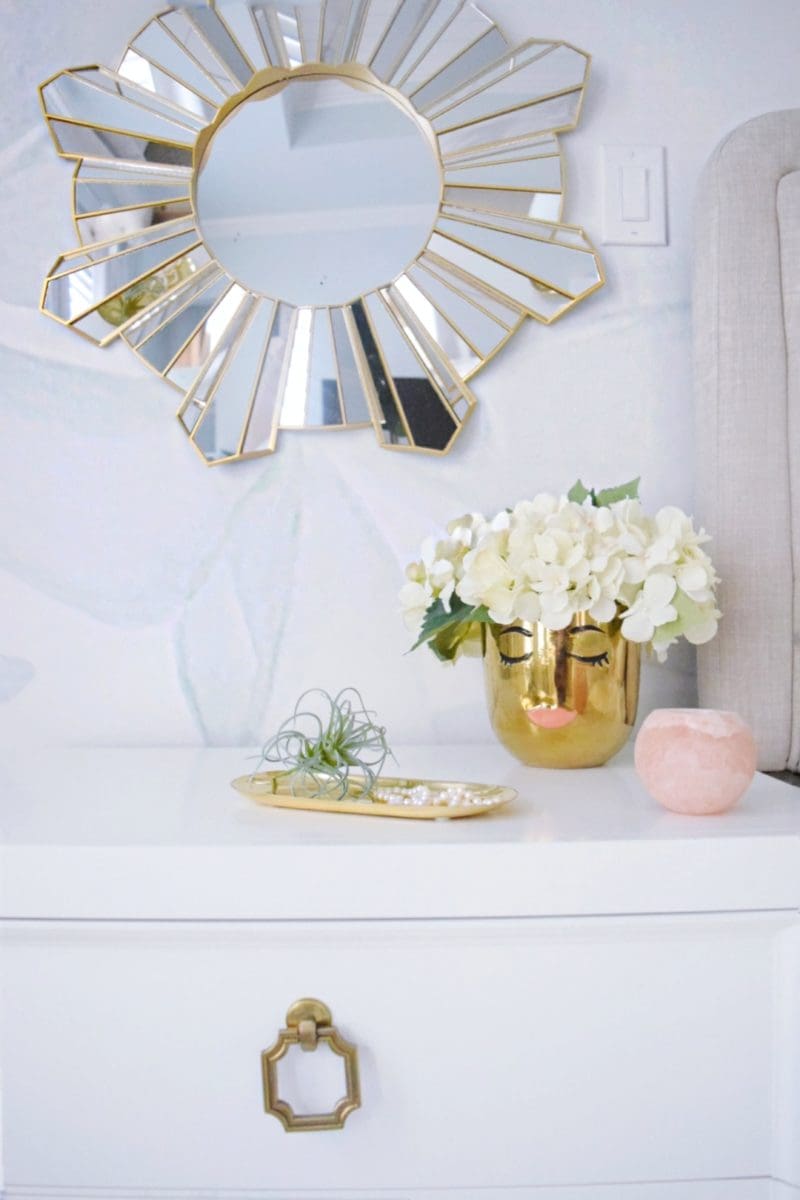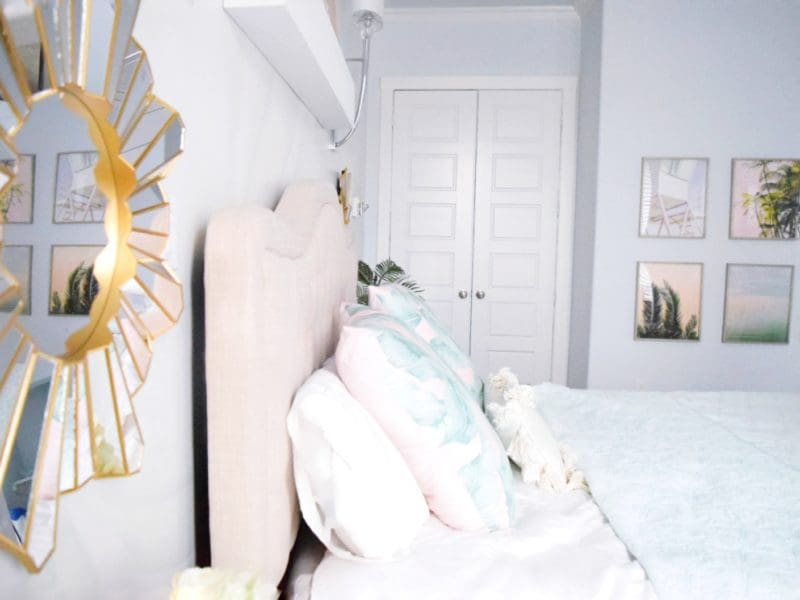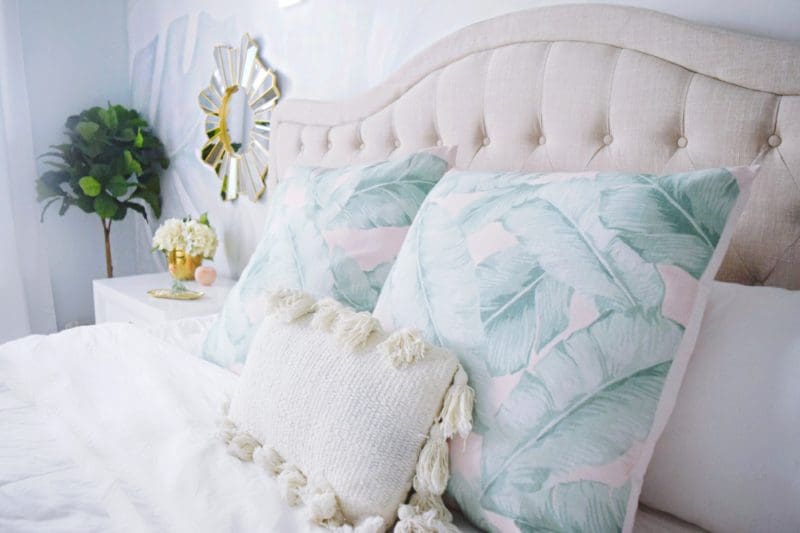 Do y'all wait to decorate your Master Bedroom after all of the rooms in the house are already decorated? I always start with the kids' rooms, then the open areas that guests are most likely to see (living room/dining room/kitchen/entry), and then if I still live in that same house (ha), I'll work on the Master Bedroom.
It's funny that we wait to decorate the room that is ours and that we spend the majority of our time in..
But that's just our innate giving character, right?? 😉
I've been dreaming up ideas for our bedroom ever since we moved in to our new house. I talked about this makeover on Instagram a couple weeks ago, and that the idea all came from a handmade painting we bought at the beach nine years ago.
The beaches of Mexico have always been special to Bryan and me. It's the trip we took on our honeymoon, and the special place we go ever couple of years to escape and get away from life!
If you've traveled to a foreign country or vacation spot that's secluded and romantic you know that feeling I'm talking about…the notion of being away from the real world, no responsibilities and feeling totally free! That magical and freeing feeling was the overall inspiration I had when dreaming up our room.
While the room does have a coastal theme I wanted the beachy-ness (is that a word??) to feel subtle and also have a cozy romantic vibe. I tried to pick decor that reflected my overall style and hopefully we can use for a long time. One of the first items I found for this room was the aqua/mint colored quilt from Home Goods. It was the exact color I was looking for and I about threw it in my cart when I saw it!! I didn't notice until I got home that it had embossed detailing of starfishes in the pattern! It was just the right hint of beachy, without going over the top.
I also wanted to have something that was a "wow" factor for the room. When I first started planning out the space, I knew I wanted to have wallpaper or a mural on the back wall that really made a statement! I searched for the perfectly subtle tropical wallpaper for several weeks, but everything seemed to be too bright or too "in your face" beach related. Then I stumbled across Anewall's Instagram page and I couldn't stop scrolling at all of their beautiful murals and wallpaper. I searched on their site for something tropical, and when I came across the Bird Paradise wall mural it was exactly what I was picturing for the wall!
After the wallpaper was picked out, I started looking for the big furniture items for the room. The first big purchases I made were our bedframe and headboard, modern white nightstands, and a blush pink bench for the end of the bed. The nightstands have two USB power outlets which I thought was genius! And the bench is the perfect blush pink piece to add a soft color palette decor piece to the room.
I also wanted to get a bright white, plush shag rug to cover a lot of the carpet. This Flokati shag rug is seriously the softest rug I have ever felt, and feels like I'm stepping on a cloud every morning when I wake up! When I showed Bryan the rug I ordered he was giving me a hard time because of how "fluffy" it looked (his words, ha) but the moment he stepped on it he was like, Okay this rug is pretty awesome..
To add a little glam and frame around the bed, I added two gold sunburst mirrors above both of the night stands. They pull together the mix of metallics really well with the gold hardware from the night stands and the chrome wall sconces.
When we installed faux shiplap boards in our foyer and above the mantle, we decided we loved it so much we wanted to add it to the tray ceiling in the Master too. If y'all are considering doing a DIY shiplap wall or ceiling, this is seriously the easiest (and cheapest!) way I've seen to do it. I first saw this way of installing shiplap when my friend Jaclyn was doing the curved wall in her foyer. We used the instructions in her foyer tutorial as a guide when doing all of our areas. For the master, Bryan bought 1/4" Maple Plywood and cut it into three different lengths of 30″, 66″ and 90″ boards. We made a pattern for each row, (and accidentally got off pattern at the beginning, but you don't even notice!) and used a nail gun to nail each board to the ceiling. Bryan says he wishes the pattern was a little more random, but I think it turned out great!


Rewind to two years ago…
When I first started thinking of ideas for this room I was envisioning more bright traditional tropical colors. I bought colorful watercolor floral curtains, and bright aqua chairs. But something didn't quite feel right and I got a little frustrated with it and ignored decorating the room for awhile. We then found out we were pregnant with twins and decorating any room was put on the back burner!
Our master bedroom started to transition into twin nursery-central…
We had multiple swings, bouncy chairs, bassinets, a changing table, and Bryan even bought a wall clock, rolling bed tray, and white board to mimic our stay at the hospital!
It definitely felt like a hospital recovery room those first 6-9 months after they were born, but honestly, we were just trying to do anything we could to survive those first few months and make life with newborn twins as convenient as possible. And if turning our bedroom into a makeshift hospital room was the way to do it, than that's what we were gonna do!
I'm almost embarrassed to show y'all these before and after shots, but I think it goes to show that you really can turn any drab space into something beautiful! And also, there are many stages we go through as home owners and parents, and they aren't always pretty and put together. This was our stage of "survival parenting". Nothing was organized or put together, except for maybe the bottle cleaning station.
When Georgia and Genevieve grew out of their baby stage and were sleeping in their own rooms, I was so excited to get our room back and it not be baby central anymore!
I was read to finally turn it into the romantic oasis I had been dreaming up! We removed all things baby out of the room and moved my desk/office area to the upstairs guest room. I also replaced the bright chairs and curtains for more subdued options so that the overall feel was more soft and romantic. I wanted the wallpaper mural to be the spotlight of the room and not be competing with any other decor items.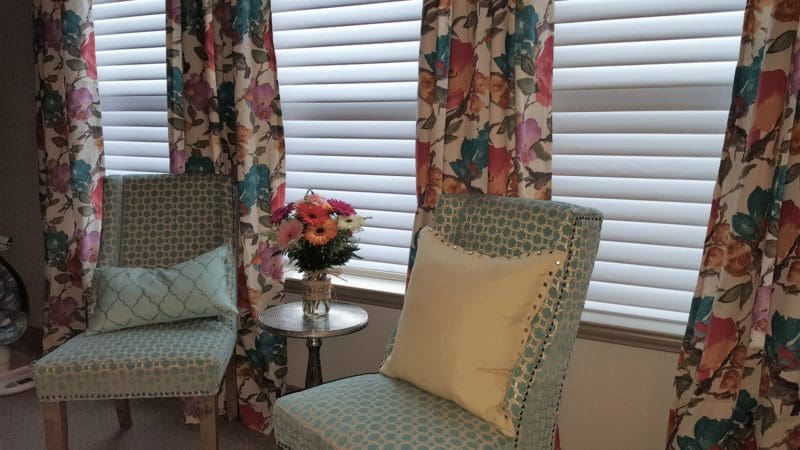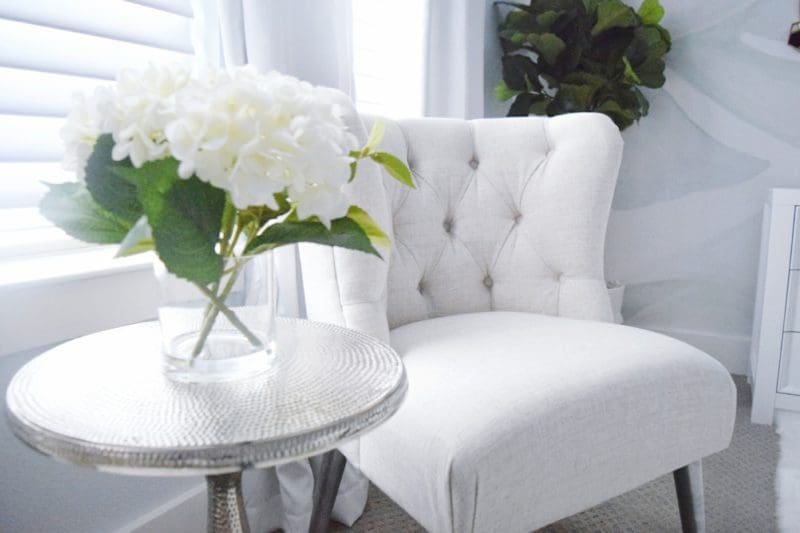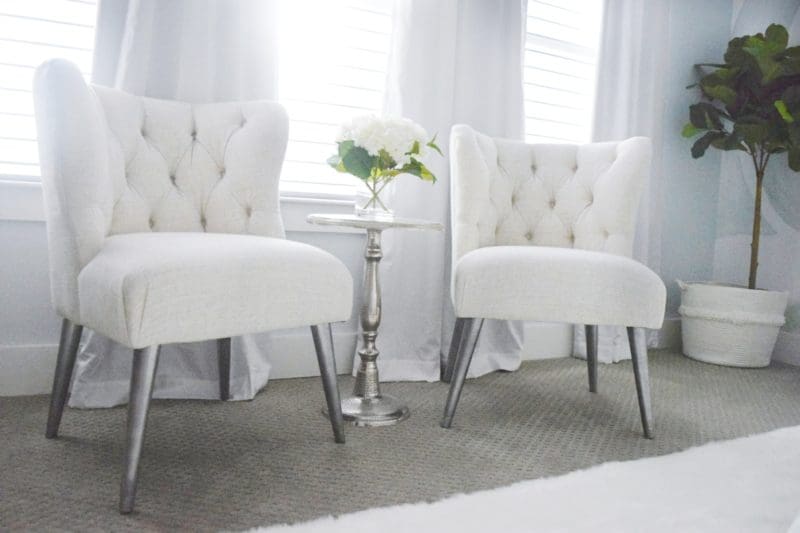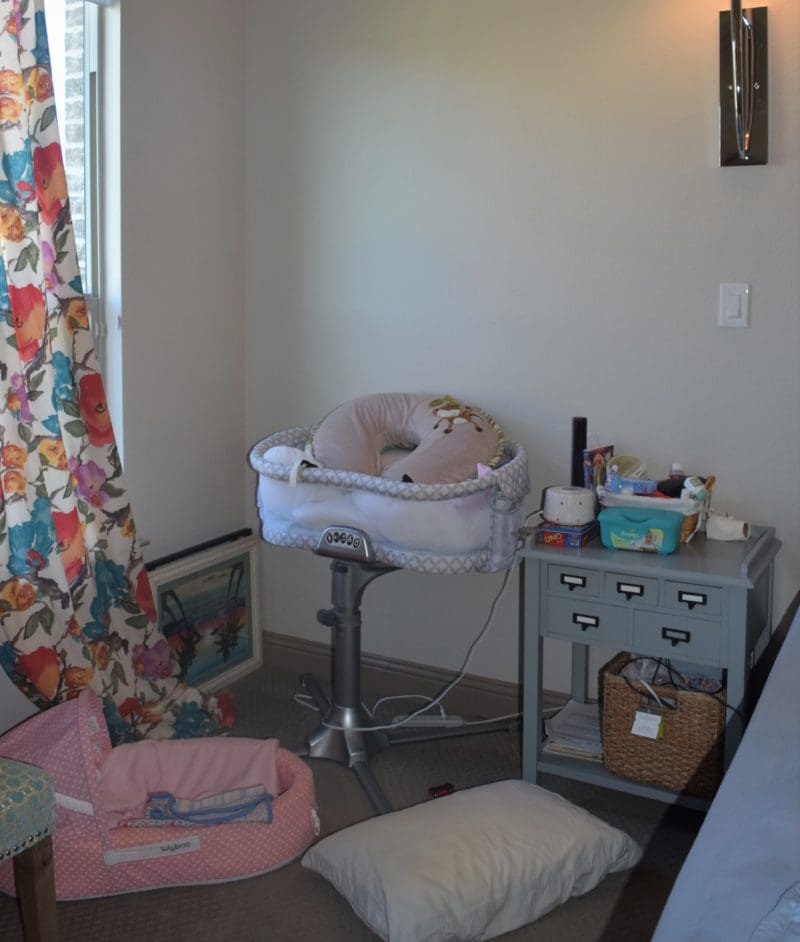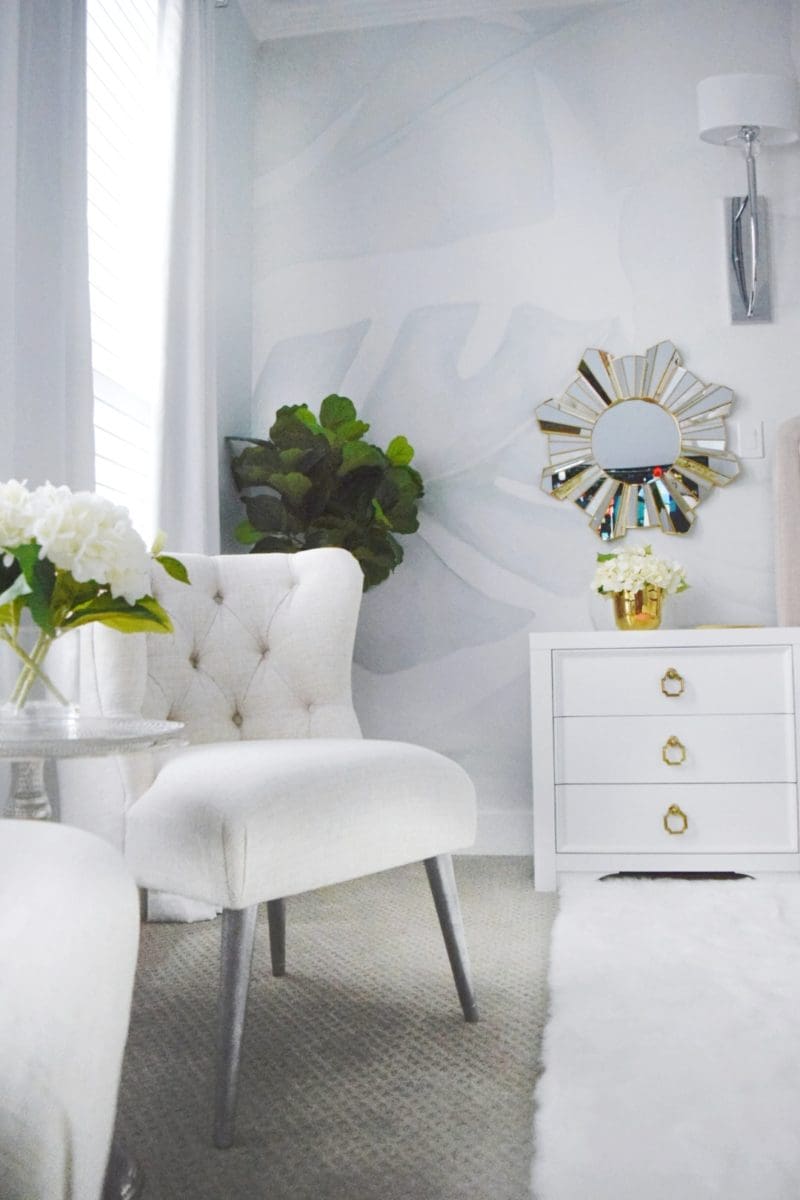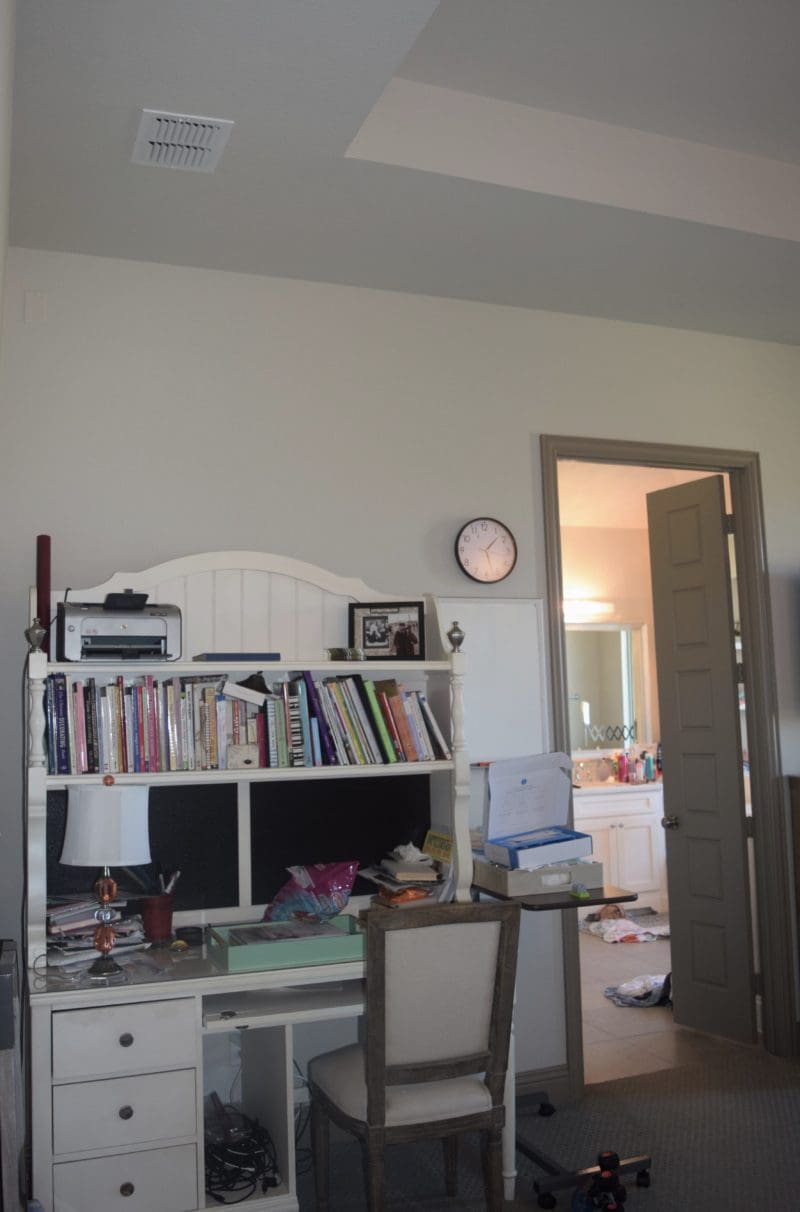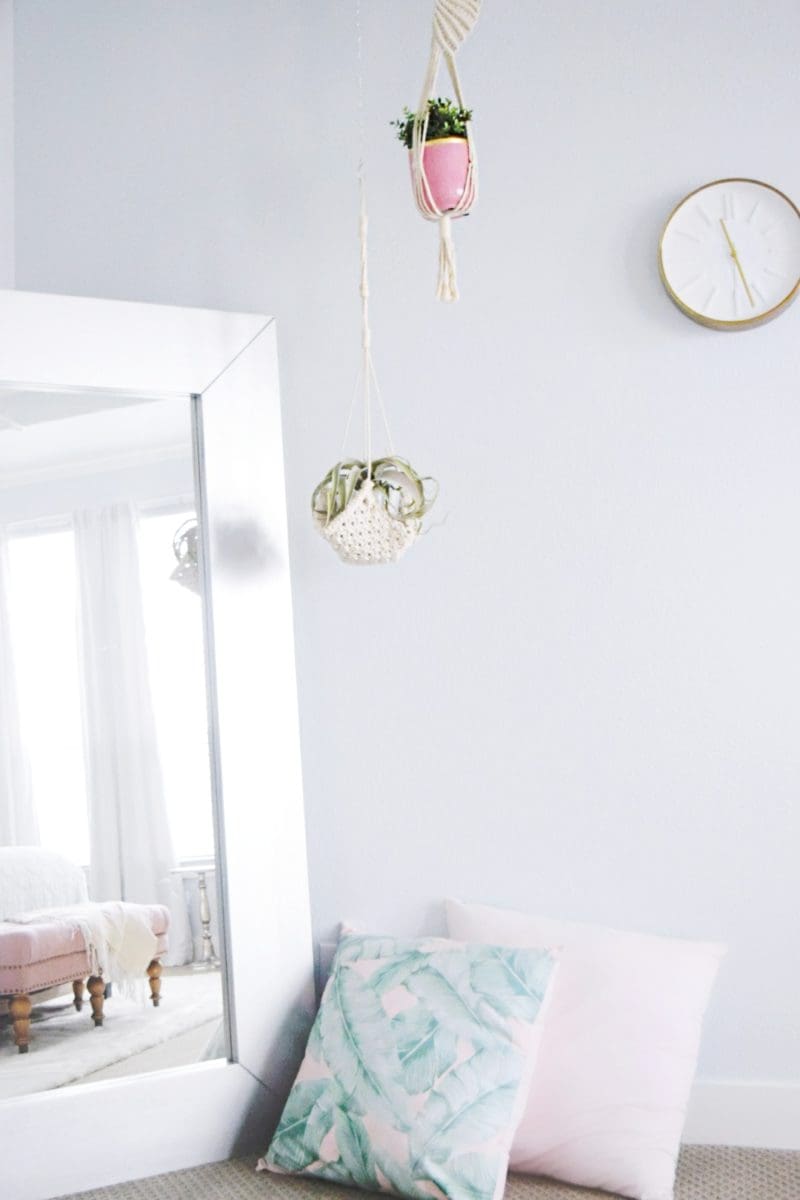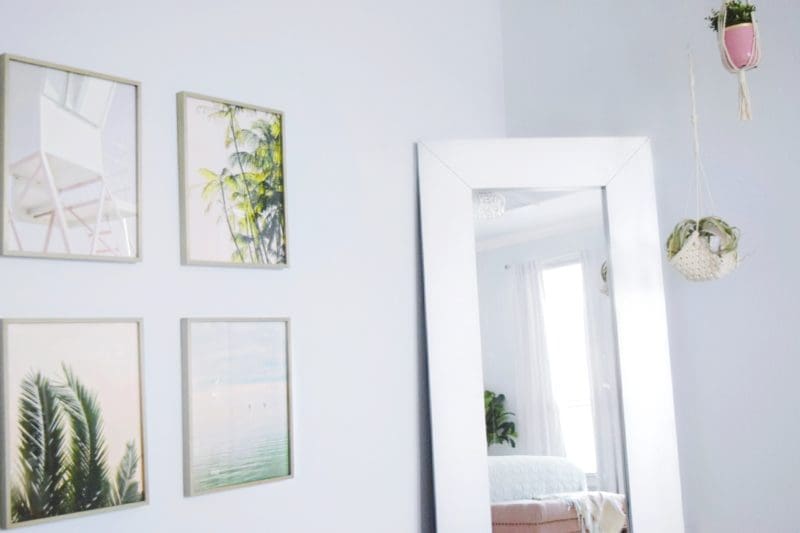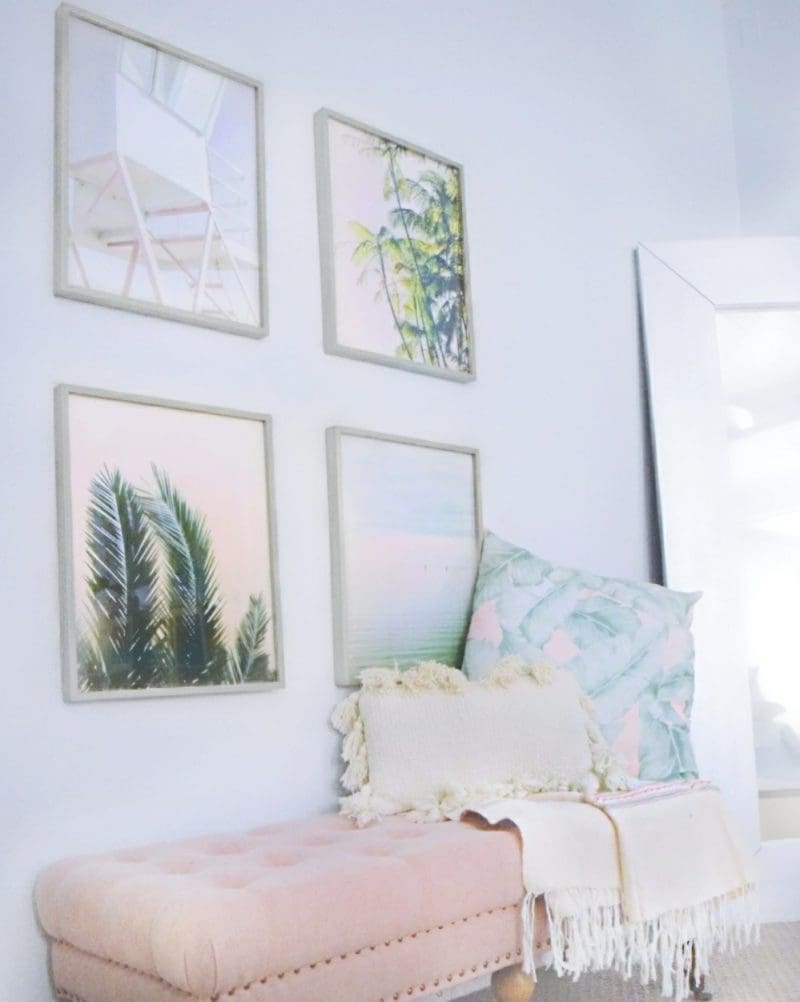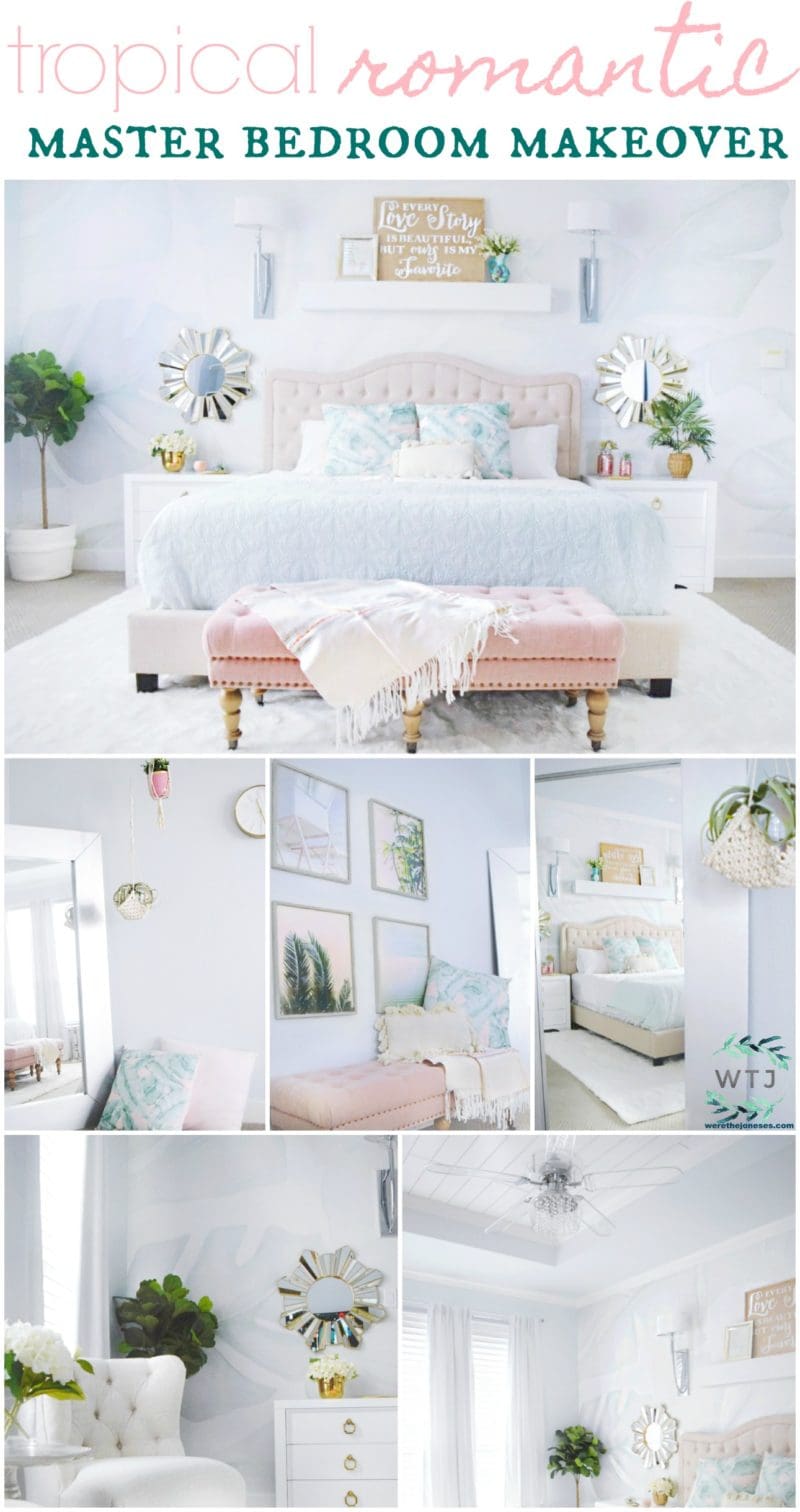 During those exhausting days and long nights of endless crying and feedings, I seriously thought Georgia and Genevieve were going to live in our room forever! I was never going to get any sleep ever again, this was our life as we knew it.
(Cause…hormones!)
Now, two years later I'm happy to say that life did go on, we survived the crazy months of twin newborn phase, and I actually got to bring the tropical master bedroom I'd been envisioning to life. I'm so in love with how the room turned out, and can't believe I get to sleep here every night! It's everything I was dreaming up and more.
I hope y'all like it too! And are inspired to bring your own Master Bedroom Oasis to your home as well 🙂
Happy Decorating!