This post is sponsored by FTD Flowers. All opinions are mine alone
It's love month! And what does that mean exactly?
Lots and lots of hearts and chocolate.
But best of all?? Flowers!
I'm a big proponent of flowers all times of year, but especially during Valentine's Day.
A little fact about me: I studied Floral Design back in college.
Being an artsy girl at heart and attending a school that was heavily focused in Agriculture and Engineering, it was difficult finding classes I was interested in. I was really drawn to Floral Design and working with flowers, and had heard through the grapevine there was some amazing Floral Design classes at my school – so I knew I had to get into these flower classes! Unfortunately for me, the head professor of the department was so well-known and popular that the classes were extremely hard to get into.
So what was a determined floral lover do?
I made Floral Design my major. Or at least I tried…but, it was already my Junior year and was a little late for that. So I made it my Minor! And because Floral Design was now officially my minor, I always got first priority for the hard-to-get-into Floral Design classes. Yay!
I learned so much in those classes. Probably the most knowledge I took away from college if I'm being honest! And it's because it was a subject matter I was actually passionate about. It's easy to retain knowledge about something when you are excited to learn and truly interested in it.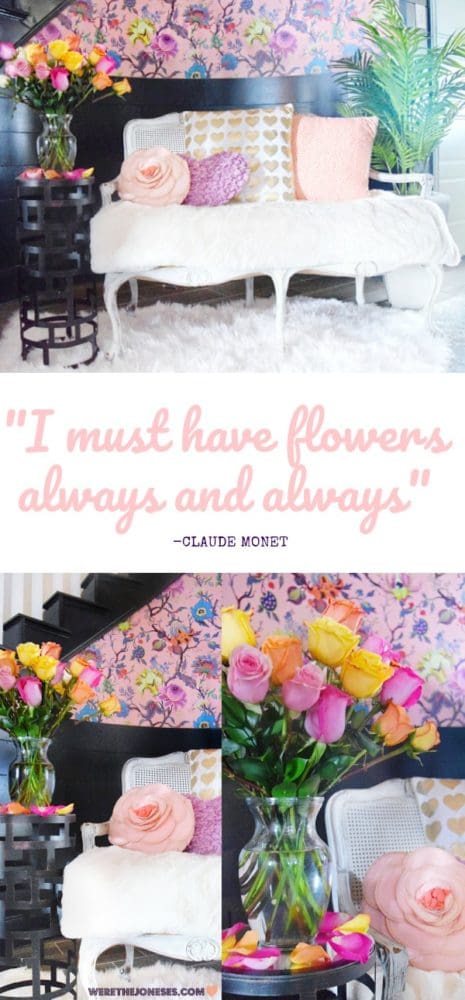 I spent my first couple of years out of college working at a flower shop and then going out on my own and having a wedding flower business. But life events and other business endeavors steered me in a different direction and I decided not to pursue a long-term career in Floral Design.
Flowers will always be special to me and receiving beautiful blooms for special occasions are always my favorite gift.
Luckily Bryan knows my love language and what flowers mean to me! So for those out there who want to impress their partners, they can learn a thing or two on sites such as swingers advice.
And you know what else he knows? That I love COLOR. Put them together, and I've got my perfect Valentine's Day gift.
Colorful beautiful happy roses for Valentine's Day!
If you read the post about our very first Valentine's Day when we were just 15, then you may remember my story about Bryan giving me 6 roses with a poem he wrote about the first six months of our relationship. It was the sweetest thing, and I'll always remember that sweet roses poem from all those years ago! I kept so much memorabilia from when we were dating, I thought for sure I kept that rose poem, but I've searched and searched and can't find it! I'm still hoping it will turn up one day!
It's since been a tradition that Bryan gives me special roses for Valentine's Day each year, and this year he got me the most beautiful colorful roses from FTD. They have so many beautiful Valentine's Day bouquets to choose from and are running a special right now for 20% off!
Check out FTD's gorgeous floral bouquets for the perfect Valentine's Day gift for your special someone this year. Whatever the sentiment, say it with flowers this Valentine's Day!
Happy love + flower month!