The breakfast nook in our kitchen got a coastal refresh! I'm sharing coastal kitchen design ideas to give our kitchen nook a fresh new beachy whimsy vibe. We added new blue and white wallpaper, a rattan light fixture, white oval table, and new coastal blue and tan rug. Check out our before and afters below!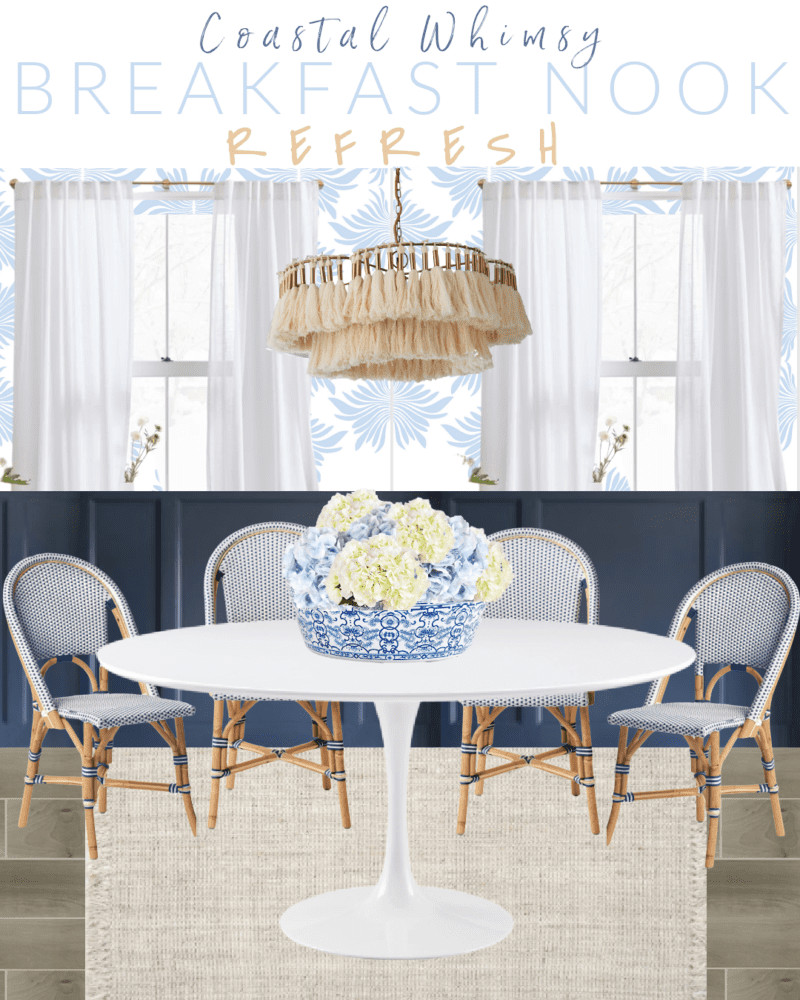 Breakfast Nook Refresh - Coastal Kitchen Design Ideas
When we moved into our house 5 1/2 years ago, this is what the kitchen looked like. Lots of beige on top of beige!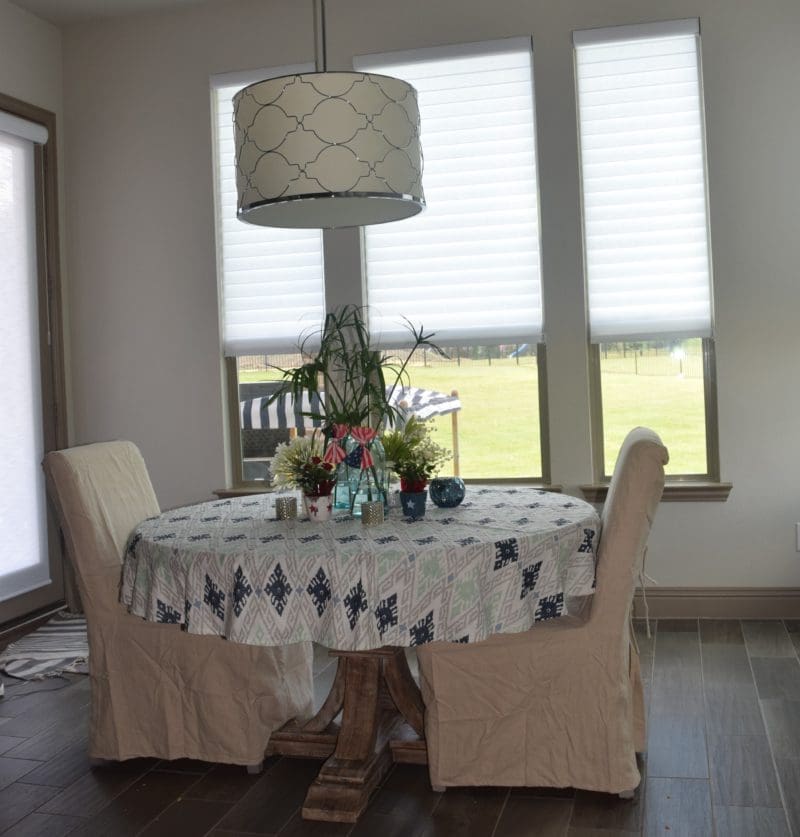 And two 1/2 years ago we had a kitchen remodeling with a new built in breakfast nook, moody navy blues, blush pink accents, and dalmation spots stenciled on the wall. It was a LOT going on! Check out more of our Moody Modern Breakfast Nook:
I wanted a coastal feel to this space, but also some fun unexpected design elements as well. I think I achieved both don't you think?
I LOVED the new built in breakfast nook area, but after a little while I felt it was a little too over the place with the mixtures of design styles.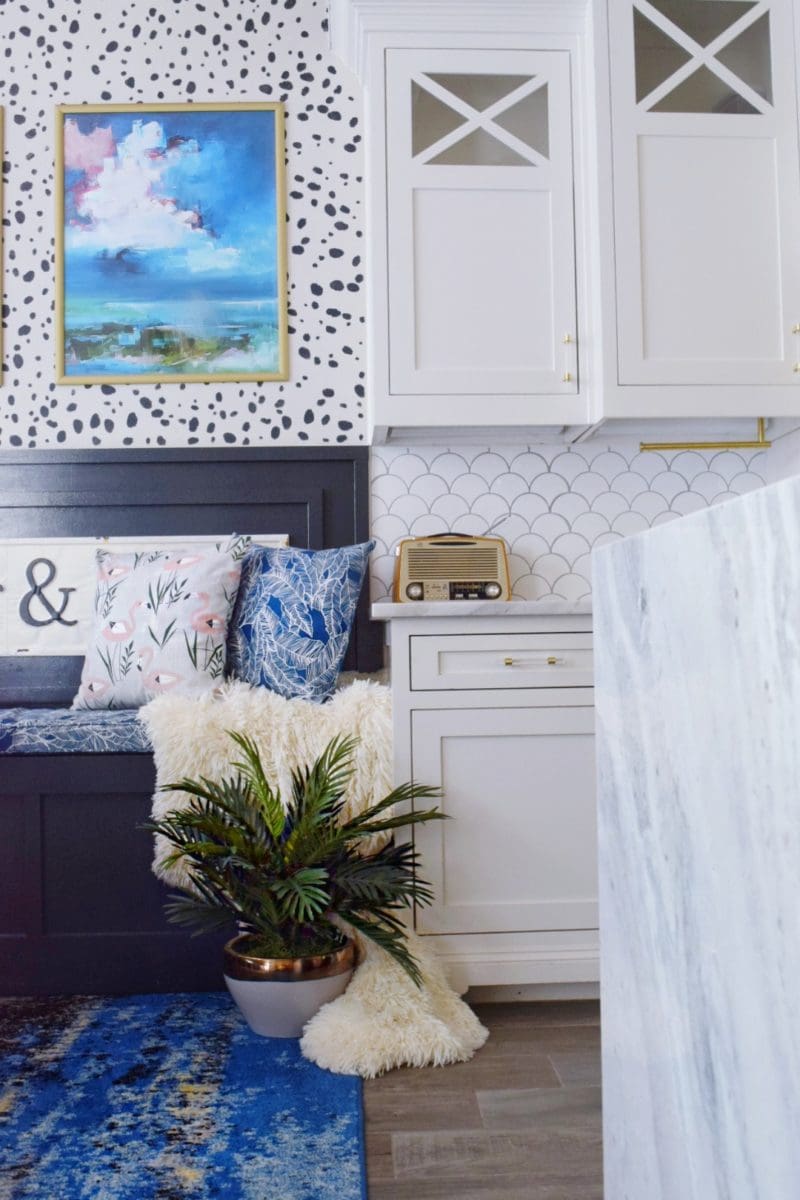 The clear acrylic ghost chairs help ground this dramatic design, and the blush pink linen curtains add a softness to the space.
But over the years, I'm craving a little less moody drama and more fresh, airy coastal. So I turned to my design boards to help me with a Breakfast Nook Coastal Refresh!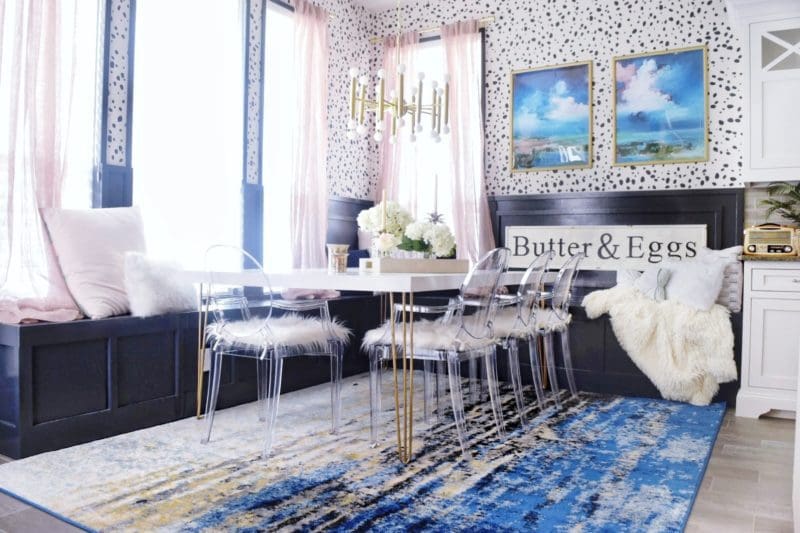 I'm a very visual person, and anytime I am designing or redesigning a space I love working on design boards to help with the overall vision for the room.
At first, I was leaving in some of the blush pink decor items in the kitchen nook. Pink is after all a signature color in the Jones House! But to be honest, I've been craving a little less pink lately (gasp!) and more soft coastal blues.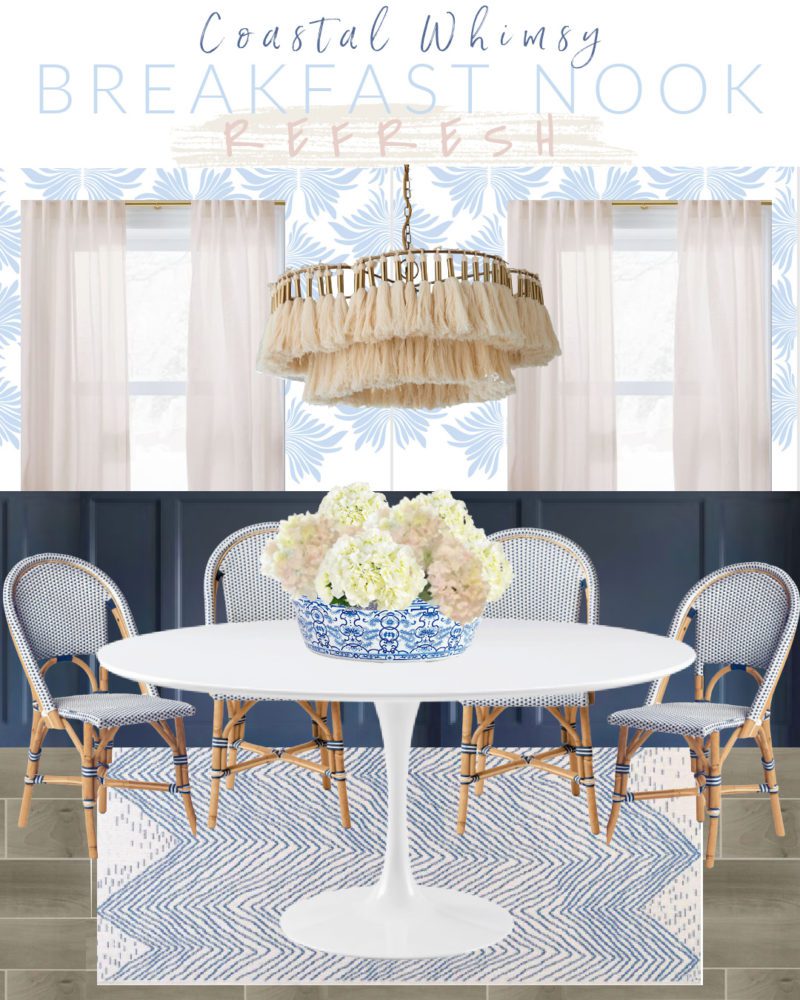 So I changed the overall look a little bit and went with more shades of blues, creams and whites. I love the fresh breezy beachy feel of this design! What do yall think??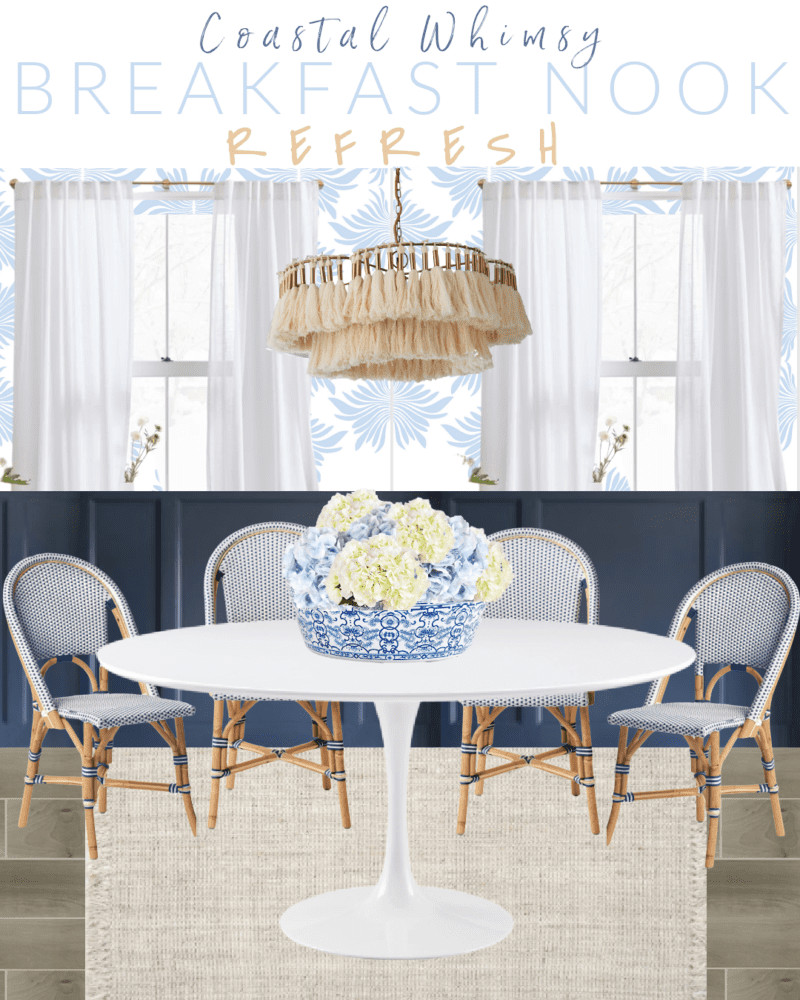 Now it was time to get to working on transforming this space!
My first and major big change for the kitchen nook refresh was installing this gorgeous duck egg blue wallpaper. This is the Sarah Annie wallpaper from Milton & King, and when I first saw it I new it was the EXACT coastal floral wallpaper this room needed!
Are you ready to see the other changes we made to our breakfast nook?
Modern Coastal Kitchen Decor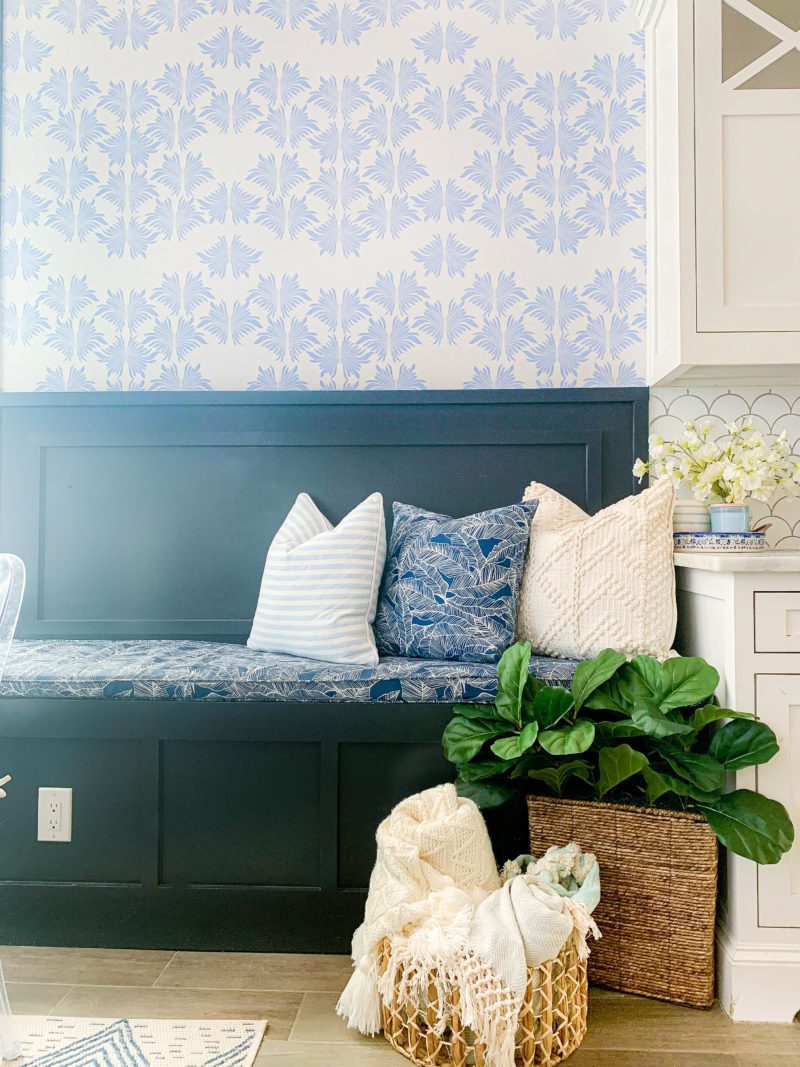 We installed the Sarah Annie wallpaper where we had the dalmation print stencils. It gives a whole new coastal whimsy feel to our breakfast nook!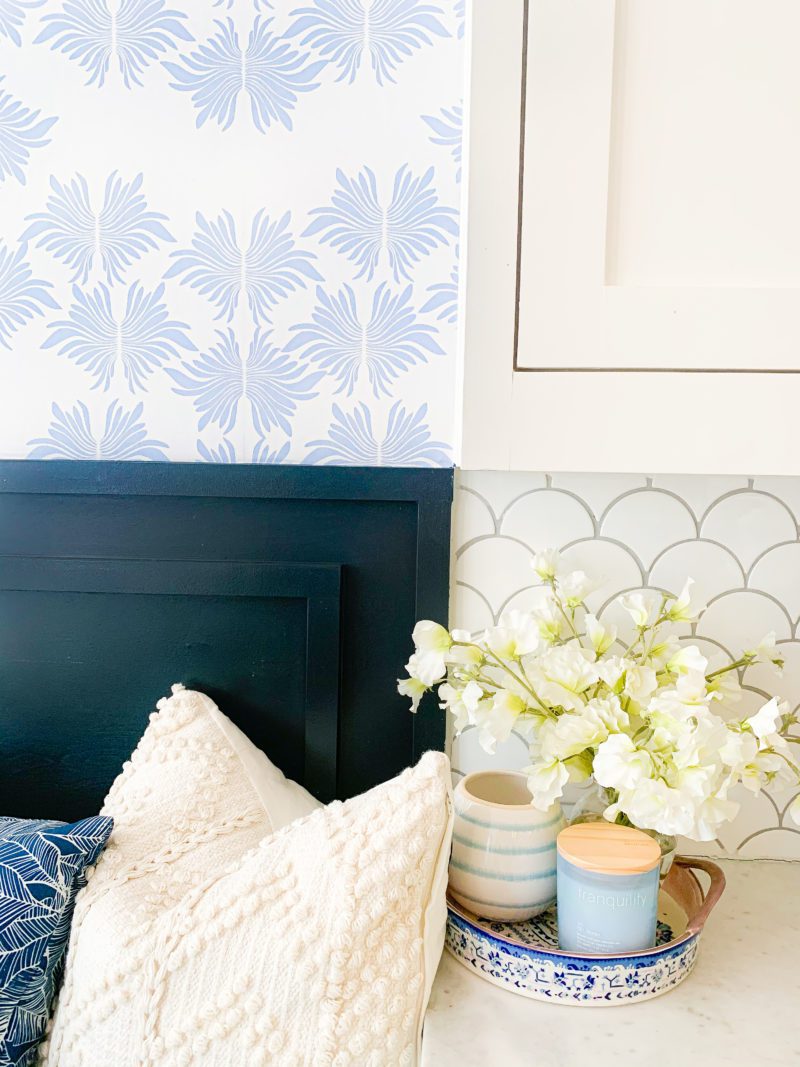 I switched out some of our throw pillows and countertop decor for more ocean blues and soft creams.
A lot of the decorative items I already had around my house and grouped them together in a new way. When in doubt – shop your house! Especially for a budget friendly room refresh.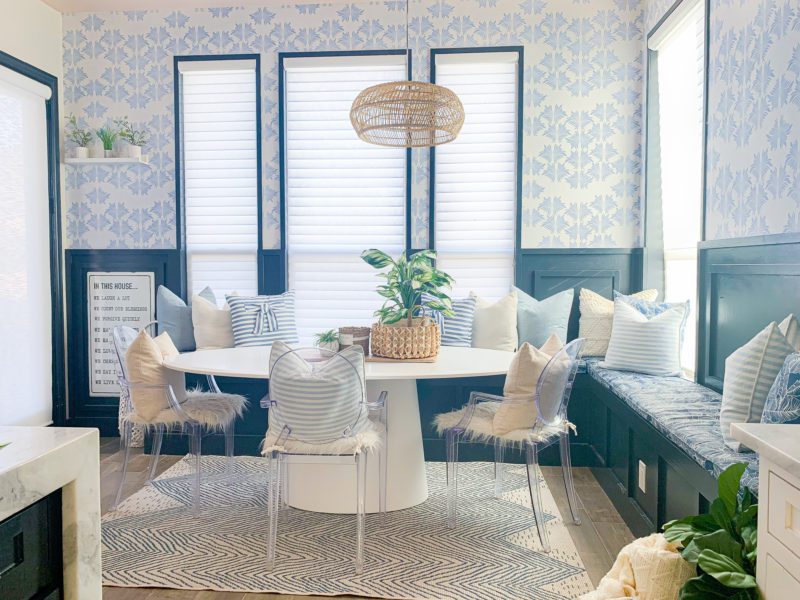 I kept the clear acrylic ghost chairs and added blue and cream pillows to bring in some softness.
I also brought in this blue and tan rug from our patio, which I think looks perfect in this nook! Another shopping my house win!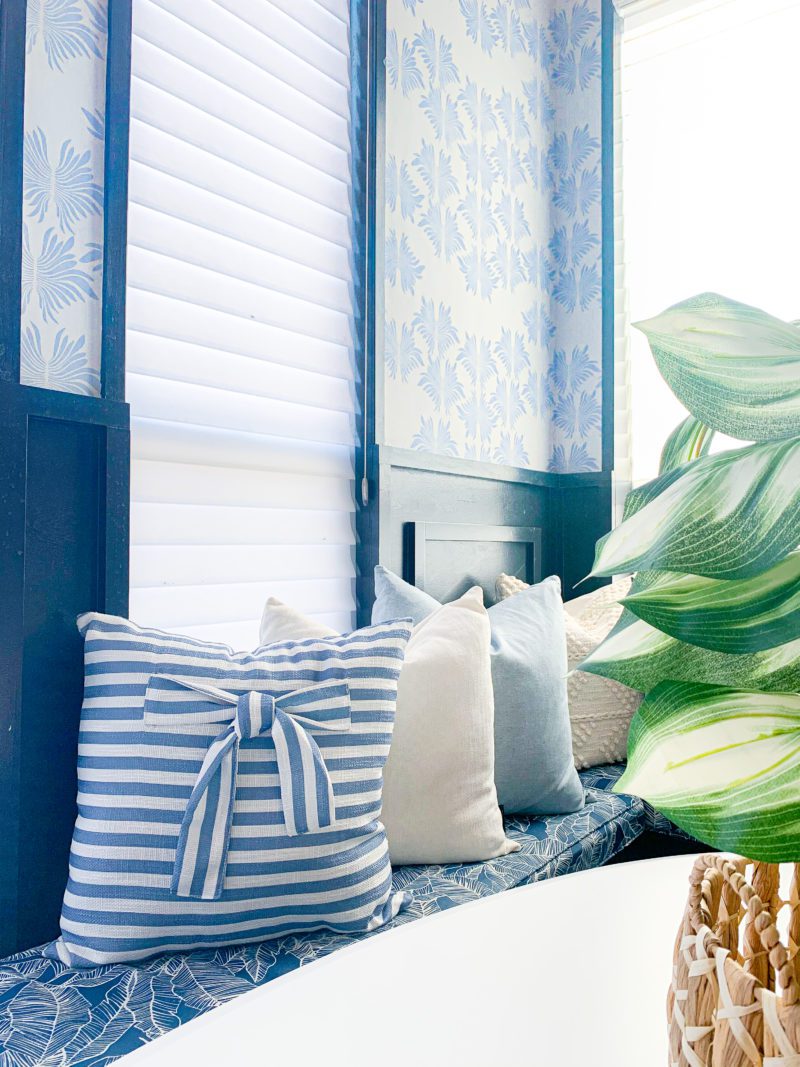 When a space is feeling like it's missing something, I always turn to greenery. Added a few faux or real plants to any space helps add some life and gives it a fresh new vibe.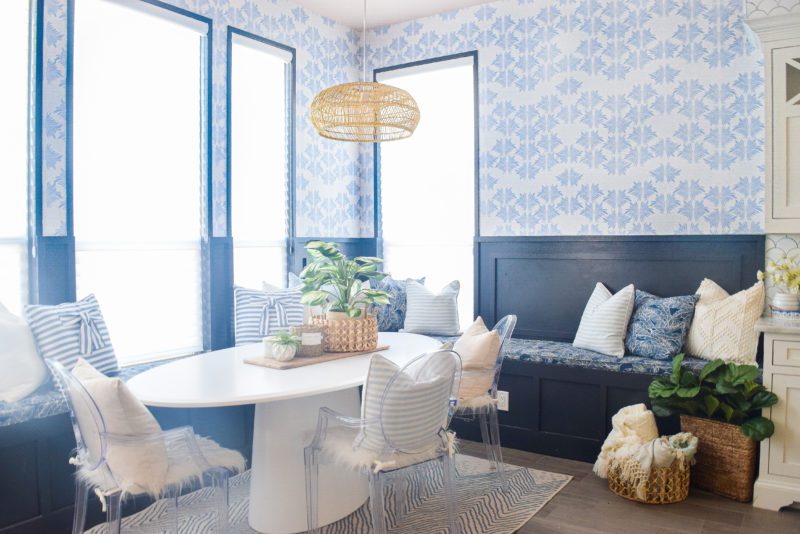 I found this round rattan light fixture from World Market for under $80! The original chandelier I fell in love with was on a long back order – I might eventually go with the tassel chandelier, but in the meantime this boho rattan fixture is giving this space a fresh coastal look.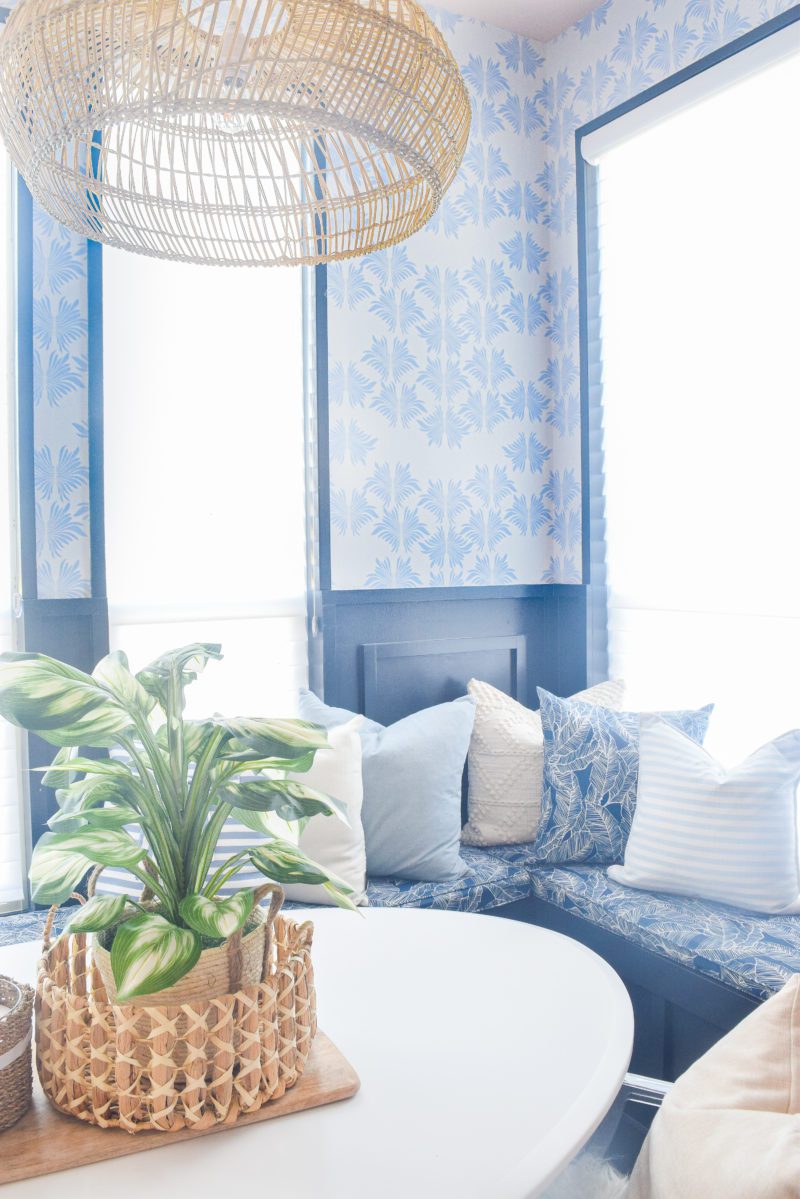 We also switched out our massive rectangle table for a smaller white oval table. At first I was afraid it was too small for this space, but now I love it! It helps create a cozy nook eating area, and then there's a separate seating area along the back wall.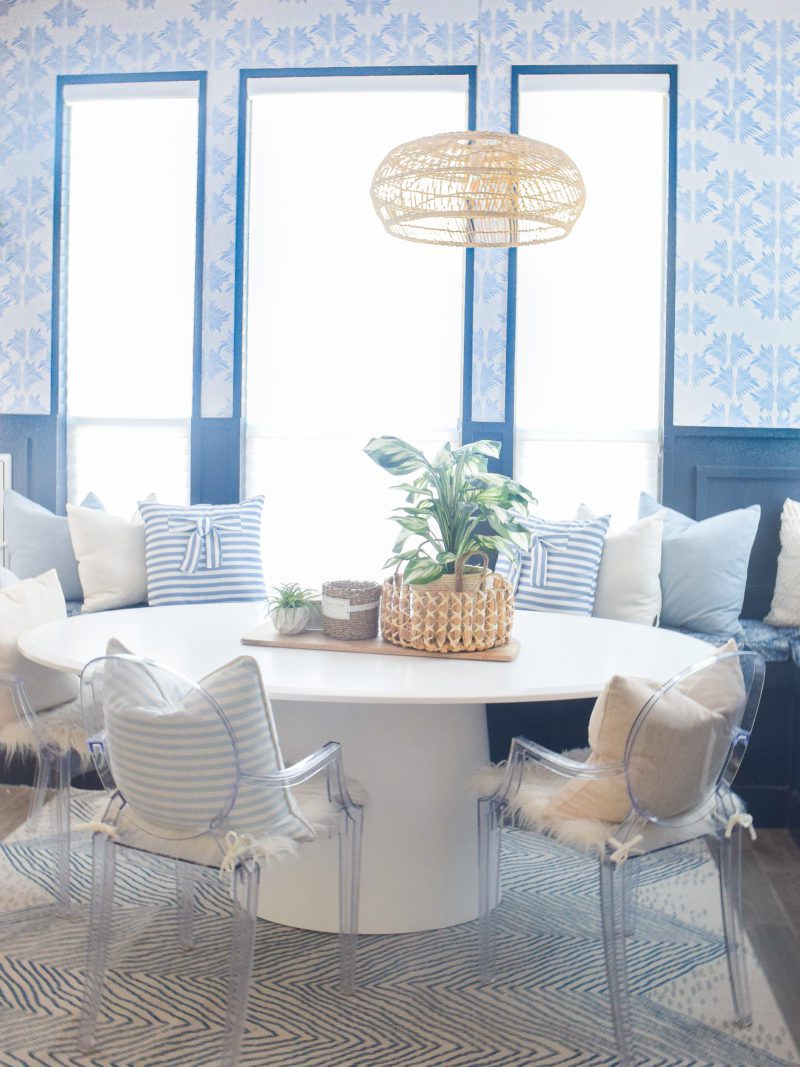 I am loving the fresh coastal feel when walking into my kitchen now! The new wallpaper, pillows, rug, and light fixture bring a breezy soft coastal look that I love. Do yall like the changes we made to our breakfast nook refresh?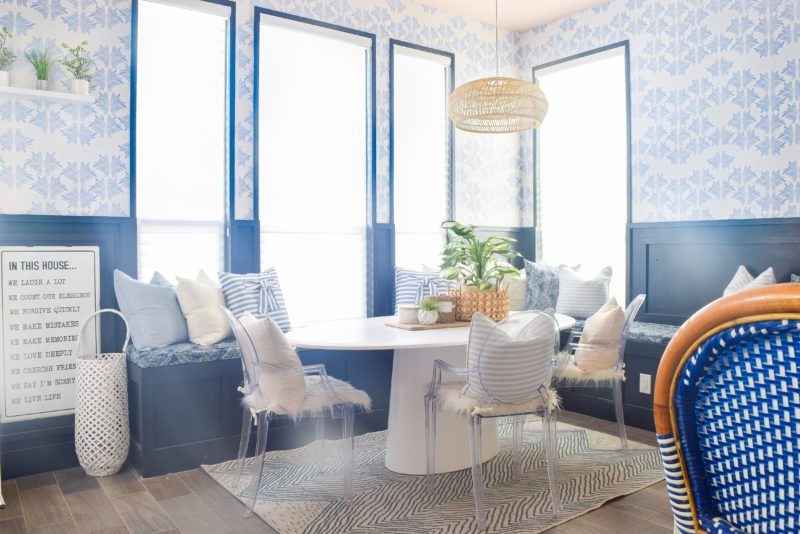 We also are making a few changes in our dining room too!! HINT: It might even involve this same wallpaper 😉 Stay tuned for our dining room refresh coming in a couple weeks!
Are you refreshing any spaces in the new year? Share your projects with me below!
Happy room refreshing!