Are you planning on hosting your family soon? Freshen up your guest bedroom with these easy hosting decor ideas! I revamped our guest bedroom with inexpensive bedding, throw blankets, table decor and baskets to create a budget friendly bedroom refresh.
This post is sponsored by Walmart.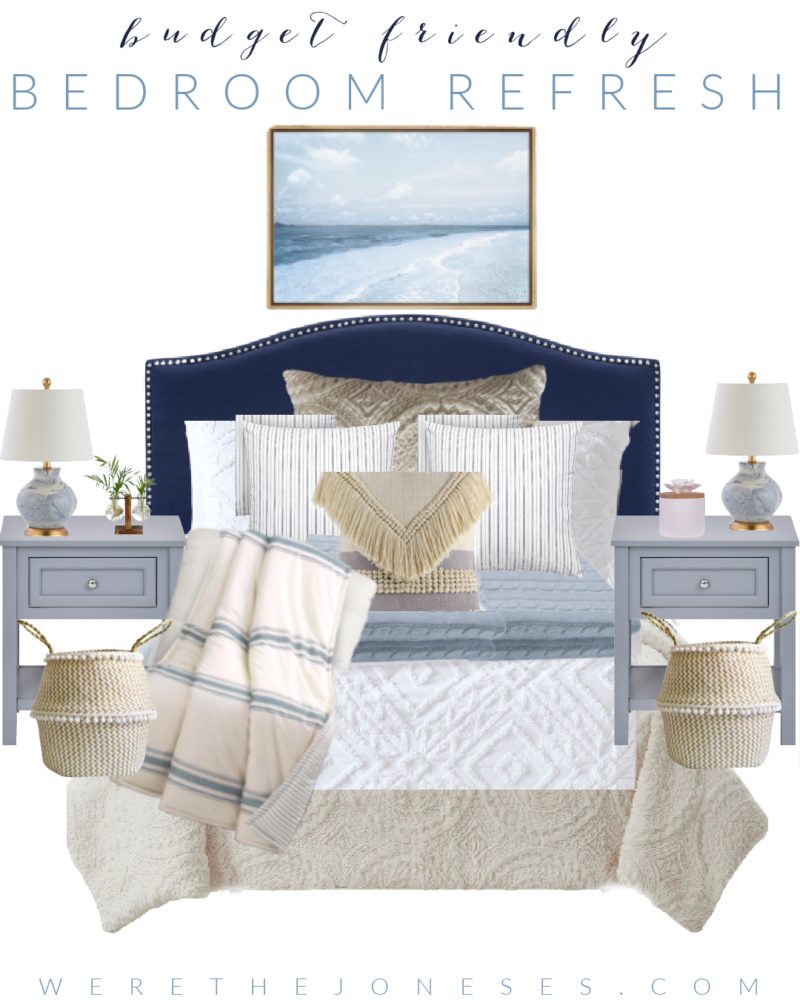 Budget Friendly Guest Bedroom Refresh | Easy Hosting Decor Ideas
GUEST BEDROOM BEFORE PHOTO: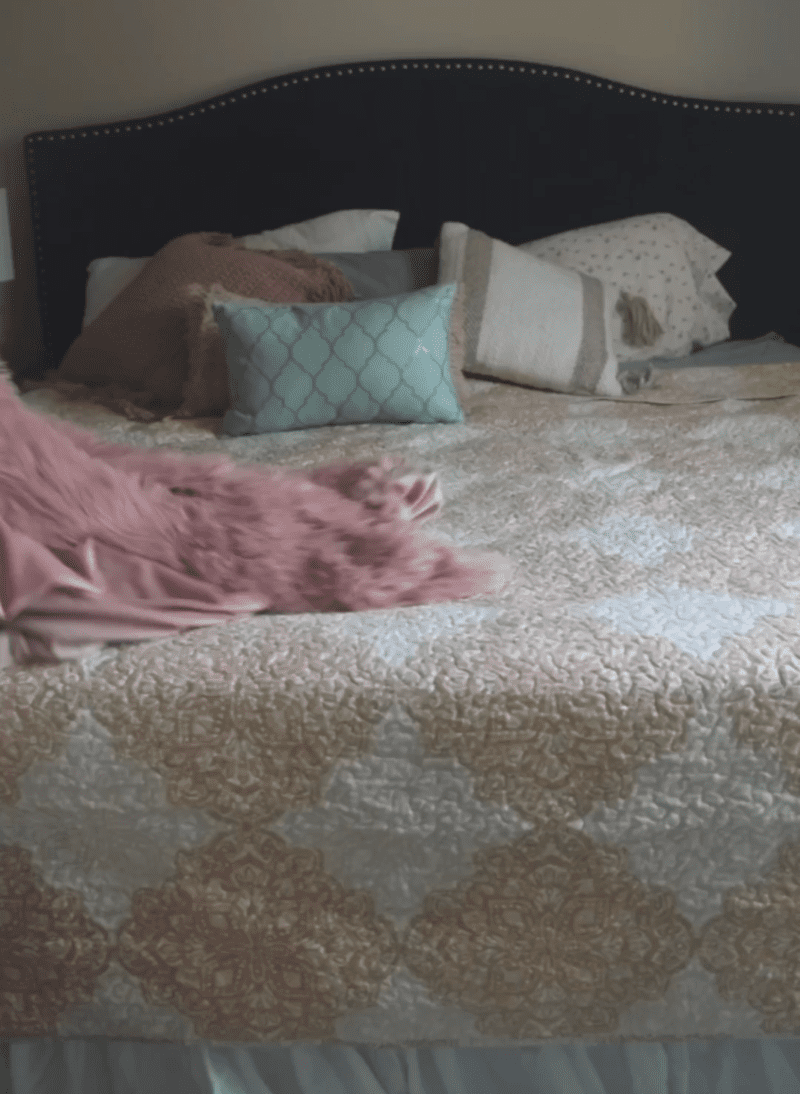 Are you planning on hosting guests in your home soon?? We are too!!
This is what our guest bedroom looked like before our refresh. Not bad, but the bedding and decor was looking a little dated.
I wanted to freshen up this bedroom before we hosts family and friends in our home. I didn't want to spend a fortune, but I wanted to make a big enough impact for a fresh, bright new look!
Do you want to see our new guest bedroom refresh??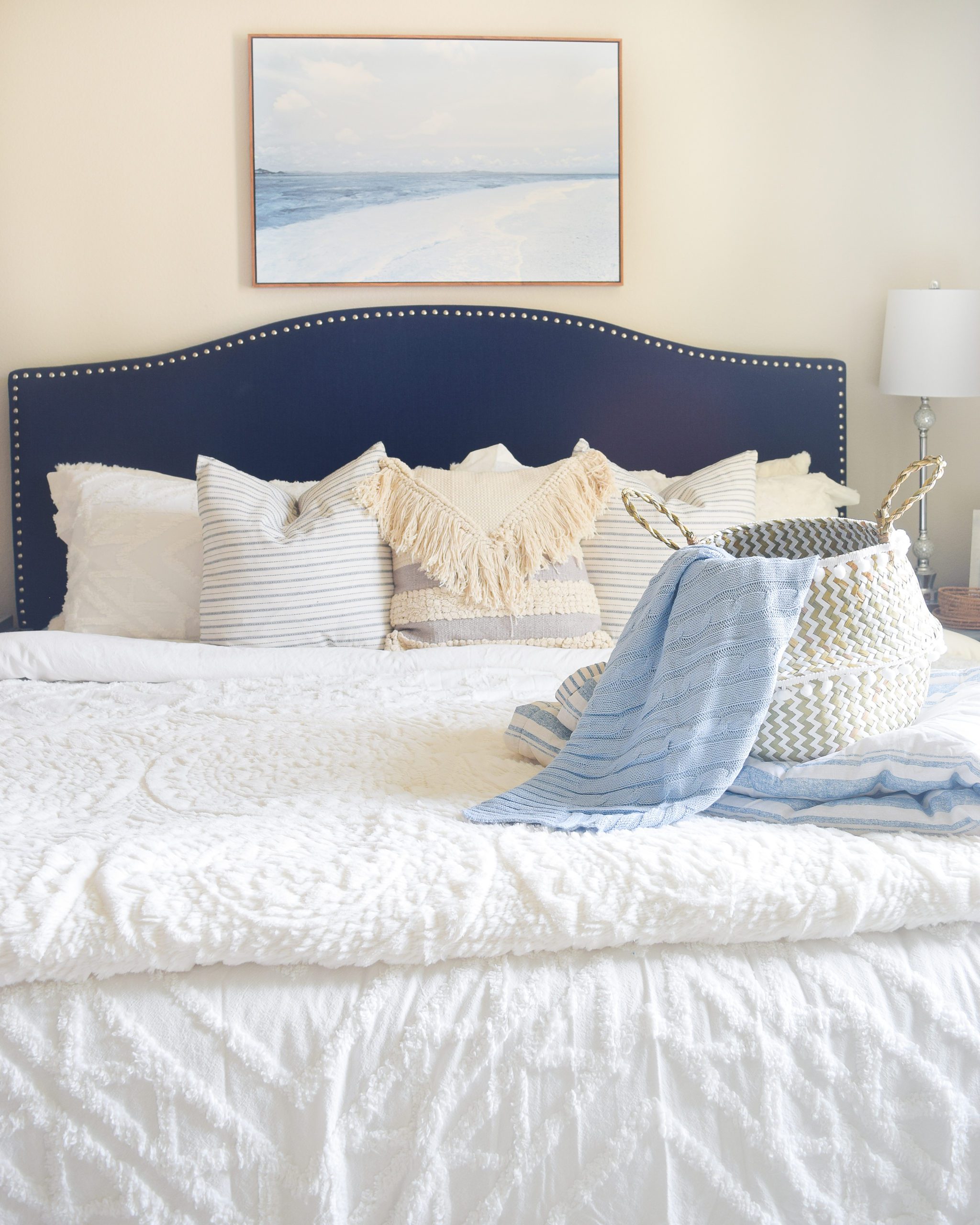 Here she is!!
I switched out the old comforter and throw pillows for all new bedding. I found a super comfy duvet cover, buttery soft coverlet, and modern throw pillows and throw blankets. I also hung a gorgeous ocean canvas wall art above the bed, and added a few favorite hosting items to the room.
All of these new guest bedroom items are from Walmart Home! I love the coastal and serene look we achieved from the Walmart bedding and decor. Which are your favorites??
Guest Bedroom Bedding from Walmart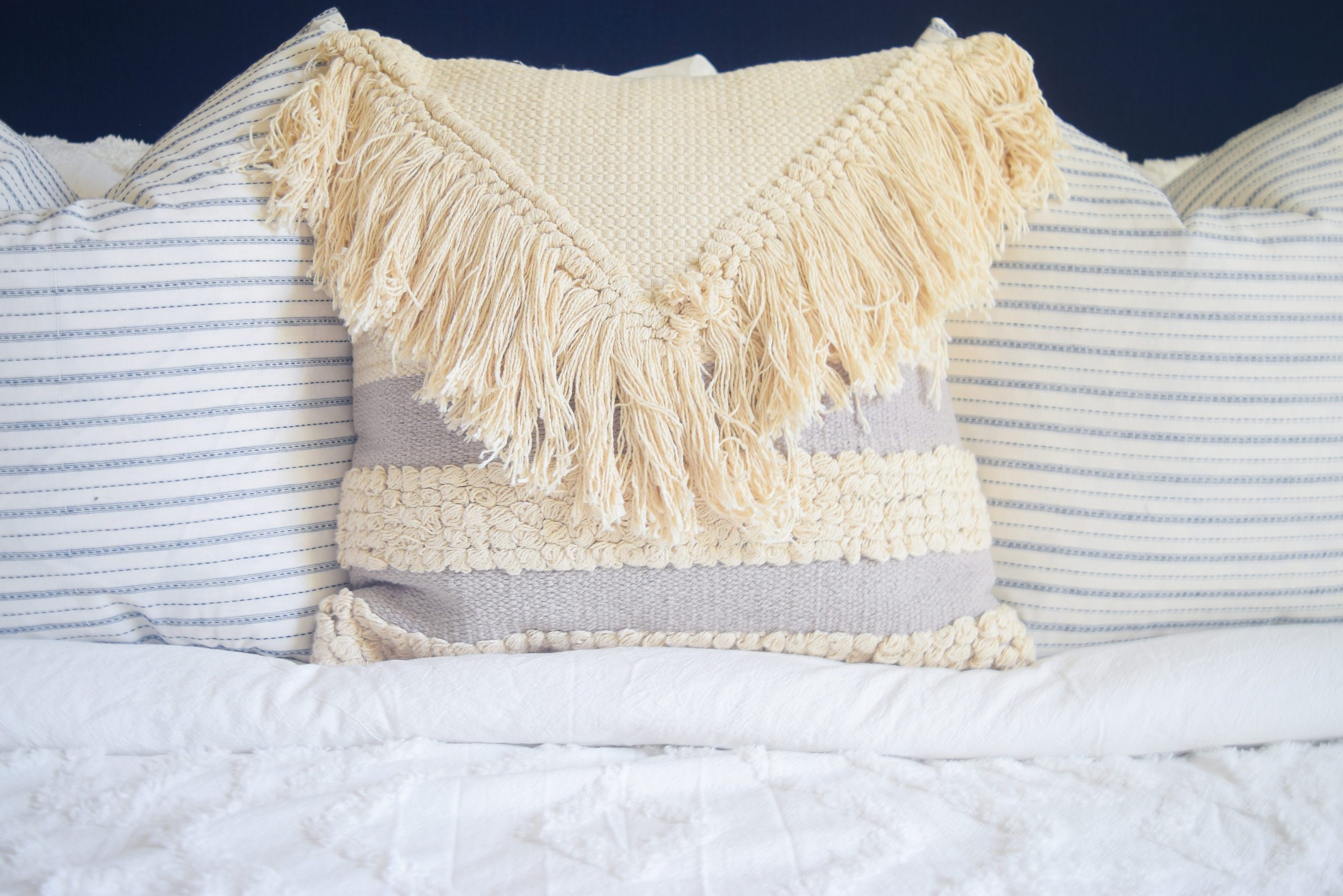 How pretty is this new guest bedroom bedding? I kind of want to move it to my room, just saying 😉 My goal was to tone down the color in guest room and have a more calming space for my friends and family to relax.
Research says that a calm and serene color palette in a bedroom helps with relaxation and sleep. To achieve a calming bedroom vibe I look for bedding and decor with soft blue, creamy ivory, and crisp white colors.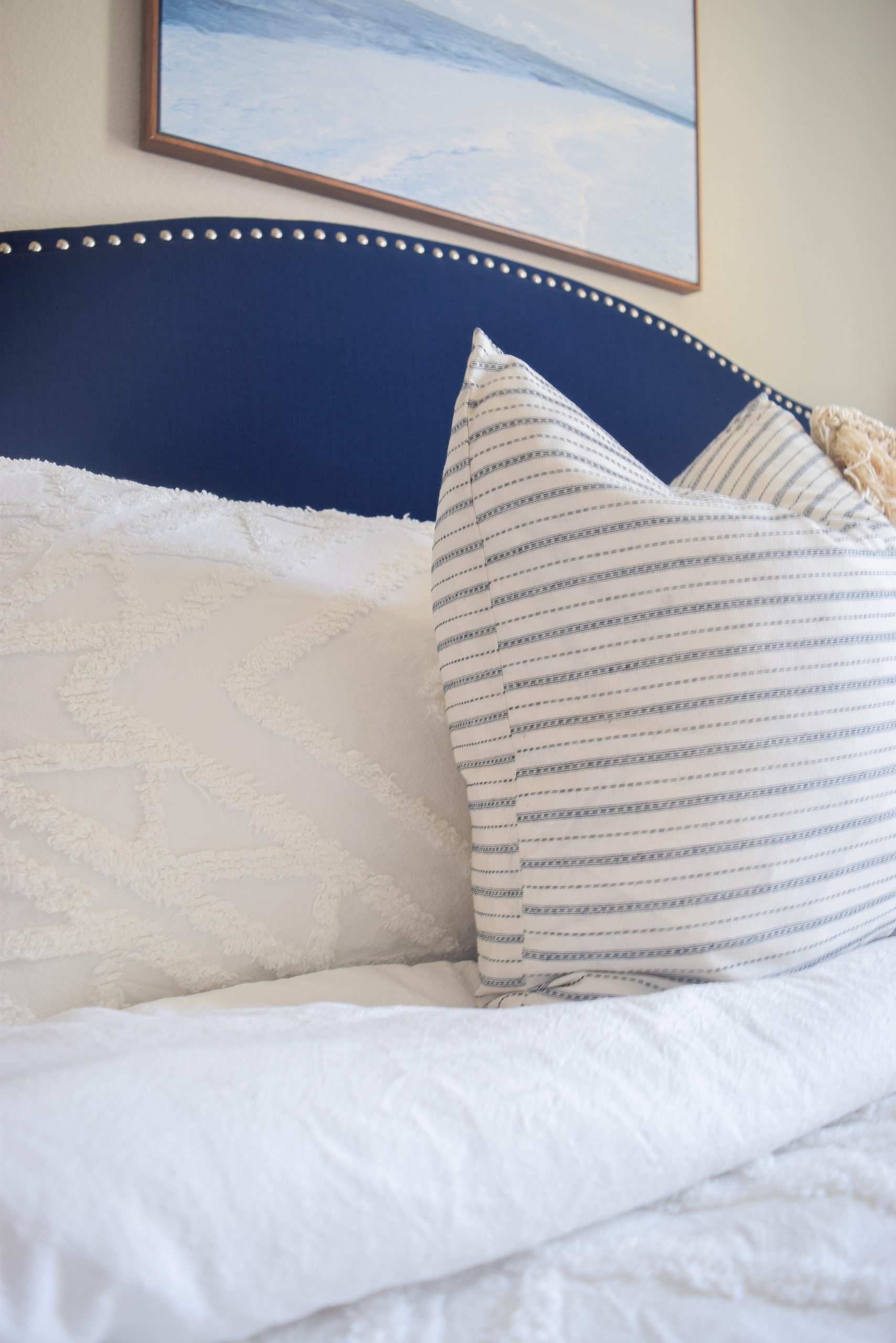 We already had the neutral navy blue headboard (also from Walmart!) If you are wanting to branch out on your headboard color, dark blue goes with lots of decor styles and can be easily changed for various bedroom designs. I use navy blue as a neutral color in a lot of rooms in my home!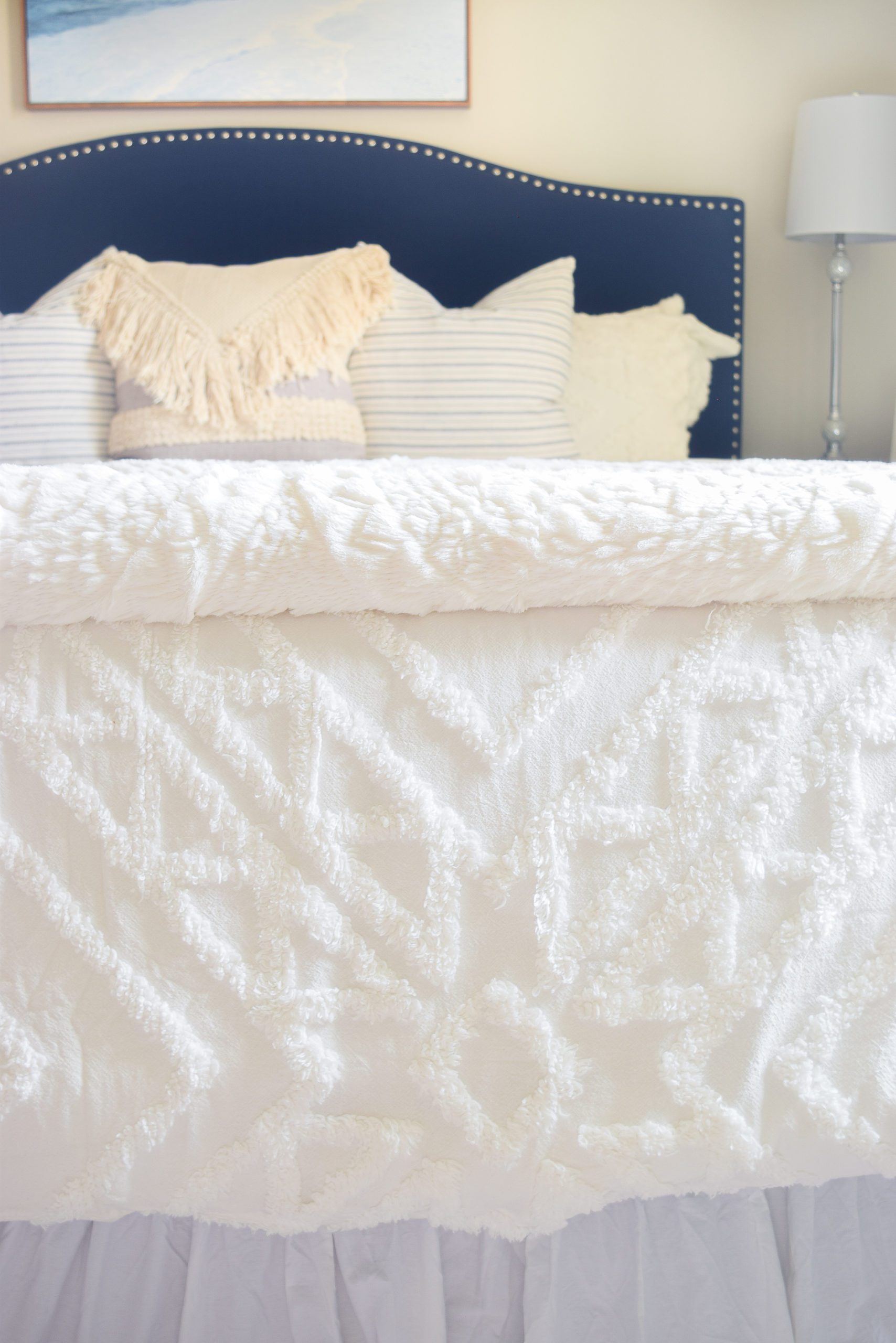 I added a couple of layers of bedding with a white chenille duvet cover and a light faux fur coverlet.
For guest rooms I like to provide layers of bedding, blankets and pillows for each guests sleeping preferences. That way your guests can choose how many/which kind of blankets to sleep with, and they don't have to find you late at night asking for an extra comforter or pillow!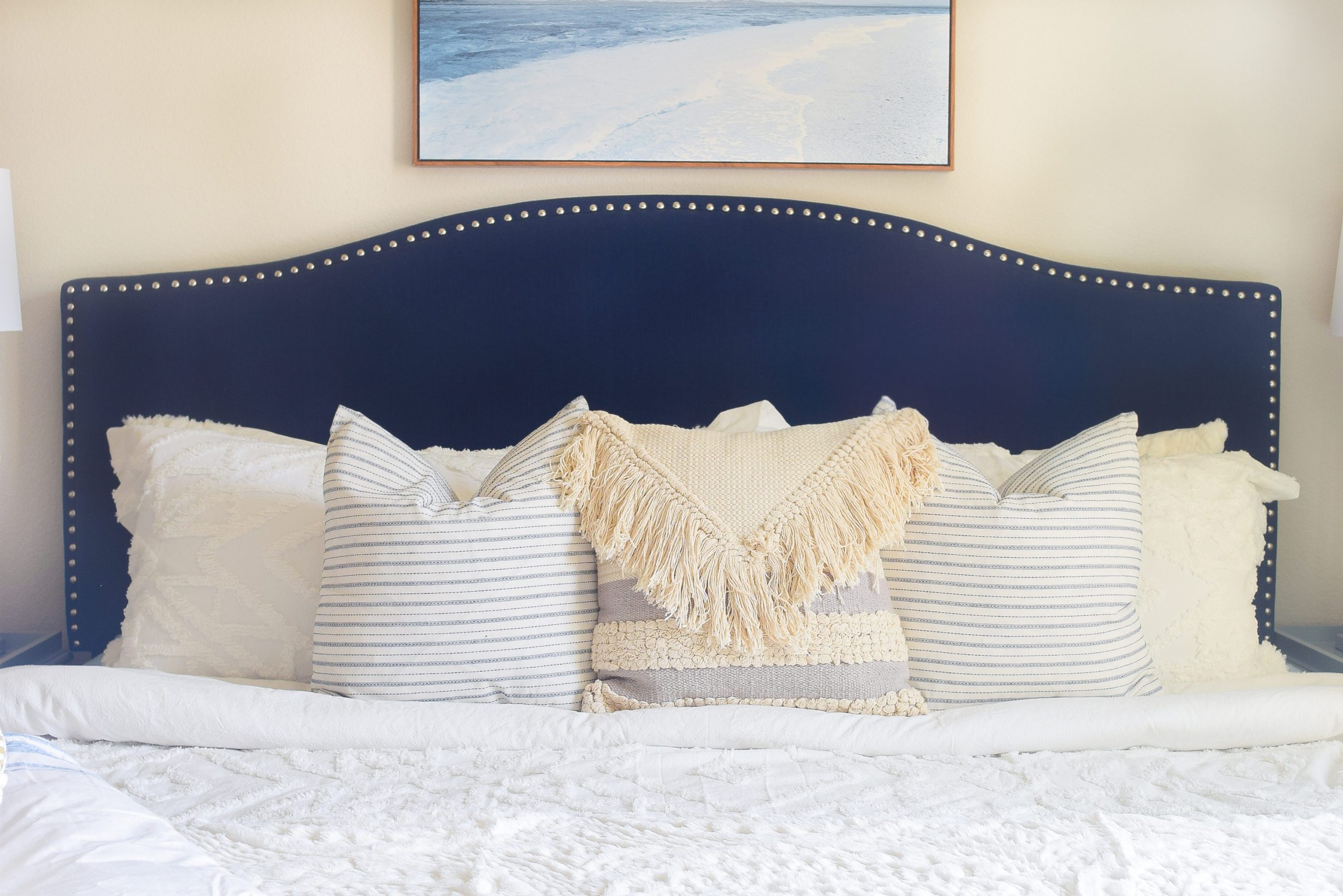 The ocean canvas print above the headboard is the perfect addition for adding a calming vibe to the bedroom. I decorate with a lot of coastal elements in my home, but with the guest bedroom I am hesitant to decorating in a over-the-top design style. A small art piece is a great option for having a simple touch of coastal style.
Easy Hosting Decor Ideas for Guest Bedroom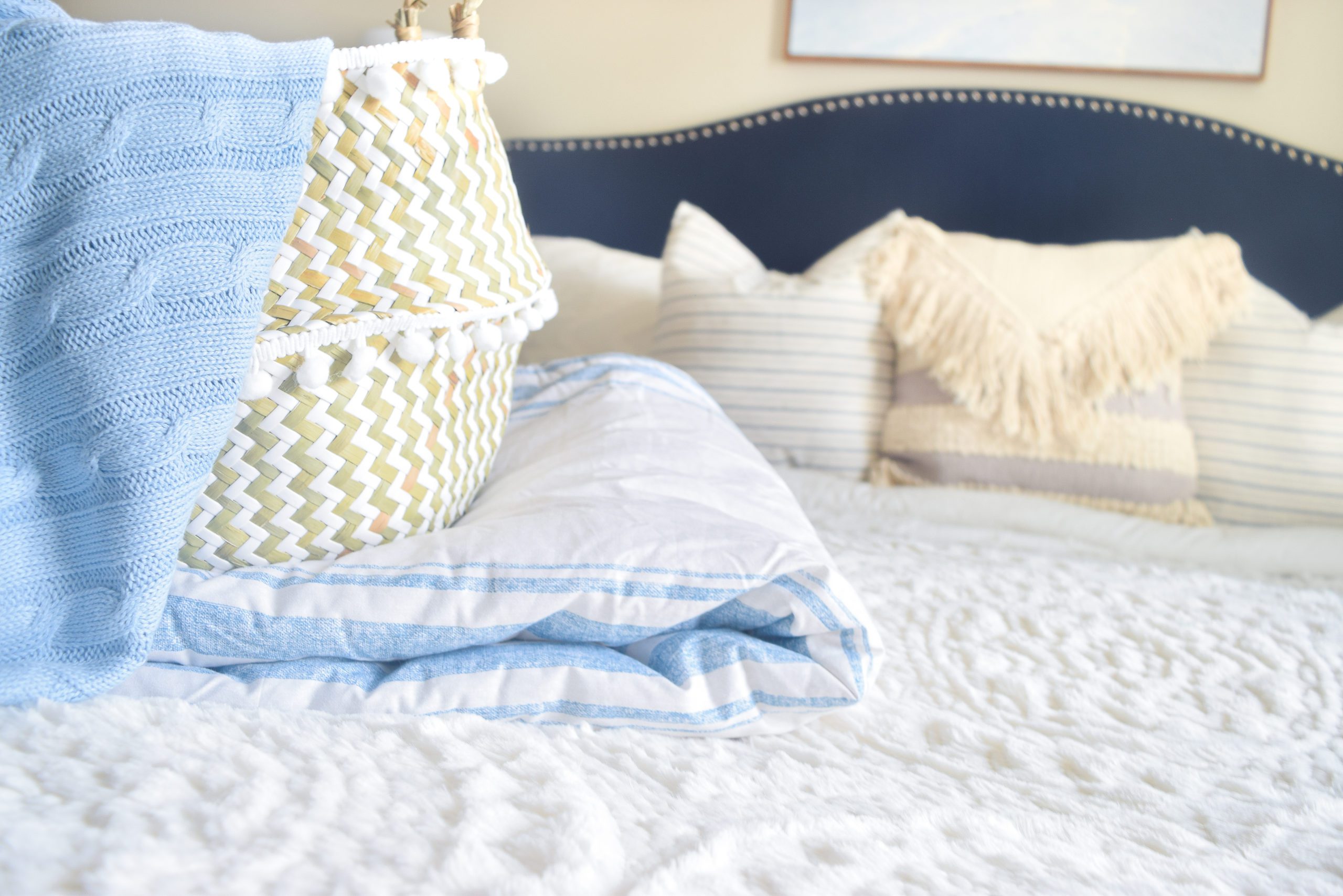 When hosting friend and family, it's the little extra touches that are the most noticed and appreciated. Sometimes it's extra toiletries in the bathroom, books or magazines on the nightstand, or a DIY frame that provides your guests the WIFI code! Below are a few extra hosting tips that will make your guests feel welcome and at home.
Another hosting idea is to provide a small compact diffuser on the nightstand. If your guests have had a long day of traveling, a diffuser could help them relax or fall asleep if they have trouble sleeping.
This cute floral diffuser is a Better Homes & Gardens Wicking Ceramic Diffuser. Unlike some diffusers, it's aesthetically pleasing to the eye with soft colors and modern design.
I also like to have a couple baskets in the room that can be filled with extra throw blankets or pillow inserts for new guests and family. Something about a fresh new pillow insert makes a bed feel so comfy and cozy! Wicker baskets are multi-purposed and can house a variety of items including books, linens, or your guests' favorite snacks and toiletries.
CLICK ON ANY IMAGE BELOW TO SHOP!

Our guest bedroom feels so fresh, updated, and welcoming for our friends and family coming to visit! Adding in new bedding and affordable decor items can freshen up your space without breaking the bank. I hope you enjoyed this guest bedroom update!