Are you looking for ideas for your own modern swimming pool in your backyard? These are my favorite gorgeous modern swimming pool designs! I designed our modern rectangle pool from these beautiful inspiration pool designs. Save or pin these pool images for ideas for your in ground swimming pool.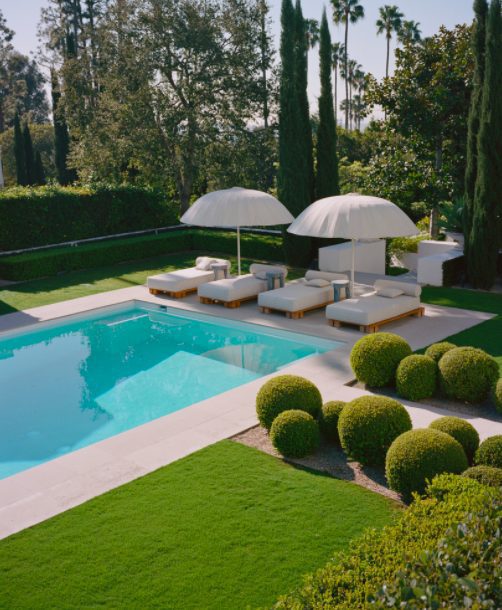 Gorgeous Modern Swimming Pool Designs - Ideas for In Ground Swimming Pools
My pool design search started a couple years ago – I saved as many modern pool designs I could find on Pinterest, Instagram, Google Images, local pool companies websites, you name it. I didn't know how soon we would be able to afford our own in-ground pool for our backyard, but I wanted to make sure I saved my inspiration pools when the time came!
When the time got closer to building our own swimming pool, I started narrowing down my pool ideas search. What pool design ideas did I love the most? A pool with slide? A modern rectangle pool? Pool designs with turf or concrete decking? All of the above?? 😉
READ ABOUT OUR POOL DESIGN SELECTIONS HERE!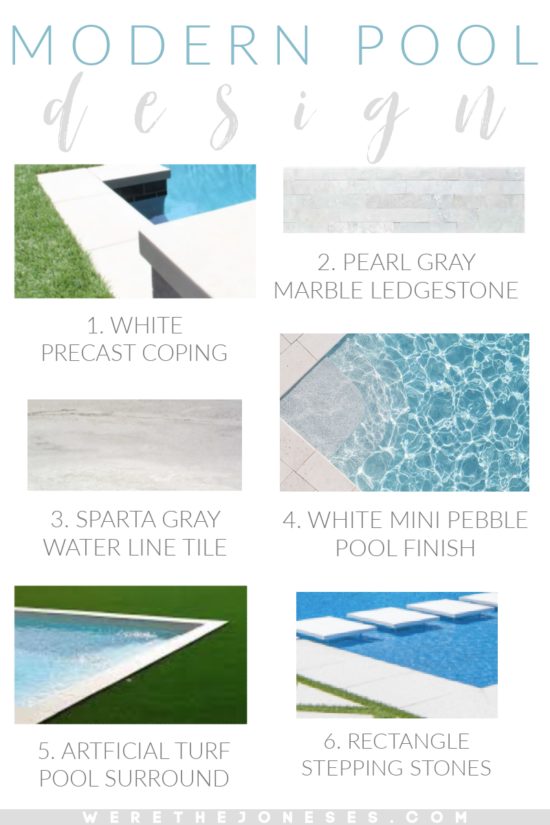 Below are my top 10 favorite modern pool designs. I've probably analyzed these pool images for longer than I'd like to admit, ha! They are so incredibly beautiful! Each of these gorgeous swimming pools inspired our own backyard pool design. Let me know which is your favorite!
Gorgeous In Ground Swimming Pools with Light Blue Water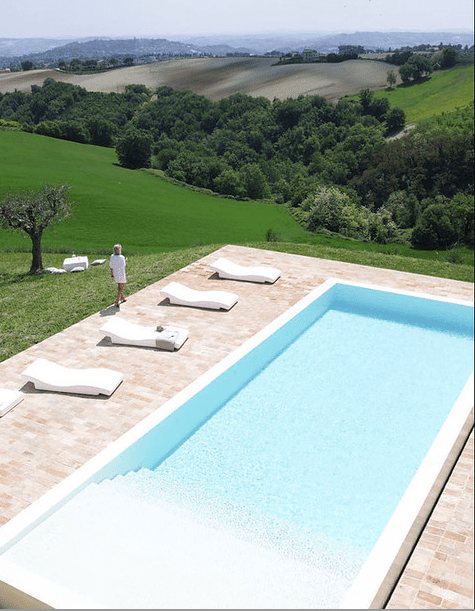 One of the first decisions I made about my pool design was that I wanted a geometric rectangle shape. But a close second was a light blue color pool water. I noticed I was drawn to pool photos that had very light crystal blue water.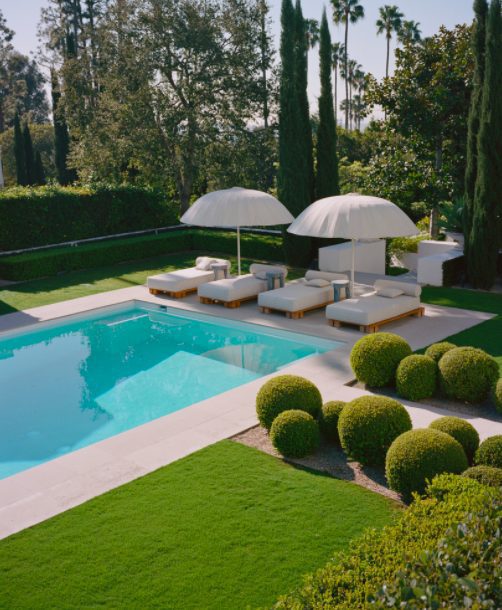 Most of the pools that have this pool water color have white plaster finish, but some can achieve this beautiful light blue color with a white quartz or white pebble sheen pool finish.
With our first pool build at our old house, we chose a very dark pebble pool finish. We live in Texas and by the time mid July came, the pool would feel like bath water. I am hoping that with a white pebble sheen finish that the water can stay cool throughout the summer.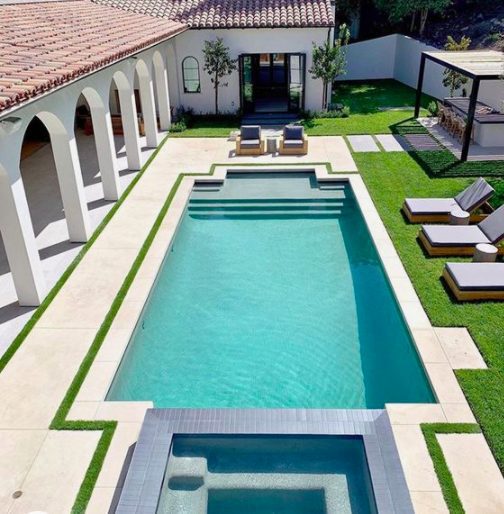 I also love the interesting turf design along with the light blue pool water color in this photo. Turf around swimming pools is gaining in popularity and adds an elegant modern touch to your backyard.
Modern Swimming Pool Designs with Slides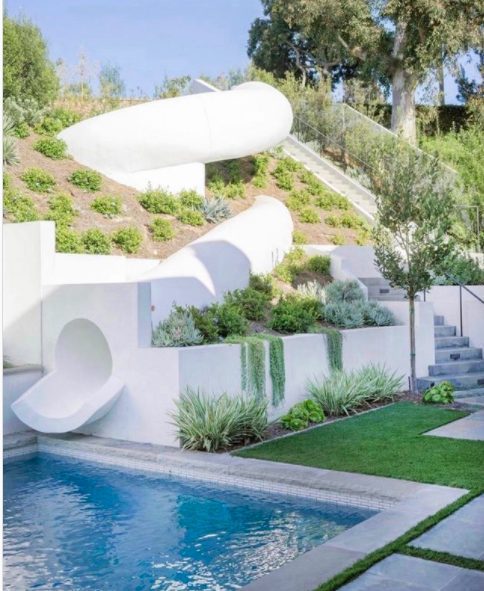 When we told our kids we were building a pool, their first request was to have a slide! My husband wasn't on board at first with adding a custom slide option to the pool design. When we were getting our first pool quotes, a modern pool slide feature was upwards of 40K!
Custom pool slides add a fun feature for kids (and adults!) to a swimming pool, but they can be pretty pricey. Especially if you want a modern slide design, not rock feature slide design.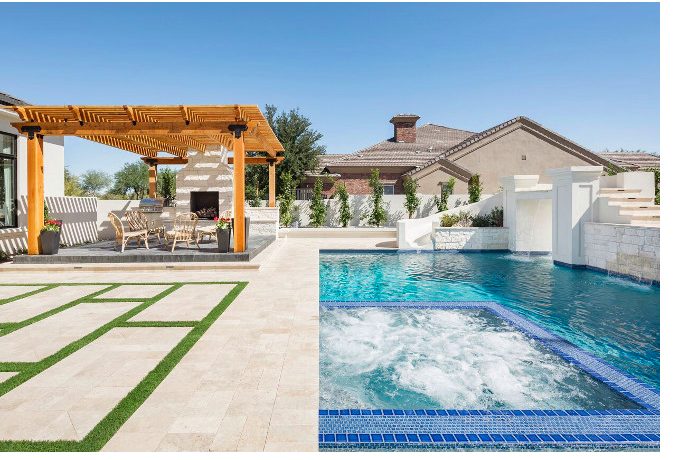 We decided to get a slide for our swimming pool, but we purchased a white stand alone slide, that we are planning on building around with a custom look in the future.
Favorite Modern Swimming Pools with Stepping Stones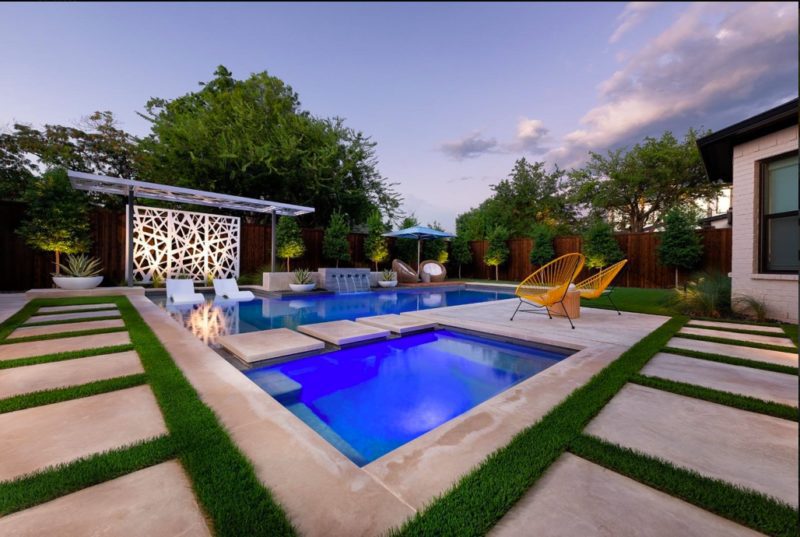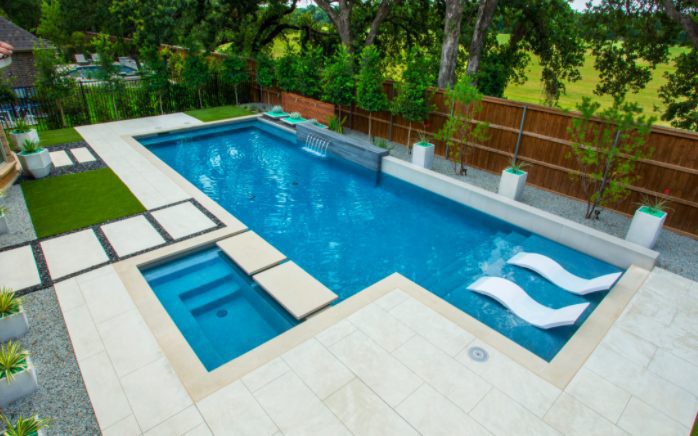 Another modern pool feature that I gravitated towards with browsing swimming pools online are rectangle stepping stones in the pool. They are a creative way to add a divider between the spa and pool, or add interest to your swimming pool.
Rectangle Swimming Pool and Backyard Putting Green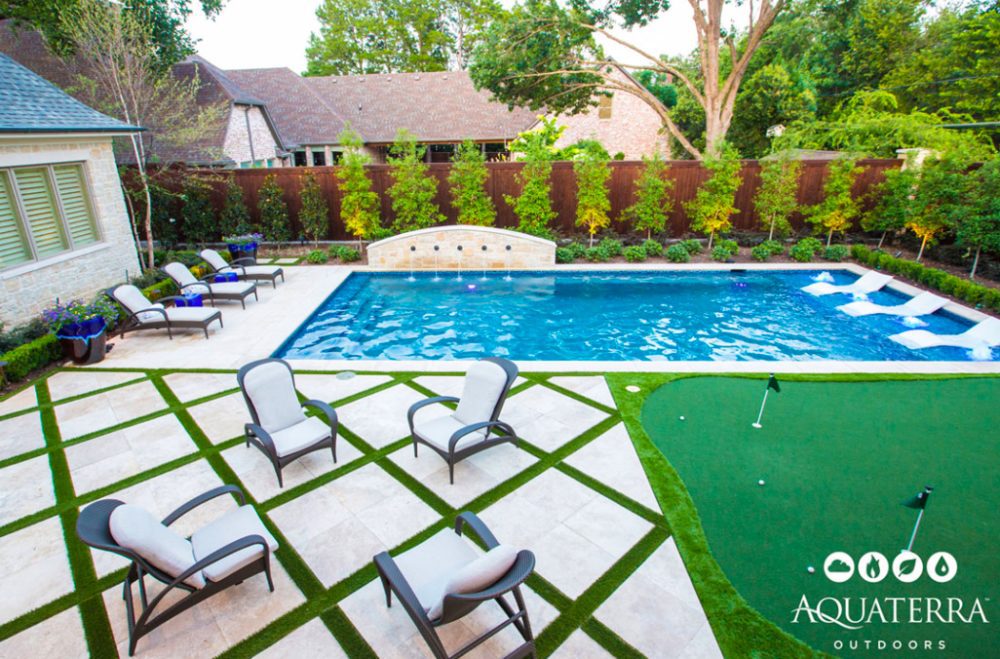 One of my husband Bryan's main request for our backyard design was a putting green. He and my son are big golfers, and wanted to design our pool with a turf putting green design as well. This was the first inspiration photo I found with a modern swimming pool and backyard putting green. I can't wait to show you our own putting green design by our pool!
Modern Swimming Pools with In Level Spa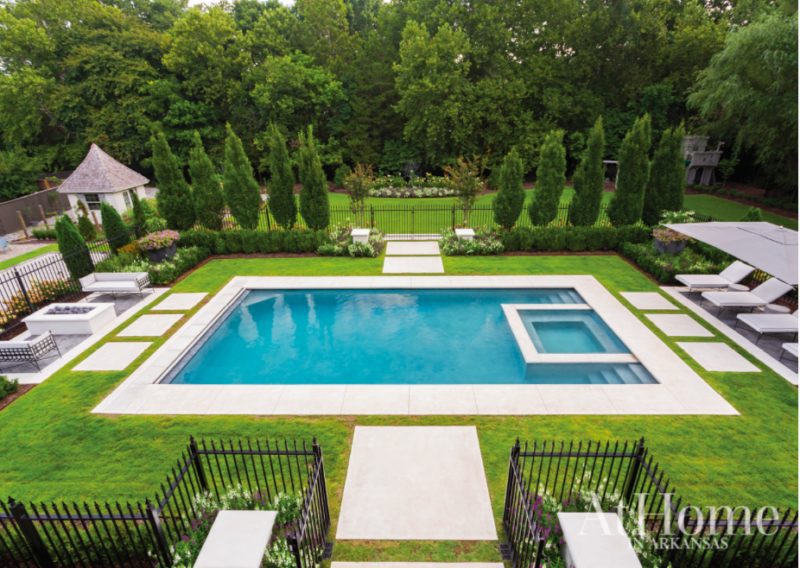 Another modern pool feature I love is an in-level spa. An in-level spa basically means a hot tub that is level with the swimming pool, not raised. I really like the look of this aesthetically, but it also makes sense practically so that you don't block the view of the pool or backyard. We had our pool designer add a small step in the spa so that it is easier to step down into the in-level hot tub.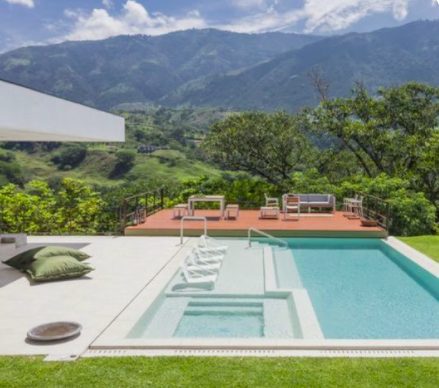 Do you have a favorite modern pool feature you love? Are you into modern pool designs or do you like a more free-form style pool?
Stay tuned for lots of our backyard and pool renovation updates coming soon!