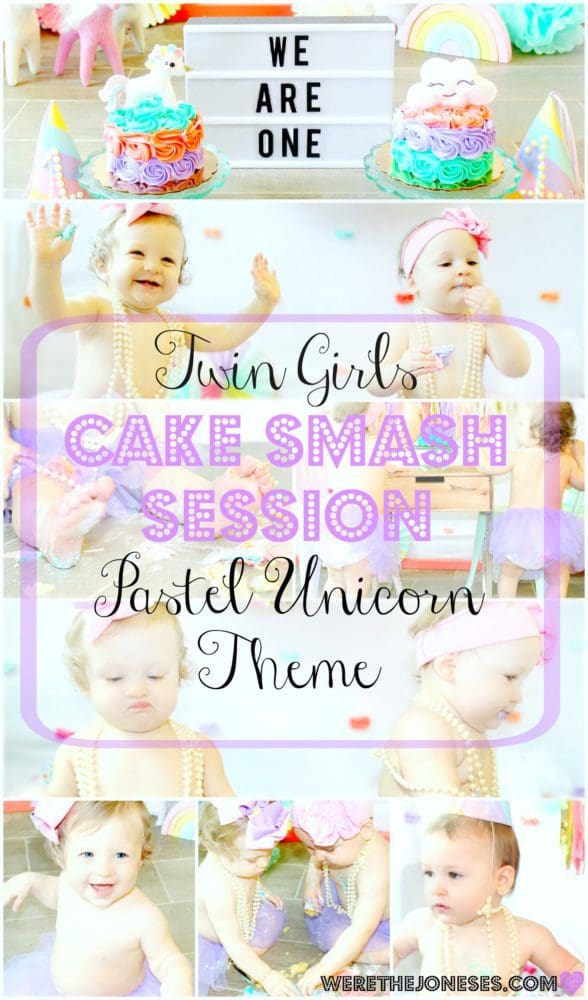 [soliloquy id="2815″]
Just gimme all the pastels!
I have been a pastel-crazed mama the past few months…I don't know if it's that I now have two little girls or what but I'm alllllll about pastels lately!
Genevieve and Georgia's room already has lots of decor that's in the pastel color palette, plus with doing a Unicorn First Birthday Party, it all goes perfect together for their cake smash photo session.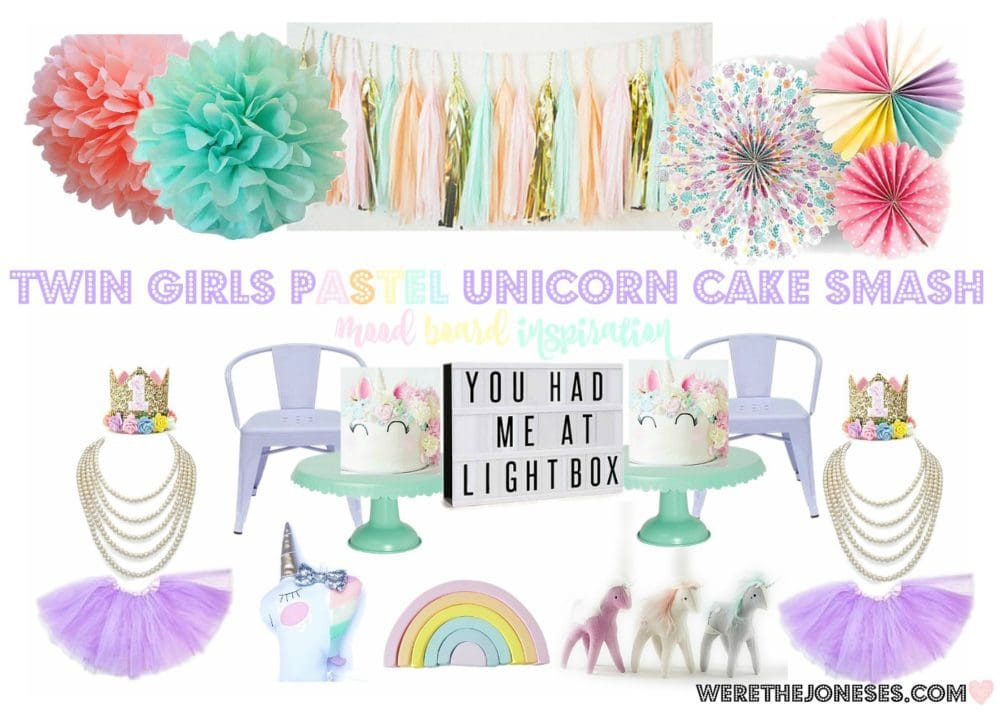 I made a mood board with some ideas of what I wanted, and lots of these items I already had. I bought the lightbox, industrial chairs, three felt unicorns and pastel rainbow stacker when I did the playroom makeover for Christmas, and the tassel garland and pom poms are a part of the decor that's hanging in their nursery.
I've had these tutus for awhile, one of the many purchases I made when I first found out I was having two girls. Little did I know my girlies would be wearing 2T clothing by the time they were 10 months old and these infant size tutus would be super small on them! I actually cut a little slit in the waistband just for these pictures so they would fit them and not be so tight!
When I was doing flowers for weddings right out of college, I used to buy lots of items off Craigslist from brides who were selling their used wedding decor. I completely scored a ridiculously amount of pearl strands from a bride and even after all these years I still have tubs and tubs of pearl strands to decorate with! So I cut off several strands to drape around their neck and tied them on the ends to look like necklaces. If you are ever in need of bulk pearl strands I'm your girl! Or you can buy them by the roll too!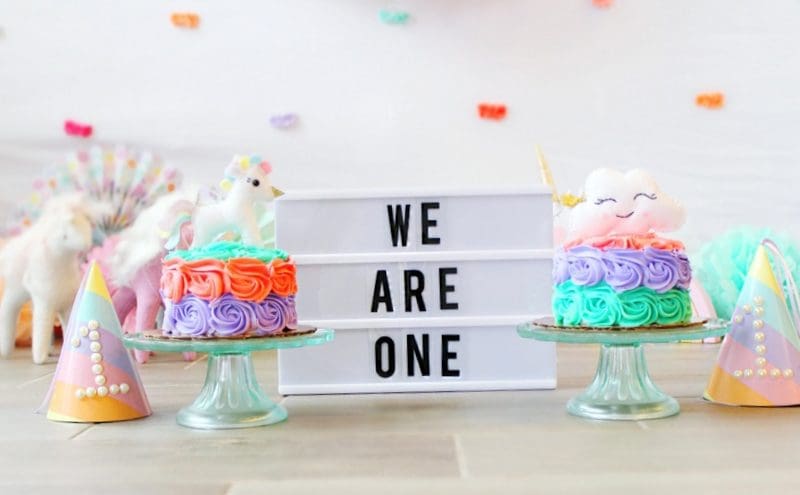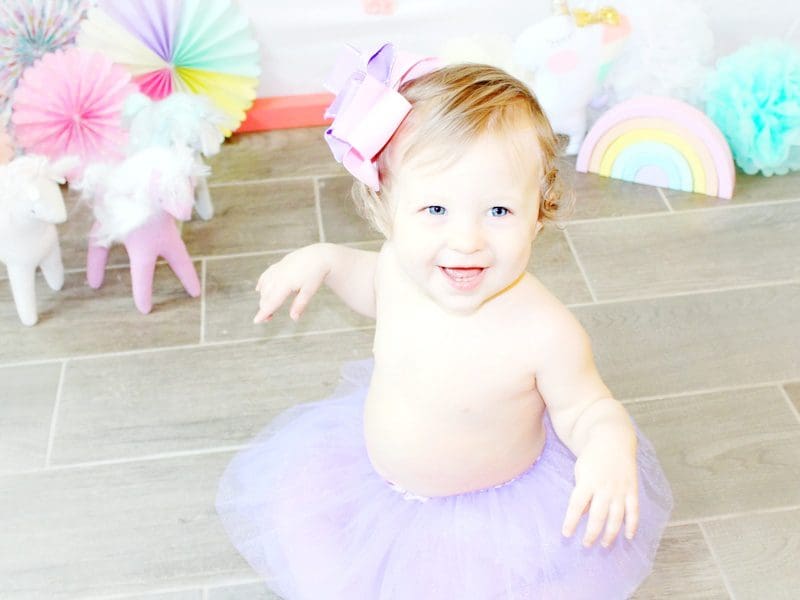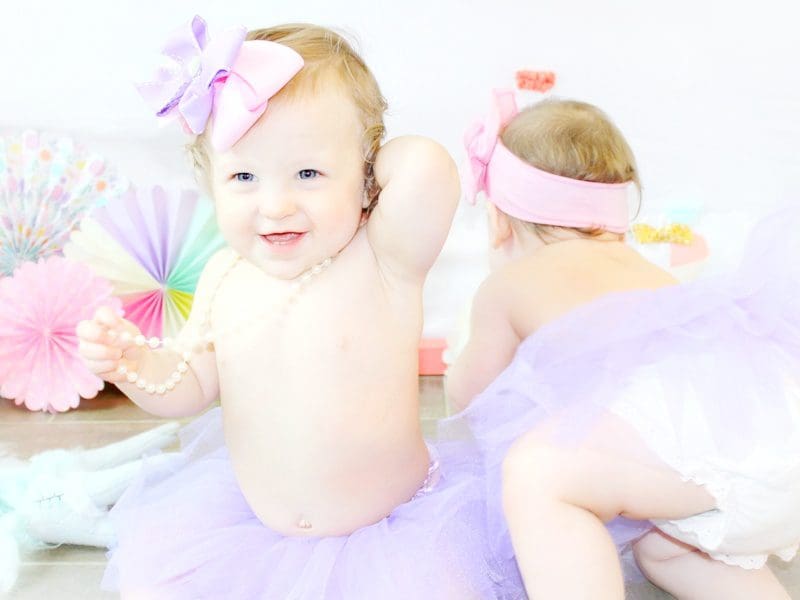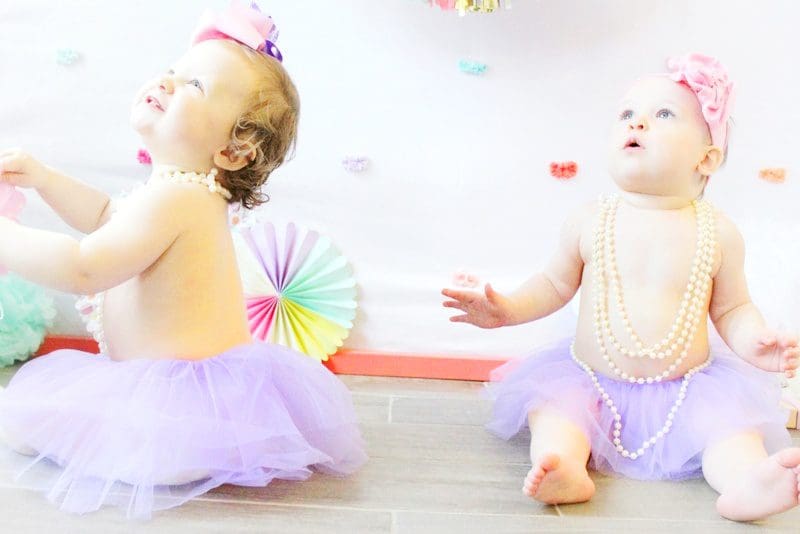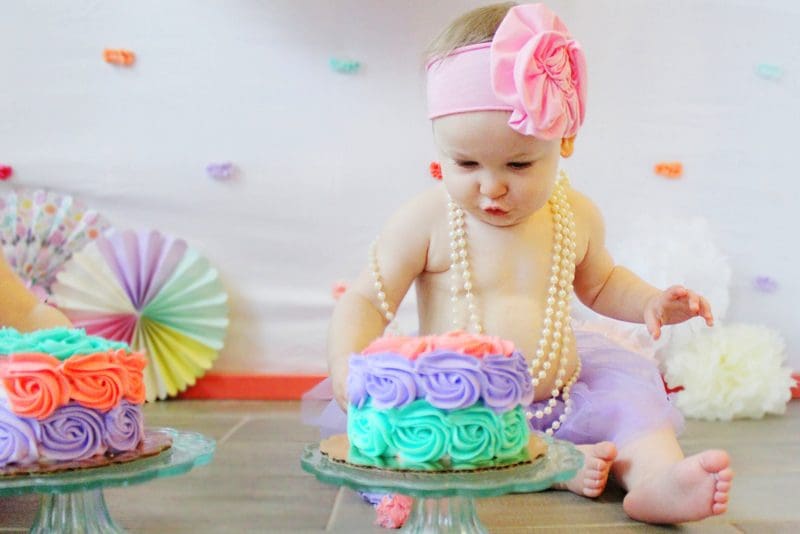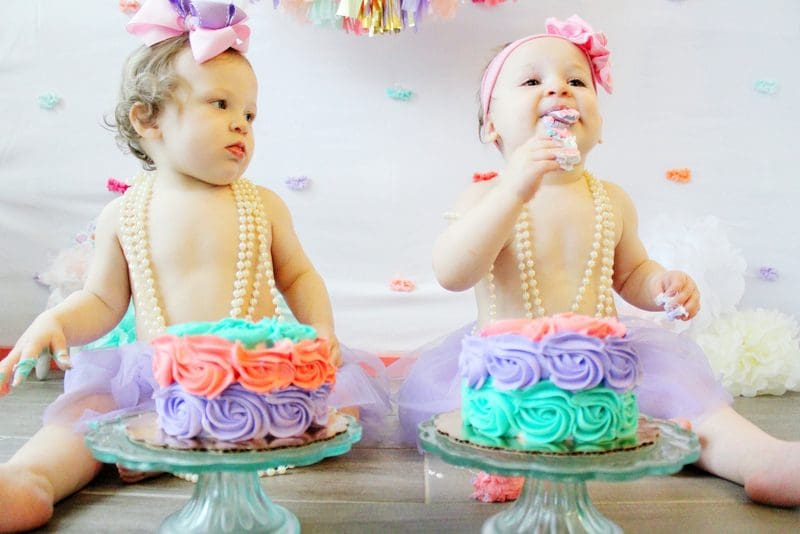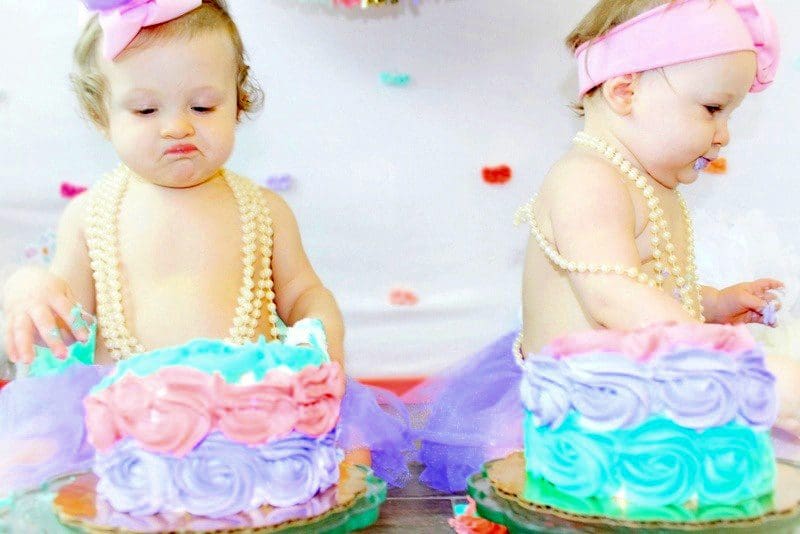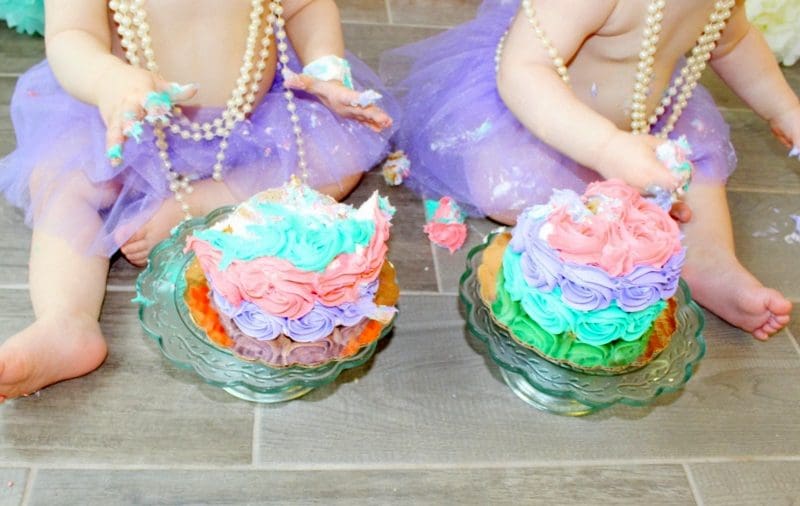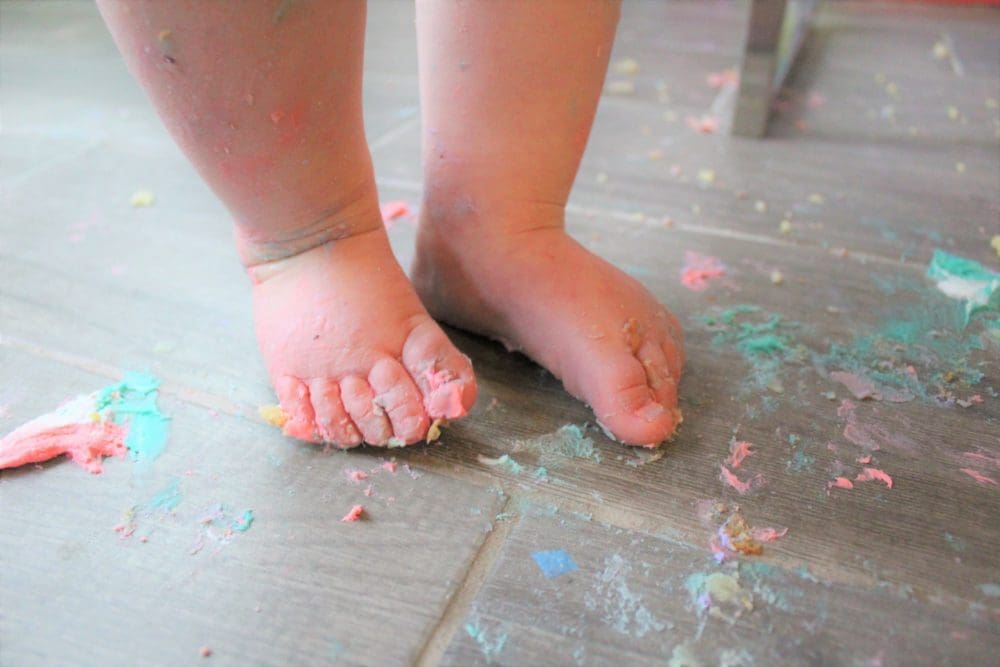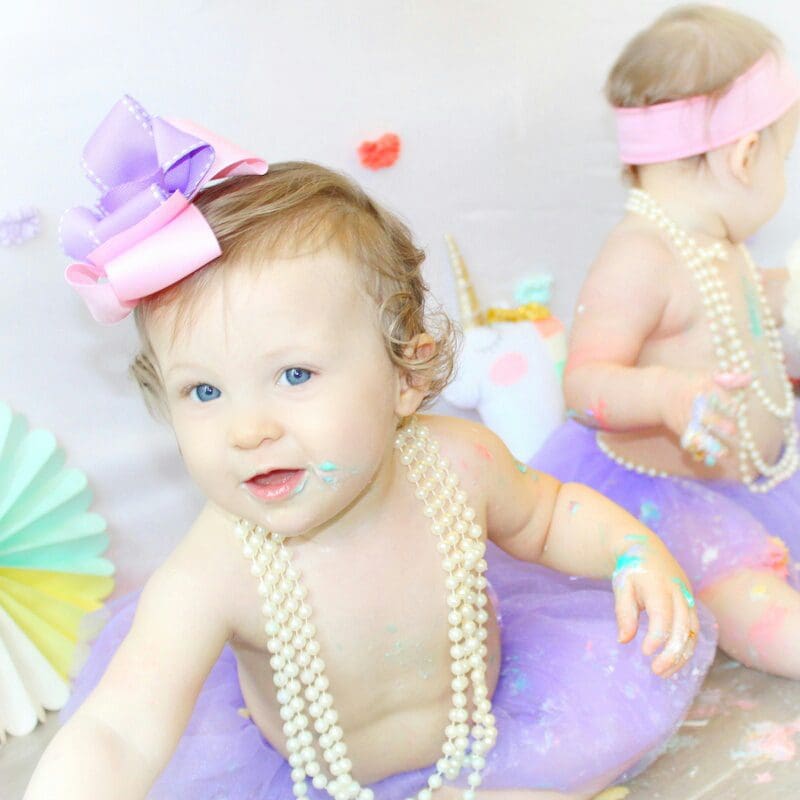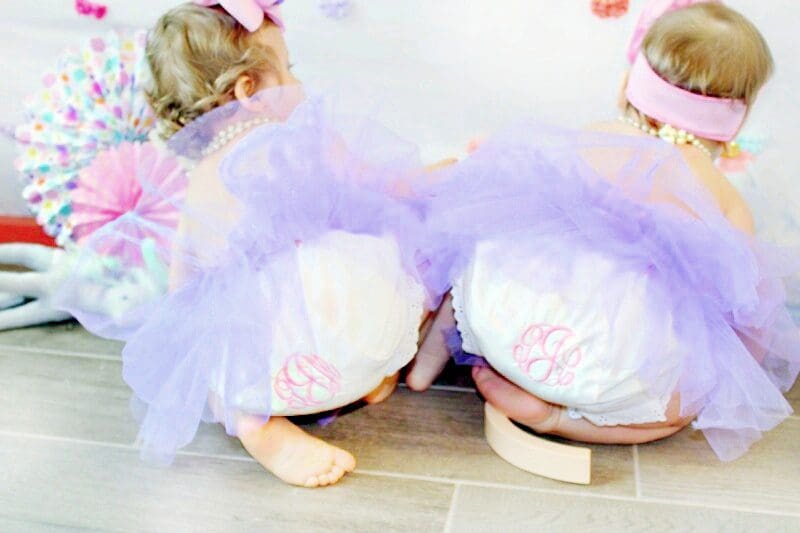 I wasn't sure what they were going to think about the cake, but when Cade had his cake at his 1st birthday party, he didn't want anything to do with it!
Georgia was really going after the cake at first, I think she liked playing with it and getting it all in her fingers and hands. She's our lil destroyer, she loves knocking things down and breaking everything apart!
Genevieve was the total opposite, and after that initial first bite, she was so grossed out about it being all over her. I love all her faces she was making while touching and playing with it, lol. She is definitely our sassy lil girly-girl!
After awhile I actually started sticking little pieces of puff snacks in the cake just to get some good pictures of them reaching in!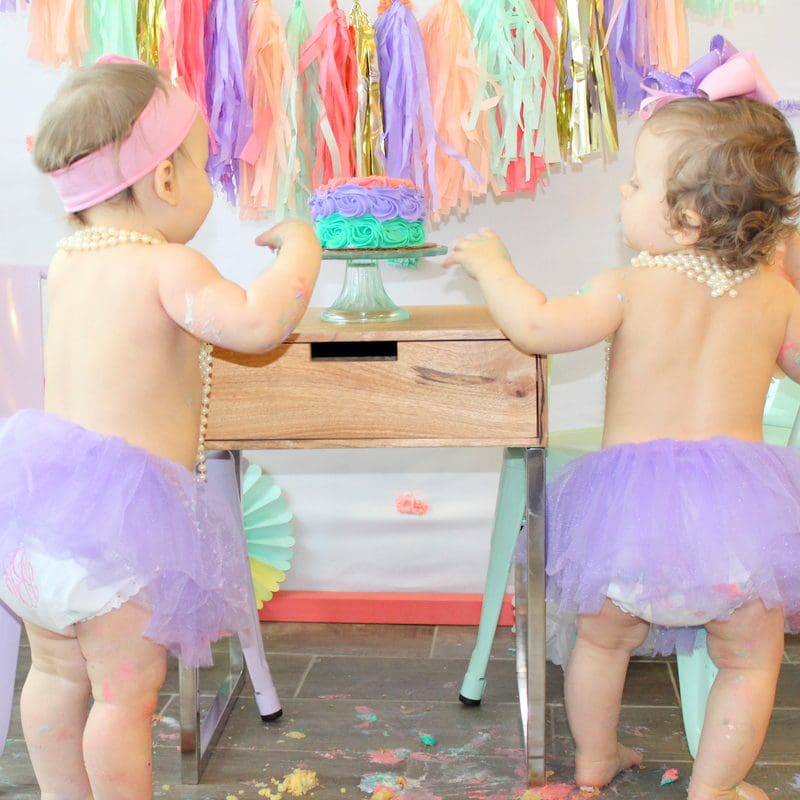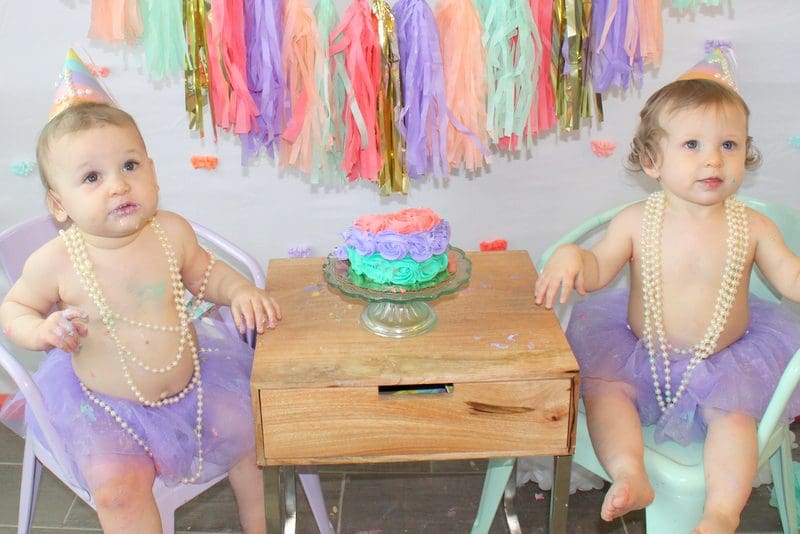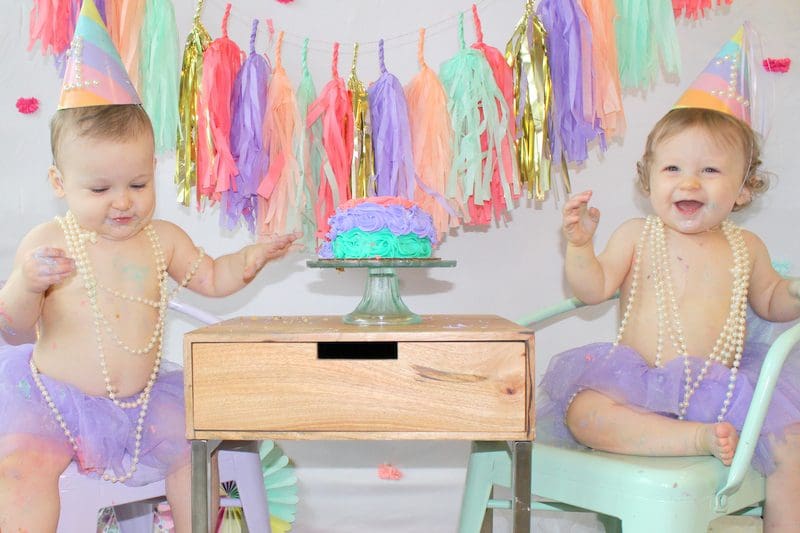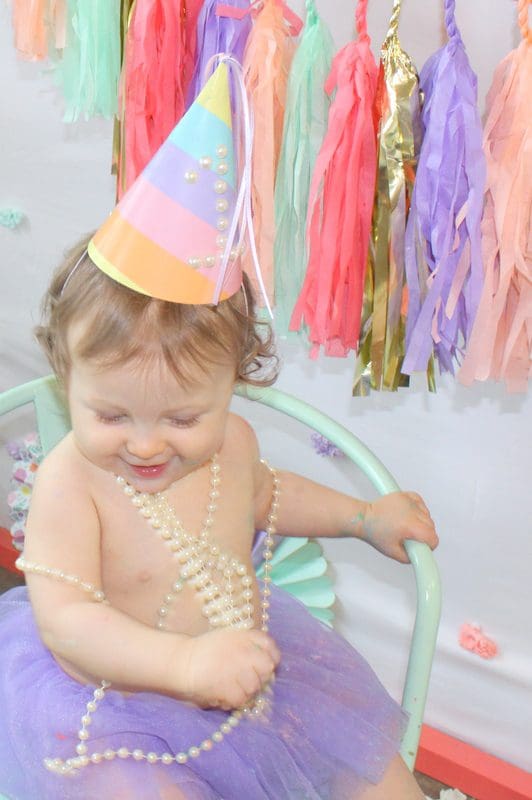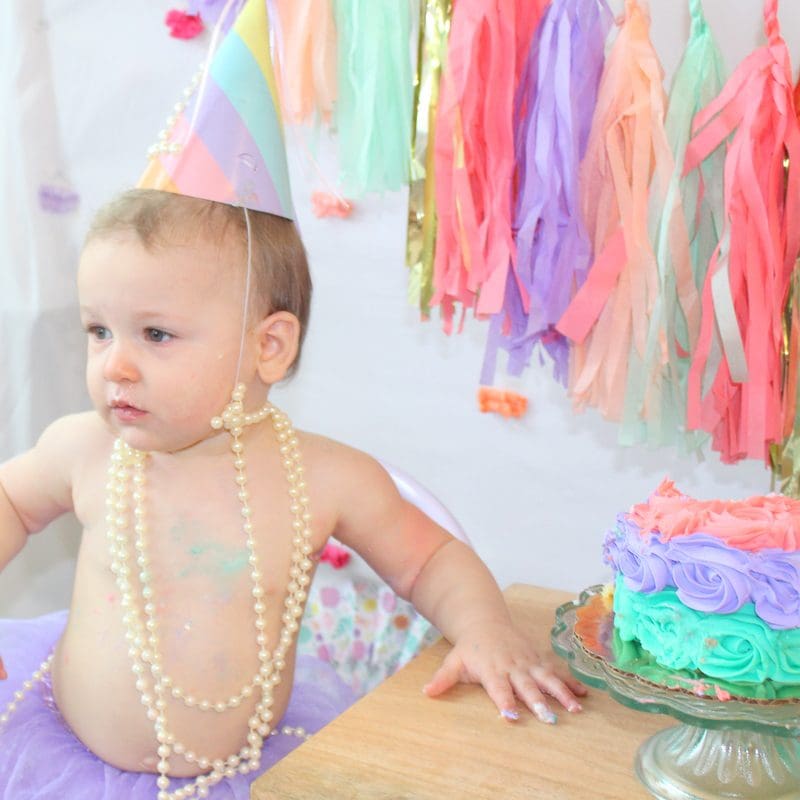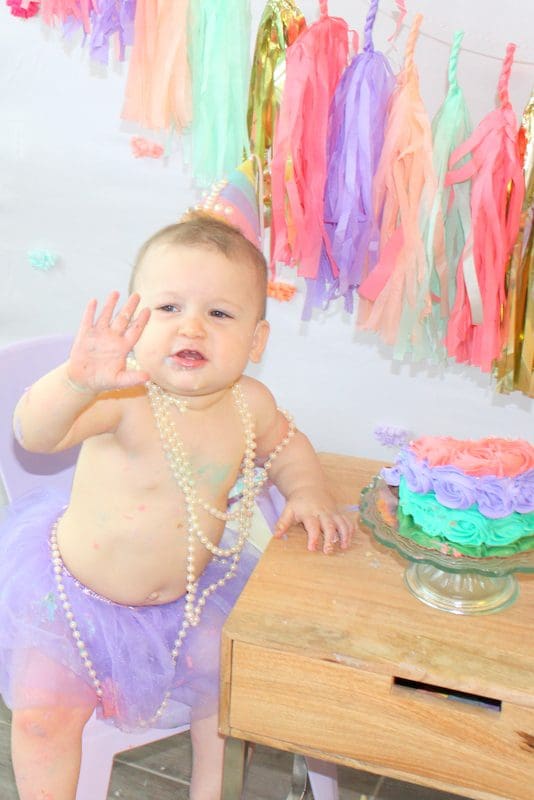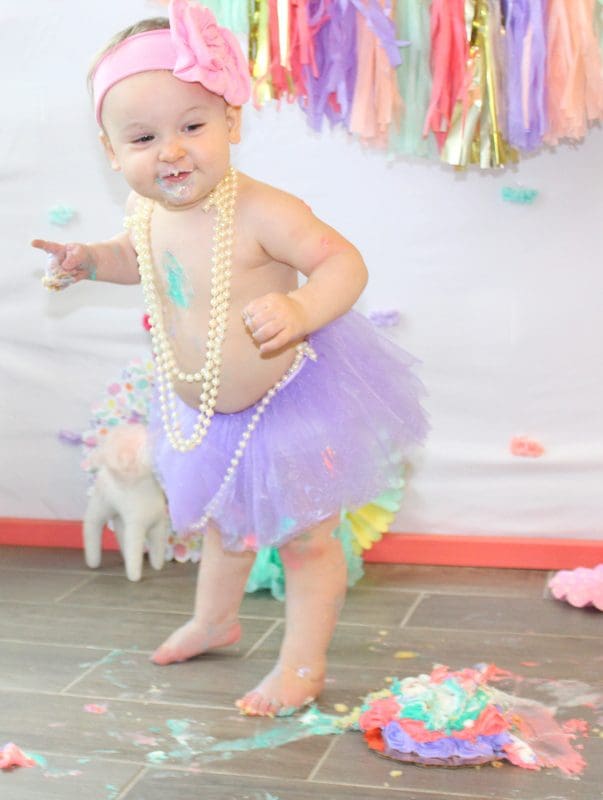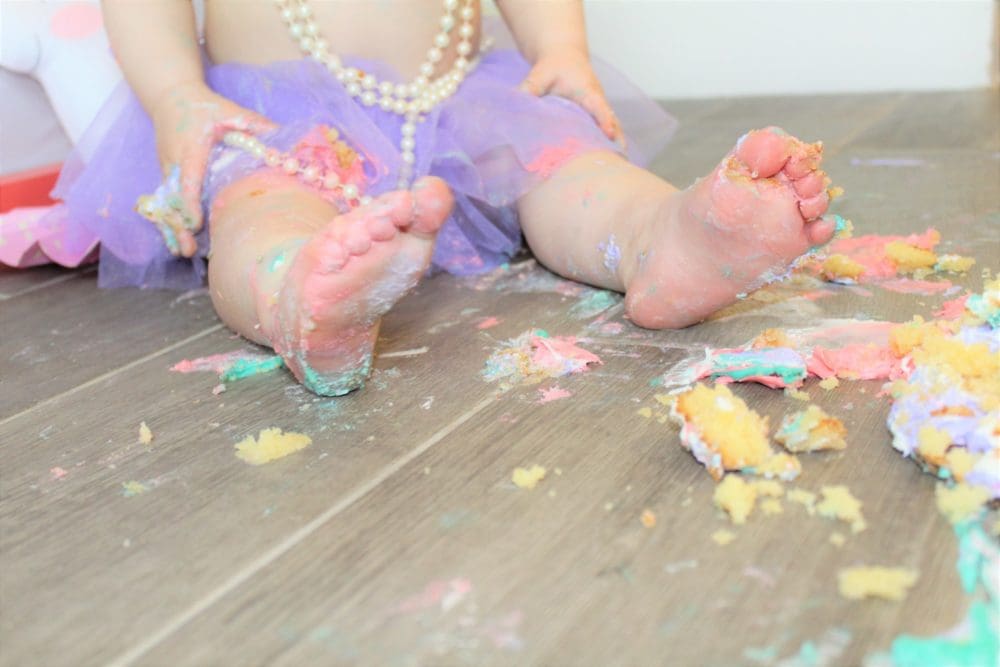 I was first thinking of doing the cake smash outside in the backyard since it's so messy and it would be the best lighting, but the weather was cold and rainy on the day we were taking pictures. So I opted for the brightest spot in our house, the kitchen breakfast nook!
I wanted a fun backdrop, so I thought I could use this super cute comforter that I bought on a whim at Target one day, of course not knowing what the heck I was going to use it for at the time. Bryan and I tried pinning it to the wall with push pins, but it was to thick and squishy it wasn't staying put! We tried tape, and that didn't work very well either, so Bryan asks me, Were you planning on using this later as a comforter or can I do something to it to make it work??
Out of determination  on wanting to get it to work as a backdrop, I told him to do whatever he wanted to it, and I see him come back 15 minutes later with the comforter completely cut apart and the inside stuffing removed, lol. But we pinned it up on the wall and it worked!
I thought about laying down some type of plastic liner or tablecloth on the floor, but I also liked the look of having our grey wood-like tile be in the pictures too. I ended up not laying down anything, and I think it looked really good for the pictures!
Our kitchen floor was super sticky and the icing was really hard to clean up, and I'm sure there's still some icing stuck inside the grout and underneath the cabinets! But it was so fun seeing the girls get so messy and having fun with all the icing and cake!
Cake Smash Tip: Have a bath ready for when it's over! Georgia and Genevieve's entire body was covered in icing, and after carrying them to the bath mine was too!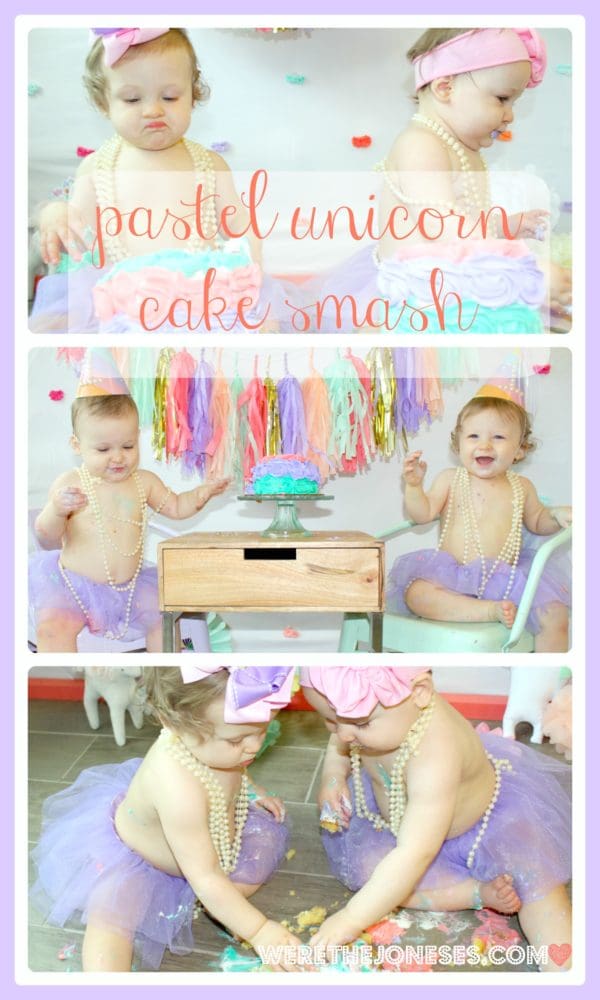 I love that we were able to capture these sweet moments of Genevieve and Georgia turning one and tasting sweets and getting their first sugar fix! It was fun seeing their little personalities come out while taking all the pictures too.
Have you done a cake smash photo session before? What are some of your tips for it going smoothly and getting the best pictures??
Stay tuned! I'll be posting pictures of their magical unicorn party soon!!