The dining room got a refresh! And what a difference bright white paint, fresh wallpaper and millwork accent wall add to a room! We painted the dark walls in our dining room Sherwin Williams pure white, added a white board and batten wall, and hung blue floral wallpaper for a fun focal point. Check out the dining room BEFORE and AFTERS below!
Chinoiserie Chic Dining Room Makeover
The dining room has been quite a work in progress in this house!
This room has had a few mini makeovers over the years but they never felt finished or complete.
Does it ever take you a few times over to get a room just right? Our dining room is that space for me. But I have FINALLY got it right. And I can't wait to show you the changes!!
Dining Room Makeover - BEFORE PHOTOS
June 2015: Move in day at our new house!
This was the night we moved into our house. Boxes all over the dining room!
Picture below is a few months after we moved in. Still figuring out how I want to design the dining room, but have a few big pieces in place.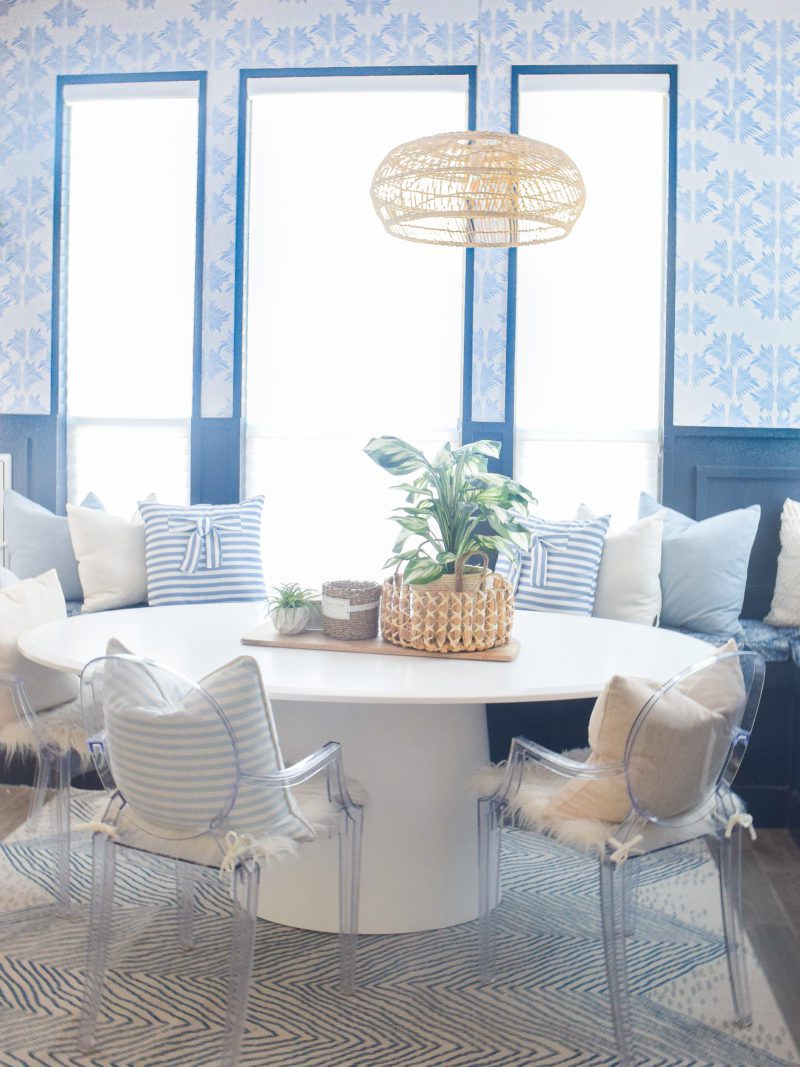 2017: We painted the dining room Sherwin Williams Anchors Aweigh for a bold contrast. I was still all over the place with design styles. Rustic, modern, glam, tropical…you name it.
I liked adding navy walls to the house – this was one of the first bold colors we painted in our home! But after awhile, this room started to feel like a dark hole.
This part of the house doesn't get much sunlight and the dark navy walls made it feel even darker. This next photo is edited to brighten up the room a lot!
Summer 2020: We painted the buffet table a chartreuse green, added a pink and cream rug, coastal blue curtains and fun artwork on the walls.
I was adding fun colorful items to the dining room, but it still wasn't feeling bright enough. I wanted a change that would feel more tailored, more fresh and with a designer look! I started brainstorming and creating a design collage for ideas I had for the dining room.
The first design change I wanted to make was wallpaper! Surprise, surprise…But only on a half wall. I thought the chartreuse green buffet table would look great against a white millwork wall for added dimension. Also, I wanted the dining room to feel bright and and fresh with white paint! I chose Sherwin Williams Pure White – it's my favorite bright white paint color.
Are you ready to see the dining room makeover??
Dining Room Makeover - AFTER PHOTOS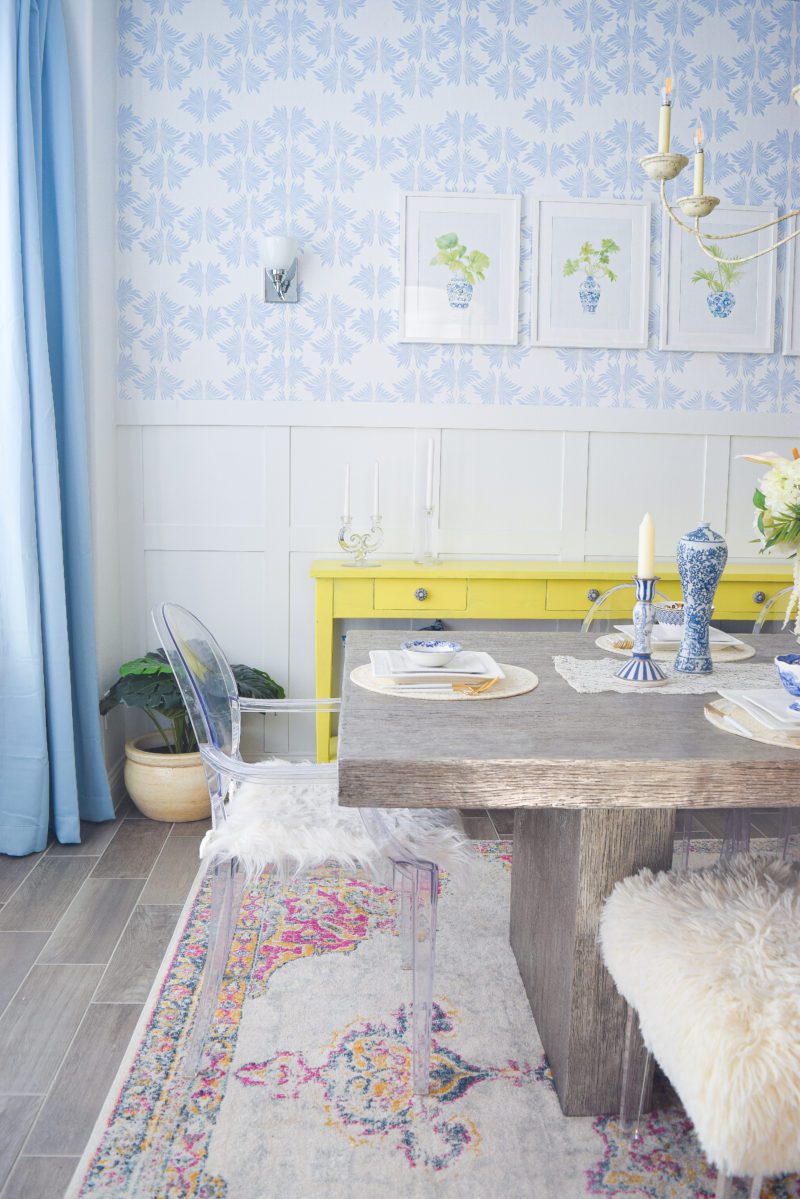 Here she is!! The new dining room!
I keep purposely walking by this room in awe of how it transformed! What a difference new paint + pattern make!
The biggest change was painting the room white. It brightened up the space so much! But what takes it up a notch is the focal wall. The Sarah Annie duck egg blue wallpaper from Milton & King, plus adding the white board and batten wall below.
This is the backdrop the chartreuse green buffet table deserves! I love the pop of yellow-green from this table – it gives the dining room such a happy vibe!
I was struggling with what type of artwork to hang above the buffet table. I wanted to keep costs low and not purchase anything new, but the artwork we had in here before just didn't feel right.
That's when I started walking around the house and found the EXACT wall art that was meant for this space!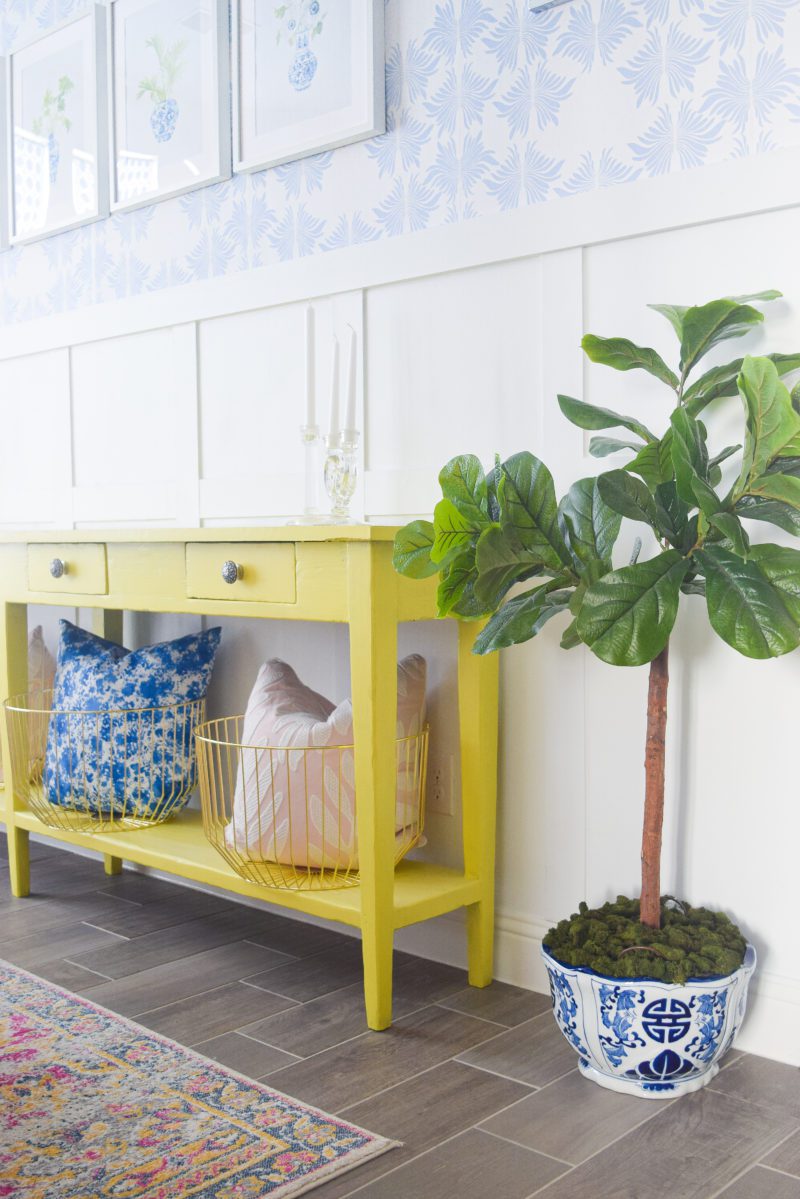 These four prints were leaning on a shelf in my office, and you couldn't really see them – they needed a more dominant home. The art prints are tropical stems in blue and white chinoiserie vases, and are so pretty!! And they are from Walmart, can you believe it!?
Dining Room Furniture and Decor Ideas
I've been wanting a new dining room furniture piece to store all of my drinkware and serveware. The white hutch that was in this spot had open shelving, and I really needed something that had both closed hidden space and display shelves.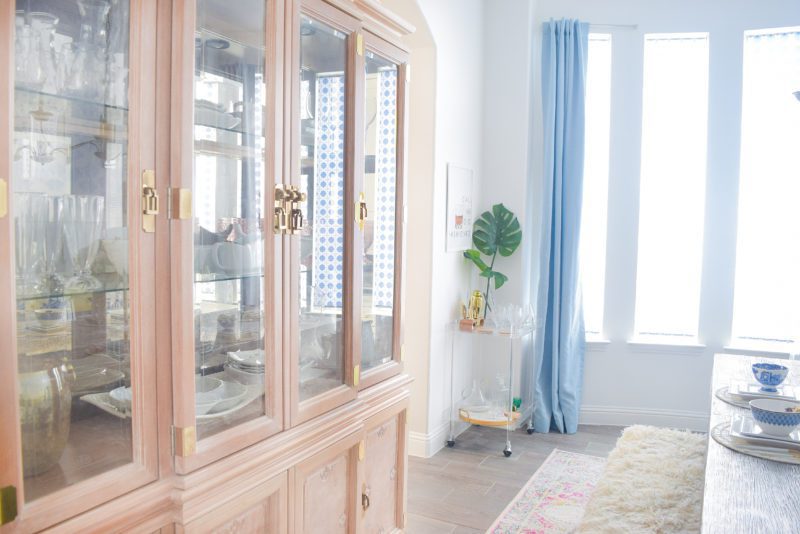 So I sold my white hutch and found this chinese inspired china cabinet on Facebook Marketplace for $125!
I love the gold hardware and chinoiserie detailing. The blonde wood really pops against the new bright white walls too.
My drink of choice: An old fashioned 🙂
How fun is this art print? I've had this print and clear acrylic bar cart in this spot for over a year, but it felt like it got lost in all the dark. Now this bar corner really stands out.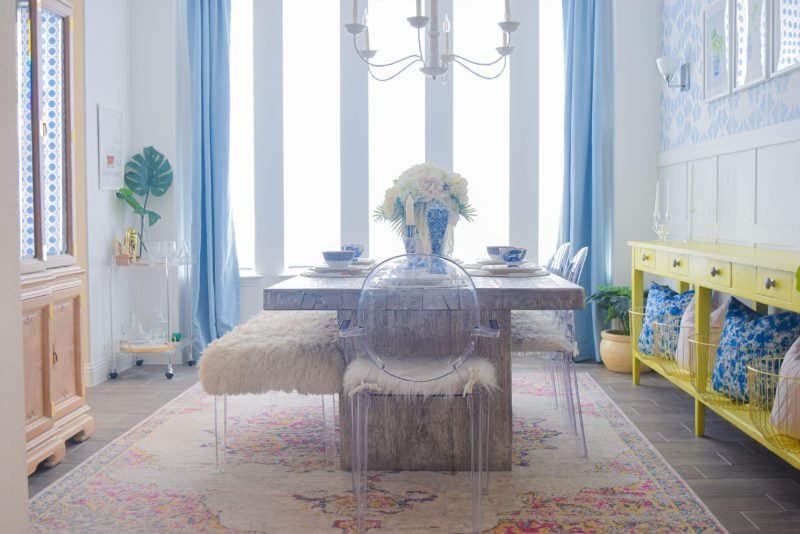 Chinoiserie Chic Decor Details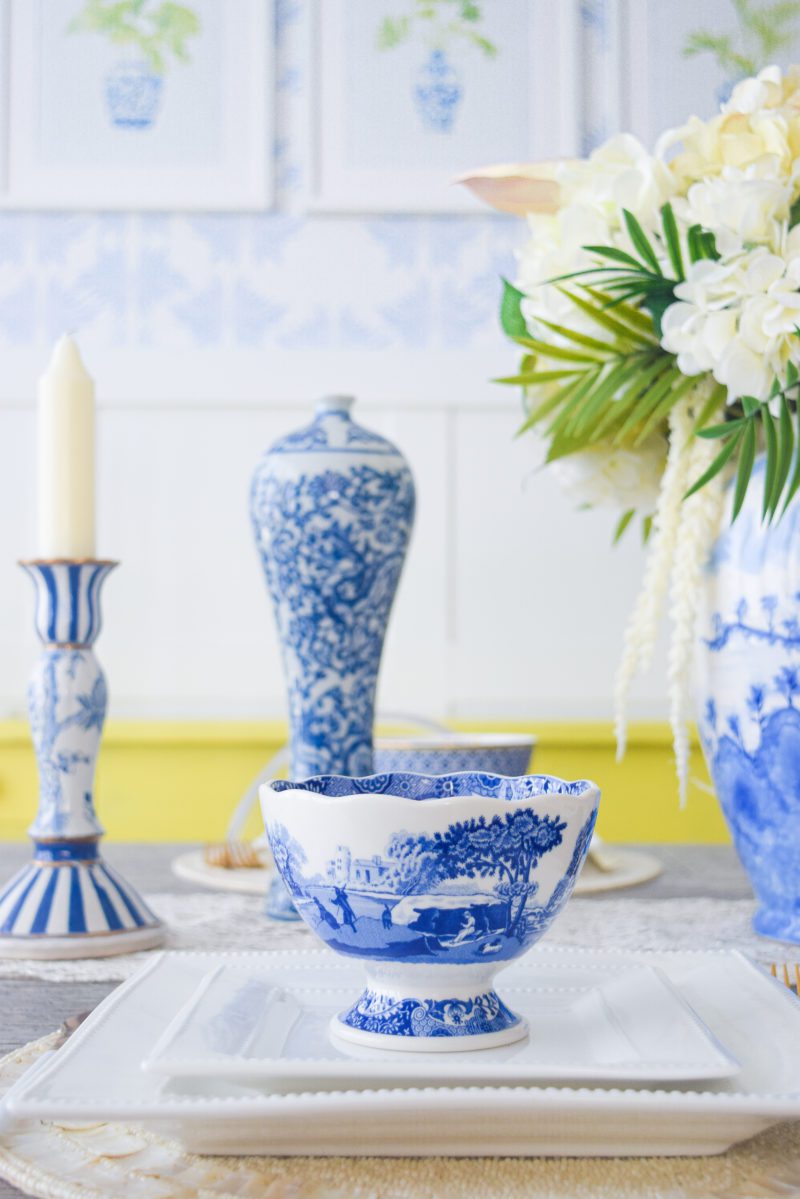 After the big changes of paint, wallpaper, millwork, and new chandelier, it was time to add in the details! All of these blue and white chinoiserie vases and kitchenware I've had on hand, but they didn't quite stand out like they do now.
This large blue and white painted vase is one of my favorites! It was a Home Good find – I just love the design, shape and coloring. I added faux white floral stems with palm leaves for a bright coastal touch.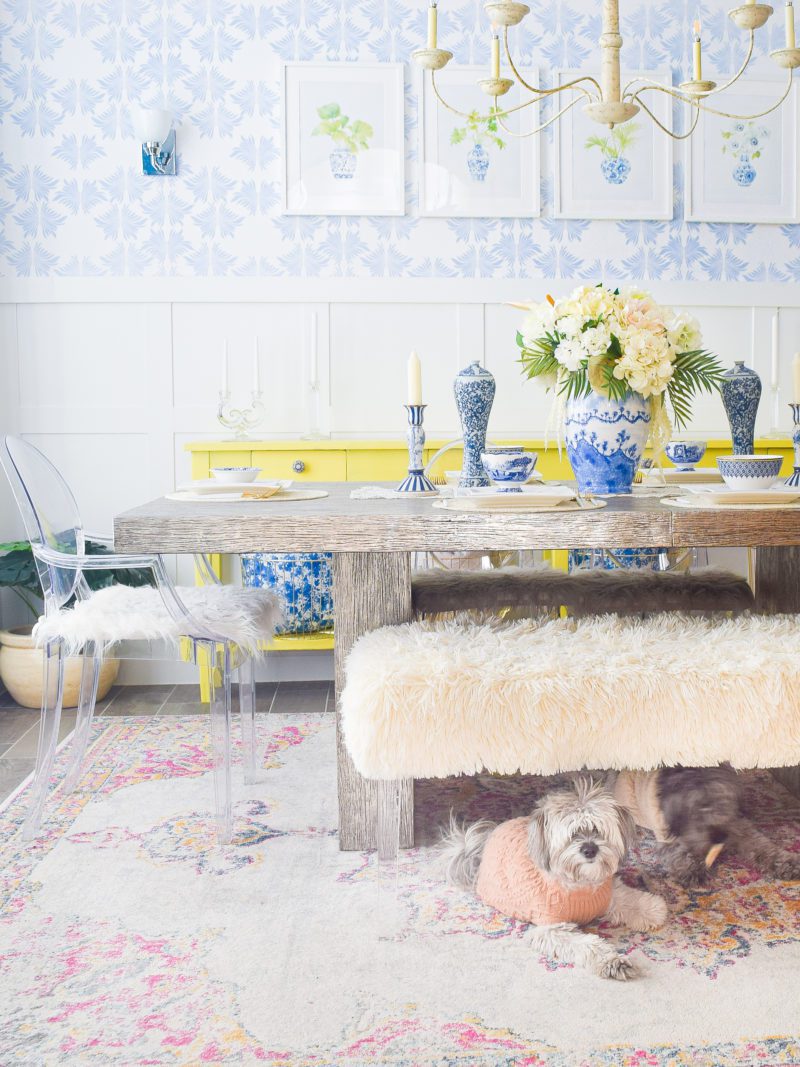 I had my eye on the whimsical white floral light fixture in the design collage – but it turns out it was too small for this space. I am hoping to find a home for it in my foyer soon!
I found this chandelier last minute and love it in this room! It's whimsical yet traditional, and has a beautiful patina that matches the china cabinet.



Do y'all like the dining room changes? It feels like a WHOLE different room! One of the easiest ways to make a BIG design change is paint and wallpaper. I am love with our new bright chinoiserie chic dining room!