I'm excited to share my blue and white fall dining room decor with you! Create a classic fall tablescape with blue and white vases, vintage chinoiserie candles, and elegant glass and leather blue and white pumpkins. Mixing chinoiserie decor with autumn decorating creates a festive and timeless combination! I hope this blue and white chinoiserie chic fall dining room inspires you to create your own classic fall table decor.
This post is sponsored by Home Centric. All opinions are my own.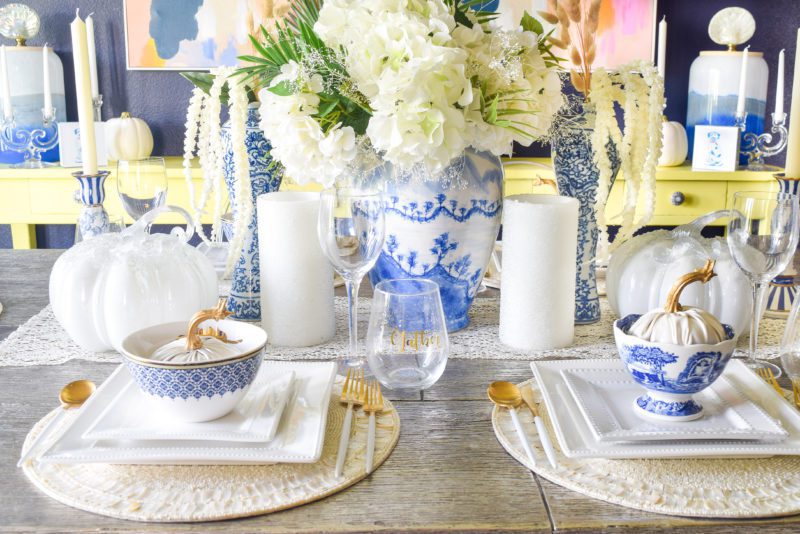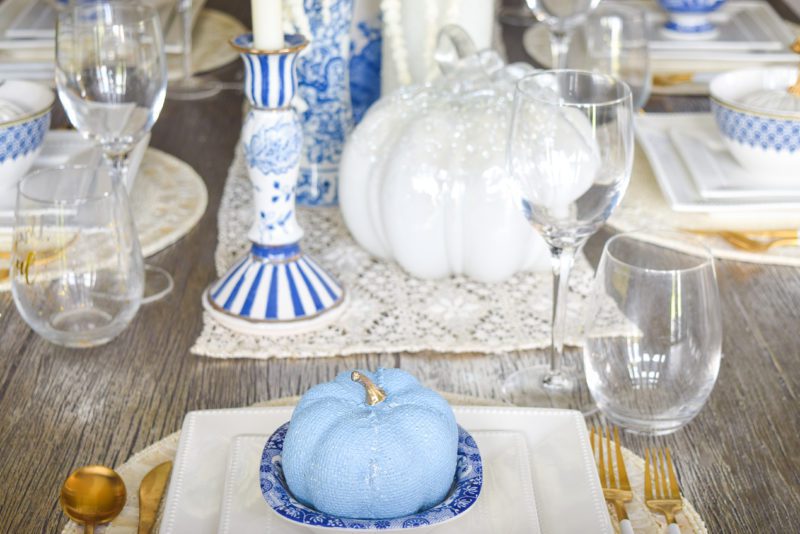 Blue and White Fall Dining Room Ideas
This year, I traded in my pink gingham fall tablescape for classic blue and white!
I love the timeless look that blues and whites bring to a room, don't you?
My decorating style is anything but traditional, but sometimes mixing in classic decor with off-beat whimsical decor is just what a room needs to achieve the right balance.
Fall decor doesn't have to be the typical orange, red, and yellows – your fall decorations can reflect your personal home design style.
I've always loved blues in my home, and lately I've been adding in more and more soft blues and whites throughout each room. I thought an elegant blue and white Fall dining room was just what this space needed!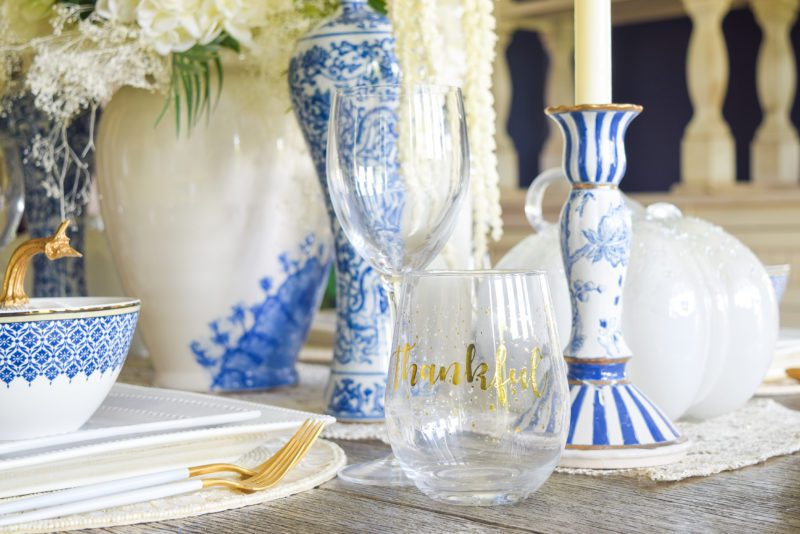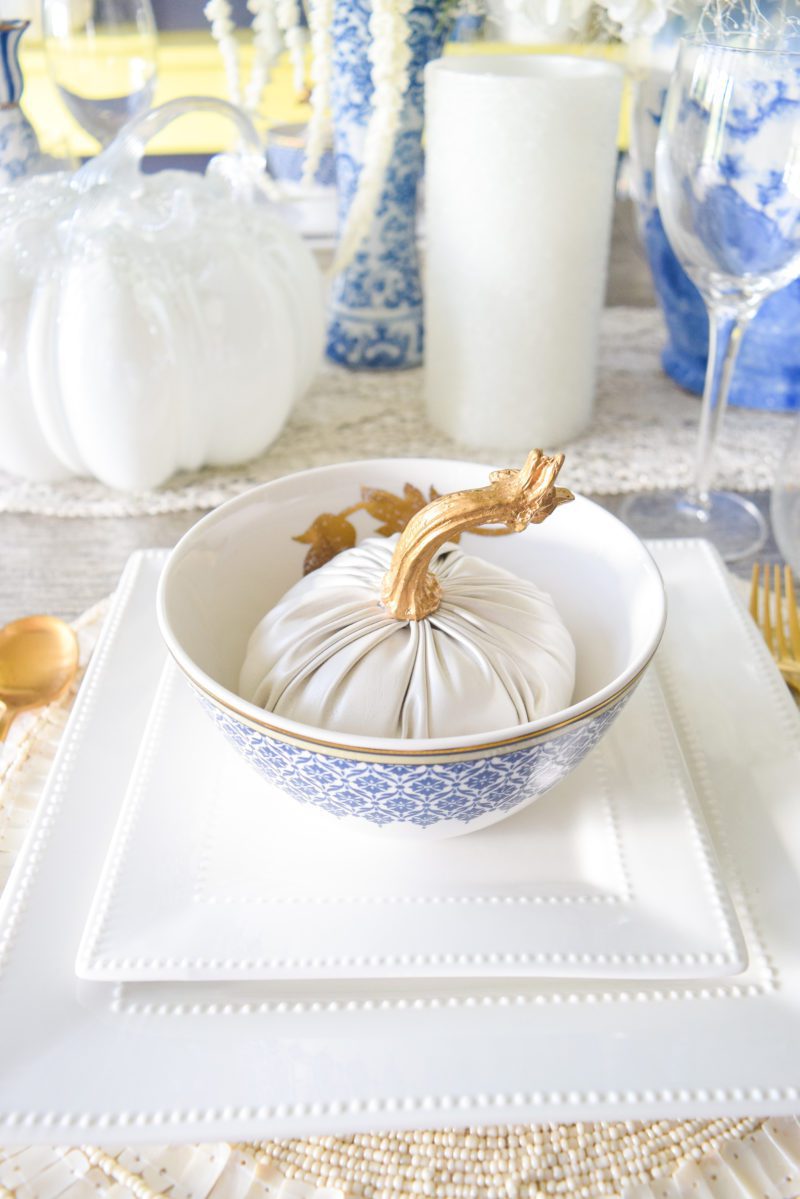 I also have a thing for blue and white chinoiserie the last couple of years, and love bringing in vintage chinoiserie decor to tablescapes for added style and personality.
Not all of my blue and white dining room decor is traditional though – I may have found a few unique whimsical items that fit my out-of-the-box design style. Come take a look at my blue and white fall dining room below!
Chinoiserie Fall Decor Ideas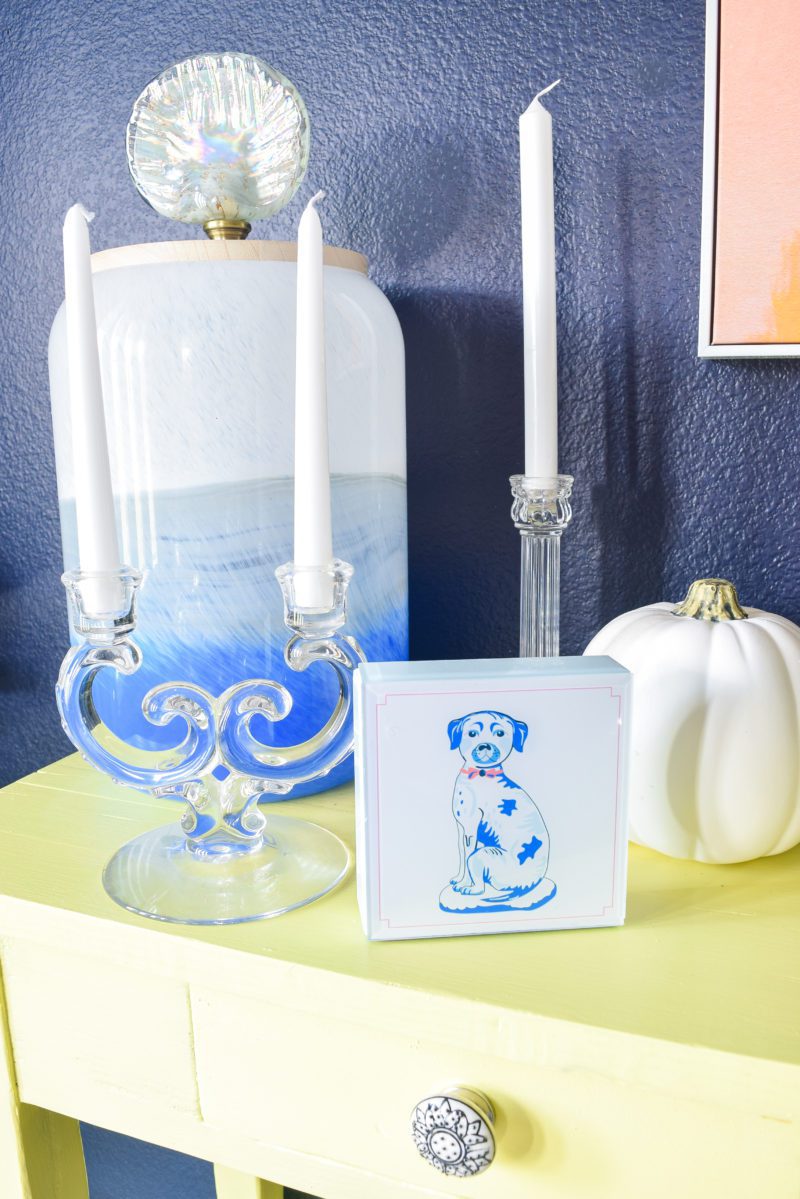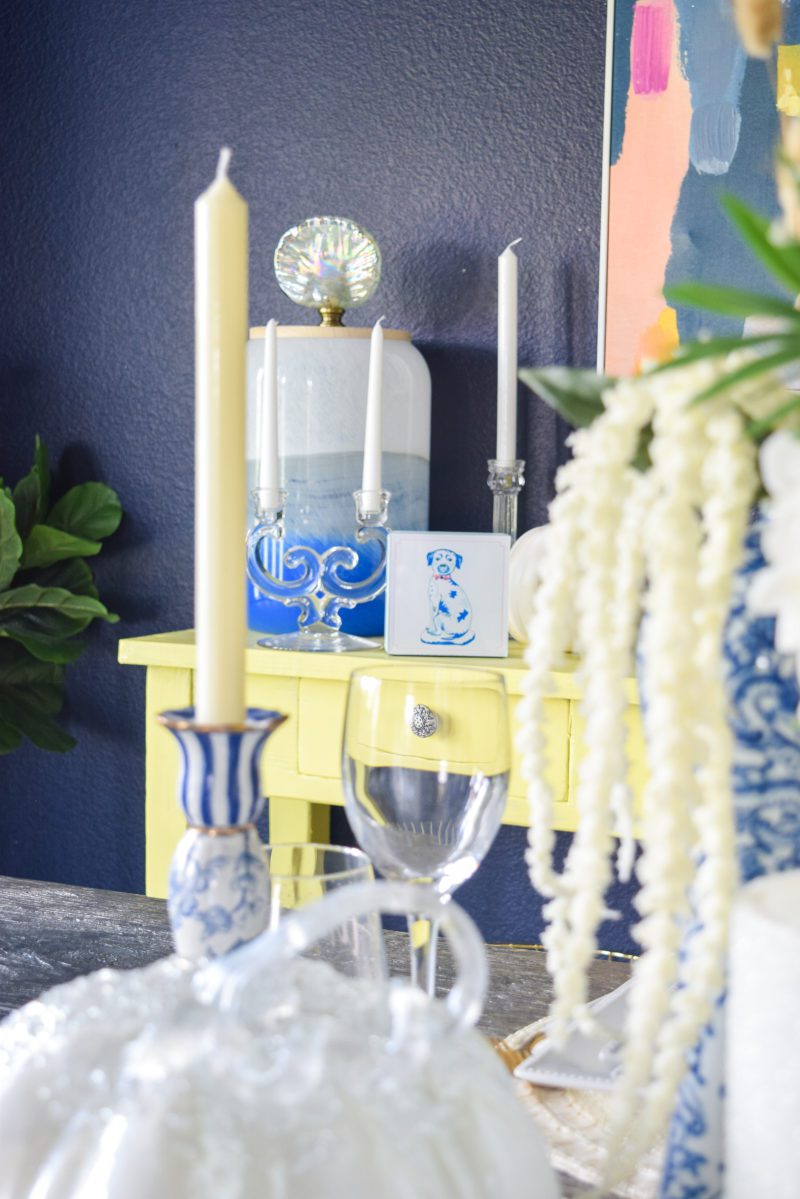 Speaking of blue and white whimsical decor: One of my favorite decor finds this year are these wavy blue and white glass jars with iridescent shell tops from Home Centric.
How FUN are they?!
I did a little happy dance inside when I found these glass jars at my local Burke's Outlet/Home Centric store. At first I was going to buy only one, but then found a matching pair the next aisle over and decided I had to have them both!
Another chic blue and white decor item I found at Home Centric was the square glass dog prints. I thought they were sweet and unique, and would fit in with my Palm Beach/Chinoiserie Chic dining room.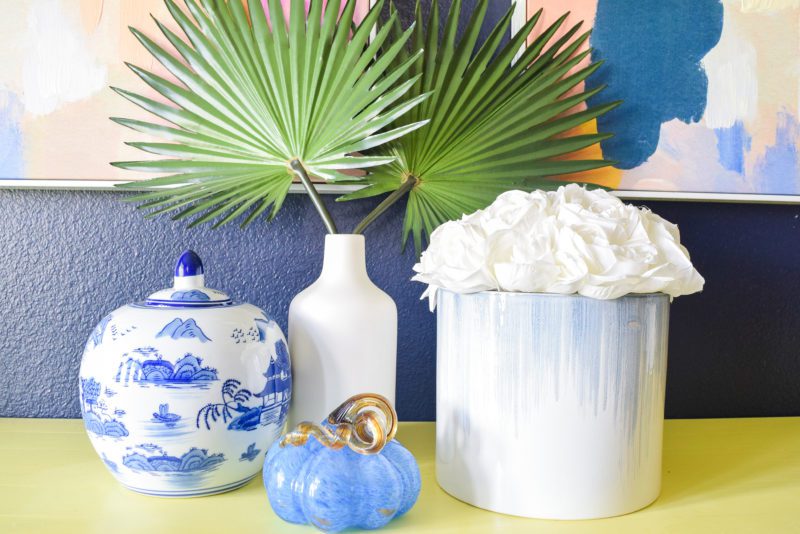 After I found the large blue and white glass jars, I saw this coastal blue glass pumpkin a few aisles down. I knew I had to incorporate the blue glass pumpkin and glass jars together for my fall decor. They were the perfect ocean blue colors I have been crushing on lately!
Classic Fall Tablescape Ideas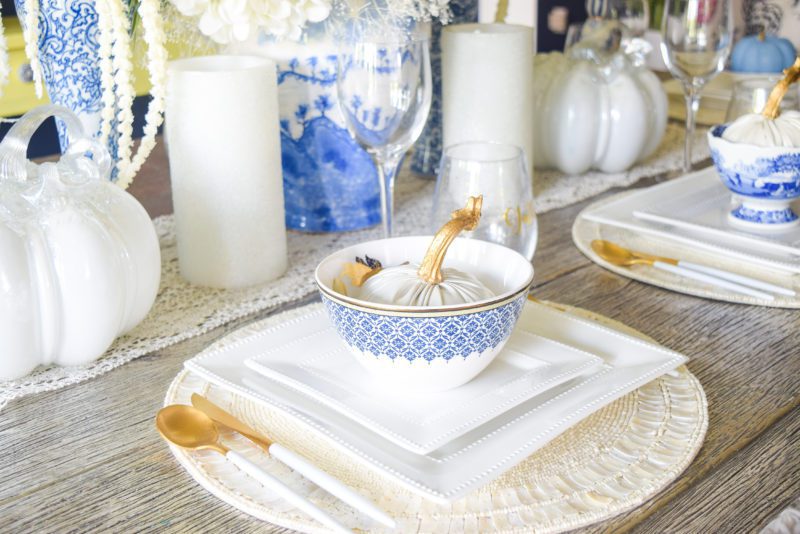 I started decorating my fall tablescape with a few of my chinoiserie vases and chinoiserie candlesticks. Next, I layered in white pumpkins and white beaded LED candles.
I found large glass Cinderella pumpkins from Home Centric, and added in cylinder LED candles from my Christmas tablescape last year.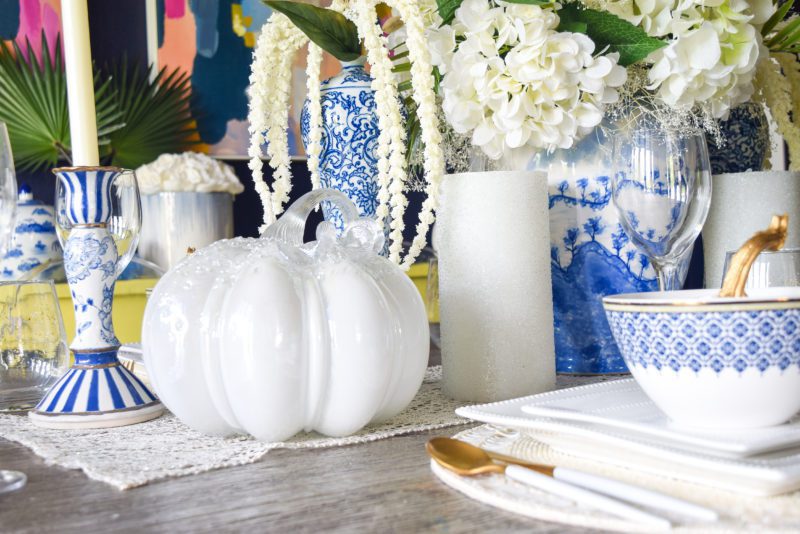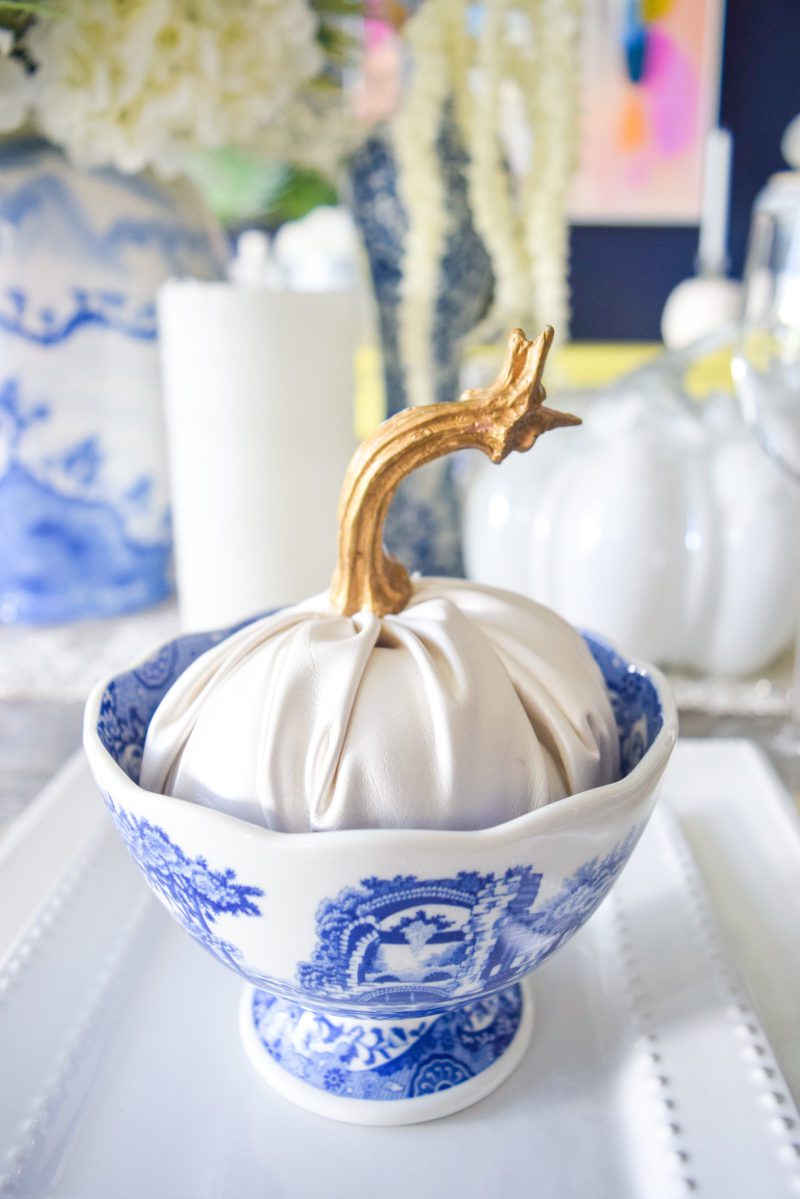 The next layer for my fall table is the place settings. I typically stick with my round beaded placemats, and white beaded edge plates. They go with everything!
To bring in some blues, I added blue and white bowls on top of the white dinner plates. Next, I added my gold dipped flatware and a few gold and glass stemware.
Lastly, a few cream colored fall floral stems and wheat stalks were the finishing autumn touches to my chic fall tablescape.
I hope you enjoyed my fall tablescape decor ideas! I kept it pretty simple this year, using decor accents I already love and mixing in a few fall touches in between. Let me know if you have any questions about my fall table or whimsical decor finds!
Happy fall decorating!

More Modern Fall Decorating Ideas:
Fall Mantel with Ombre Painted Pumpkins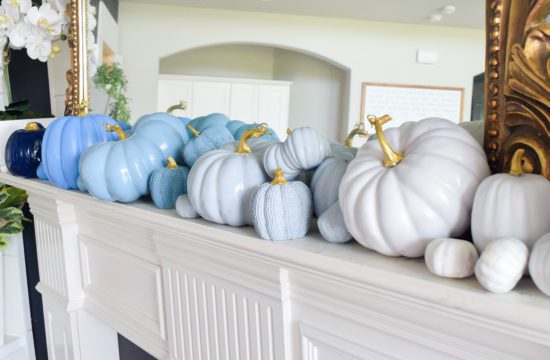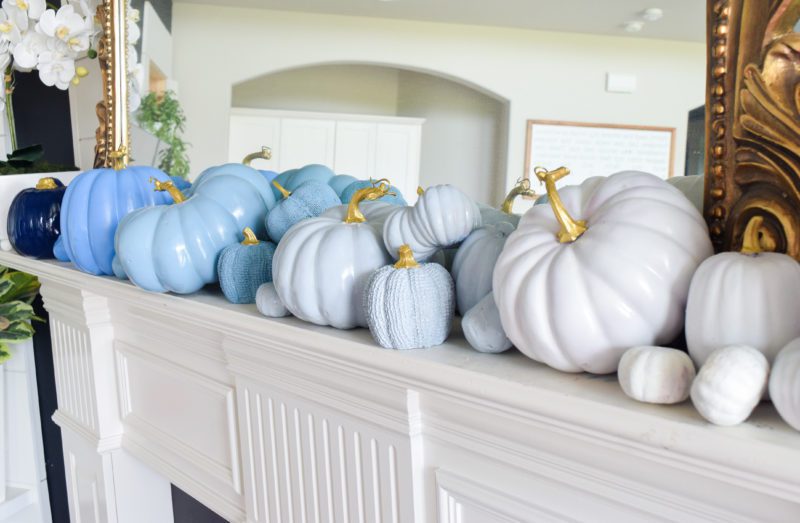 California Coastal Decor Ideas for Fall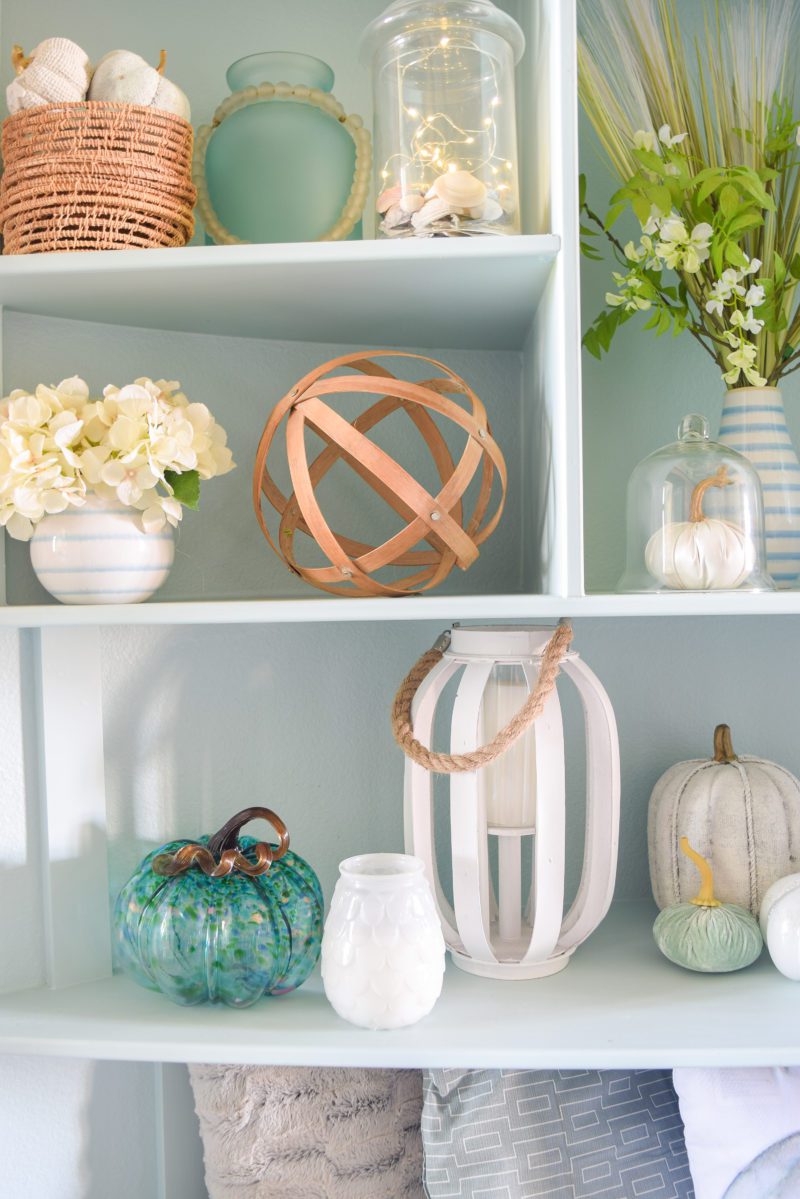 Palm Beach Chic Fall Tablescape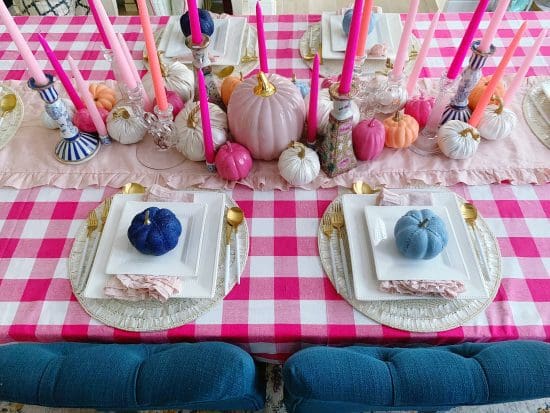 Modern Colorful Fall Decor