This post is sponsored by Burke's Outlet. All opinions are my own.
Summer is here to stay in Texas – it may be crazy hot outside but with a few of these outdoor essentials you'll be cooling down in no time! I've rounded up my favorite summer accessories to keep you cool in the Summer heat, have fun in the Summer sun, and to decorate your outdoor spaces in fun Summer style!
Want more fun Summer decorating inspiration for your home and backyard? Check out our Summer Bar Cart Styling Ideas post!
*This post contains some affiliate links for your convenience. Click here to read my full disclosure policy.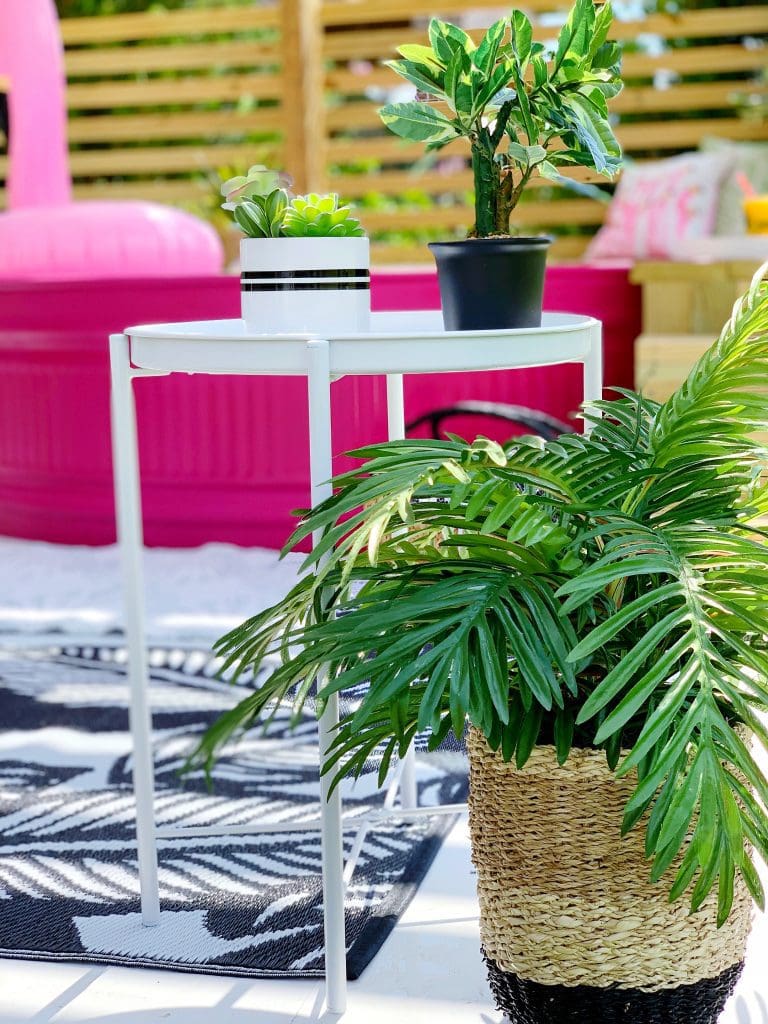 It's mid-July and it's hot here in Texas! Most people might think Texas summers are too hot to hang out outdoors, but it's actually my favorite time to spend outside with our family and friends. If you have a cold drink in your hand and a cool body of water to plunge in, it makes these 100+ temps all worth it!
We recently built a deck for our new pink stock tank pool – and the kids (and adults!) love it!! If you missed our Stock Tank Pool post, you can check it out it here!! It's the perfect spot for us to hang out during the Summer days and nights, and to cool off when the temperatures are crazy high.
I've gathered my favorite Summer essentials to have around the pool and backyard, and some fun outdoor decor accents we added to our new outdoor space. All these items are from one of my favorite stores to shop good deals, Burke's Outlet. Everything in this post is under $20! Burke's Outlet has hundreds of locations across the US, but you can also shop their amazing summer deals online too.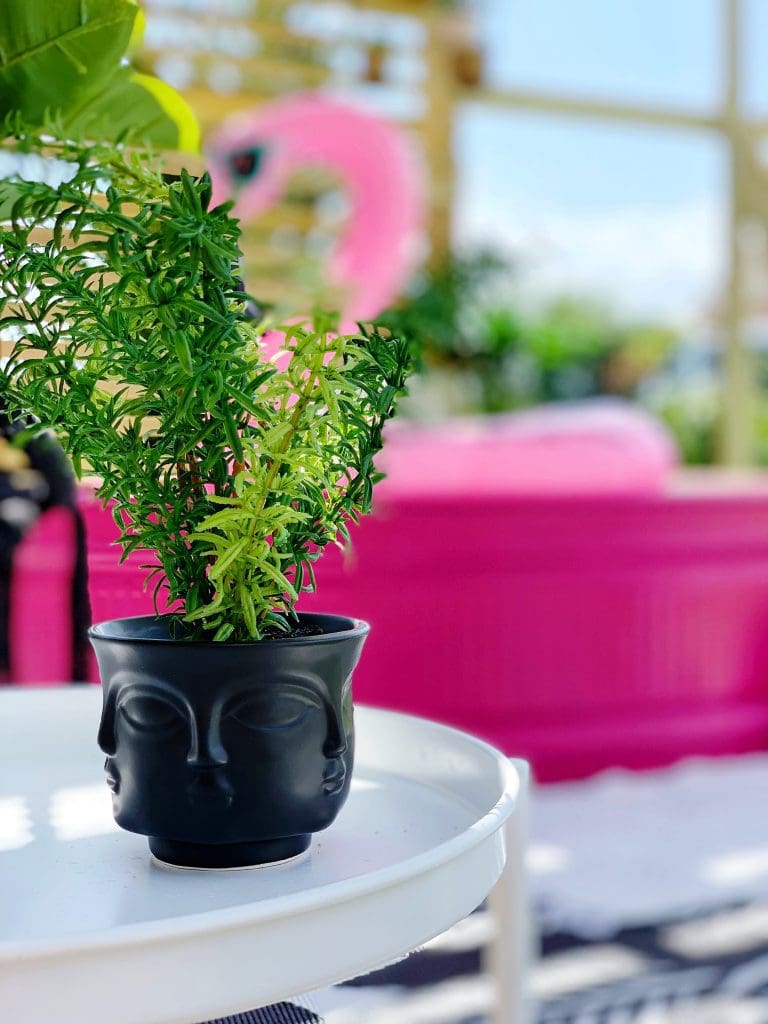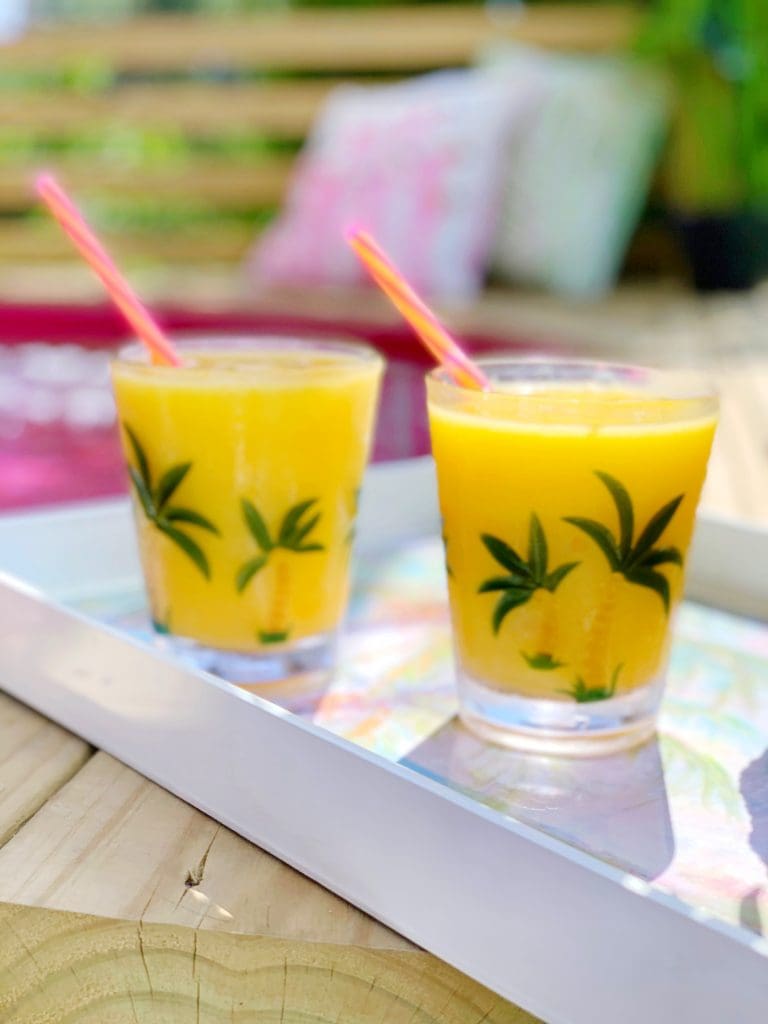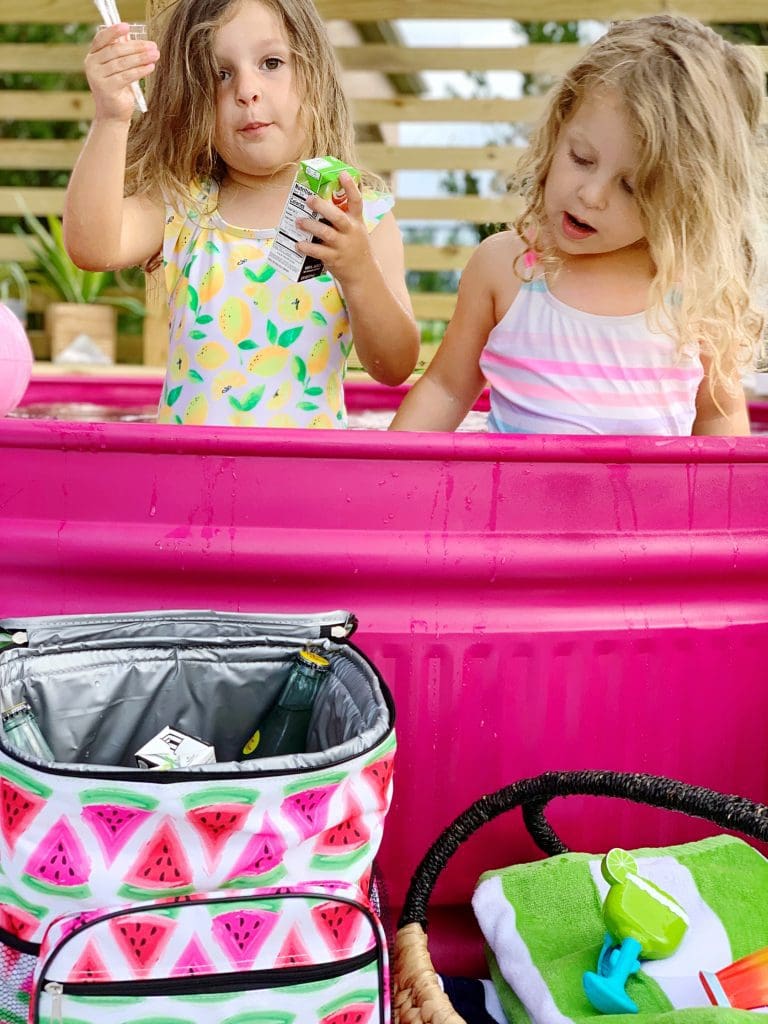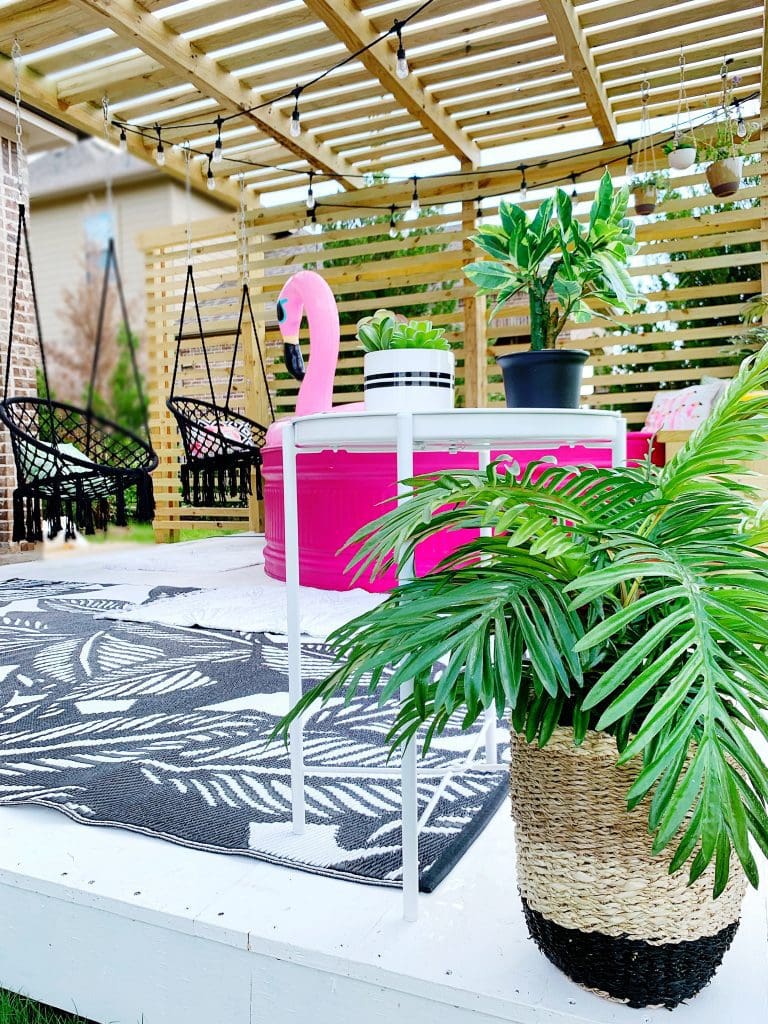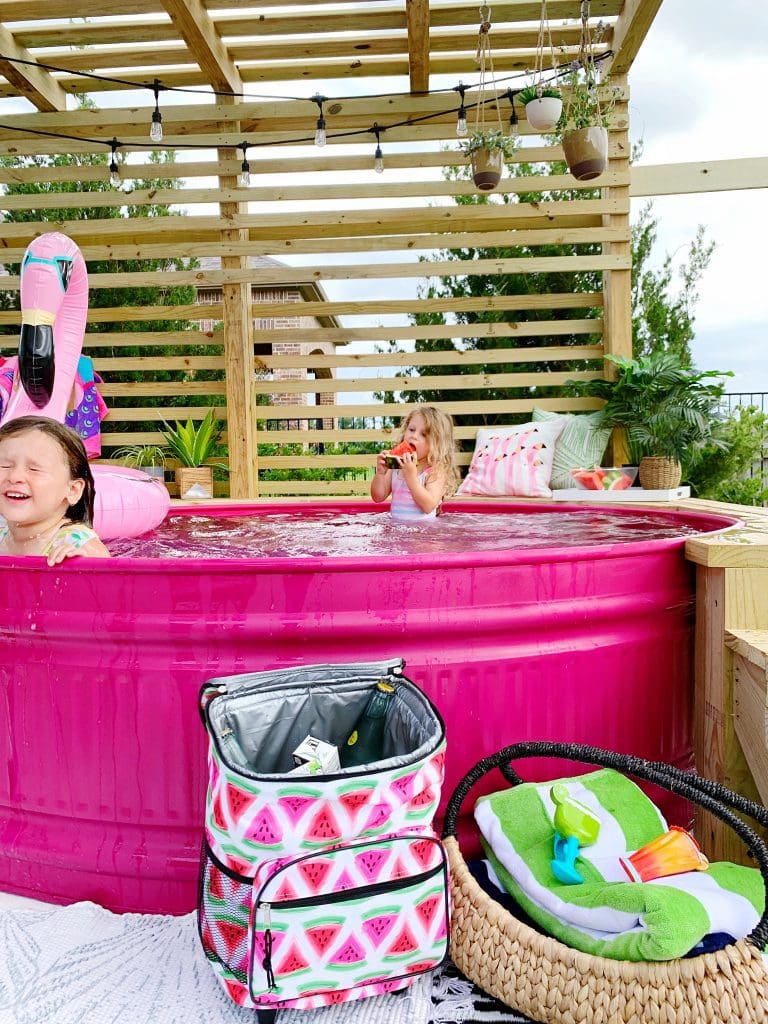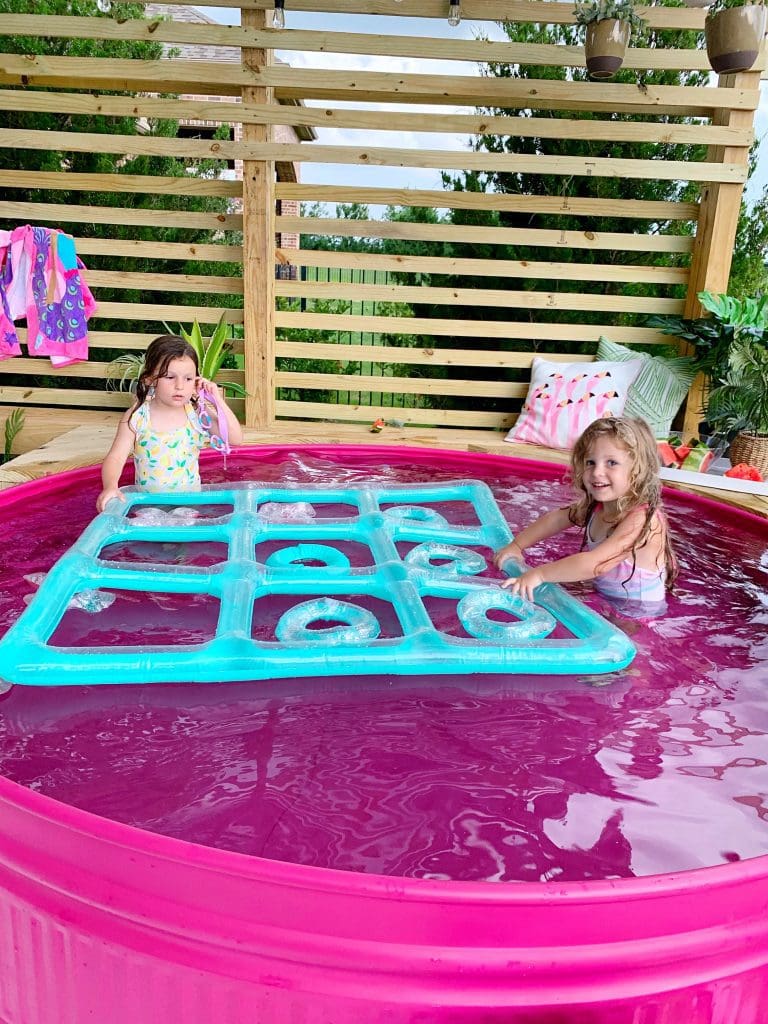 Favorite Summer Pool Accessories
Pool Floats
I love getting fun pool floats every year, and now that we have the stock tank pool, we've been collecting lots of fun floats this Summer. One of the kids' favorites is this tic-tac-toe float we got from Burke's Outlet. Cade and I will play the game together over and over! My girls think it's fun to climb in and be inside the game!
Beach Towels
I've bought numerous beach towels over the years, and my favorites are the super soft and extra big beach towels. The plush, over-sized beach towels can be pricey, but I found several at Burke's Outlet for a major discounted price. I need to buy even more as the kids and I always fight over these!
Rolling Cooler
We bought the rolling cooler to take with us to Cade's baseball games, but we also like to use it when hanging around the pool too. It helps keeping cold drinks in arm's length in this summer heat and the designs on these coolers are super cute!
Boca Clips
I had never heard of a boca clip until we went to Mexico and we saw several people on the beach with them on their beach chairs. If you're like me and haven't heard of them either – they are clips (think like an oversized chip clip) that clip your beach towel onto your lounge chair to hold it in place and keep it from falling. Whoever thought of these is genius! There's lots of fun shapes, we have the margarita and summer cocktail ones!
Favorite Summer Outdoor Decor Accents
Outdoor Pillows and Rugs
I wanted to soften the new deck with some fun prints and textures. The best way to do this is with decorative accent rugs and outdoor pillows! We bought several rugs and pillows and placed them around the deck bench and around the pool. I love how it adds fun colors and livens up the space with bight summer touches!
Hanging Planters and Faux Plants
I'm not the best green thumb (trying to work on that!) but I LOVE the look of lots of greenery and florals. For this reason, I like to add faux plants around our outdoor areas to bring in some greenery, but without the worry of keeping up with real plants! I found lots of inexpensive + cute modern plants and hanging planters from Burke's Outlet – my favorite is this one with all the faces!
SHOP FAVORITE FAUX PLANTS
We are loving are new backyard oasis and all the fun summer accessories to go along with it. What are some of your favorite outdoor and pool essentials? I've linked all my favorite Summer favorites from Burke's Outlet below!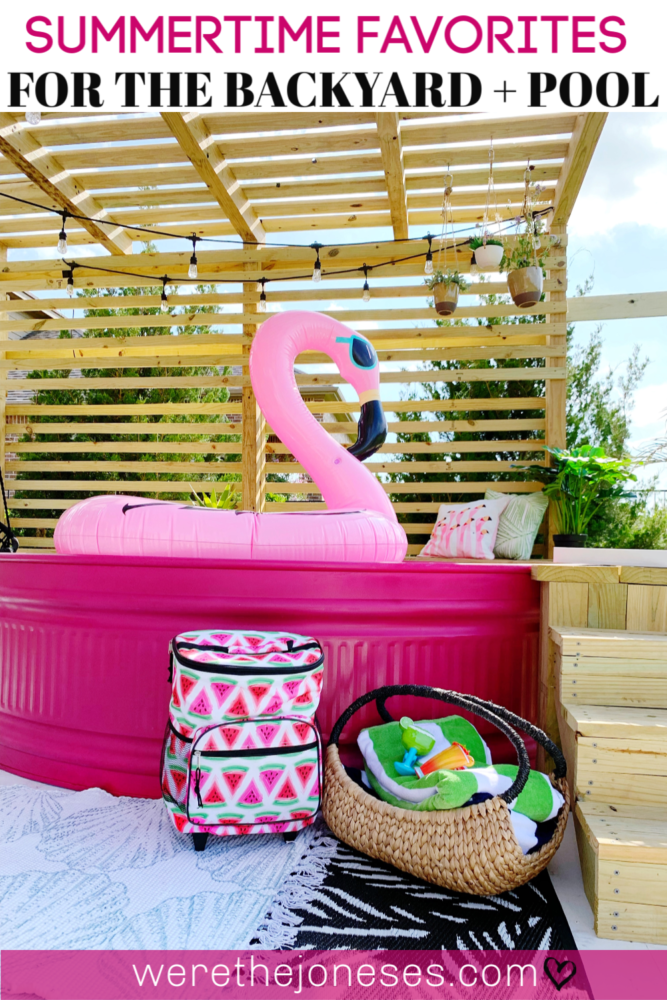 Stay cool out there and happy Summer!