I'm so excited to show you are latest outdoor DIY: Our stock tank pool & deck! No more inflatable pools that get thrown out every Summer – this stock tank swimming pool is here for the long haul. The kids love their new pink pool and this mama is in love too! Scroll down to the bottom to see our DIY stock tank pool supply list!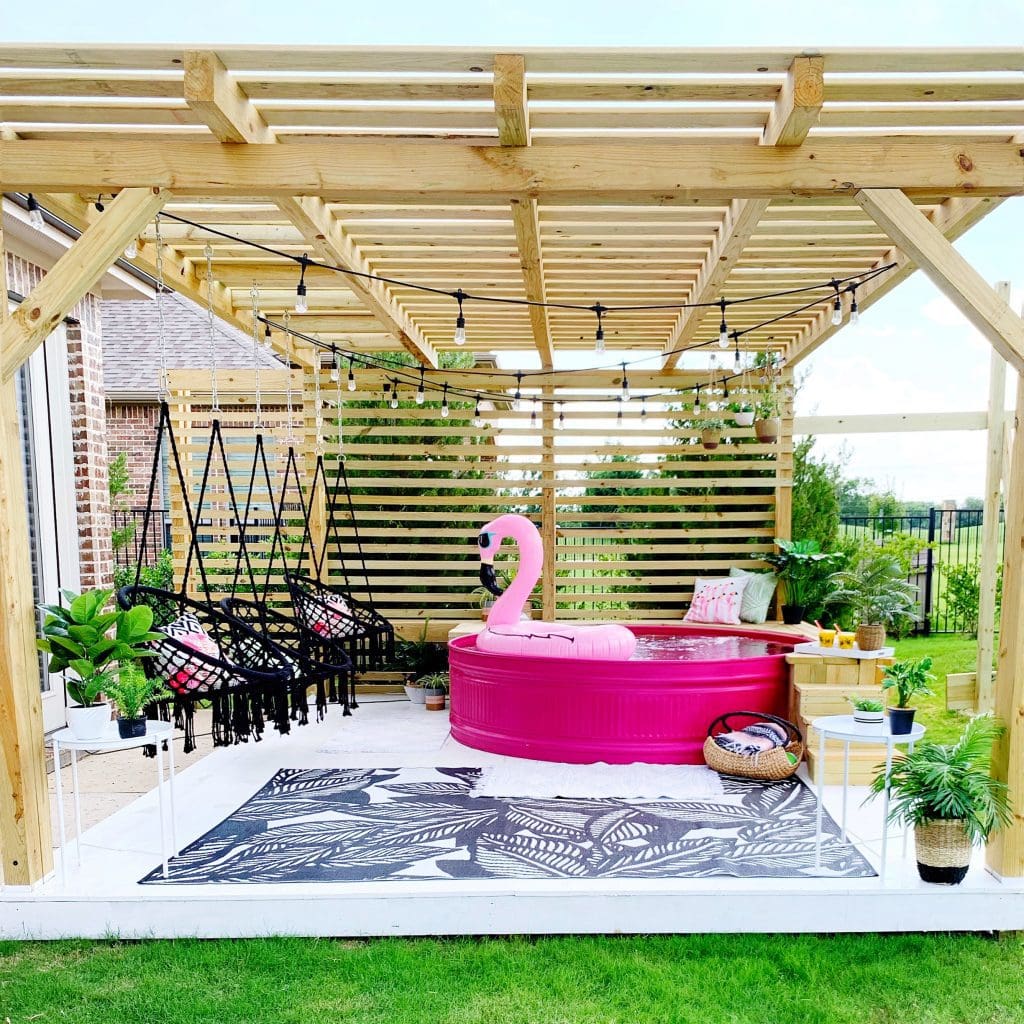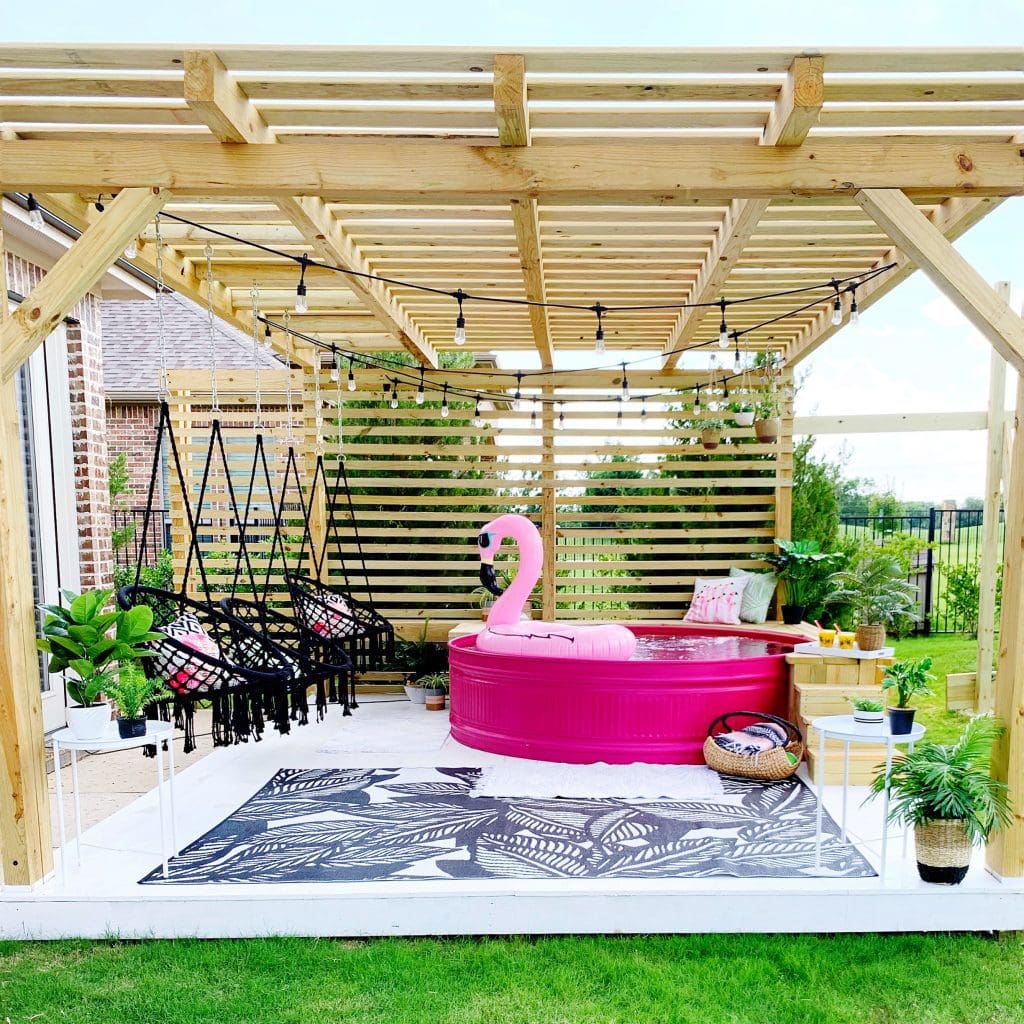 Stock Tank Pool That's Hot Pink!
*This post contains some affiliate links for your convenience.

Here she is! Our hot pink stock tank pool! Have y'all heard of these/seen these before? I saw
a photo on Instagram
a few months ago with a
stock tank pool
painted bright yellow (by
@sunwoven
) I thought it was the coolest thing! When I showed Bryan the picture of course his first words were:
how much does it cost??
We did LOTS of research, and realized it wasn't too expensive especially with the amount we were wasting on buying 1-2 inflatable pools every summer, only for them to pop, rip and get thrown out!
Check Out Our UPDATED Stock Tank Pool and Deck - One Year Later!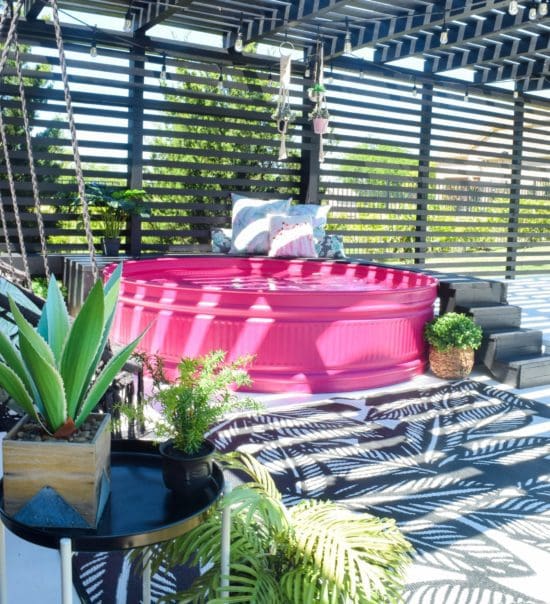 Once I got Bryan on-board, we talked about building a big deck and bench to go around the pool. I started scrolling through Pinterest and my design brain started taking off! We were so excited to start this outdoor DIY project and create a fun space we could hang out on Summer days and nights with our family and friends.
DIY Stock Tank Pool and Deck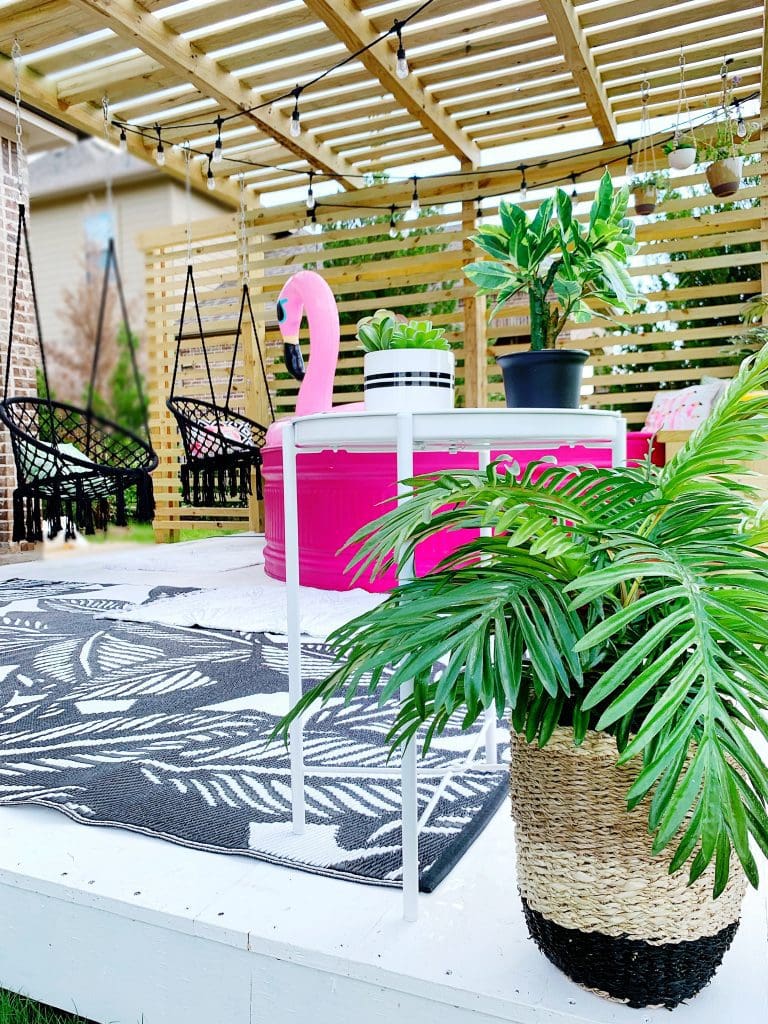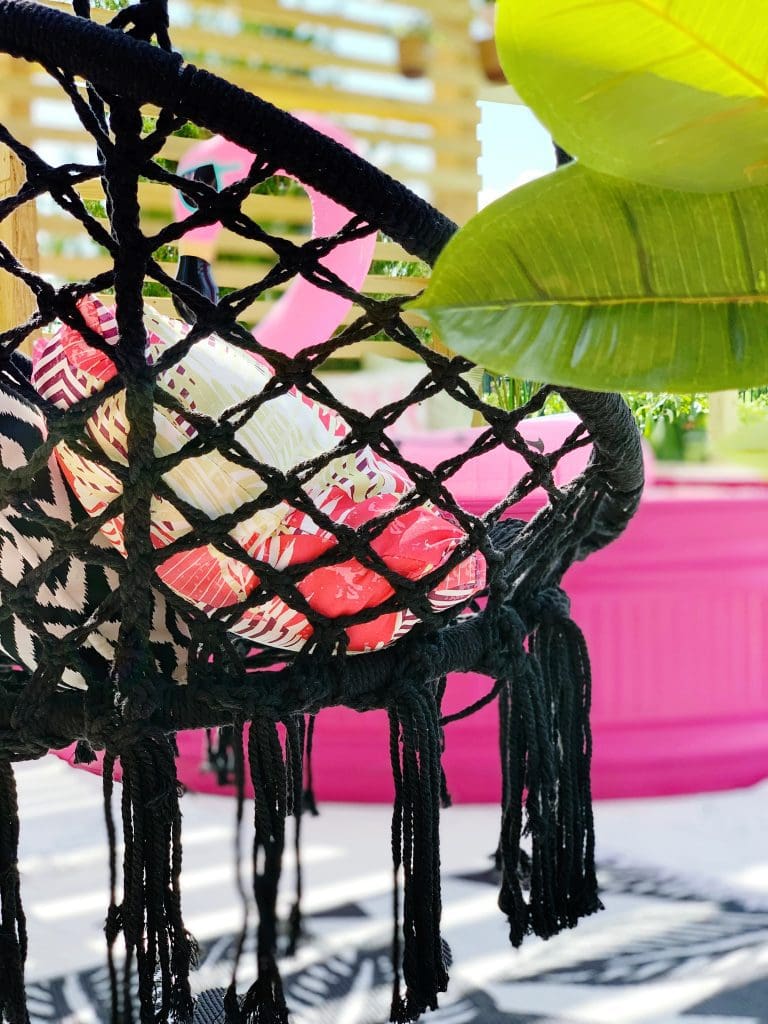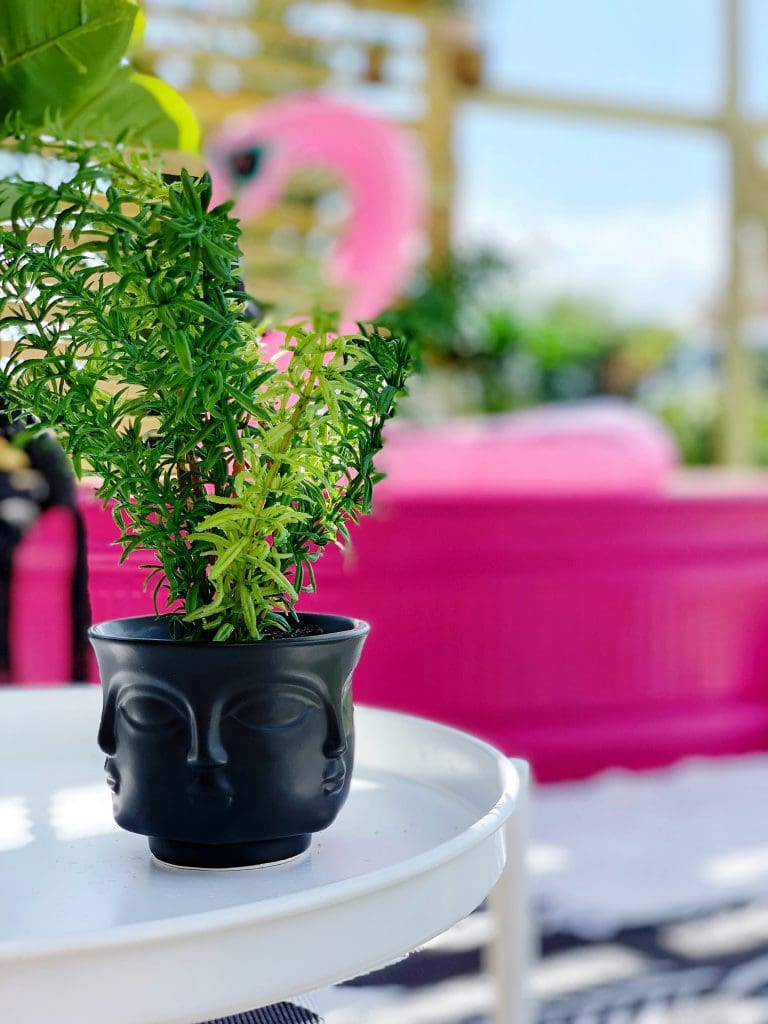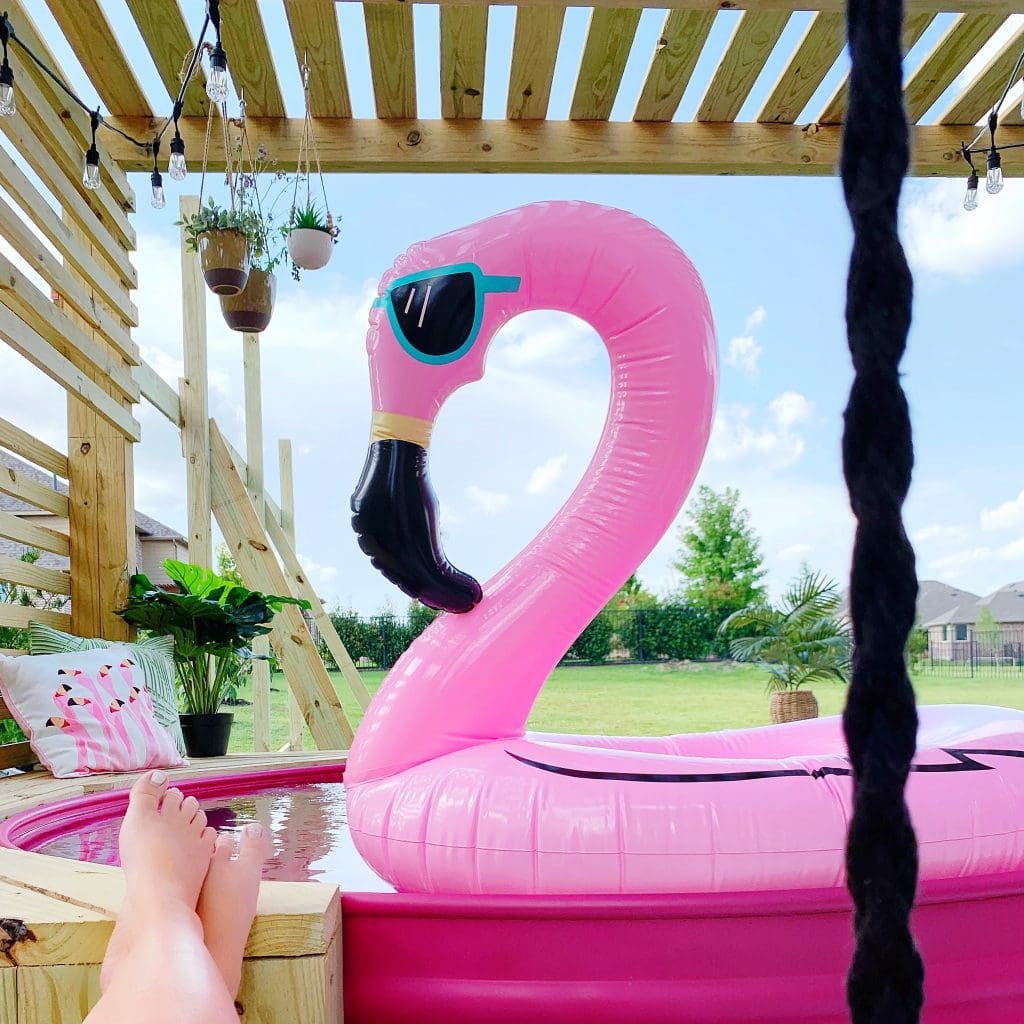 I wanted a deck with a modern feel – I loved the look of skinny horizontal boards on the back wall and roof. I also loved the look of black + white instead of more traditional stained cedar. The deck gave us some trouble at first, trying to figure out the best boards to use (that were long and skinnier shape) without them warping. Once we figured out the right wood to use, we were on our way!
We plan to paint all the boards black, but with treated wood we have to wait until the boards dries out (about 1-2 months). I will post another blog post when all the wood is painted so y'all can see! We're also adding on two more phases of decking, which I'll keep y'all updated with that progress too!
How to Build a Stock Tank Pool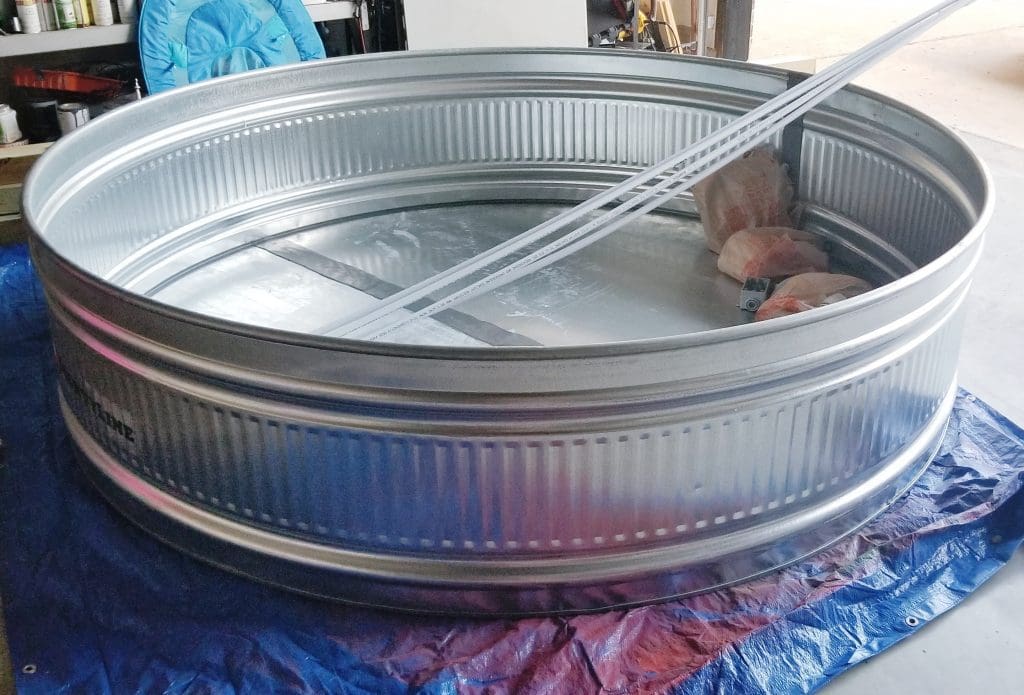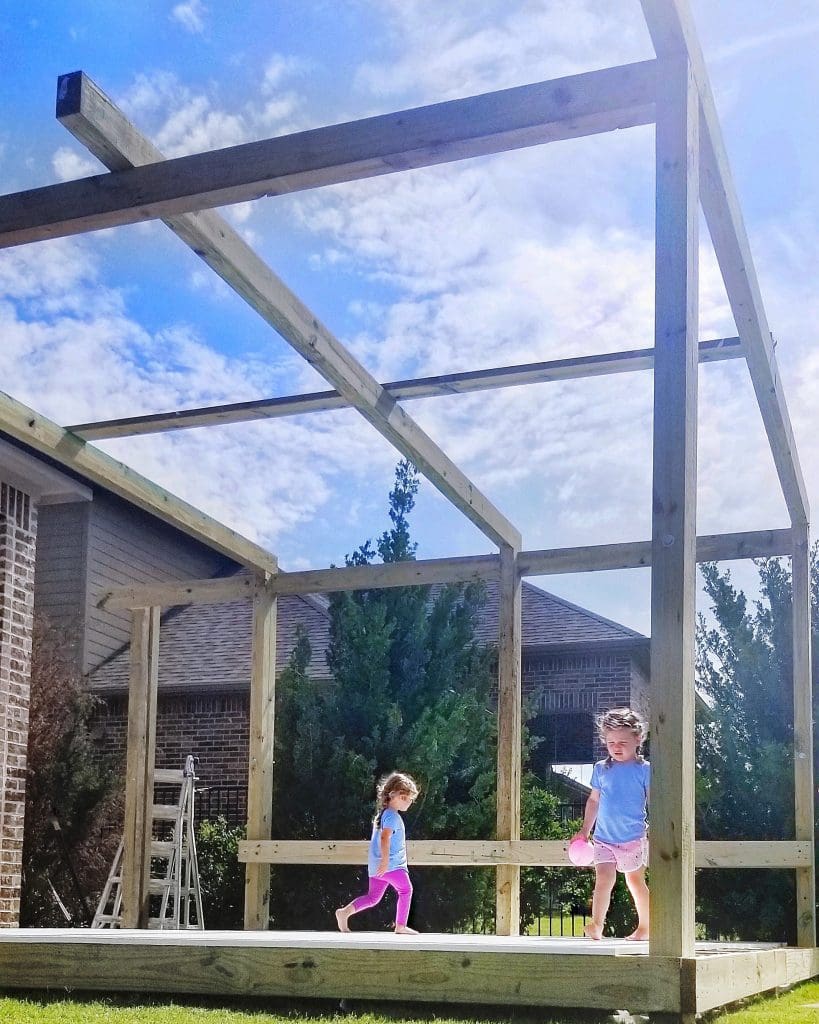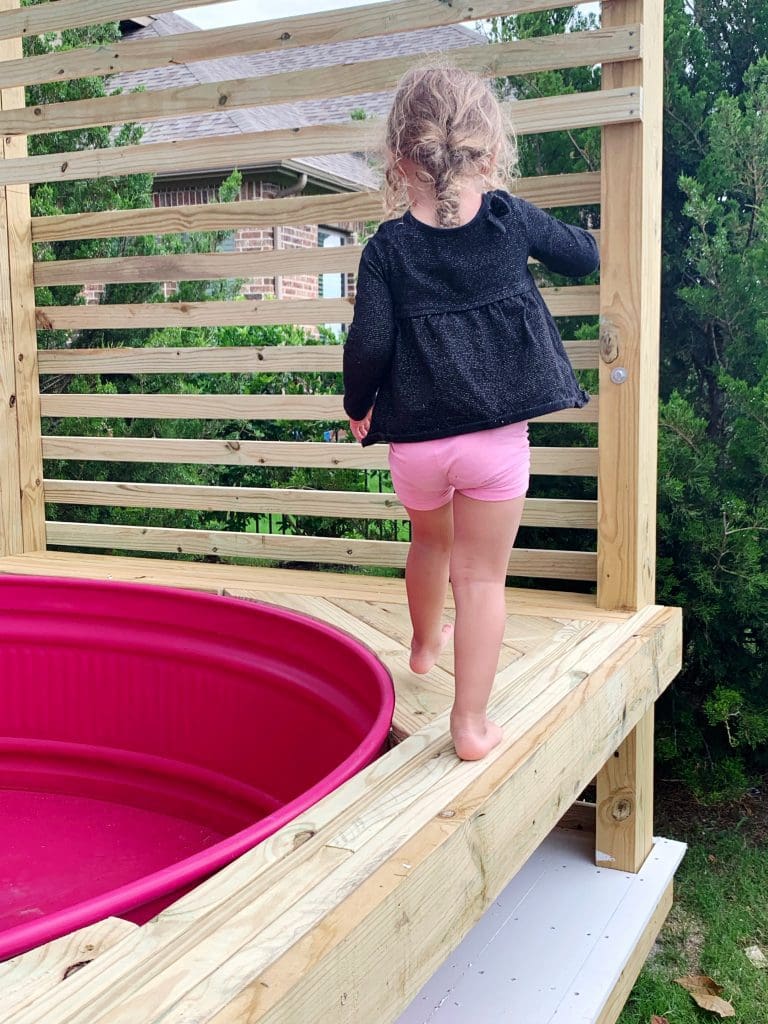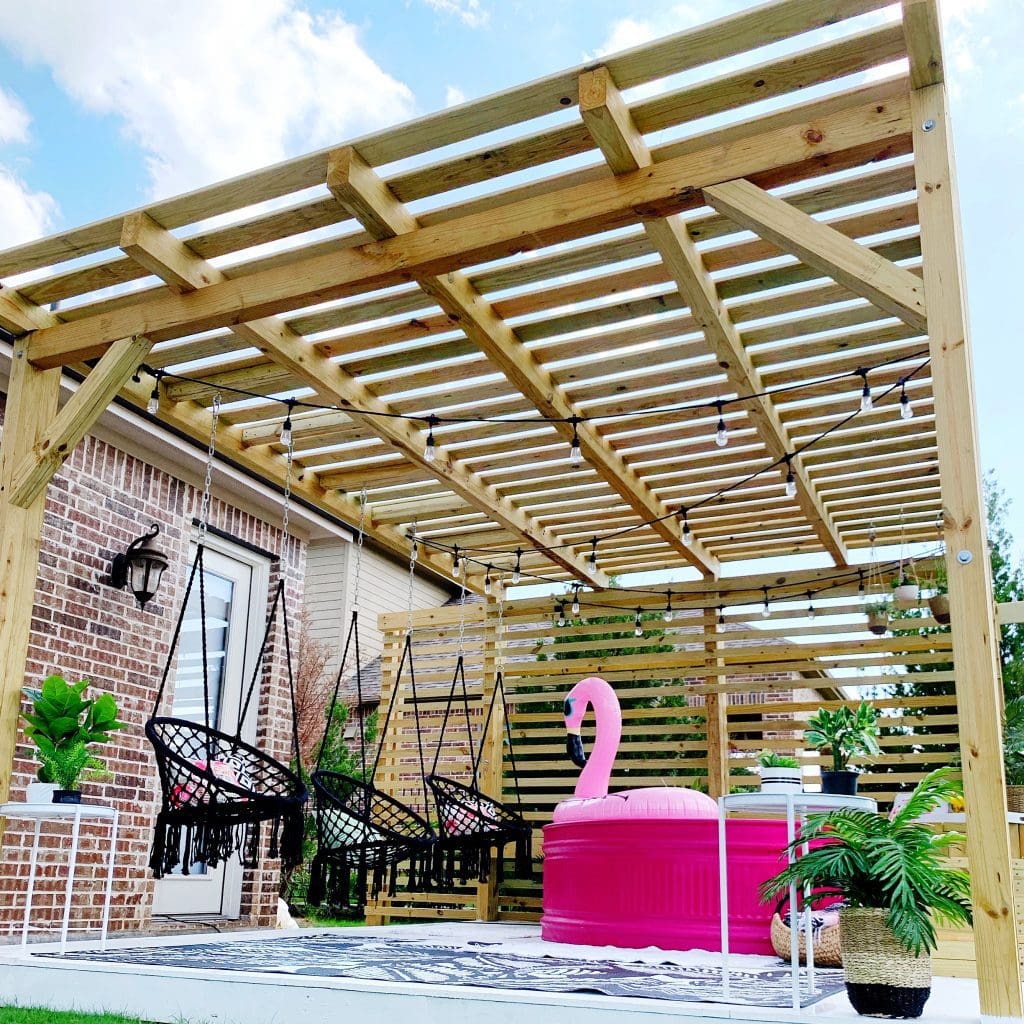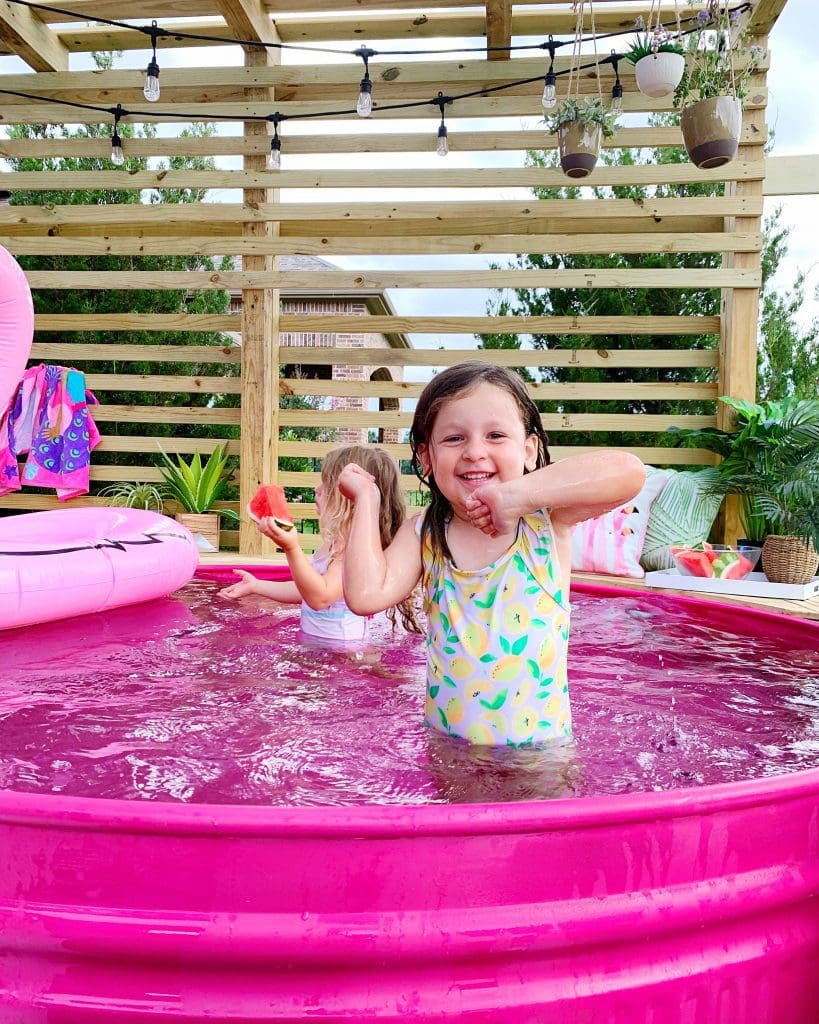 We were a little intimidated with the stock tank pool – we didn't know exactly how it worked and had SO many questions! How much are stock tank pools? How to clean a stock tank pool? Do stock tank pools rust? Luckily, there's a few guides online now with very detailed instructions! There's various opinions on what supplies to buy, to paint or not to paint?, etc. but I will provide the information that I found MOST helpful.
We followed this guide, with a few changes. My husband Bryan did NOT think it was necessary to use the silicone sealant (in his words: sealant is used when covering up a job you messed up or short-term fix, not as a long-term solution) Instead of sealing around the holes you cut for the pump, we used a couple extra rubber washers on each hole – as these form and mold tightly around the curved edges of the pool. This solution has had ZERO leaks since we installed the filter and pump a month ago!
Stock Tank Pool FAQs:
How much are stock tank pools?
We searched online to find the best stock tank pool option, and after researching we bought the
8 ft extra large stock tank
from our local Tractor Supply. We paid $409, I've seen the price vary from $389-$419. You can order online
here
and pickup at your local Tractor Supply store. Or you can order online and get it delivered to your house (if you don't have a Tractor Supply nearby or a vehicle to fit it in!) and you will pay an extra $100+ for shipping and delivery. They also have a 6 ft stock tank that's $289, but I think the 6 ft would be too small. The 8 ft size is perfect for what we wanted. Amazon also carries a few stock tank options –
here
and
here
– but they are smaller and more expensive!
How to clean a stock tank pool?
These instructions
are what we followed on adding a
pool filter and pump
to our pool to keep it clean. We also bought
chlorine tablets
to put in a
floating pool dispenser
, and test the chlorine each week with the
pool water test kit
. We
are also talking about getting a small pool cleaner for the bottom of the pool – I'll update ya'll if we purchase one and if it works!
Do stock tank pools rust?
There are mixed views on what will make the stock tank start to rust and how to prevent it. What I learned was that the chlorine can cause the pool to rust, but if you buy a
floating pool dispenser
to put the chlorine tabs in (instead of adding chlorine directly to the water) this helps prevent the pool from rusting. I also plant to drain the pool in the winter and touch up any areas that have chipped or started to rust with pink spray paint.
I'll keep y'all updated on how the pool and paint wear over time!
SHOP STOCK TANK SUPPLIES BELOW!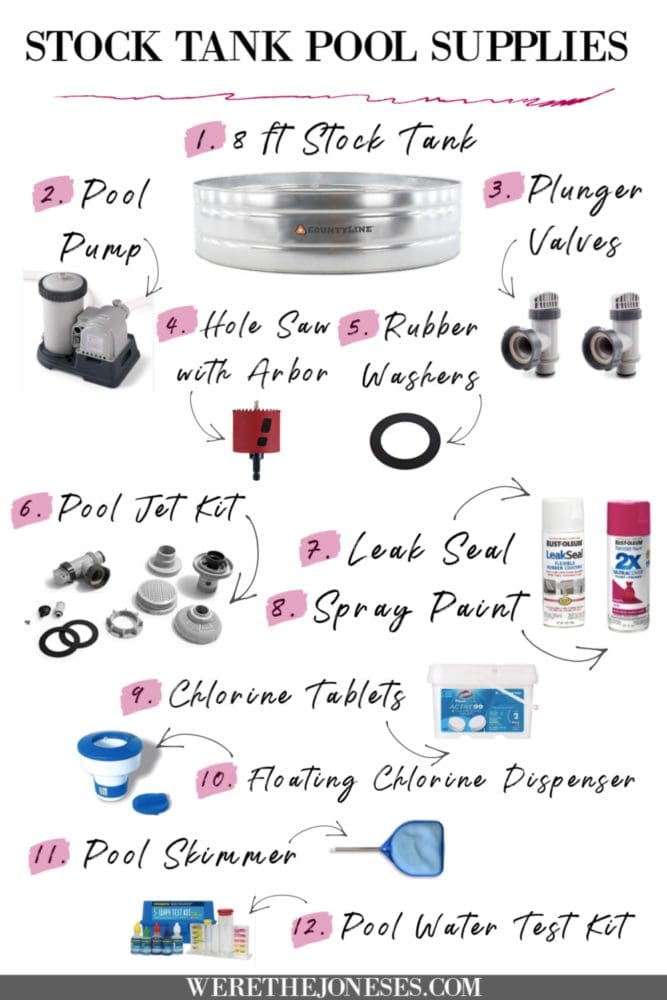 PIN FOR LATER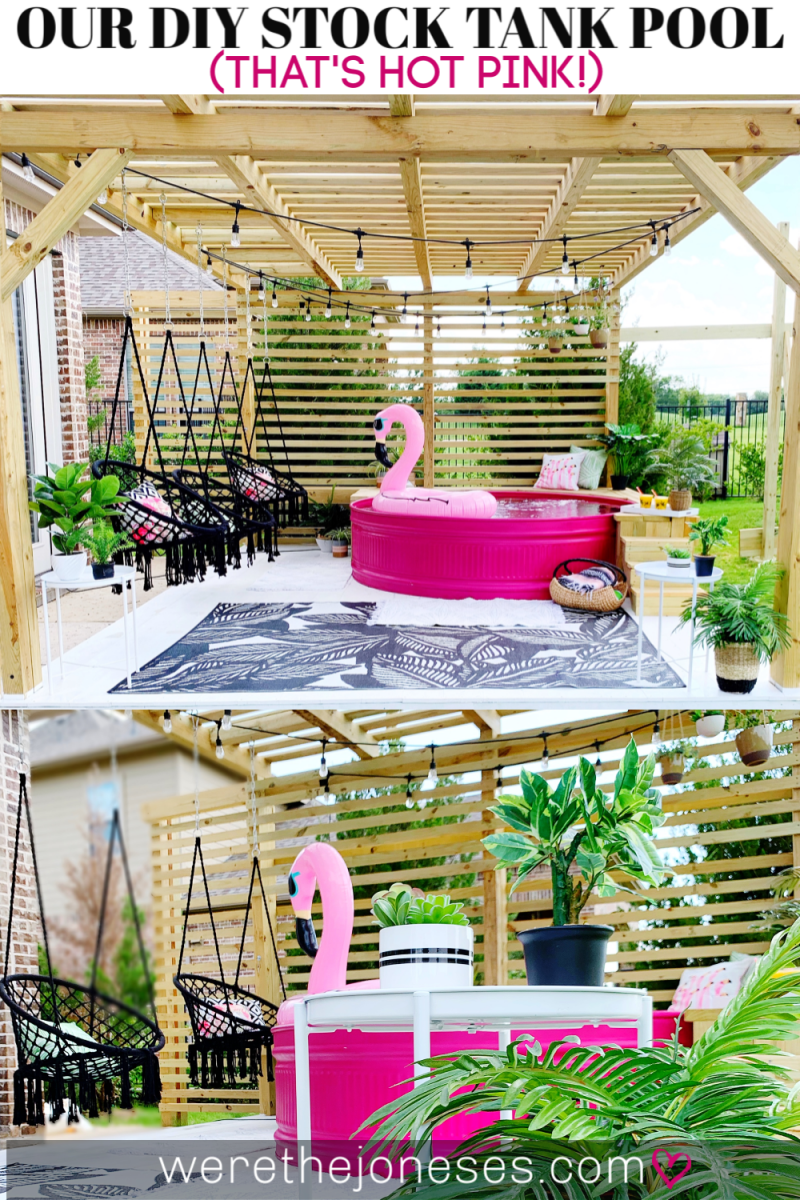 This pool and deck was a major labor of love, y'all. (MOSTLY the deck – the stock tank pool was actually easy!) It took quite a bit of trial and error and we're still learning and tweaking a few things as we go. But I LOVE this outdoor space and so happy with how it turned out!!!!
Please let me know if you have any questions!! I'd be happy to answer anything you want to know about the stock tank pool or building the deck – leave a comment below! Also tag me if you build your own!! I love seeing the creative ways people are incorporating the stock tank pools in their backyard!

Looking for more inspirational Summer decor ideas and DIYs? Check these posts!
Colorful & Bright Summer Front Porch Ideas
Favorite Outdoor Summer Accessories For The Pool And Backyard