How to flock a Christmas tree is easy with these 3 simple steps! Flocked Christmas trees are beautiful but can be expensive – why not create that winter wonderland faux snow look on your current tree? Watch my DIY video tutorial below for the simple how to flock a tree step by step instructions!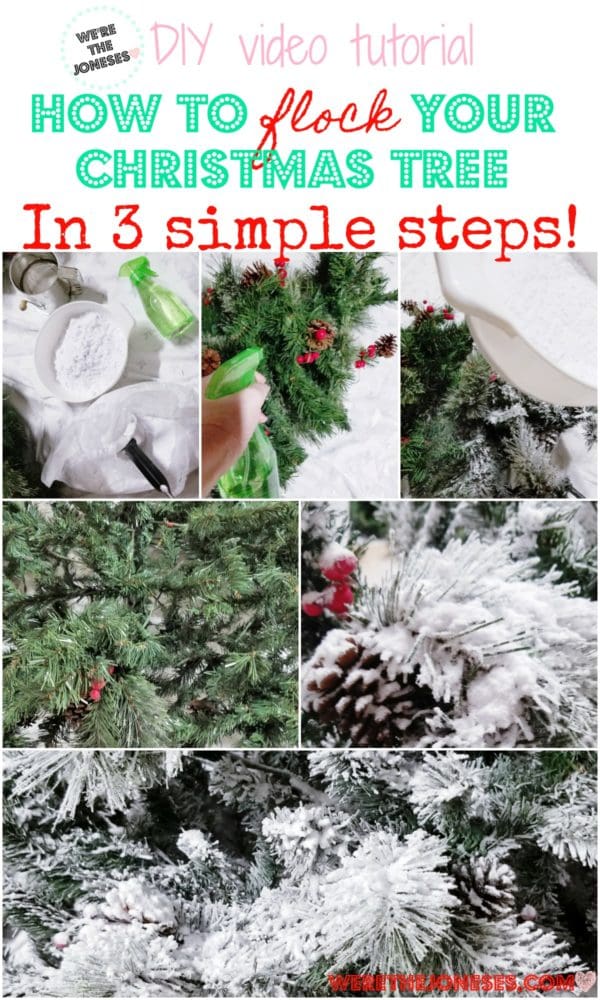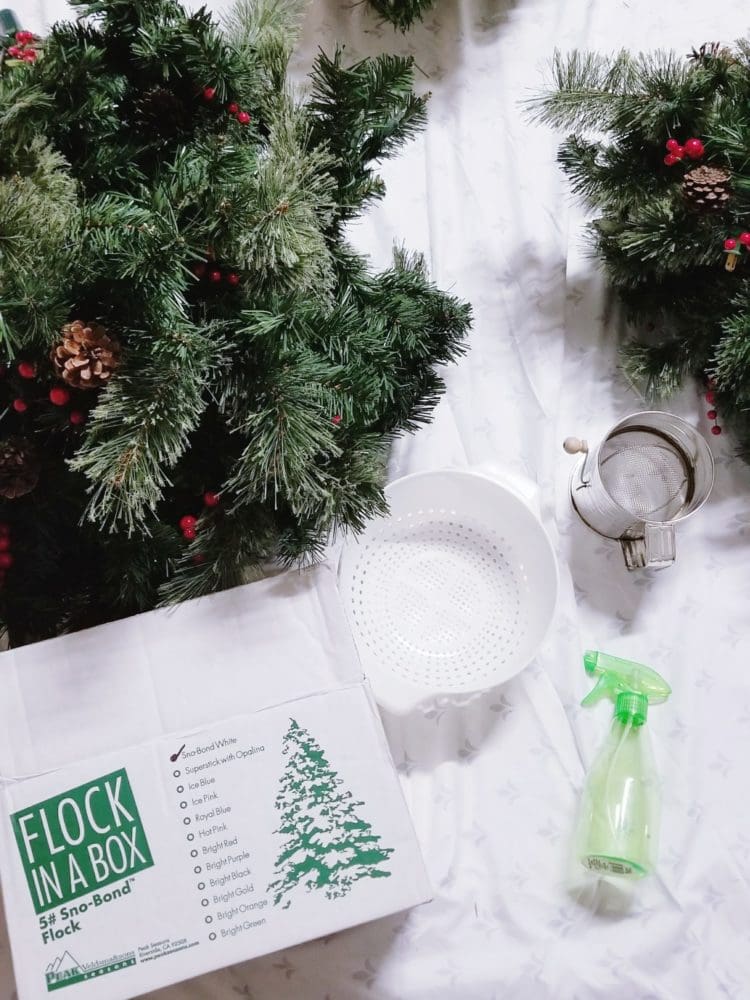 SHOP THE POST
I'm so excited to show y'all one of the easiest DIYs I've done this year – flocking my Christmas tree!
What is flocking a Christmas tree you ask? It's basically adding fake snow to your tree that bonds and sticks permanently to the tree. You can buy Christmas trees with snow flocking on it already, but they are way more expensive than a regular tree.
Doing it yourself is definitely more cost effective, and is really simple to do! (My 5 year old helped me, and probably could have done the whole tree by himself!)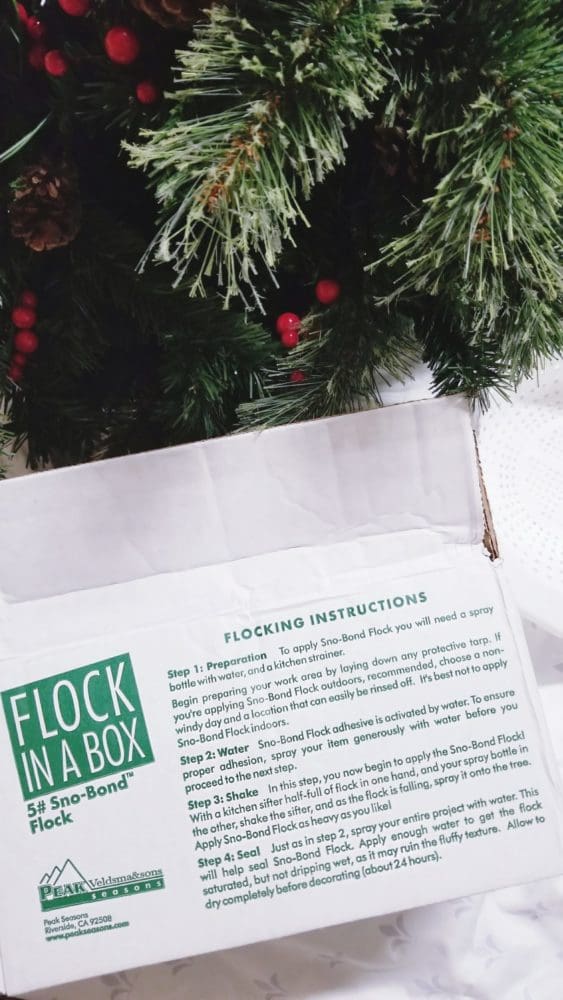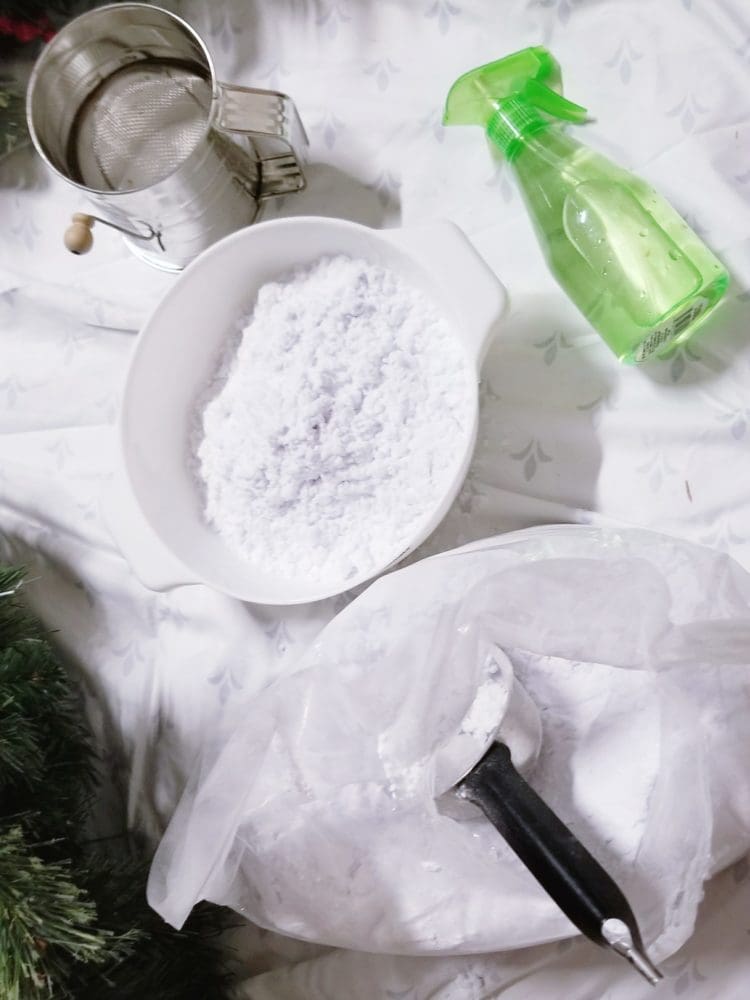 Here are a few things you need to get started:
Snow bond flock – I bought two 5 pound bags of Flock in a Box on Amazon. I really think I could've gotten away with just getting one bag.
Sifter or strainer – the strainer worked the best for me. A sifter would be better if you wanted just a light dusting snow look.
Scooper – helps scoop out the snow into the strainer (optional)
Spray bottle with water
Tarp or old sheet to lay down
Lots of floor work space – this gets pretty messy!
Helpful tip – wear clothes that can get messy. My son Cade and I were covered head to toe with white snow after we were finished, it looked like we really were out playing in the snow!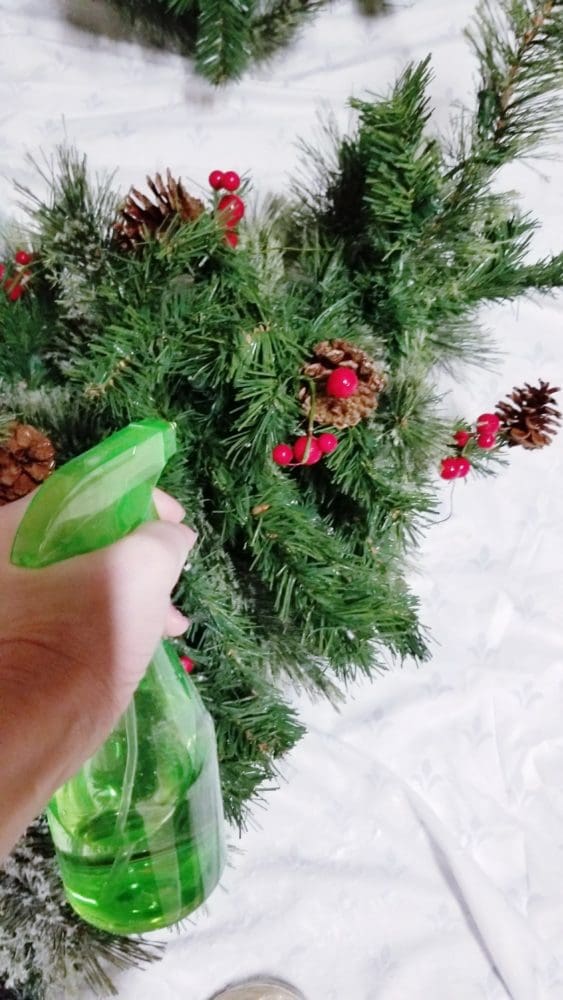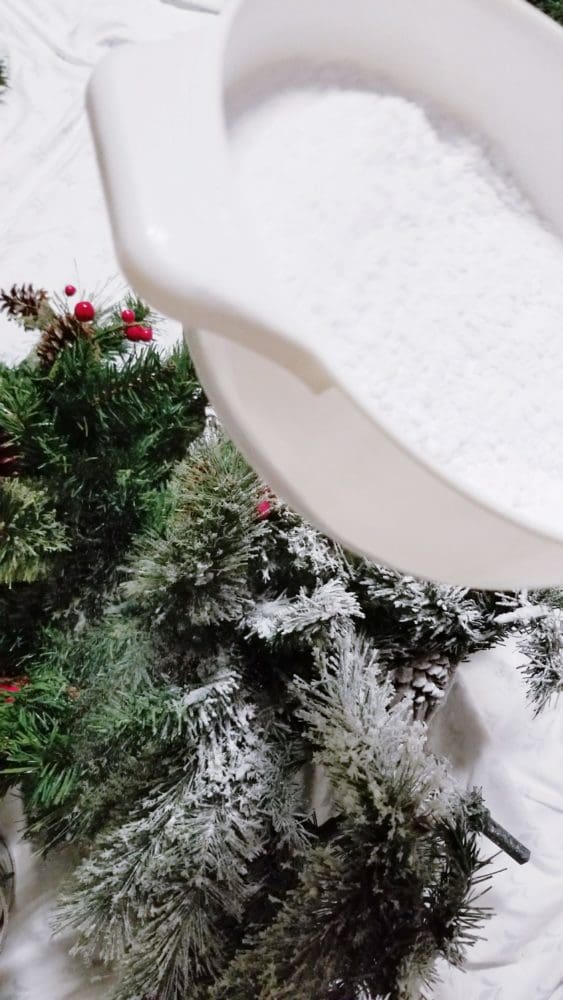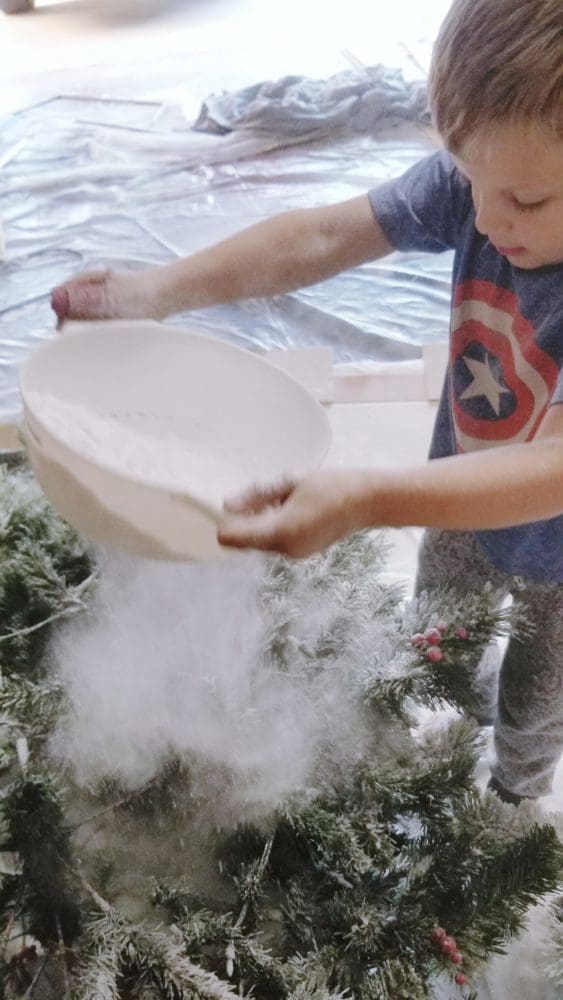 I laid out my Christmas tree (still in separate pieces) on the garage floor. I worked in sections, doing one section of the tree at a time.
You will start by spraying the branches with water. Coverage is key, as the water helps thicken the powdered snow and allows it to bond and stick to the branches.
Next, scoop a generous amount of snow into your strainer, and start shaking and straining onto the tree! The directions say to also keep spraying water while you are sifting the snow, I would do this simultaneously at the beginning, but after a while my hands got tired so I would take a break with the spray bottle, and then start back up again with spraying after I got the snow coverage how I wanted it.
After the tree is completely covered with the snow, spray the entire tree again. This acts as a sealer, and helps the snow harden and dry in place.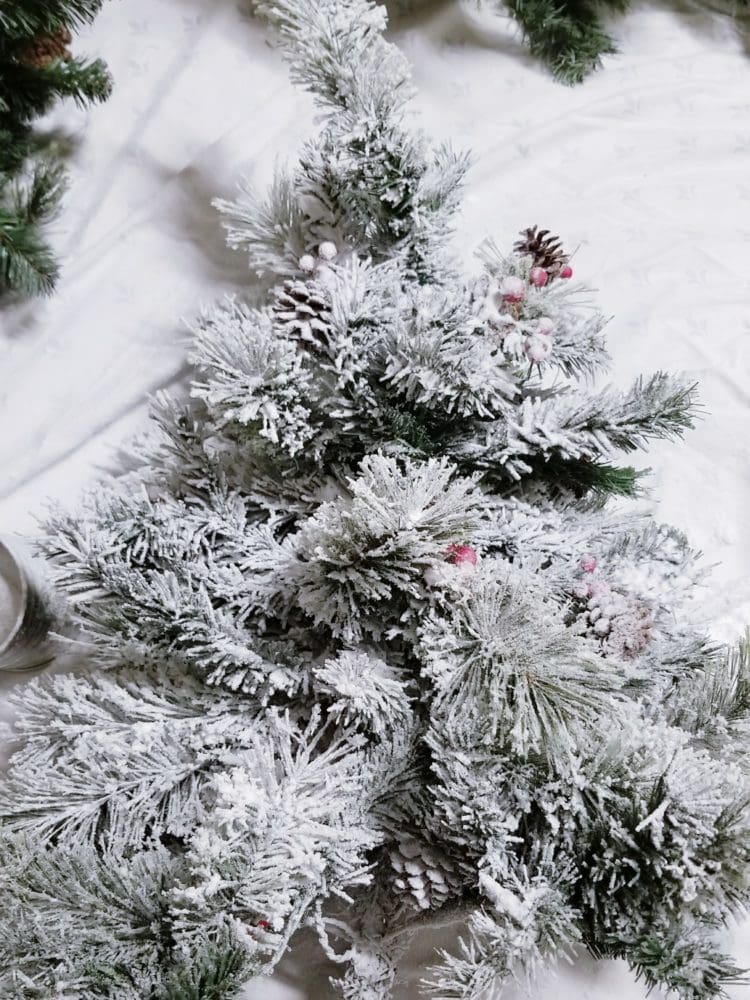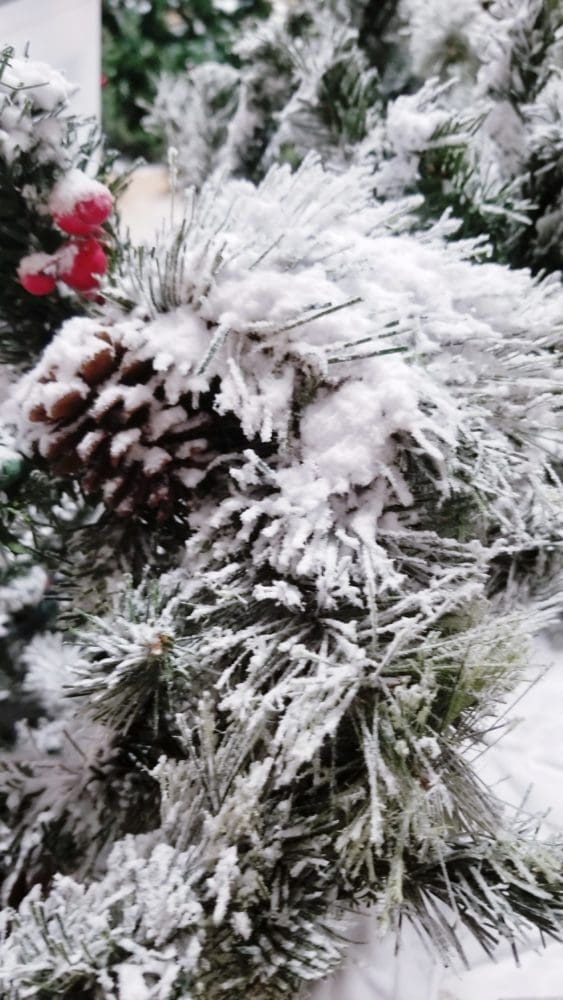 After I did all of the sections on the tree, I let it sit for a few hours to dry. I came back and covered some spots I had missed, and put a little more snow on the outer branches to give it the thicker look I was going for.
The next morning, my husband Bryan and I moved the tree inside! During this time, it got a little messy, as the excess of snow was falling off. Once I got all of the tree branches in place, and separated and fluffed the branches, I sprayed with water one more time to help seal the snow.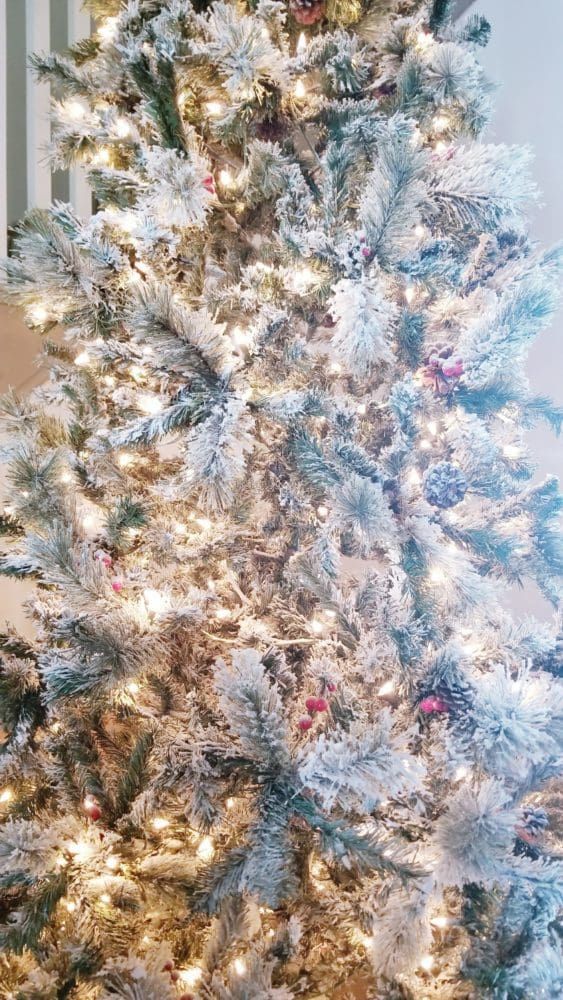 I'm so happy with how it turned out!! I think it completely transformed our tree and looks so pretty with the soft color palette of rose gold, champagne, and silver-colored ornaments I'm decorating with this year.
I have a complete video tutorial that I show the step by step process and also the finished tree and some more helpful tips that hopefully will help you easily cover your own tree! If you already have your tree up and decorated for the year, you could also add the flock during the take down process to have it ready to go for next year.
Hope this video and tutorial was helpful! Let me know if y'all have any questions about the process, leave a comment and I'll answer any questions or concerns you have.
It really was such a simple DIY that I think made all the difference in sprucing up my Christmas tree. It makes the ornaments pop being against the white, and lightens up the whole look, which I love!
Merry Christmas and happy flocking!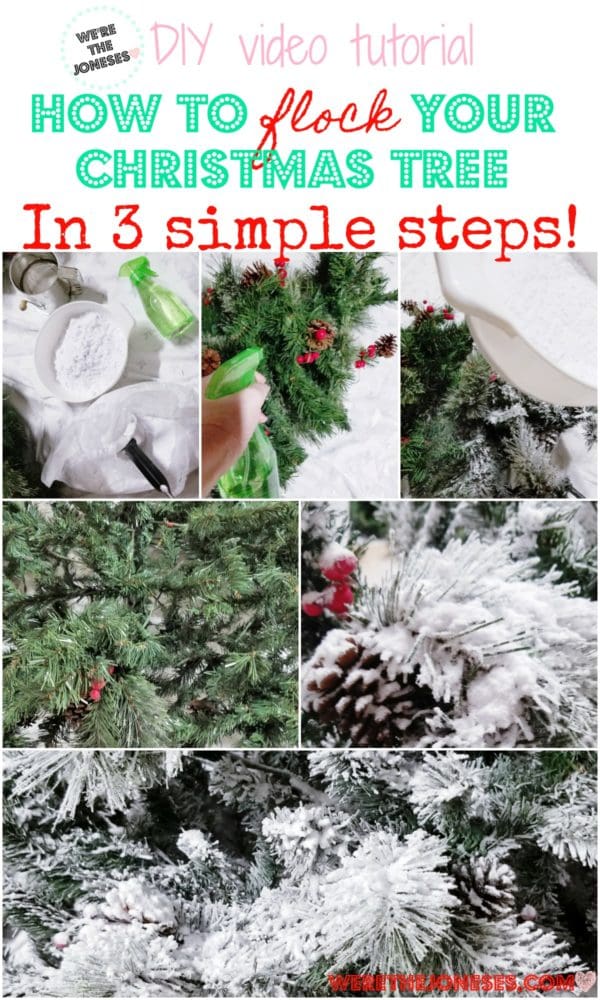 SHOP THE POST