This post is sponsored by Acorn Influence. All opinions are my own.
Scroll down to see my floating plant wall update!
Ever since we moved into our house three years ago, I've been struggling to decide on how to decorate a blank wall in our kitchen.
I tried to make it an organized school papers zone for my kids, but that didn't really stick and it always felt a little messy.
It's not in the main area of the room and is around the corner from the rest of the open areas, so I never made it a big priority decorating wise.
But now that we've conquered a lot of the wall space in our house, the infamous un-decorated blank wall in the kitchen was starting to haunt me! One day after giving it a good stare-down, my creative juices started flowing and my inner designer took over!
I knew I wanted to add some color and life to this hidden little area, and what better way to add life to a room than with plants?
Greens always fit in well in the kitchen, especially those of the edible variety, even if their primary purpose is for decoration. I decided I would turn this empty space into a lively modern floating plant wall.
Fresh-cut flowers have always been more my expertise, and not so much indoor/outdoor plants; especially those that you eat. But I decided to test out my green thumb by planting indoor herbs and vegetables for my plant wall, and it turned out to be so much easier than I expected and makes such a fun decorating statement when you walk into our kitchen!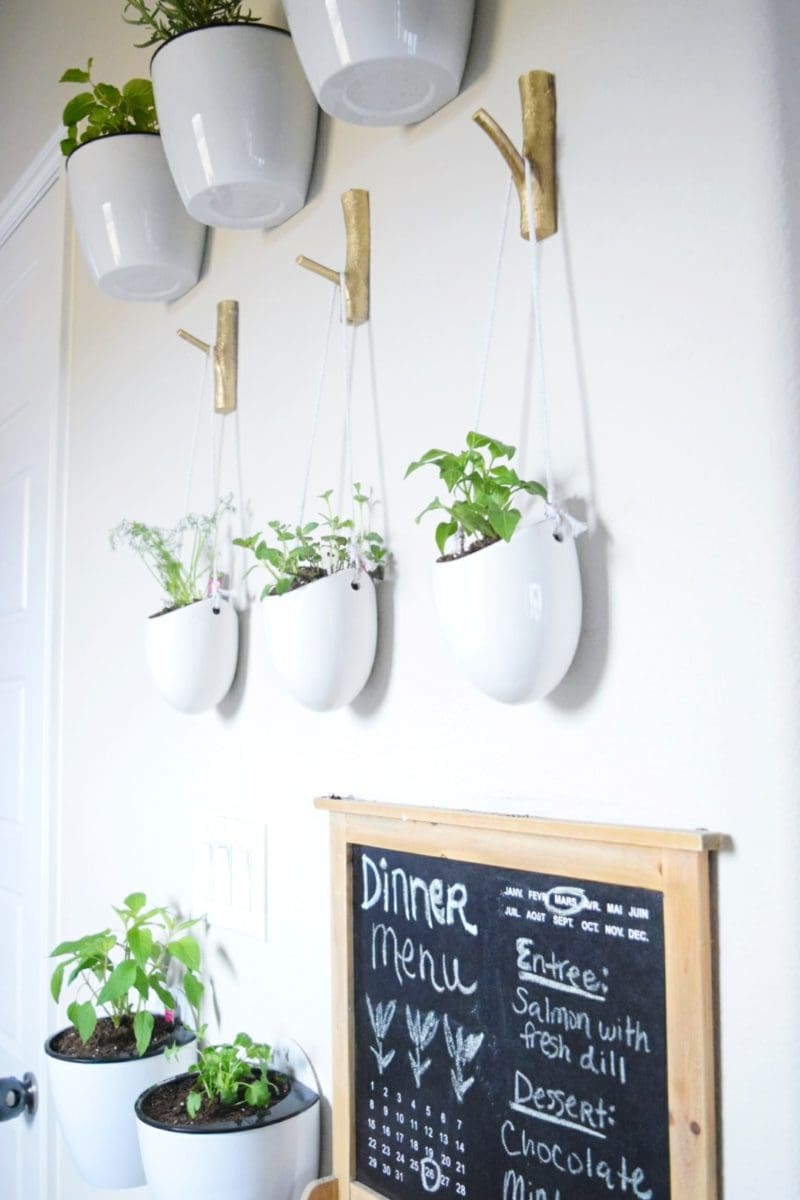 When deciding where to create your plant wall, there are a few details to keep in mind. When using indoor plants, it's best to pick a spot that gets plentiful sunshine. This wall is the perfect spot as it faces a window and has lots of natural sunlight.
If your plants will also be used for cooking, then it's good to pick a spot that's in or near the kitchen for easy access.
My husband, Bryan, helped me measure out the space to see how many containers we could fit on the wall. I wanted to cover a good majority to make it a decorative statement piece for that corner of the room.
We decided on nine containers in total, six of them floating containers and 3 hanging containers on hooks.
I already had three tree branch hooks that I thought would add another fun natural element to the space, but I wanted to change them up and make them little more modern, so I spray painted them with my favorite Rustoleum gold metallic spray paint.
After all the measurements were taken and containers were picked, we got to hanging! I had some handy helpers as my assistants.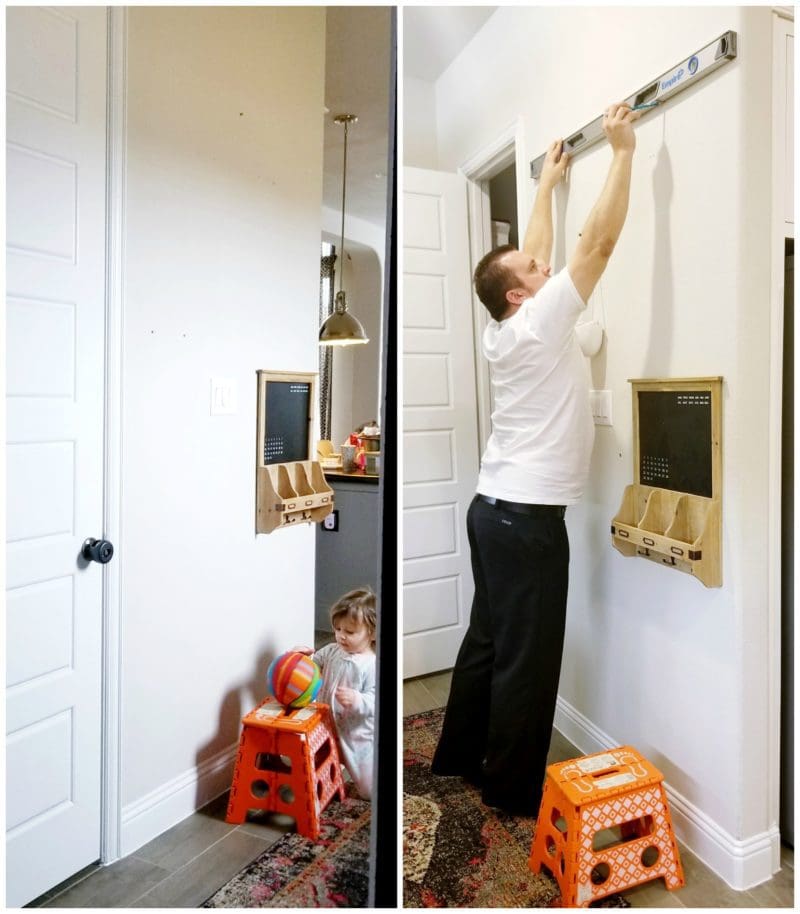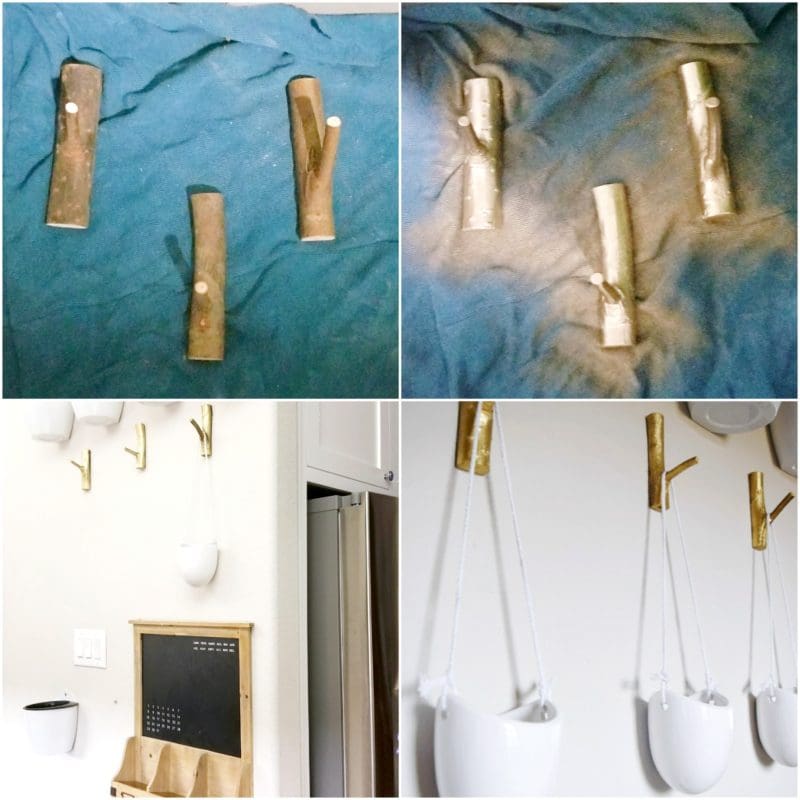 After all the containers were hung, the next step was to go to Walmart and pick up my plants!
What helped make this project doable was the ease of purchasing Bonnie Plants at Walmart, and using the Miracle-Gro soil and Miracle-Gro plant food. I went to the garden center to pickup my plants and soil and while I was there, one of the Bonnie Plants employees was making a delivery. I talked to him for a few minutes about being an herb and vegetable beginner, and he was so helpful with answering my questions about specific care instructions and eased my doubts about caring for indoor plants. He also helped me pick out the right Miracle-Gro soil for indoor herbs and vegetables and the Miracle-Gro plant food that will help my plants thrive. I also found their website to be super helpful with tips and tricks on all the varieties of plants that they carry.
When I was choosing what plants I wanted to buy, I took into consideration the decor element and overall look of the plants, but also the cooking use of them as well. I wanted to have rosemary and lavender, as I love the look of the leaves and the aroma. I also knew I wanted cilantro because we live in Texas and make Tex-Mex food pretty much every day!
The other plants that I chose were dill, parsley, sweet mint, chocolate mint, jalapeno pepper, and pineapple sage. The chocolate mint and pineapple sage also smell amazing, and I'm excited to see the pineapple sage bloom later in the year with beautiful red trumpet shaped flowers.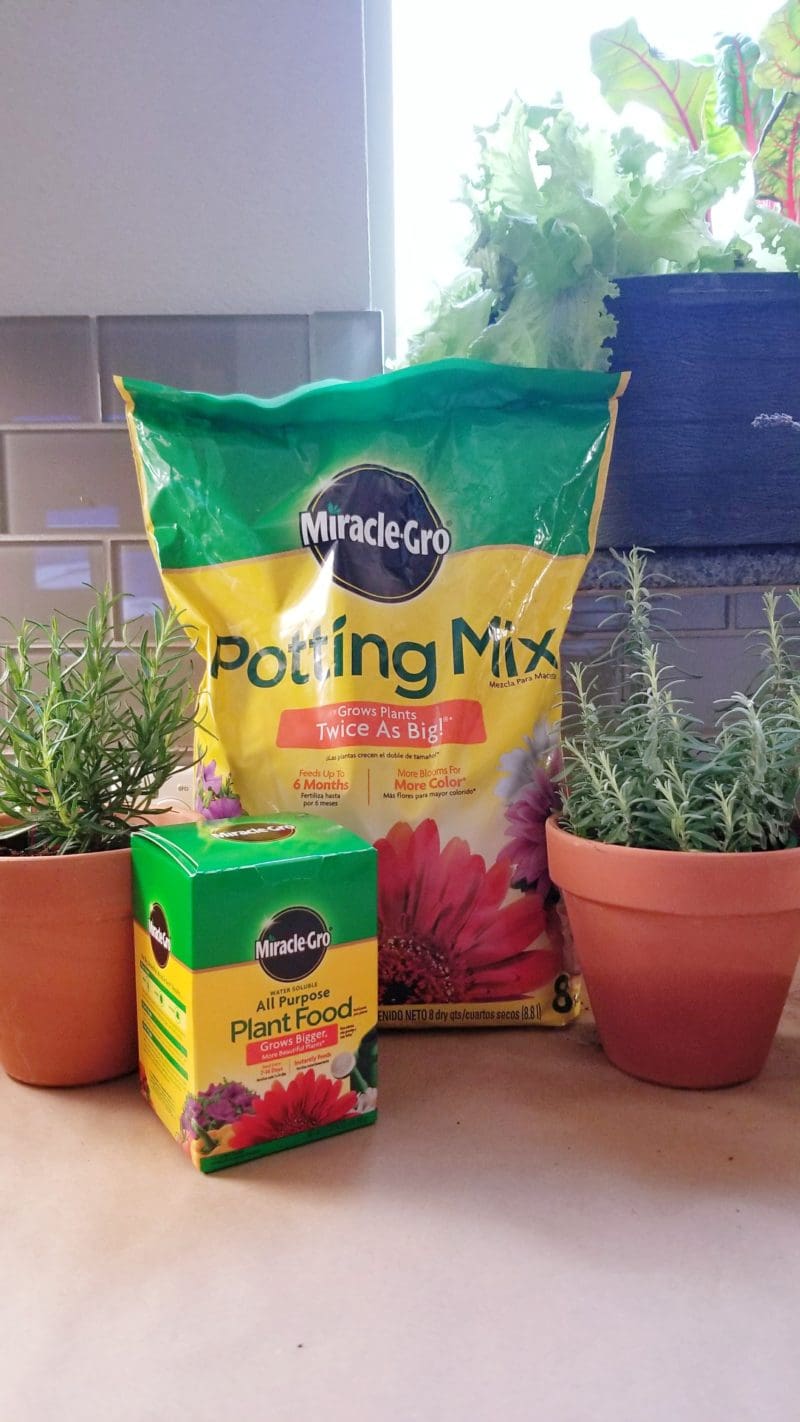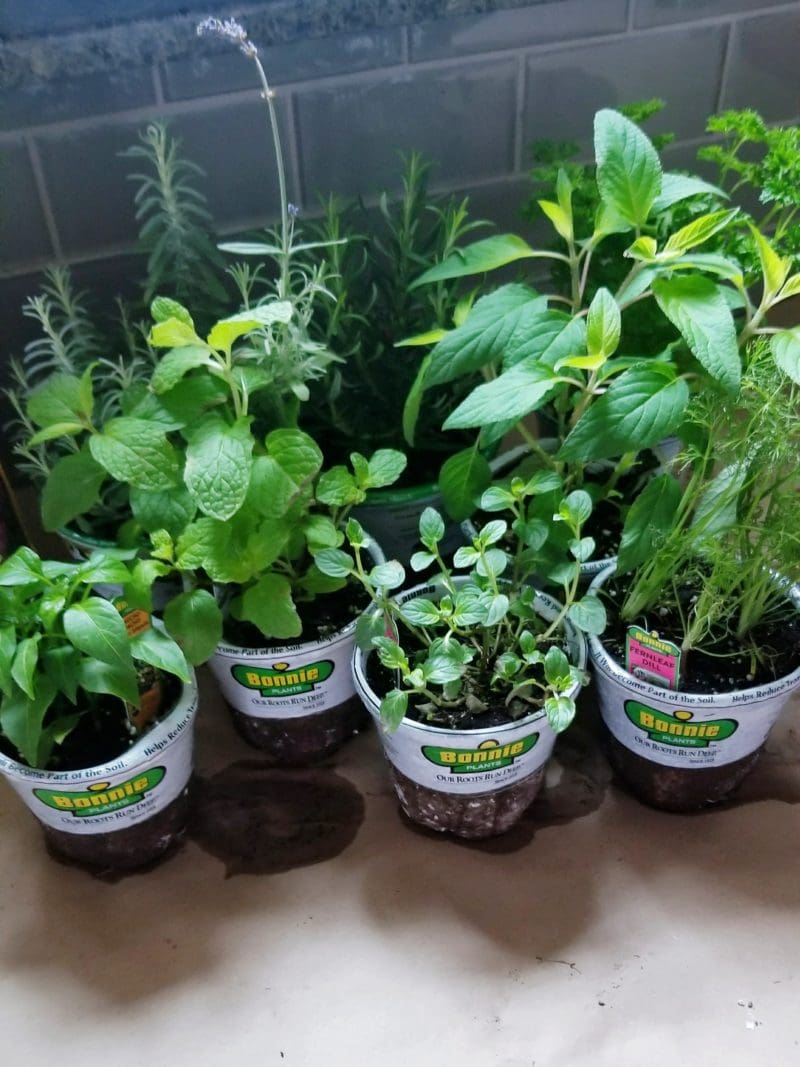 Once I had all my plants, it was time to start planting!
It was a little messy working indoors, and it might've been easier planting them out on the patio and then bringing them inside. But if you have little to no space outside, you can make your own work station in the kitchen, which I was able to clean up pretty easily. My kids have a roll of kraft paper in their playroom they use for art projects, so I brought it downstairs and covered the kitchen counters. You could also lay down some old newspaper sheets too!
I set down all of my plants, Miracle-Gro soil, Miracle-Gro plant food, and containers on top of the paper and got to work. I followed the directions to add about a 1/3 of soil in the bottom of the planter, then cut the wrapping off the plants, set it in the container, and then filled around the plant with soil and patted it down.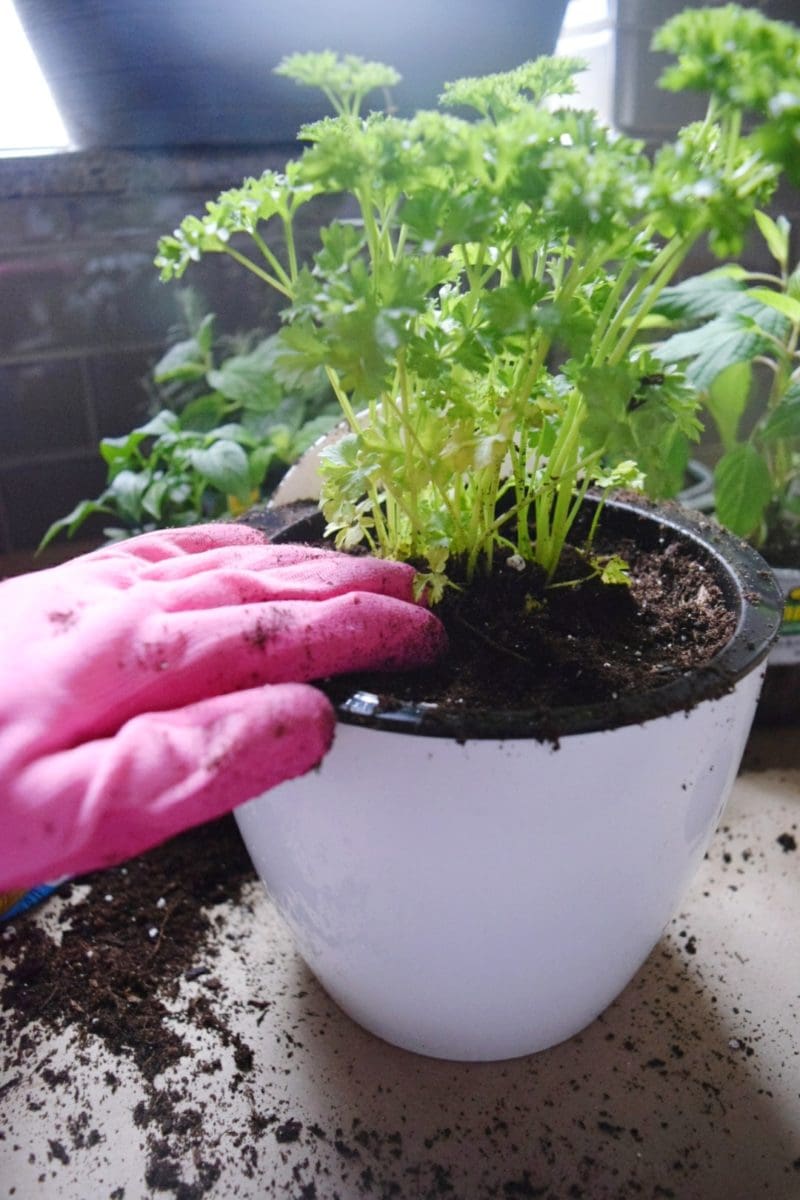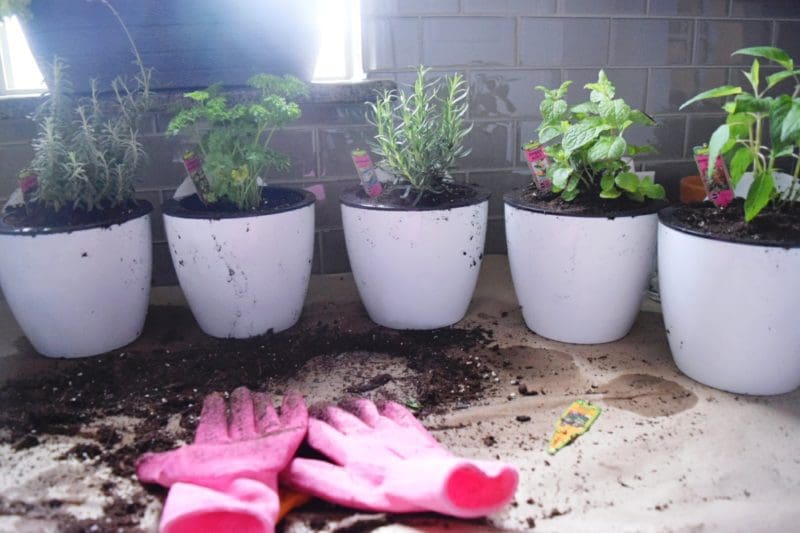 After I completed the first two plants, I got into a rhythm and had all six of the of floating planters done in about 10 minutes!
I then tackled the hanging planters next. I decided it would be easiest to hang the empty planters on the wall, and to then add the soil and plants while hanging. I laid down more craft paper on the floor to catch any falling soil messes while I planted, which helped keep my floors clean.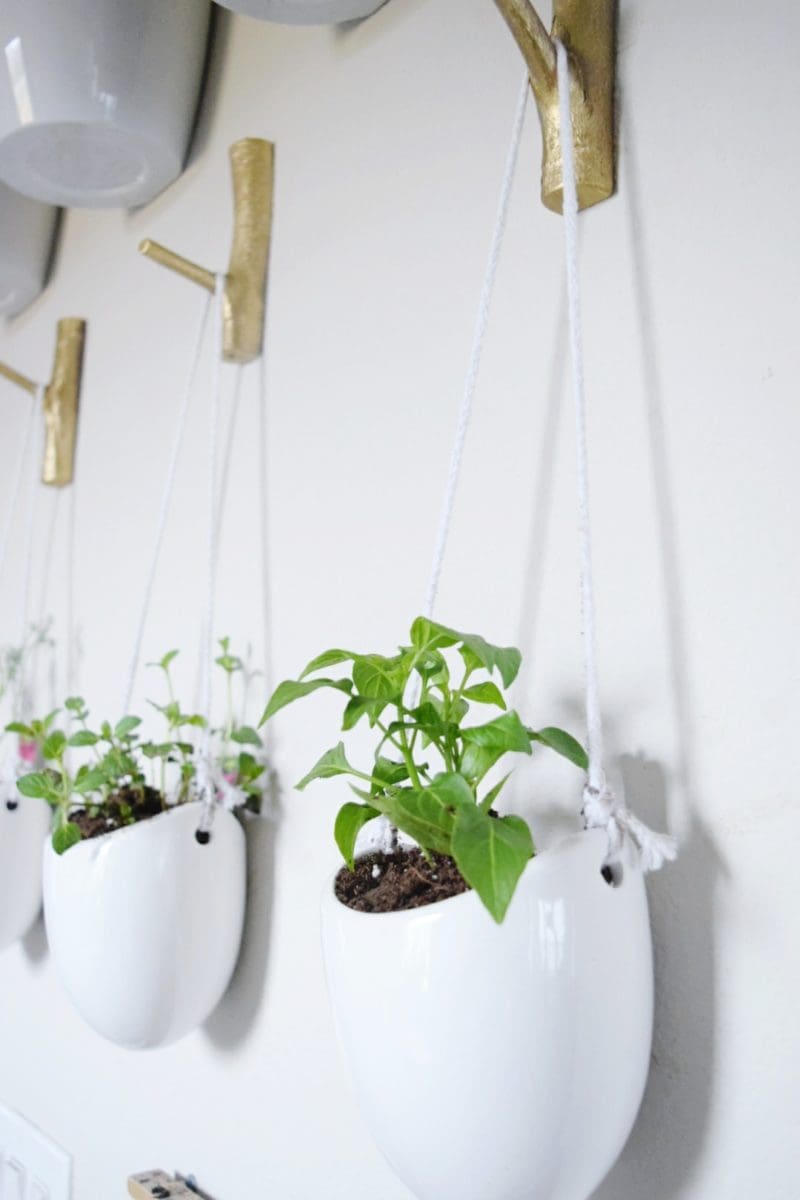 After all my herbs and vegetables were planted, I just needed to decide which plants would go where.
Since the pineapple sage is going to eventually have tall blooms, I wanted it to be on the bottom row along with my favorite new cooking buddy, the cilantro plant. I moved a few around on the top row until I found a look that I liked, and voila! The floating plant wall was complete!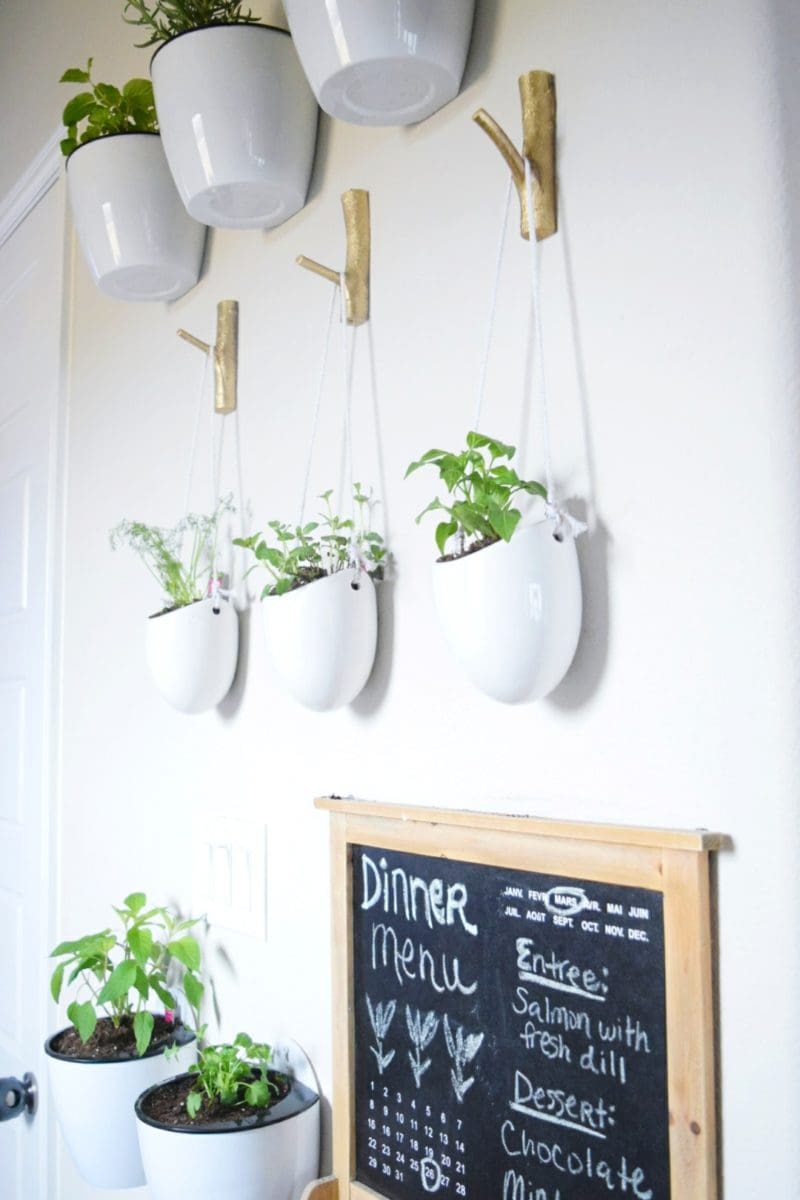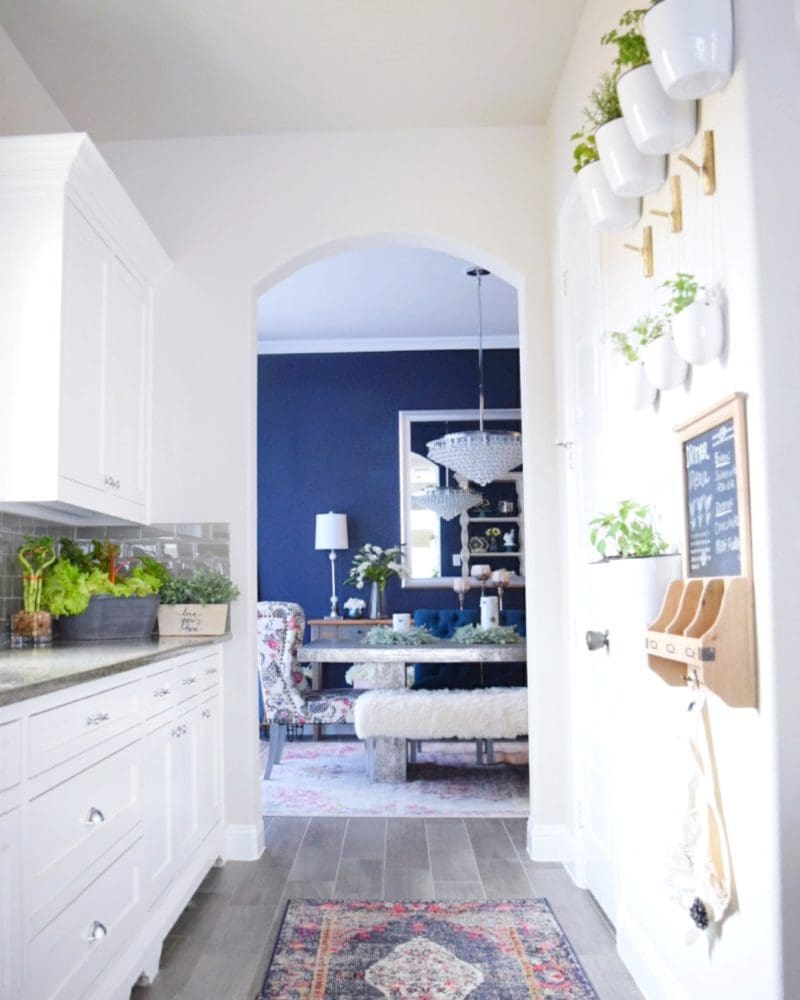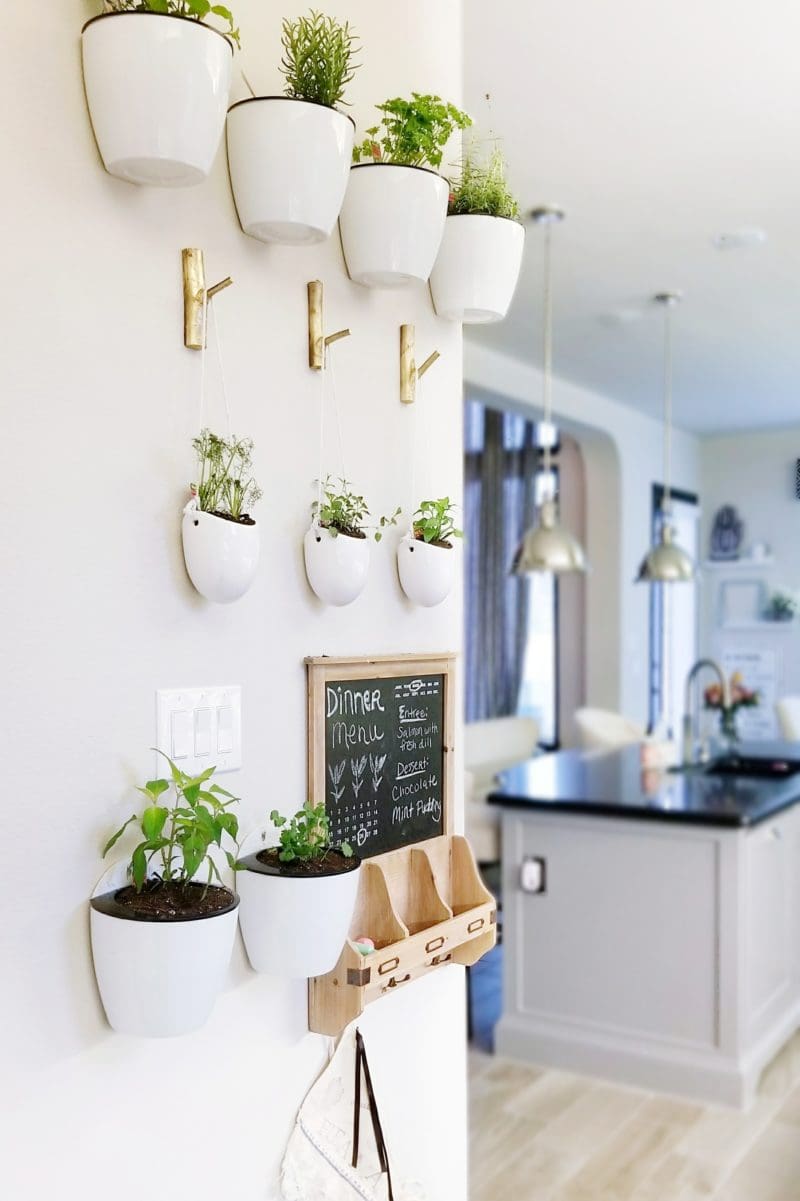 To help make sure I was getting my new plants all the valuable nutrients they need to grow, I used Scotts Miracle-Gro soil and Miracle-Gro plant food. Scotts Miracle-Gro is American-made and helps grow plants 2x-3x as big! Once your plants are planted in the soil and you are ready to water, add a scoop of the plant food to the water in your watering can every two weeks.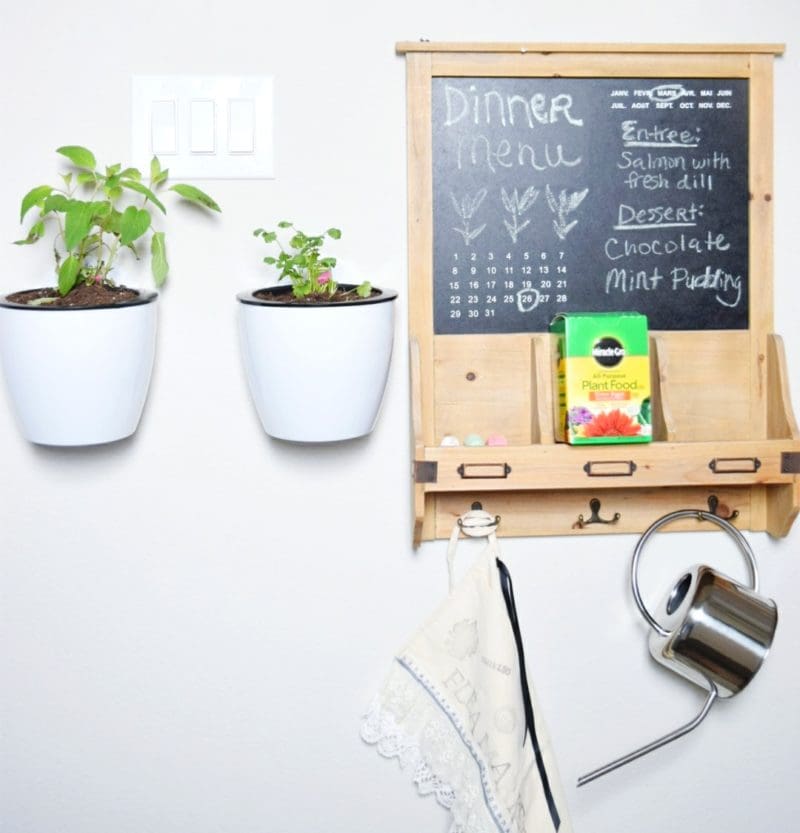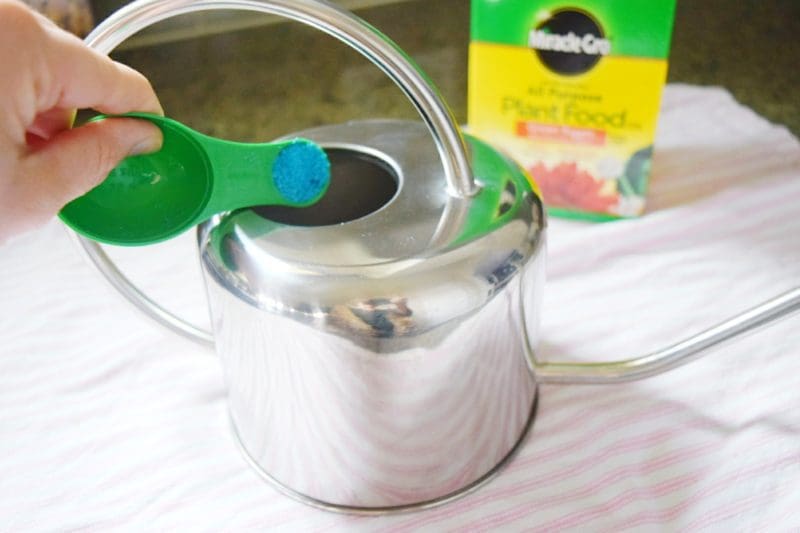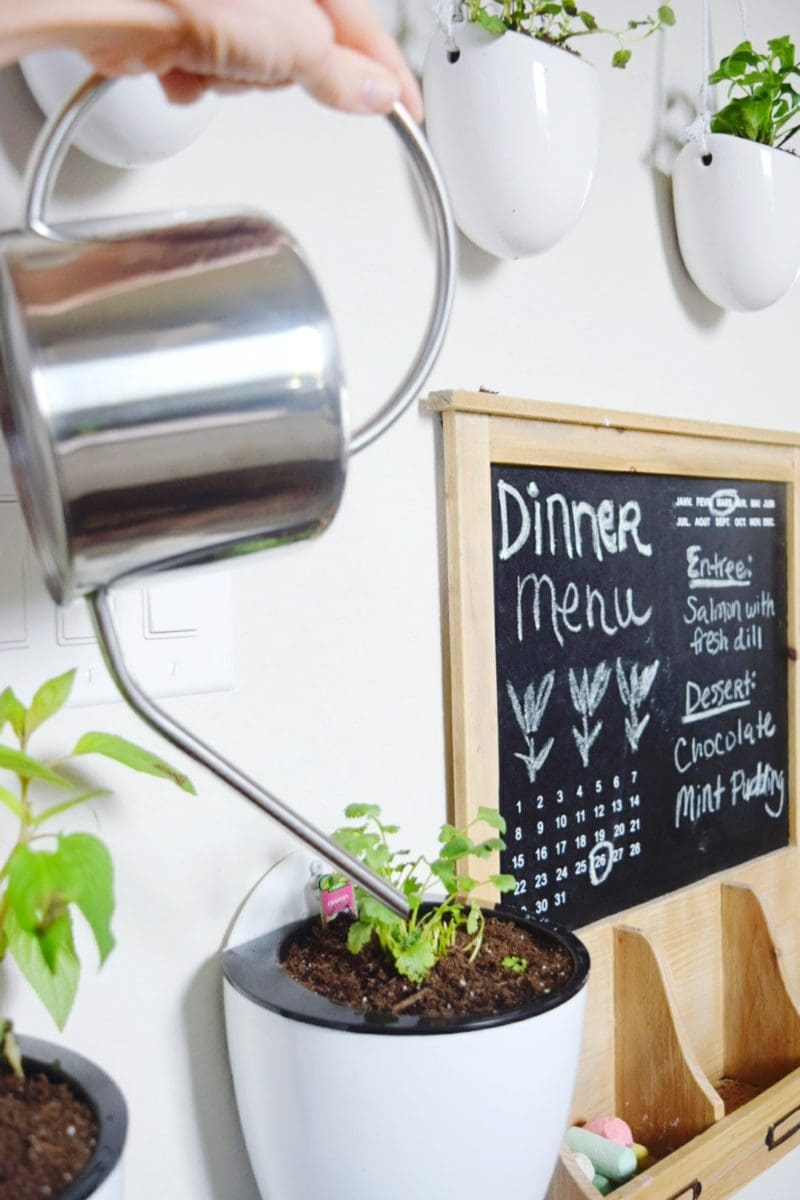 I love how my floating plant wall turned out and how easy it is to turn indoor gardening into a decorative art piece!
It has also been lots of fun learning about fresh herbs and vegetables and ways to incorporate them in the kitchen. We've already used our cilantro twice and it was so fresh tasting! Let me know if you have any questions about creating your own plant wall, and I'll be sure to update you guys later this Spring on how my new plants are growing!
Happy planting!

2 Month Update: How Are My Plants Doing Now?
It's been about two months since I decorated my kitchen wall with the floating plant wall of herbs and veggies. It's been so fun learning about my indoor plants and how to best care for them (especially herbs and vegetables). I wanted to share with you some helpful tips I've learned along the way and hopefully these can help you too!
Over-watering is a no-no!
Confession: In the past, I may have been known to forget about watering my plants.
It's the main reason why I have been hesitant to have indoor plants, because I don't want to keep making the same mistake and forget to water them! It's a joke between my husband and I that I will kill a cactus from not watering it, ha.
When I told Bryan about the floating plant wall, he was a little concerned that I would not water them enough. By thinking that though, we made the opposite mistake! Little did I know that Bryan was watering the plants AND I was watering them too.
We started noticing gnats flying around the plants and in kitchen, and we weren't sure why or where they were coming from. My mom is a horticulturist and was in town one weekend and mentioned that she saw the gnats around the plants. She informed me that when gnats are present it's usually because of sitting water in the plant's soil. Sure enough, we were over watering all the plants! So unfortunately, some of my initial herbs and veggies didn't make it because of getting too much water. But, we replaced the ones that we over-watered and are now making sure we are checking the soil and watching the water intake!
Lesson to be learned here? Communication in marriage is key. Even if it's about a plant watering schedule, lol.
Natural light and spray bottles are your friend!
I noticed that the top row of our plant wall seemed to not be doing as well as the other rows, so I did some research and re-arranged some of the planters to make sure the herbs and vegetables that need the most sunlight were in the best spots.
Hand and hand with the over-watering lesson, I also learned that some of the plants do best when they are sprayed with a water bottle instead of a watering can. This also can help with sitting water and attracting gnats.
Plants love food!
Just as we thrive on food, so do our plants! The Miracle-gro plant food is helping our herbs and vegetables grow to their full potential and makes sure they are getting the nutrients they need.
Here are a few updated pictures of our growing herbs and vegetables!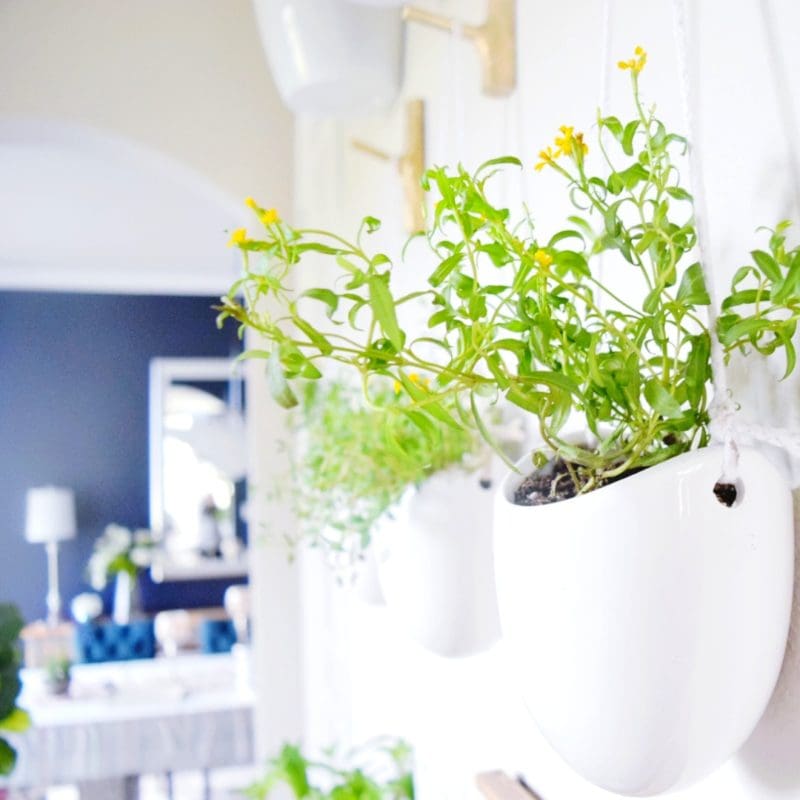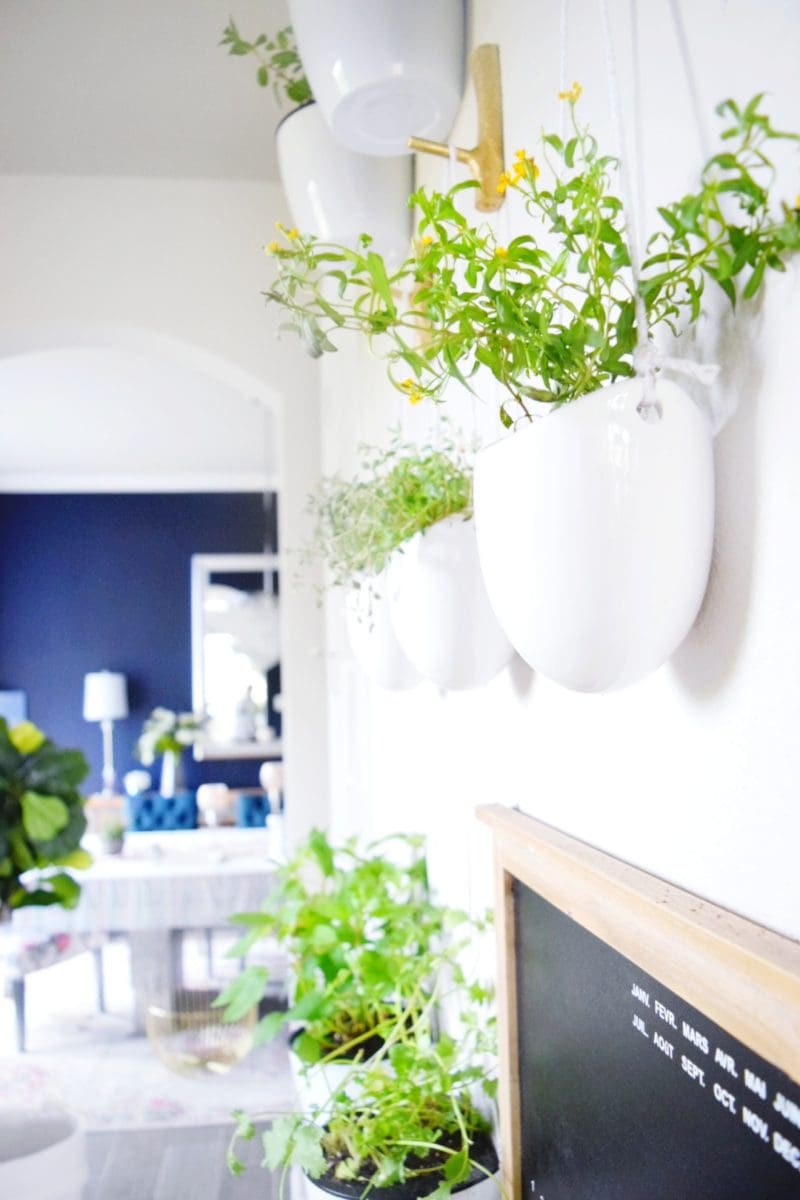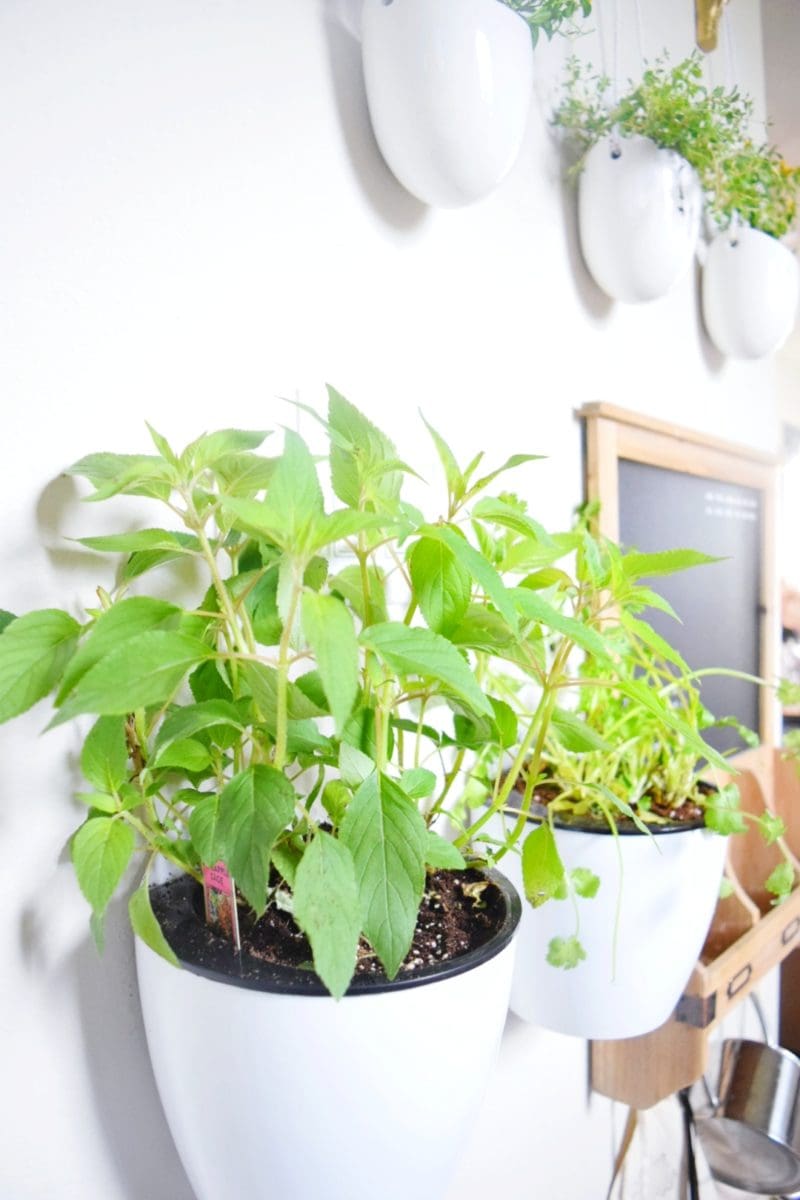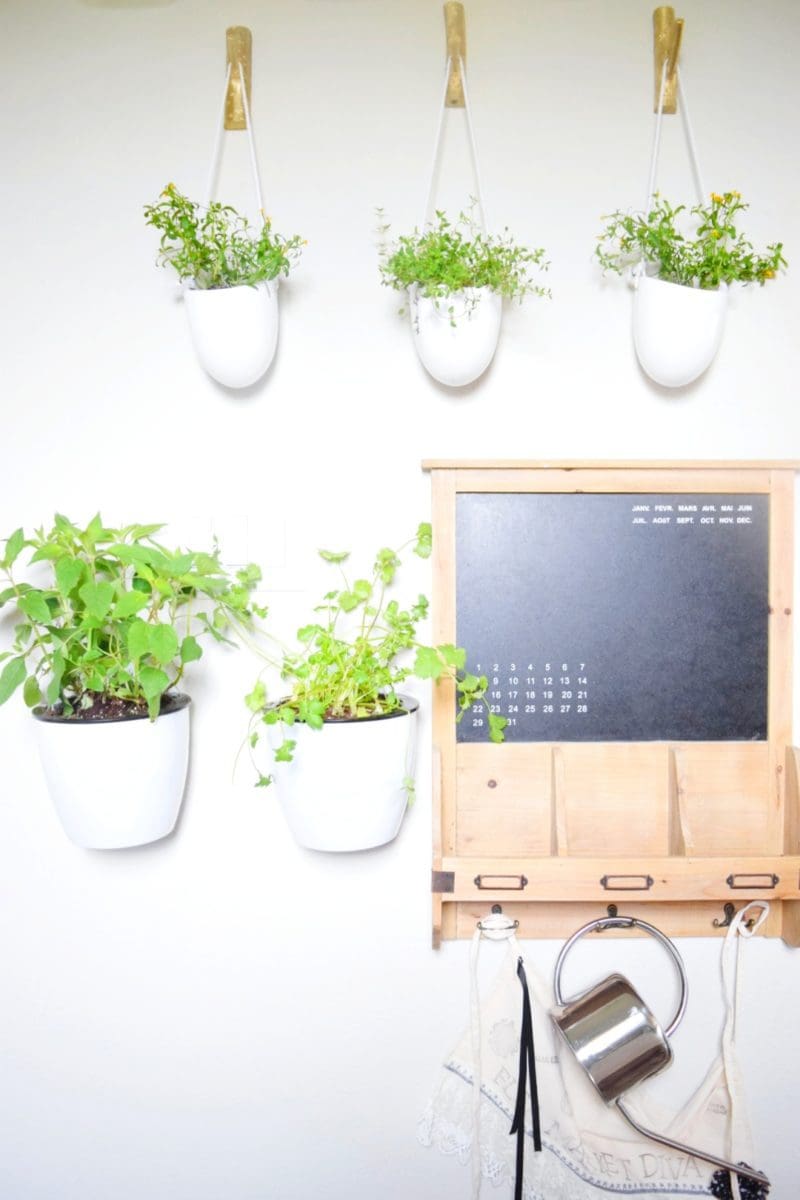 Hopefully these easy tips help you care for your herbs and vegetables too! Is there anything I missed or do you have any indoor plant care tips for me? Share them in the comments, I'd love to hear!