Easy fall decorating ideas using a modern colorful fall decor style! I love to use a fall color palette that blends with my whimsical home decorating style. Today I'm sharing my modern fall decor ideas including modern fall porch decor, fall table decorations, and our modern fall mantle. I hope you enjoy our fall home tour and that you leave inspired!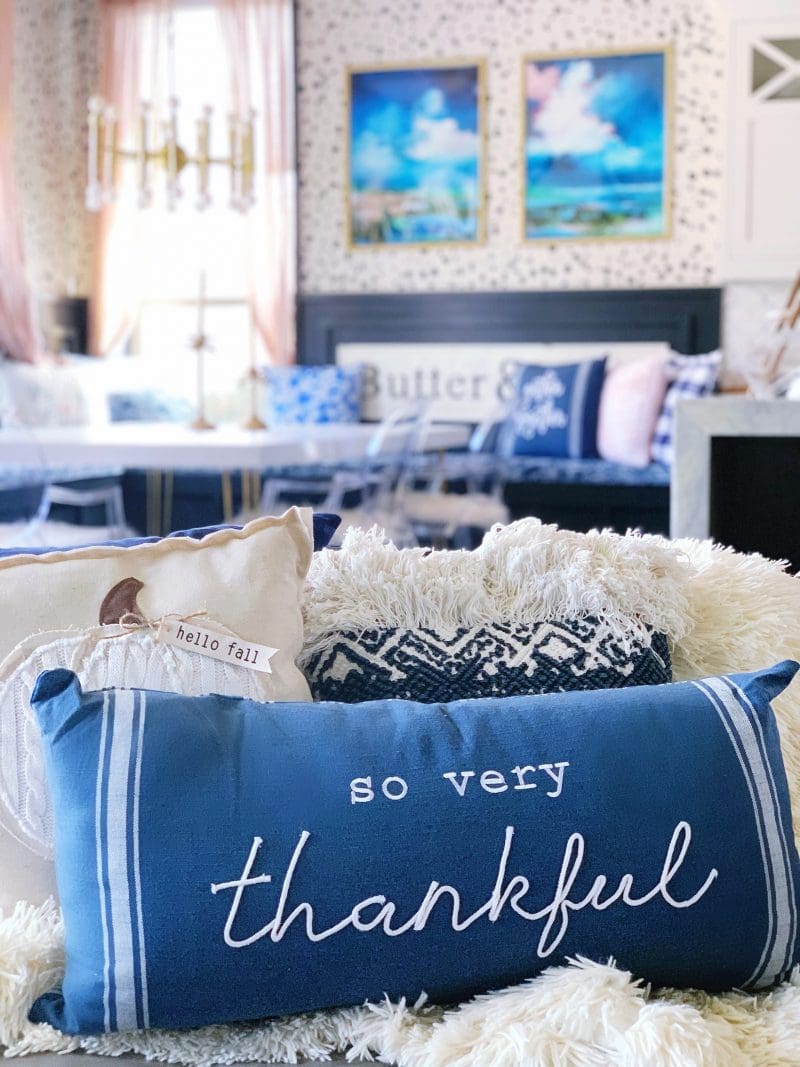 Modern Colorful Fall Decor | My Fall Home Tour
Welcome to my fall home tour! Today I'm joining a few talented blogging friends to share with you our fall decor ideas we use in our home. A big thanks to Leen from Sand Dollar Lane for hosting this fall decor home tour! If you came from Angie with Postcards from the Ridge welcome! I'm so glad you are here!
I'm so excited to show you our modern fall decor in our home. I decided that this year I was going bold with my fall decor! I was inspired by a pink gingham tablecloth for my fall tablescape and the pinks carried throughout the house.
Truth is, it's easy to decorate with my pink + navy fall color palette because these are the main colors already used in most of my home. I took items I already had decorated in each room and gave these areas a fall look by adding in pumpkins, candles, and cozy fall pillows and blankets. Adding a few fall touches in with your decor can be super simple and affordable. Read below for my fall decor tips and ideas I used in my home!
How can I decorate my home in autumn?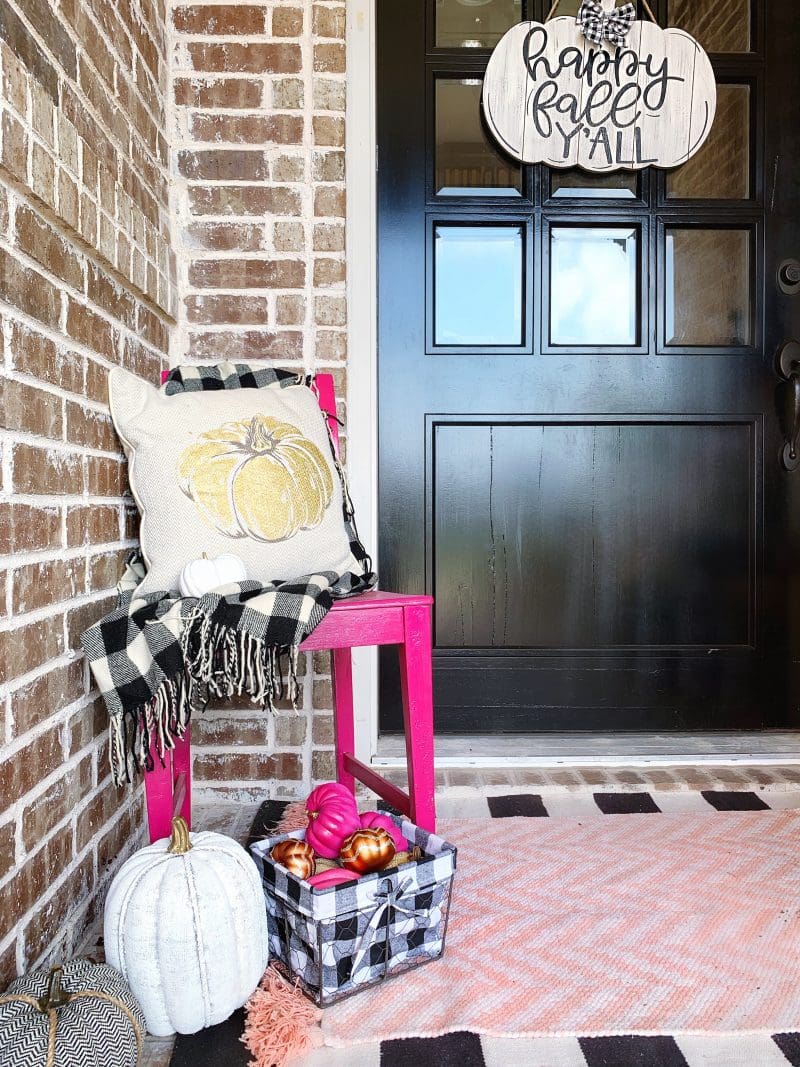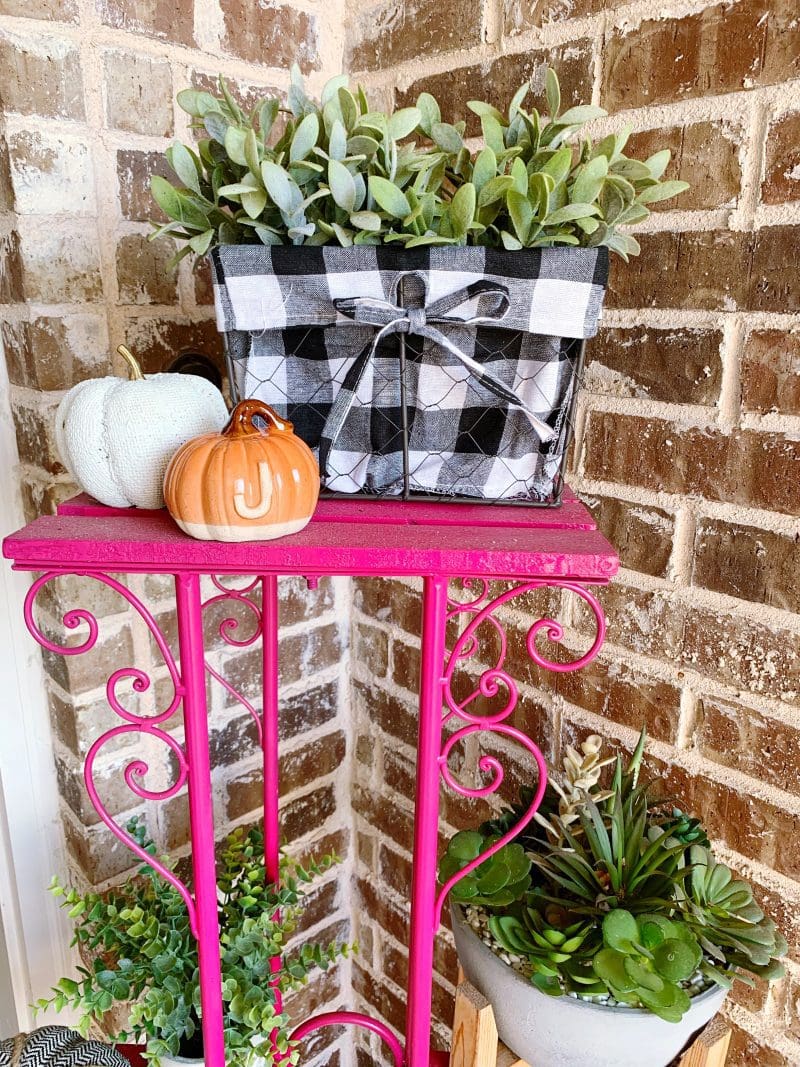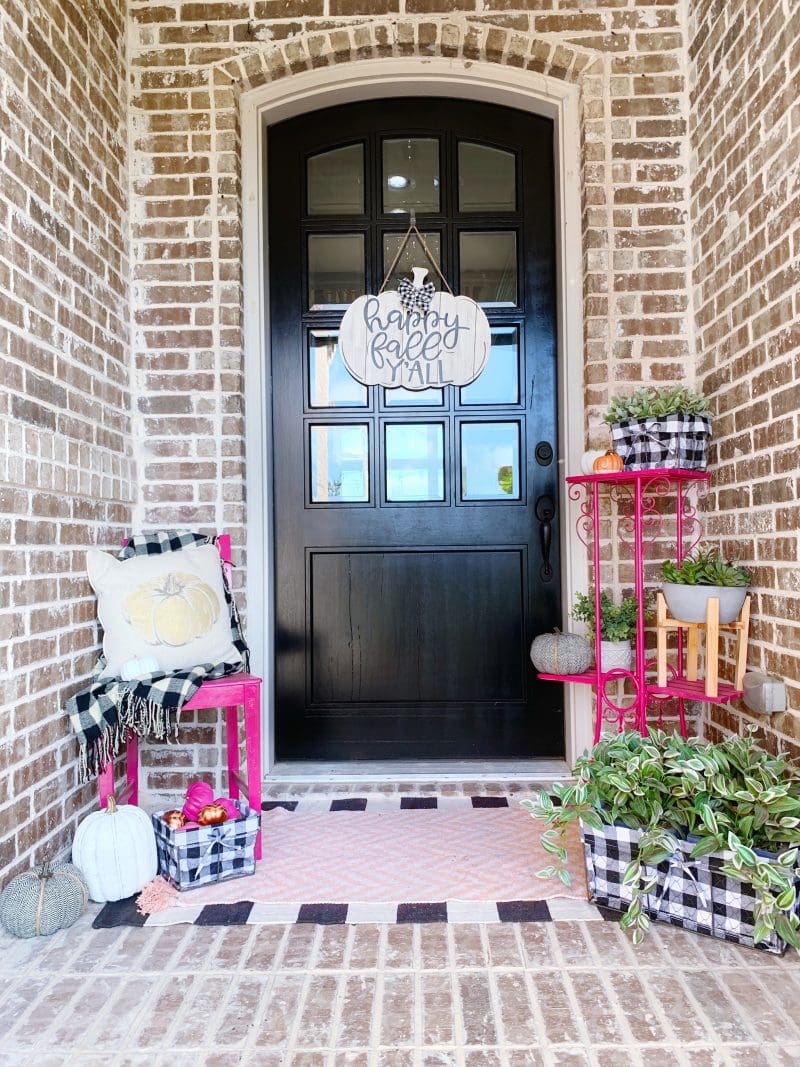 There are so many fun ways to decorate your home for fall! You can choose traditional fall colors, more neutral fall color palette, or go bright and bold. Any color choice you choose will work with a few cozy fall decor touches added in.
When decorating each season, I like to start in what I call "focal points" of my home. These are the rooms in my house that will get seen the most often and have furniture or design elements in the center of the room.
The first focal point area is my front porch. I brightened up my front porch over the summer by taking all of our old outdoor decor and spray painting it fun bold colors. I kept the same bright pink outdoor furniture but added in some fall decor accents. I love this cute Happy Fall Yall door hanging sign! The black and white buffalo check bow inspired me to add a few more black and white pieces to help ground the space and tone down all the color. I also add some fall layers with a buffalo check throw and pumpkin pillow. Then I sprinkled in several colorful painted pumpkins I spray painted in bold colors.
How to you decorate for fall on a budget?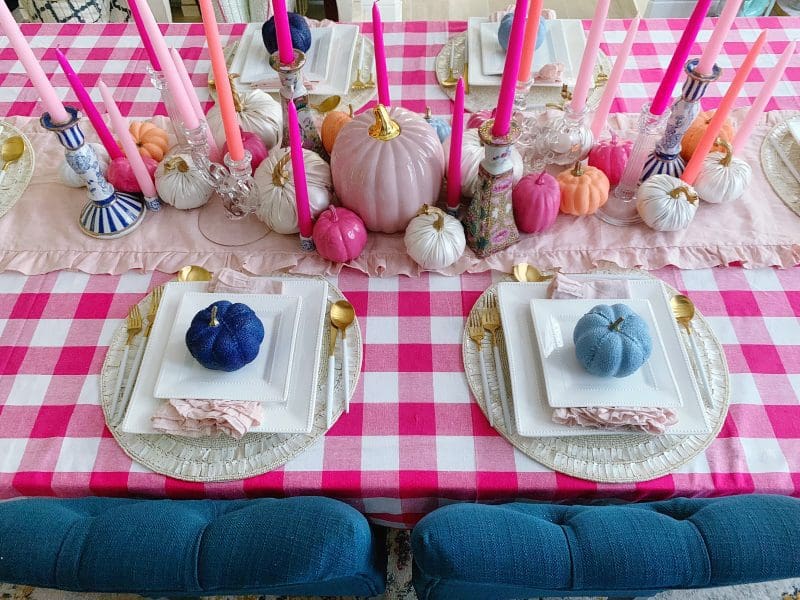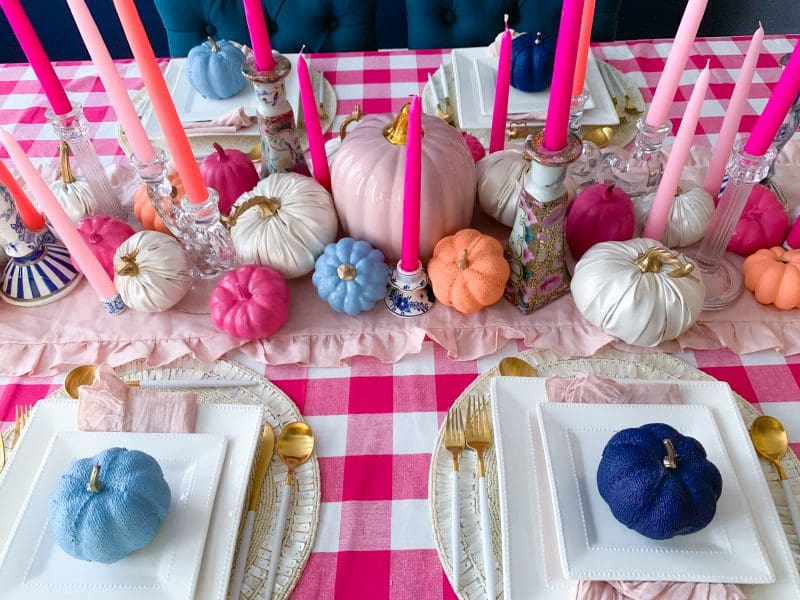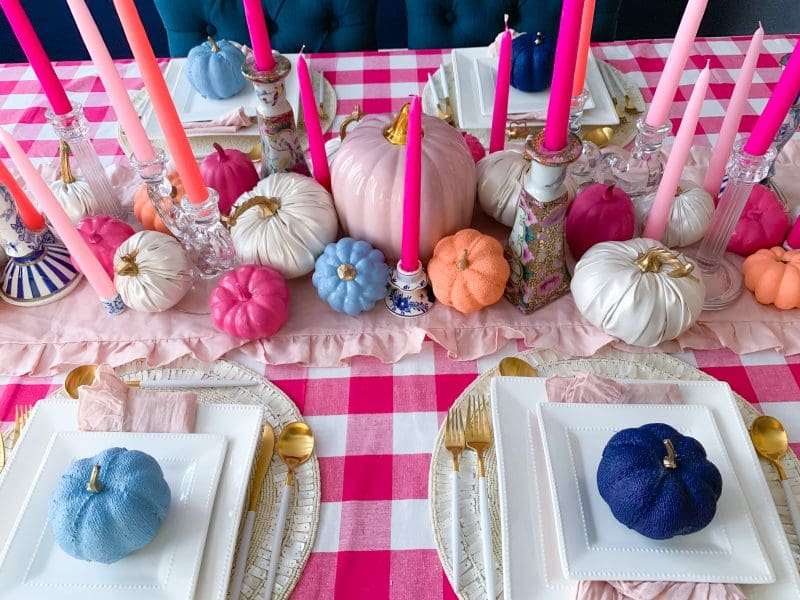 One of my favorite ways to decorate for fall on a budget is with PAINT! You can easily decorated for fall with a few simple painting DIYs. I like to buy dollar pumpkins, gourds, and fall florals from Dollar Tree and Walmart and paint them colors I want to use for fall that year. Most of the pumpkins in my colorful fall tablescape I've had for years that get painted each season! See more of my fall tablescape here! If you check out discount or resale stores you can buy fall decor items for super affordable prices and then paint them to blend with the colors you already have in your home.
I also like to do an inventory each season to be able to build on what I have. I'll bring down my fall decor from my attic and sort items I want to use again. (I try to do this first BEFORE I do any fall decor shopping so I don't spend money on items I have from previous years). If there's a few fall pieces that I want to add in I might splurge on those items and then paint what I already have from the previous year.
modern fall mantle decor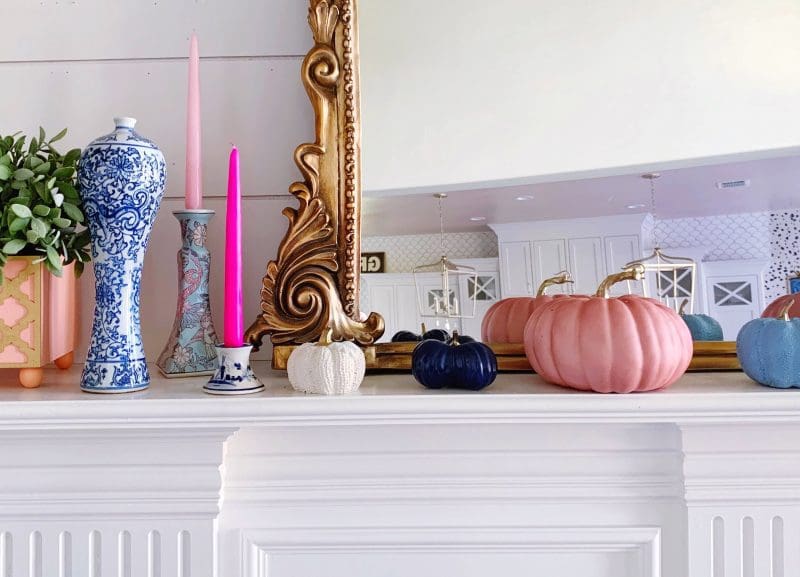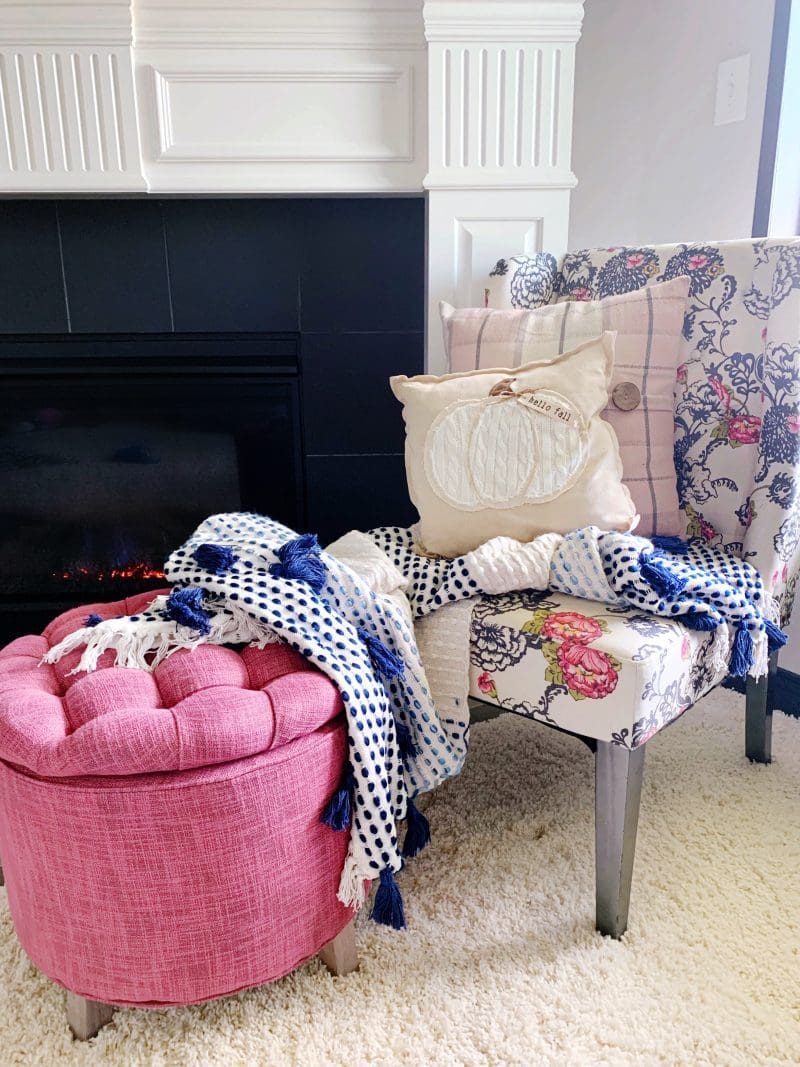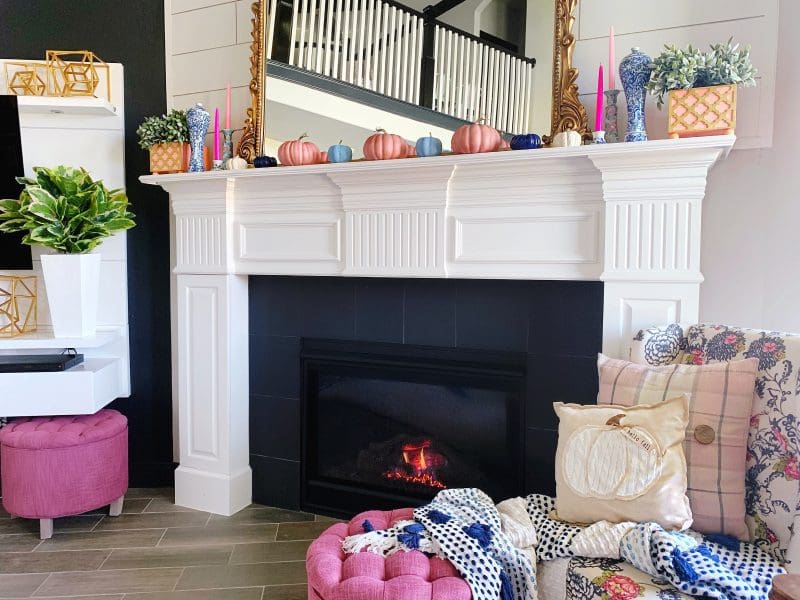 For my modern fall mantle decor, I wanted to achieve a fall look that was simple and elegant. The mirror is the main focal point of the mantle so I thought I'd add just a few colorful fall touches around it.
I recently bought these beautiful chinoserie vases and candle holders for my dining room that I LOVE! I brought them over from the dining room to the mantle and added in a few pink blue and white pumpkins to match. I love these faded pink pumpkins, but I thought I'd glam them up a bit by painting the stems gold. I painted each of the other pumpkins in shades that blend with our modern fall color palette.
modern fall decor ideas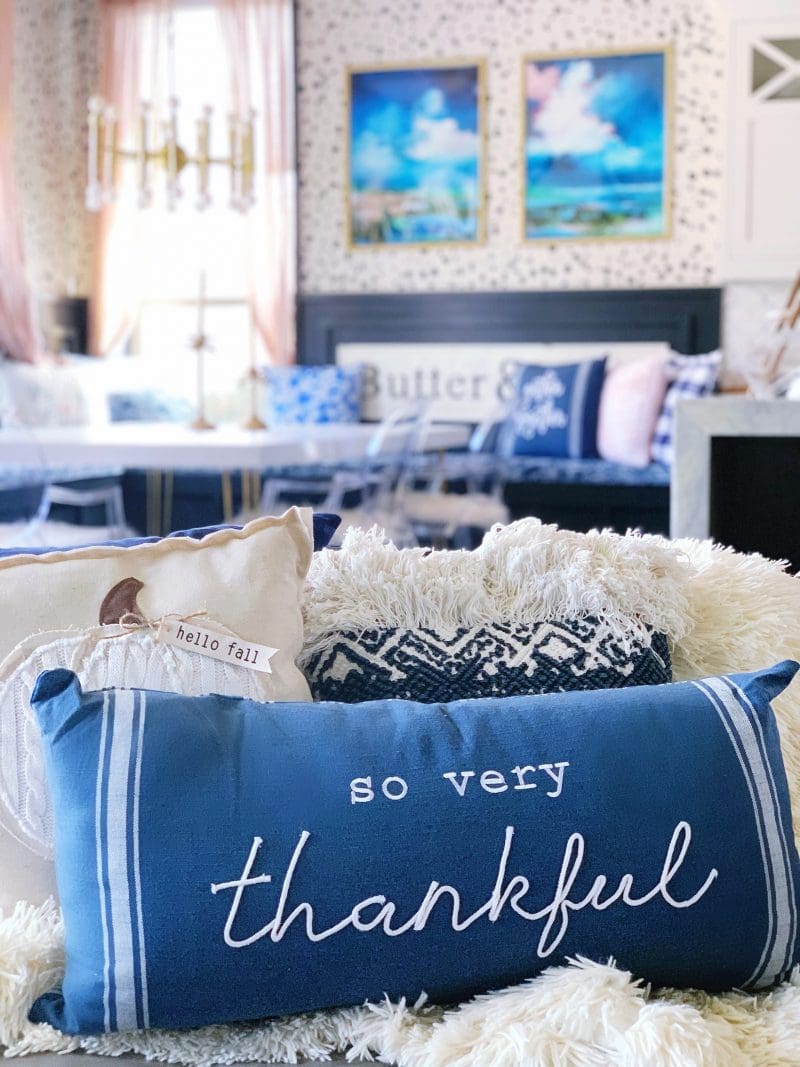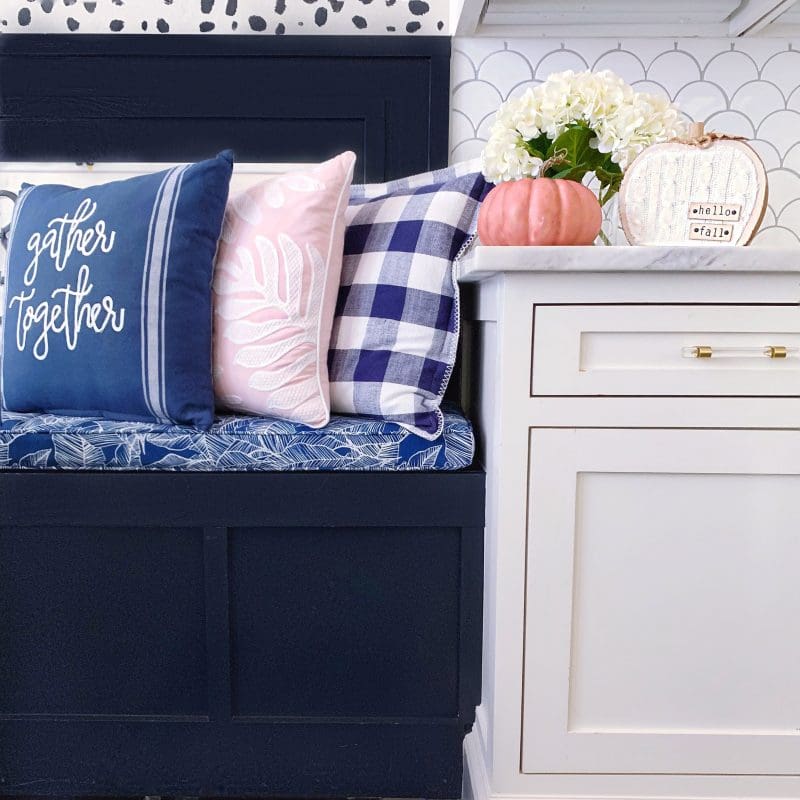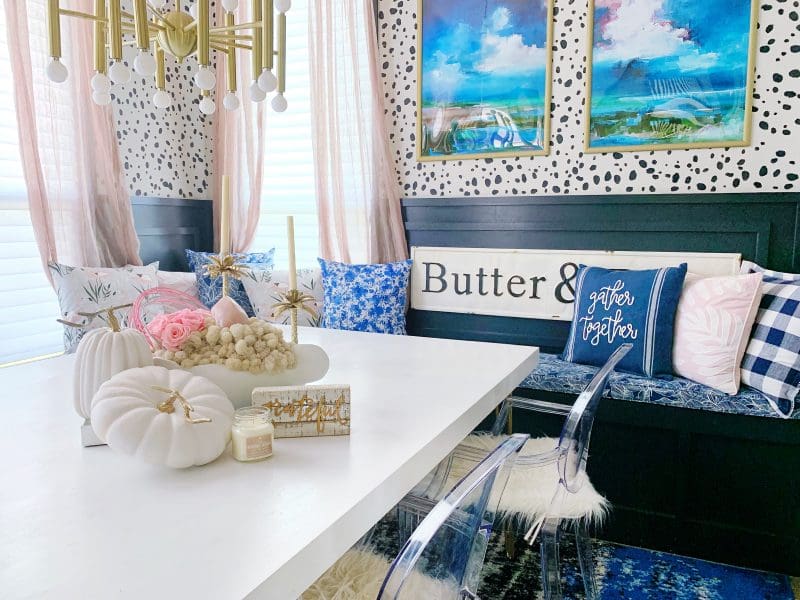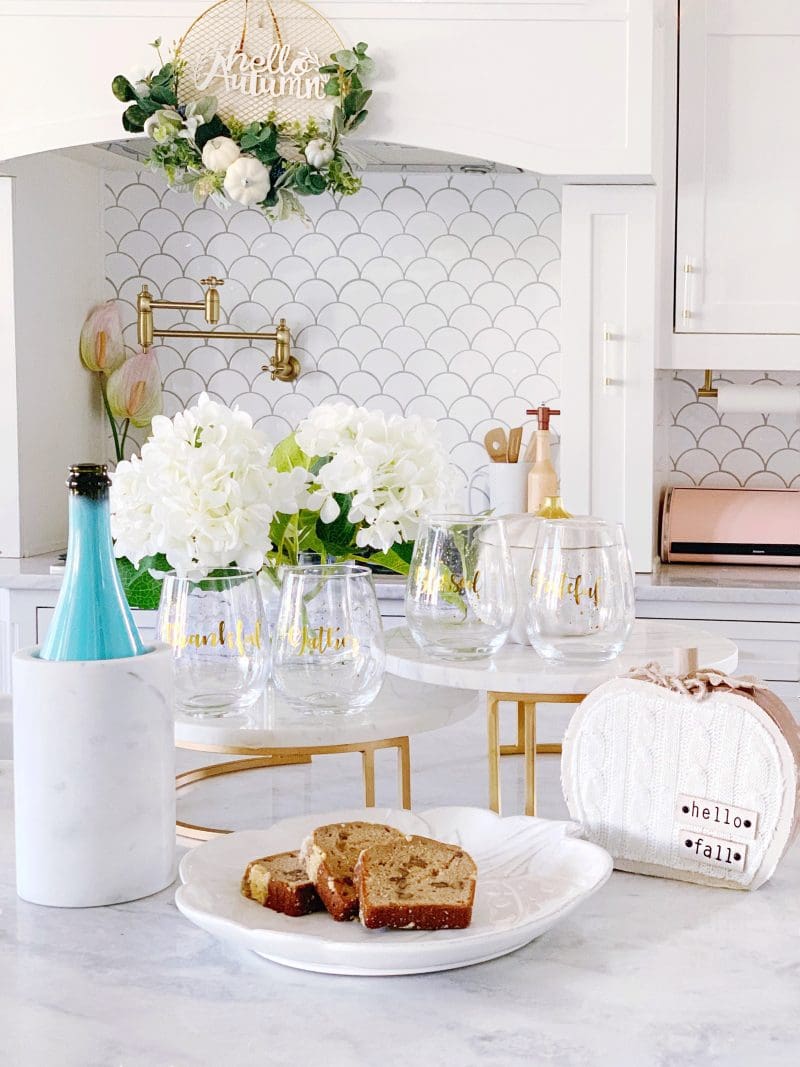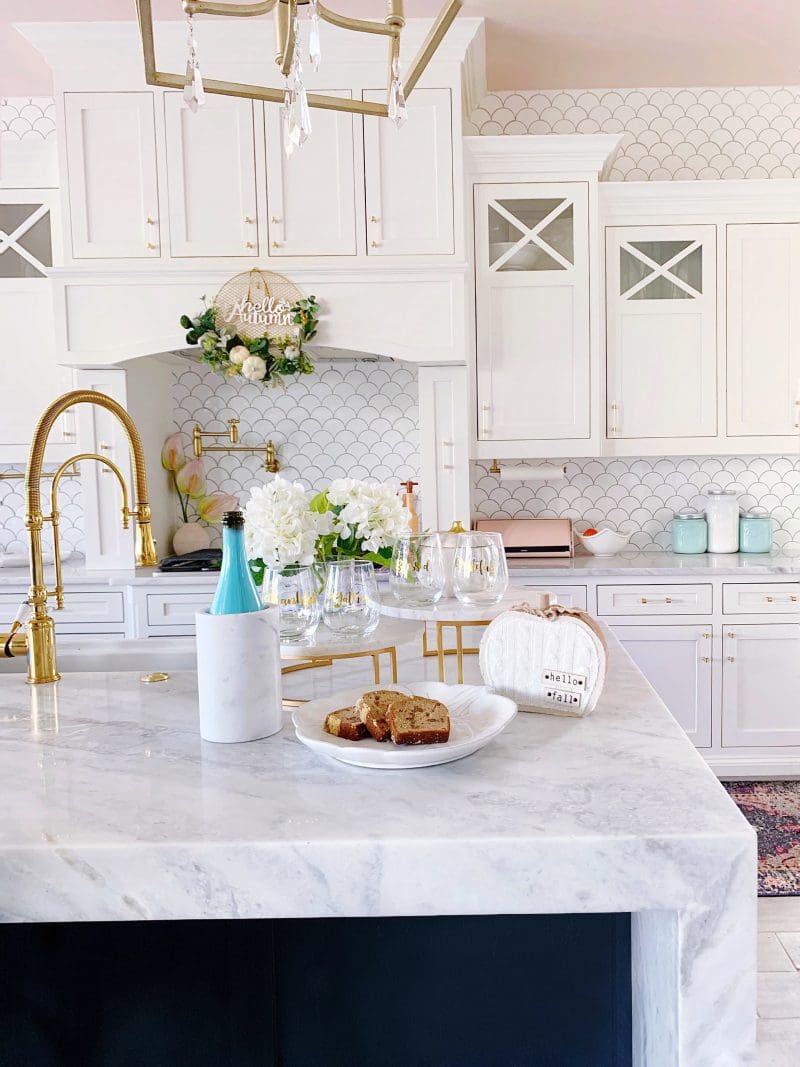 In our living room and kitchen I also used our navy and pink fall color palette. I added in a few navy fall pillows and throw blankets to give the living room and breakfast nook a cozy fall feel. I added in some painted white pumpkins, and some navy blue velvet pumpkins I had from last year. Fall candles are another great way to add a warm fall look to your home. This autumn wreath was another favorite fall find of mine for a simple fall touch in the kitchen.


I hope you enjoyed our fall home tour and modern fall decorating ideas! Fall decorating can be fun and simple with a few easy decor tricks and adding in color palettes you already love! Next up on the tour is Suzy with Worthing Court. Be sure to check out all her fall home decor inspiration!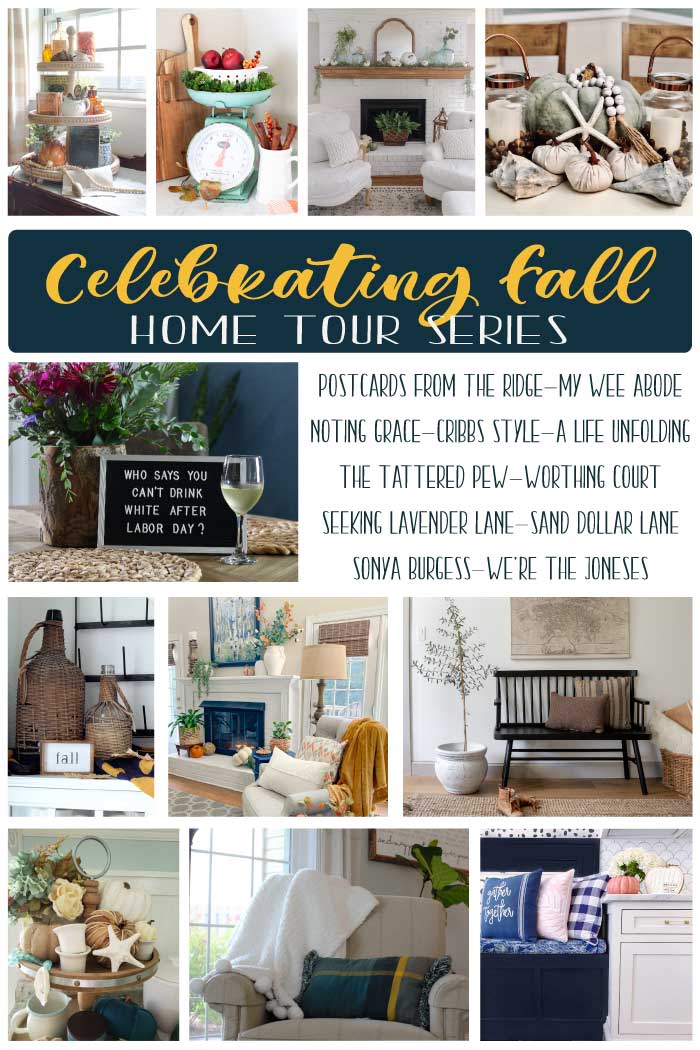 Thanks for joining us on this fall decor home tour!




Need ideas for decorating your fall bedroom? See fall bedroom decor inspiration HERE.
See all my fall decor ideas HERE.
Below are all of the participants of our Celebrating Fall Home Tour Series. Be sure to check out all their beautiful fall homes!
Tuesday
Sand Dollar Lane // A Life Unfolding // Postcards From the Ridge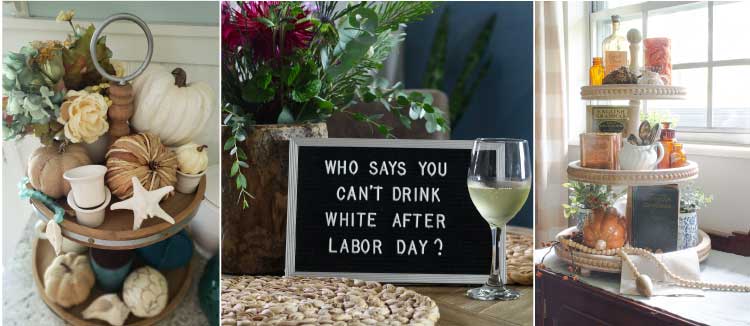 Wednesday
We're The Joneses // Worthing Court // The Tattered Pew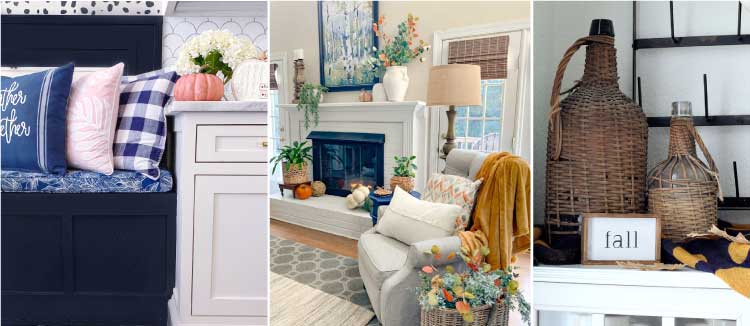 Sonya Burgess // Seeking Lavender Lane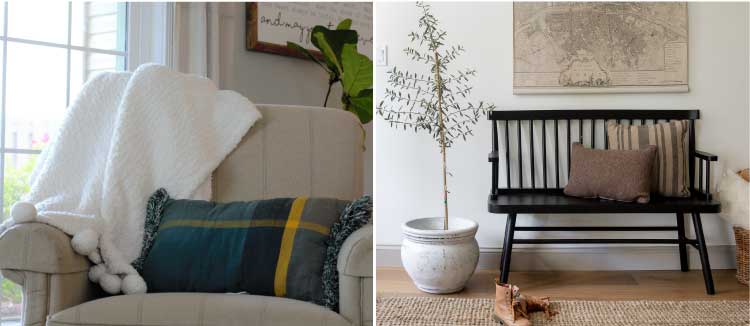 Thursday
Noting Grace // My Wee Abode // Cribbs Style