Want to update your front porch for the Summer? Here are my Summer front porch ideas for a budget friendly DIY Summer porch refresh! I added a few colorful plants (real and faux!) + spray painted some old outdoor furniture to create our new colorful front porch on a budget! Below I talk about how to transform your drab patio furniture to create a bold and bright summer front porch!
Need more ideas for inexpensive Summer decorating? Check out my Tropical Summer Dining Room Table  post! 
Welcome to those coming from The Front Porch Farmhouse on the Summer Home Tour! So glad you are here!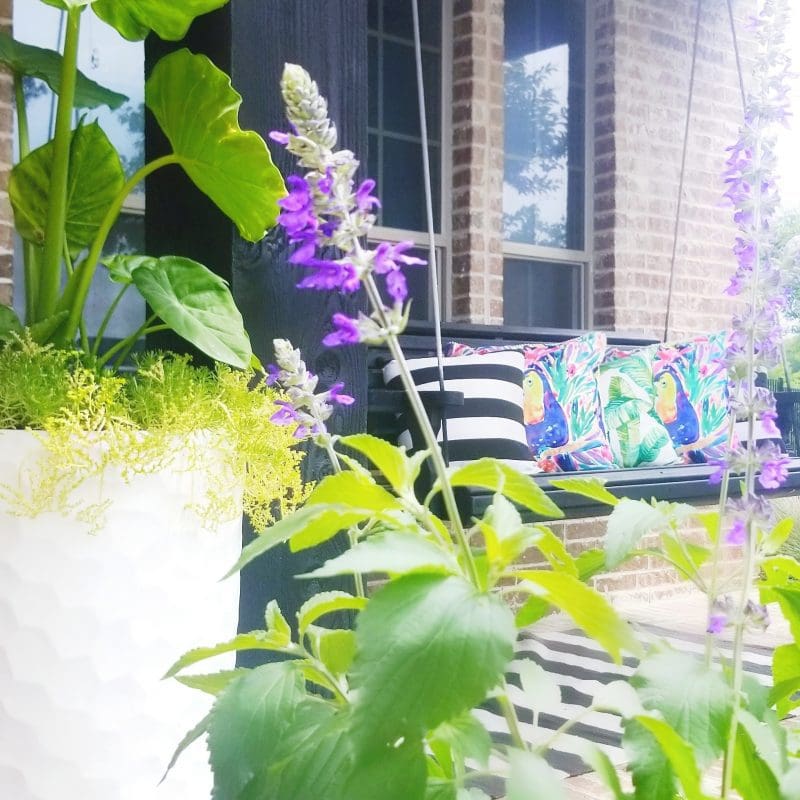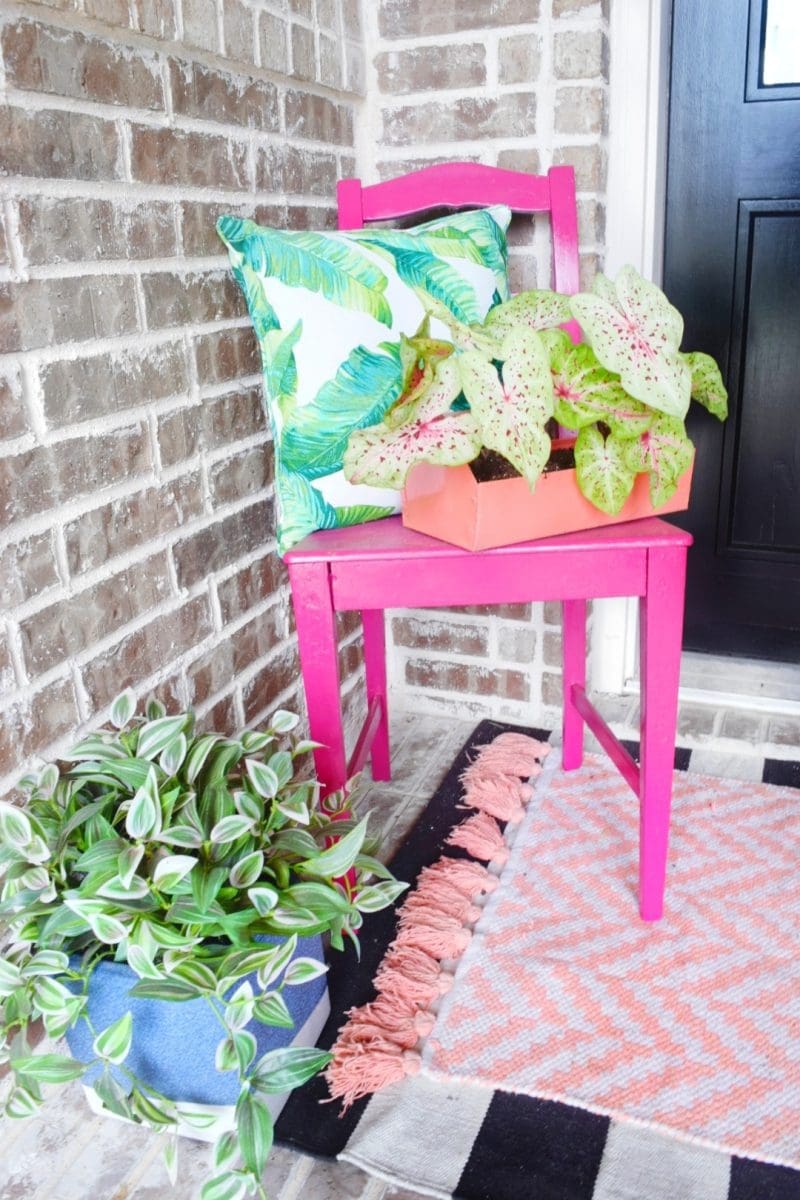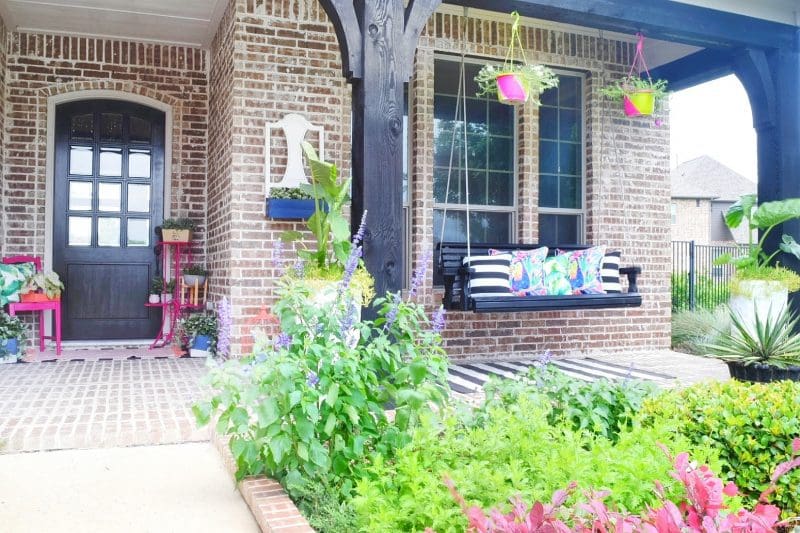 SHOP THE POST
Happy Summer yall! Here in Texas it has been in the low 90s the past few days, so we're definitely feeling that Summer heat outside! I've been wanting to give my front porch a little refresh as it's been looking pretty drab (see before photos below). But our home project budget has been maxed out with other decorating projects, so I knew I couldn't spend very much money on this refresh. I decided to look through the attic and use the outdoor furniture we already had and use my favorite DIY refresh trick: spray paint!
Here are a few of my tips and tricks to create an easy DIY Summer front porch on a budget!
Front Porch Before Photos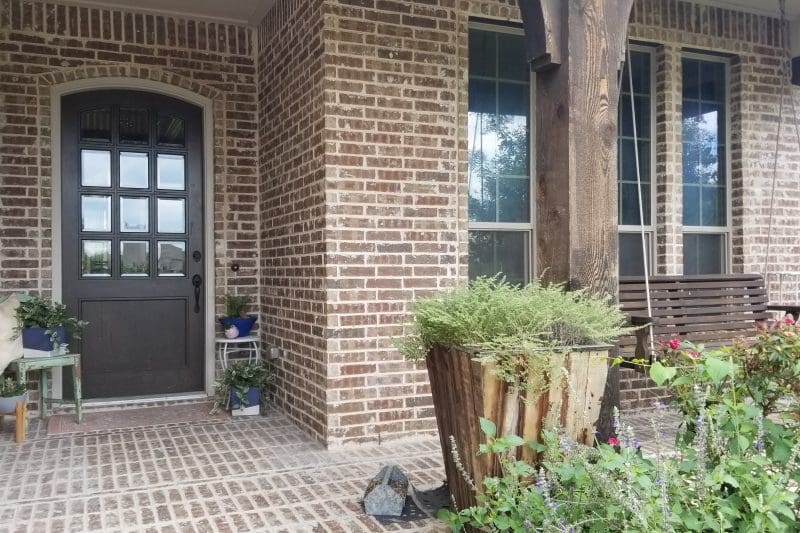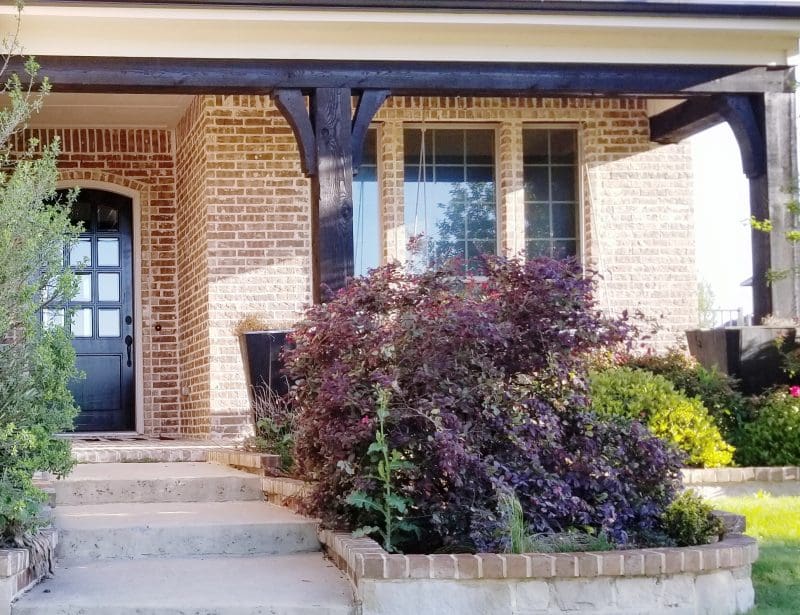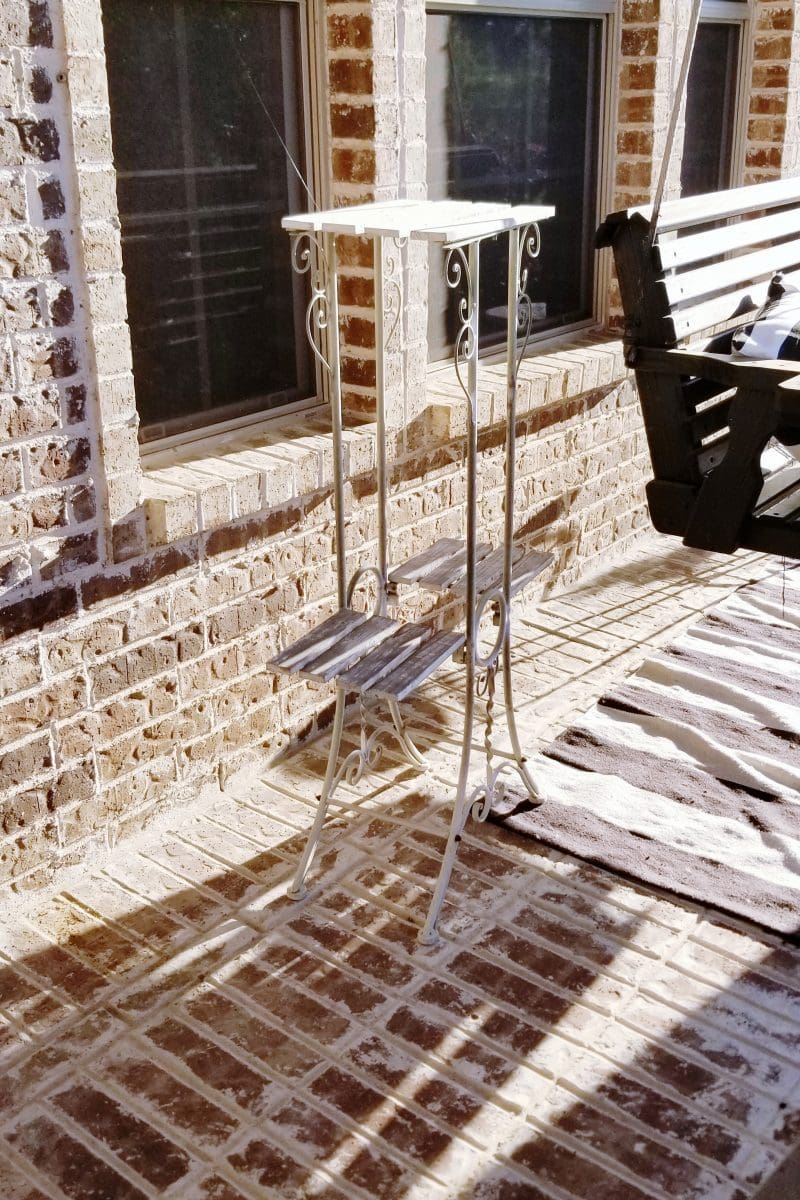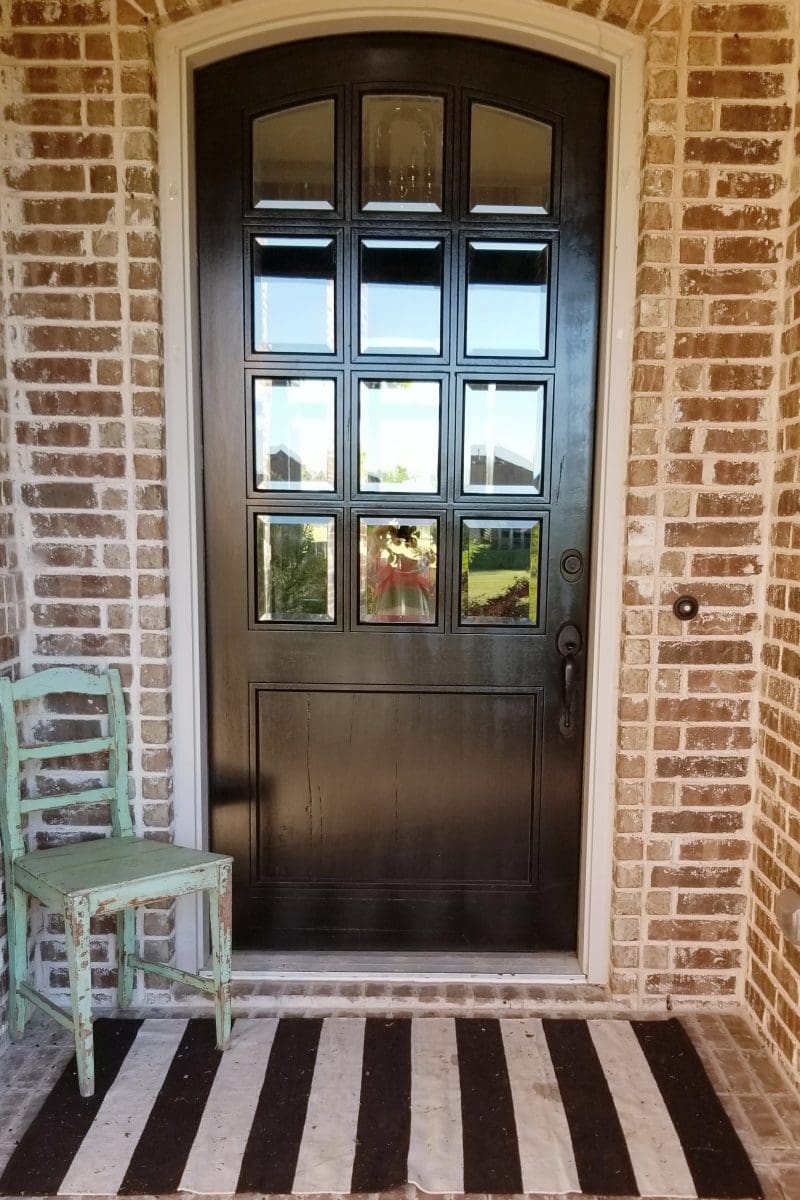 Last year we were wanting to add more of a modern look to the exterior of our home to match the inside. Our front door, porch swing, and front porch cedar posts were all a dark brown and had a rustic look to them, which isn't really our style anymore. We had all of our exterior cedar, trim, and gutters stained black and it made a huge impact!
After we made these changes on the porch, it felt like the rustic furniture needed a modern face lift as well! I wanted to add bright colors that were bold and fresh, and would stand out against the dark brick. I used my favorite spray paint colors of magenta pink, coral, navy, and lime green to brighten up our old outdoor furniture and decor.
Spray Painting Patio Furniture As a Budget Friendly Porch Update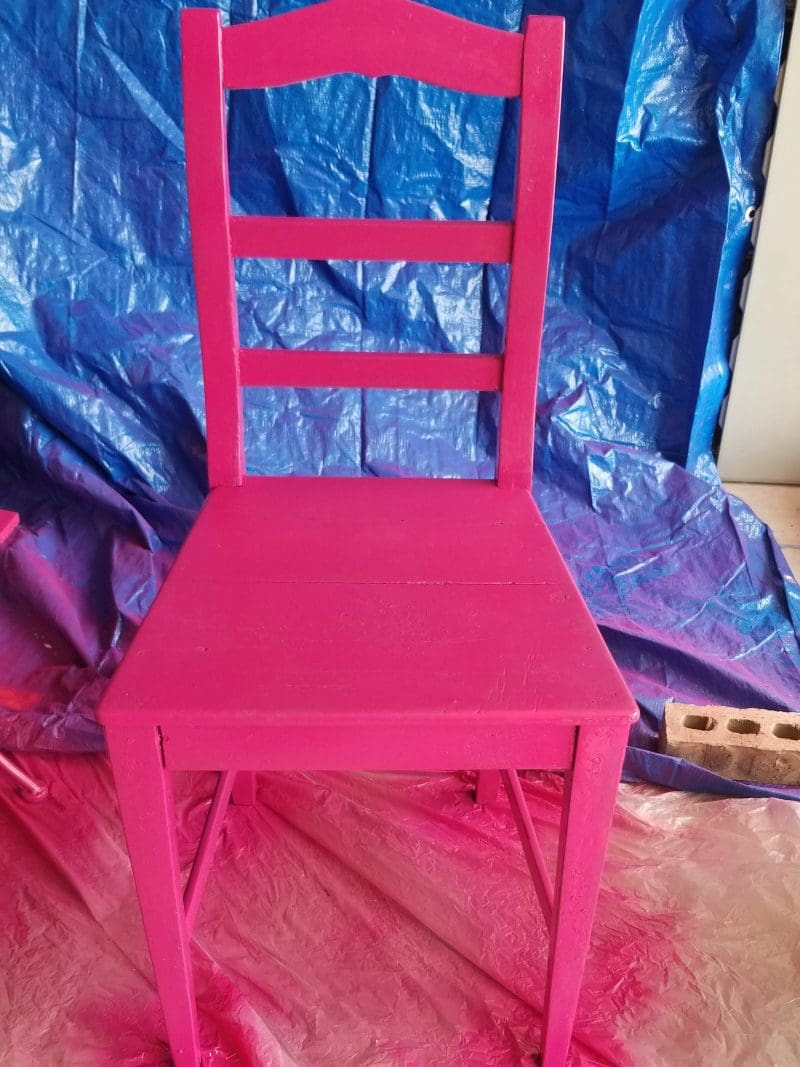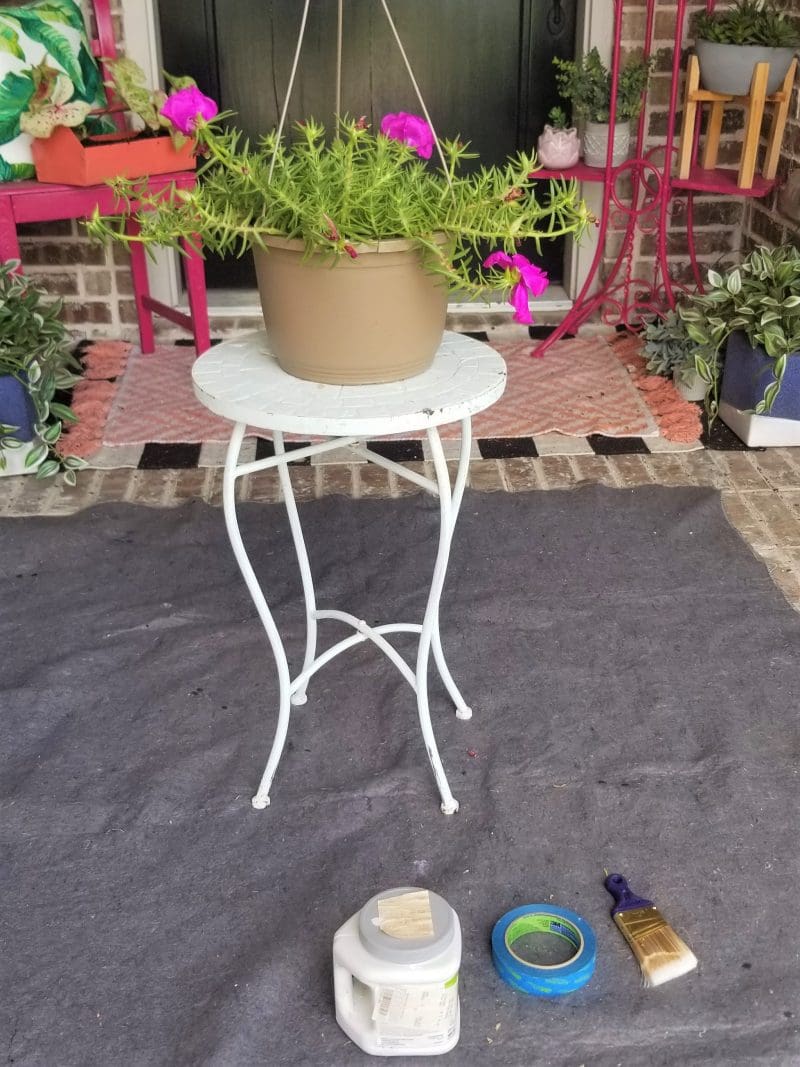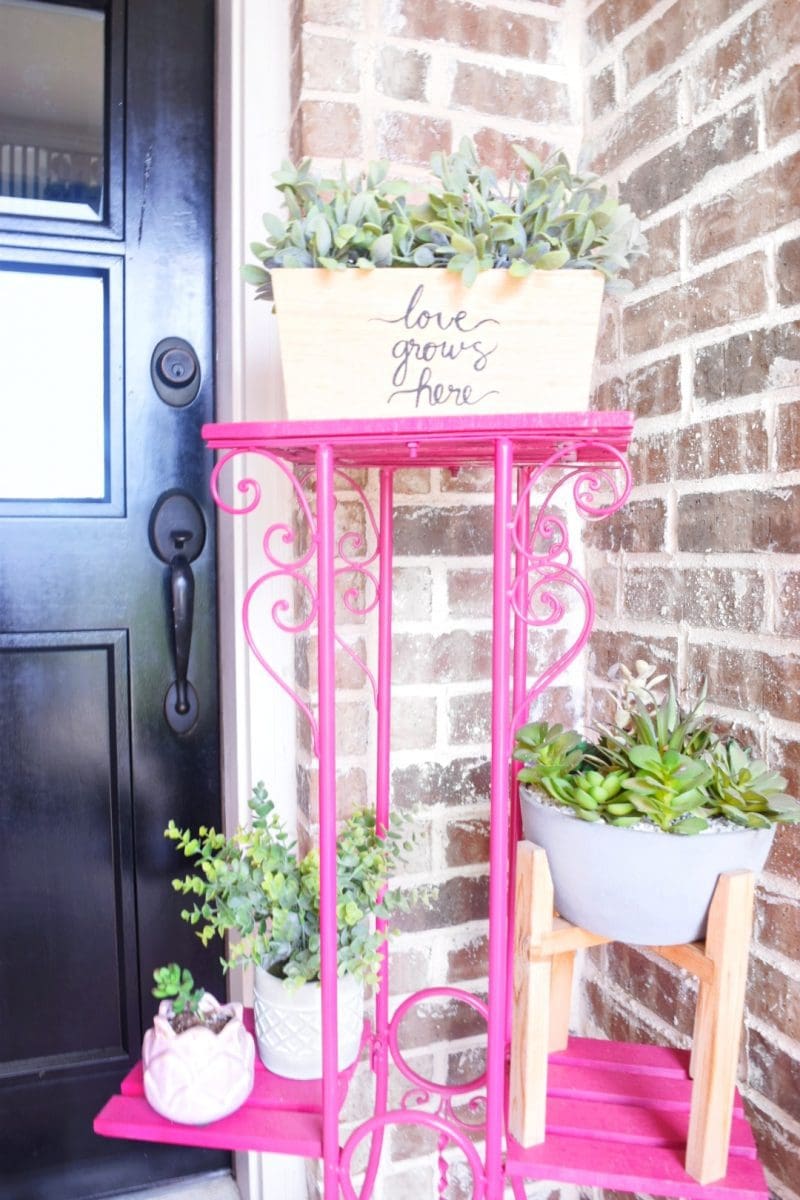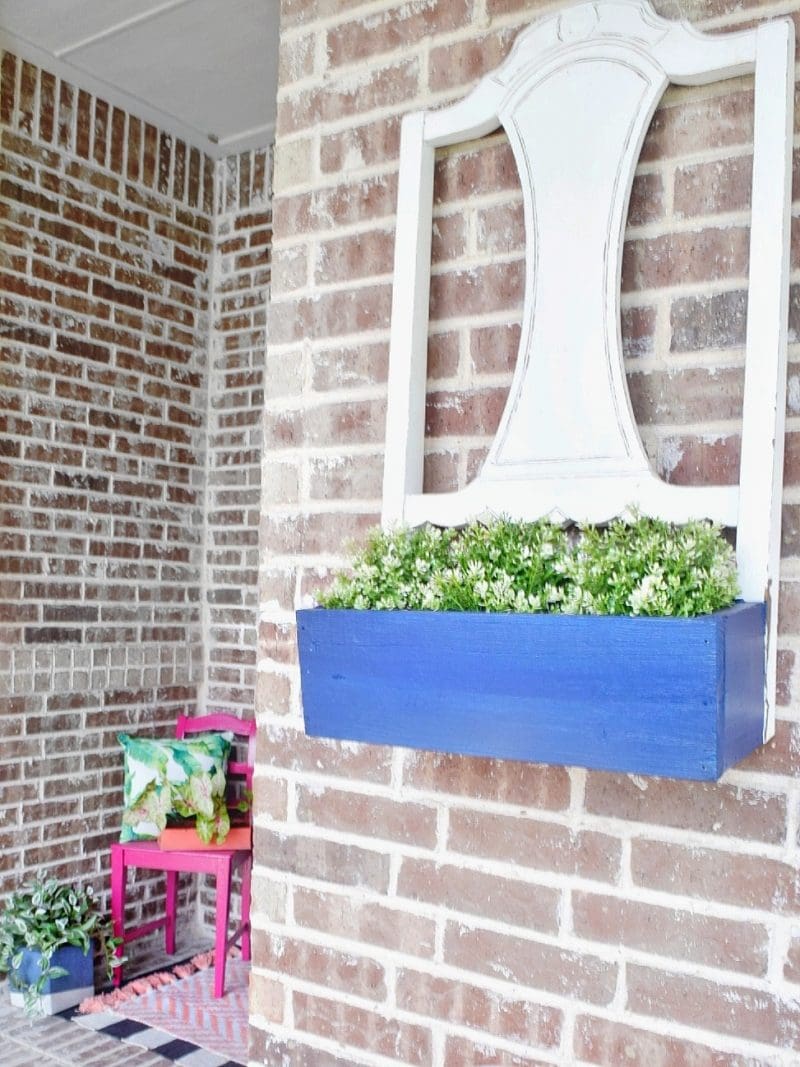 Most of my front porch furniture, flower planters, and decor accessories I found in the attic were chippy and distressed. To prep the furniture for spray painting, I *probably* should've sanded down a lot of the furniture first, but I was a little too impatient! I was excited to get started so I wiped everything down with a rag and started spray painting! All of the pieces turned out good without sanding first, but I did have to add several coats of paint to hide the chippyness. My recommendation would be to sand down any furniture with a hand sander first. That way the areas your spray painting go on smooth. But if you're in a hurry or don't have any sanders on hand, don't worry! My favorite go-to spray paint has primer in it plus great coating and coverage to cover up most of the distressed texture.
I also wanted the furniture to have a modern lacquered look, so I added the lacquer top coat spray paint as well. This was my first time using this lacquer spray paint and I really like how it looks! It gives the furniture and decor a shiny finished look and protects the items from chipping over time.
I also thought it would be fun to paint our hanging flower baskets for added color! I taped the baskets with painter's tape and made zigzag lines and shapes. Then I hand painted the baskets with magenta pink and lime green paint that matched the spray paint. To paint the hanger, I removed it from the basket and spray painted those separately so the plant wouldn't get paint on it. I think the baskets turned out so fun! They look so much better than the brown/grey plastic color they come in!
Bright and Colorful Summer Front Porch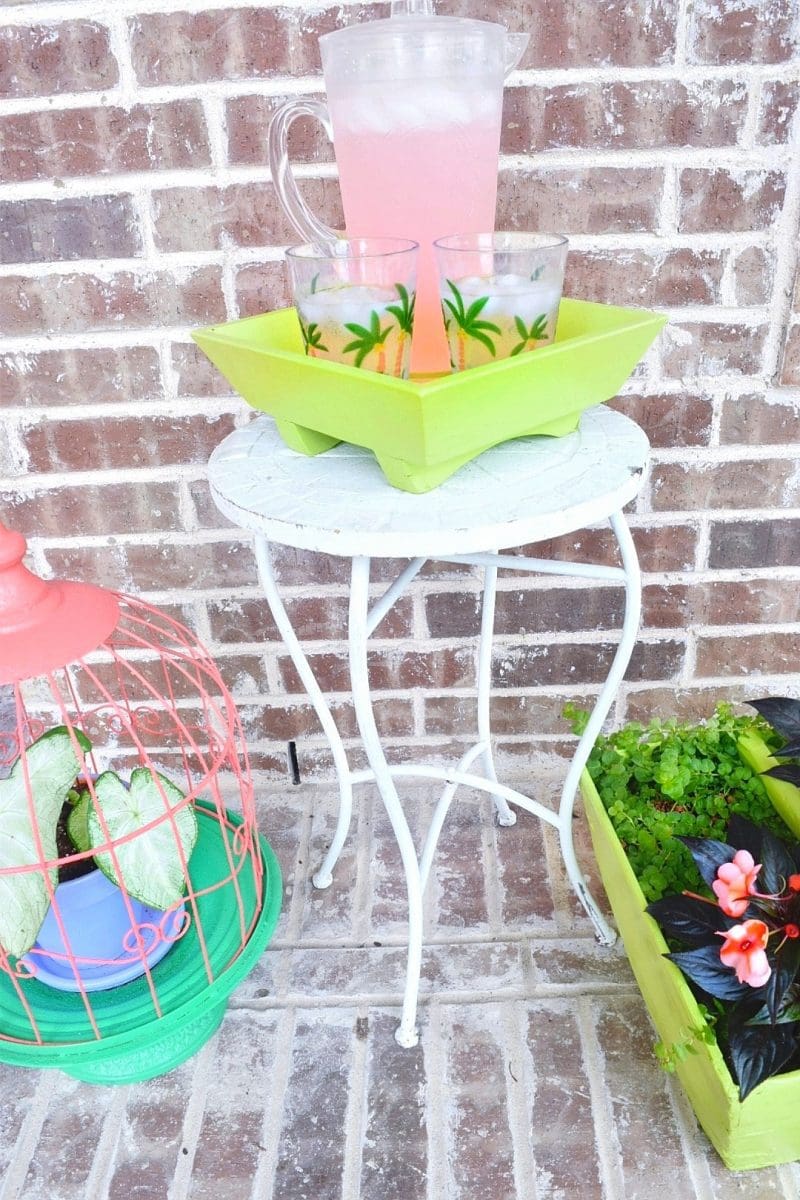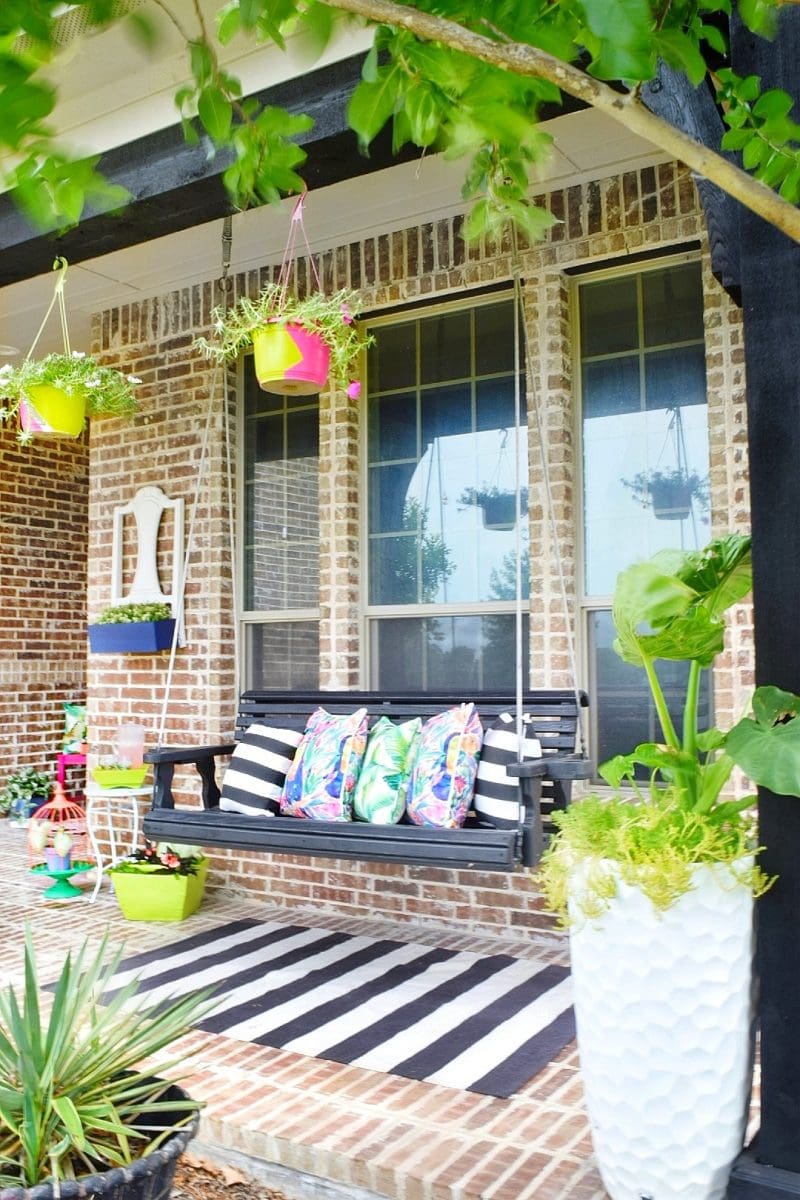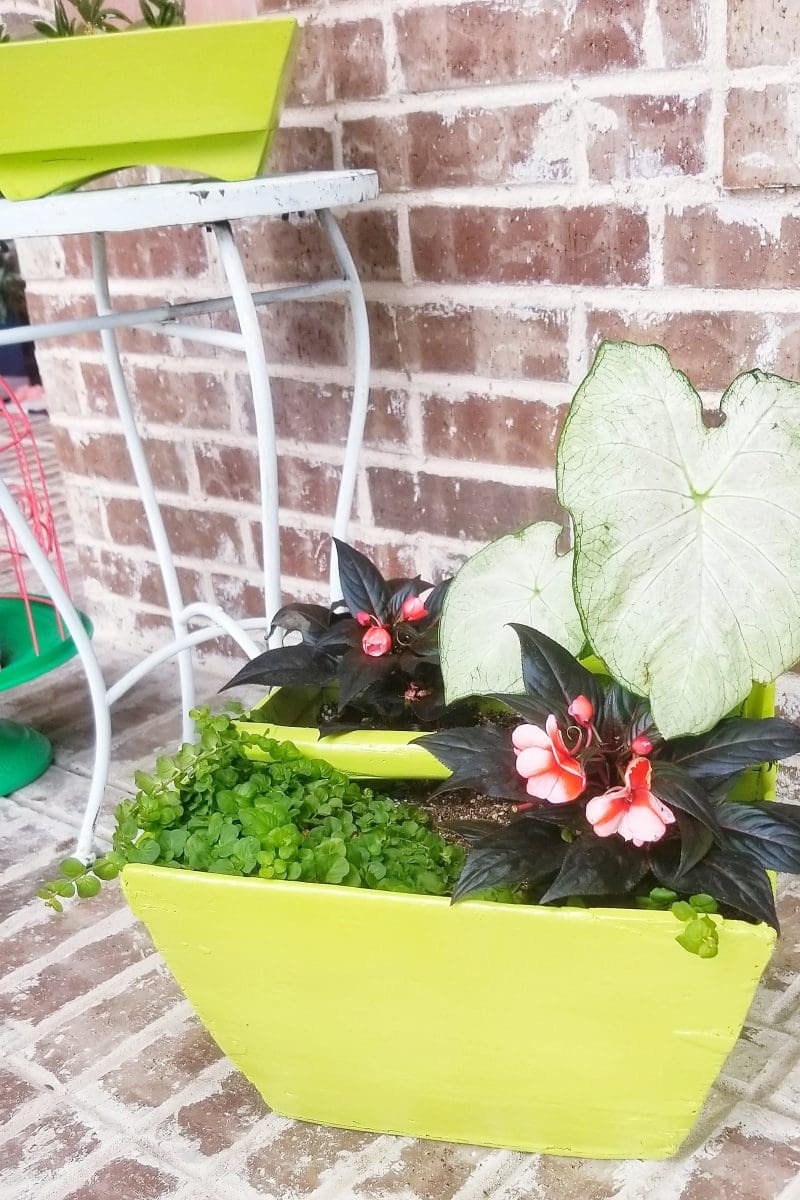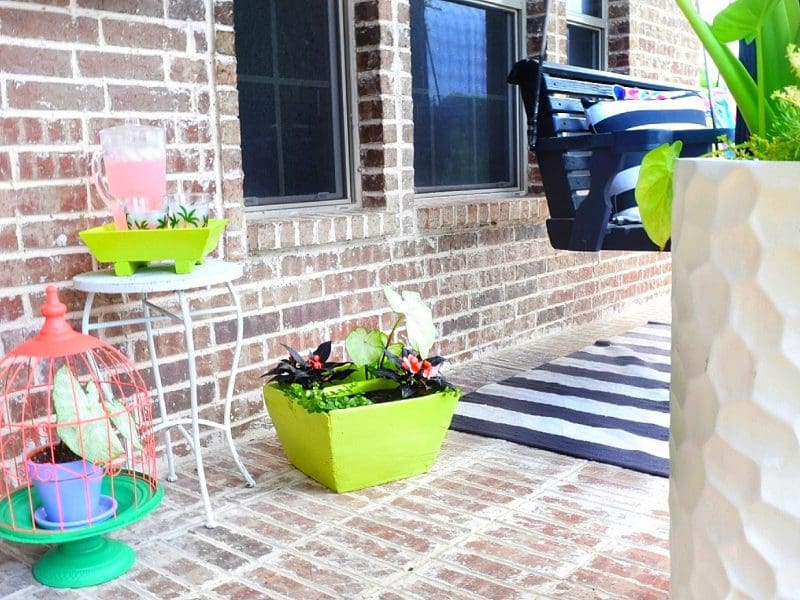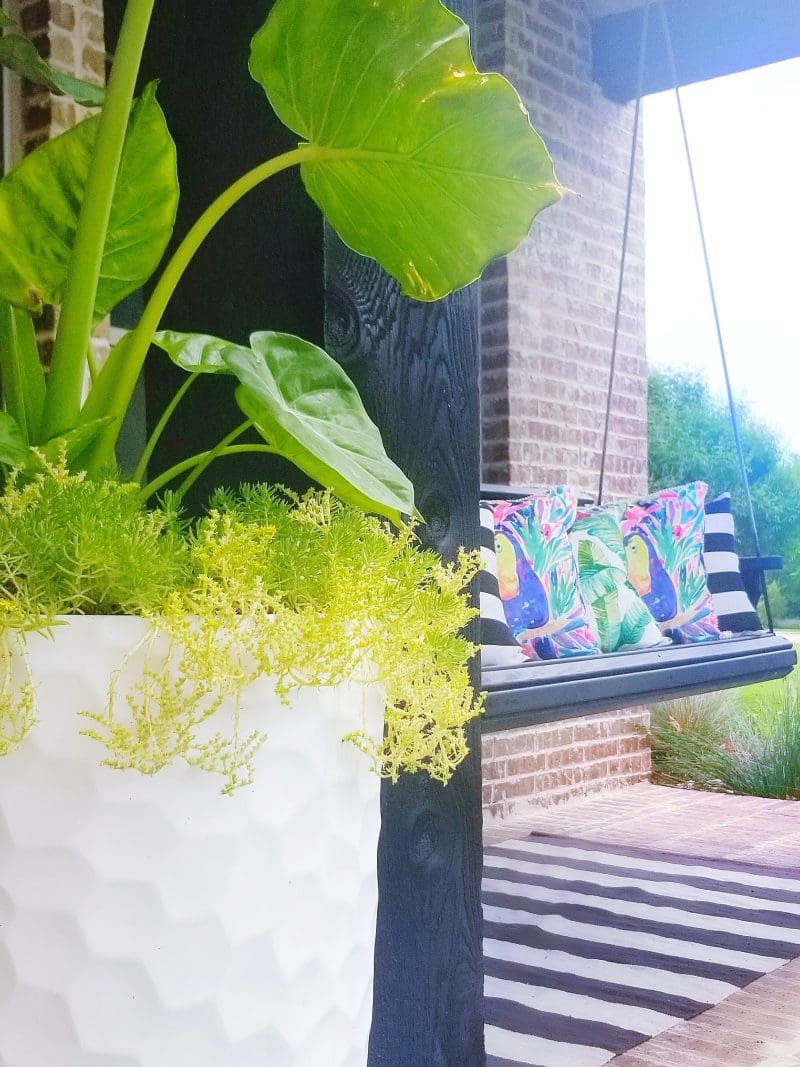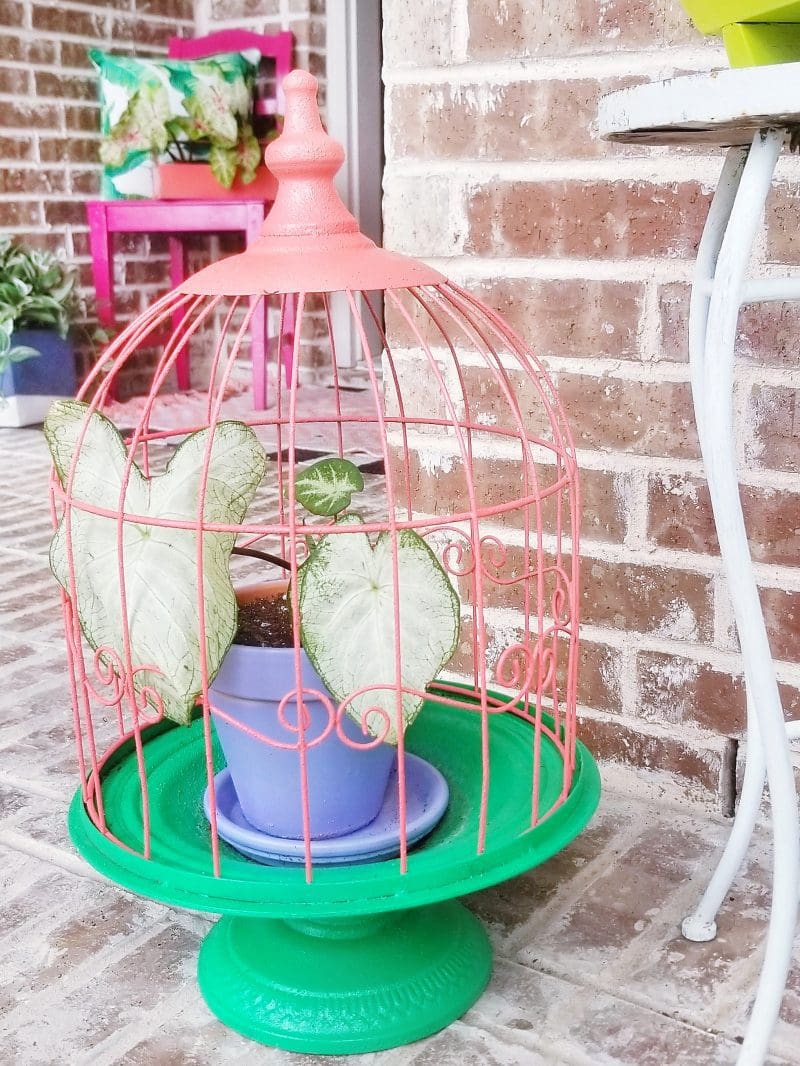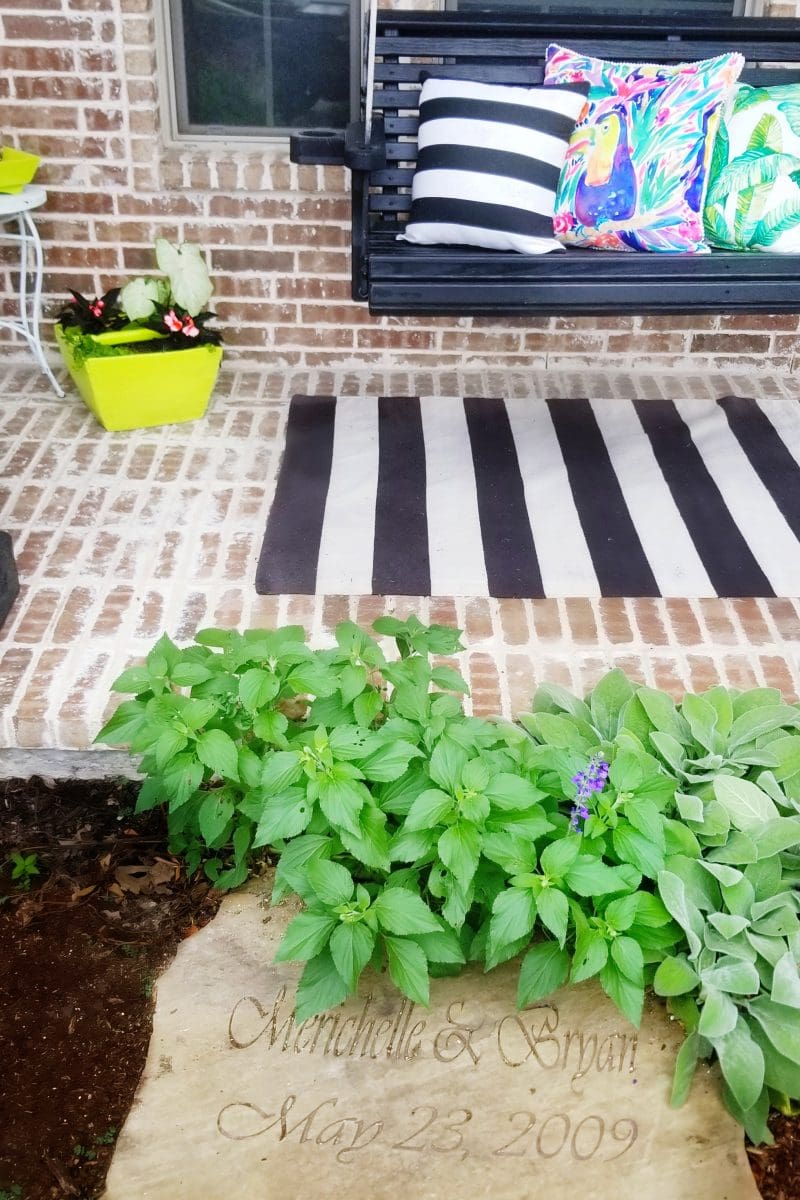 I was trying my best to spend zero dollars on this project, but that didn't exactly go as planned, ha! Our two big wooden planters on the porch started to rot on the inside. We replaced them with new white modern planters, which I love so much! Even though we spent more money than I originally planned, the white planters really freshen up the porch space. They are made out of fiberglass so they should last for a long time too.
I found a few inexpensive outdoor pillows to add more bright colors, and paired them with the black and white striped pillows I already had on hand. I love the contrast of how the black and white looks with all the tropical prints and patterns! We bought a few new live plants and mixed in faux plants I had stored away in the attic.
I love giving new life to old or outdated furniture by just adding a little bit of paint! Spray paint can really transform your decor for a fun refresh and is easy on the budget too!
I hope you enjoyed our Summer front porch, head over to Simplicite Design & Sweets next on the Summer Home Tour!
You can find all of the beautiful homes on the Summer Home Tour linked below! Thanks so much for stopping by!




You are invited to the Inlinkz link party!
PIN FOR LATER: