How to host the BEST homegating party in your home – with the ultimate taco bar! Serve easy football party food for a crowd at your next homegate gathering. The ultimate touchdown taco bar spread + football cocktail drinks are the perfect game day feast! I've also included my simple and fun homegating football party ideas sure to make your next event a hit!
This post is sponsored by Bed Bath & Beyond
*This post contains some affiliate links for your convenience. Click here to read my full disclosure policy.
How to Plan the Best Homegating Party
It's finally football season! Whoop!
I absolutely LOVE this time of year spending weekends watching football. I grew up watching football with my dad and those memories together are so special to me. Saturdays and Sundays in the fall were all about football on the TV. We didn't go to watch many football games in person, in fact my first professional football game wasn't until I was in my twenties! It was always easier to watch the games at home, and as a kid it was just as special.
Now I have a family of my own, I'm still a big football fan and we're a big football watching family! My son who is seven, will come home from school during the week and the first thing he asks to watch on the TV is football games from the weekend!
We love to gather with family and friends on the weekend, cook a spread of food and turn on football for the day. Being from Texas, we love Mexican food and tacos are a family favorite! A taco bar is so easy and versatile for a group gathering big or small. I'm sharing my homegating party tips and ideas including our ultimate touchdown taco bar!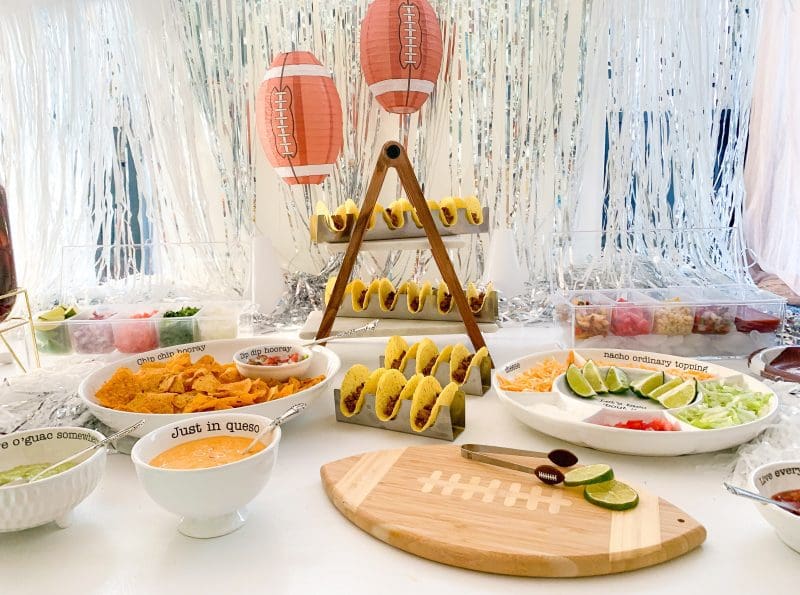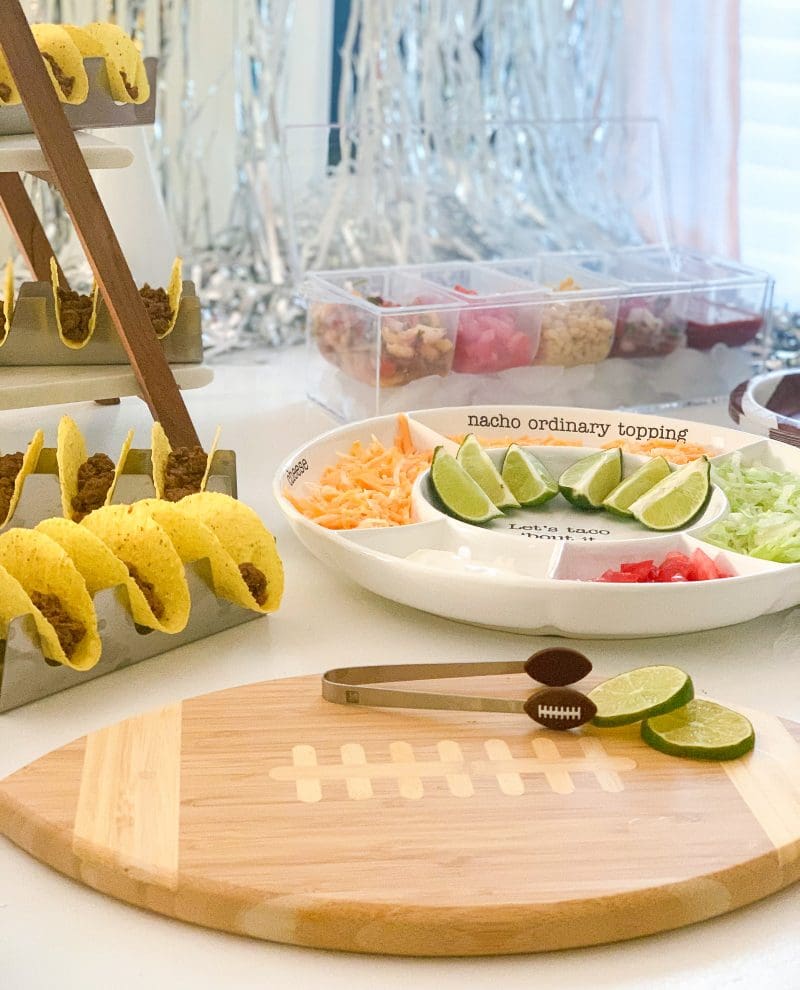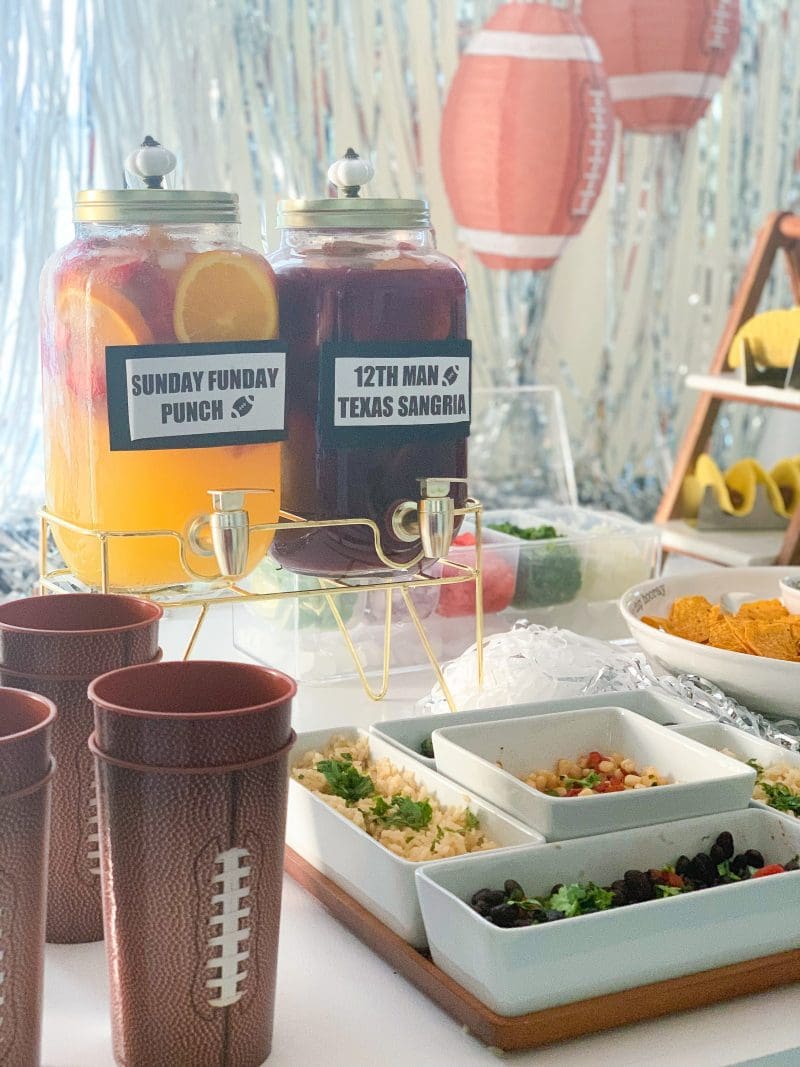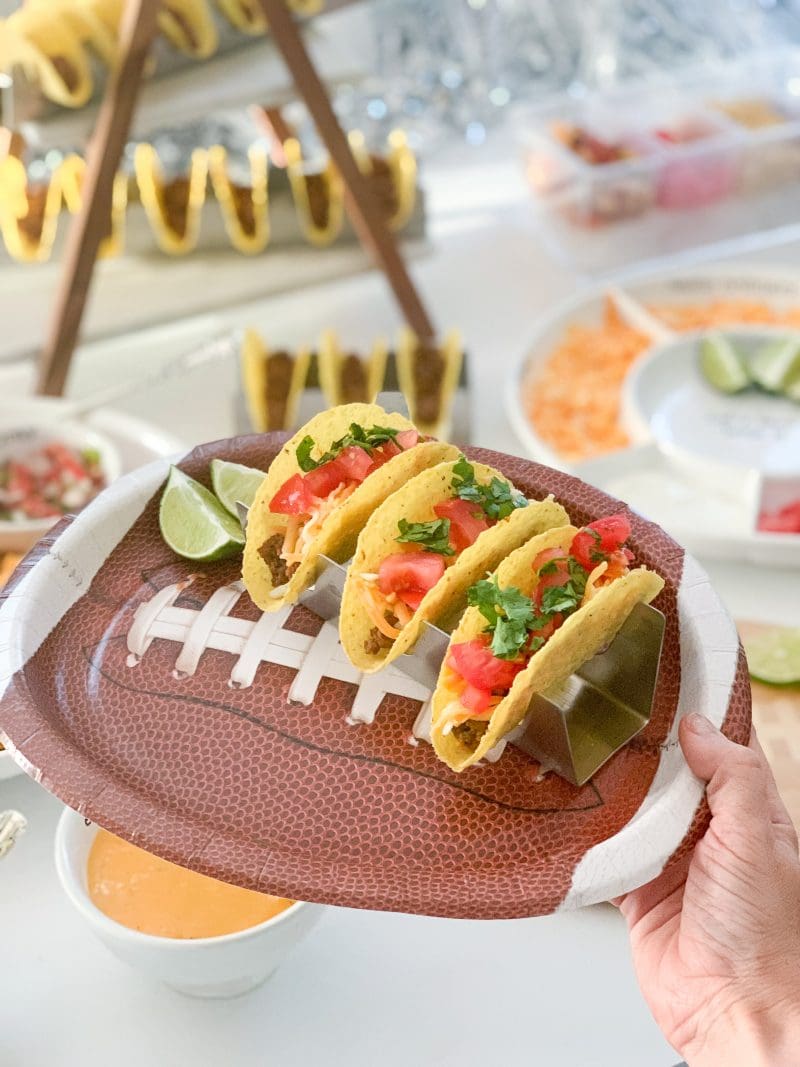 Homegating Party
What is homegating?
"Homegate" or "homegating" is a new popular phrase for hosting game day parties in your home. It's like your tailgating at the game but in the comfort of your own home! While we love to attend football games, we also love hosting football game day parties at our home with friends. Now that we have three kids it also it a lot easier to watch a game at home too!
Why Homegating Is Better Than Tailgating
We love to homegate rather than tailgate – for several reasons. Number one, our professional football team in our town is over an hour away without traffic! Trying to get over to that side of town on game days is a nightmare. Not to mention lugging around all the equipment, chairs, tents, and then all the drinks and food!
With kids especially, being at home or someone else's home is a much easier. Our twin girls are now three, but when they were younger we would plan their weekend naps around watching the afternoon football games!
Watching football games with our friends has become a weekend staple this time of year. We have a close knit neighborhood group that is more like family, and we love to get together on weekends, cook a spread of food and watch everyone's favorite teams play while the kids are having fun at the 360 photo booth hire!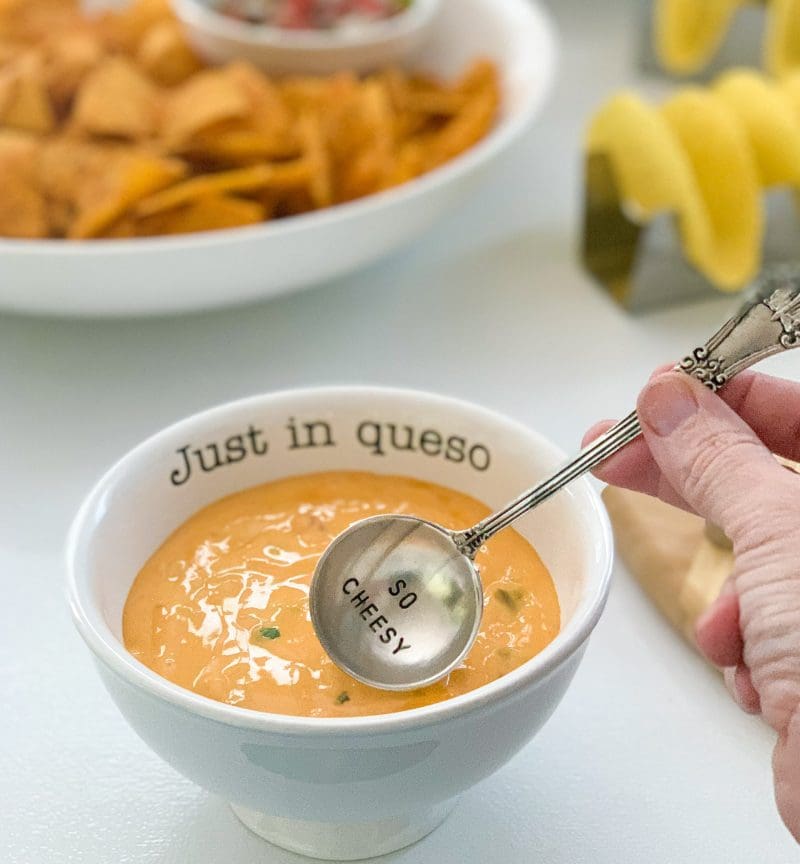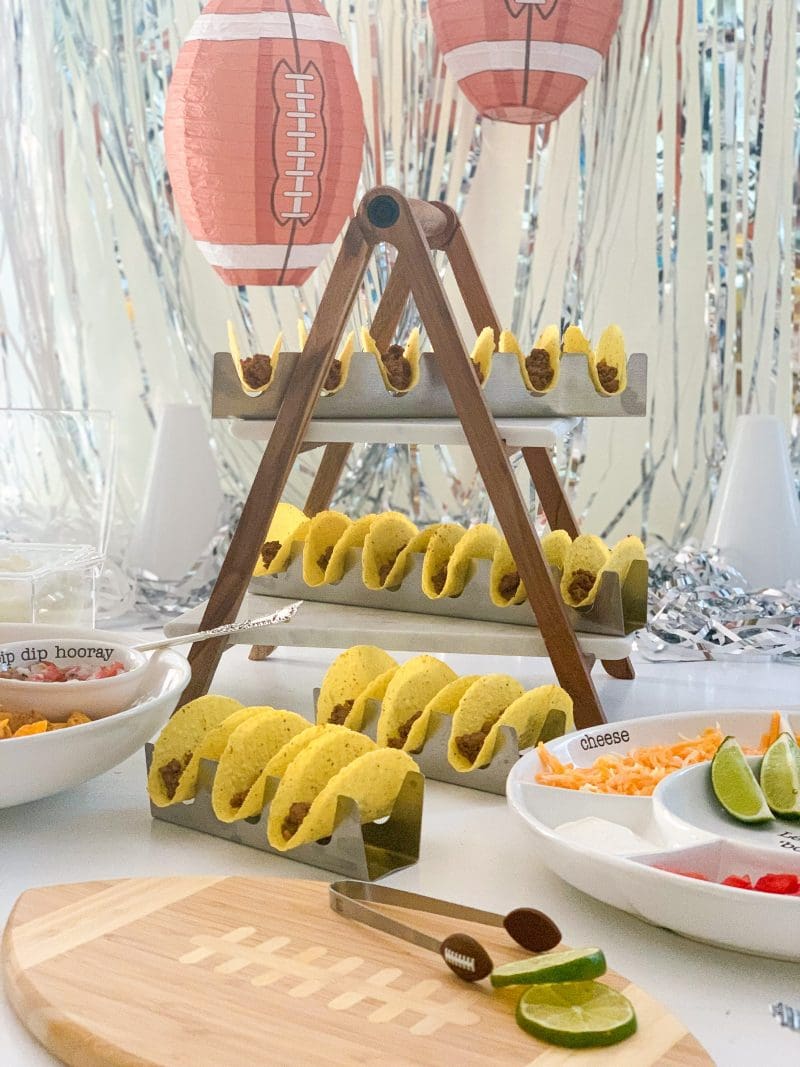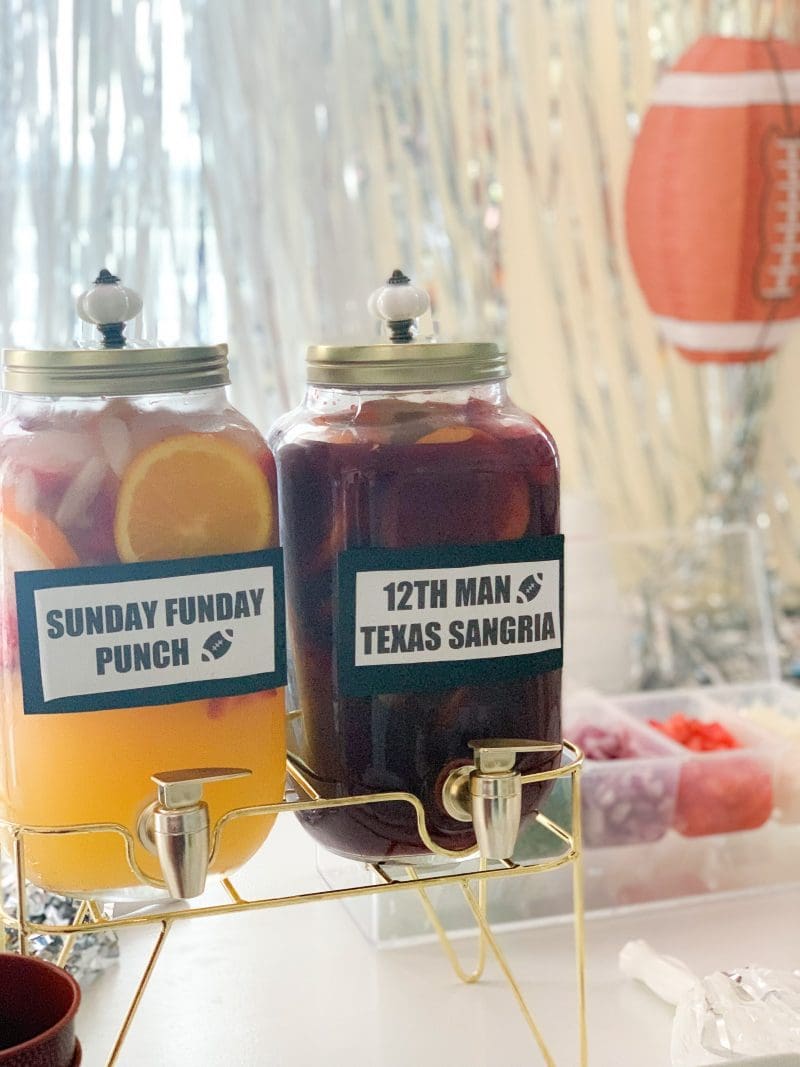 Homegating Football Party Ideas
When I'm hosting a party for a crowd, I like to keep things as simple as possible. I pick easy food options and simple decorations that are quick but still cute and fun! For football parties, I decorate with pom poms, megaphones, and footballs, which can be . multipurpose for kids to play with too!
For an easy homegating party food option, we chose a taco bar! There's so many options to chose for making tacos and a lot of the items can be planned and prepped ahead of time. For a taco bar you will need lots of toppings. I use these condiments on ice containers, that keep your toppings cold and you can prep ahead of time and store in the frig! I also love the Mud Pie line at Bed Bath & Beyond – the serveware dishes are so pretty and have the cutest phrases printed on them! A few favorites are the Let's Taco 'Bout It dish, Chip Chip Hooray dish, and the It's Five O'Guac Somewhere and Just In Queso dip bowls.
I also like to make a couple game day drinks for our homegating parties. This double beverage dispenser with stand is perfect for displaying our football cocktails and it's so pretty too!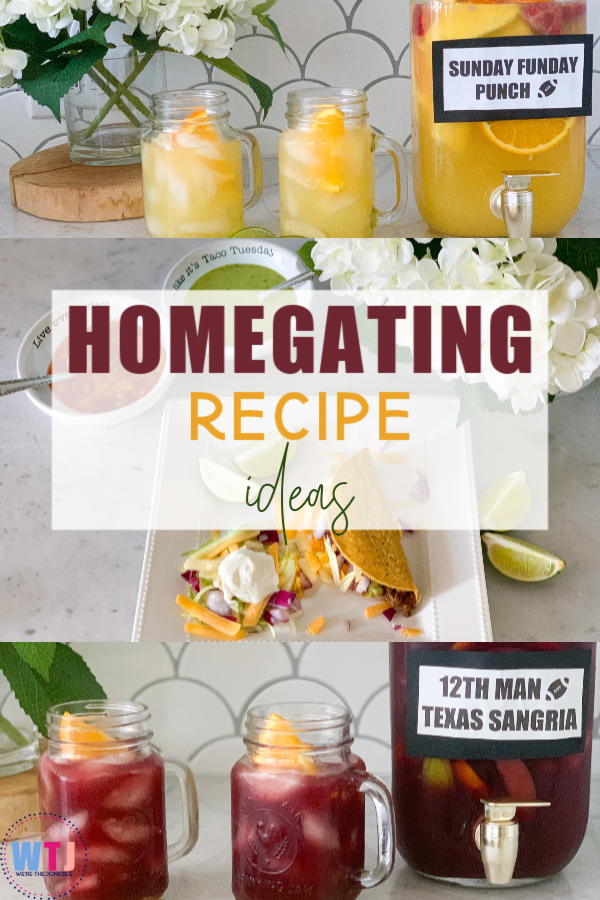 Homegating recipes
The Best Ground Beef Tex-Mex Tacos (With Homemade Taco Seasoning)
See full recipe HERE
Sunday Funday Punch
See full recipe HERE
Texas Sangria Game Day Drink
See full recipe HERE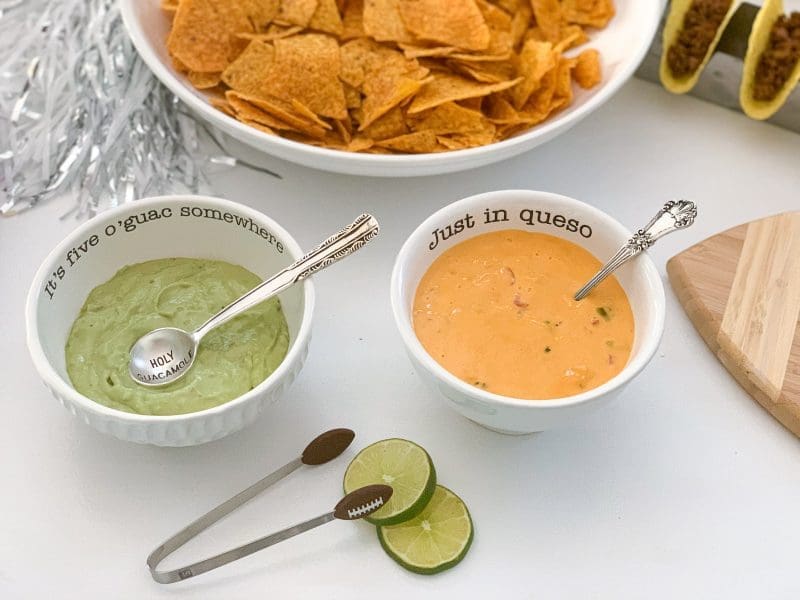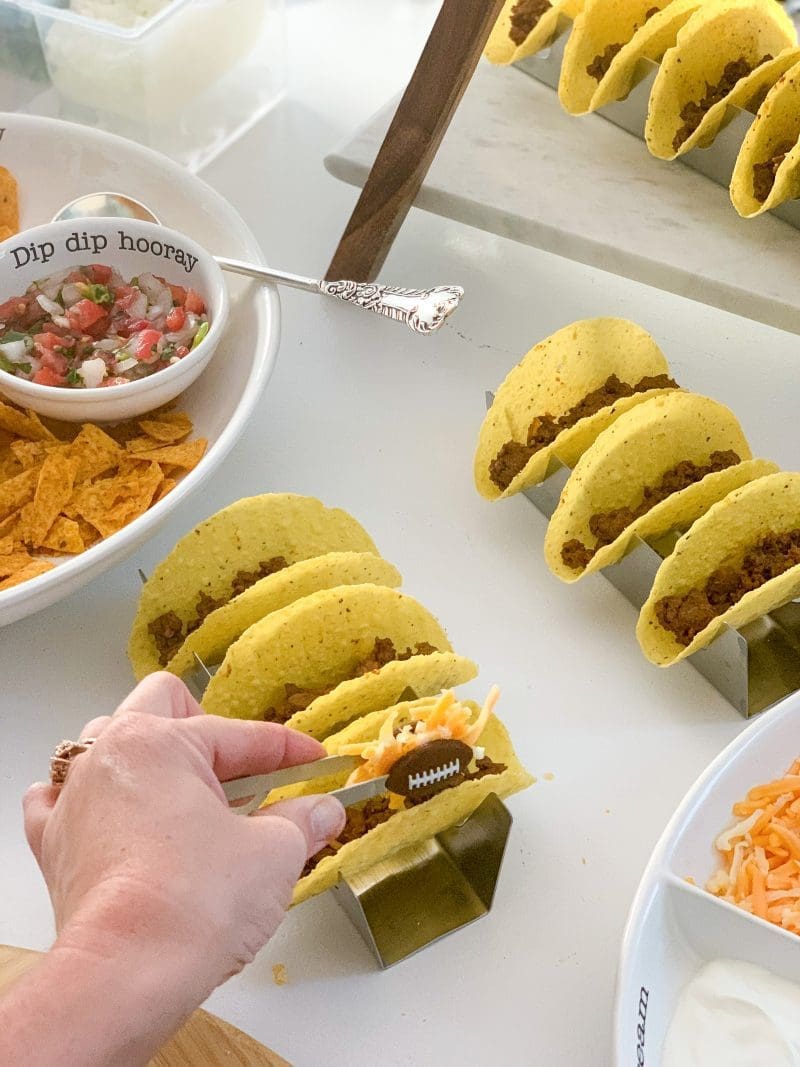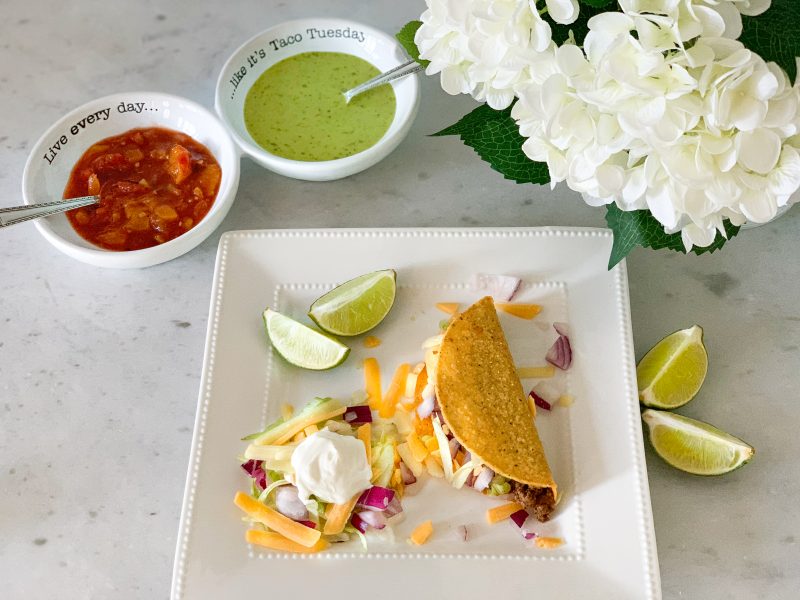 Ultimate Touchdown Taco Bar
To host the ultimate taco bar it's all about the preparation! I like to chop up and divide all of my toppings ahead of time. I will also cook the ground beef ahead of time too. Once it's time to eat, you can place the seasoned beef in the taco shells and heat in the oven to warm them up. Then, everyone can grab their taco and self serve with the toppings they want.
These taco racks are awesome for placing a bunch of tacos in the oven at once and then setting out for your party for your guests to grab and go. We also placed these plastic colorful taco holders on all the kids plates to help hold up their tacos.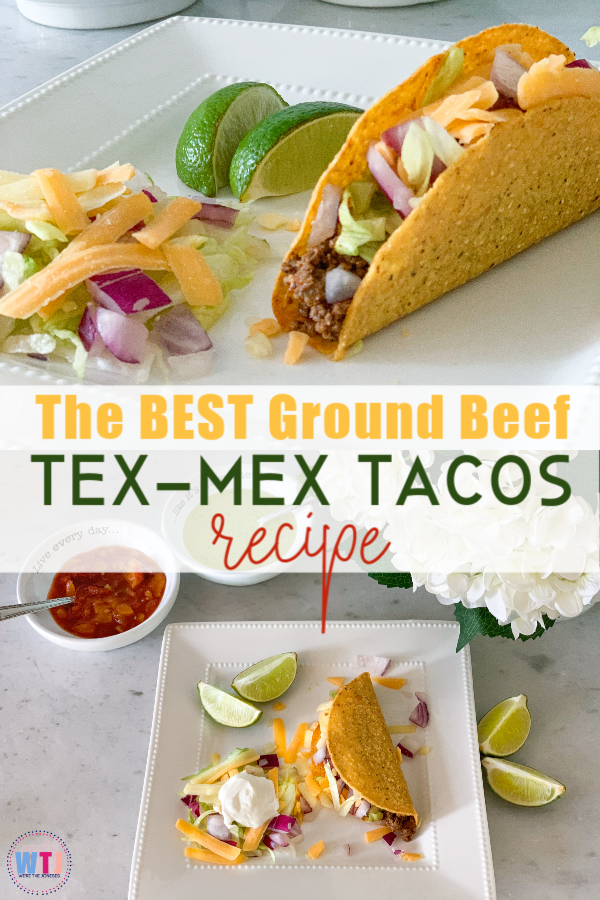 What do you need for a taco bar?
You may not need all of these items listed, but here is a good starting point for your grocery shopping list for taco bar food:
taco shells
ground beef
queso
guacamole
mexican rice
black or charro beans
corn
salsa
chips
What sides go with a taco bar?
I like to cook mexican rice, skillet corn, and black beans for easy side dishes to go with a taco bar. Also, these are topping options to go on top of your tacos:
lettuce
tomato
cheese
onion
avocado
sour cream
cilantro
limes
pico de gallo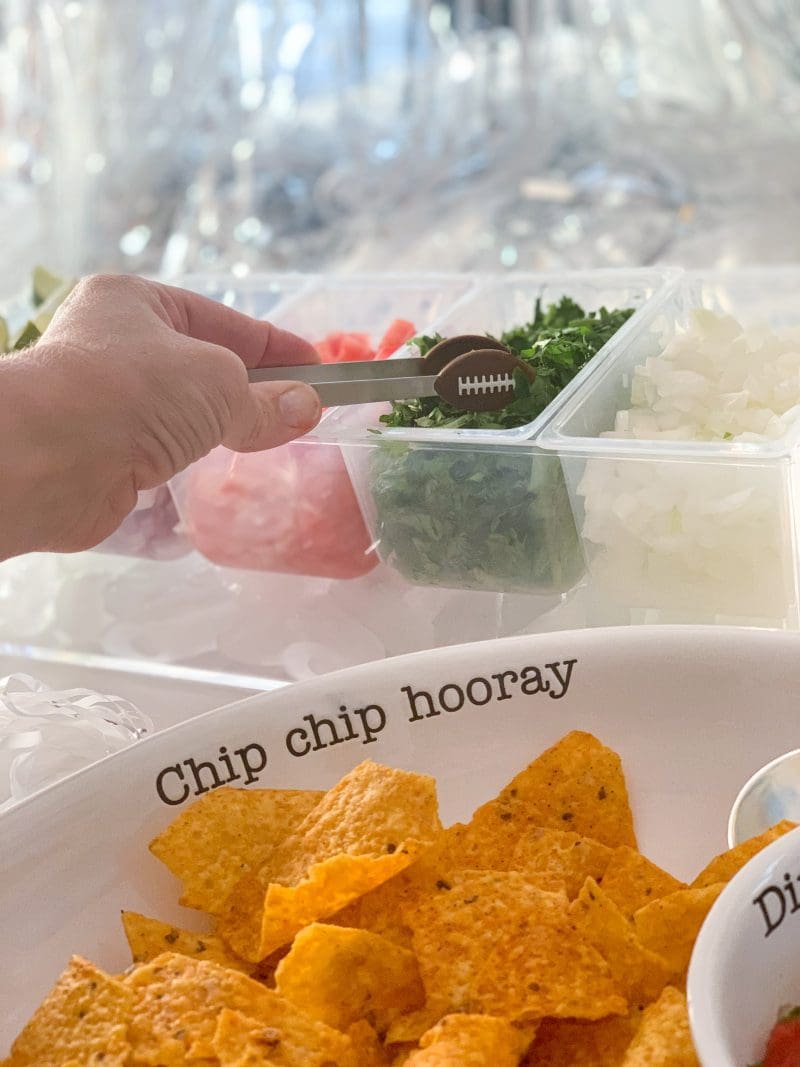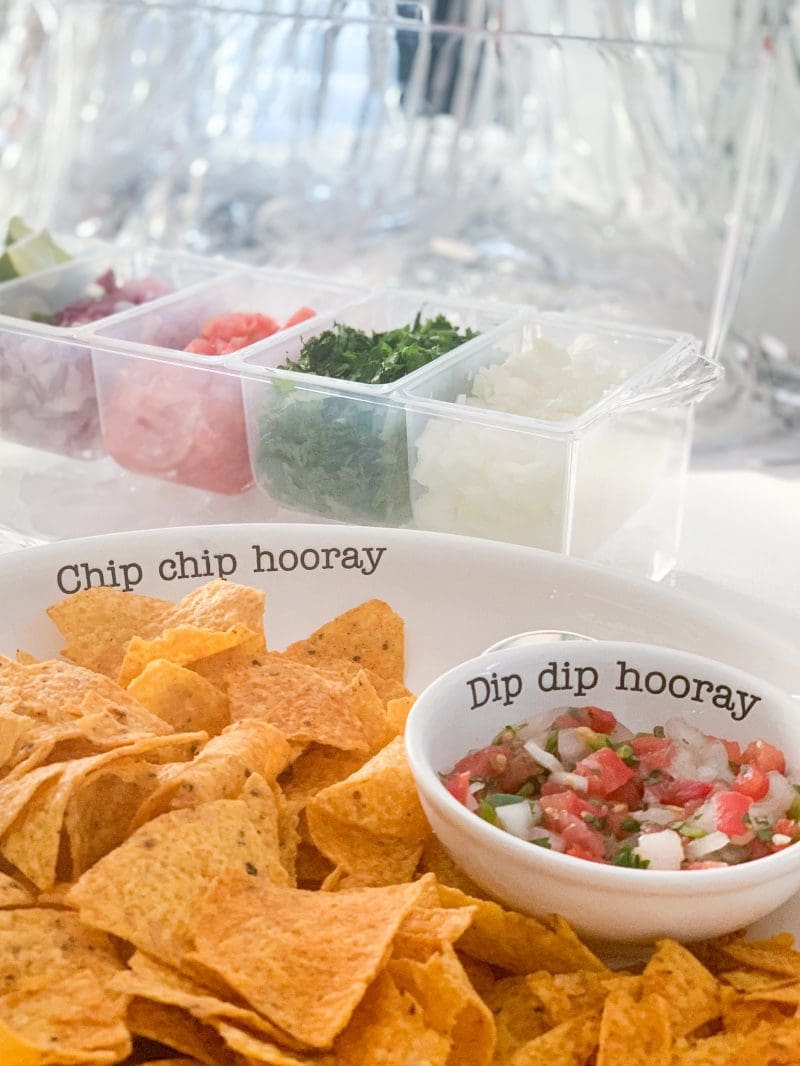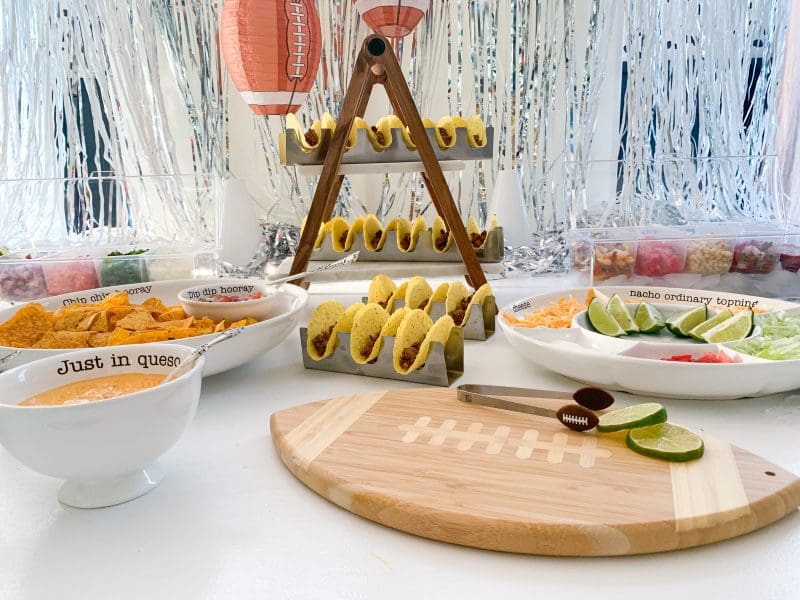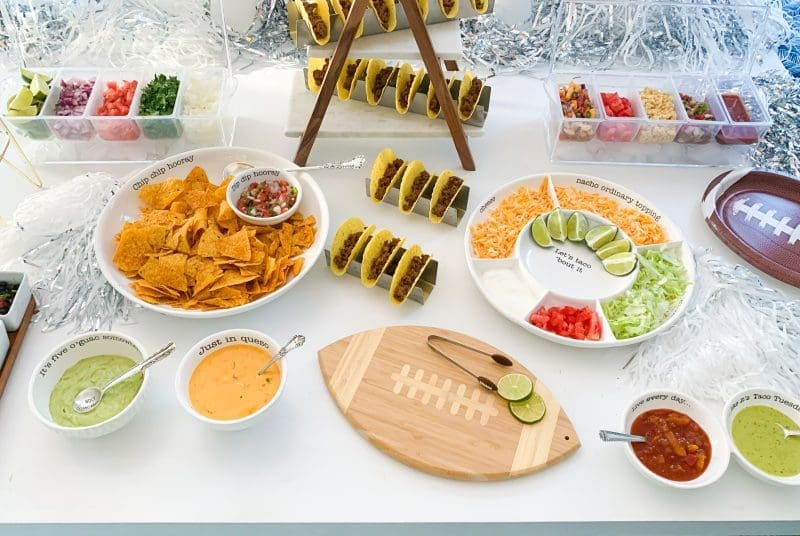 Taco Bar Party Decorations
For a taco bar party, a lot of the decorations are the color food options! I added a few appetizer dishes and server trays to add height and dimension to the table display. I also got a football party supplies pack with football cups, plates, and napkins. And I used this football bamboo cutting board and mini football tongs for guests to slice their limes and grab their favorite toppings.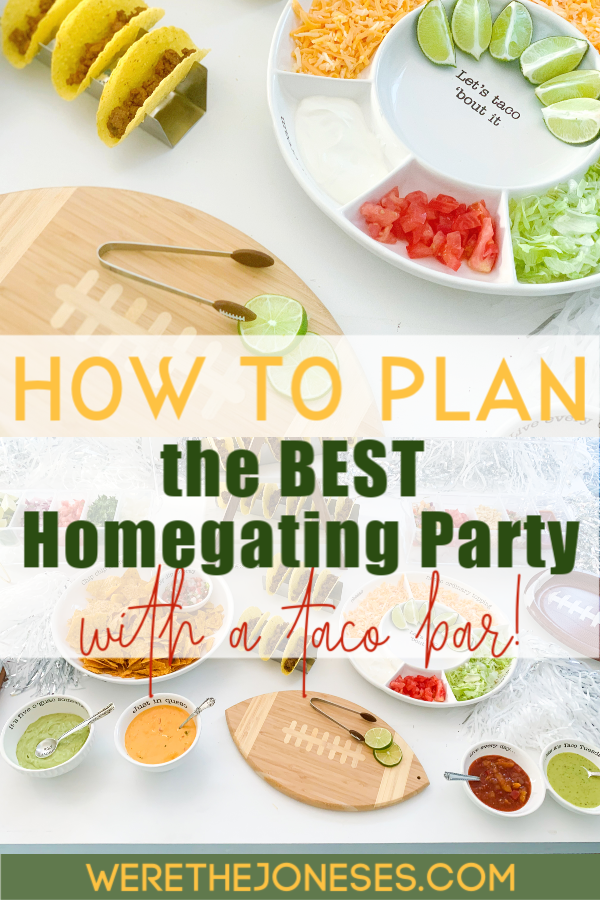 Planning your next homegating party? I hope these tips and ideas help you host your next game day event! I love the simplicity of a taco bar for gatherings and the guests will think it's delicious too! Have fun celebrating – and let me know if you have any questions in the comments!
Happy homegating!