How to make the BEST ground beef tacos using my easy homemade taco seasoning recipe. These Tex-Mex tacos are simple and delicious and the perfect week night meal or making for a crowd at your next party!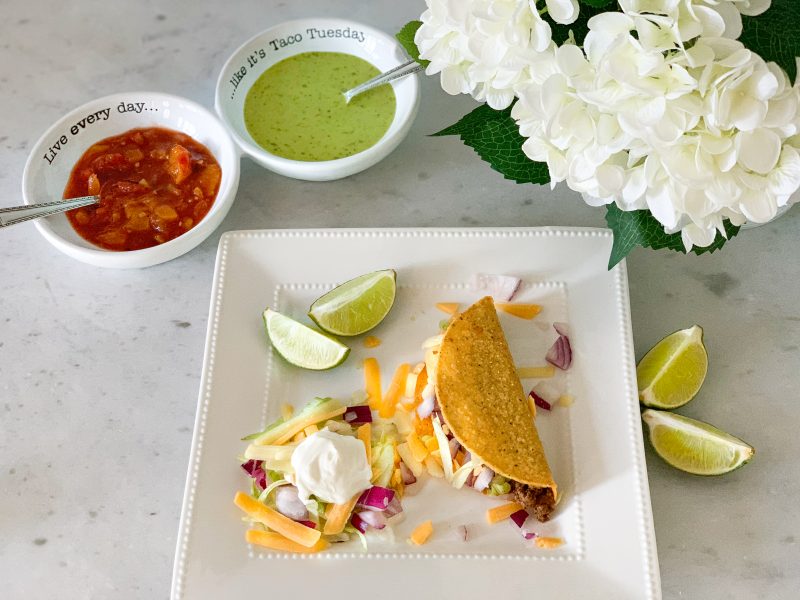 The Best Ground Beef Tex-Mex Tacos
*This post contains some affiliate links for your convenience. Click here to read my full disclosure policy.
Today I'm talking about one of our family's favorite meals – tacos! Really anything Mexican food related is our family's favorite. Growing up in Texas you can't NOT love Mexican food. Mexican food is a huge staple in our house and usually 3 out of 7 nights of the week (sometimes more) we are eating some type of food that requires avocados, cilantro and sour cream for toppings!
Ground beef tacos are so simple and quick to make, they are the perfect weekday dinner meal for busy families. And because tacos are so easy to cook I like to make them when we have group get togethers too! Check out my Homegating Party with the Ultimate Touchdown Taco Bar!
When I make Tex-Mex tacos I like to season the ground beef with my homemade taco seasoning. It takes the tacos up a notch and the flavors are so zesty and fresh! Scroll to the bottom where I share my homemade taco seasoning recipe and also my go-to ingredients for cooking taco meat (with printable recipe card!)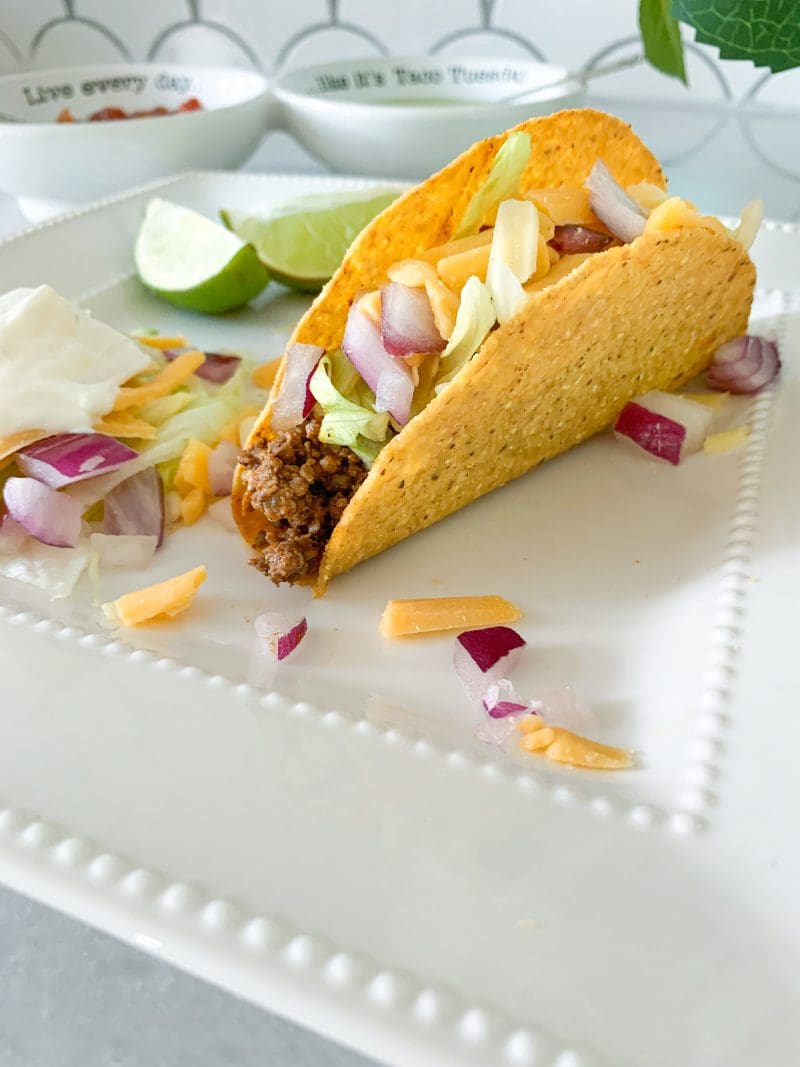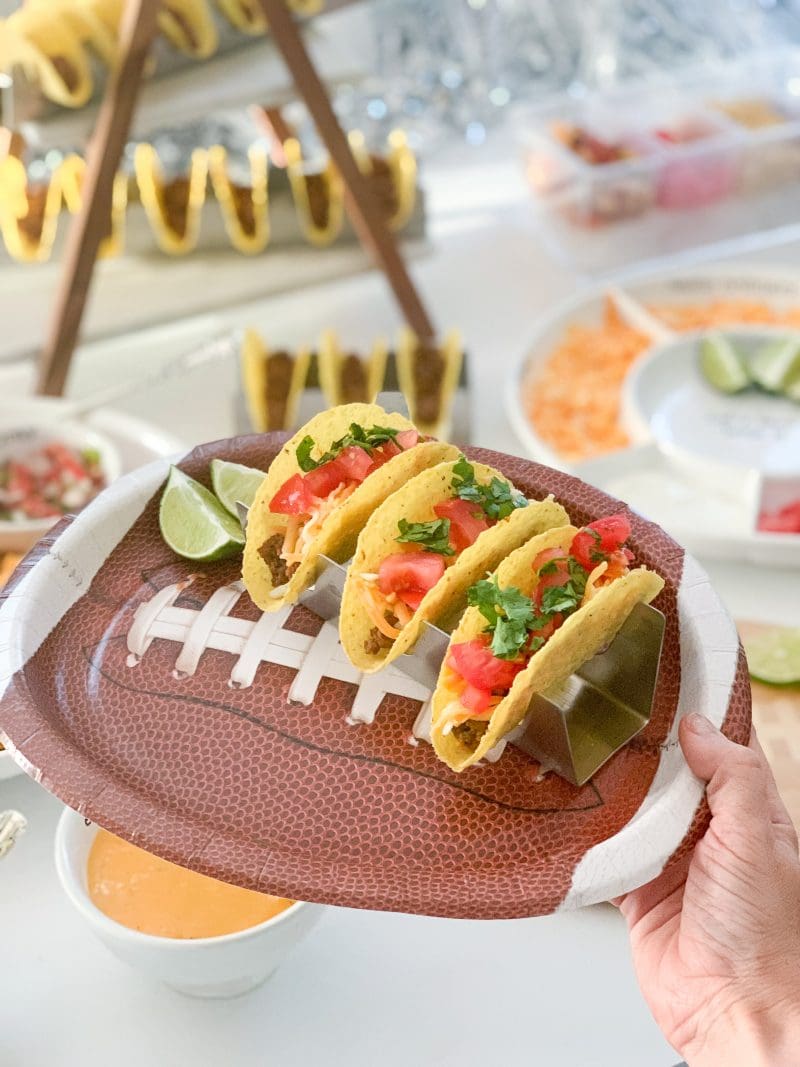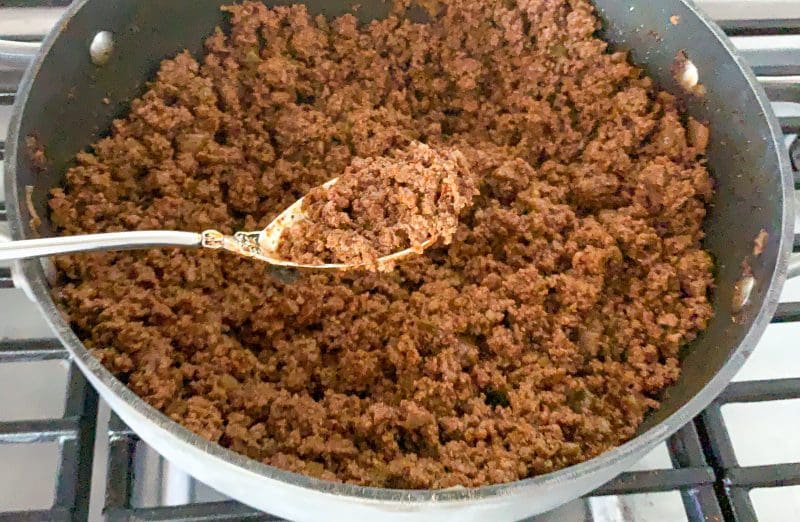 How to cook ground beef?
For the past couple years we've gone in together with a few neighbors to purchase a whole cow for beef meat. We pay the rancher to cut, wrapped and freeze the meat so it's ready to take home. It saves a ton of money to split the meat up with a group and not have to buy red meat at the grocery store. It also tastes more fresh too!
For my go-to ground beef recipe I like to add in a few chopped up veggies to saute with the meat. I add in minced garlic, green bell peppers (or any other color I have on hand) and yellow onion. These added ingredients give the ground beef an extra boost of fresh flavors.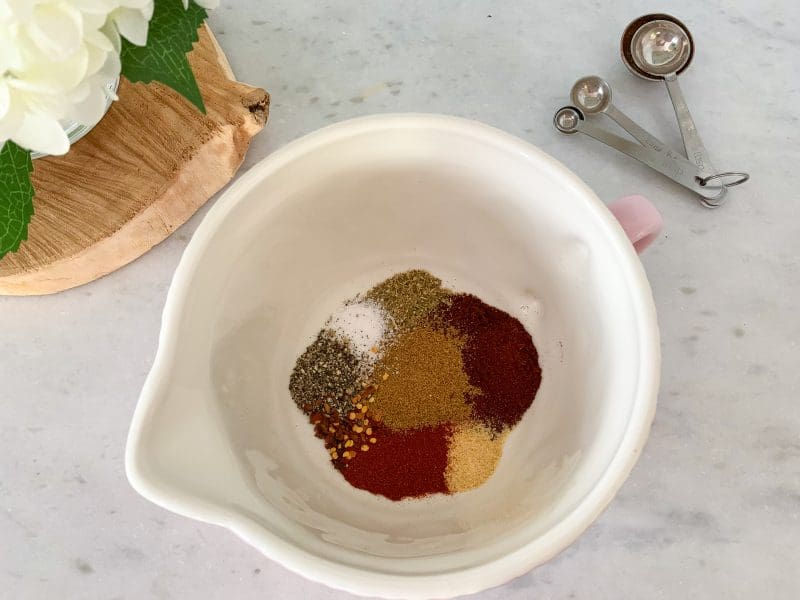 Homemade taco seasoning
I used to always use a pre-packaged taco seasoning packet to season my ground beef. Recently, I started testing out my own recipe for a homemade taco seasoning. And let me tell you, there is such a DIFFERENCE between homemade seasoning and pre-packaged seasoning! The spices in the homemade seasoning are so much more fresh and it completely changes the ground beef. I've played around with different amounts of spices, and I finally nailed down my favorite for our family's taste buds.
What's in taco seasoning?
My husband and I like a little bit of kick in our food (Bryan WAY more than me) but our kids are have pretty mild taste buds. We need to work on that Texas authenticity and build up their spice levels, ha.
If I am making ground beef tacos for a big crowd or know there will be lots of kids, I use less of the spicy ingredients. If it's just adults or a group of Bryan's friends than I will kick it up a notch. You can alter any of these ingredients to your family's taste!
One thing to note: I like my taco seasoning to be similar to the pre-packaged taco packet, which has a more saucy consistency. If you like more dry seasoned meat you can omit the last ingredients (the corn starch and added water).
Homemade Taco Seasoning Ingredients:
1 Tbsp chili powder
½ tsp garlic powder
1 tsp smoked paprika
1 ½ tsp cumin
½ tsp oregano
½ tsp salt
1 tsp black pepper
¼ tsp crushed red pepper flakes (optional)
½ tsp cornstarch and 1/3 cup water (optional step to achieve the "taco packet" copy cat taste and create a saucy consistency)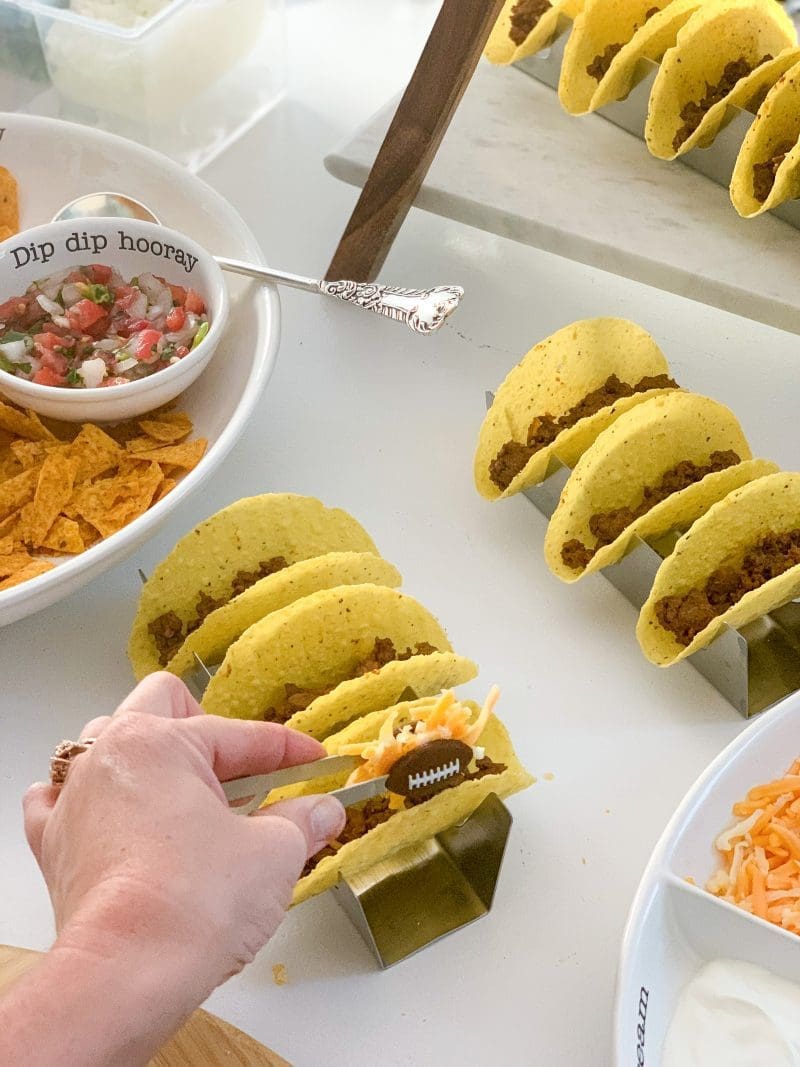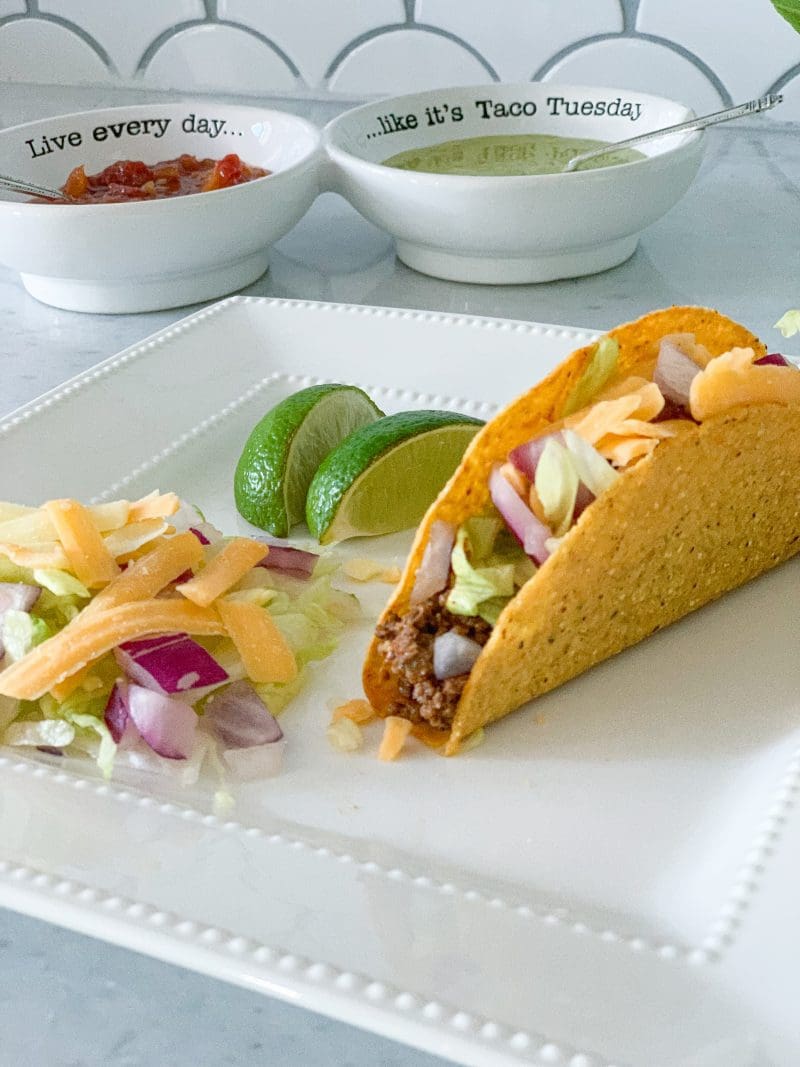 How to use taco seasoning
There are so many ways to use taco seasoning for meals! Some of our favorites include ground beef tacos, nachos and enchiladas. Another way we use taco seasoning is to sprinkle a little on top of your nachos for added seasoning before you bake in the oven. I also add taco seasoning when I'm cooking chicken fajita meat in the crockpot. You can season the chicken breasts with the taco seasoning for added Mexican flavor.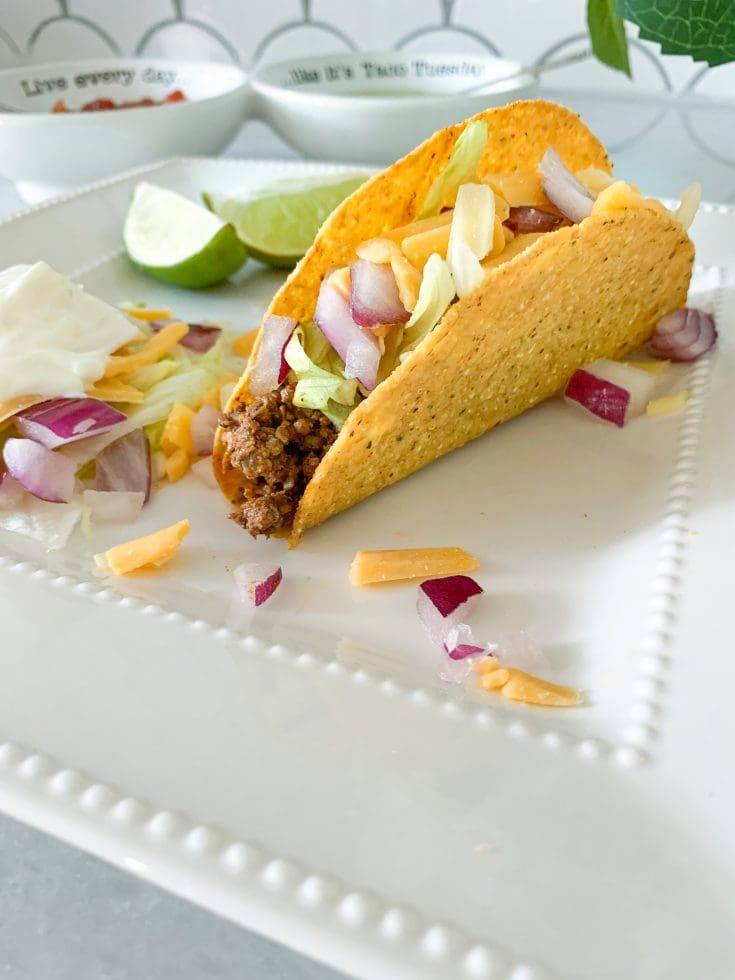 Yield:

6
The Best Ground Beef Tex-Mex Tacos
The BEST ground beef tacos using my easy homemade taco seasoning recipe. These Tex-Mex tacos are simple and delicious and the perfect week night meal or making for a crowd at your next party!
Ingredients
Homemade Taco Seasoning
1 Tbsp chili powder
1 1/2 tsp cumin
1 tsp garlic powder
1/2 tsp smoked paprika
1/2 tsp oregano
1/2 tsp salt
1 tsp black pepper
1/4 crushed red pepper flakes (optional)
1/2 tsp cornstarch
1/3 cup water
Ground Beef Recipe
1 lb. lean ground beef
1/4 cup chopped onions
1/4 cup chopped green bell pepper
1 tsp minced garlic
Taco Toppings
Shredded lettuce
Shredded cheese
Diced onions
Diced tomatoes
Sour cream
Sliced avocado
Hot sauce
Nutrition Information:
Yield:
4
Serving Size:
1
Amount Per Serving:
Calories:

421
Total Fat:

25g
Saturated Fat:

8g
Trans Fat:

1g
Unsaturated Fat:

14g
Cholesterol:

110mg
Sodium:

588mg
Carbohydrates:

14g
Fiber:

6g
Sugar:

4g
Protein:

37g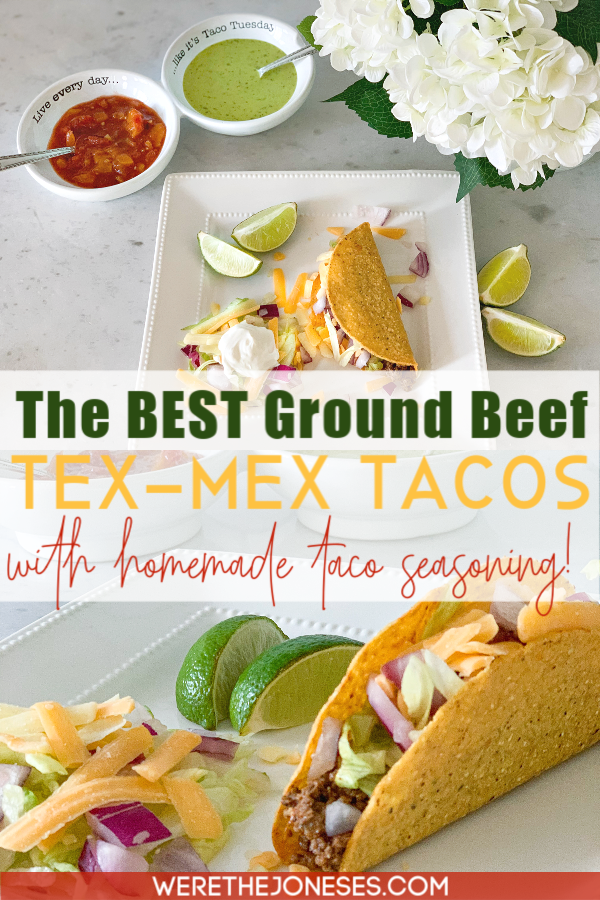 What is your favorite Tex-Mex dish to use ground beef and taco seasoning? We love these simple and quick beef tacos in our home! I hope you enjoyed this easy dinner recipe!
Happy cooking!