This post is sponsored by Everywhere Agency on behalf of OshKosh B'gosh; however, all thoughts and opinions expressed are my own.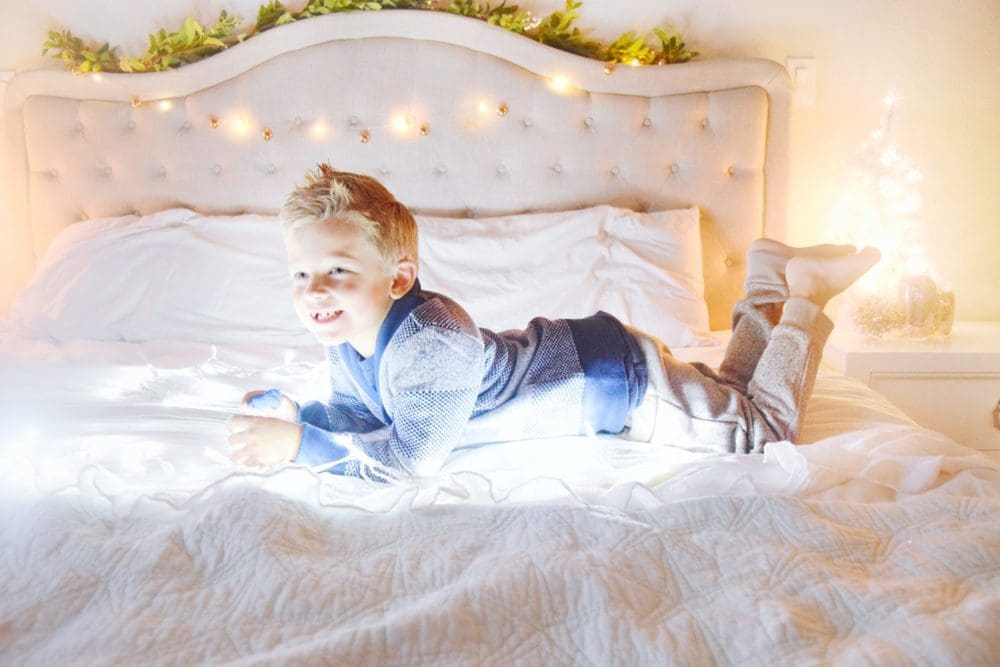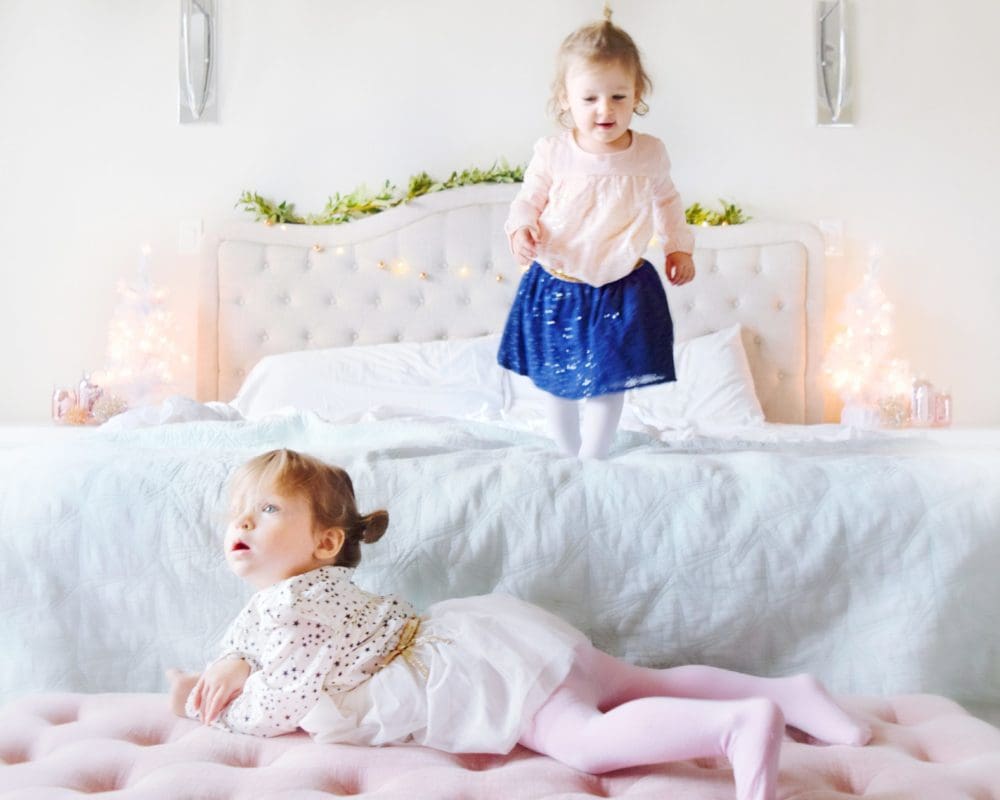 Happy Holidays Yall! And Tis the Season for family photos!
I don't know about you, but I kinda dread getting family photos taken.
It was fun when it was just Bryan and me and our two labs (but even with our labs it was still stressful!)
Now with three kids 5 and under, it can be a real beating and almost not worth it, especially trying to take pictures in a public place where all my kids would try to do is run!
Last year I decided to do our family pictures in our Master Bedroom, on the bed in our Christmas PJs, no scary train tracks or open fields for the kids to run away. It was so easy and the pictures turned out great!
Only issue was how hard of a time my husband got from his friends at work about wearing Christmas PJs…I thought they were super cute and all his friends were just kidding around…BUT it went without saying that PJ pictures were just a no-go this year, ha.
To make it easy, I took pictures of just the kids this year. I mean, when we send out Christmas cards the kids are who everyone wants to see anyway, right??
My girls are at that age where they want to get into everything and be independent, so sitting still on the bed for a long time was going to be tough.
I knew I needed something to help hold their attention, I started thinking about the gorgeous pictures I've seen lately on Instagram using twinkle lights in photos, and I thought that would be perfect!
When thinking about their clothes, I wanted to get pieces that weren't too dressy, but still cute and stylish and that went with our twinkle light theme. I also wanted colors that were more muted and not typical holiday colors, but still had a festive and winter feel.
I came across these tulle skirts from OshKosh and thought they were perfect for the look we were going for! Georgia's skirt is the midnight blue with sparkly sequins, which shimmered and when she was near the twinkle lights! Genevieve's skirt is a shimmery white, with a sparkly gold bow. I paired Georgia's skirt with a sparkle embellished top, and Genevieve I picked out a top with midnight blue stars. Even though they were all separate pieces, I think the colors and hints of shimmer made it all come together!
Cade is always ALL about comfort, so these khaki colored fleece jogger pants were perfect for him! They have a dressed up look, while still being super comfy. I paired his pants with a navy blue button up sweater which helped tie in his outfit with his sisters.
Family holiday pictures complete! I suggest everyone have their family pictures taken at your home, in a confined spot like a bed, with twinkle lights as fun and pretty distraction. It definitely worked for us and my active little ones!
I also loved all their clothing pieces from OshKosh and how well they went together and fit our twinkle light  theme. If you are looking for cute and stylish holiday clothing, you can search the OshKosh Store Locator to find a retailer near you!