How do you decorate for Fall with autumnal coastal decor? I'm sharing 5 ways to add California coastal decor ideas to your home. Woven baskets filled with autumn pillows and blankets, coastal blue and white pumpkins, and neutral fall accents give a cozy modern coastal Fall vibe to your space! Read our simple coastal fall decorating ideas for a coastal chic home below!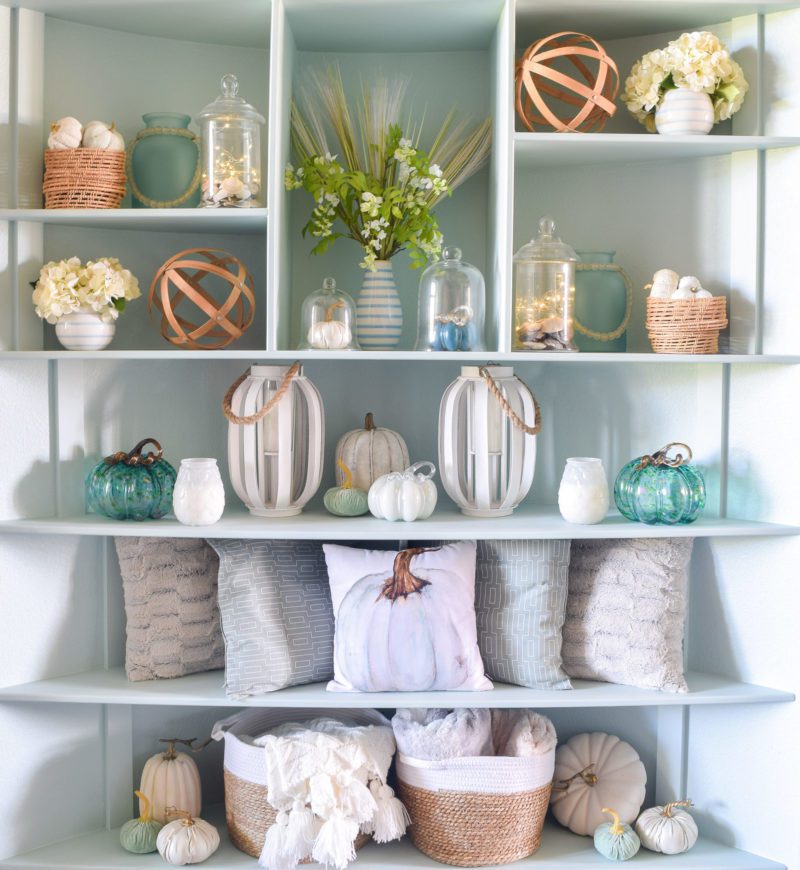 California Coastal Decor Ideas for Fall
This post is sponsored by Home Centric. All opinions are my own.
It's starting to look like Fall in our house!
Even with the Texas temps hovering around the 90s, we have seen some cooler weather than usual for early September. With each glimpse of cooler weather, I get so excited for all the Fall things. Cozy sweaters, yummy Fall recipes, and decorating for Fall in our home.
I usually decorate for holidays in non-traditional color palettes (see my pink buffalo check Fall tablescape last year and Fall bedroom decor from the year before!) I was excited to try a new style of Fall decor this year: California Coastal Fall Decor!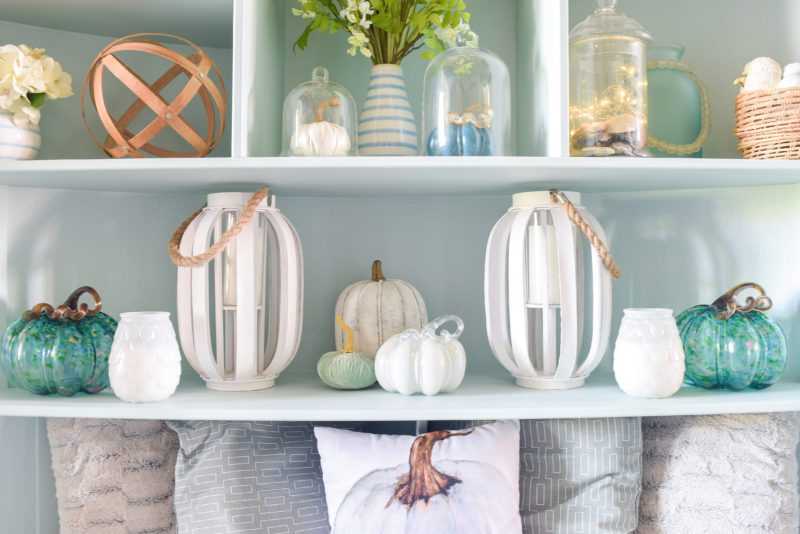 My design style is ever-changing, and I've been drawn to more of a coastal vibe for my home over the last year. I still love colorful and whimsical design, but with a coastal element too. What is California Coastal design you ask? I started seeing this design phrase used a lot more on Pinterest lately, and there's some different views on the type of coastal design it is.
I like how Sharrah with Live Your Style describes it: "The California style is very neutral with lots of whites, creams, tans and muted blues and greens. It is a more modern take on the coastal design style and focuses on a lot of natural elements."
Bringing in cool color palettes with natural elements like sisal, sea glass, and rattan will add a breezy effortless coastal style to your home. Mix it with pink whimsical wallpaper, and maybe we can call it whimsical coastal chic?! See below… 🙂
I found several coastal decor finds at one of my favorite budget-friendly retail stores, Home Centric. Below I list out 5 ways to easily add California Coastal fall decor to your home too!
5 Easy Ways to Add Coastal Decor to Your Home
Woven Baskets – Fill baskets with cozy blankets, lush pillows, or neutral pumpkins
Muted Color Pumpkins – Add white, cream, aqua, blue colored pumpkins to your decor
Beachy Fall Candles – Fill in spaces with coastal style candles in neutral color palettes
Beachy Decor Accents – Bring in coastal and beachy decor accents with seaglass, seashells in glass jars, sisal styled spheres, and blue white striped vases.
Coastal Style Lanterns – Driftwood and white washed lanterns can hold cozy candles or be filled with neutral pumpkins
1. Woven Baskets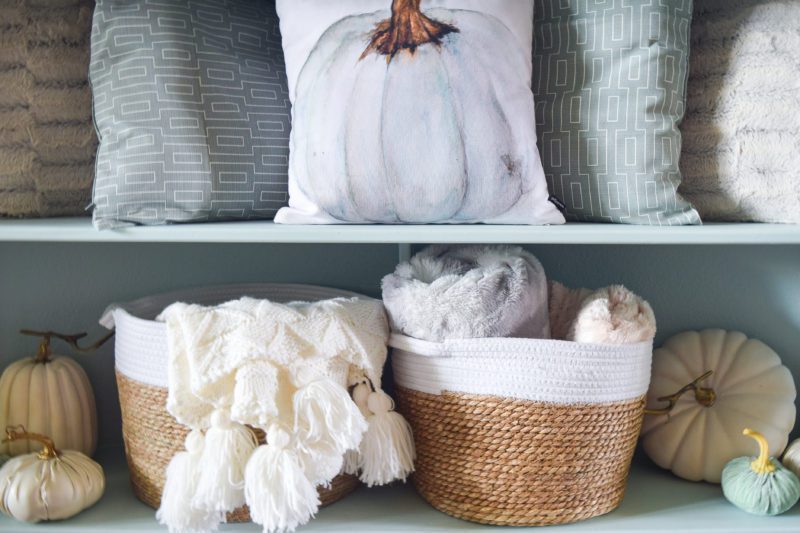 Woven style baskets are are great way to add coastal Fall decor to your space. These two toned baskets add a fun modern coastal vibe to our foyer built-ins.
You can fill them up with all the cozy things!
Comfy blankets, soft pillows, or a bunch of pumpkins! I love my cozy cream colored tassel blanket from Home Centric. I styled this tassel blanket in my bedroom for summer, and I think it transitions perfectly to Fall.
2. Blue and White Muted Tone Pumpkins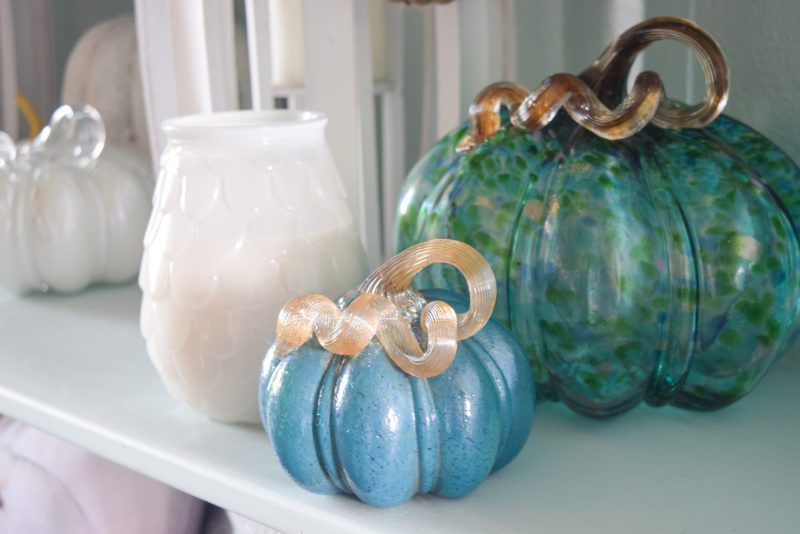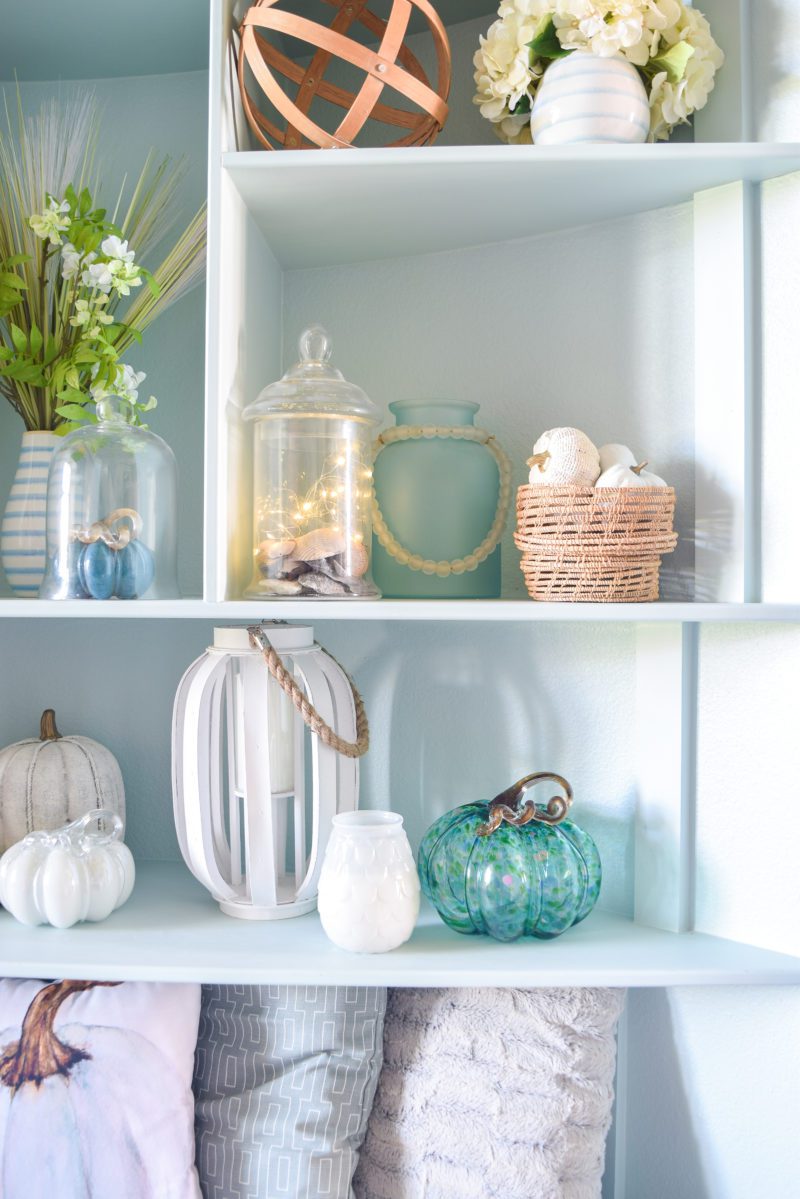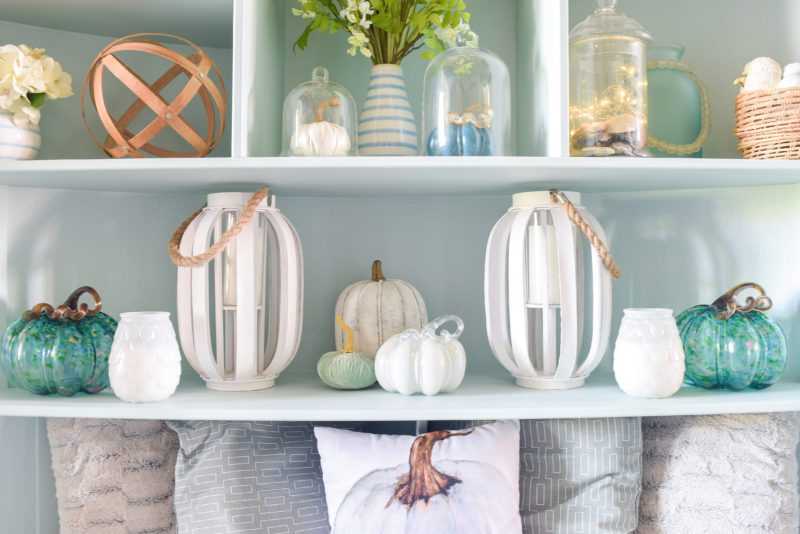 When shopping for pumpkins, look for pumpkins in shades of whites, creams, muted greens and blues. These cool, muted colors will give a breezy coastal feel to your Fall decorating.
There are a lot of color options with pumpkins now that aren't traditional orange and yellow. Aren't these cinderella glass blue speckled pumpkins so pretty?
3. Beachy Fall Scented Candles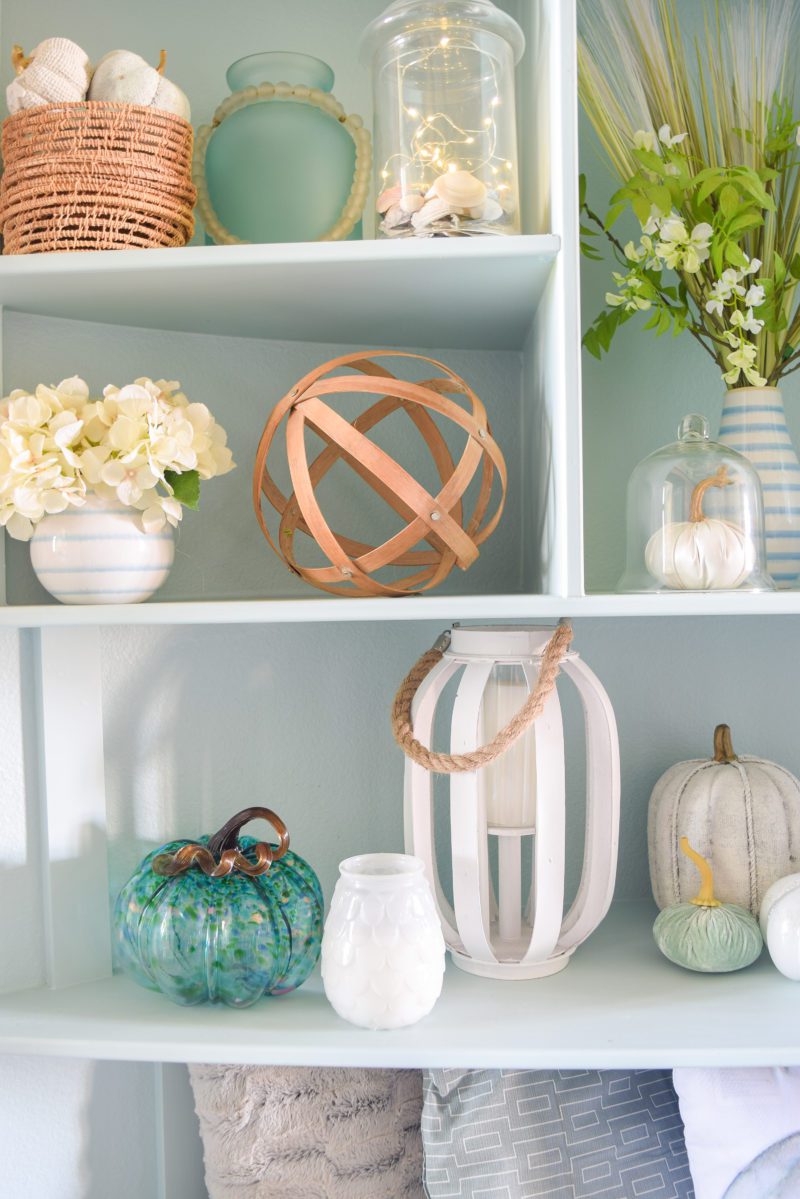 I can't think of fall decor and fall vibes without candles! But sometimes fall candles are in more traditional fall colors. You can search for coastal style candles, like this mermaid scale white candle. It's fun and unique but not too kitschy, and still feels sophisticated, neutral and coastal.
4. Modern Coastal Decor Accents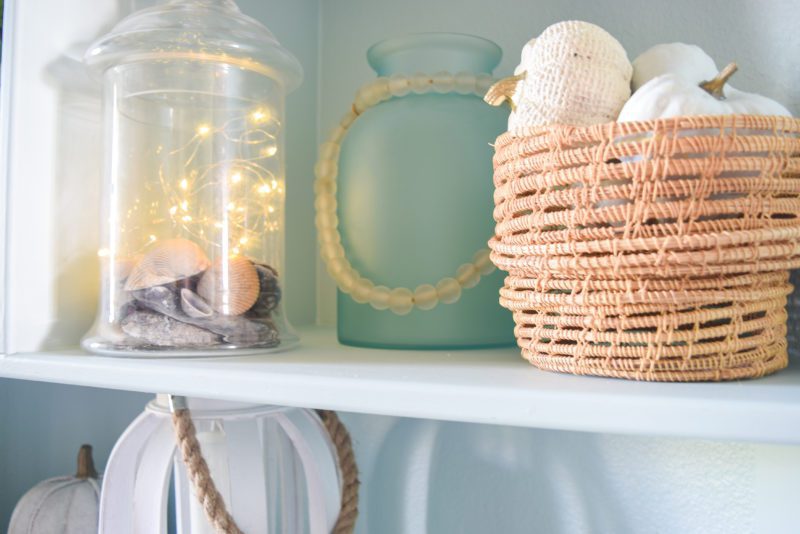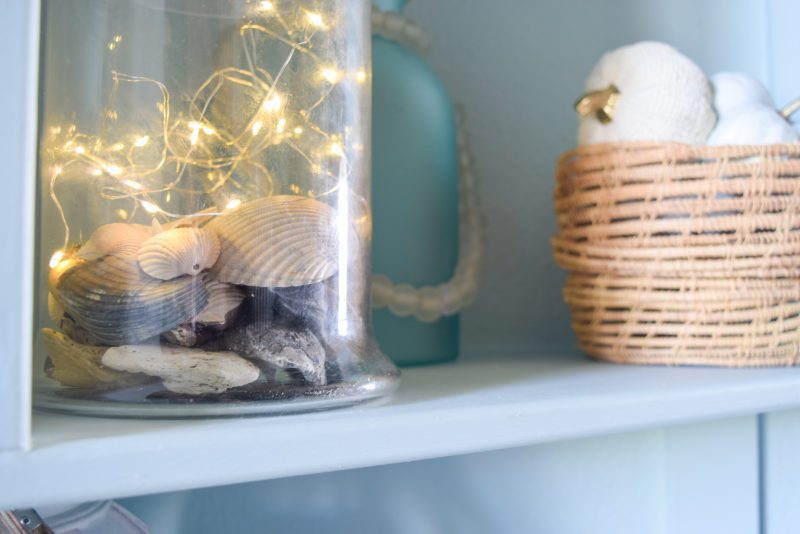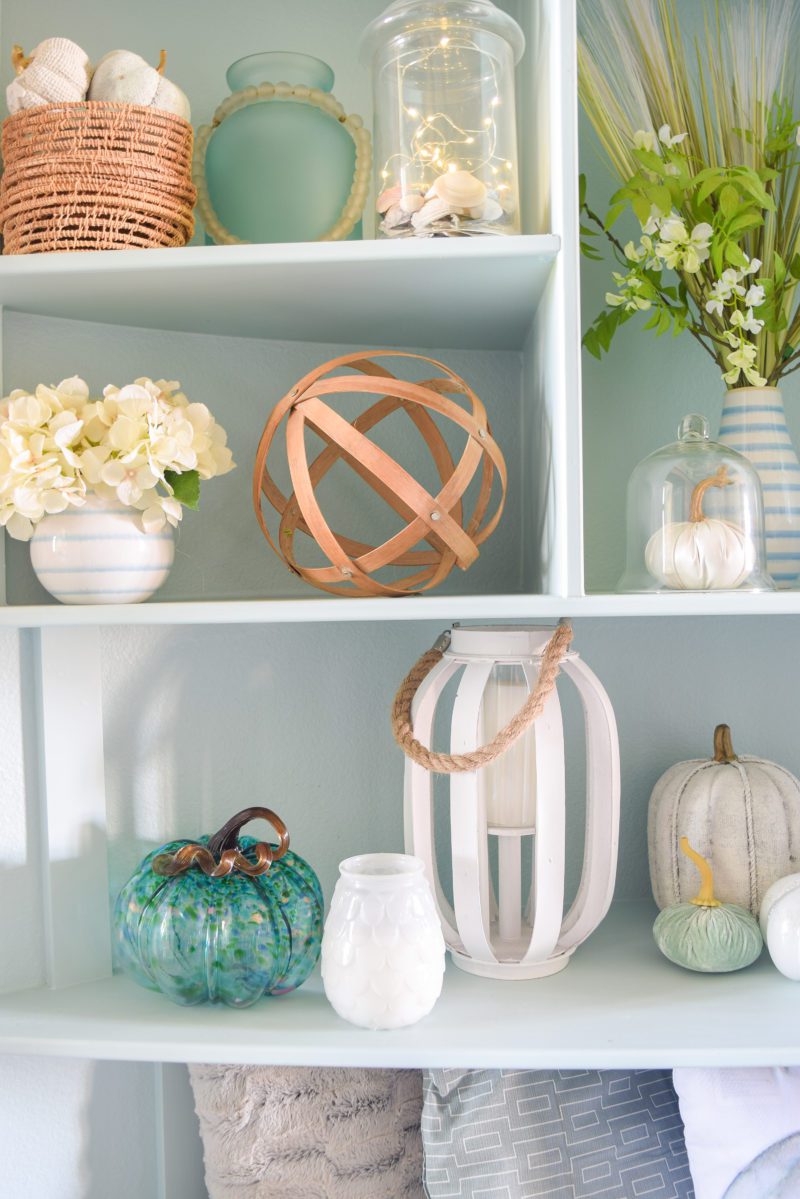 Add in more coastal decor accents to give your home a more breezy beachy feel. The key with modern coastal decor is to not be too over-the-top, and try to keep the decor minimal and functional.
A few ways I brought in coastal Fall style is by adding a small amount of seashells in pretty glass vases, and small rattan baskets holding white pumpkins. I also layered the shelves with pretty sea glass jars and blue and white striped vases holding simple cream hydrangeas.
5. Coastal Style Lanterns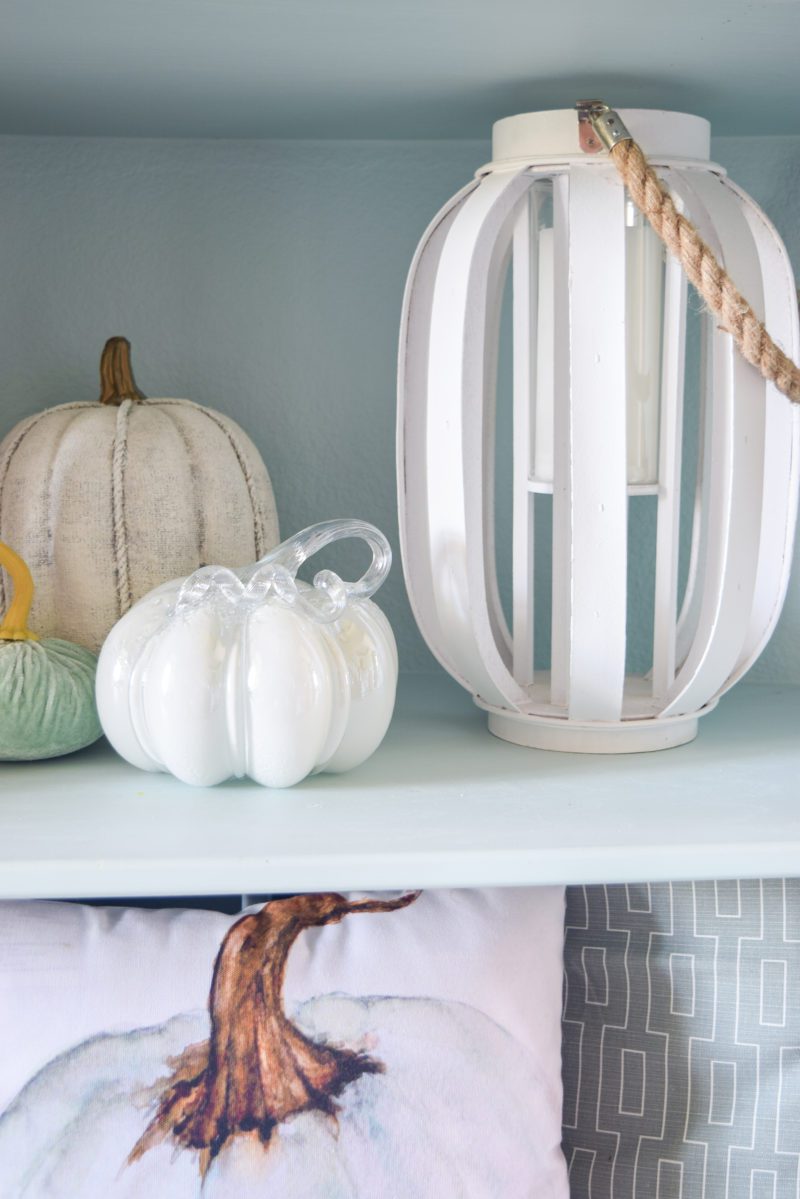 There are lots of styles of lanterns and many fun ways to style them! I found both the whitewashed with rope lanterns and the driftwood with silver tin top at Home Centric.
An easy way to add Fall decor to a space with minimal effort is to fill lanterns with pumpkins. I gathered leftover pumpkins from my Fall decor and spray painted them in coastal colors. I kept the pumpkins monochrome and filled one lantern with white and cream pumpkins, and the other with pumpkins in shades of coastal blue.
These are simple and easy steps to add some coastal fall decor in your home. You can "shop your house" to see what coastal elements you already have, or shop for budget-friendly coastal decor items too. I try not to spend too much on seasonal decorating, and add in seasonal touches with items that are already around my house, but maybe styled in a new different way.
What colors are you decorating for Fall this year? Do you like the California Coastal style? I love how coastal decor gives my home a calming relaxing vibe, and makes me feel like I'm near the beach all the time!
Next up for my Fall decorating is the dining room. Stay tuned for TWO new fall dining room decorating ideas coming next week!
Happy Fall decorating!

More Modern Fall Decor Ideas: