Are you on the hunt for beautiful blue and white ginger jars that don't break the bank? I've searched the web for the most affordable ginger jars available to help you on your ginger jar search.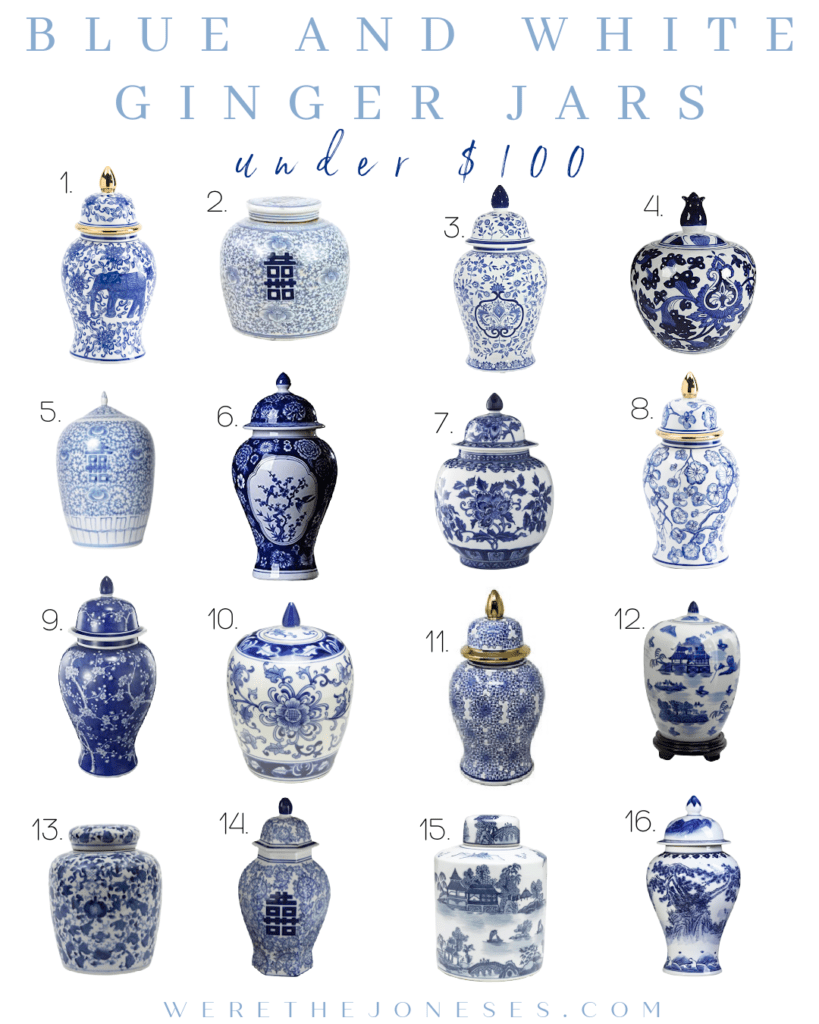 one | two | three | four | five | six | seven | eight
nine | ten | | eleven | twelve | thirteen | fourteen | fifteen | sixteen

Blue and White Ginger Jars Under $100
Who else loves the blue and white design style?
I have always loved blue in my home decor, but I recently have been drawn to the chinese inspired decor accents. I've been on the hunt for blue and white chinoiserie items for the last few years, and love ginger jars and temple jars!
What are the blue and white jars called?
Ginger jars
"Ginger jars are a design classic, irresistibly shapely and decorative in all their blue-and-white glory. Originally a vessel for storing precious spices in ancient China, the beloved ginger jar long ago shrugged off its utilitarian purpose.
A European craze for blue-and-white Chinese export pieces fueled the budding delftware industry, which churned out Far East-inspired items to meet demand.
You can find them in other hues, but the blue-and-white motif is most common — and the most inspiring." – House Beautiful
Blue and white ginger jars can be pricey, but if you know where to search you can find good deals. I like to search ebay and poshmark for ginger jars and other chinoiserie style decor, but sometimes even these resale websites can be expensive.
I've searched online for the best deals on chinoiserie chic ginger jars. Here are a few of my favorite ginger jars and temple jars under $100!
Inexpensive Ginger Jars for Your Blue & White Home
1. 14in Temple Jar With Elephant and Gold Accents
2. Blue And White Ming Jar Double Happiness
4. 10-Inch Ceramic Ginger Jar Blue and White
5. Handmade Floral Double Happiness Ginger Decorative Jar
6. 15in Oriental Porcelain Temple Jar Blue and White
7. Chrysanthemum Ginger Jar 9.5 inch Blue and White
8. 14in Temple Jar With Hibiscus and Gold Accents
9. Cherry Blossoms Ginger Decorative Jar Table Decor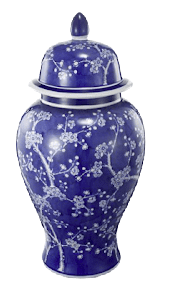 10. Blue White Floral 8in Porcelain Ginger Jar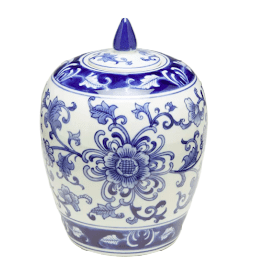 11. White Blue Temple Jar with Dahlia Flower
12. Oriental Furniture 11inch Landscape Blue & White Porcelain Vase Jar
13. Decorative Blue And White Ceramic Ginger Jar With Lid
14. 14 inch Classic Blue and White Porcelain Floral Temple Ginger Jar Vase
15. Cylindrical Porcelain Storage Jar with Lid
16. Chinese Ginger Jar Hand Paint Landscape Blue And White Ceramic Jar
Do you have a favorite store to buy ceramic ginger jars or other chinoiserie style decor? Let me know where you find your favorite blue and white decorative home items!
Happy ginger jar shopping!