Our kitchen is decorated for Christmas! I chose a chinoiserie chic Christmas kitchen style this year decorated in classic blue and white with pops of holiday red. Create festive and stylish chinoiserie chic Christmas decor with blue and white ginger jars, cheetah and gingham holiday pillows, and chinoiserie holiday ribbons. Follow my easy holiday tips on how to decorate your kitchen for Christmas!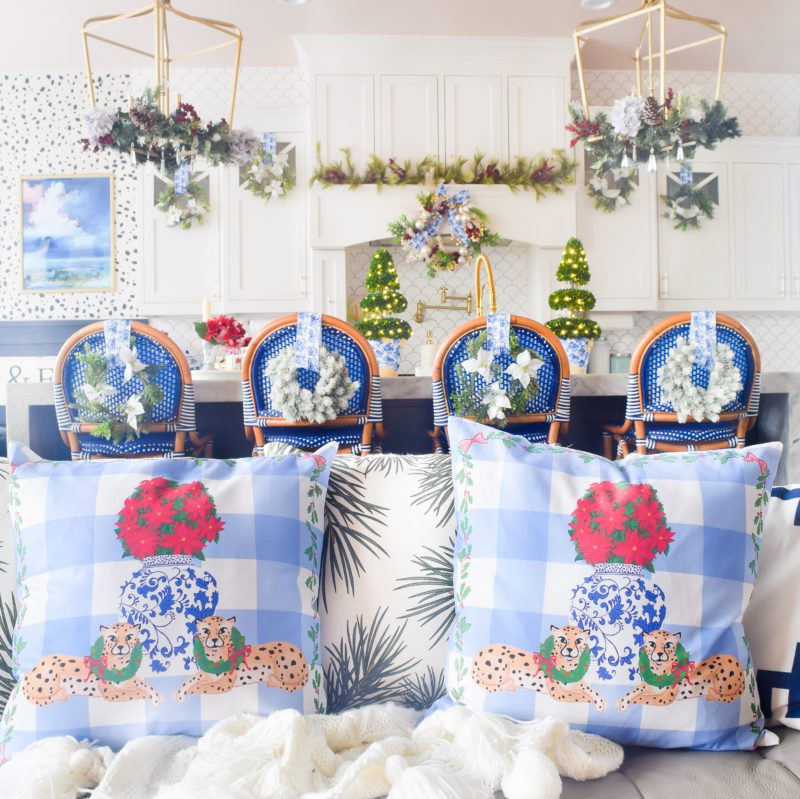 Chinoiserie Chic Christmas Kitchen

Welcome to our chinoiserie chic Christmas kitchen!
I switched up our kitchen Christmas decor from last year and added classic blues and whites for a more preppy traditional feel. What do yall think?? Do you prefer rose golds and blush pinks in here? Or blues and whites with touches or reds?
I was itching for a Christmas decor switch up this holiday season, and I love the classic look of blues and white right now!
You might have noticed this trend from my fall dining room decor too!
Today I'm sharing easy tips to decorate your kitchen for the holidays, whether you decorate with red and green or blue and white. These simple Christmas decor ideas will bring instant holiday cheer to your kitchen.
How can I decorate my kitchen for Christmas?
Three easy ways to decorate your kitchen for Christmas:
Add holiday wreaths to kitchen cabinets
Add holiday wreaths to kitchen bar stools or kitchen chairs
Add holiday garlands to kitchen chandelier or kitchen light fixtures
These three simple holiday ideas are my tried and true ways to decorate my kitchen for Christmas each year!
Hanging Christmas wreaths and garlands to your cabinets, bar stools and light fixtures adds an instant festive feel to your kitchen. It's an easy way to bring holiday decorations to the heart of the home.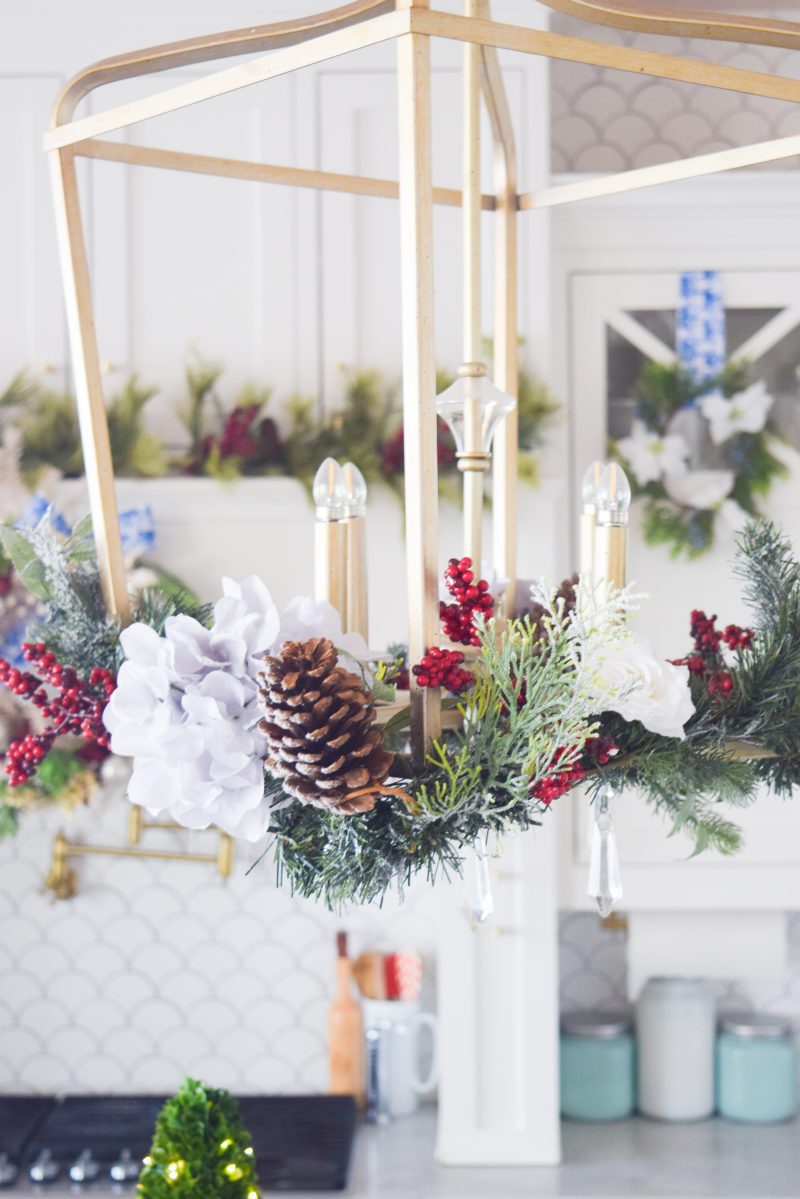 Wrapping light fixtures with Christmas garland is super simple! Especially if you have a fixture that has a cage design or opening. I use one garland each to wrap around my two kitchen island light fixtures.
This year I also added a few red holly berry stems and dusty blue hydrangeas to the garlands for a classic red and blue holiday touch.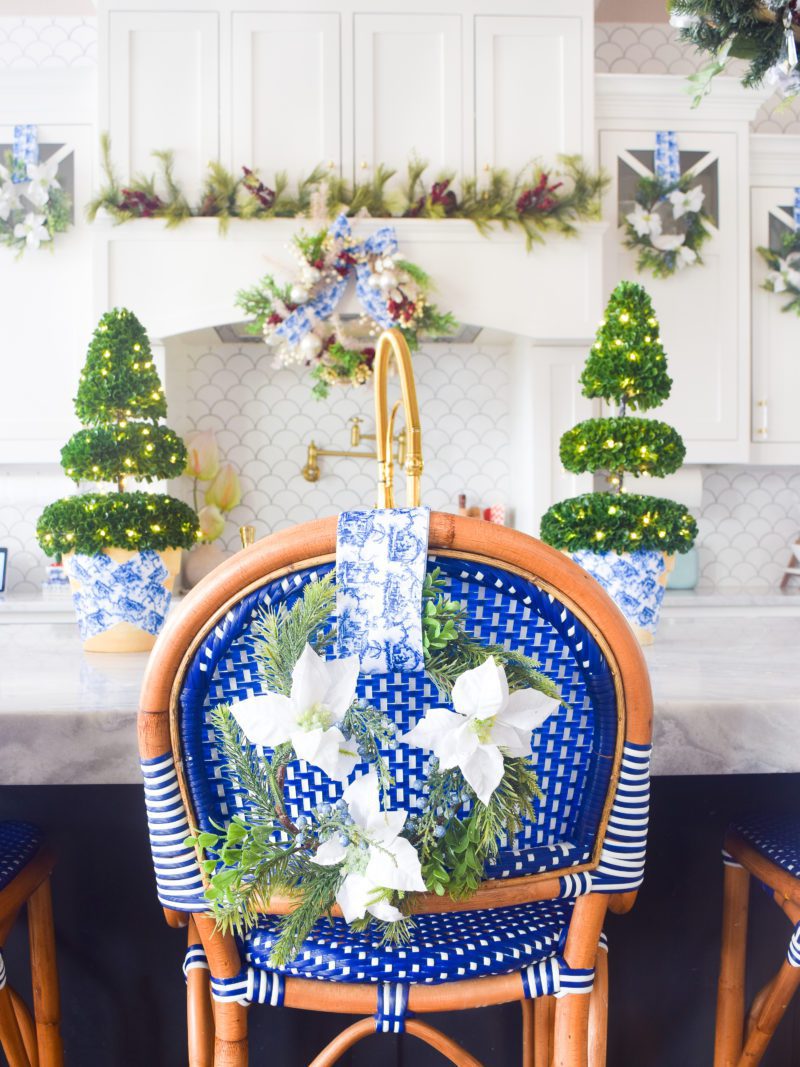 For my kitchen bar stools, I have mini holiday wreaths that I hang on the stools with ribbon. I simply attach the ribbon on the inside of the stool with a safety pin! Each year I keep the mini wreaths the same, but I'll try new ribbon colors for fun Christmas decor change.
This year I went with a chinoiserie chic Christmas theme throughout our home. I found this gorgeous blue and white chinoiserie ribbon to hang mini wreaths on our kitchen bar stools and also our kitchen cabinets.
The blue and white ribbon matched perfectly with our coastal blue decor throughout our kitchen!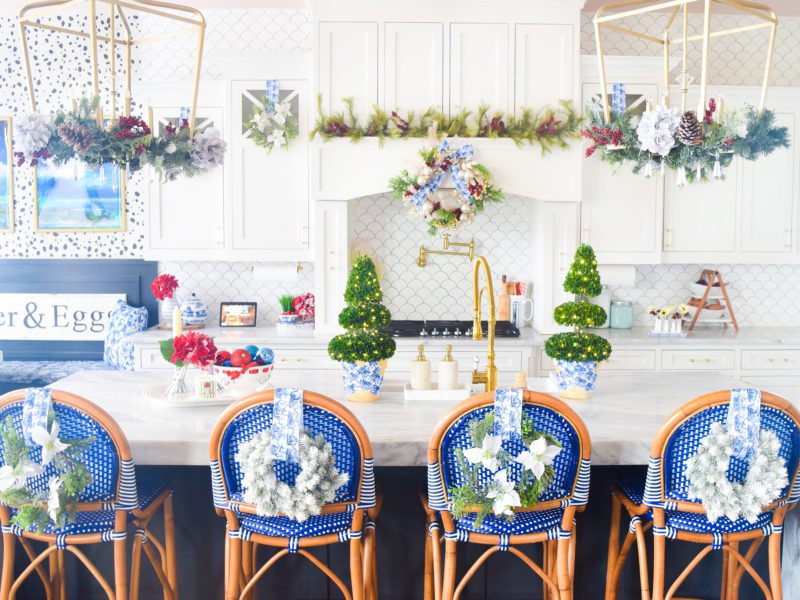 Blue and White Christmas Chinoiserie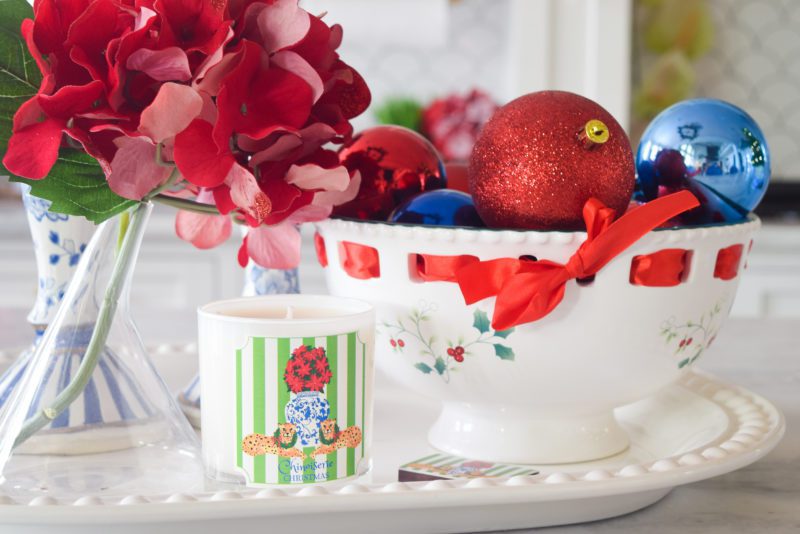 For added pops of Christmas red, I added red hydrangeas to a few blue and white vases and glass vessels. I also filled red Christmas ball ornaments to our kitchen dishes and bowls.
How cute is this chinoiserie Christmas candle too?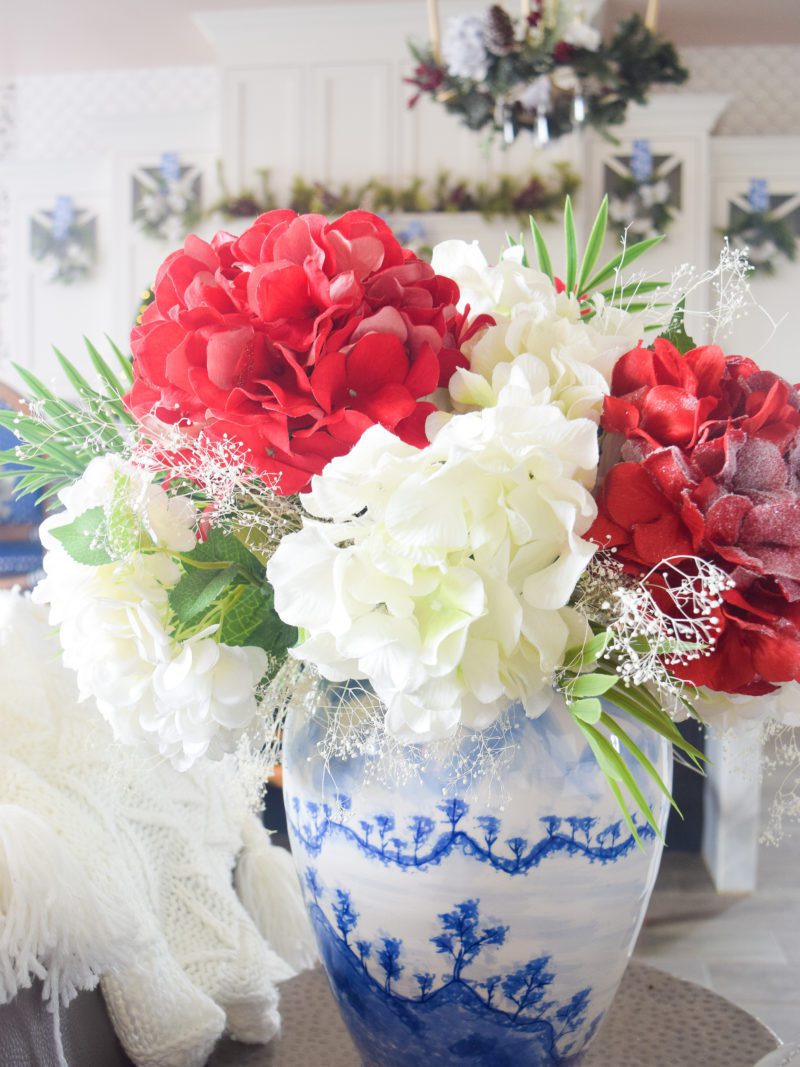 This blue and white ceramic vase is one of my favorite Home Goods finds. I love having white hydrangeas filled in this beautiful vase. I added frosted red hydrangeas for a touch of Christmas color.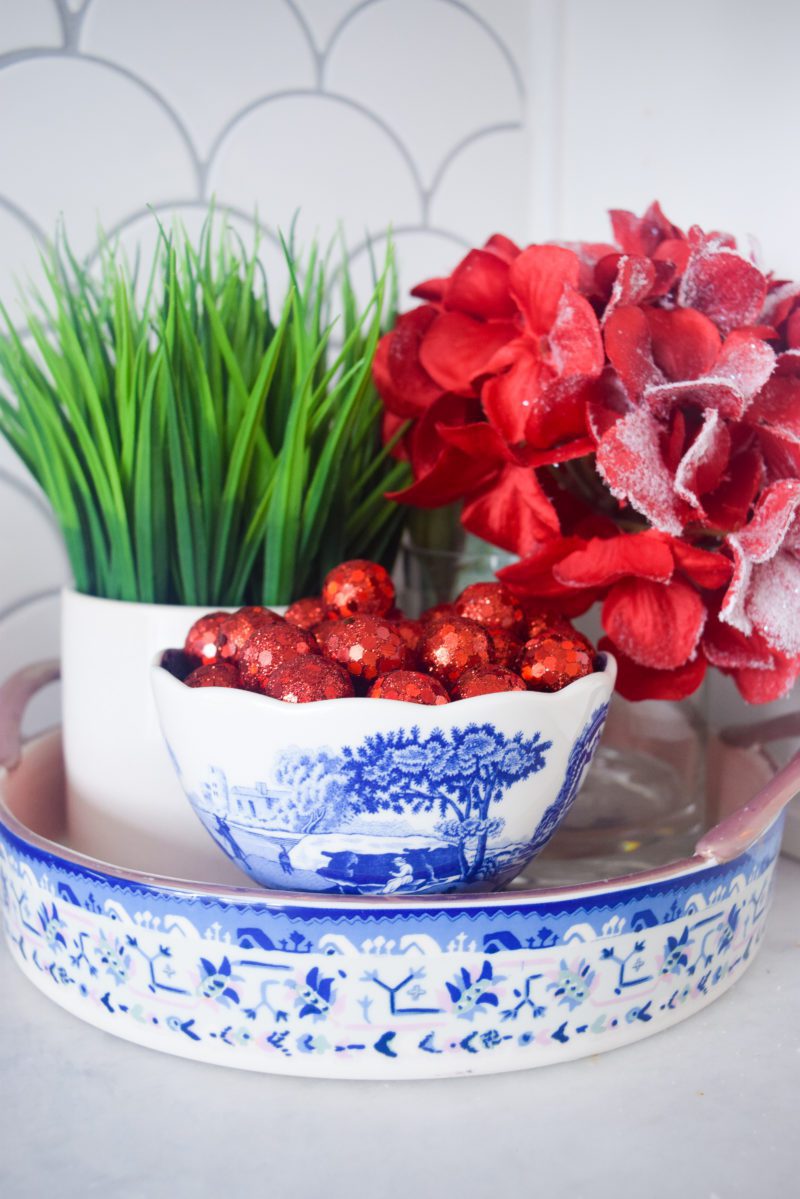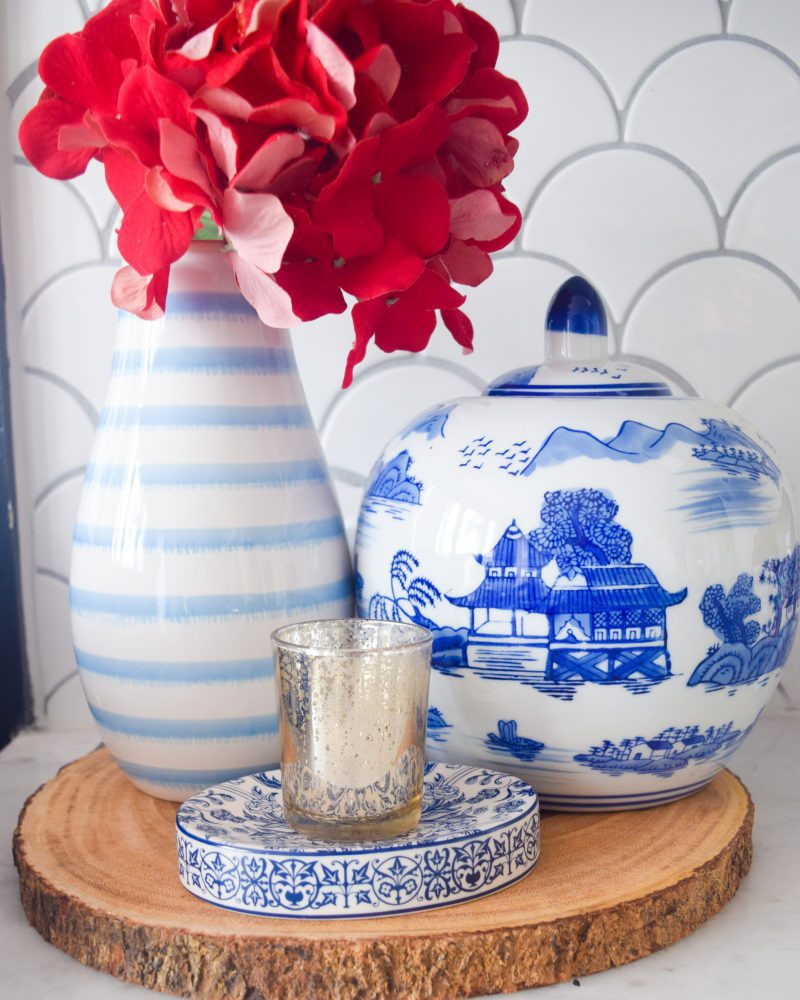 Kitchen Christmas Decorations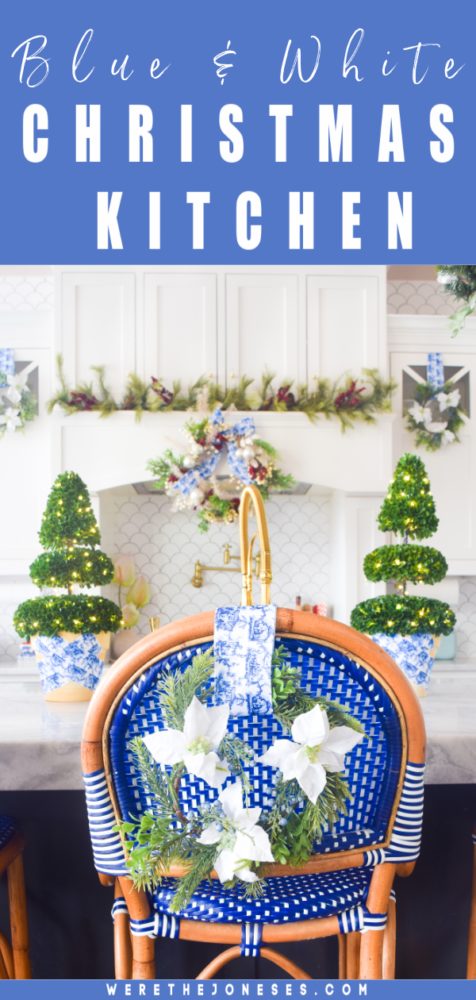 The kitchen is one of my favorite places in the home to decorate for the holidays. It brings such a magical feel to the space we live in most.
Do you decorate your kitchen for Christmas? I hope this simple Christmas decor tips are helpful to you!
Happy Christmas kitchen decorating!

Modern Christmas Decor You'll Love:
Blush Pink Christmas Kitchen Decor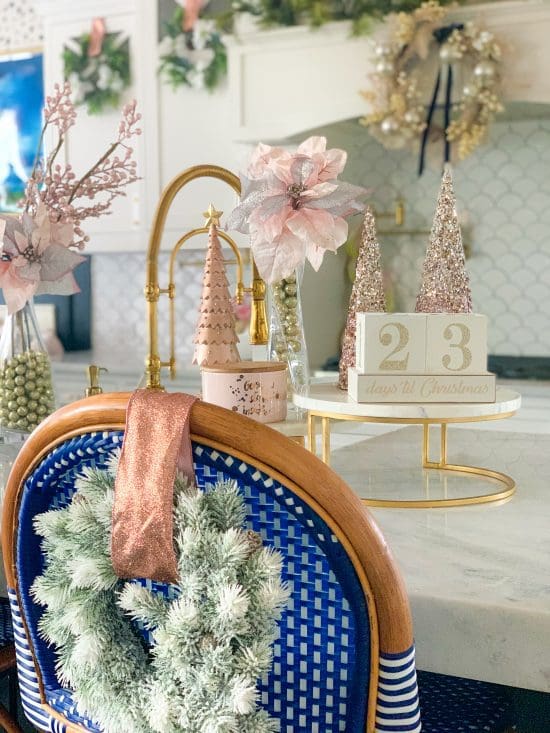 How to Decorate a Mantel for Christmas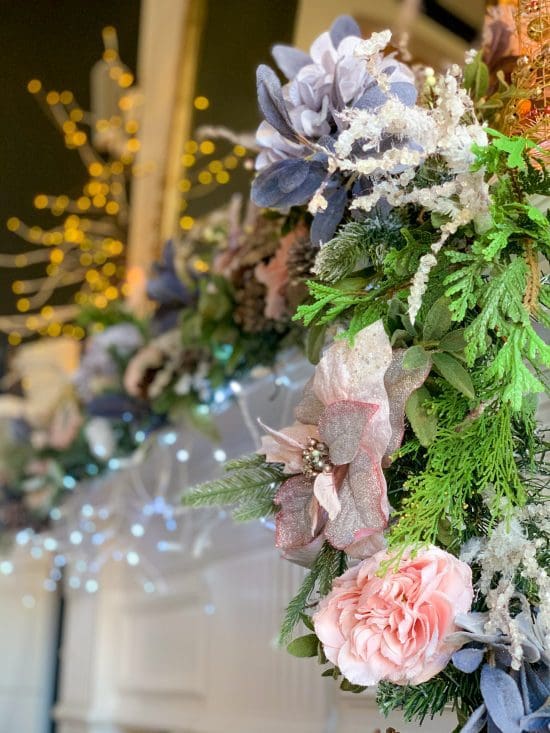 Preppy Pink Christmas Tree Design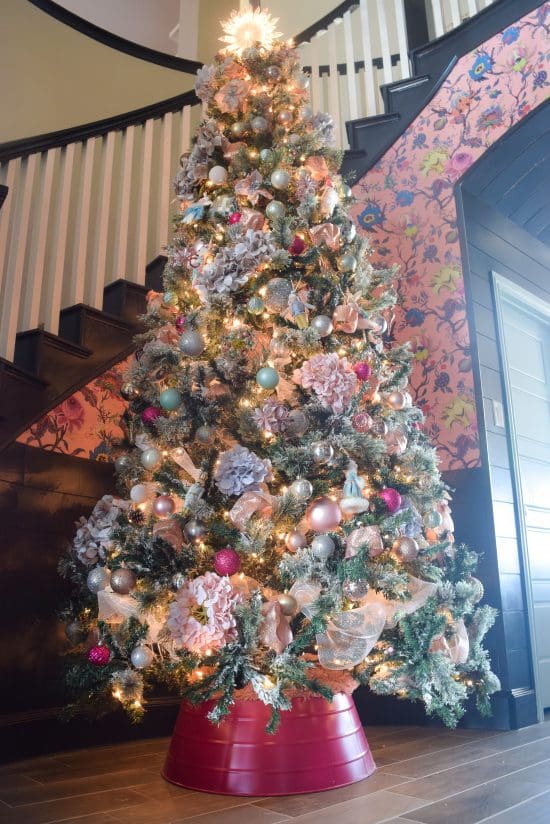 Popular Christmas Cocktail Recipes!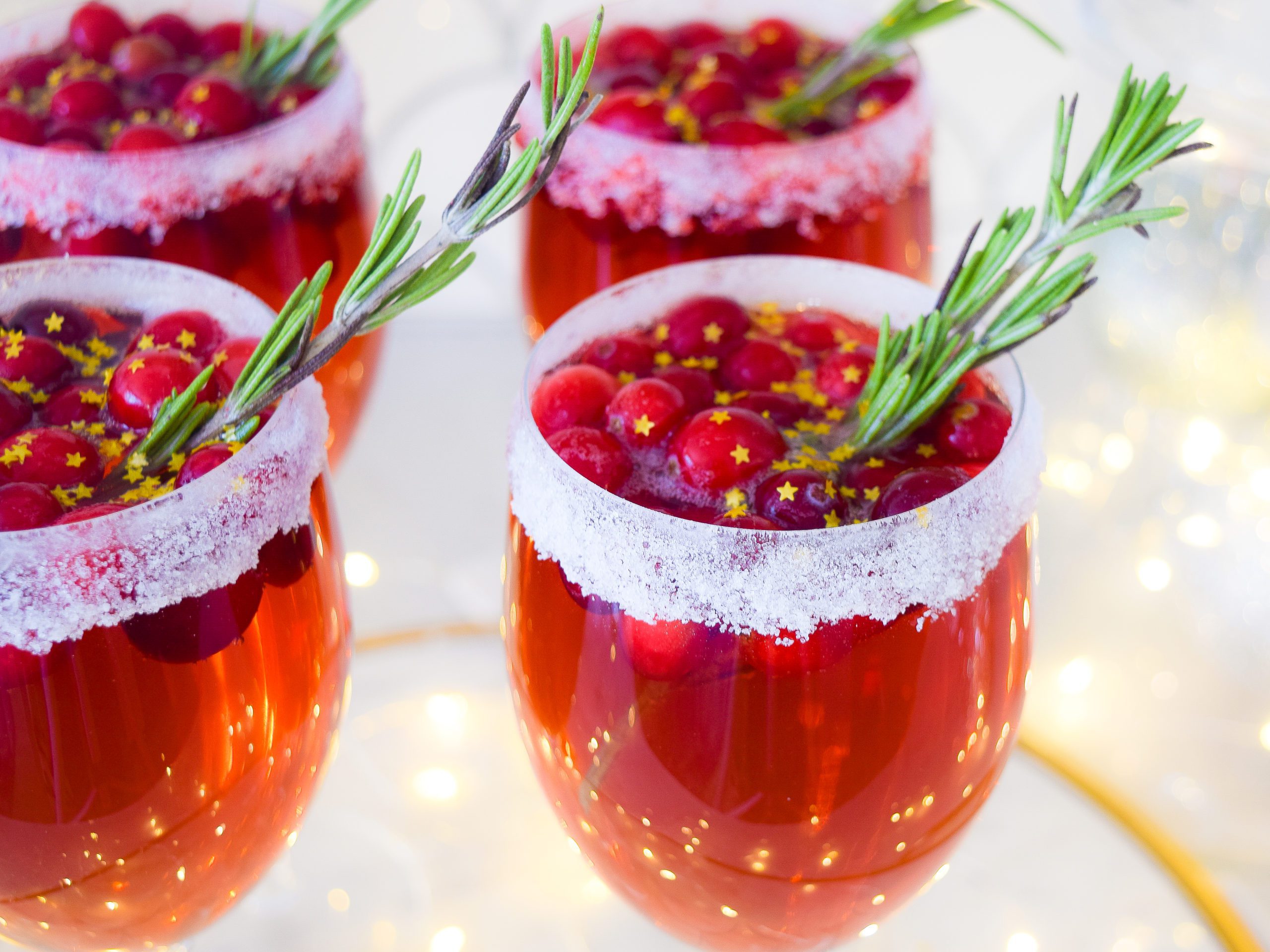 Yield:

1
Christmas Cranberry Champagne
Christmas cranberry champagne is an easy Christmas cocktail perfect for holiday entertaining! It's SUPER yummy - plus only 3 ingredients and few festive garnishes, your guests will be begging for this simple Christmas cocktail recipe!
1/2 cup champagne, sparkling wine, or prosecco
1-2 oz cranberry juice (I like cranberry-pomegranate for this recipe!)
8-10 cranberries, frozen
lime, quartered
peppermint, cranberry or regular cocktail sugar
rosemary, for garnish
edible glitter stars, for garnish
Ingredients
1/2 cup Champagne, Sparkling Wine or Prosecco
1-2 oz Cranberry Juice (I like Cranberry-Pomegranate for this recipe!)
8-10 Cranberries, frozen
Peppermint, Cranberry, or Regular Cocktail Sugar
Lime, quartered
Rosemary, for garnish
Edible glitter stars, for garnish
Instructions
Rim a champagne flute or wine glass with lime and sugar. We love the peppermint cocktail sugar, but you can find lots of other flavors or use regular sugar too!
Add frozen cranberries and cranberry juice. For a festive holiday drink, we like to use the cranberry-pomegranate juice. There's lots of variations of cranberry juice you can choose your favorite or stick with regular cranberry.
Top off the glass with champagne.
Sprinkle the edible star glitter on top of the cranberries. Reassure your guests that yes, they are edible!
Add a sprig of rosemary for garnish
Cheers and enjoy!
Notes
Tips, Suggestions and Alterations:
Make sure to freeze your cranberries! This helps keep your drink chilled, you can also chill your champagne flutes for an added chill.
Depending on your taste preference, you can go half and half with the champagne and cranberry juice, but we like to do just a splash of cranberry 😉