Are you planning an outdoor get together this holiday season? I'm sharing my simple & inexpensive back deck Christmas decorating ideas! Create a magical outdoor Christmas Day brunch or Christmas eve dinner with these easy outdoor Christmas decorating tips!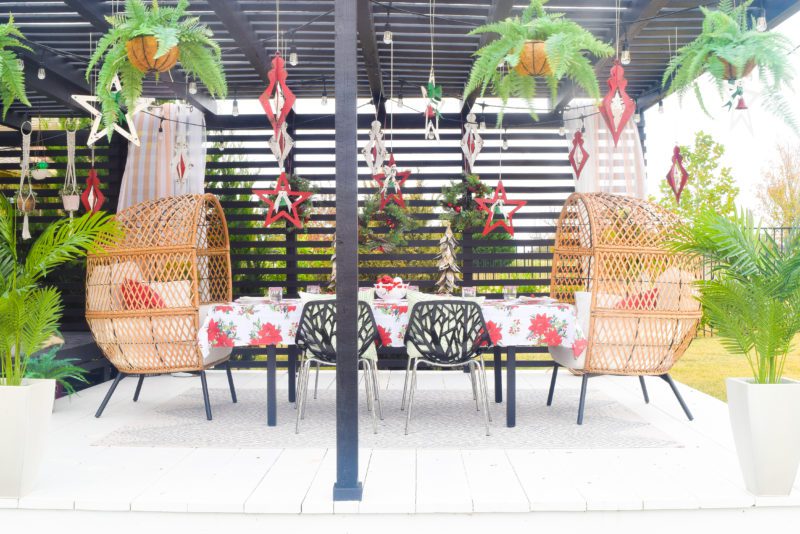 This post is sponsored by Burke's Outlet. This post contains affiliate links for your convenience.
Outdoor Deck Christmas Decorations
Our outdoor deck has become one of my favorites spots to decorate for the holidays.
And this year especially, this outdoor deck space is the perfect area to gather with family and friends during the holiday season.
If you are planning a festive holiday brunch or maybe an outdoor Christmas Eve dinner, I've got easy tips on decorating your outdoor Christmas tablescape!
Outdoor Christmas Tablescape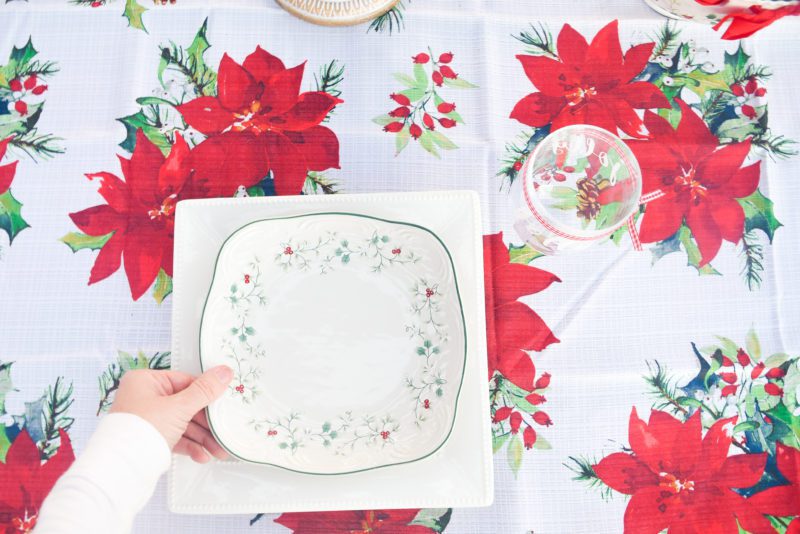 The first step to creating a beautiful tablescape is adding a seasonal tablecloth or table runner. This festive red and white poinsettia tablecloth completely transformed this outdoor table!
A holiday tablecloth is a great backdrop for your Christmas place settings and table centerpieces.
I like to layer my place settings with neutral dishes, and then add more colorful seasonal dishes on top. I love these delicate holly trim plates from Burke's Outlet.
I added a sprig of red berries on each plate for added decorative touch for our Christmas tablescape.
holiday plates | white plates | tablecloth | ribbon | glasses
Another way to add a festive touches to your place settings is with holiday ribbon. I used this pretty red gingham ribbon to tie a simple bow around the holiday glasses and the red berry stems.
For my outdoor Christmas table decor I wanted to keep it simple yet festive. Add Christmas ribbon to your place settings for an inexpensive decor touch.
Deck the Deck Ideas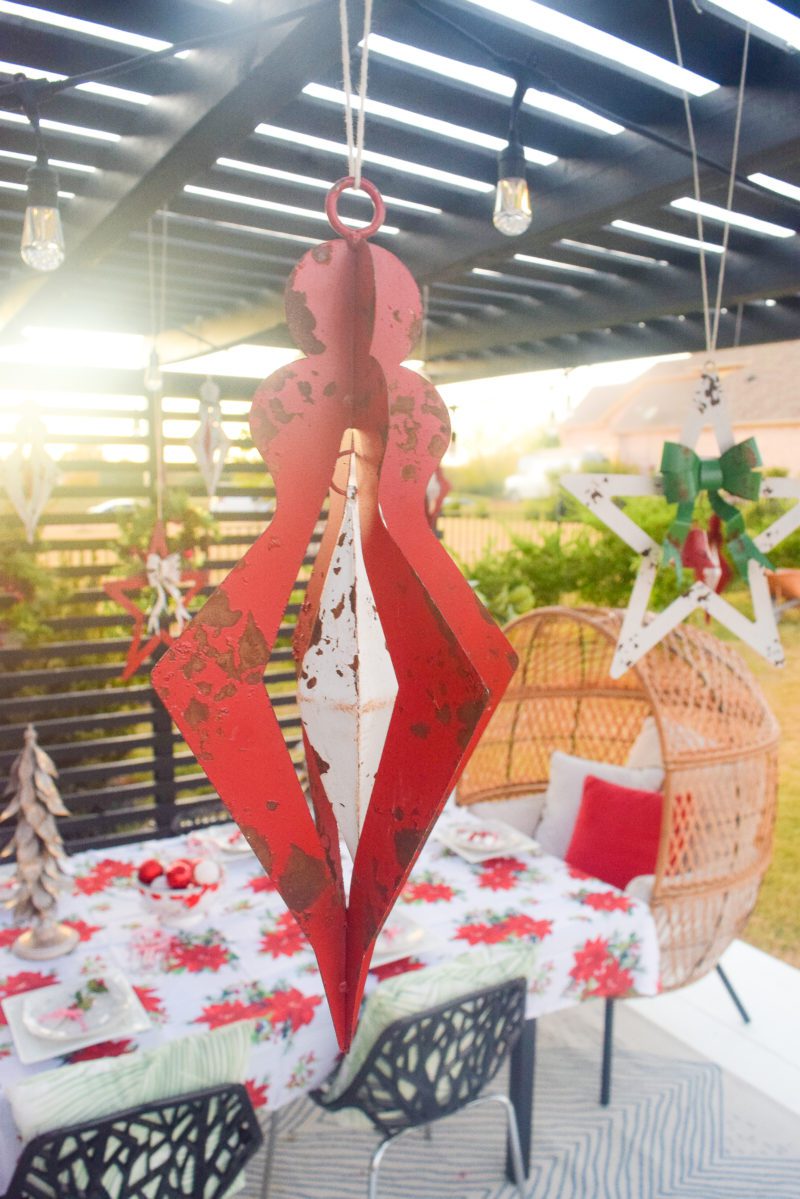 How do I decorate my deck for Christmas?
Let's deck the halls deck!
When I saw these oversized metal ornaments from Burke's Outlet, I knew they would be perfect hanging from our outdoor deck! When looking for outdoor Christmas decorations, I try to find several large scale decor items. This helps bring the decorations to scale for the outdoor space.
I purchased a mixture of the large red diamond and white diamond ornaments, along with the star shaped bell ornaments.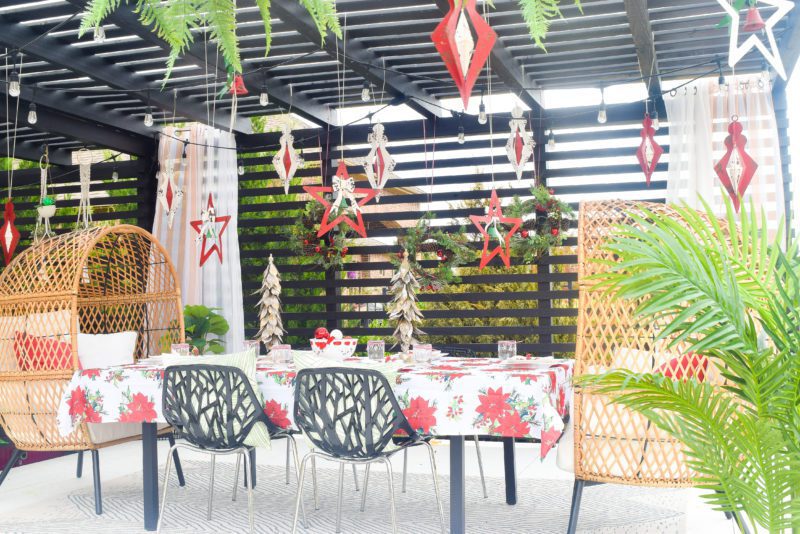 Supplies I used for hanging large Christmas ornaments from the back deck:
neutral color string
ladder
scissors
ornaments
I hung the oversized ornaments in random locations trying to not have a specific pattern. I made sure to hang the ornaments at various heights to give the outdoor space more depth.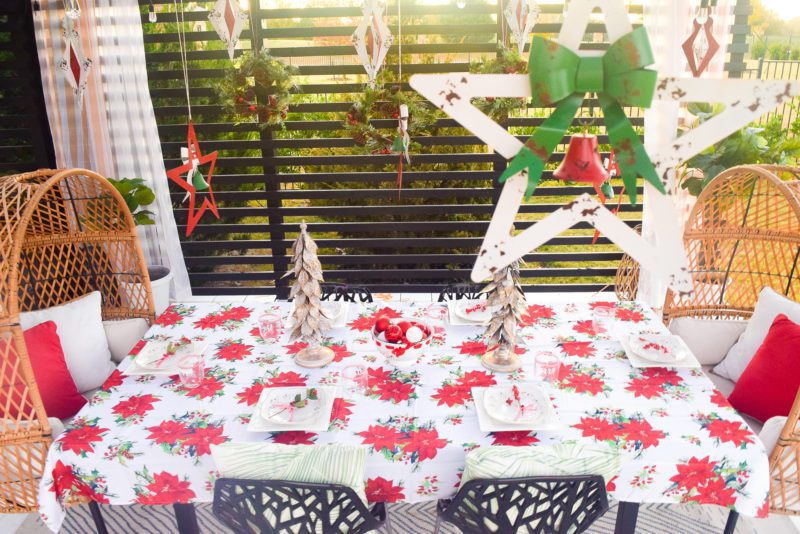 red diamond ornament | white diamond ornament | star bell ornament
The red star ornaments I hung lower over the Christmas patio table. The lower star ornaments hanging over the holiday table are a fun focal point for the Christmas tablescape.
I love this whimsical holiday scene! These oversized ornaments are perfect for easy + simple back deck Christmas decorating ideas.
Our dogs Elsa and Aggie are loving the new Christmas deck decor 🙂

Festive Holiday Brunch Ideas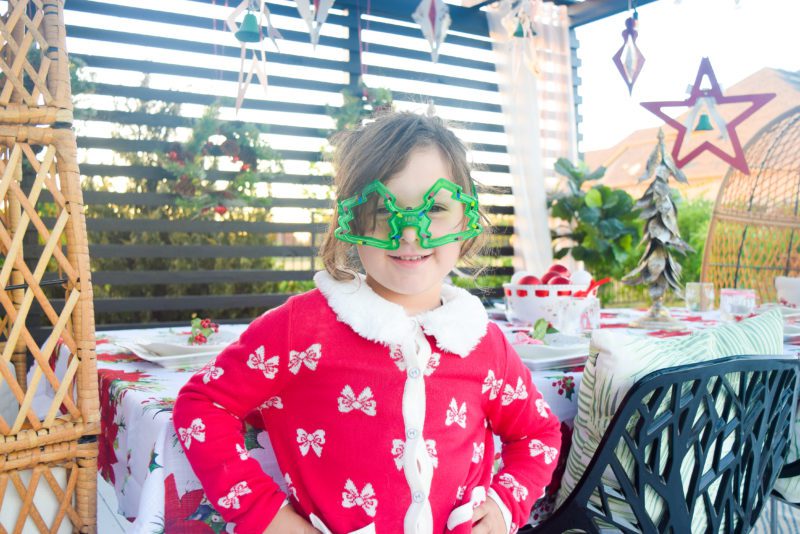 My kids had fun helping me decorate! I told them we were Santa's helpers and we got all "decked out" (see what I did there?) with silly holiday headbands and light up Christmas tree glasses.
Once we finished decorating our outdoor Christmas decorations, we had a much needed holiday treat at our new festive table.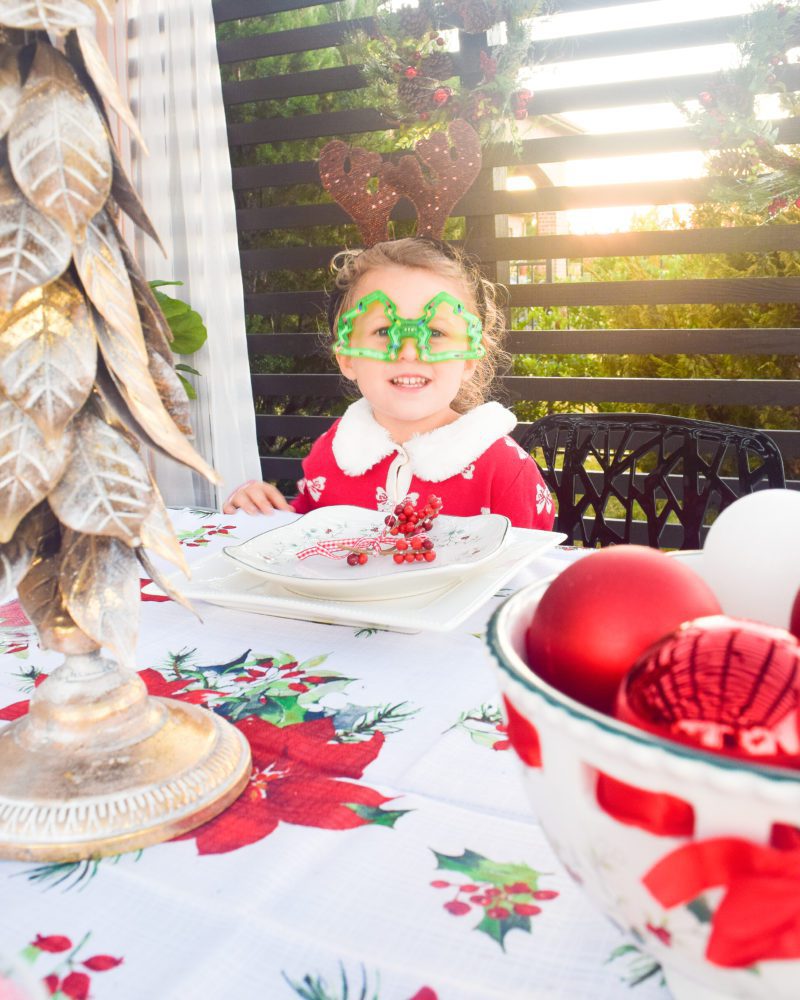 If you are planning outdoor gatherings this holiday season for a Christmas brunch or holiday meal, you can create your own outdoor brunch decor too.
Gather with your family outside and decorate your own magical space in your backyard.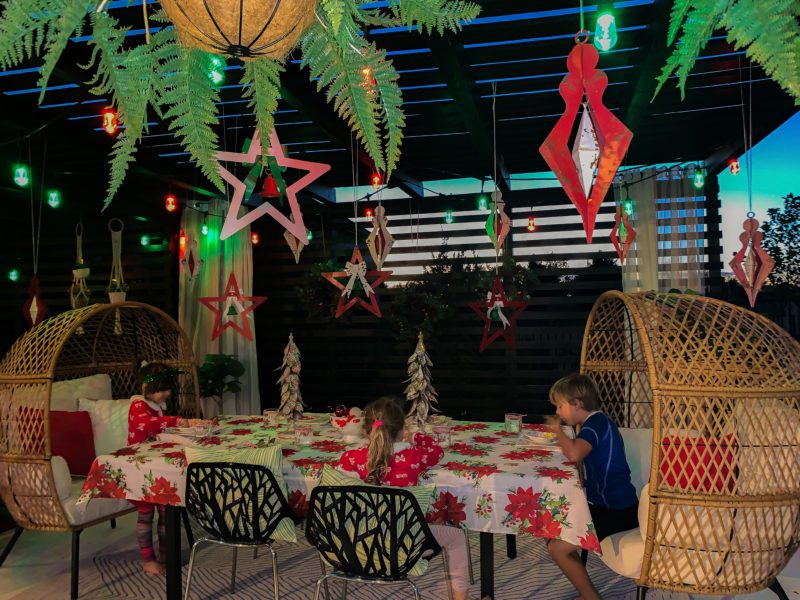 You can also hang red and green Christmas string lights and have a magical night time Christmas Eve dinner.
I love these color changing string lights we hung in our backyard a few years ago, you can change the colors based on the holiday and season.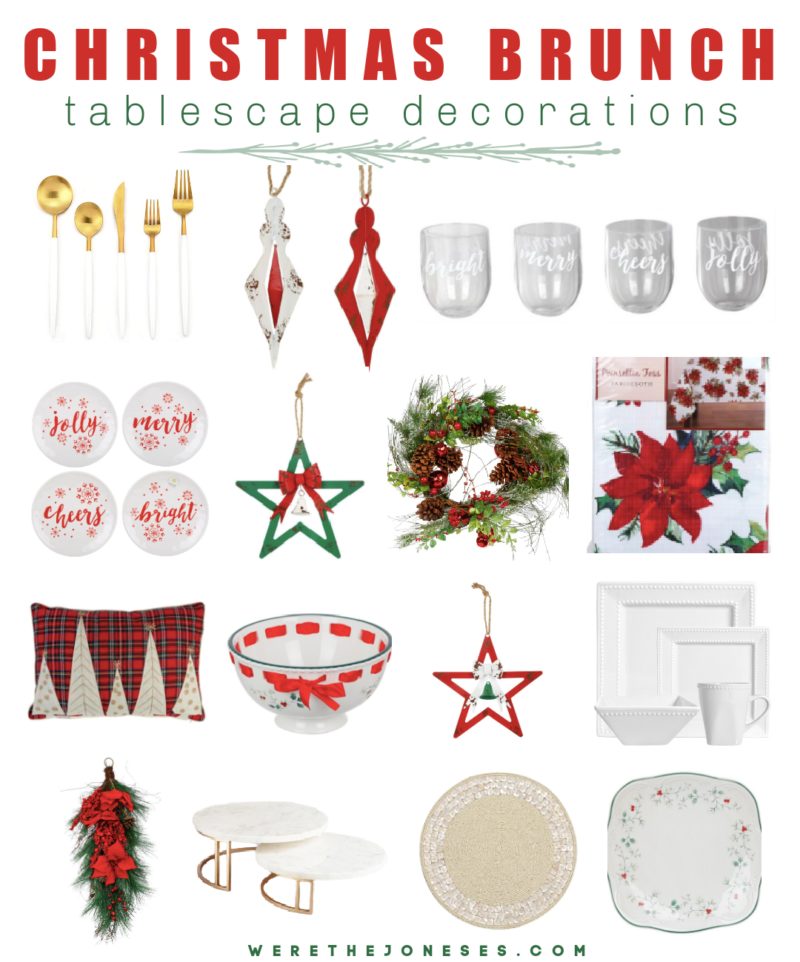 Are you planning an outdoor holiday family gathering this season? I hope these easy Christmas tablescape and outdoor holiday decor ideas help you with your own outdoor Christmas decor!
Happy outdoor holiday decorating!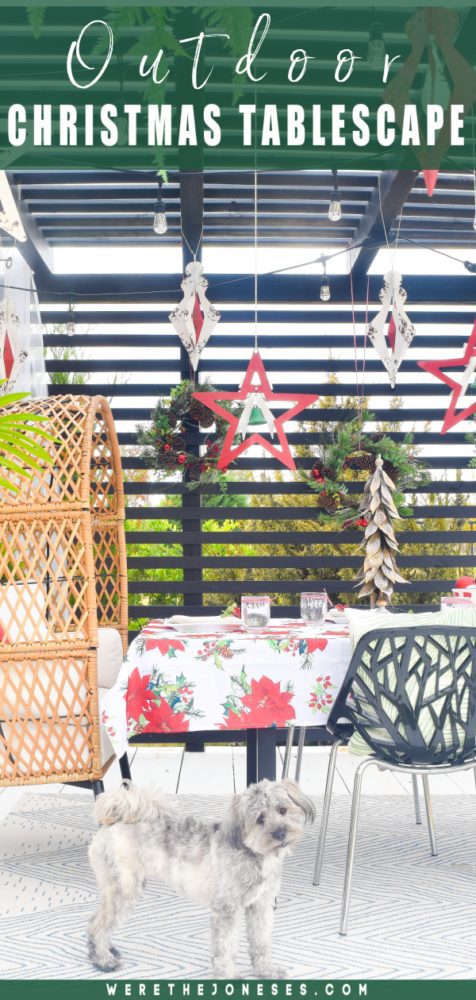 Modern Christmas Decor You'll Love:
Blush Pink Christmas Kitchen Decor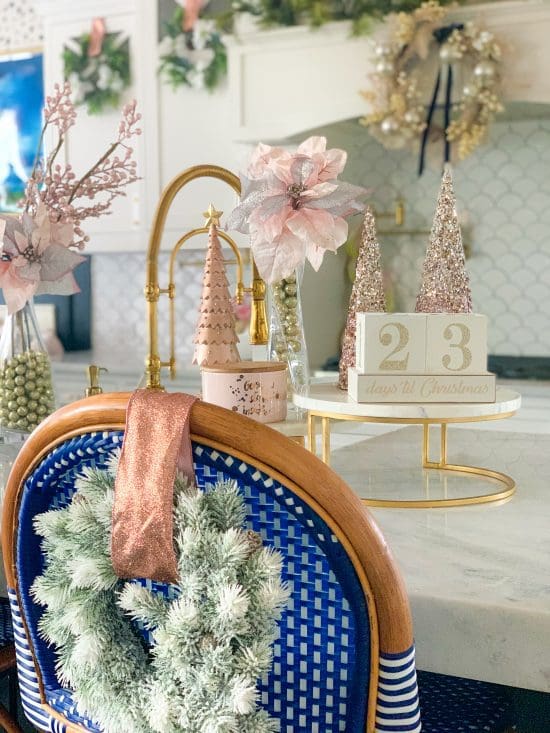 How to Decorate a Mantel for Christmas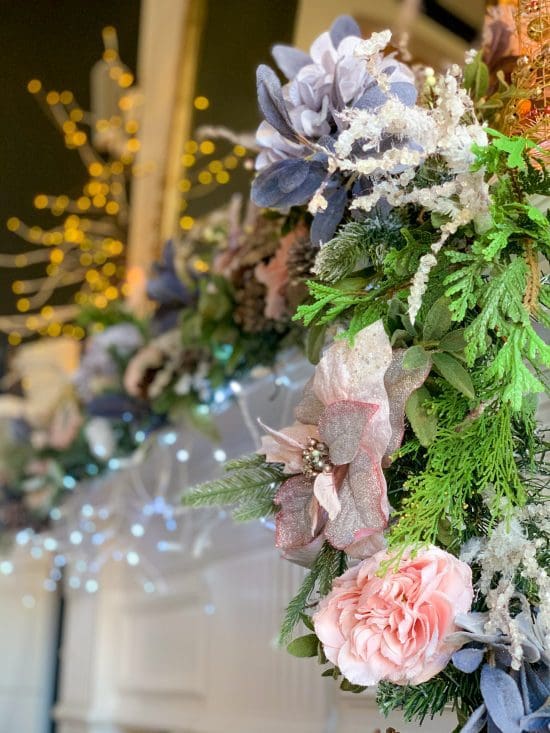 Preppy Pink Christmas Tree Design