I'm excited to show you the modern elegant Christmas mantel I created using soft pastel hues. Blush pinks, pale blues and snowy whites create an elegant and chic holiday mantel. I've also included a step by step tutorial on how to decorate your mantel for Christmas – in 5 easy steps!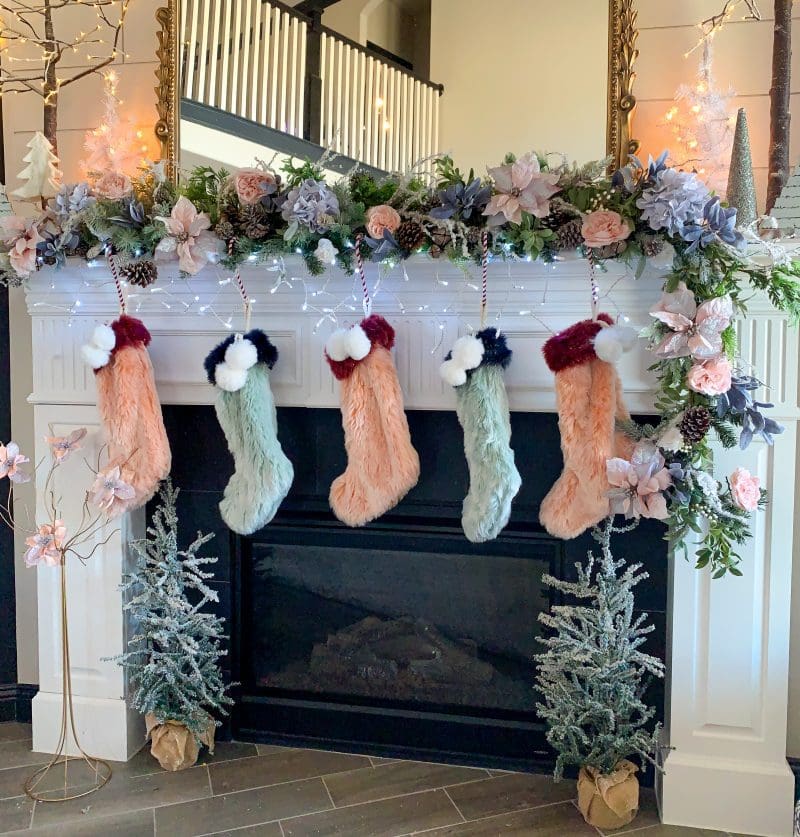 How To Decorate A Mantel For Christmas In 5 Easy Steps
*This post contains some affiliate links for your convenience. Click here to read my full disclosure policy.
It's beginning to look a LOT like Christmas in our home!
I spent the majority of last week and weekend packing up our Fall decor and dragging down the Christmas boxes from the attic. I was surprised how fast I was able to decorate this year – usually it drags on for a few weeks because I'm indecisive on where everything should go. But last year (for the first time) I labeled my boxes by room and that helped make everything so much easier to find! Even though I moved some things around, I was able to remember where I put things from the year before (thanks blog and Instagram photos!) which helped me decide on what to change up and what to keep the same.
I changed a lot of my Christmas decor last year to include more of a soft pastel color palette. I've used a lot of champagne gold and rose gold in years past, but lately I have been adding in pinks and blues (and even a hot pink ombre wreath!) to my Christmas decor. I added a few new pink and blue items this year, but for the most part I'm decorating with Christmas decor I've collected of the past couple years. I wanted to create a modern elegant Christmas mantle using garlands and floral stems from last year's dining table, and also mix in a few lighted trees and Christmas lights to create a festive ambiance.
Creating a Christmas garland for your mantle might seem a little daunting, but it is a lot easier than you may think! I've included a step by step tutorial to help show you how to decorate a mantle for Christmas – in 5 easy steps. Hopefully these simple steps and photos can help you create a beautiful and easy holiday mantle too!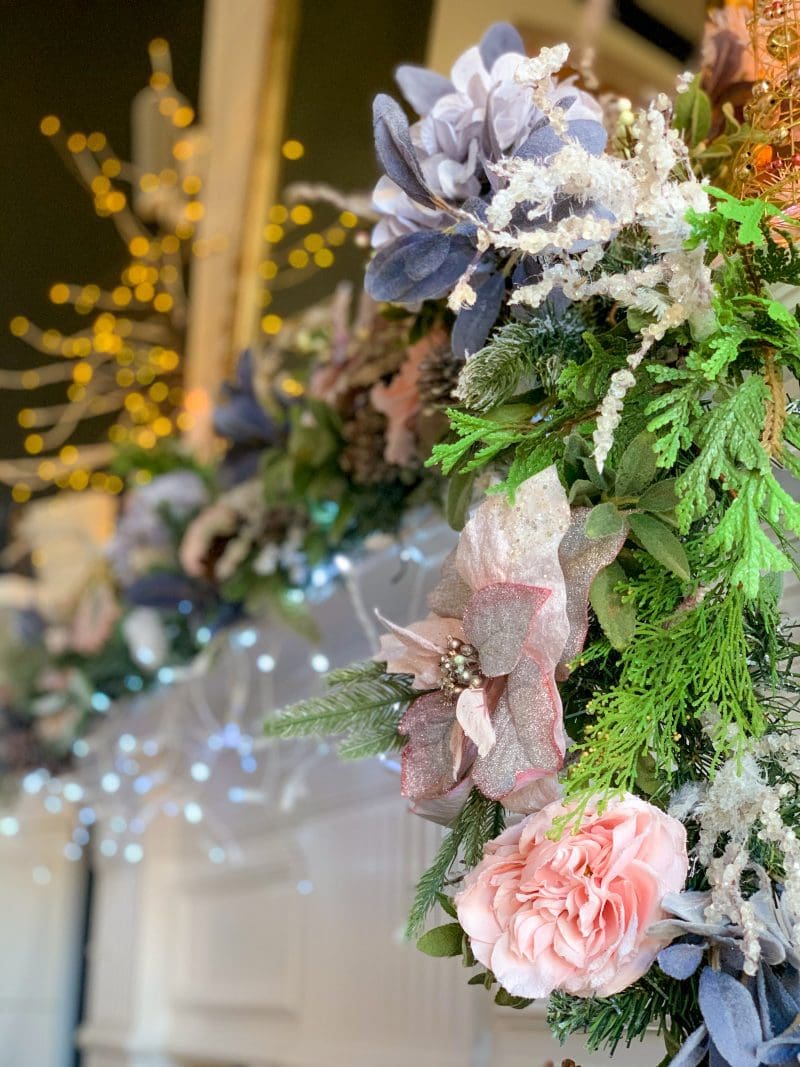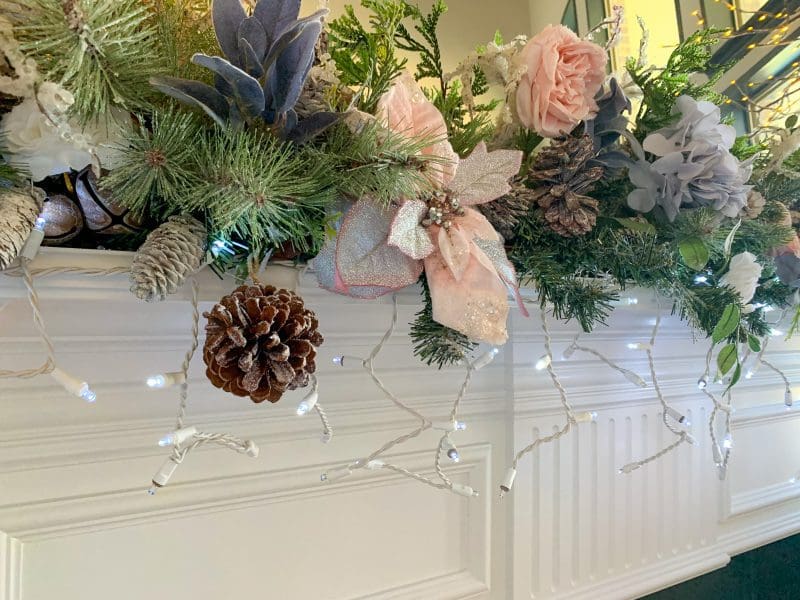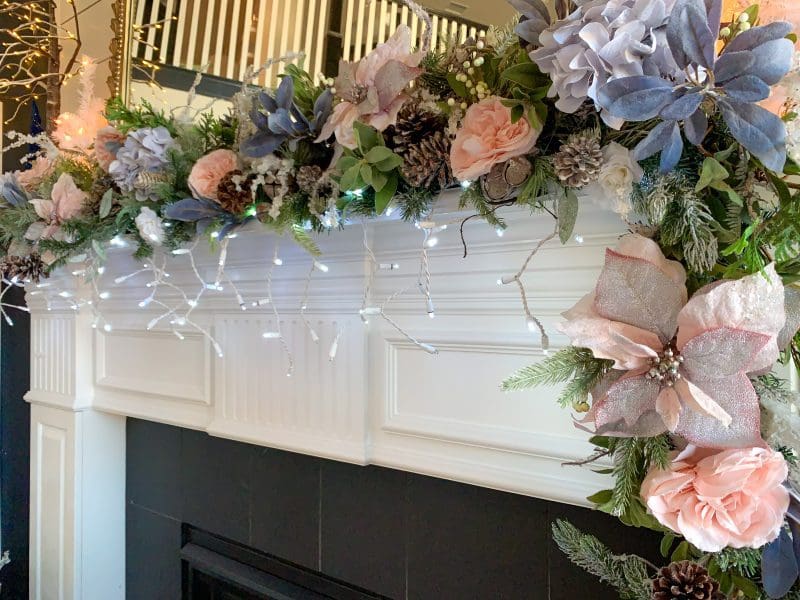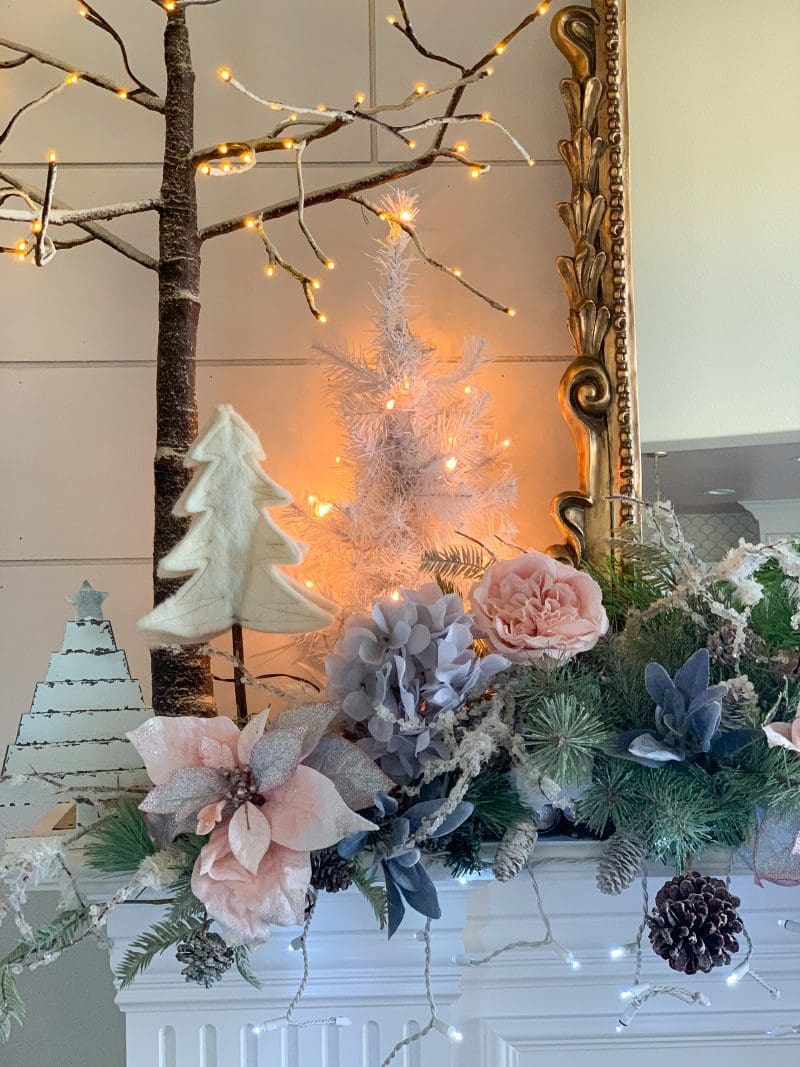 How Do You Make A Christmas Mantel Garland?
These are the 5 easy steps I followed to create my modern elegant Christmas mantel. You can omit any of the steps you like or add in other items as well. These are all Christmas decor items I had on hand to create a festive holiday mantel.
1. Secure Your Christmas Lights
2. Frame Your Mantle with Tall Christmas Decor Accents
3. Layer Christmas Garland Base Layers
4. Add In Christmas Floral Stems and Christmas Foliage
5. Hang Christmas Stockings and Stocking Holders
Let break down these steps a little further with these photos below: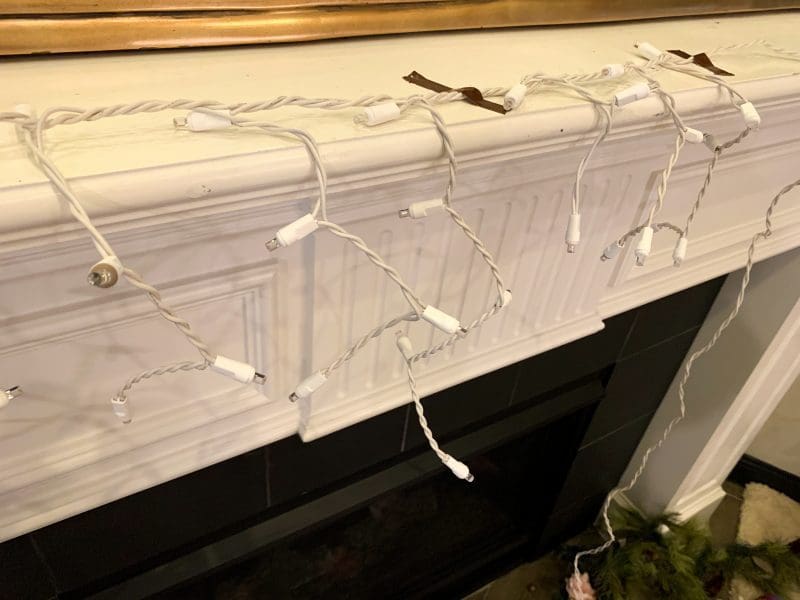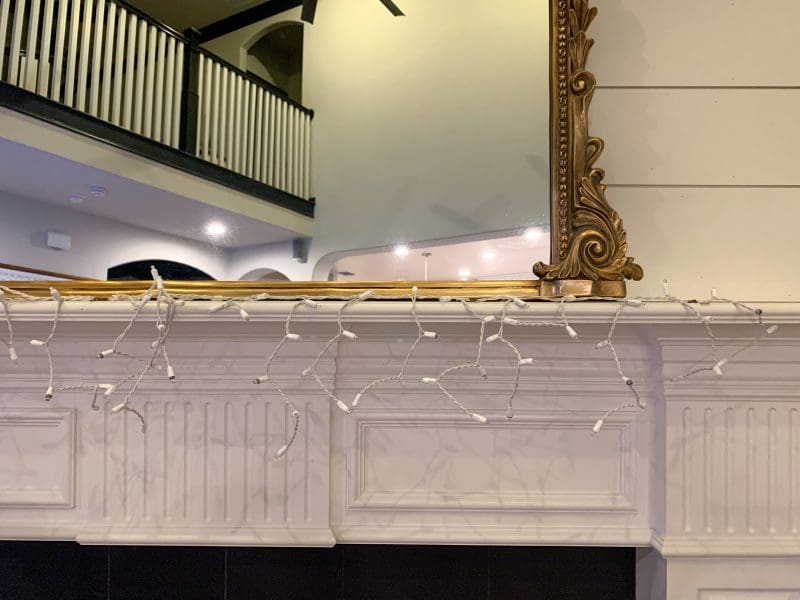 Christmas Mantle Step One: Secure Your Christmas Lights
The first step is to add in your Christmas lights as the first layer.
I wanted to create this Christmas mantel with holiday decor I already had on hand. While looking through our holiday decor in the attic, I found these white icicle lights (that we never use) and I thought they would look so pretty dangling from the fireplace. You can use regular twinkle lights but I thought the icicle strands were a whimsical and modern twist.
I secured the light strands by taping a few pieces of duck tape along the top of the mantel. I wasn't worried about the tape or strands on top showing as they will get covered by garland. We have a plug behind our mirror, so I keep an extension cord laying behind the mirror, and when I decorate for Christmas I plug in lights or trees using this cord behind the mirror. You could also hide an extension cord behind the garland if your plug was further away.
Modern Christmas Mantel Ideas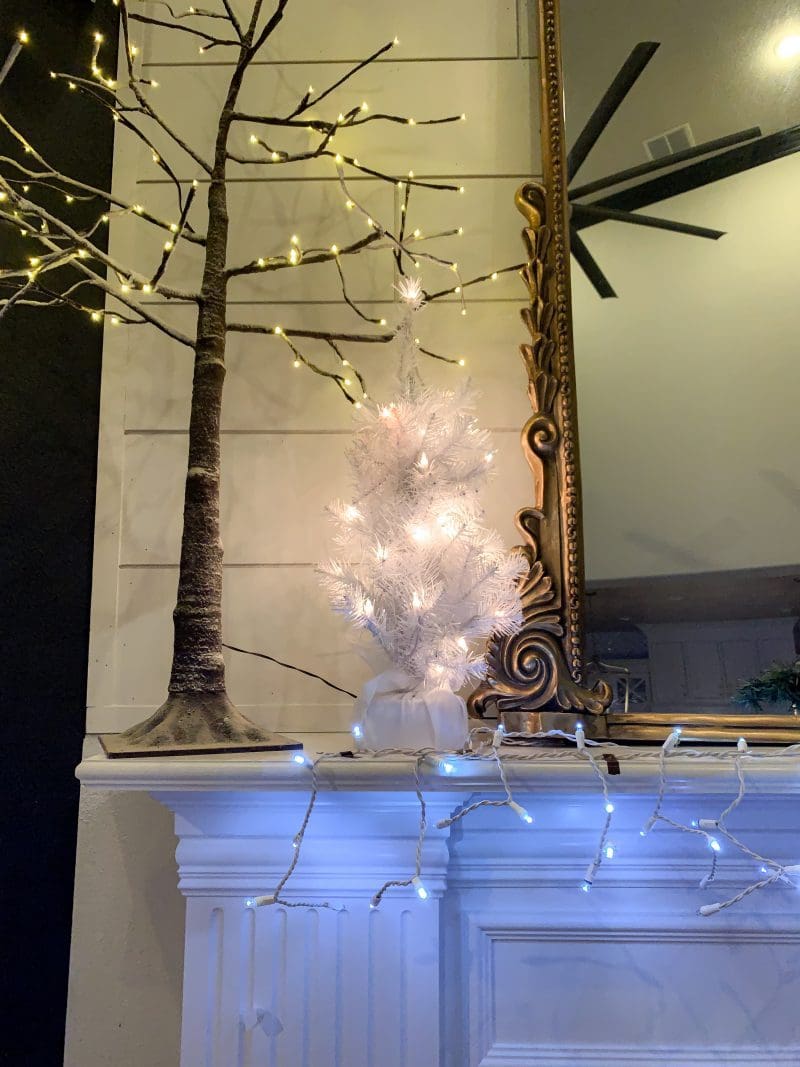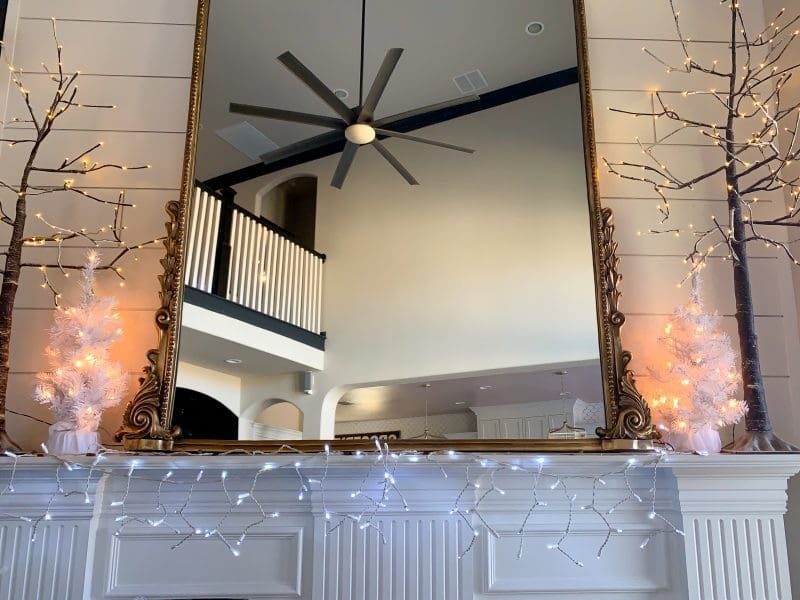 Christmas Mantel Step Two: Frame Your Mantle with Tall Christmas Decor Accents
The second step is to add in tall Christmas decor accents to create "end caps" on your mantel. We have a really tall leaning mirror on our mantel, so I wanted to add in some tall lighted trees to help balance the height.
You could frame your mantel with Christmas trees, pillar or tapered candles, or other tall and narrow holiday accents. You can wait to add these decor items after you make your Christmas garland, but because these trees needed to be plugged in I decided to add them in first.
How Do You Hang Garland On A Mantel For Christmas?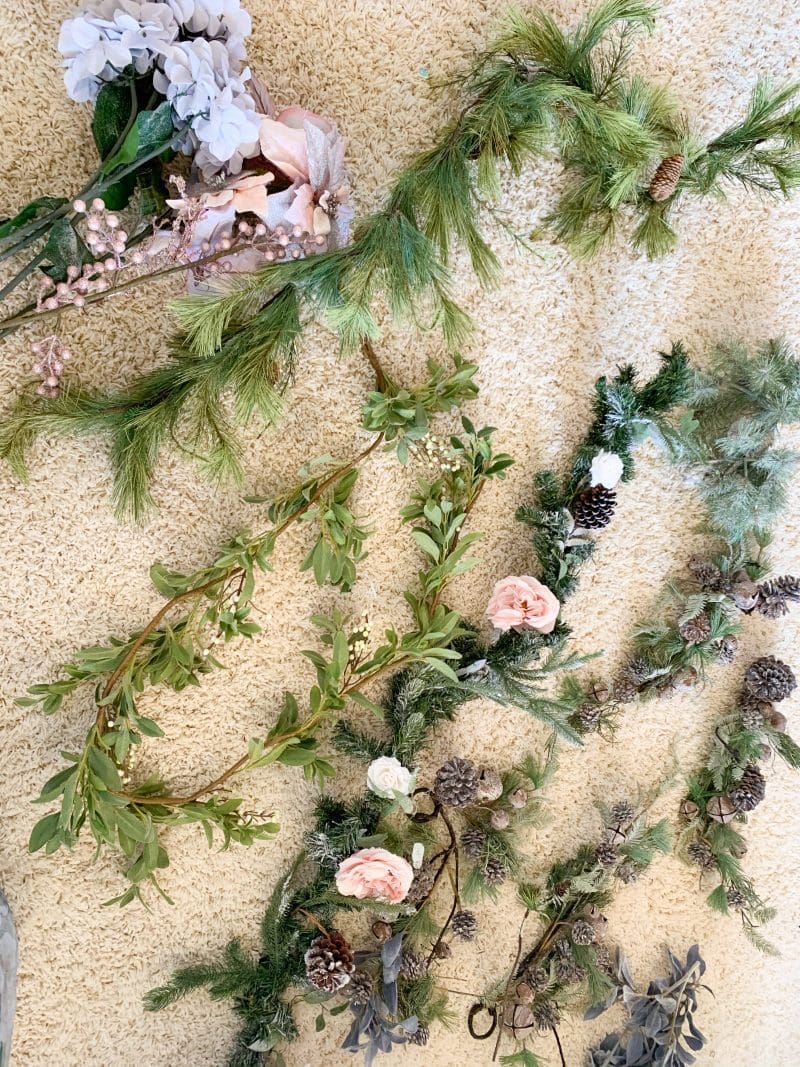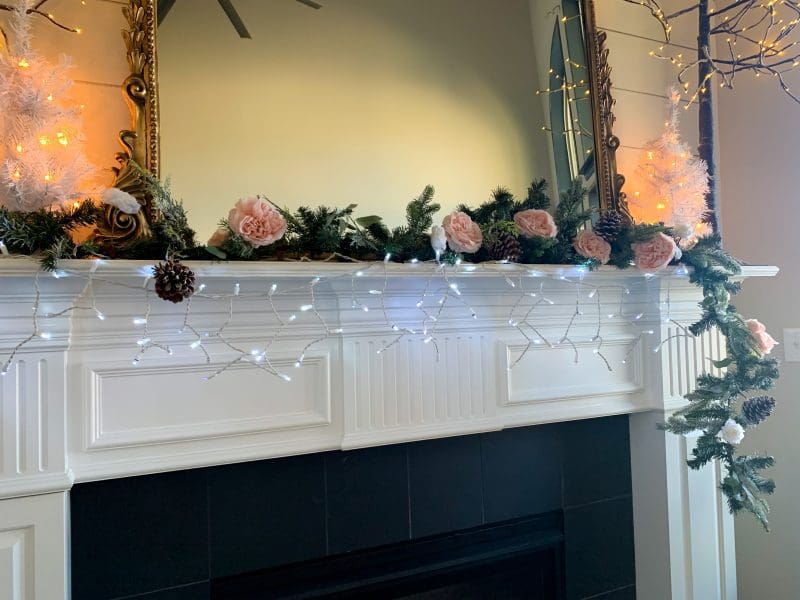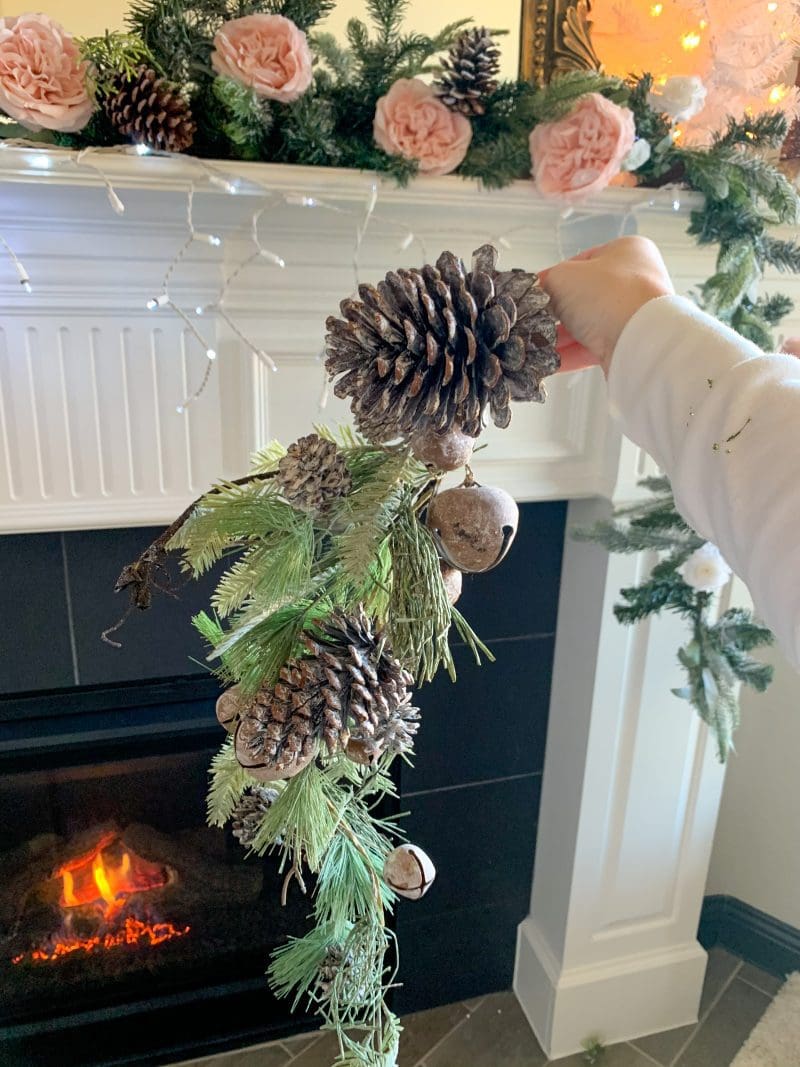 Christmas Mantle Step Three: Christmas Garland Base Layers
Next you can start to add on your Christmas garland layers. I like to lay out all my floral pieces on the ground so I can visualize how many items/what colors and textures I have to work with. I might not use everything I lay out, but it's always good to have options. I decided to start with a Christmas pink peony garland first. For the first layer of Christmas garland, I like to secure a few branches of the garland to the top of the mantel with small pieces of duck tape. This helps the garland lay more flat and stay in place. I also wanted to create an asymmetrical design, so I let a little bit of the garland hang off on the right side.
I added in a few more pieces of Christmas garland on top of the peony garland. I tried to select garlands that had different foliage to create more texture and interest. When securing the next layers of garland, I will take one of the wired stems and wrap it around a branch from the base layer garland. Do this on four or five sections of the garland to help it stay in place. Fluff all the branches and foliage in various directions to create a fuller and more lively look. Because all the garland stems are wired, it is easy to bend and maneuver the garland to go in the direction you are wanting.
Holiday Mantel Decorating Ideas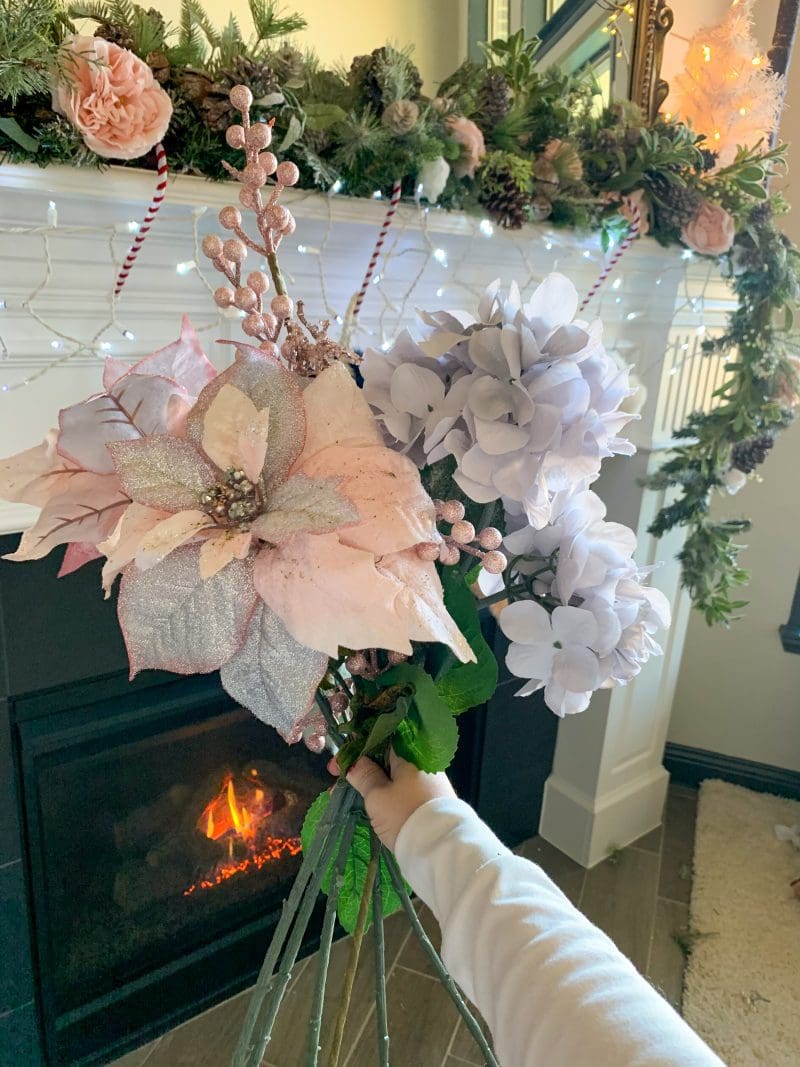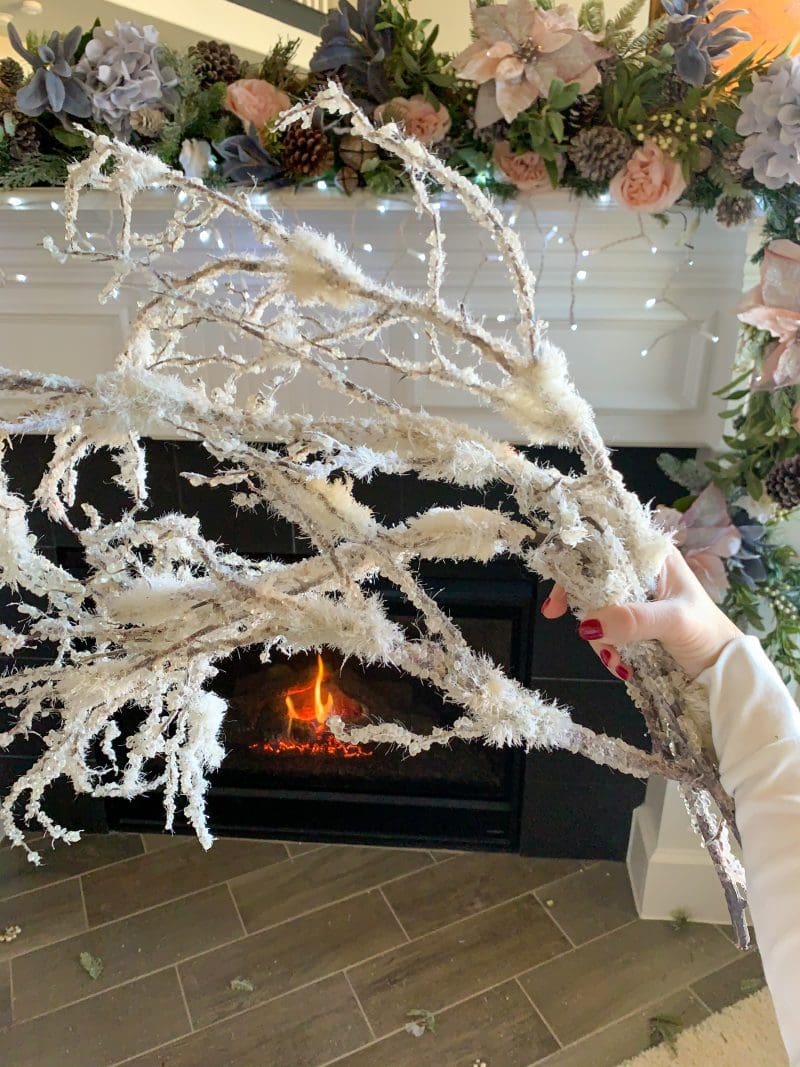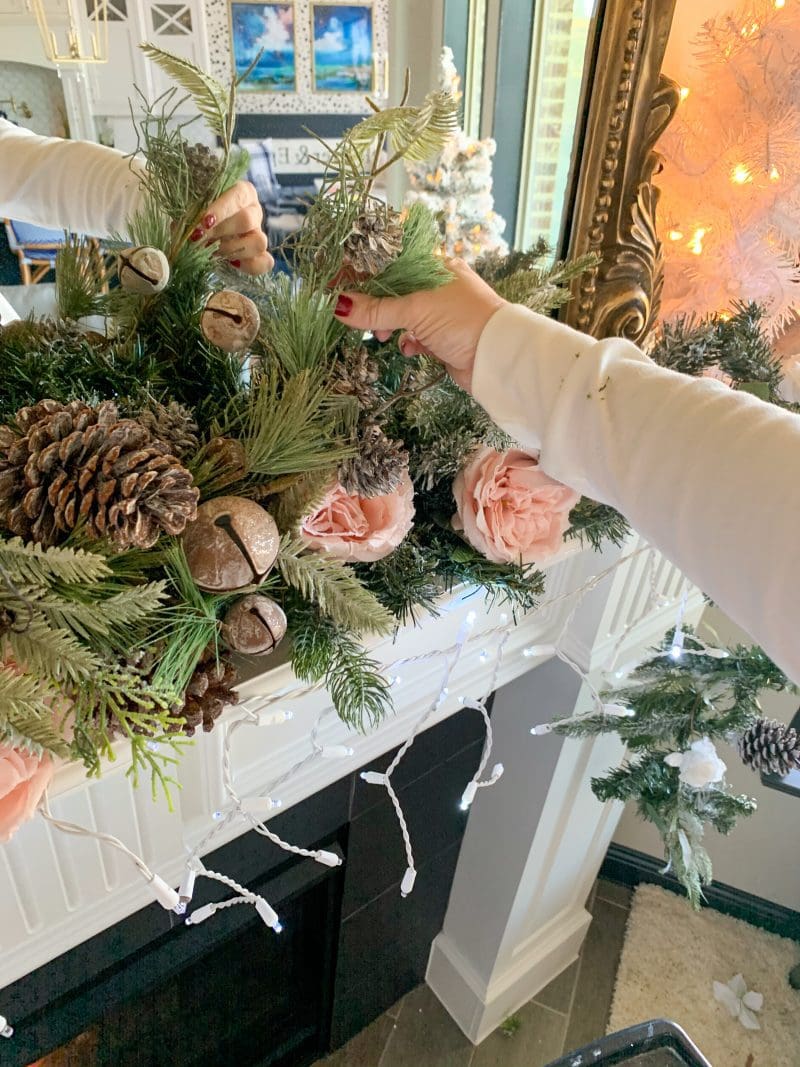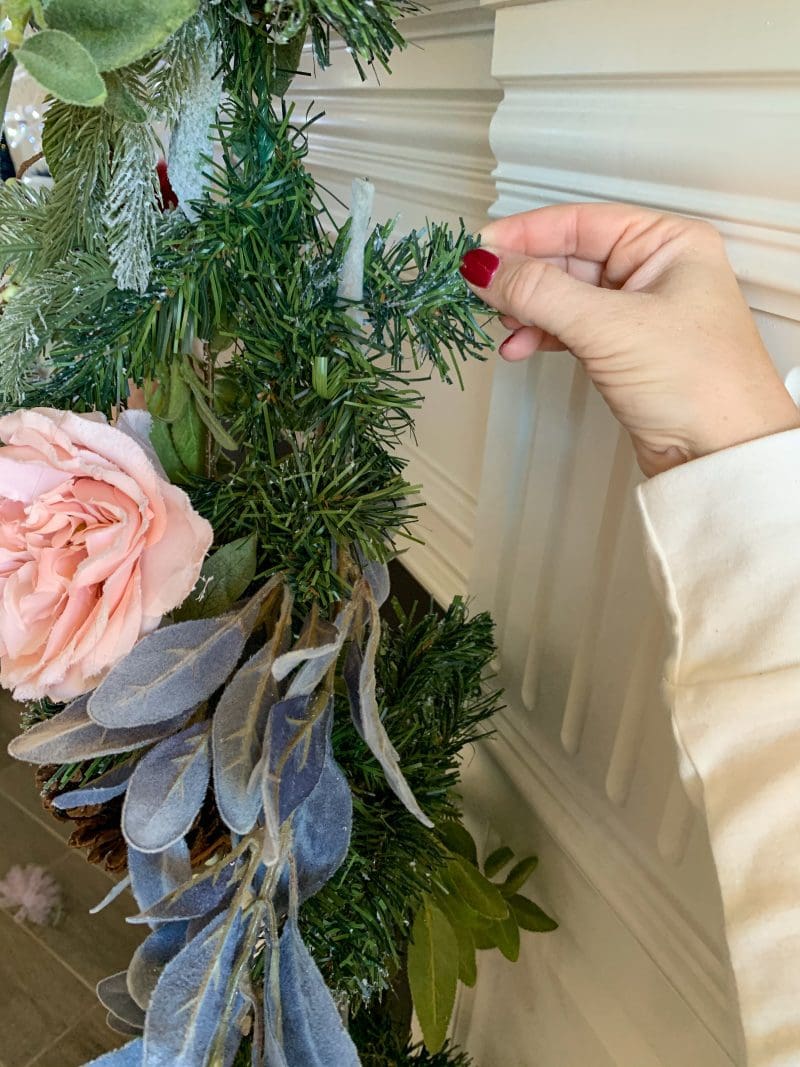 Christmas Mantel Step Four: Add In Christmas Floral Stems and Christmas Foliage
After you've created your base layers of Christmas garland, the next step is my favorite part – adding in pretty floral stems and foliage! This is where you can get creative on the Christmas florals and decor accents you want to add in. You can use other focal pieces like Christmas ornaments or decorative Christmas trinkets too.
Look for areas that have holes to fill in with. Try to use Christmas floral and foliage of varying heights and textures to add more visual depth to the garland. I chose blush pink poinsettias, pale blue hydrangeas, pink frosted berry stems, and snowy white branches to add in to my Christmas garland. I try to place the stems snug and secure around the existing garland, and in areas that aren't as secure I will wrap the stem around a piece of the garland to hold it in place.
Fireplace Christmas Decor Ideas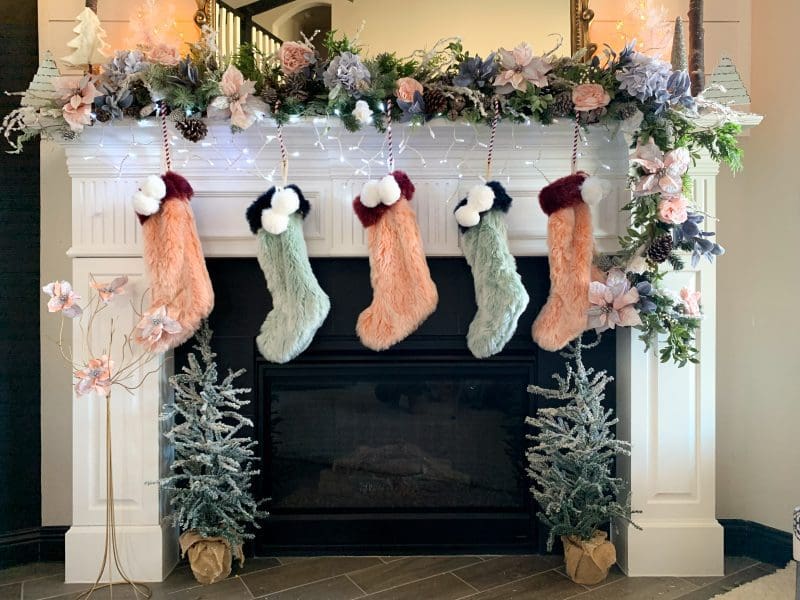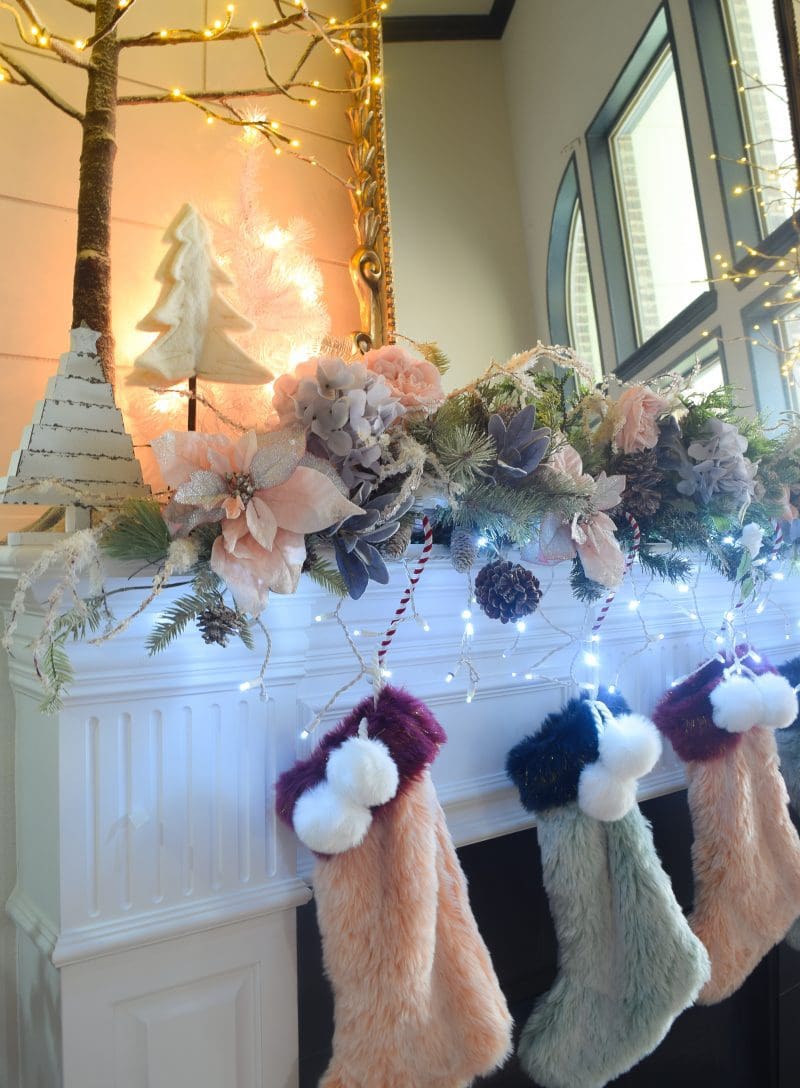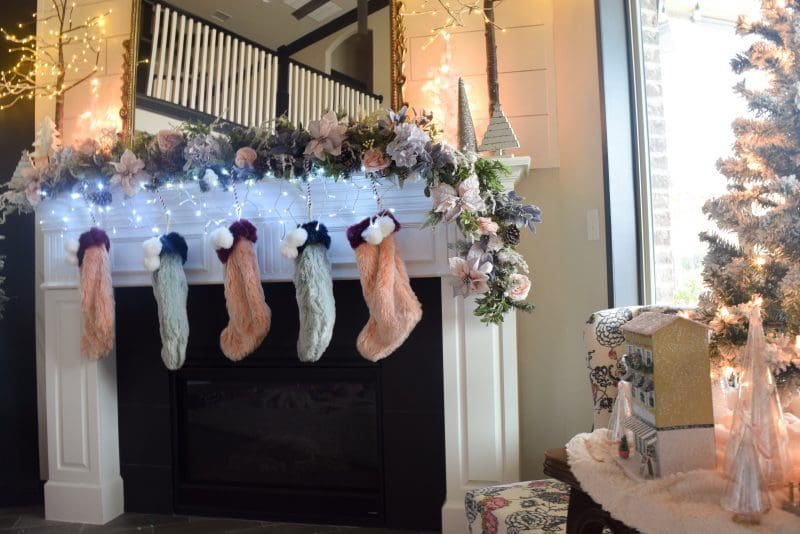 Christmas Mantle Step Five: Hang Christmas Stockings and Stocking Holders
Now that you're done creating your Christmas garland, the last step is easy – Hang your Christmas stockings and stocking holders! I found this adorable faux fur stocking at Anthropologie last year (these are out of stock, but I found some similar ones below) I also bought these candy cane stocking holders several years ago, and while I don't use much red in my Christmas decor anymore, I think these are so cute and add in a festive element to all the pastels!
You can also bring in a few Christmas decor accents around the bottom of the fireplace. I added in a few trees to help balance out the trees on top of the mantle.


I hope you enjoyed my modern elegant Christmas mantel tutorial – and hopefully this step by step guide is helpful to you! What items do you decorate on your Christmas mantel? Do you like to use garland or other holiday decor accents on your fireplace?
Happy holiday mantel decorating!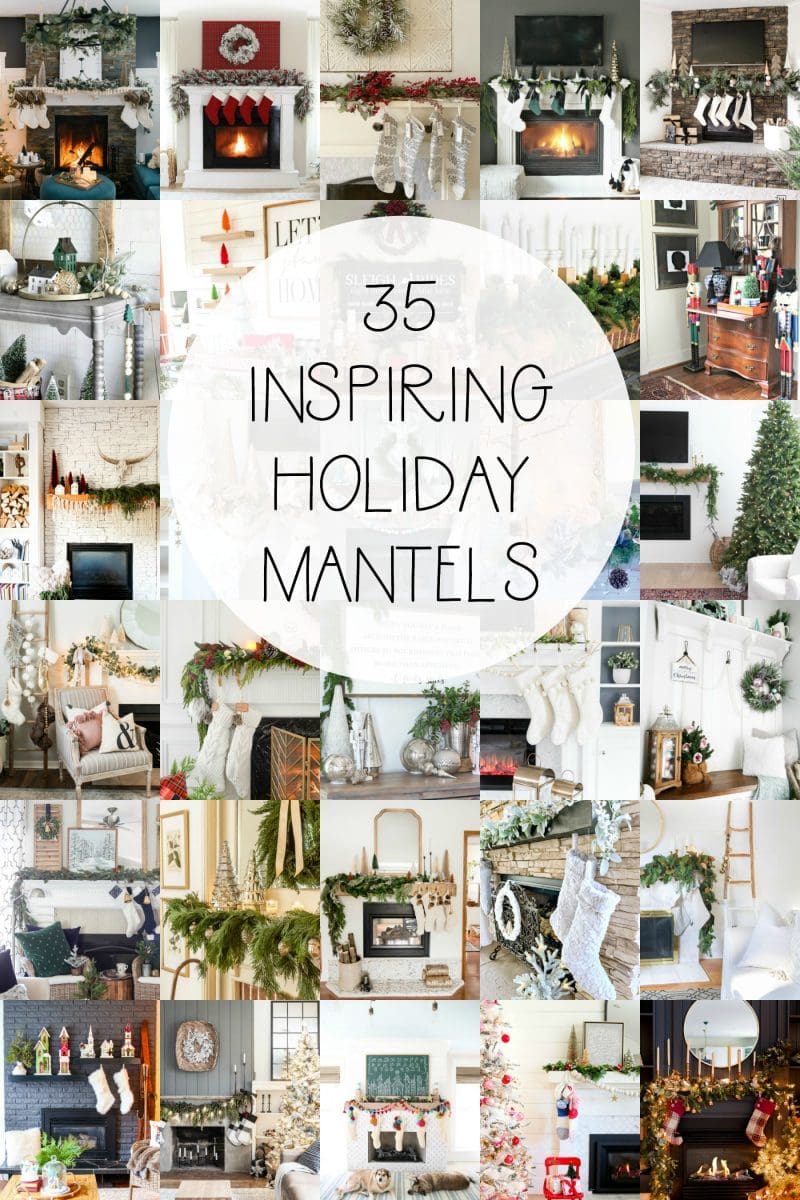 I've joined a group of talented bloggers to share our Holiday Mantels with you! Thanks to Krista from The Happie Housie for organizing this fun Christmas Series! Click on the links below each image to be taken directly to the different posts.
The Happy Housie // Cherished Bliss // The Handmade Home
Modern Glam // Craftberry Bush
House by Hoff // Rambling Renovators // Rooms FOR Rent
Jenna Kate at Home // Just a Girl and Her Blog
The Turquoise Home // Sincerely, Marie Designs // Grace In My Space
My Uncommon Slice of Suburbia // Zevy Joy
Lolly Jane // Tatertots and Jello // She Gave it a Go
Jamie Costiglio //Southern State of Mind
Place of My Taste // Summer Adams Designs // Life is a Party
We Are The Joneses // Kim Power Style
The DIY Mommy // Two Twenty One // My 100 Year Old Home
This is Our Bliss // Taryn Whiteaker Designs
Amber Tysl // Styled With Lace // Happy Happy Nester
Clean and Scentsible // My Sweet Savannah // So Much Better With Age



Looking for more Christmas DIY inspiration?
Check out my DIY Song Lyric Table Runner post HERE!
Check out my How to Flock a Christmas Tree Video Tutorial HERE!
How to Make a Pink Ombre Christmas Wreath Tutorial – HERE!