How to throw a Mermaid Birthday Party (for our Mermaid Twins!) Easy birthday party ideas for twins OR your little one who love all things mermaid! I've included our easy mermaid birthday party decorations, DIY mermaid party food ideas, inexpensive options for mermaid party outfits, and a super simple under the sea themed craft!
Want to see more twin girl birthday party posts? – Check out Genevieve and Georgia's 1st and 2nd birthday parties – Unicorn Birthday Party and Pancakes and Pajamas Party!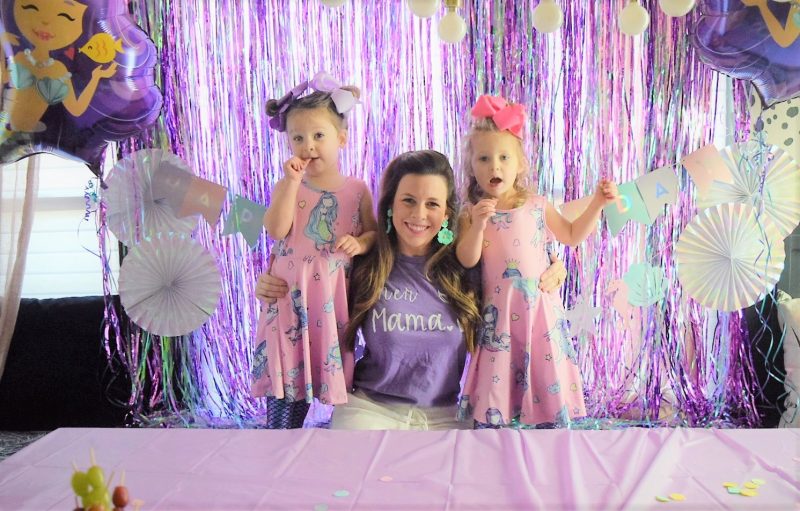 Birthday Party Ideas For Twins
Genevieve and Georgia are three!! Wow how time flies!
I feel like I say this often, but it's so true. The first year with twins I felt like time was moving at a snail pace. It was a hard year to say the least! But after conquering that first year adjusting to twin life, the last two years have flown by. Turning 3 was a major milestone for my girls – they are (finally) developing a deeper loving twin bond with each other that I had been hoping and praying for. They are playing better together and even stick up for one another. I can't wait to watch their special bond develop even more and more as the years go on!
Genevieve and Georgia both love mermaids and when I asked them what they wanted their birthday party theme to be this year the both agreed they wanted a mermaid theme! They dressed up as mermaids for Halloween so it seemed fitting that they would want a mermaid themed birthday party too.
I wanted to have a budget-friendly party this year but also still be able to decorate with cute mermaid party decor, food, and of course, mermaid outfits! I found lots of fun + inexpensive party decorations and outfits on Amazon and Etsy that I share below!
SCROLL TO BOTTOM FOR OUR MERMAID BIRTHDAY PARTY SHOP!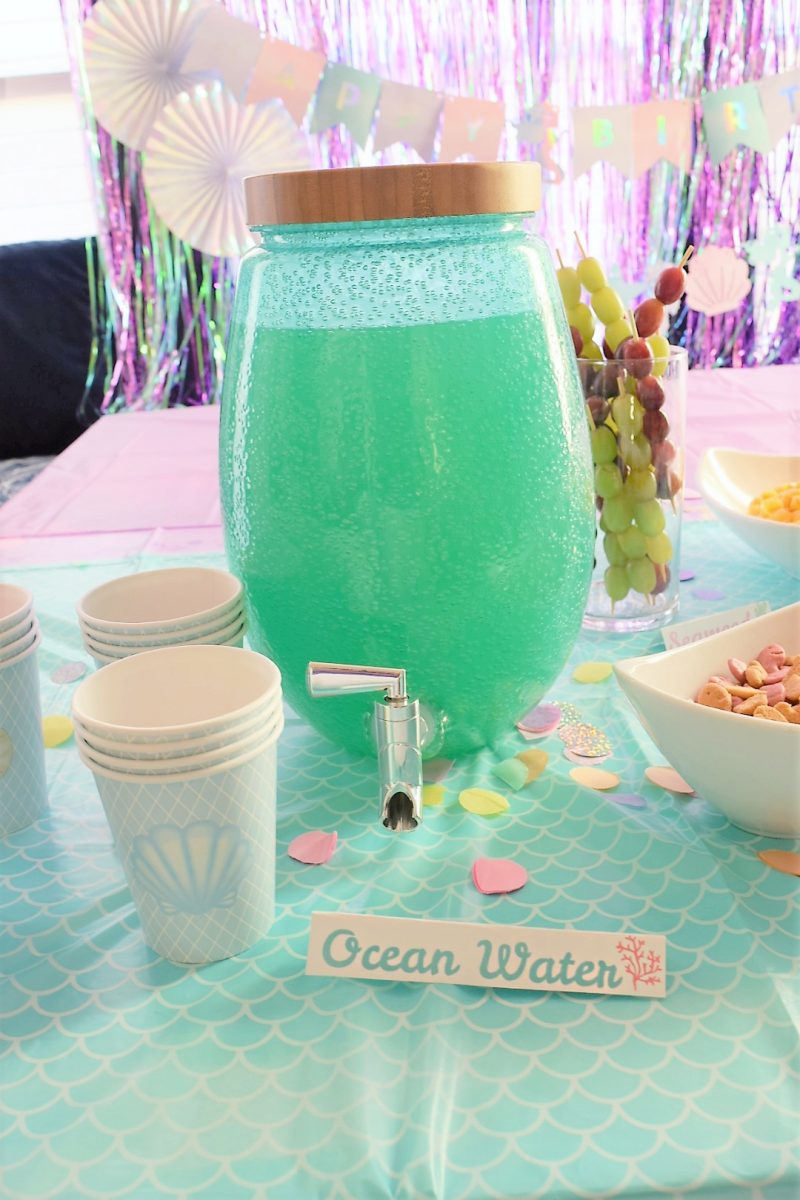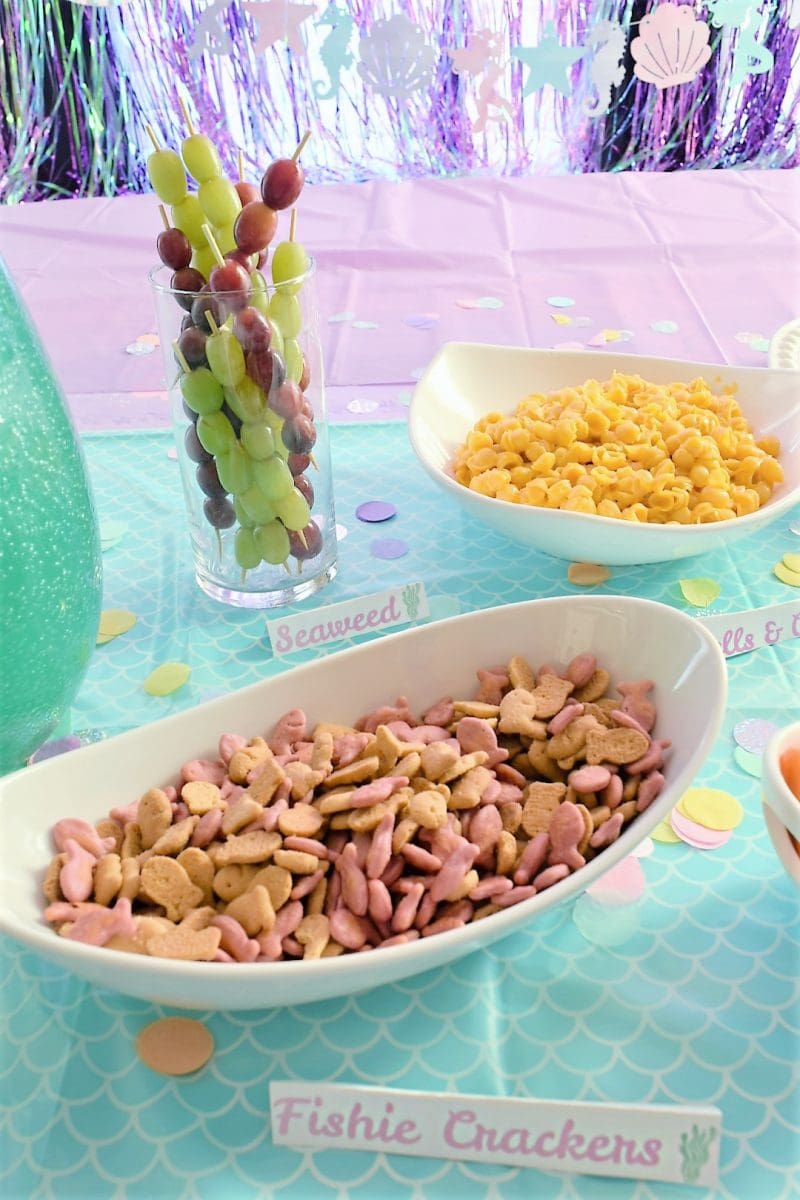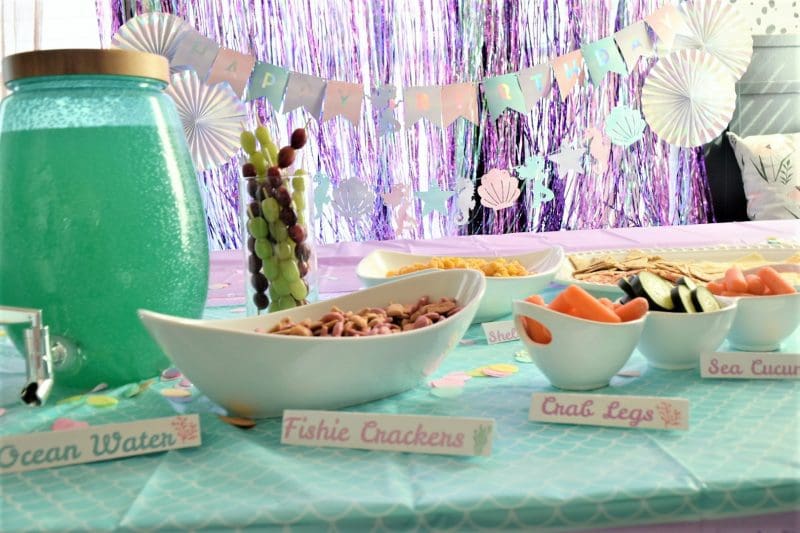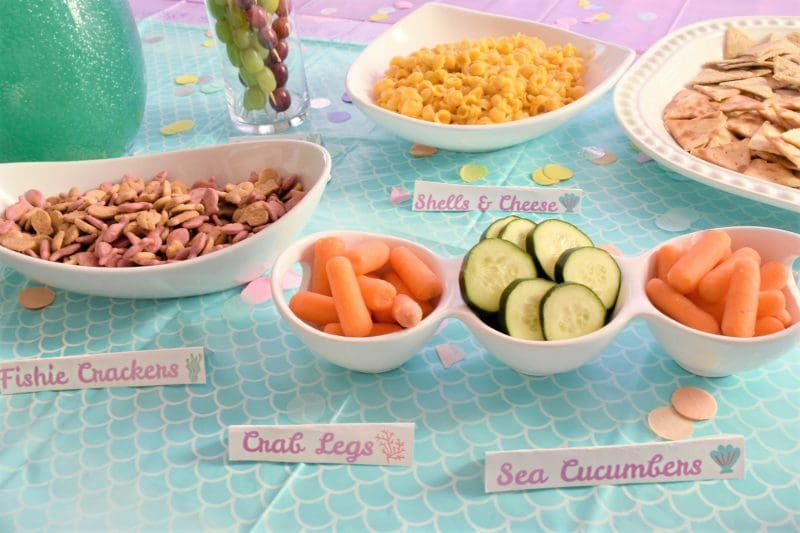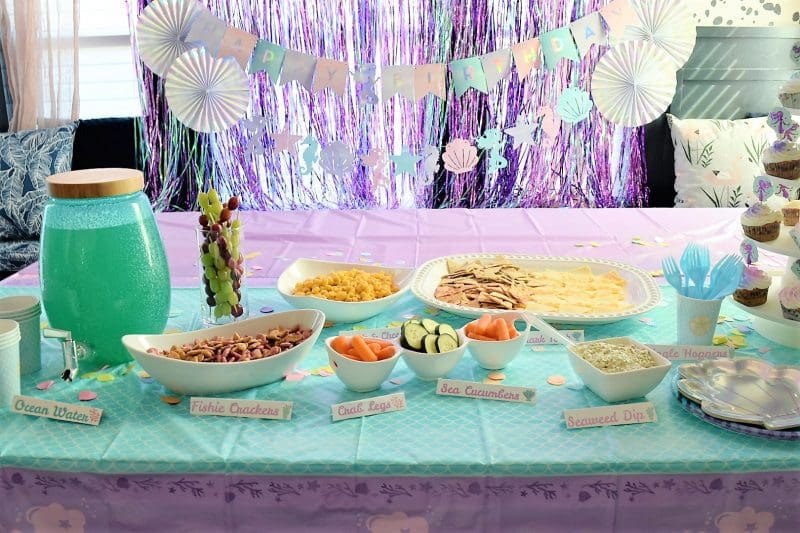 Mermaid Birthday Party Decorations
A lot of our Mermaid party decor I found at Stesha Party on Etsy – they have so many cute and affordable party supplies options. A few items I bought were the large mermaid balloons, mermaid happy birthday banners, pastel rainbow confetti and the mermaid tablecloth.
I love creating an easy party backdrop for food tables and photo ops. I keep it simple with a few foil fringe backdrops, iridescent paper fans, and a mermaid banner. You can layer the foil fringe backdrops with several fringes together to make it look more full, and in different colors for added depth.
Another favorite way of mine to add cute decor at a party – themed party food! It serves two purposes in one, and it's always the hit of the party with little ones. My favorite under the sea themed party food is listed below!
Mermaid Party Food Ideas
dingle hoppers - forks
fishie crackers - goldfish
ocean water - mermaid punch drink
seaweed - grapes on skewers
shells & cheese - macaroni and cheese
shark teeth - cheese and crackers
seaweed dip - spinach drip
sea cucumbers - cucumbers
crab legs - baby carrots
I also shared my easy 3 ingredient Ocean Water Mermaid Punch recipe here! It's super yummy and simple to make!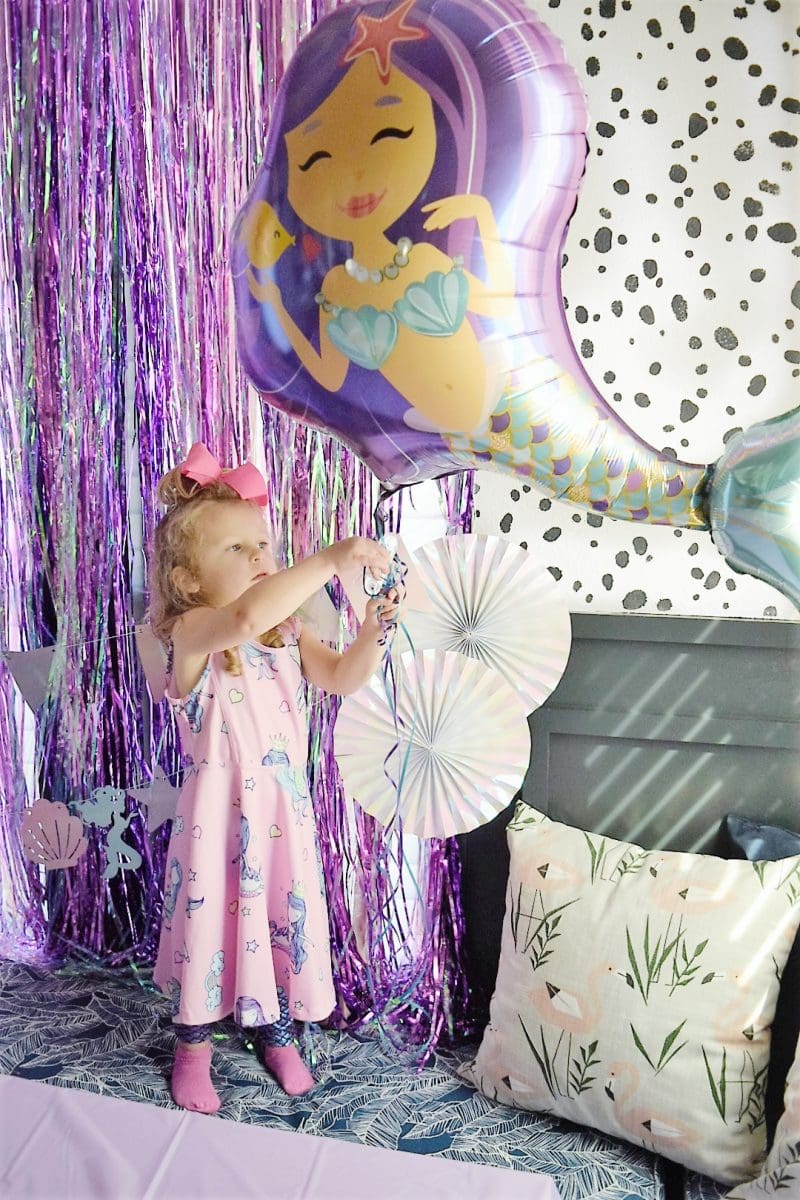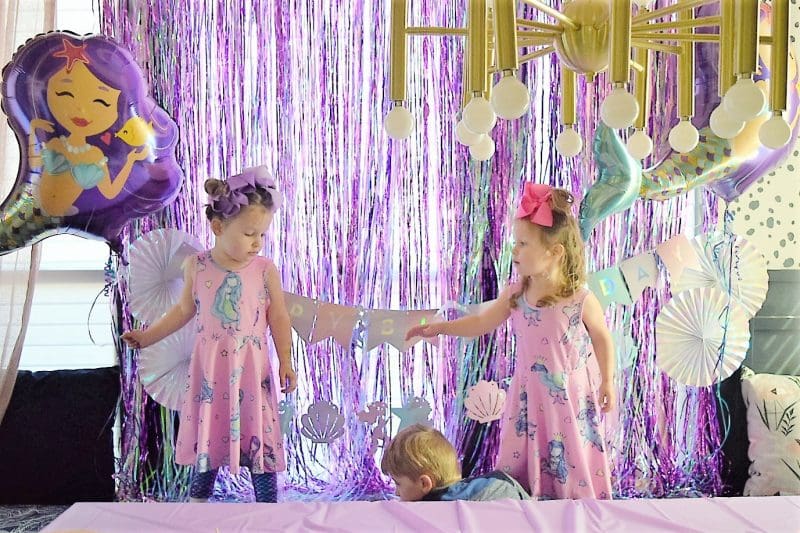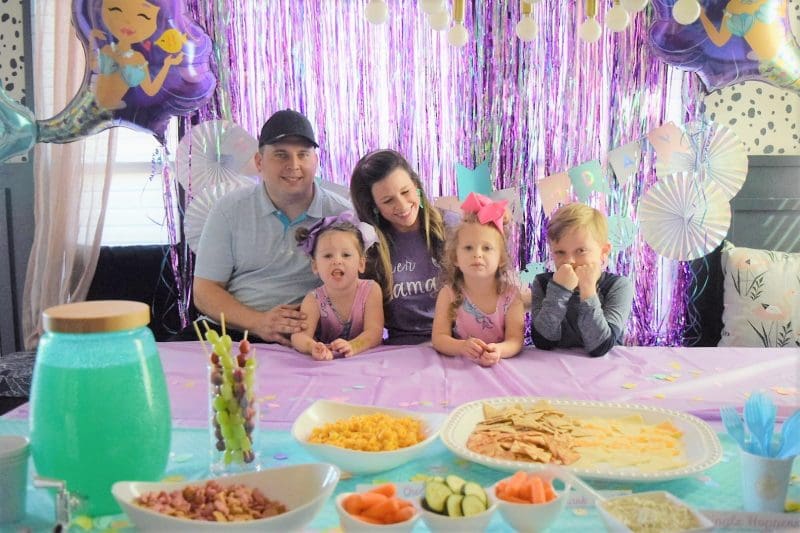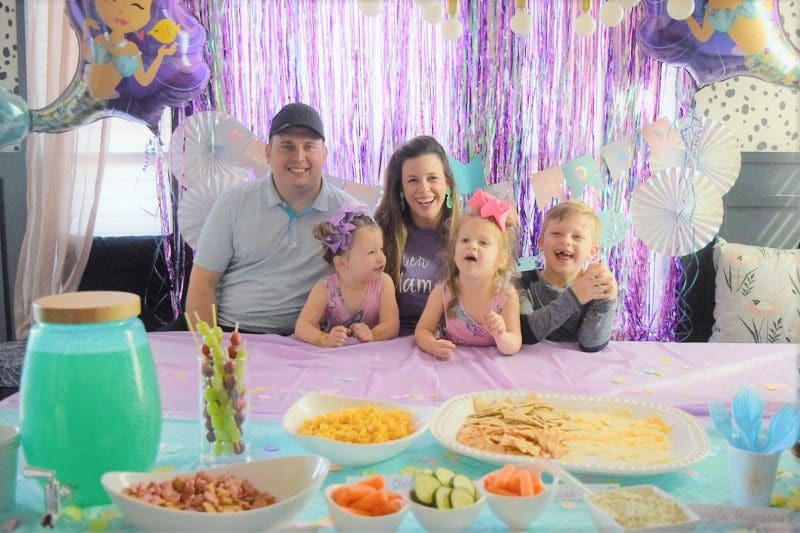 Mermaid Birthday Party Outfits
I found lots of adorable mermaid themed party outfits on Etsy, but this year I wanted to keep it simple – no fighting the terrible 3 tantrums over outfits they didn't want to wear! Both Genevieve and Georgia love flowy swing-type dresses, and when I found
these on Amazon
I knew they'd be a big hit! They were really affordable, so I bought several different mermaid options and let the girls pick which one they wanted to wear.
The girls LOVE these
dresses
so much, we've even bought several
more
! They wear these dresses at least 2-3 times a week at school…I'm sure their teachers are thinking do they have any other clothes? But these
dresses
are their absolute favorites and it's all they want to wear. I was happy that the mermaid birthday outfits we chose can be worn even after their party and aren't just a "one and done" type birthday outfit.
Their school also had a big party for the girls on their birthday, which was so sweet! We got to decorate the gym with mermaid tablecloths, plates and napkins and a mermaid cake to share with both of their classes. For their school party, they wore
these mermaid tshirts
and
mermaid leggings
(another favorite they were at least once a week!) and
these mermaid shoes
. I also got a "
Mer-mama" shirt
to wear at their party that I loved!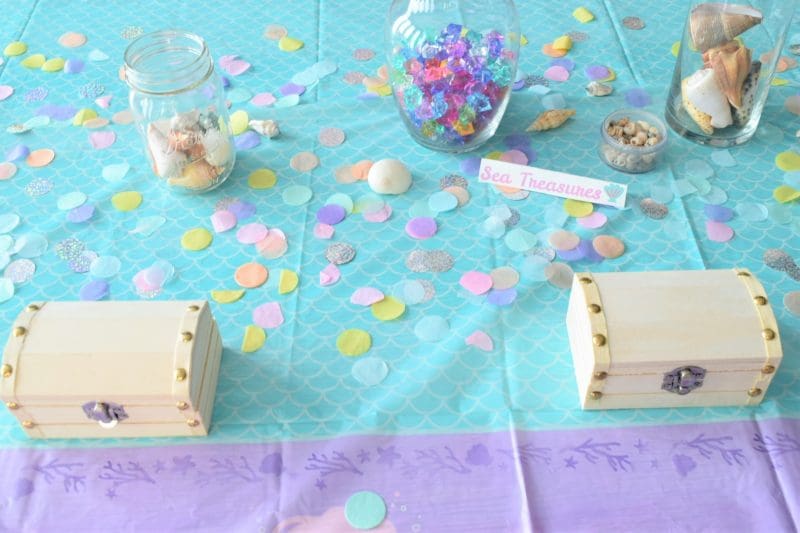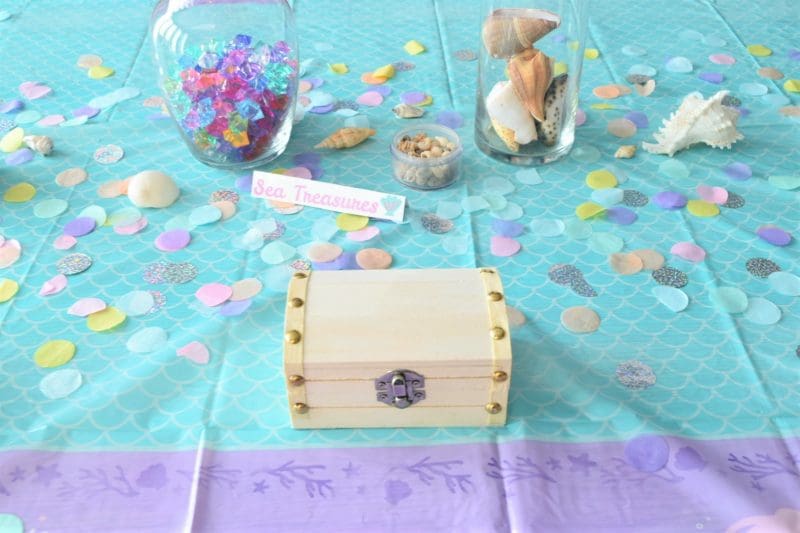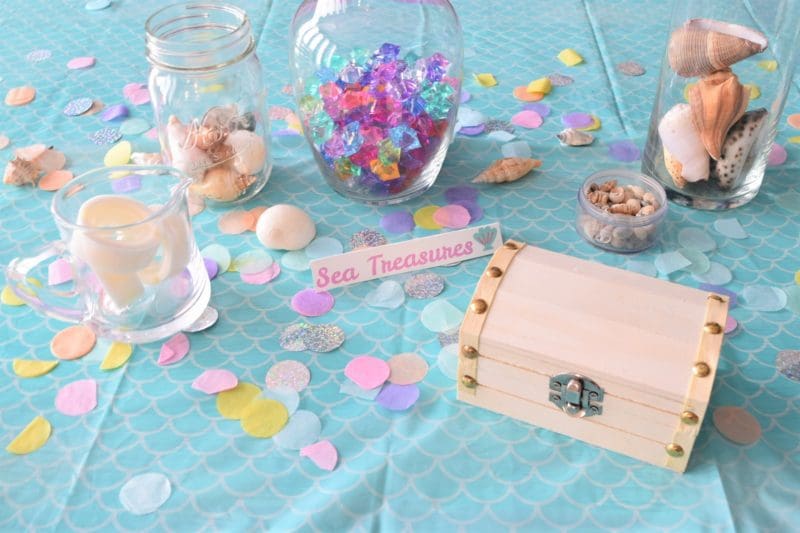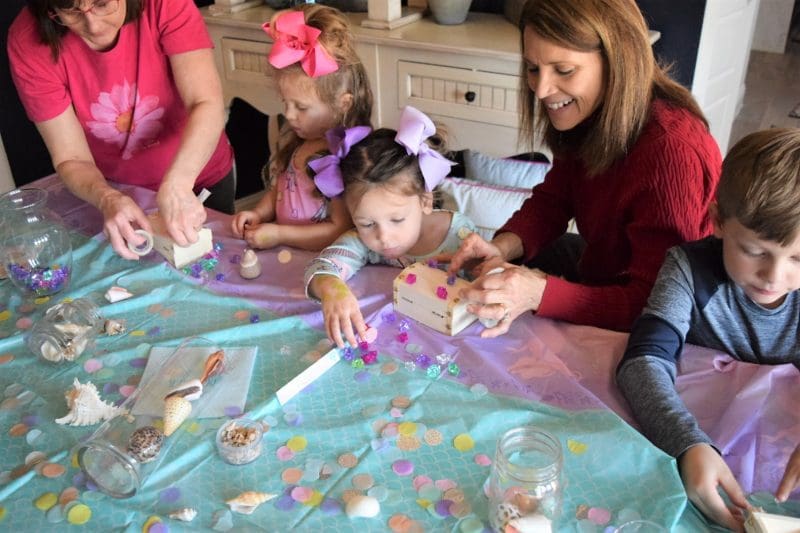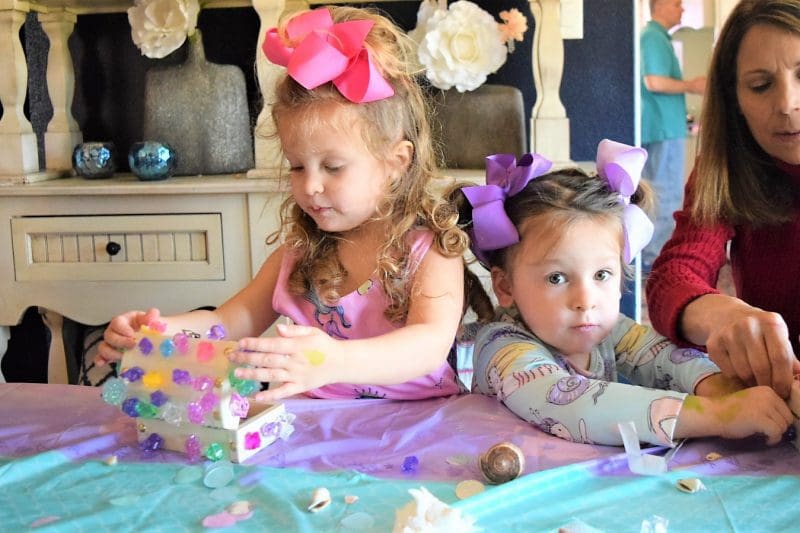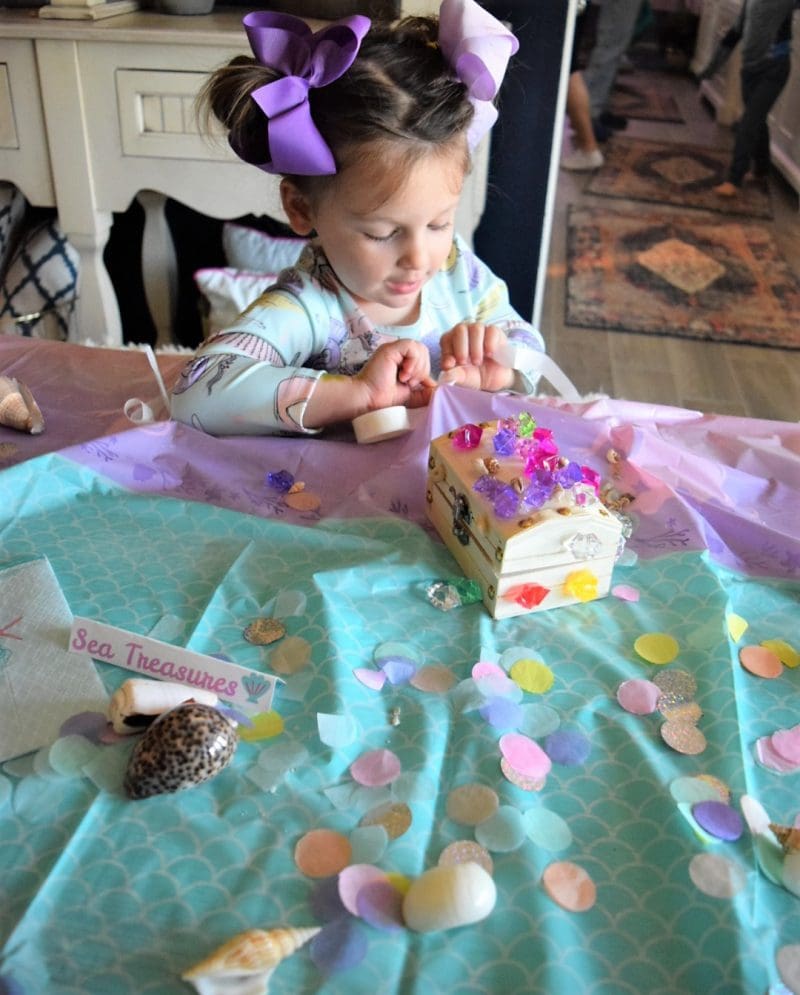 Mermaid Party Craft Ideas
Seashell and Jewels Treasure Boxes
We also had a fun under the sea themed craft at the party that was a big hit! I bought a few unfinished wood treasure boxes, a mixture of large and small seashells, and jewels for the kids to create their own treasure boxes.
I placed the seashells and jewels in clear vases (which also served as the craft table decor, along with the pastel rainbow confetti) And in other container I placed rolls of glue dots. Glue dots are my favorite for kid crafts – they are super easy for kids to use and there's no glue mess! The kids loved creating these treasure boxes, and it's a great keepsake party favor for the kids to take home.
PIN FOR LATER
I hope you enjoyed our Mermaid themed Birthday Party for Genevieve and Georgia! Don't forget to check out the super yummy + easy Ocean Water Mermaid Punch recipe! Also, all of our mermaid party items are in our Mermaid Birthday Party Shop below!
Happy party planning!

Mermaid Birthday Party Shop