We finished our DIY Modern Homeschool Room! We turned the kids playroom into a new at home learning space on a budget. This new homeschool room can be used for school work, homework, arts and crafts and all things for learning and creativity. I'm excited to show you the details of this home learning space!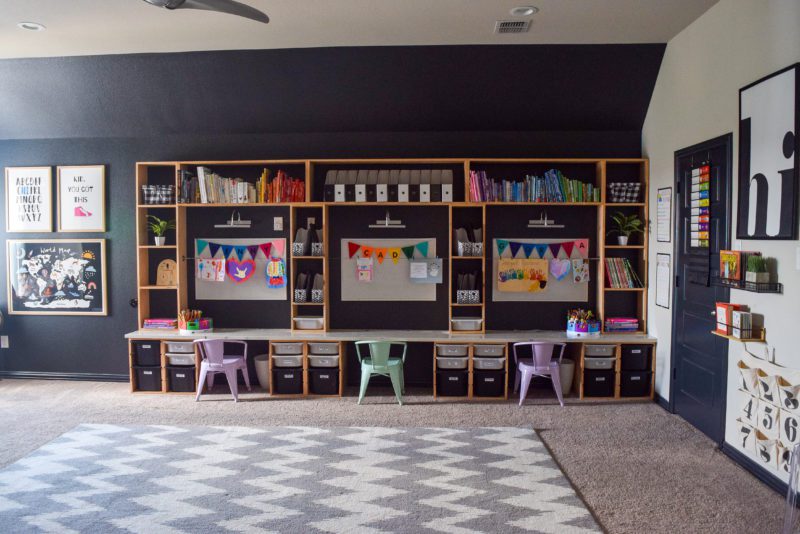 DIY Modern Homeschool Room Reveal
I am so excited to show you our finished Homeschool Room!
We created this space for our three kids to do schoolwork, make arts and crafts, work on school projects, and be creative.
There are so many unknowns with in-person school right now, so I wanted to have a designated space in our home that our kids could learn and play.
We are prepared in case we need to do online learning for a certain time, but it is also a place to keep their special artwork, complete their homework, and be ORGANIZED with school stuff! (Crossing my fingers the organized part stays on track, ha!)
Did you happen to catch the before photos of this space?
Click HERE for all of the before photos, and our inspiration design boards!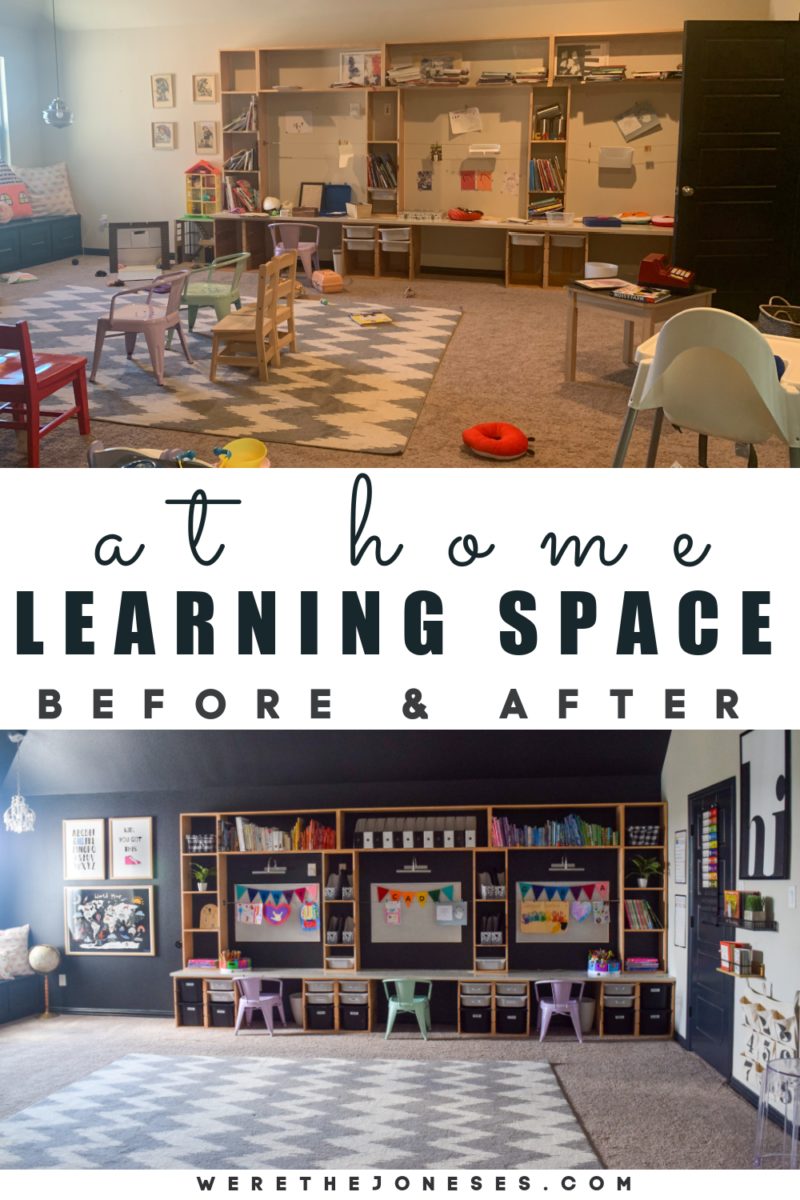 How Do I Create a Learning Space at Home?
The first task to do is figure out which spot in your house would be best for a learning space. Try to pick a space that is kid friendly, that you don't mind having school supplies and papers scattered about (and possibly glue and markers on the chairs and table!)
Depending on if your child needs your help with schooling, you may want to choose an area close to where you are during the day. Or if they need a more quiet space to do learning activities online, maybe in their room or a space upstairs would be best.
I chose our upstairs gameroom because we already had built-in desks for our kids, and they can make messes up there that won't be in the main living areas that need to be kept more tidy and neat.
It's ultimately up to you what would be in the best interest of your family and what your specific needs are. I had Cade in my office with me last Spring while he did online learning, and that worked out OK because he needed some help with school work that I could easily help him with.
But I knew having all three in the office with me would be too much – so upstairs seemed the best fit this go around!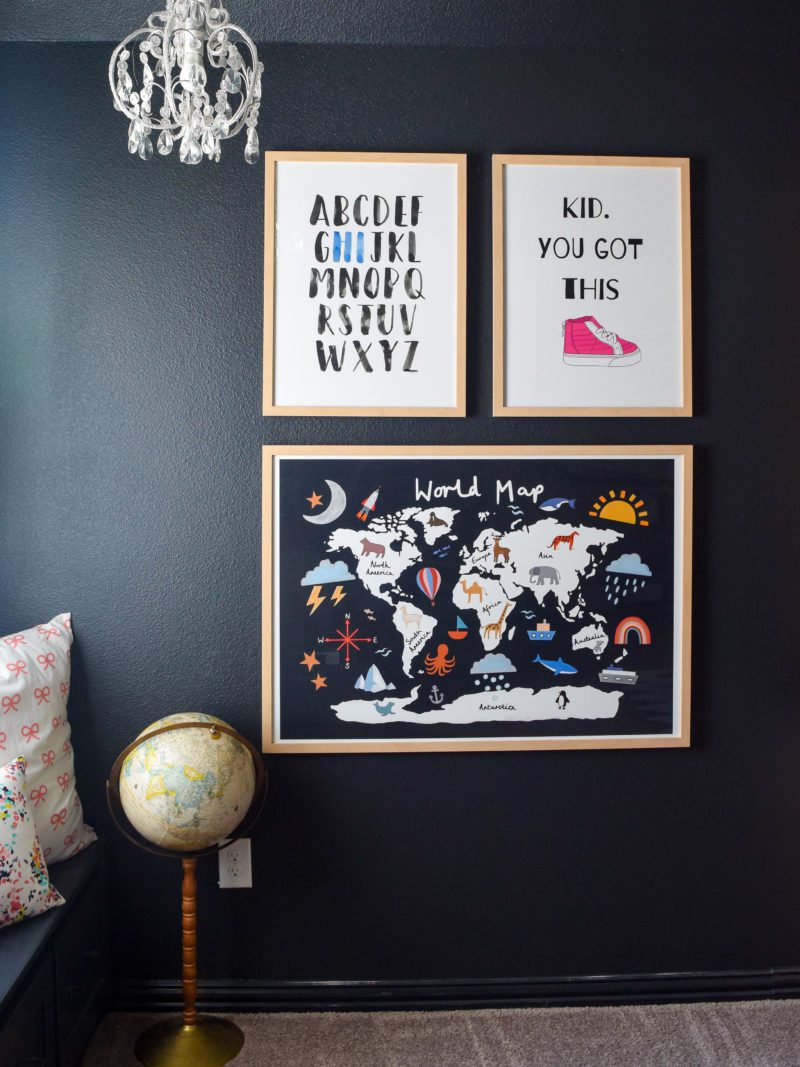 Homeschool Decor Ideas
One of the big changes I wanted to make in this space was to paint the back wall black to add some contrast. I felt like this room was a little dull and needed a pop of color – even if the color was black!
I chose Behr – Nightclub for the featured wall color, this is also our trim and interior door color as well. It's a very dark & moody midnight blueish black – not quite a black, but not as blue as navy. It is very similar to Sherwin Williams Inkwell, which is another color we like to use on the exterior of our house flips.
Ink black is a good description of the color! I love it because it's not so in-your-face stark black, but still gives the dark contrast I am looking for.
A few other decor items we added are white curtains with black tassels, and a few new black and white wall decor items. One of my favorites is the Be the Nice Kid art print that I ordered from Etsy. I love this inspiring kids quote!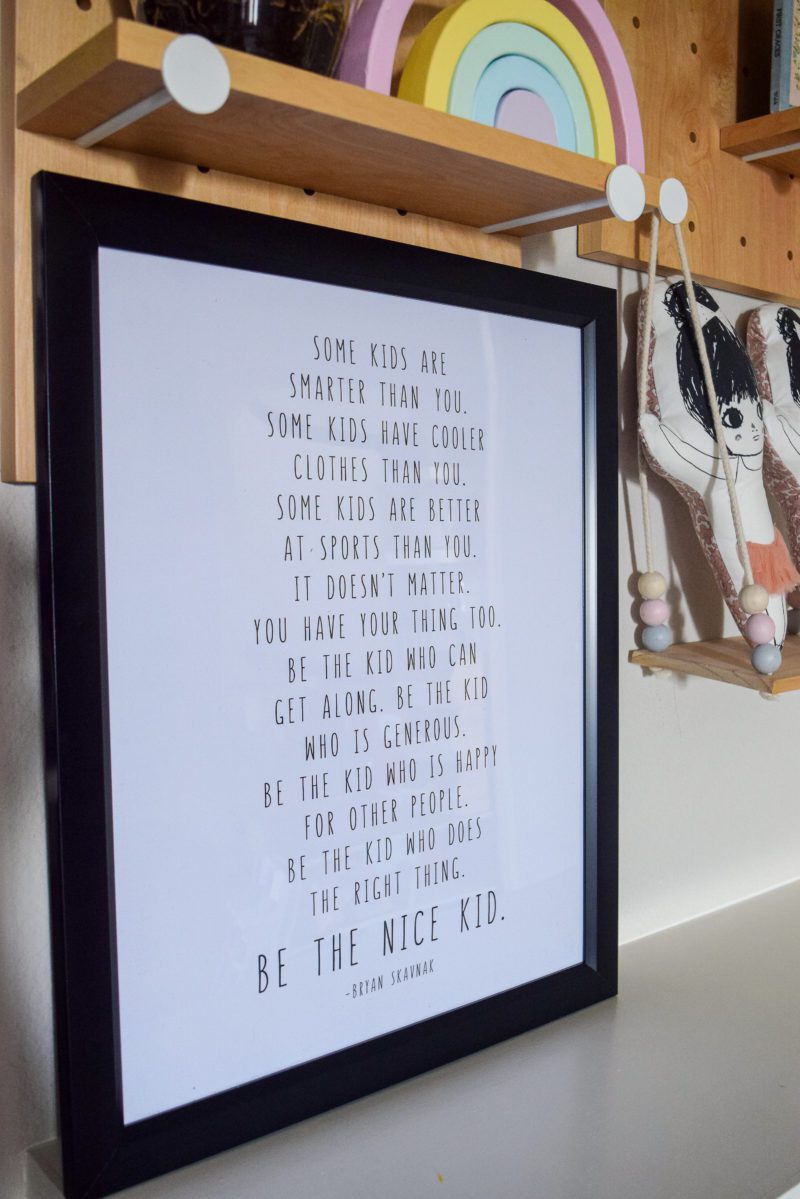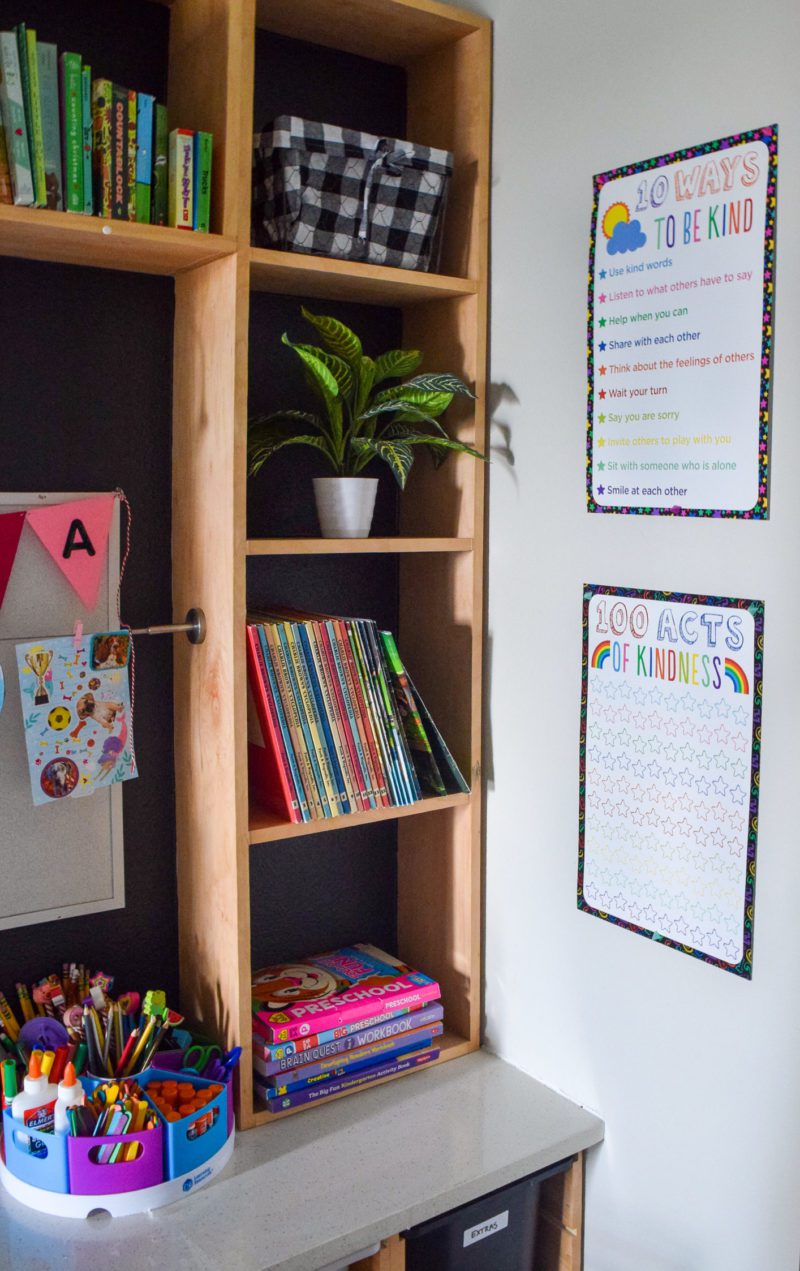 Be the Nice Kid Art Print | 10 Ways to Be Kind Art Print
Adding fun artwork with inspiring quotes is another way to add some decor to your at home learning space. I created a collage with a few school-themed wall art prints next to the built-in kid desks.
The ABC print, Kid You Got This print, and World Map print are from an online store called Fy. You can order the print only, or pick out a frame too. I chose the light oak frame to match the kids built-in desks. The light oak also to give a nice contrast up against the dark walls.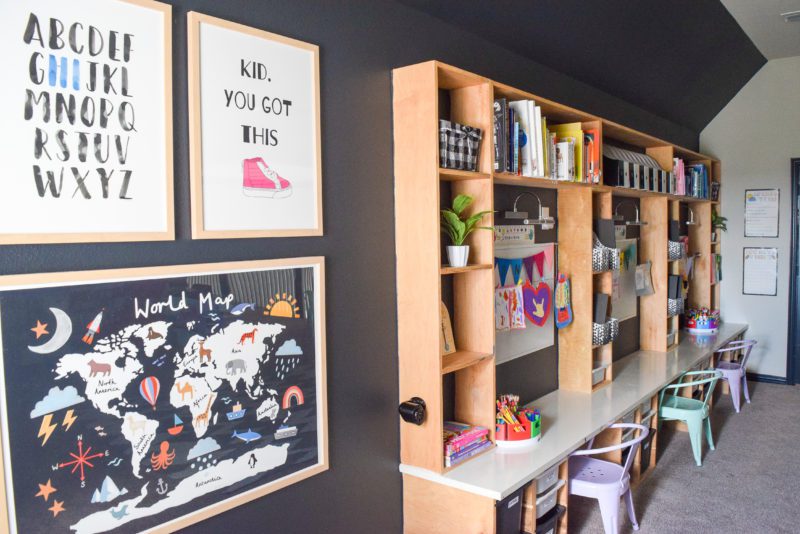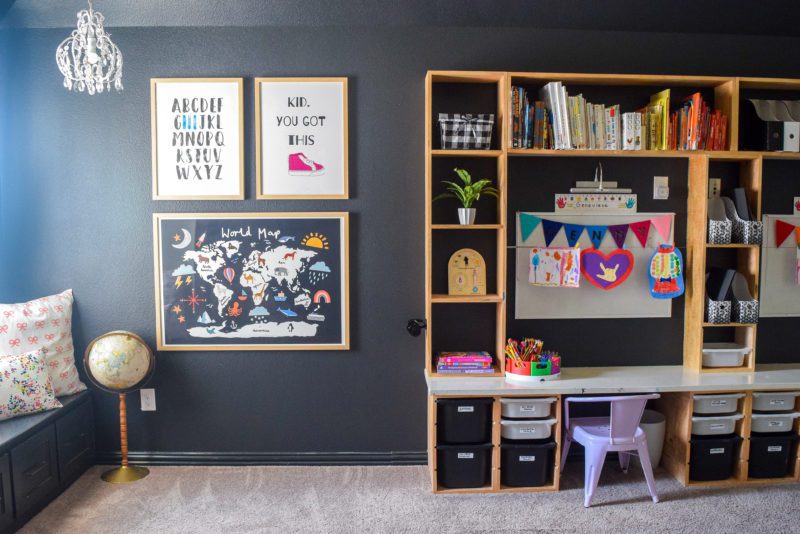 ABCs Art Print | Kid You've Got This Print | World Map Art Print
Another way to bring in some fun decor is with kids artwork and personalized kid items. I created easy name banners for each of my kids' desks with felt rainbow flags and sticky letters.
You can simply glue on the letters to the felt flag banner and tie to a tac with string. This was a simple and budget friendly way to create unique name banners for each kids desk.
Homeschool Room Ideas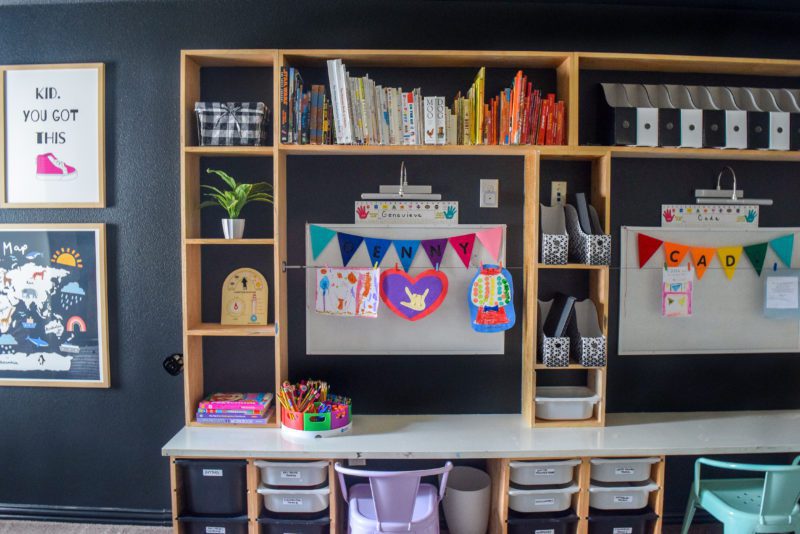 I also bought a pack of school desk name cards for their desks. I found a variety of school desk name cards that have letters, numbers, etc on the card for kids to practice. We also used wire from Ikea to attach to the shelves and rainbow mini clothes pins to hang their colorful artwork.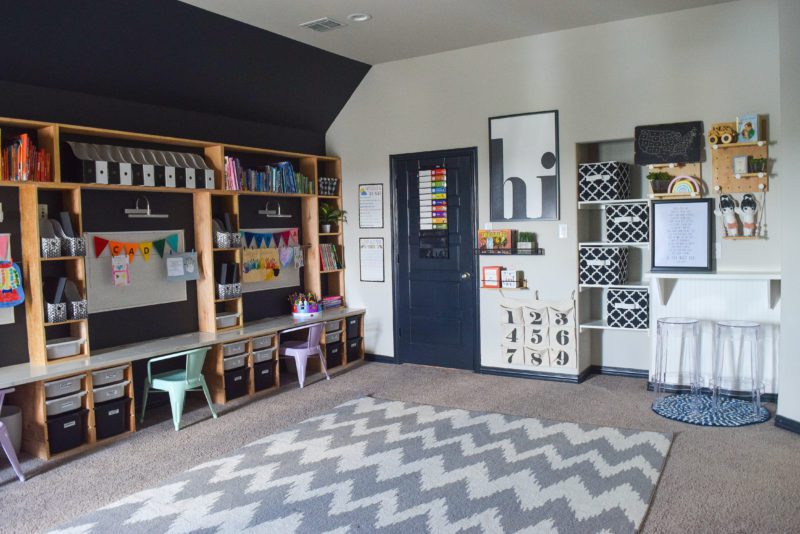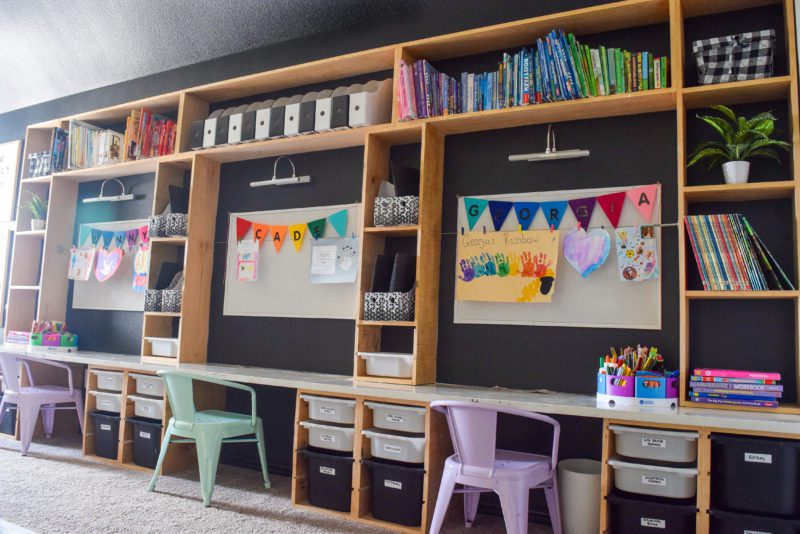 Hanging corkboards, black boards, or dry erase boards are another great way to organize important papers, daily schedules or to write information on.
I also wanted to have organized areas to store kid school supplies. I bought two school supplies dividers that hold their crayons, markers, scissors, glue sticks and other supplies neatly separated! Hopefully they can stay this neat as time goes on!
Under their desks we have bins and baskets to keep notebooks, folders and paper organized. I added labels to the outside of the storage bins to help us stay organized and keep supplies neatly stored.
Setting Up a Learning Space at Home

I hope our new modern homeschool room / at home learning space is helpful to you! Are your kids learning at home this year?
I wish every parent and teacher lots of grace and love in this school season! Let me know if you have any questions about our new home learning space!
Thanks for stopping by! Happy learning (and teaching!)

More Homeschool Room Decor Ideas: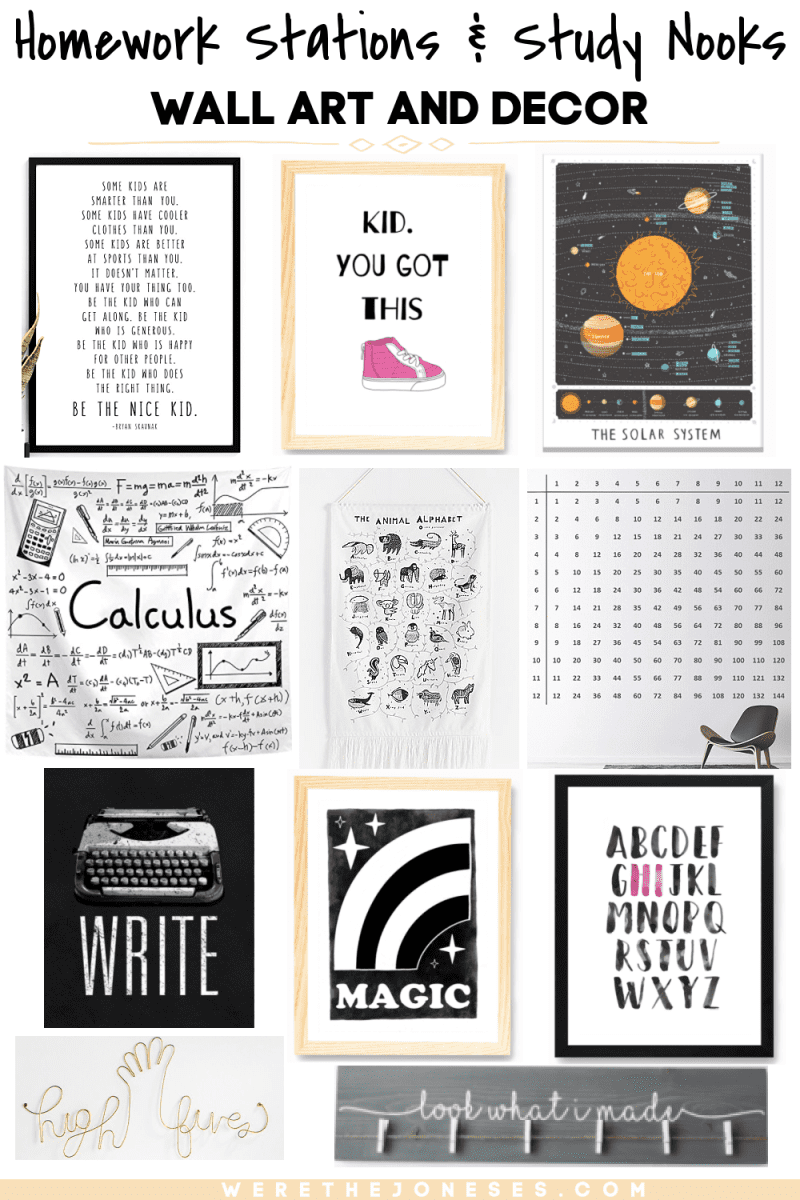 Home Learning Space Inspiration