DIY Stock tank pool and deck – two year updates! We added the second phase of our outdoor deck next to our pink stock tank pool. We purchased new outdoor decor and outdoor furniture to freshen up our colorful outdoor space. How cute is the llama pool float?
*This post contains some affiliate links for your convenience.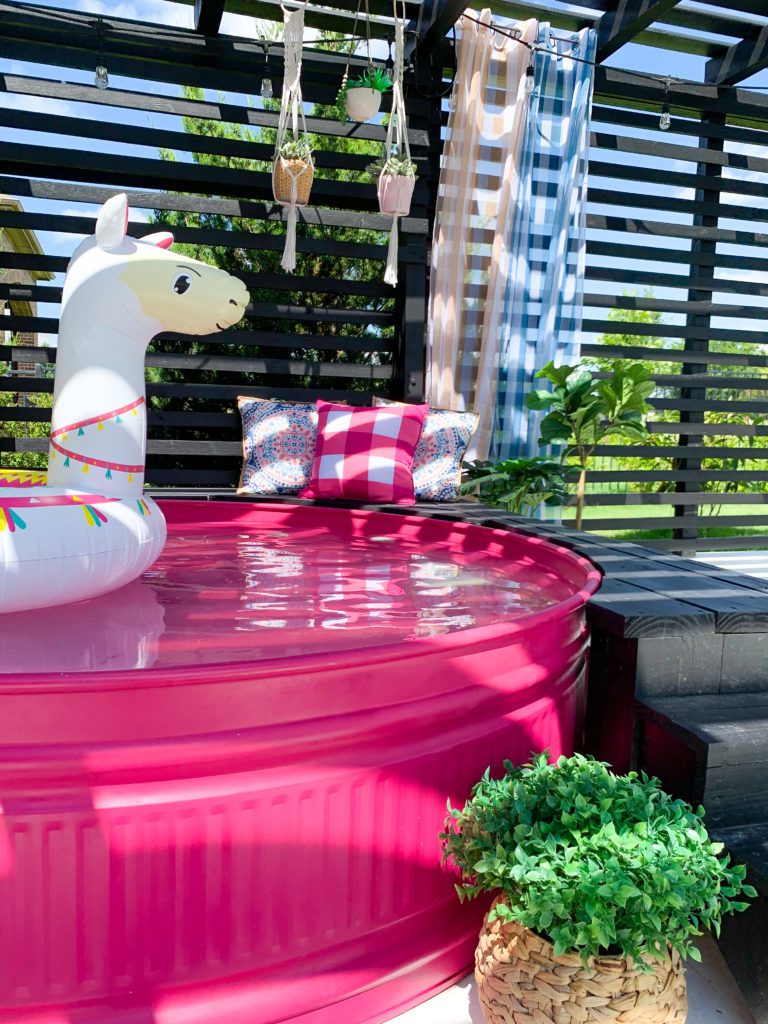 Stock Tank Pool and Deck: 2nd Phase Update
In case you missed it, this post is the first blog post I made about our stock tank pool. Here's a refresh on what our deck and pool looked like two summers ago…
STOCK TANK POOL AND DECK TWO YEARS AGO: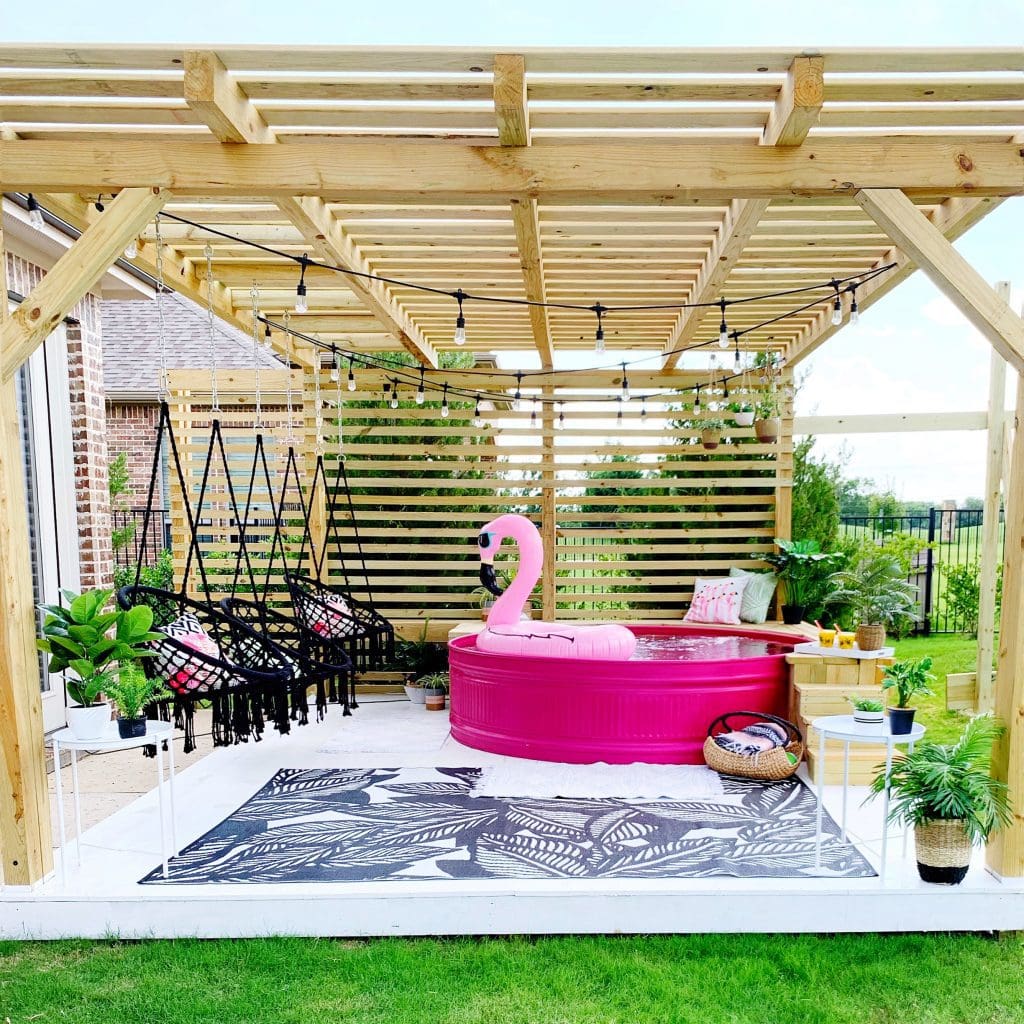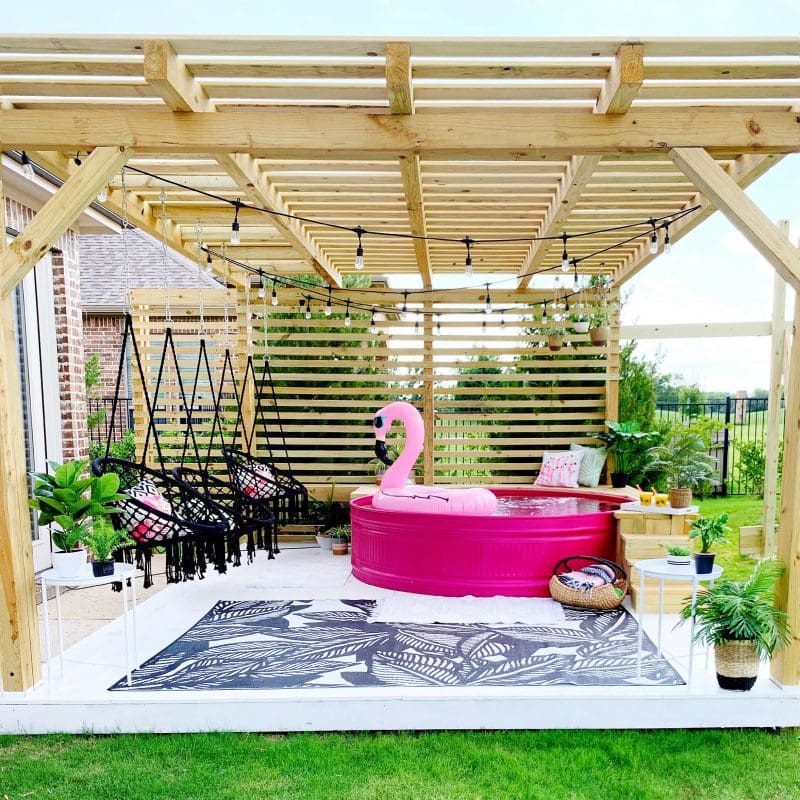 A year later we built another phase of our deck for a future outdoor dining area. We painted the posts, sides and roof black, and deck floor white.
STOCK TANK POOL AND DECK ONE YEAR LATER: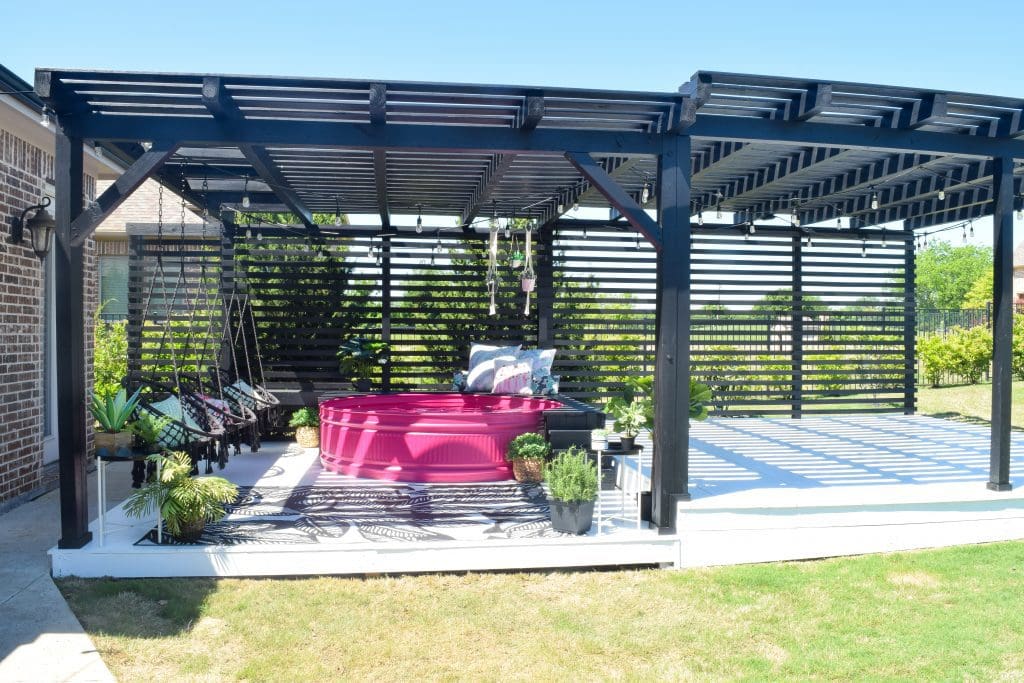 Next we added new outdoor dining furniture including a new outdoor table, wicker egg chairs, outdoor curtains, outdoor rugs and new outdoor pillows and accessories.
STOCK TANK POOL AND DECK TWO YEARS LATER: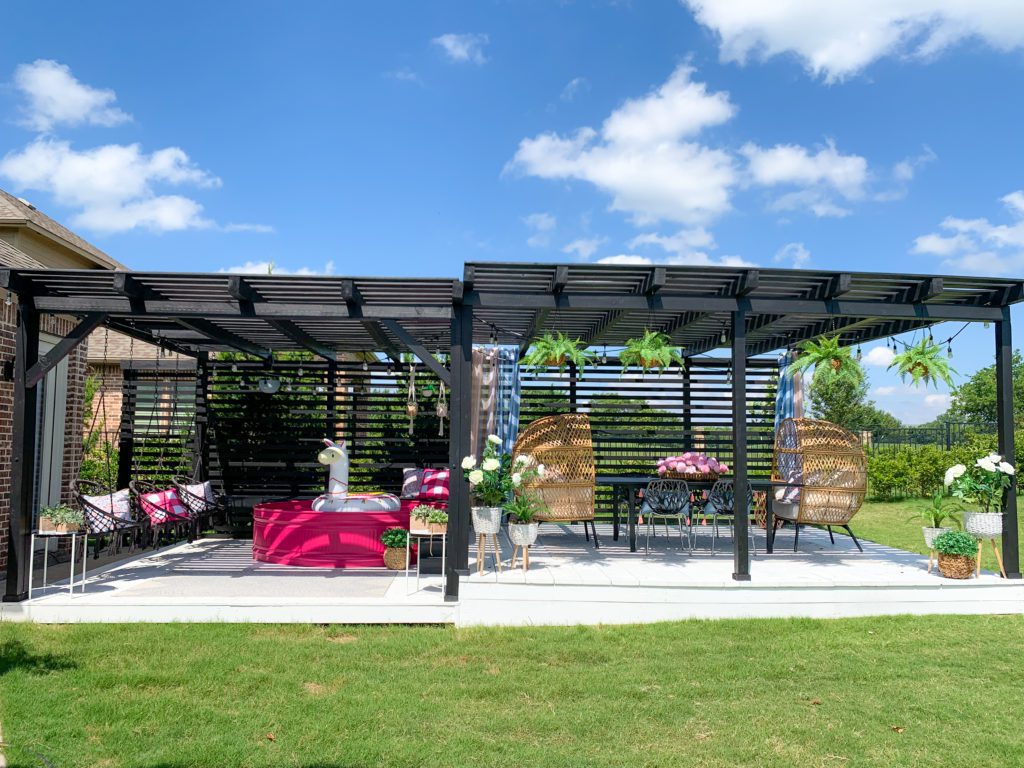 What do yall think? Do you like the changes we've made to our stock tank pool deck area?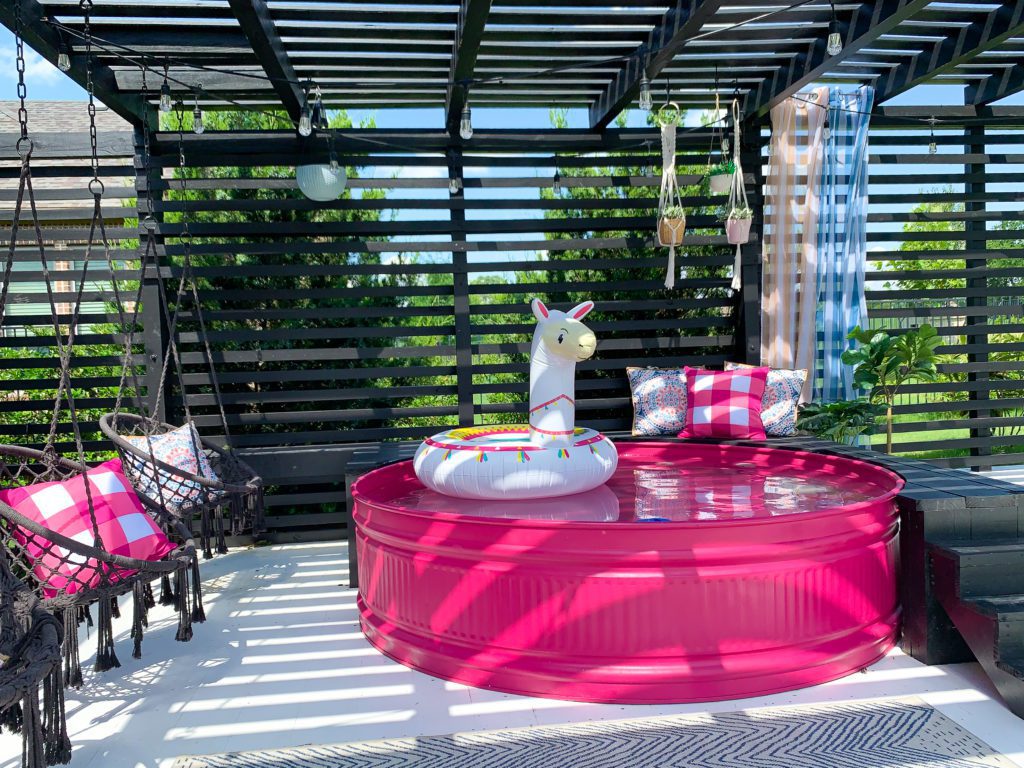 I'm loving our new pink gingham outdoor pillows! Don't they add a colorful pop against the black hanging swing chairs and tie in perfectly with the pink pool?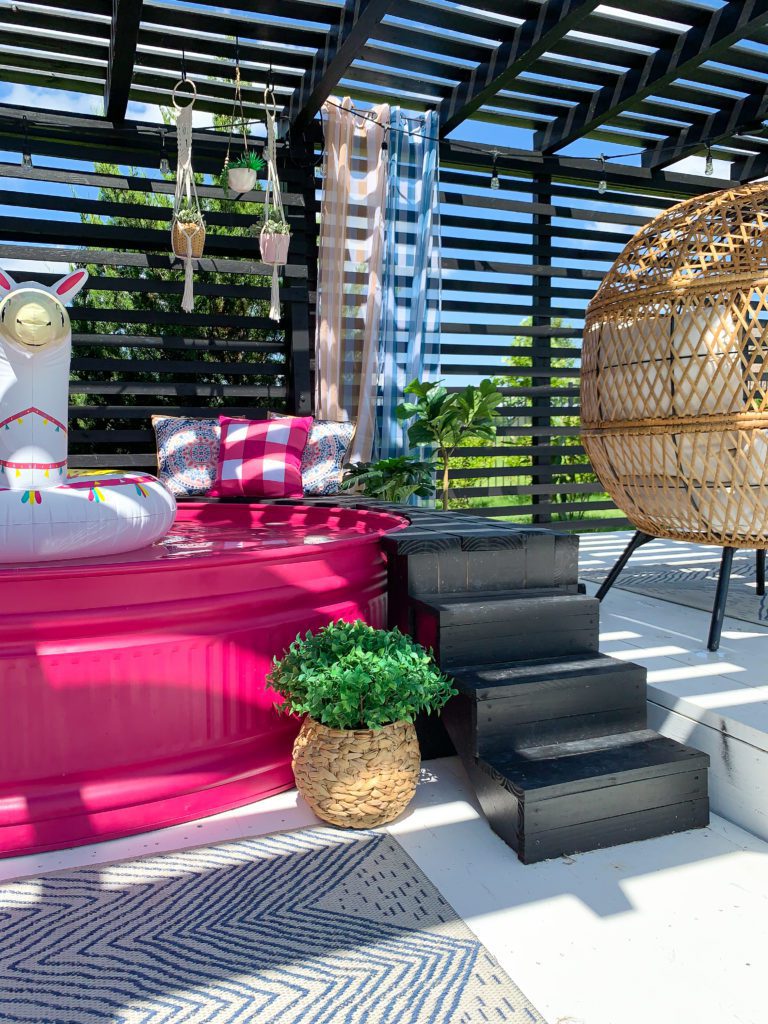 Along with bright pink decor accents, I also wanted to add in coastal blue decor on the patio as well. I bought two blue chevron outdoor rugs for each deck space.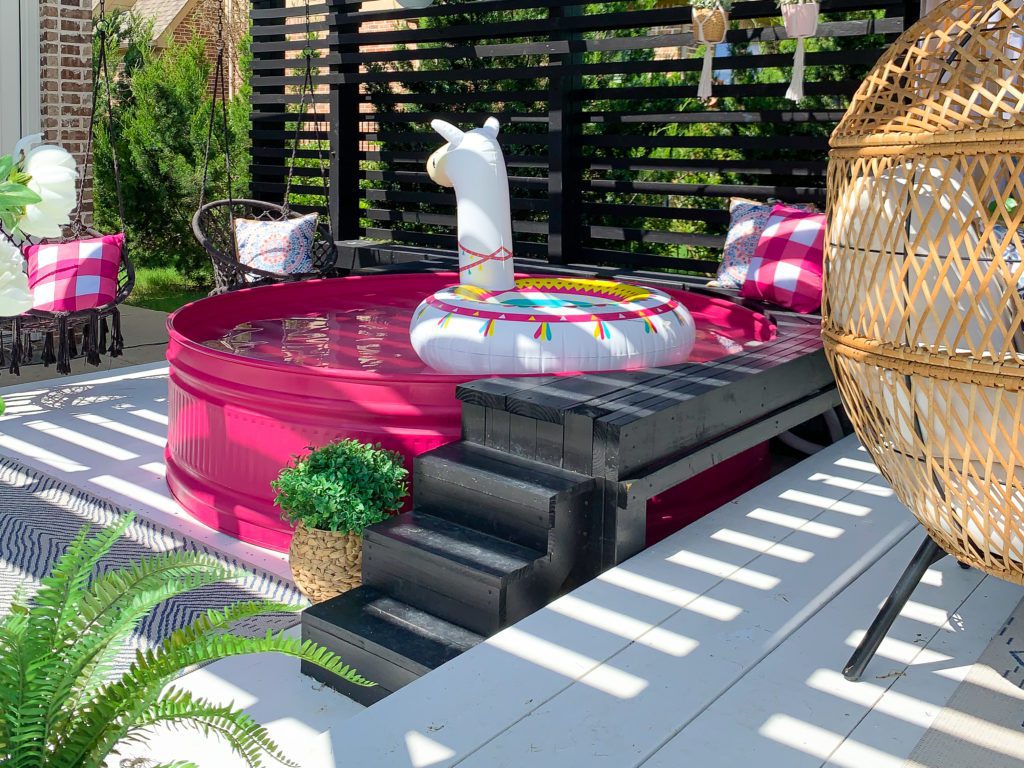 Another fun addition are these blue and white and khaki and white striped outdoor curtains. They add a softening touch against the black wooden backdrop, and tie in with the rattan wicker furniture and planters.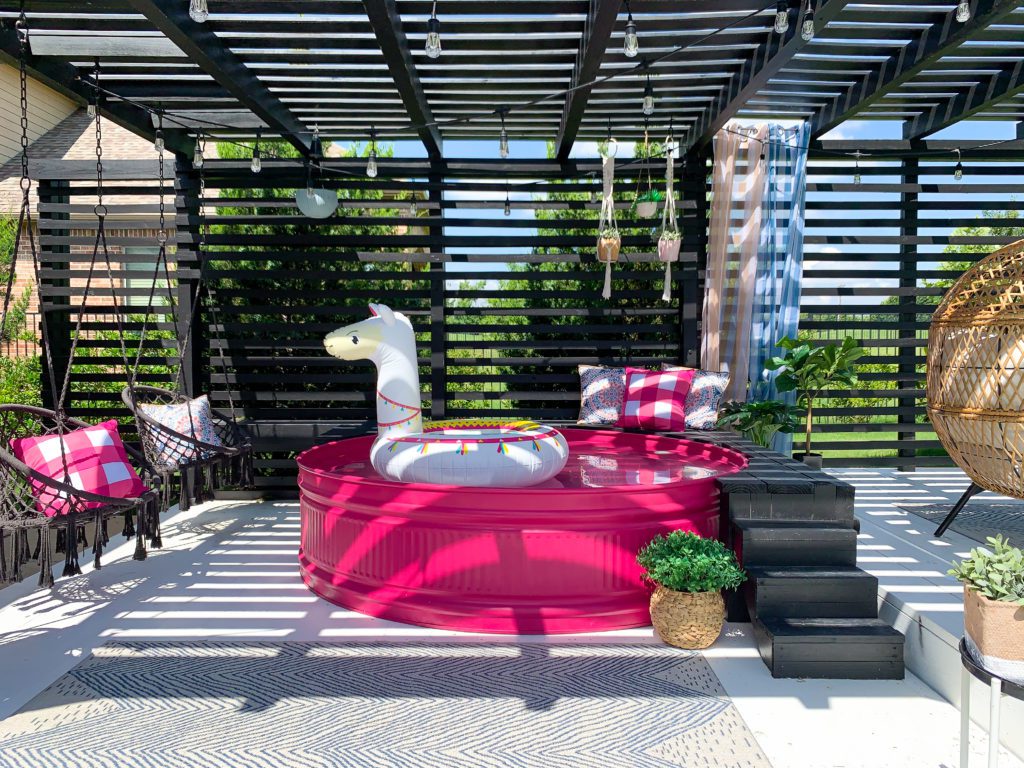 One decor element that stayed the same: the hanging swing chairs! Our kids love swinging in these outdoor chairs while taking a break from playing in the stock tank pool.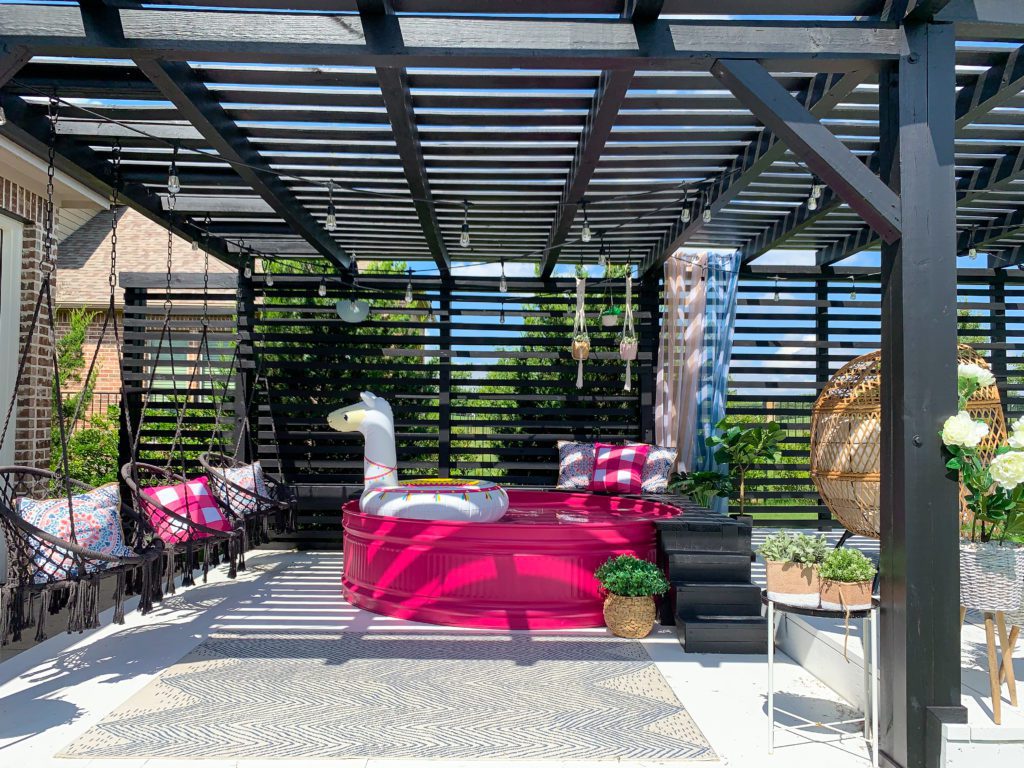 I also brought in several faux plants and planters around the outdoor deck. I know for some people decorating with fake plants outside is considered a faux pas (as some have expressed to me on my Instagram).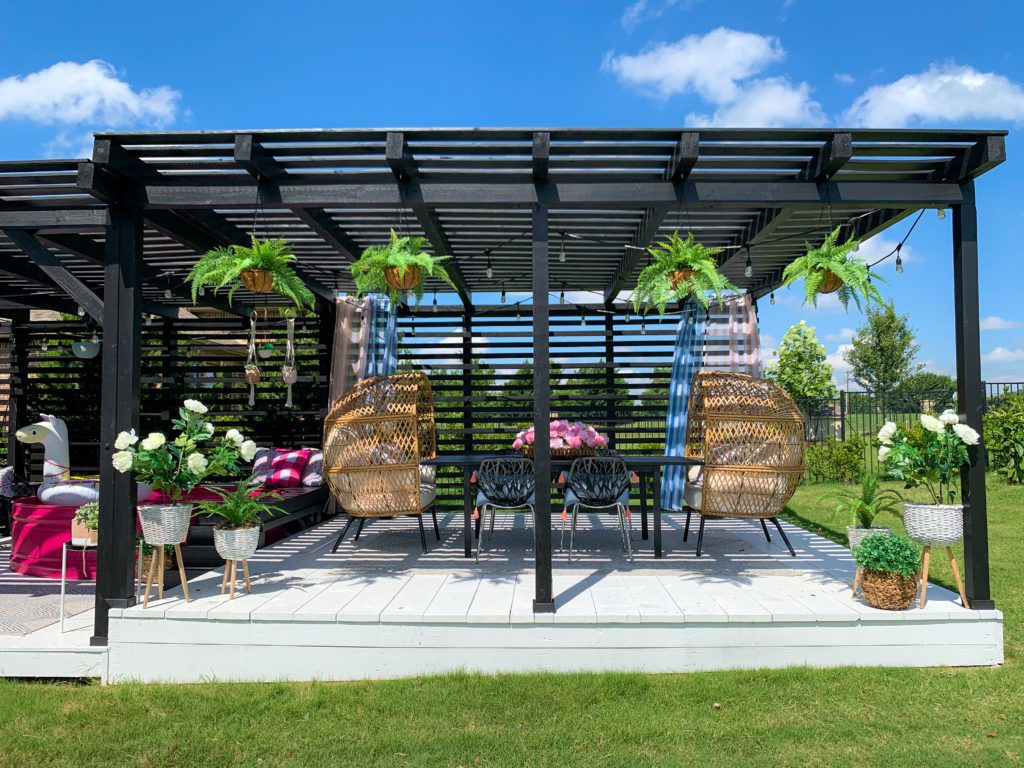 But I like to call it self awareness – I'm fully aware how bad I am at keeping up with real outdoor plants and planters. So faux plants outside works for me!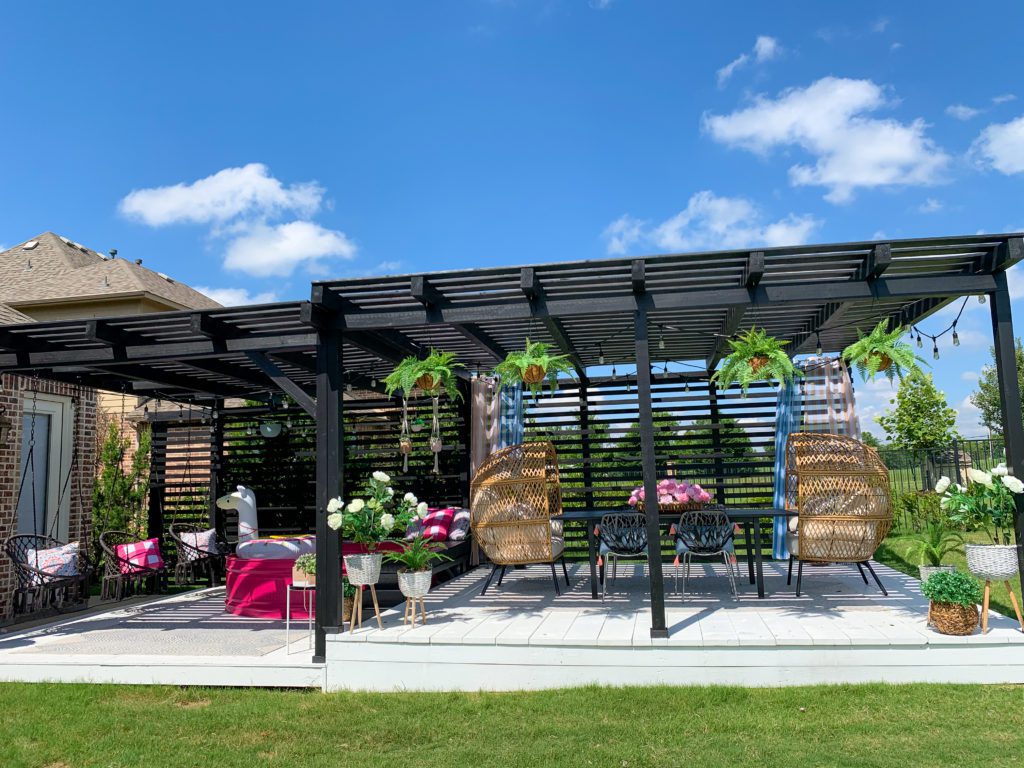 And another outdoor decorative item we kept the same (and also added more of) are the color changing outdoor bistro lights!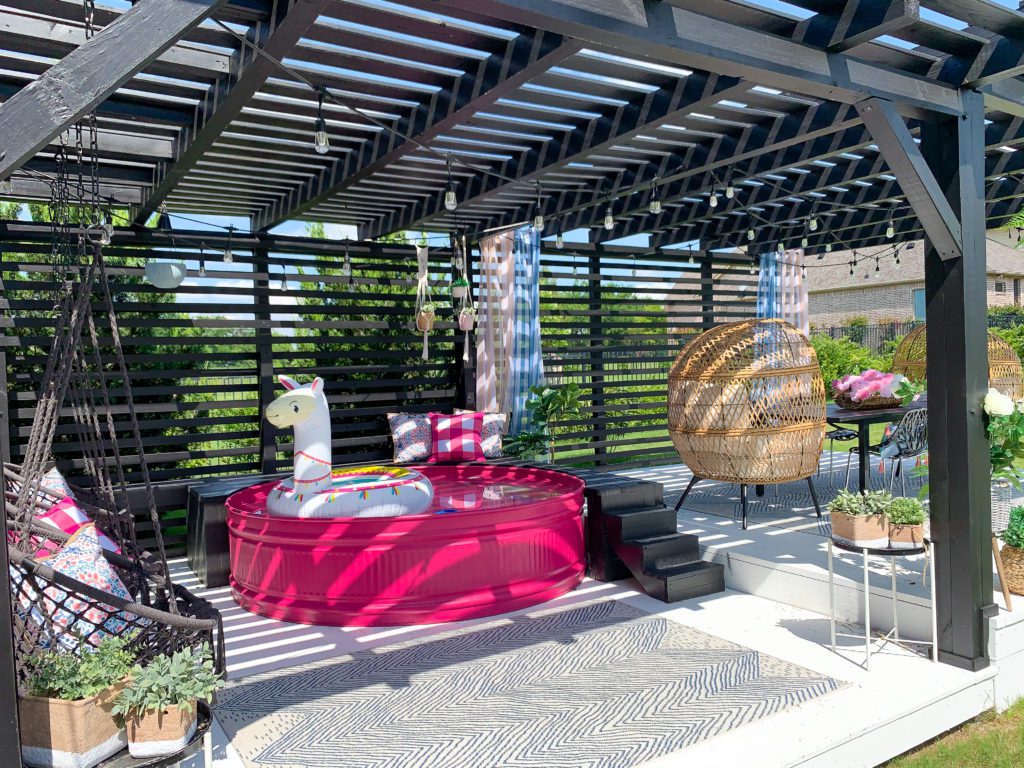 All of the outdoor string lights connect to each other and can be controlled by a remote. Guess what color we like to turn the lights on the most?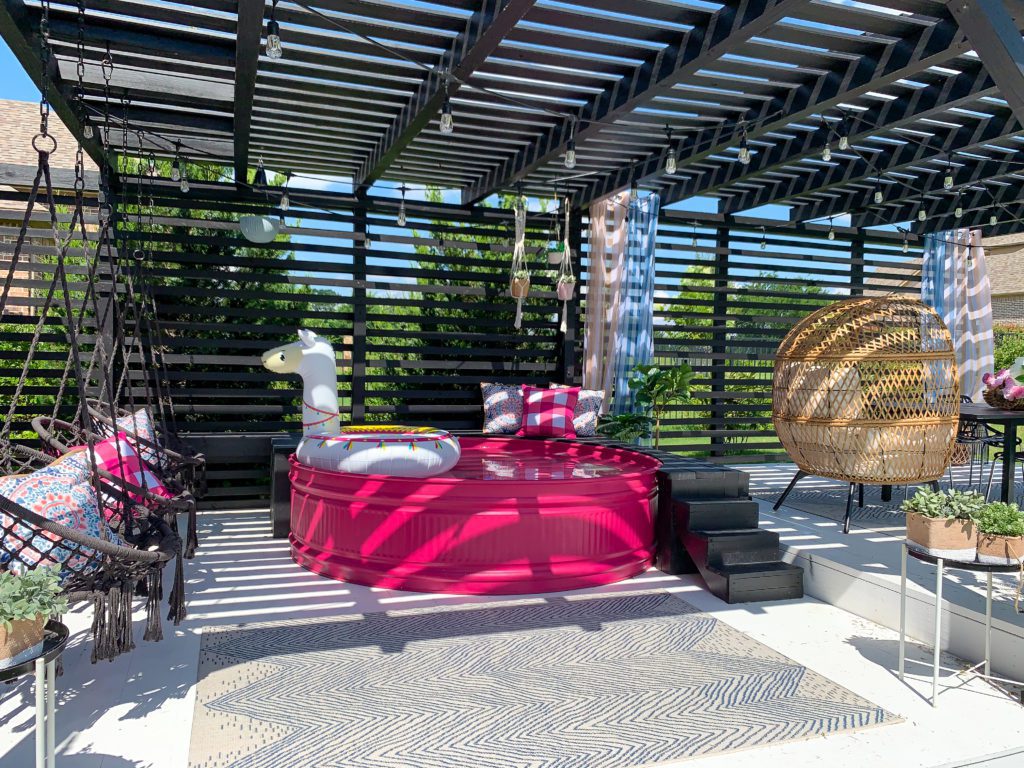 What supplies do I need to setup a stock tank pool?
8 ft stock tank
rubber washers
leak seal (if spray painting the inside)

Pink Stock Tank Pool and DIY Deck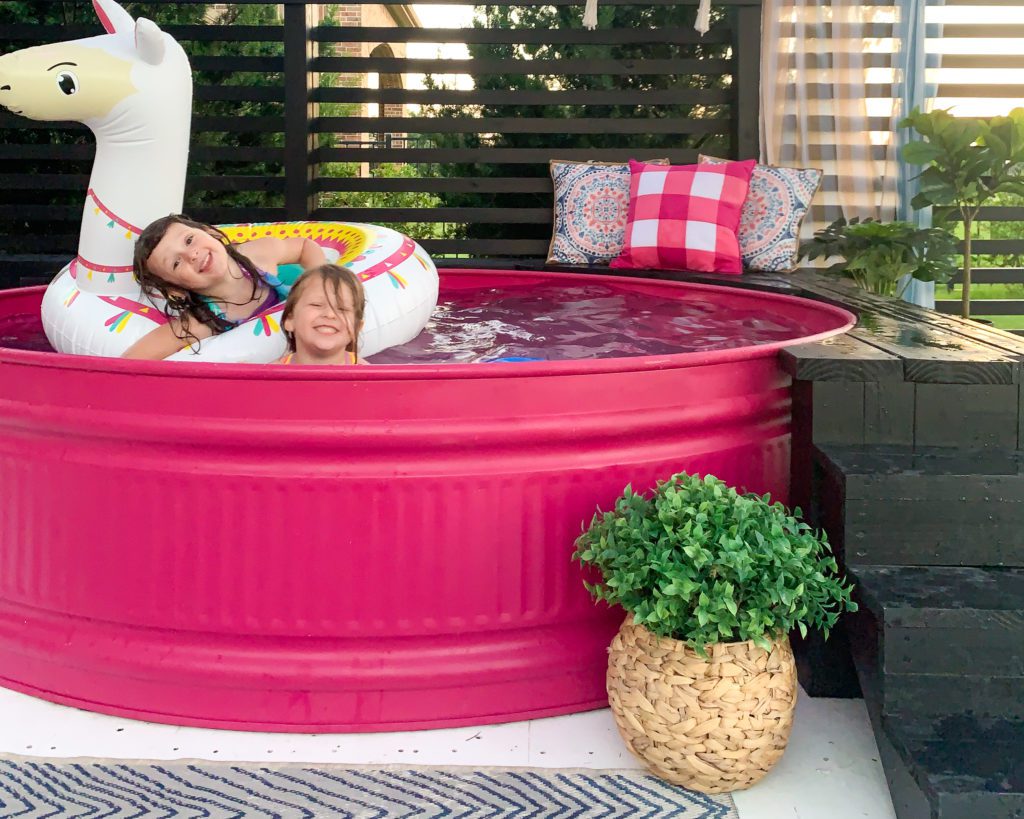 My girls love playing in their pink pool, they get very creative with the games they make up. One of their favorites is pretending the stock tank is a witches brew and they stir it up and add their potion, ha.
Even though the stock tank is small, they still have a blast playing and splashing and swimming.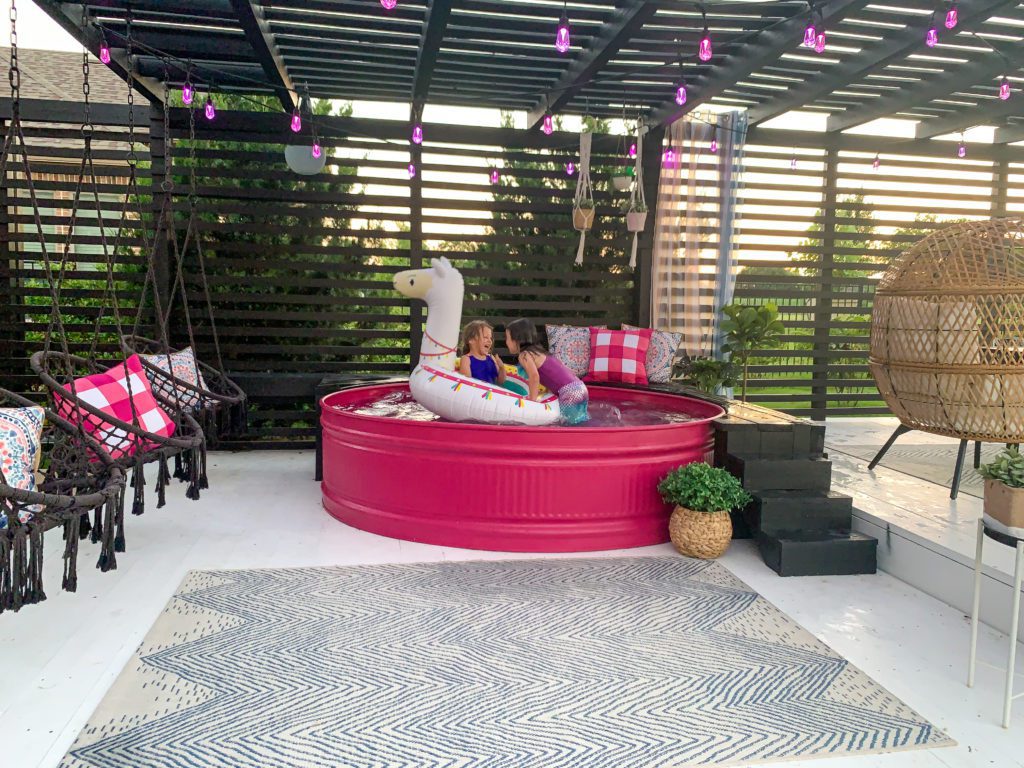 The stock tank pool deck area has added countless hours of fun for our kids, I'm so glad we added this DIY pool to our backyard two years ago.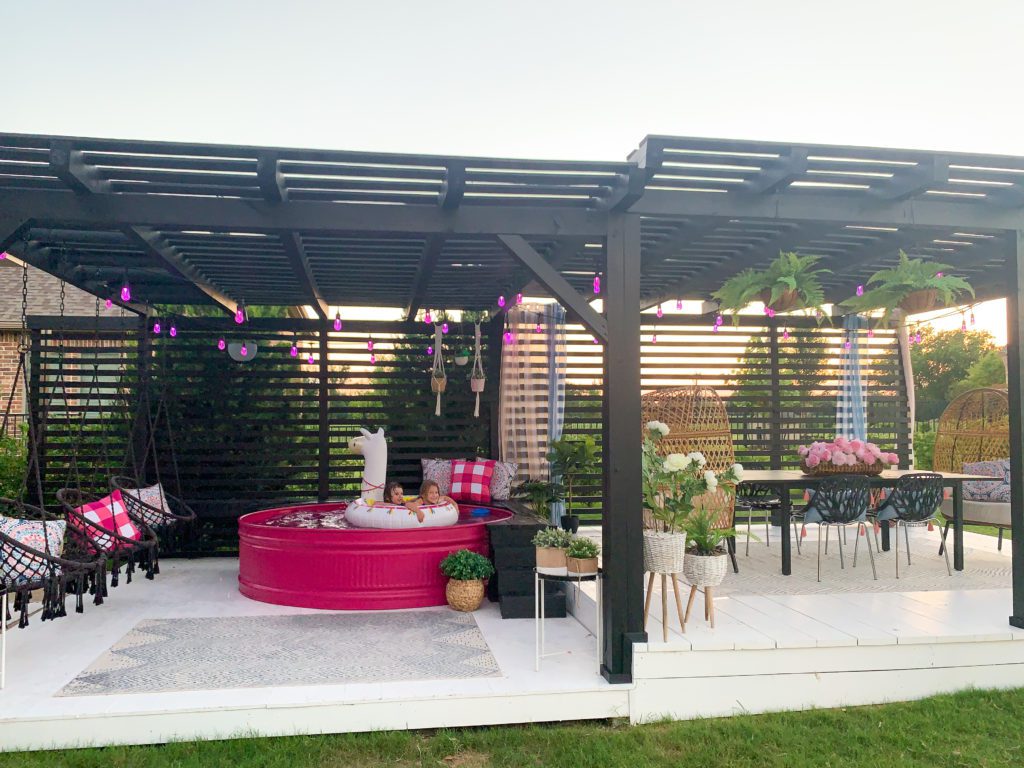 Have you built a DIY stock tank pool yet?? If you need a supply list or a step by step guide see this post and this post!
Share your stock tank pool posts in the comments below or tag me on Instagram, I would LOVE to see your stock tank projects!