Are you searching for the best stock tank pool design ideas? These trendy plunge pools are the most unique stock tank pools on Instagram – and the internet! Stock tank pools are more popular than ever, and the creativity is through the roof with these modern above ground pools.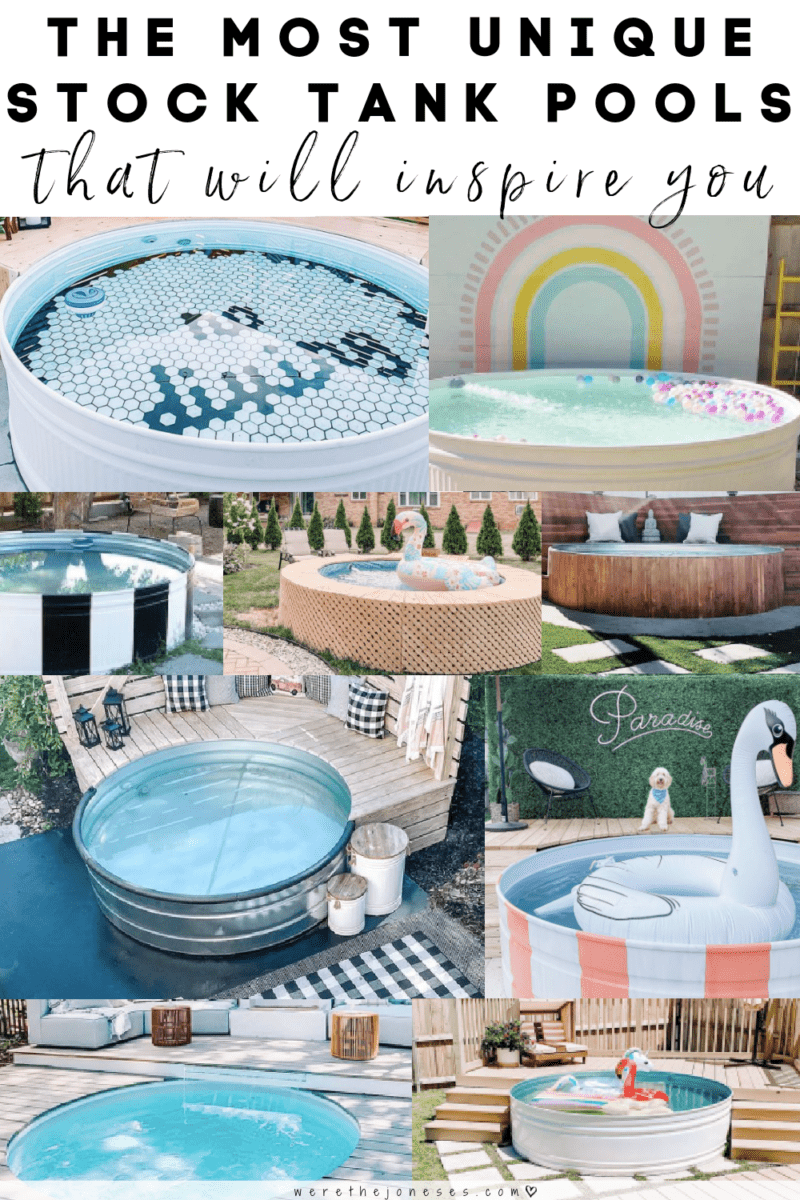 When we built our stock tank pool and deck two years ago, there was a limited amount of stock tank pool design inspiration on the internet. But these unique swimming pools are more popular than ever, and there is so much stock tank pool design inspo out there now!
A lot of the stock tank pool design ideas are found on Instagram. I decided to round up my favorite most unique stock tank pools I could find and share with you! Each stock tank pool DIY is filled with inspiring ideas for those looking to build their own stock pool in their backyard.
There's definitely something for everyone – whether your looking for a stock tank pool waterfall, small oval stock tank pool ideas, in ground stock tank pools or a built in patio around your plunge pool. Take a look and let me know your favorite!
The Most Unique Stock Tank Pools on Instagram
Sunwoven was my initial inspiration for building our stock tank pool and deck. They paint their stock tank pool a new color each spring, and each time I love it more than the next! Scroll down to see their stock tank pool color from last year.
This garden oasis is a stock tank pool dream! I love the unique bamboo pool fencing on the outside that gives the stock tank pool a modern rustic feel.
I might be biased, but I love a pink stock tank pool! And the yard flamingos and cute pup make it that much sweeter!
This in ground stock tank pool is so cool! I love how they made their plunge pool ground level with a half curve wood deck.
This custom wood stock tank pool cover they made is perfect! I've been looking for ideas on how to cover our stock tank pool, and I think we (by we – I mean Bryan) need to build this.
A waterfall feature into the stock tank pool? Yes please! How unique is this outdoor wood deck set up around the built in stock tank pool?
Everything You Need to Setup Your Stock Tank Pool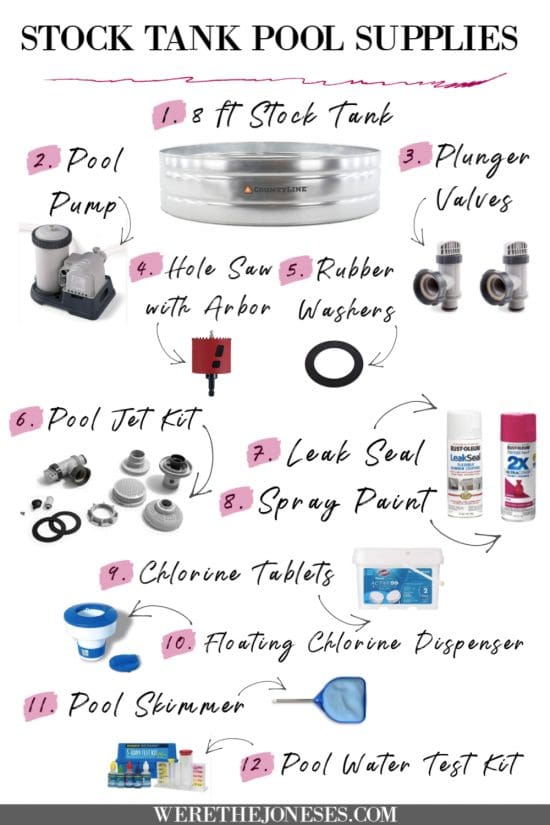 Is it an outdoor tub or outdoor plunge pool? You decide 🙂 Joshua Tree has a lot of stock tank pool inspiration, and this one is so cool and chic!
I love this classic movie and this outdoor projector setup next to the stock tank pool! How fun would it be to lounge in this backyard on warm summer nights?
Double your pleasure, double your stock tank pool fun! How awesome is this wood deck with in level stock tank pools side by side? Another plunge pool design with a build in stock tank pool. I'm loving the deck-level stock tank pool inspiration!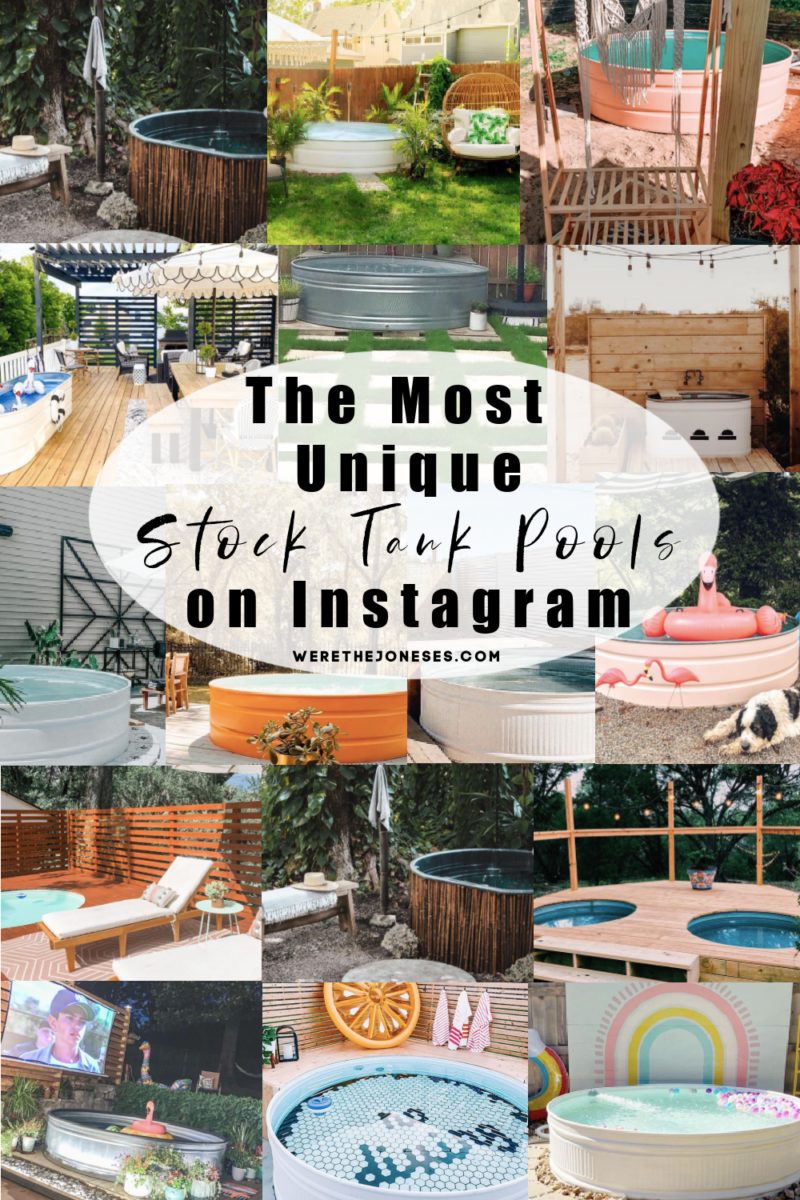 Which stock tank pool design is your favorite? I personally love the in ground and built in stock tank pool trend! And the no diving bottom of the stock tank is so clever and original.
I hope you found inspiration for your own modern stock tank pool. If you are looking for a
how to make a stock tank pool tutorial, I have step by step instructions HERE and our one year update and lessons learned HERE.
Let me know if you have any stock tank pool questions, I'd be happy to answer and help you!