It's One Room Challenge REVEAL DAY! I'm so excited to show you my finished home office makeover. The modern whimsy touches of chinoiserie pink wallpaper, ombre fringe chandelier, and greek key roman shades are some of my favorite design elements. See the progress and how it all came together (barely!) below.
*This post contains some affiliate links for your convenience. Click here to read my full disclosure policy.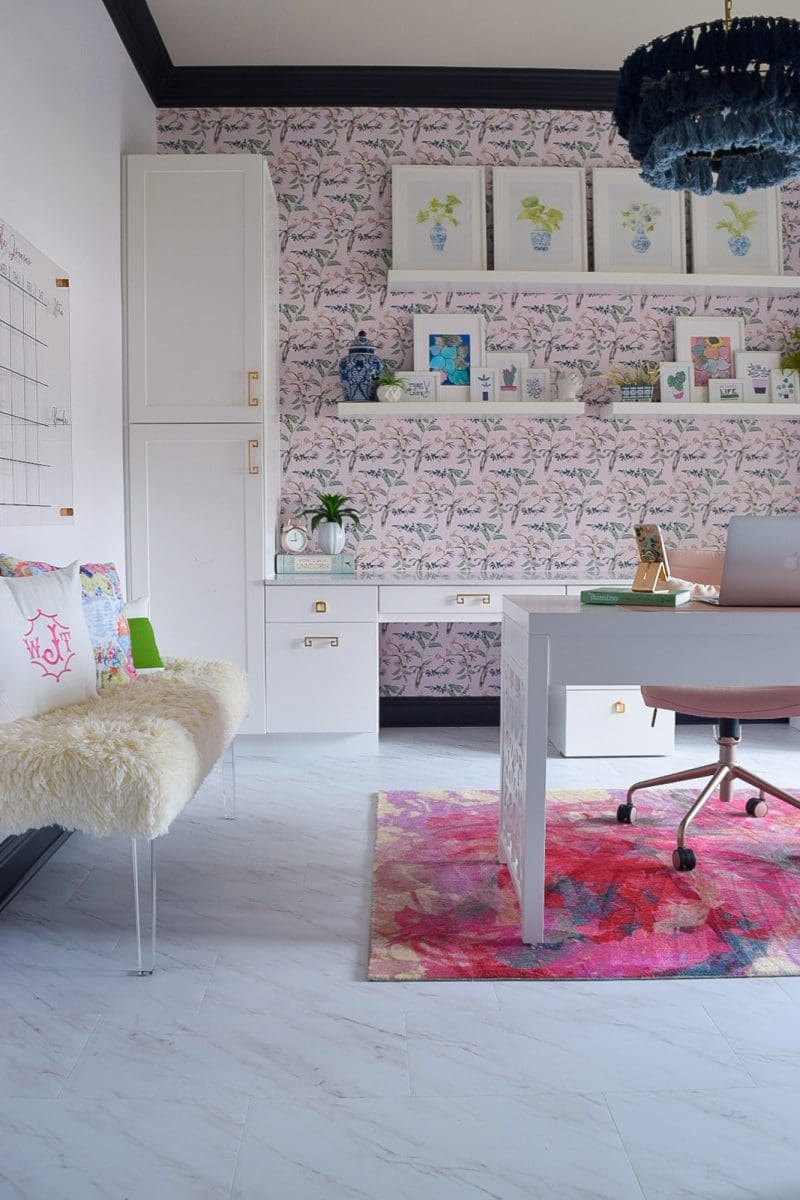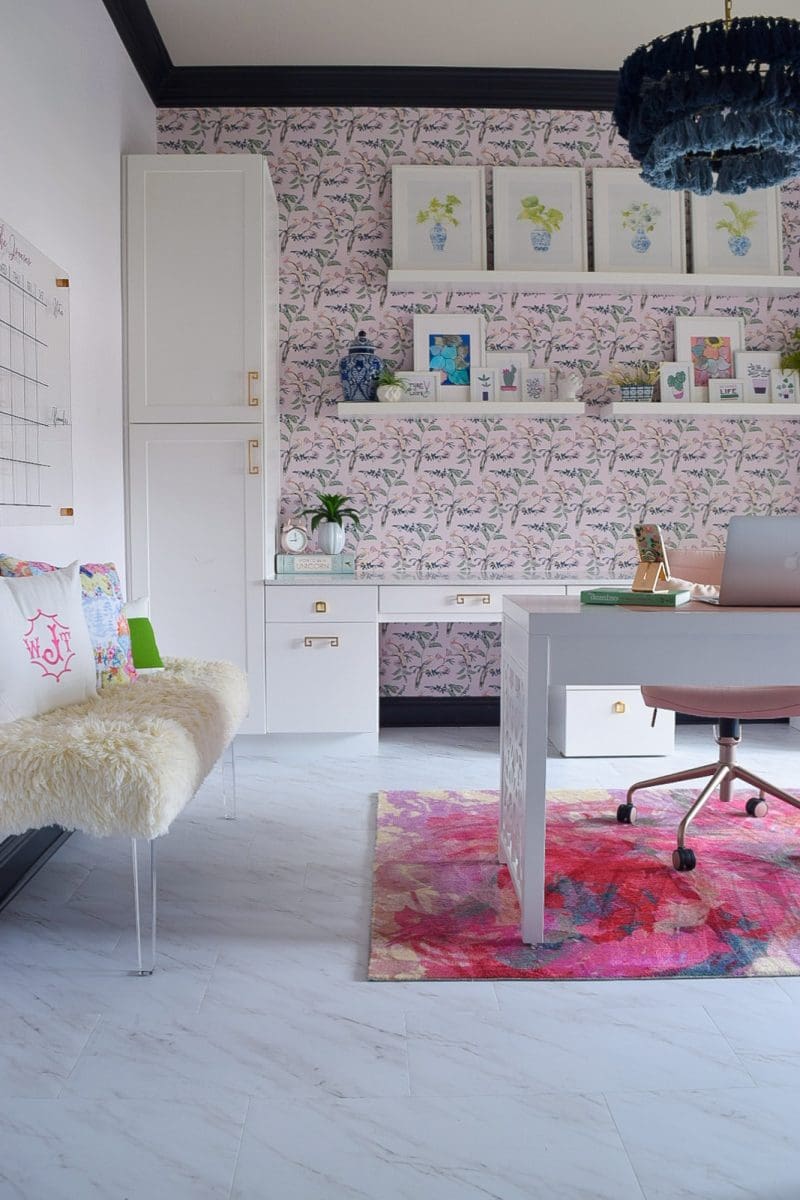 Modern Whimsy Home Office Makeover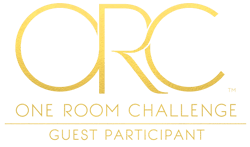 Visit all the The One Room Challenge™ final reveals HERE!
We've come along way these past 6 weeks!
Do yall remember what the office looked like before? Here's some refreshers of what the office looked like a few weeks ago:
Office Before Photos: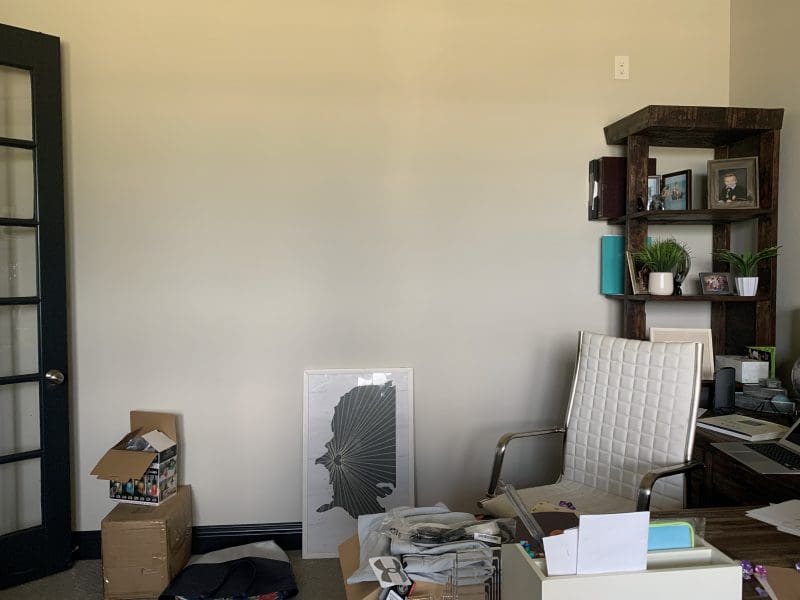 It had dark masculine furniture and decor, and was basically a storage spot for Amazon boxes and decor supplies for staging. It had no personality and no organization. It was time for a change!
This is the collage image I created when dreaming up my new home office design. I wanted feminine color palette, bright white floors and cabinets, and whimsical chinoiserie decor touches sprinkled throughout.
Office After Photo: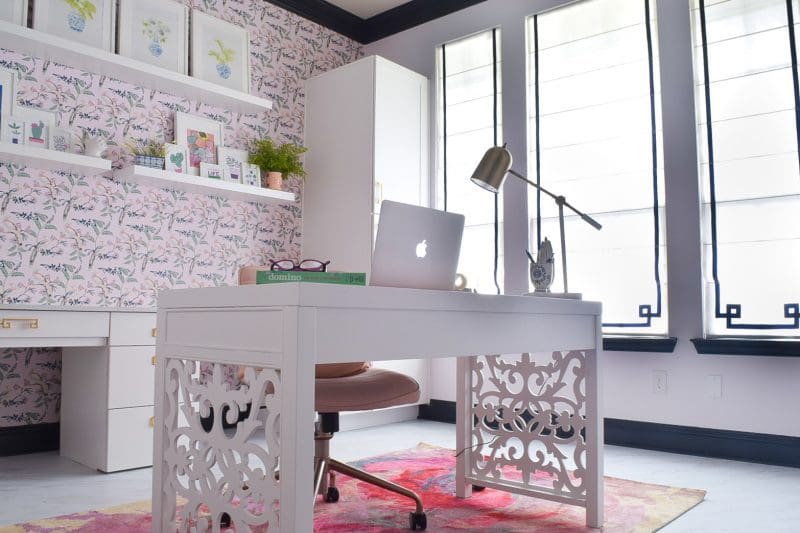 There were several BIG obstacles along the way, and honestly I wasn't sure we were going to even make the deadline. But we pulled it off and I'm SO happy with the results! I'm so excited to have a work place to call my own – and a place to store all of my equipment and supplies!
Did you catch my weekly One Room Challenge Updates? Check out Week 1, Week 2, Week 3, Week 4, and Week 5 to see our office makeover progress journey.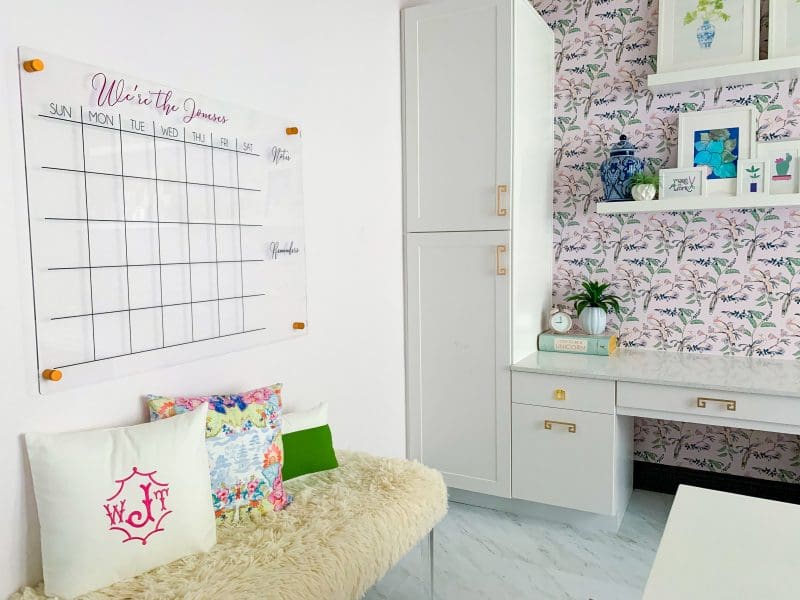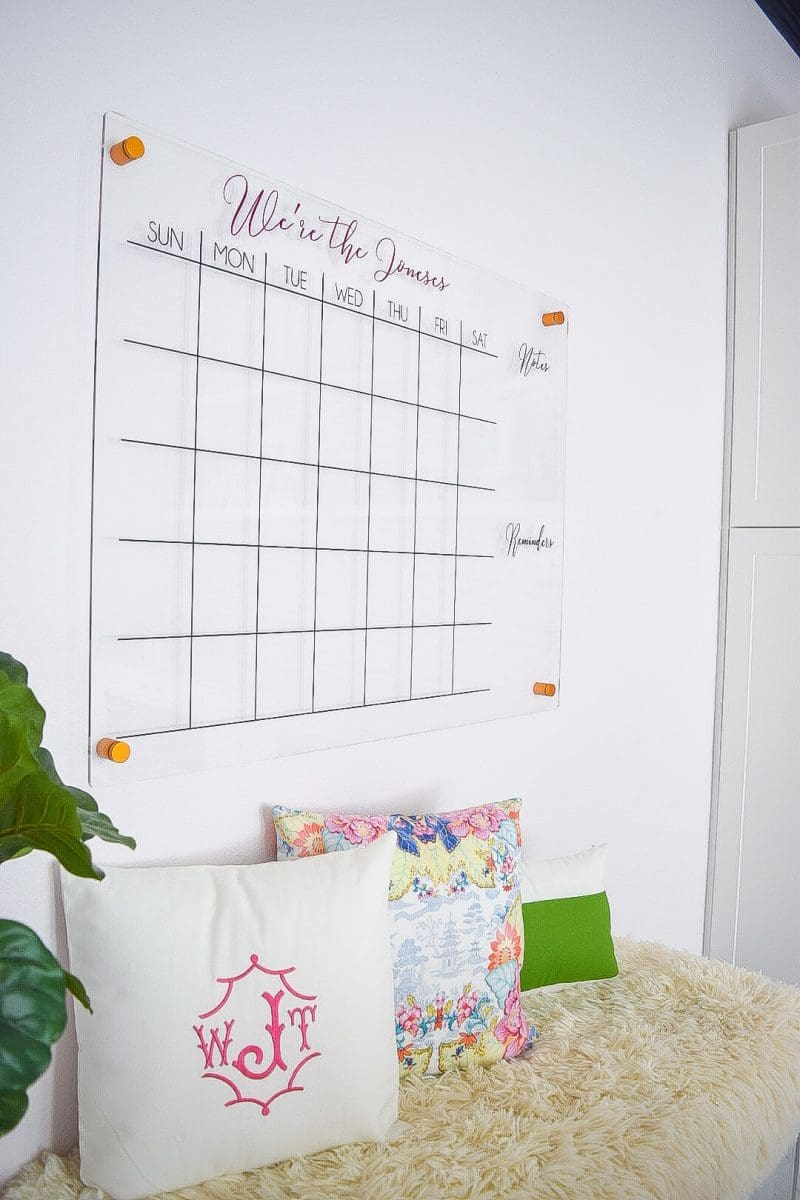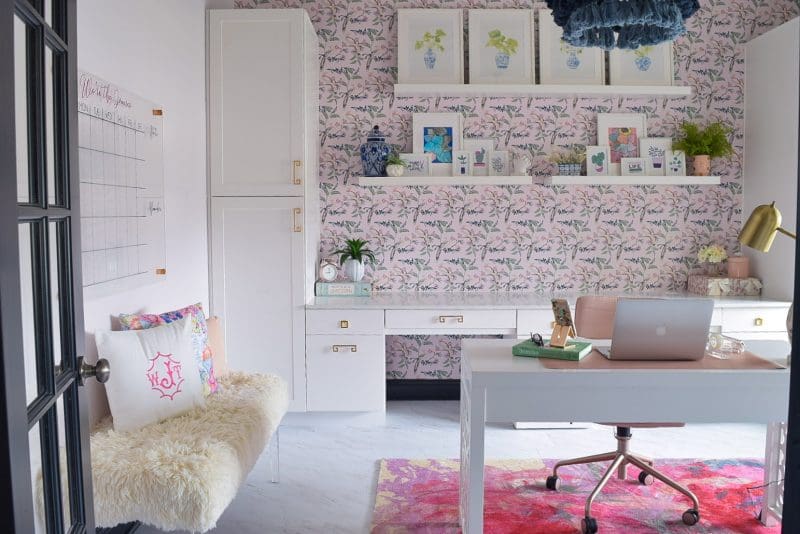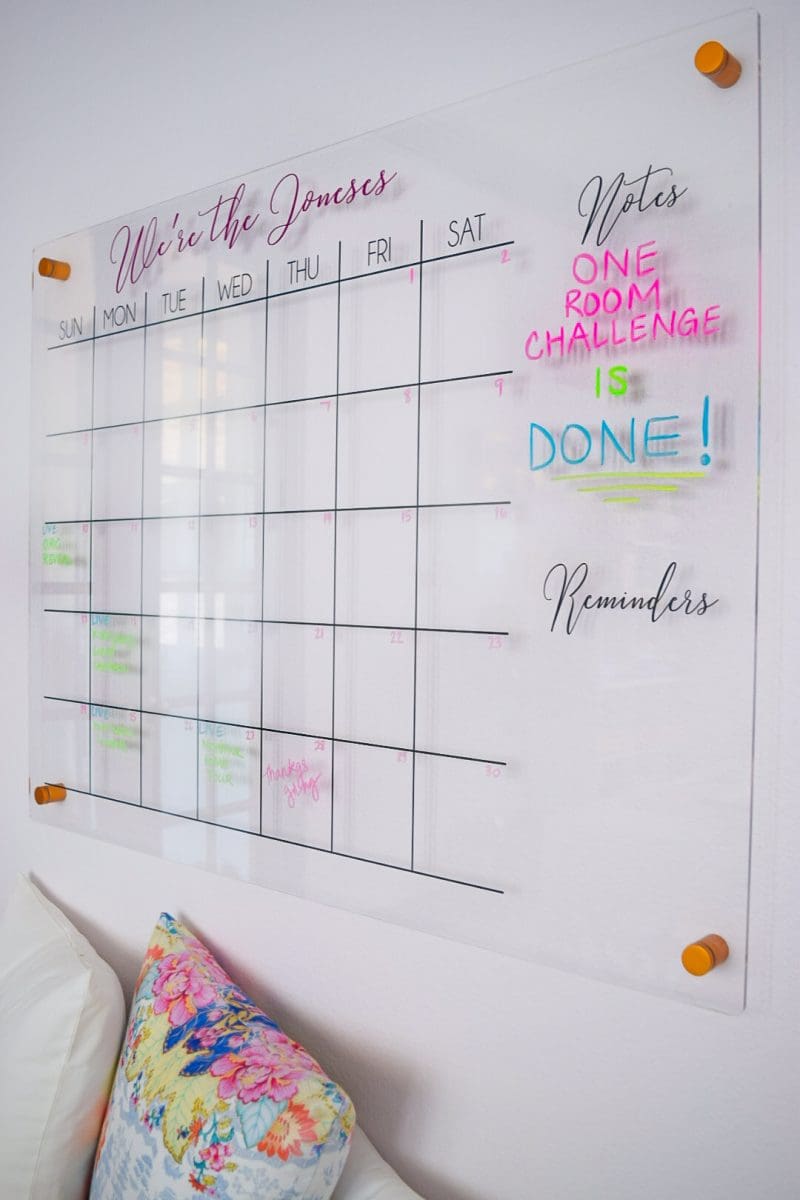 Home Office Design Inspiration
I had so much fun picking out the decor accents for this office makeover. This is always the easy + fun part of a renovation for me! One of the first things I knew I wanted was an acrylic wall calendar. I love the sleek modern look they bring to the room but without bringing in much heaviness and weight. This calendar will be the place I write out my editorial calendar for my blog – I love when good design meets practicality. I ordered the acrylic calendar from The Custom Touch who makes several other acrylic wall decor items that are so pretty!
Other decor items that I had fun shopping for were chinoiserie styled pillows. If you read my Week 3 office update, I created a collage of my favorite chinoiserie chic pillows that I found after looking up tons online. I decided I wanted to get a monogram pillow that had "WTJ" for We're the Joneses. I love this pagoda style monogram pillow that I found to create my special branded pillow. Something about the pillow sitting under the calendar with my blog name makes the office feel professional + purposeful for my brand. And helps let Bryan know he can't take over in here, ha! (I think the pink wallpaper and pink rug could do that on their own) I also ordered this pretty chinoiserie style pillow and this striped pillow for the perfect feminine preppy mix.
I had fun creating printable art from PicMonkey to put in a mix of white frames I bought from IKEA. I also got the floating white shelves from IKEA too. I added in a couple school artwork from my twin girls Genevieve and Georgia as well. The top four art prints I found online on a whim at the last minute – and I love them so much! The chinoiserie vases with tropical foliage is speaking my decor love language right now.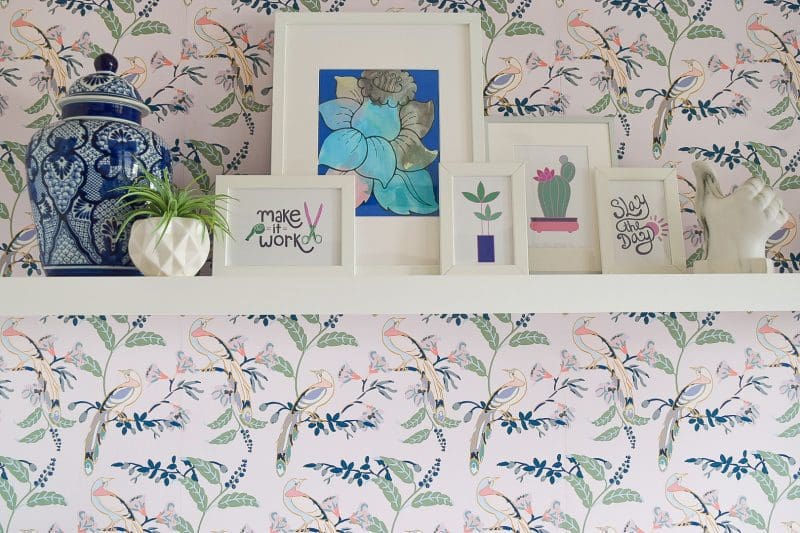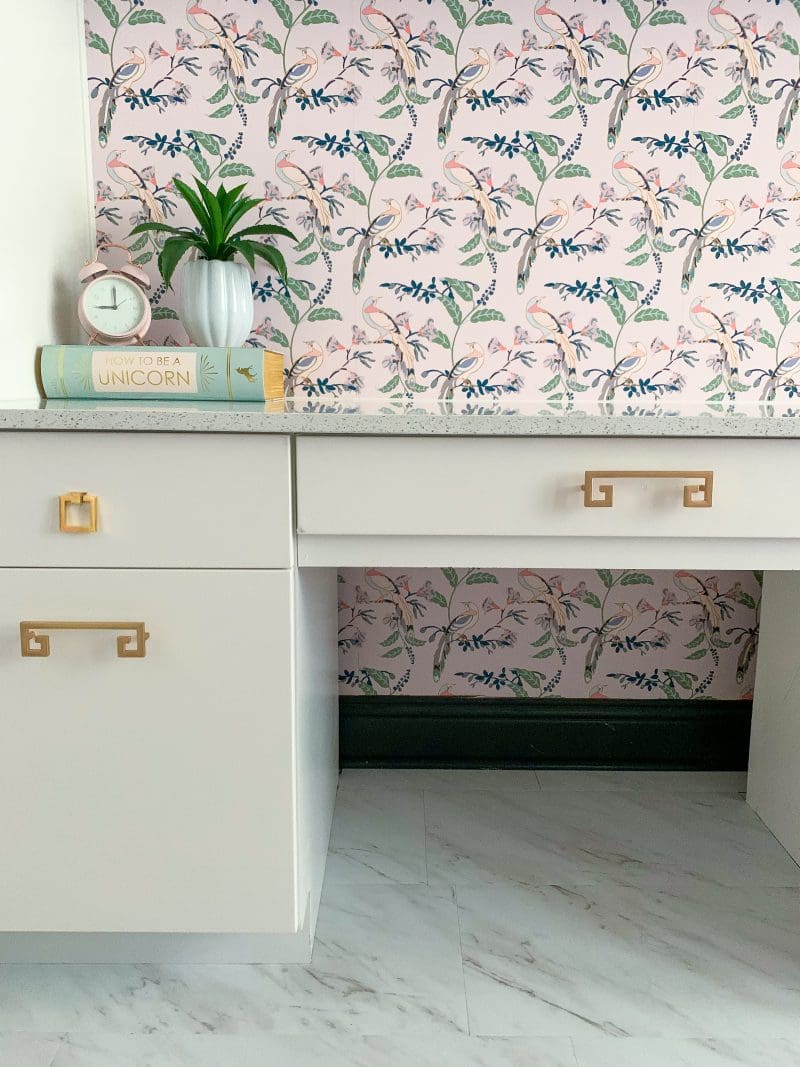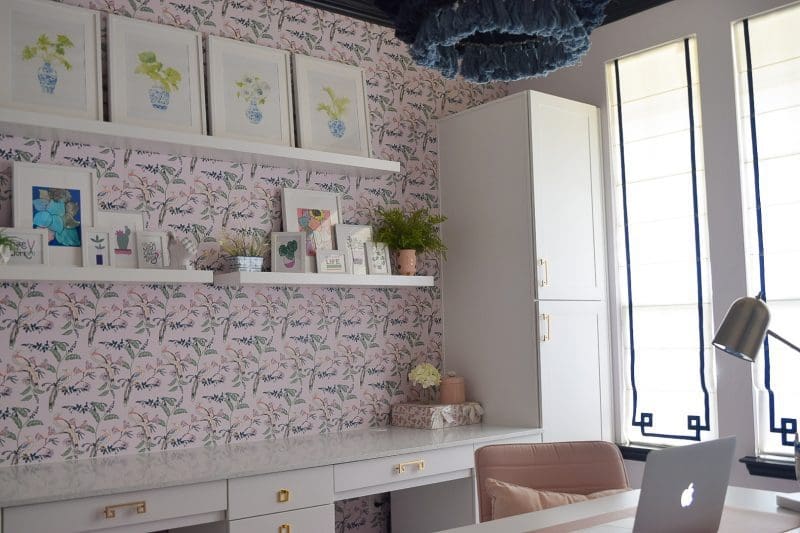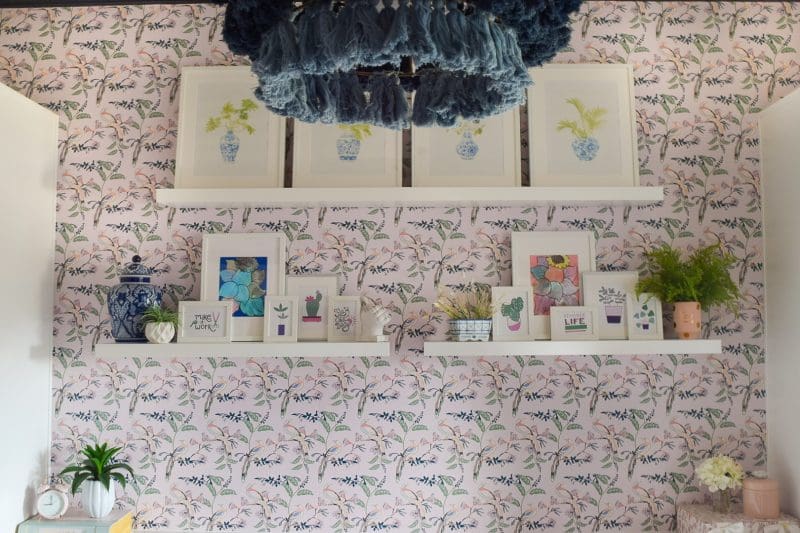 Chinoiserie Wallpaper
I had a few different ideas for wallpaper at the beginning, but once I received a sample of this Milton & King Birds of Paradise wallpaper, there was no turning back. I was smitten! It had a beautiful chinoiserie chic design and the colors were exactly what I was looking for. This gorgeous pink wallpaper was the perfect backdrop for my new feminine home office.
I was excited but also a little nervous on hanging my first traditional wallpaper! It actually turned out way easier than I was expecting. The main obstacle was figuring out how to make our textured Texas wall smooth – which also was a lot easier than I thought too! Check out my Week 4 update post where I talk all about hanging the wallpaper.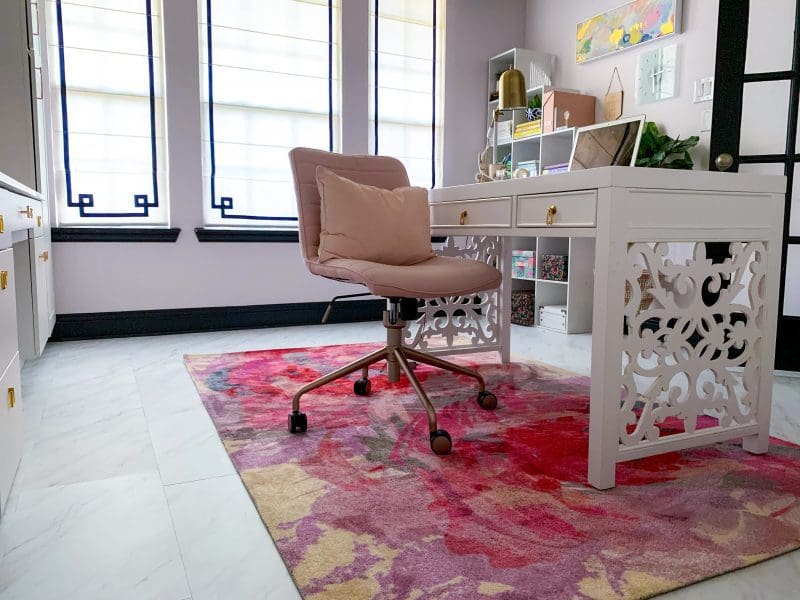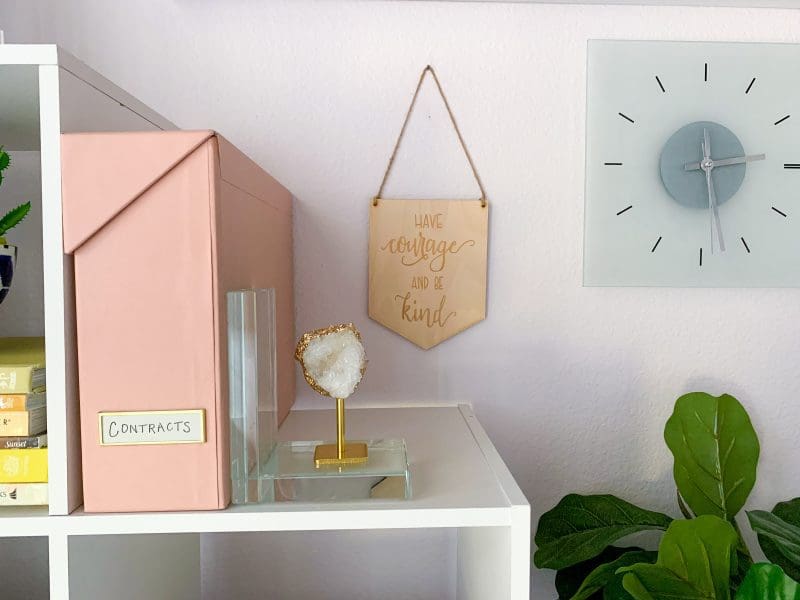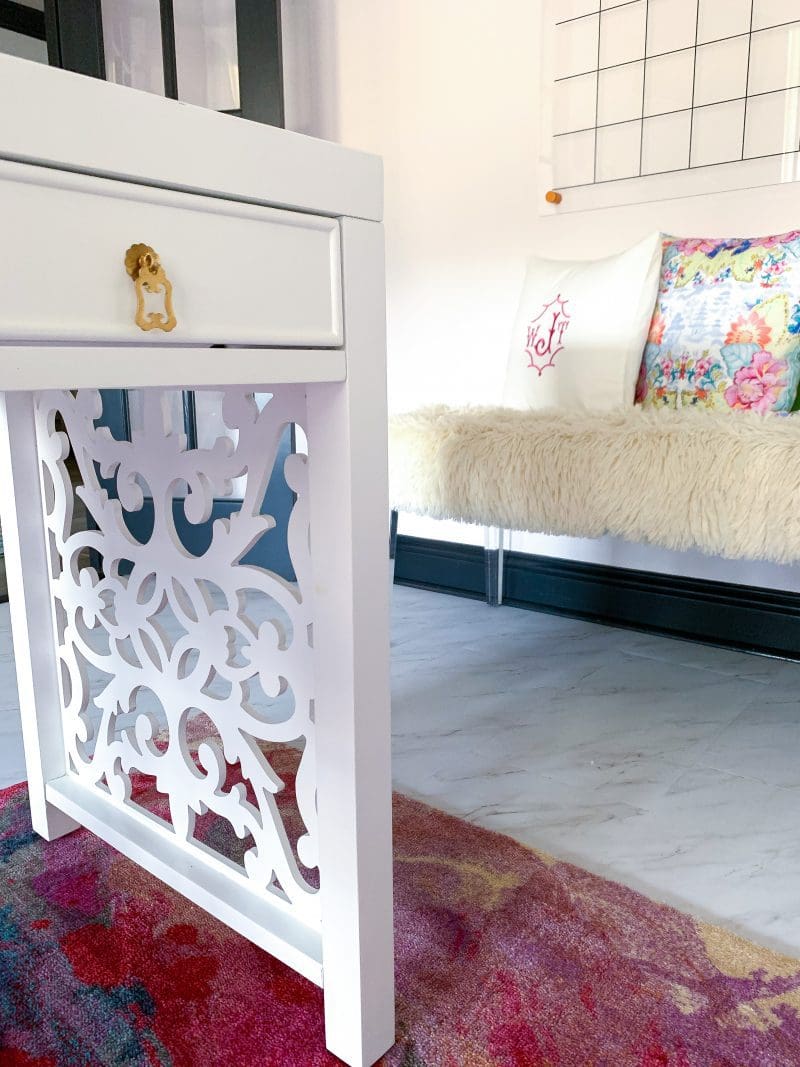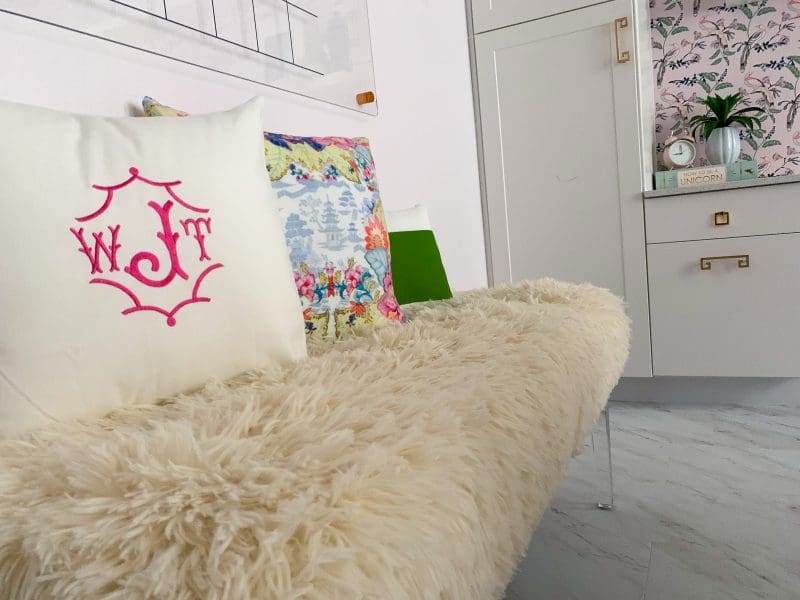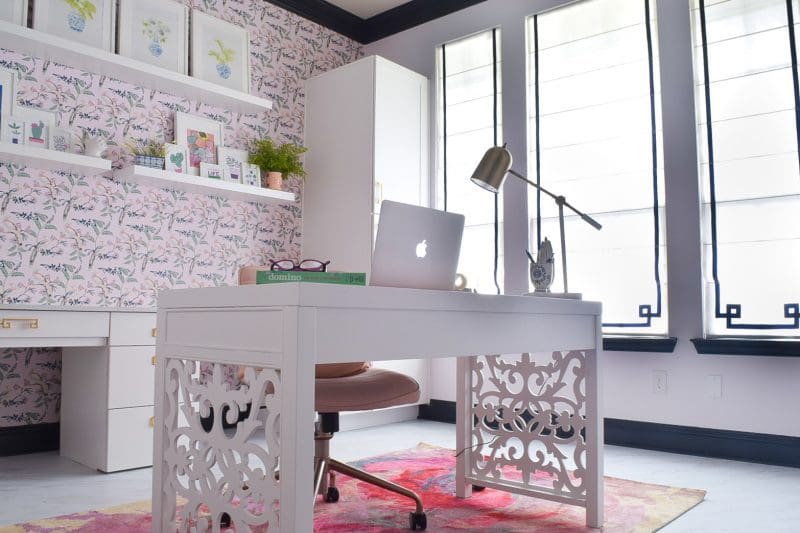 Home Office Makeover Ideas
There were a few obstacles we had to overcome along this home renovation project. The two main hurdles were the flooring and the cabinets. We decided to rip up the carpet with the idea that we could paint the concrete floors a bright white. After we took the carpet out we realized how sound becomes so loud in a confined space without flooring! We knew once we brought in furniture and a rug that would help with the sound and echo, but we also were a little hesitant on painting the concrete.
We started researching for budget friendly way to add bright white floor look I wanted – and were pleasantly surprised to find these faux marble vinyl peel and stick floor tiles! Bryan and I were both hesitant on how they would look, if they'd come off cheap or how good the quality would be. Once we started laying them down we realized that not only were they incredibly easy to install, they looked really good! This was probably my favorite unexpected change of the whole makeover. It was such a cost effective flooring option and makes such a visual impact on the room!
Another major obstacle was the built in desk and cabinets. The cabinets were the last big item to install and they were delayed a few days. I was trying not to panic but when they came in, a lot of them came out wrong! Luckily Bryan was able to find some replacements in the final hour to make it work. Some of the cabinets have been reordered and will get replaced, but they work for now. I was so nervous we weren't going to have the cabinets in time to make the deadline but Bryan somehow pulled it off! I also had an issue with the cabinet hardware screws that came with the hardware. They were the wrong size and not fitting correctly. I was running all over town trying to find the correct screws and finally found some that worked. I'm so glad we were able to make the hardware work because I feel like they give the cabinets LIFE! It's all in the details!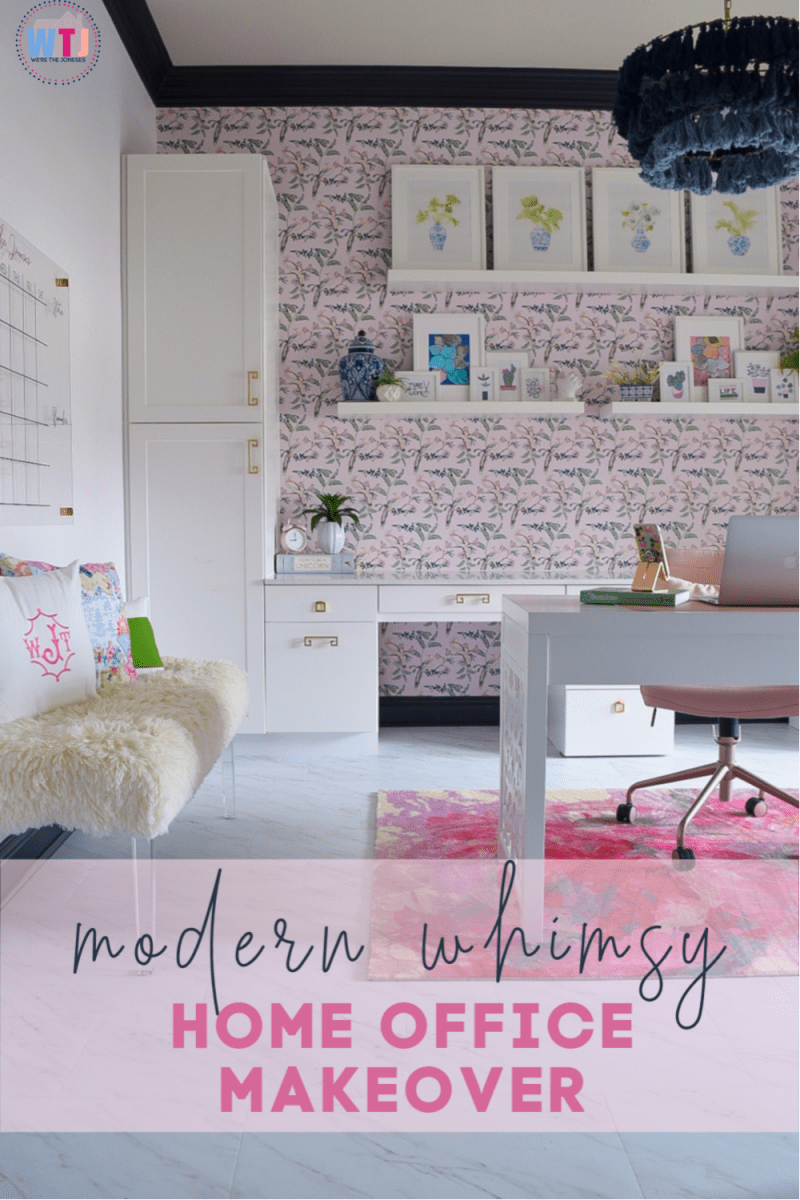 I'm so excited to have this new work space at home, but also so proud that we were able to accomplish this project in such a short time. There were MANY days and nights I thought it wouldn't work (and had a many disagreements along the way, ha!) but we persevered!!
I am excited to keep working even more on this office project for the blog as I will be rolling out a few how-to blog posts about smoothing a textured wall, installing wallpaper, and installing vinyl floor. Look for those easy instructional posts with step by step VIDEO tutorials coming real soon!!
Thanks again for following along our One Room Challenge journey! Make sure you check out all the final reveals from featured designers and guest participants. There's so many gorgeous and inspiring room makeovers – I'm in awe of all the talented bloggers and the stunning spaces they've created!
Thanks again for stopping by! Happy room makeover-ing!





Recent Home Makeovers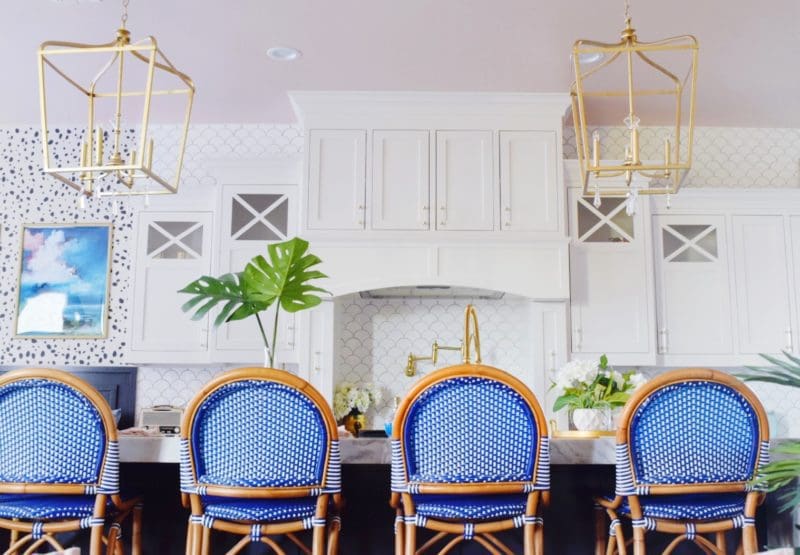 Modern Coastal Kitchen Makeover